'The Point Of It All: A Lifetime of Great Loves and Endeavors' by Charles Krauthammer
This is the final book from the author, who died in 2018 at age 68 after a battle with cancer of the small intestine. It is a collection of his writings, many from his Washington Post opinion columns. Most chapters are short - three pages are so - but are, as one would expect, intelligent, erudite and full of Charles' dry wit. Subjects range from the personal, to the political and to the philosophical. Readers may often want to put the book aside and ruminate on the ideas conveyed in Charles' deep, thought-provoking musings. I enjoyed his earlier book, 'Things That Matter' from 2013.
I particularly liked his essay on Sputnik, the first satellite. Launched by the Russians in October 1957, Charles wrote that "America was shaken out of its technological lethargy by a beeping 180-pound aluminum ball orbiting overhead." At the time, I was a high-school freshman. Sputnik's path eventually passed over our house; I remember standing in the driveway trying to see it. I saw something but it might have been an airplane. Prior to October 4th, school guidance counselors told students, "If you're planning to take science or engineering in college, you should study German." A week later it was "maybe Russian." The problem was, there was a dearth of Russian language teachers, so - for the science-minded, it remained Deutsch sprechen.
No matter, the Russians had launched its satellite using the brute force of giant rockets. The U.S. responded four months later with Explorer I launched from a less-powerful but more technically-elegant rocket design. Thanks, Wernher von Braun (American aerospace pioneering engineer and former Nazi rocket scientist); now I know why I needed to learn German. Ja wohl.
Charles Krauthammer had a flair for getting to the heart of things. The diversity of topics covered in the book demonstrates of his personal curiosity about a myriad of topics. This is an enjoyable and poignant read.
Verdict: Highly recommended (posted 3/21/19, permalink)
---
'Life After Google: The Fall of Big Data and the Rise of the Blockchain Economy' by George Gilder
Early in my business career, I had to give detailed technical presentations. Anytime I sensed that my audience wasn't understanding the subject, I'd stop, take a deep breath and say, "Now look, here's what all this REALLY means to YOU and here's how it's going to help you be more successful in your business." And I'd proceed to provide simplified, relevant context.
George Gilder failed to tell me what the information in his book means to me. And how it is going to improve my life. Google now offers free search capabilities for users and makes money from targeted advertising. Gilder writes that's all coming to an end. But he fails to explain what will replace Google and how that will happen. Instead, he lapses into discussions about fringe projects and seemingly unconnected start-ups. He also gets into highly technical discussions about Bitcoin and blockchain and, at one point, gives numerous reasons why Bitcoin is stable much like gold. I hope those suckers who lost 70+% of their money on Bitcoin in 2018 take comfort in George's currency prognostications.
Verdict: Skip it. Too random, incomprehensible and pointless for me. Much like his last book. (posted 3/13/19, permalink)
---
'The Big Picture: On the Origins of Life, Meaning, and the Universe Itself' by Sean Carroll
As a high school senior, I took a tour of Villanova University's Engineering Department. I remember asking some smart-ass question about religion and the college senior conducting the tour, replying, "God is everywhere. You can see God in an electron if you want." It was a memorable quote.
In this 433-page crapfest of pseudo-scientific philosophy, the author (who seems to be afraid of calling himself an atheist - he's a "naturalist"), begins by pointing out that "Core Theory immediately excludes the survival of the soul after death." I'm surprised he uses the word 'soul'. He is a materialist, so why admit that sounds exist? The soul cannot be measured scientifically. It is dimensionless and has neither weight, nor electrons.
Carroll also wrote about the difficulty of constructing "meaning and values in a cosmos without transcendent purpose." Pity about that but there is a market for Dr. Carroll's book. Since 1980, the number of Americans who believe in God has decreased by half and the number who pray has declined five-fold.
The author joined a select club: Russian mathematician Andrey Markov, theoretical physicist Stephen Hawking and astronomer Carl Sagan were extremely smart and were unbelievers. Technical prophet and economist George Gilder wrote that "materialist superstition keeps the entire Google generation from understanding mind and creation. Consciousness depends on faith - the ability to act without full knowledge and thus the ability to surprise and be surprised. … Creation is an entropic product of a higher consciousness … God."
Science is always changing. The Core Theory, Higgs boson particle and other scientific 'givens' will be disputed/replaced as new discoveries are revealed. Faith is a constant. Pray, live a good life and help others. If you do, your soul will survive bodily death, continuing in the possession of an endless conscious existence with God in Heaven. Yes, there is a soul and I believe it is eternal.

An agnostic friend once asked me, "How can you be sure there's an afterlife?" I told him that I'm not sure. But, there's no downside to being a Believer. I mean, if it turns out that I'm wrong and there's Nothing - if everything just Fades to Black, it's not like a ghostly Nelson Muntz is going to appear and mockingly guffaw, "Haw Haw."
That said, any time someone tries to mix religion and science (as is awkwardly done in this book), controversy emerges, folks take sides and things usually end up with either people being locked up in the Vatican basement or in the box at the Scopes Monkey Trial. As Judge Roy Snyder decreed in a 1997 episode of 'The Simpsons'), "As for science vs. religion, I'm issuing a restraining order. Religion must stay 500 yards from Science at all times." Good idea.
Verdict: A waste of time. (posted 3/7/19, permalink)
---
'Rising Star, Setting Sun: Dwight D. Eisenhower, John F. Kennedy, and the Presidential Transition that Changed America' by John T. Shaw
Foreigners I've met are often amazed at America's system of peaceful presidential transition, despite what they see as angry, rancorous politics.
Author Shaw's 244-page work details the ten-week changeover from outgoing Republican President Dwight D. Eisenhower to incoming Democrat John F. Kennedy. While these two men were of different generations and backgrounds (plain-spoken, career Army man Ike versus privileged, East Coast preppie JFK), their politics were remarkably similar. Eisenhower was a centrist Republican (disdainful of conservative Barry Goldwater); Kennedy a centrist Democrat (he probably would have considered all of today's Democrats far-left liberals).
The book offered lots of details and anecdotes. It rekindled many memories for me. 1960 was the first Presidential election I followed. It was my political awakening during high school; the campaign, personalities and issues were much discussed amongst my friends. I watched the Kennedy-Nixon debates on television and, on election night, sat in front of the set with a piece of graph paper, plotting the returns as they came in and trying to extrapolate and project a winner.
Verdict: Recommended. Readers may also enjoy '1960 - LBJ vs. JFK vs. Nixon: The Epic Campaign That Forged Three Presidencies' by David Pietrusza and 'Eisenhower - The White House Years' by Jim Newton. (posted 2/27/19, permalink)
---
'Railroading & The Automobile Industry' by Jeff Wilson
PLS, shorthand for Pack, Load and Ship, is a line-item on the financial statements of almost all manufacturers and many distributors. It refers to the actual expense of packaging products, loading them onto a delivery conveyance and the cost of shipping or delivering them. PLS adds nothing of value to the product or consumer's conception of the product and reduction of PLS expense is an ongoing quest for smart manufacturers. Doing so will either add to their profit or allow them to improve the actual product in some way to make it better or more competitive.
PLS varies greatly, depending on what business you're in. At Rohm and Haas Co. in the 1970s, injection-molding grade, bulk pelted Plexiglas - mostly sold in 300-pound fiberboard drums or 1200-pound cardboard totes mounted on wood pallets - averaged 3%. At my plastics display company - where customer orders were smaller and always varied: "Gimme three dozen of this and six of that and sixteen of the other thing." - our PLS averaged around 10% for products shipped in cardboard cartons partially-filled with protective foam peanuts.
This book is all about PLS as it relates to inbound auto components or outbound finished vehicles at automobile assembly plants. This 96-page, large format (8.2" x 10.8") paperback book contains about 200 photographs (a mix of b&w and color) and tells the history of rail shipping automobiles and component parts.
In the early days of the automobile, most were shipped in boxcars, in fully-assembled form or in knock-down semi-finished kits for dealers to finish. In 1920, railroads carried 70% of all new cars. In 1932, the Evans Autorack permitted boxcars to hold four cars using a hoist system to elevate automobiles. By the 1940s, improved roads and more powerful trucks, which could carry more cars, made over-the-road delivery more competitive. In 1946, only 40% of new cars were shipped by rail. The largest rail carriers were the New York Central and its subsidiary, Michigan Central Railroad.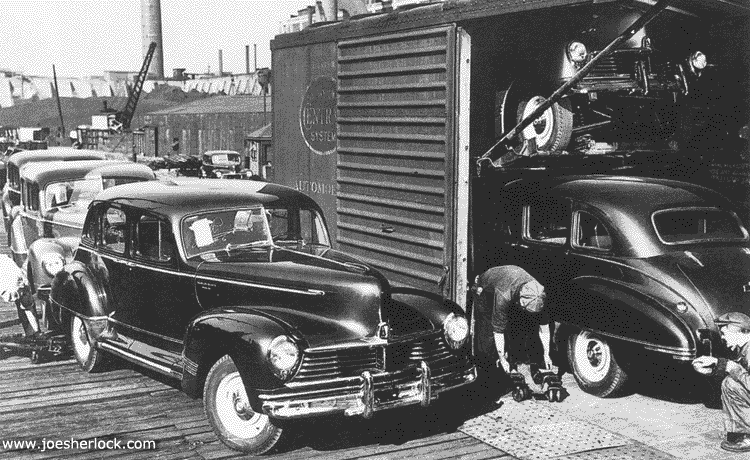 The first shipment of new 1946 Hudsons left the Detroit plant in September, 1945 and were loaded into New York Central Railroad boxcars. An Evans-style autorack can be seen lifting a Hudson to provide extra space.
---
Railroads were slow to respond to the competitive challenge of over-the-road trucking. Railroads were often tardy in delivering cars to end terminals, especially if multiple railroads were involved, and had inefficient and inadequate shipment tracking systems. By 1958, only 8% of new cars shipped by rail. The railroads responded by developing special bi- and tried-level open rack freight cars to carry automobiles. Faced with vandalism issues, these cars were modified with side panels. Eventually, fully-enclosed 89-foot cars were developed to protect the merchandise and carry it in a cost-effective manner. By 1969, 52% of new cars travelled by rail.
Today, there are about 50,000 auto carriers - most are fully-enclosed - used by railroads carrying 1.5 million carloads of finished vehicles annually. Generally, rail shipment is more cost-effective than truck shipment when distances of 350 miles or more are involved.
The author is quite knowledgeable and much else is covered in the book, including rail-traffic management, in-plant railroading (mostly switching, shifting and shuttling) shipping of components, the effect of just-in-time inventory management on rail freight service. At many plants, boxcars are brought inside and stationed at concrete platforms for component unloading near the actual assembly point. I've seen this set-up in operation at Ford's Chicago assembly plant as well as at several GM component manufacturing plants.
Verdict: Recommended. I found this book most informative and interesting as well. Both car guys and train guys will find much to enjoy. (Review copy provided by Kalmbach Publishing Company) (posted 2/21/19, permalink)
---
'Borrowed Time: Two Centuries of Booms, Busts, and Bailouts at Citi' by James Freeman and Vern McKinley
Founded in 1812 as City Bank of New York, it was renamed Citibank in 1976 by CEO Walter Wriston. It is now known as Citigroup. This 308-page book (plus notes and index) documents the fact that Citi was no stranger to bailouts of various types over its life. Financier John Jacob Astor rescued it in the 19th century. Citi seemed to get in trouble every 20 years or so. Over time, connections between government and Citi became closer and the government eventually became its enabler and bailout buddy.
The book contains an interesting story about Donald Trump, who was a large customer of Citi. In 1991, when The Donald was having lotsa financial woes with his casino operations, his dad, Fred Trump, bought $3.5 million in chips from the troubled Trump Castle and held them - as a first-in-line creditor, ahead of all banks, until Donald could get his financial house in order. Fred had cashed in all his chips by mid-1994 after his son was out of the woods. Citi breathed a sigh of relief.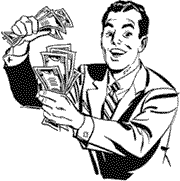 As I read the book, I began to think of Citi as the Chrysler of Banking. In 2017, I wrote, "Over the past 40 years, Chrysler has been on the brink of disaster more times than sweet Nell has been tied up on railroad tracks." Chrysler was rescued in 2009, as was Citi. The new entity Chrysler-Fiat received $8 billion in government loans as seed capital. But Citigroup received a lot more - $517.3 billion in U.S. government support. The authors quote the Wall Street Journal from February 2009: "Former federal officials have dubbed Citigroup the "Death Star," comparing the bank's threat to the financial system with the planet-destroying super weapon in the 'Star Wars' movies."
Citi became the poster child for everything that was wrong with the U.S. banking system in 2006. And most of what was wrong involved bad loans, mostly home-loan related. When the Fed cut interest rates to 1% in 2003, it created an enormous credit bubble. Leverage-based strategies became so lucrative that many financial market players jumped to leverage up the most leveraged asset on Main Street – housing.
Banks that should have known better made huge loans to people who had insufficient verified income, assets or collateral to purchase houses. These institutions were later shocked to learn these folks would not repay their obligations. Well, duh!
Crap mortgage loans were combined and bundled into cleverly decorated packages but - let's face it - they were still sacks of crap. These foil-wrapped stench bombs were marketed by investment houses as fixed income 'investments' which offered better returns than certificates of deposit. I've heard that many were sold to foreign buyers when the dollar was down: "Just think how much you'll make when the dollar goes back up!" Yes, think of it as a large, diversified container of feces with possible upside potential.
Hugely misguided government intervention made things worse, eventually causing a global recession. In June 2010, Sheila Bair, chair of the Federal Deposit Insurance Corporation and who is oft quoted in this book, remarked, "The financial crisis was triggered by a reckless departure from tried and true, common-sense loan underwriting practices." If the mortgage finance industry hadn't been forced to abandon traditional underwriting standards on behalf of a government-imposed affordable housing policy, the mortgage meltdown and resulting financial crisis would not have occurred. In 1989, only 1 in 230 homebuyers bought a house with a down payment of 3% or less. In 2003, the ratio was 1 in 7. By 2007, it was 1 in 3.
For many years (30 that I know of), there was a rule in the real estate business: You can't buy a house priced at more than 2.5 times your annual income. Sometimes, if you had a really secure job, exceptionally good credit and/or a larger-than-normal down payment, lending institutions would go to 3.0. This changed in the late 1990s. The magic ratio grew every year, peaking at 5.0 nationally, an unbelievable number.
California was vulnerable to foreclosures because the median value of owner-occupied housing in 2007 was 8.3 times the median family income, while the 2007 national average was only 3.2 times higher than median family income. California had only 10% of the nation's housing units but it had 34% of foreclosures in 2008. Almost 90% of all troubled mortgages and foreclosures were concentrated in California, Florida, Nevada and Arizona.
5.0? 8.3?! No wonder the housing market crashed. And caused the banking system to collapse.
Citi and other too-big-to-fail institutions soon got their bailouts. No one - from crooked bankers, clueless Fed overseers, corrupt Congress critters who were enablers and participants, execs at Fannie Mae et al - went to jail. Lots of smaller banks closed though, including the Bank of Clark County - because they were deemed Too Small To Save - a phrase I learned from this book.
Verdict: Highly recommended. An interesting and eye-opening read and a worthy companion to 'Panic: The Betrayal of Capitalism' by Wall Street and Washington' by Andrew Redleaf and Richard Vigilante. (posted 2/13/19, permalink)
---
'Leadership In Turbulent Times' by Doris Kearns Goodwin
This book profiles four presidents: Abraham Lincoln, Teddy Roosevelt, Franklin D. Roosevelt and Lyndon Baines Johnson. Ms. Goodwin is a well-known LBJ apologist (she worked for him) and much of this book is recycled from her other works. Sadly, the book lacks much insight into leadership and how it is acquired.
Goodwin failed to make the case that these four presidents were great leaders. LBJ may have been a good arm-twister in the Senate but he was one of the worst presidents of the 20th Century. His conduct of the Vietnam War was a disaster and lead to his downfall. His Great Society programs created a vast, permanent welfare-dependent underclass. Despite the author's claims of his civil rights legislation (which probably would have been enacted sometime in the 1960s, regardless of who was president), LBJ was an overt racist: Robert Parker, LBJ's long-suffering manservant, said, "He especially liked to call me 'nigger', in front of Southerners and racists like Richard Russell (Senator, D-GA)." Johnson told Parker he'd never be called by his Christian name: "Let me tell you one thing, nigger, as long as you are black (and) you're gonna be black till the day you die, no one's gonna call you by your goddamn name ... you're just a piece of furniture."
As for Franklin Delano Roosevelt, it is fair to say that his advance preparation for World War II was somewhat prescient but his handling of the Depression was a motley collection of failed liberal, nanny-state schemes, including the draconian National Recovery Administration.
The material on Teddy Roosevelt and Abraham Lincoln is already familiar to casual readers of history.
In researching the author, I was surprised to learn that she had consulted with novelist Steven King on the political aspects of his execrable book, '11/22/63'.
Verdict: Nothing new to learn from this 370-page paperweight. (posted 2/7/19, permalink)
---

---
'Every Man A King: A Short, Colorful History of American Populists' by Chris Stirewalt
If you watch FoxNews, you've probably experienced politics editor, Chris Stirewalt - the chubby guy with the soft, West Virginia drawl and the wry sense of humor.
In his book, Chris presents a selection of well-known American populists, although I felt that some of his choices were forced. I've always considered Pat Buchanan as a nationalist conservative campaigning loudly against a gaggle of globalists, rather than a populist.
Chris' humorous quips play better on television than in print, although the man does spin some good yarns. I could do without the oblique reference to Qzymandias, preferring the more-common name of Ramesses II, the Egyptian pharaoh. As well as to what folks "would say in Greenup," a small town of 1,200 or so souls in far eastern Kentucky. These two items alone produced dangerously high readings on my Obscure References Meter - values just above Ramesh Ponnuru.
One particular yarn really stuck with me: "It has been said that the secret to success in politics is like being the baton major at the head of a marching band. You're not really leading the parade, you just happen to be in front of it … The secret for any successful populist is to swing the baton like you mean it but never forget that the parade will go on without you." Well said, sir.
Verdict: Mildly recommended. A breezy, fast-paced, 190-page book but be aware, if this book was 100 pages longer, I would have written, "Skip it." (posted 2/1/19, permalink)
---
'Flight: The Evolution of Aviation' by Stephen Woolford and Carl Warner
Coffee table books can be chancy; some are just thrown together without much thought to flow of narrative or accuracy of content. Measuring roughly 10x12 inches, 'Flight' certainly qualifies as a coffee table book in size and has an attractive period photo of a Boeing 747 jet on the cover. Not to worry though, there's good stuff inside. The book is well-illustrated with about 180 color and b&w photos. The authors are knowledgeable experts; both are associates of the Imperial War Museum in England.
The book begins with early fight attempts, including hot air balloons, and quickly moves to the pioneer flight of the Wright brothers at Kitty Hawk. During WW!I, airplanes moved from the novelty phase to useful tools of battle. Aircraft development continued postwar, passenger planes became more common and the Second World War demonstrated the vital role of aircraft in winning in both the European and Pacific Theaters. One of the things I learned from the book was that the proliferation of military airfields across the civilized world during WWII allowed for easy conversion to municipal airports in the postwar period. This made for further popularization of commercial travel by air.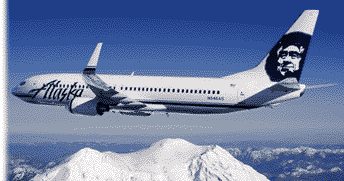 While jet-engined planes first appeared in the 1950s, there were still plenty of prop planes around when I began flying commercially in the late 1960s. I remember traveling from Chicago to Evansville, Indiana on a DC-6, a propeller-driven, four-engine relic which Douglas quit making in 1958. As we came in for a landing, I was shocked to see that one of the engines had died. Business associate and seat companion J. Franklin Moore, a more-experienced flyer who was a generation older than me, casually remarked, "Don't worry, Joe. There's still three more left." During a layover in Cleveland, I watched an ancient twin-prop DC-3 start up. One of its engines backfired and was soon engulfed in flames. A ground crew member ambled over with a fire extinguisher and put out the left engine fire. The pilot successfully restarted the engine and headed to the main takeoff runway without further incident.
It's hard to believe but it has been just over 50 years since the debuts of the 747 and the supersonic Concorde. After extensive flight testing, the Boeing 747 entered commercial service in early 1970; the Concorde in 1976. I still remember my first flight in a 747 in 1972 on a flight from Atlanta to Los Angeles. The plane dwarfed other passenger aircraft of the day.
The book also covers the Space Race as well as super-jumbo jets such as the Airbus A-380. Dedicated air historians won't find much in-depth drilling-down and shouldn't expect a lot of detail in a 155-page (plus notes and index) book with 30,000 words of text. But, for the casual reader such as myself, 'Flight' made for an entertaining, picture-filled read.
Verdict: Recommended. (Review copy provided by Carlton Publishing.) (posted 1/28/19, permalink)
---
'Ship Of Fools: How a Selfish Ruling Class Is Bringing America to the Brink of Revolution' by Tucker Carlson
In 241 pages, Tucker Carlson exposes self-serving politicians and special interest groups. The jacket flap proclaims that the book is "the story of the new American elites, a group whose power and wealth has grown beyond imagination even as the rest of the country has withered. The people who run America now barely interact with it. They fly on their own planes, ski on their own mountains, watch sporting events from the stands in skyboxes. They have total contempt for you." That's an honest description of the contents.
The book is informative and fast-paced. It revealed some swamp stories I hadn't heard before. The one criticism I have is that, while Tucker enumerates the many problems caused by the political elite, his book doesn't offer solutions.
Verdict: Recommended. (posted 1/24/19, permalink)
---
'Ford Model T Coast to Coast: A Slow Drive Across A Fast Country' by Tom Cotter
Before the Model T came along , automobiles were mere playthings for the rich. Henry Ford's T didn't just put America on wheels, it put the world on wheels. The Model T was the first truly affordable car for the working man. Initially priced at $850 in 1908, the price dropped to $390 by 1914 due to production efficiencies. By 1927, a new Model T could be had for as little as $260. At its peak popularity, 1.25 million Model Ts were sold each year.
The Model T was effectively the first global car. By 1918, Ford's American market share was an astonishing 49%, while 40% of the cars on British roads were Ts. By 1921, the Model T commanded 60% of the new car market around the world. Over 15 million Model T Fords were eventually produced.

Auto scribe/engineer/philosopher L. J. K. Straight wrote, "So profound was the effect of the Model T Ford on America, so much did it change the nature of the nation … its art, its music, its social structure …, that Henry Ford, who was responsible for it all, must be seen as the most effective revolutionary." In 'Cannery Row', John Steinbeck wrote, "Someone should write an erudite essay on the moral, physical and esthetic effect of the Model T Ford on the American nation. Two generations of Americans knew more about the Ford ... planetary systems of gears than the solar system of stars." The Model T is on my list of '10 Cars That Changed Everything'.
The T also put the brakes on the proliferation of horsecrap. In his book, 'The Good Old Days, They Were Terrible', Otto Bettmann wrote of "streets caked with animal waste", noting that there were over three million horses in American cities at the turn of the Century, each producing 20-25 pounds of manure per day. During dry spells, the pounding of hooves refined the manure to dust which blew "from the pavement as a sharp, piercing powder to cover our clothes, ruin our furniture and blow up our nostrils."
Then there were the flies. Disease-carrying flies. And the smell. New York City of the period was described by a visitor as a "nasal disaster."
Bettmann noted that the 15,000 horses of Rochester NY produced enough manure in 1900 to cover an acre of ground with a layer 175 feet high. This steadily increasing production caused more pessimistic observers of the period to predict that American cities would disappear like Pompeii - but not under ashes.
Unfortunately, the Ford Model Ts time came and went. Henry Ford failed to realize this and had to play catch-up with the Model A successor. By the 1920s, the 20 horsepower Model T was underpowered and its simple planetary transmission and lack of adequate braking system rendered it unsuitable for modern roads. In the late 1980s, I belonged to a local historic auto club. When we did tours, members with stock Model Ts couldn't bring their flivvers along, because they couldn't keep up with traffic, even on a 50 mph road.
This book documents a cross-country trip along the Lincoln Highway in a modified Model T Ford. Yes, it did have the planetary transmission, but the engine had an Rajo overhead-valve conversion kit and other modifications which doubled the horsepower and allowed the car to cruise at speeds of 55 mph or so. This T, dubbed Something Special, had been modified as a speedster - a fenderless two-seat roadster with a chopped top and modern four-wheel hydraulic brakes.
The book is a diary of this driving adventure, mixed in with Lincoln Highway history, tales of local people and the small towns in which they live, the limitations of the 90+ year-old vehicle, nostalgic musings, visits to car museums and interesting historic sights along the way.
There are lots of pictures and sidebars to entertain in this 220-page book and it all makes for an easy read.
I had one problem with the book; the author has written about other cross-country trips before. After selling his company in 2000, Tom Cotter bought himself a 289 Cobra and drove across the United States with his writer pal Peter Egan. And wrote about it. Later, Tom authored 'Barn Find Road Trip' and 'Route 66 Barn Found Road Trip'. I didn't know this until he mentioned it in 'Coast to Coast'. Somehow, this knowledge took some of the magic out of the story. Imagine a traveling magician, telling his audience, "Hey, if you thought that was good, you shoulda seen the trick I did in Cleveland last week."

In 1978, my family and I drove from New Jersey to Oregon. We made many stops along the way, visiting friends and taking our kids to local attractions and points of interest. Both of them kept scrapbooks of that journey and still remember it with fondness. We've never done another cross-country driving trip; that first one couldn't be topped. That's just my opinion.
Verdict: Recommended. 'Coast To Coast' is eminently readable and the stories will make you feel you're along for the ride. While auto enthusiasts will find the book of particular interest, you don't have do be a gearhead or old Ford lover to enjoy it. (Review copy supplied by Motorbooks.) (posted 1/18/19, permalink)
---
'None Of My Business: P.J. Explains Money, Banking, Debt, Equity, Assets, Liabilities, and Why He's Not Rich and Neither Are You' by P.J. O'Rourke
This book is allegedly about banking and finance but is in reality a collection of O'Rourke's essays which are kinda, sort-of related to the subject at hand. This 244-page mini-tome was very disjointed, lacking flow between chapters.
Many years ago, Mr. O'Rourke wrote brilliantly-witty books on a variety of subjects. At his best, P.J. O'Rourke is a thoughtful Hunter S. Thompson, with considerably lower systemic drug levels. His trademark rapier wit was often seen on various on-air cable news gigs.
Entropy - the enemy of all of us aging geezers - is clearly at work here, although Mr. O'Rourke is three years younger than me. His last offering, 'How The Hell Did This Happen: The Election Of 2016', was particularly awful, full of Never-Trump vitriol.
This book is not as bad, although it is mostly devoid of even a laugh or a chuckle. I did enjoy his comparison of 'The Jetsons' versus what the future actually turned out to be. His musings about The Future offer the same cautions and warning about predictions about which I have previously written.() O'Rourke also mused about Eloi and Morlocks, from H. G. Wells' 1895 novel 'The Time Machine', noting that most Trump voters were Morlocks. He meant that as an insult but I believe that it's mostly true.
I've been a Morlock - the worker class that keeps the economy going - during much of my life. I remember my days at the R&H Plastics Engineering Lab, when I worked in the processing group. We kept our fingernails dirty dealing with manufacturing solutions. I used to refer to the lab's Design and Testing Groups as Eloi because they had cleaner fingernails and were granted the leisure of dealing with more esoteric and theoretical subjects. Most of my fellow engineers had no idea what I was talking about because, like most engineers, they had a minimal literary exposure and had no idea who H.G. Wells was.
Several years later, I owned my own business and, in the early years, spent a lot of time running machinery to fulfill customer orders - sweat equity, I suppose.
Back to the book … it is unfortunate that it was so poorly-composed and lacking in humor. In early chapters, O'Rourke's anti-Trump shots were inferential; toward the end of the book they were out in the open and quite obvious. I guess P.J. just couldn't help himself.
Verdict: Not much to see (or learn) here. (posted 1/14/19, permalink)
---
'Jaguar XK: A Celebration of Jaguar's 1950s Classic' by Nigel Thorley
Since its founding in the 1920s, Jaguar has always offered sporting cars. Yes, saloons were produced for gentlemen who required extra doors or wealthy, portly lads who couldn't fit in a sports car, but Jaguar's flagship was always a sports car. When the Jaguar XK120 burst on the automotive scene at the 1948 London Motor Show, the British sports car stunned the public. Its swoopy lines were quite a contrast with other British two-seaters - as well as older Jags - and made all of them look stodgy and ancient by comparison.
The original Jaguar XK was to be a four-cylinder car called the XK100. Thankfully, that idea was scrapped. The 1948 Jaguar XK120 was powered by a new overhead-cam six-cylinder engine used by Jaguar until 1992. The XK 120 was wickedly fast for its time.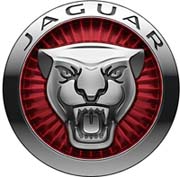 The XK120 became a big hit in the U.S., after the British government reduced the value of the pound by 30% against the dollar in September 1949. By 1952, Jaguar was exporting 96% of its annual output, much of it to the U.S. The XK series became the car of movie stars, wealthy enthusiasts and sporting, trust-fund cads. Its sleek body, tuned chassis and powerful engine made everyone want one. Or want to copy one. The XK120 was GM's 'bogey' for the 1953 Corvette, although the Chevy missed the target by a country mile. If there hadn't been a Jag XK120, there probably would have never been a Corvette of any kind. Or a two-seat Thunderbird, either.
Despite being far pricier than Volkswagen or MG, in the U.S., Jaguar was the third best-selling imported car in 1955. Not only were the XK series great cars but, as the author points out, the company was smart enough to establish a solid distribution system in America early on. In the book, Mr. Thorley provides tables comparing Jaguar with its "rivals," listing cars such as the AC Ace, Frazer Nash, Sunbeam Alpine, Jensen Interceptor and Bristol 403. These cars were either unknown or sold in relatively small quantities in the U.S. because they had limited distribution and support. In early postwar Britain, exports were a key to rebuilding the country's treasury. Auto exports, especially MG and Jaguar, played an important role in restoring the country's economy.
I still have a silver-colored XK150 catalog obtained at the 1960 Philadelphia Auto Show. The 150 was introduced in mid-1957 and was the evolutionary successor to the 120 and 140 models. It's the only catalog I've kept from that show because I was so taken with the exotic lines of that Jaguar. In 1998, I finally bought a Jag and thoroughly enjoyed owning it. I think everyone should have a Jaguar at least once in their lives.
Author Nigel Thorley is a true Jaguar expert - he's owned 70 of them and is co-founder of the Jaguar Enthusiasts' Club. This high-quality, informative book, printed on heavy glossy stock, is full of facts, stories from factory, race track tales and contains many gorgeous photos.
Verdict: Highly recommended for all auto enthusiasts, not just Jaguar fans. The author stressed the importance of the XK legacy, noting that "the range played a vital role in developing Jaguar's export business, proving its reputation for quality, longevity and performance in competition." (Review copy provided by Veloce Publishing.) (posted 1/10/19, permalink)
---
'The Perfectionists: How Precision Engineers Created the Modern World' by Simon Winchester
This 352-page book (plus acknowledgements, bibliography and index) traces the development of precision manufacturing from the very imprecise pre-Industrial Age to the digital world of the 21st Century. This is a not-very-technical work, although there are some interesting historical stories within its covers. And parts of the book are fascinating, such as the development of Johansson blocks (aka: gauge blocks), something I'm familiar with because they were used by the precision tool shop at the lab where I once worked.
The author mistakenly intermingles the terms precision, standardization, repeatability and quality. They are not the same thing, although they are cousins. The book suffers because of it. The author seems to have a bias toward English tech history, although American technical development had superseded the Brits by the 1870s. The author does point out that, in the early 19th century, inventor Thomas Blanchard developed methods for producing interchangeable, standardized components for guns produced at the Harpers Ferry Armory. These components were machine-made in their entirety, inspiring the American phrase "lock, stock and barrel."
I was frustrated by the lack of explanatory drawings/images in the early part of the book. Later on, the photos were too small and inferior in quality. There were no color photos in the book. At the end, the author inexplicably moved from the super-accuracy of jet engines, clean rooms and satellite components to the art of bamboo. It's as if he ran out of stuff to write about. Go figure.
Verdict: While I learned a few things from 'The Perfectionists', and the book's concept was intriguing, the delivery left much to be desired. Far from perfect, it wasn't awful but I'm hesitant to recommend it. (posted 1/2/19, permalink)
---
copyright 2019 - Joseph M. Sherlock - All applicable rights reserved
---
Disclaimer
The facts presented in this blog are based on my best guesses and my substantially faulty geezer memory. The opinions expressed herein are strictly those of the author and are protected by the U.S. Constitution. Probably.
If I have slandered any brands of automobiles, either expressly or inadvertently, they're most likely crap cars and deserve it. Automobile manufacturers should be aware that they always have the option of trying to change my mind by providing me with vehicles to test drive. I'll dutifully report my road test impressions on this car blog.
If I have slandered any people or corporations in this blog, either expressly or inadvertently, they should buy me strong drinks (and an expensive meal) and try to prove to me that they're not the jerks I've portrayed them to be. If you're buying, I'm willing to listen.
---