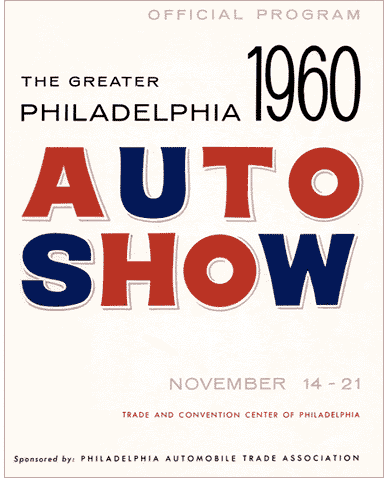 In recent years, I have bemoaned the lack of exciting new cars. This got me thinking back to many years ago - the 1960 model year.
While there was no GM Motorama that year and not many concept or dream cars from other makers (the Valiant-based Plymouth XNR asymmetrical roadster was the only one I remember), there were some completely new models to inspect and examine at dealerships and auto shows. As high school Juniors, my car buddies and I toured the 1960 Philly Auto Show in November 1959.
The big news for '60 was the introduction of compact models by the Big Three. The Chevy Corvair was a radical departure for Detroit - a rear-engined, air-cooled compact car with a host of aluminum components to save weight. It was full of technical novelties.
The Ford Falcon was a pleasantly-styled - if a bland-looking - downsized Ford, in every way. Its entire powertrain was simply a smaller version of its larger brother's. But it offered proven technology for the less adventurous small car buyer. Period ads claimed the car had "three years and three million miles" behind it and that it was "the world's most experienced new car." Ford also reminded prospects that the Falcon provided "nearly four times more luggage space than the most popular imported new car."
The Falcon outsold the Corvair by almost twofold in 1960 - 429,676 to 250,007.
Introduced a bit later than its competition, the 1960 Valiant offered a unique, pseudo-European look, different than other Chrysler Corp. offerings, and was larger than either the Falcon or Corvair. It had a more powerful engine, too. An all-new overhead-valve slant-six replaced the ancient flathead six which had powered Plymouths and Dodges since the 1930s.
While compacts were the big story, Ford's large cars - 1960 Ford, Mercury and Edsel had all-new bodies and completely different styling than the 1959 models. All Chrysler cars got new unibodies (except Imperial, which continued to use body on frame construction). All of Chrysler's big V8s got Ram Induction manifolds for '60.
General Motors cars had been vastly redesigned in 1957; they received softened restyling for 1960. Buick ads touted finned aluminum drum brakes and a Turbine Drive transmission.
It should be noted that, in 1960, imported cars accounted for only 7% of total auto sales; most were VWs. (Toyota's Toyopet Crown was offered in California in 1958. In three years, fewer than 1200 found buyers. Toyota withdrew from the U.S. market until it returned with the 1966 Corona which was better equipped to deal with the high speeds of America's freeways.) In 1959, over 150,000 Volkswagens were sold in America and, by 1961, Volkswagen had 87% of the imported vehicle market. In 1969, VW sold 549,000 vehicles in the U.S., compared with only 127,000 Toyotas. But the Japanese Invasion was just beginning. By 1978, imported nameplates accounted for 18% of total vehicle sales. By 1982, the figure had risen to 28%.
Not to be outdone in the imported compact car frenzy, Buick ran ads for its Opel Rekord: 'German Made. American Style'. Meanwhile Pontiac dealer ads promoted the Vauxhall Victor: 'A Quality Product of England since 1904.'
If my memory serves me correctly, also on exhibit was a scale model of the first successful self-propelled road vehicle - the 1769-70 Cugnot steam carriage. This three-wheeled French machine was constructed by inventor Nicolas-Joseph Cugnot. The display model was well detailed and fairly large: three to four feet in length.
In 1960, there was much exciting stuff to see at auto shows. Less so these days. (posted 10/16/14)