John R. Bond was publisher of Road & Track magazine from 1949 to 1972. He was a pioneer in field of automotive writing and publishing. An engineer by training, Bond once designed motorcycles for Harley-Davidson.
Born in Muncie, Indiana on July 25, 1912, his automotive interests were encouraged by a father who was also in the automotive business. Following graduation in mechanical engineering from the General Motors Institute in Flint, Michigan in 1934, John worked with Harley-Davidson, Studebaker (from 1940 to '43) and White Truck. When he began contributing to R&T, he was a design engineer with custom and race car builder Frank Kurtis.
Road & Track magazine was founded in Hempstead, NY by Wilfred H. Brehaut, Jr. and Joseph S. Fennessy. The first issue - dated June 1947 - predated Hot Rod and Motor Trend. But Road & Track struggled; issues were sporadic. John R. Bond wrote his first article for R&T, 'What Is a Sports Car?' in 1948. In 1949, Bond and his second wife, Elaine, bought Road & Track and turned things around.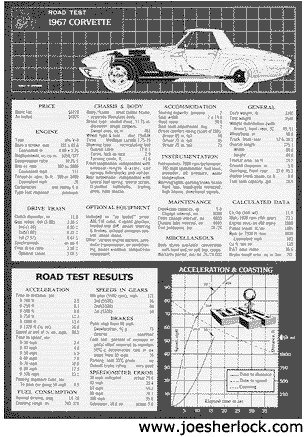 Bond brought an engineer's logic to the publication but had a talent for writing about technical matters in layman's terms. While others, including the legendary Tom McCahill, had published road tests of cars, John R. Bond's reports provided far more data, including acceleration graphs, time to distance, time to speed, maximum speeds in gears, stopping times, fuel economy and speedometer error.
He also authored a monthly column, 'Miscellaneous Ramblings'. Subjects ranged from automotive history, personal observations, quips about new automotive offerings and obscure technical details about cars of all kinds. John penned every column from 1950 to 1969.
David E. Davis Jr., who once was an employee of R&T, wrote that the Bond's "vision for the Road & Track of the Fifties was shaped like this: America has no magazines like Autocar or Motor. America's car enthusiasts need a magazine of that kind, a magazine that even covers the same basic portfolio of cars as Autocar and Motor." But English magazines of the era were dry and boring.
"Elaine admired the New Yorker magazine immensely and the New Yorker became their model. Their Road & Track combined the subject matter of English car magazines with the sly wit and understated elegance of the New Yorker. It was a brilliant plan, and it resulted in a brilliantly successful magazine."
Elaine Bond ran the business end of the magazine while John handled content. His ideas were often offbeat - he once proposed a modern iteration of a Model J Duesenberg powered by two Chevrolet V-8 engines - but he was often ahead of his time. In 1960, Bond wrote that the Wankel engine - then hyped as the Next Big Thing - would never amount much. With the exception of Mazda, he was right. John reasoned that it was "too dirty," foreseeing the eventual need for reduced tailpipe emissions.
As a young reader in the late 1950s (I bought my first R&T in April, 1957), I thought John R. Bond must have been the coolest car guy on the planet. Being very ignorant about the realities of the independent specialty publishing business, I assumed that he was a multimillionaire mogul who had a stable of exotic Italian sports cars. And a Pegaso with desmodromic valves. (The Bonds did have some desirable machinery later in life - after they had received a big cash windfall by selling R&T.)
The Bonds sold the magazine to CBS Publications in 1972 and gradually withdrew from the operation. John and Elaine retired to their hilltop home in Escondido, California which had a magnificent view and a 20-car garage - home to a couple of Ferraris (a 1950 Ferrari 166MM and a 1963 Ferrari 330 America) and a 1934 Railton-Terraplane. Briggs Cunningham was their next-door neighbor.
In July 1990, John R. Bond died of emphysema at age 77. At the time of his death, John had remarried his first wife, Mercedes. Elaine had died in 1984 of a brain tumor.
John R. Bond has been inducted into the Motorsports Hall of Fame for his unique contributions. He was an inspiration to auto enthusiasts and would-be writers.
We shall not see his like again. (posted 10/4/13)