By the mid-1930s, the Pennsylvania Railroad realized that it needed a fast modern-looking passenger locomotive powerful enough to pull long strings of cars. While the electric GG1 locomotive filled the need very nicely for those tracks which were electrified, a steam locomotive was required for those long, mid-west runs. (There was no PRR electrification west of Harrisburg, PA.)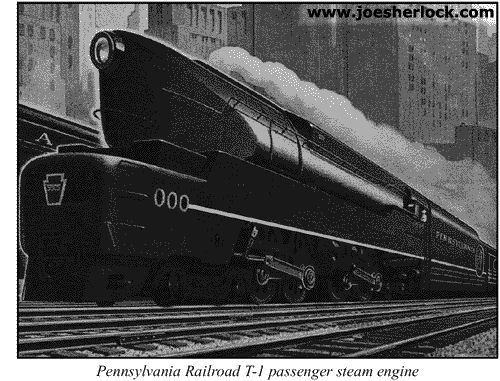 The T1, a duplex-drive 4-4-4-4, was designed to meet those needs. The distinctive and handsome art deco, chisel-nosed locomotive was styled by Raymond A. Loewy. Fifty-two T1s were made in the 1942-46 period.
The locomotive weighed 502,200 pounds while the large fully-loaded tender weighed in at 442,500. Total length of the engine and tender was 122 feet. The T1's 5,000+ horsepower transmitted through 80-inch drive wheels could propel the monster to speeds up to 140 miles per hour - even when pulling a 1,000 ton train.
These mighty engines routinely hauled passenger 'name' trains at high speeds in the flat lands of Illinois, Indiana and Ohio. They also saw service into the Harrisburg, Altoona, Pittsburgh and St. Louis areas as well.
The unique 4-4-4-4 wheel arrangement afforded numerous engineering advantages over conventional designs, but at a price - complication. The T1 earned a reputation of a true thoroughbred - enormously strong, but, temperamental.
While the big T1s were fast and powerful, they were high maintenance and, therefore, had only limited success as a passenger locomotive. By the early 1950's, the last of the T1s was taken out of service in favor of cheaper-to-operate, more reliable diesels. Sadly, none were saved from the scrap torch.
The Pennsy T1 on my O-gauge model train layout was made by MTH Electric Trains and features Protosound - a feature which produces realistic chugging and whistle sounds. Here is a 2.5 minute video of my PRR T1 locomotive in operation: