---
Car Musings (2017)
---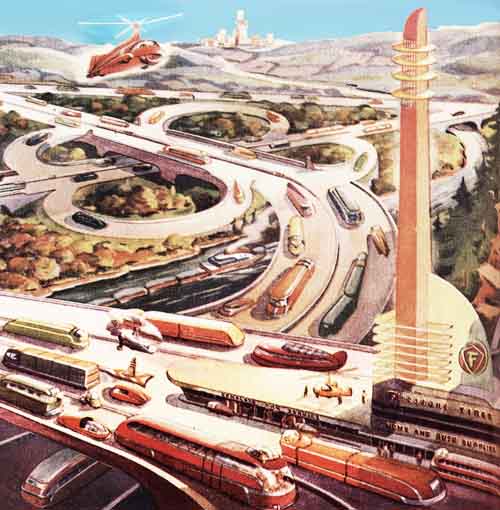 The future as envisioned by Firestone in 1945. A land of blue skies, personal helicopters, streamlined trucks and teardrop-shaped cars passing art deco buildings at 120 mph.

Nevertheless, 70-plus years later, vehicles are still rolling on rubber tires and Firestone is still making them.

---
FutureWorld:
In mid-June, the print edition of
The Wall Street Journal
contained a special section titled 'Future of Transportation' with contributions and quotable predictions by experts.
Naturally, there was an article titled: 'The Future Of U.S. Train Travel'. Alex Trebek might have said, "This one is 'dismal'." Or: "The category is 'Subsidies'." Of course, the article was generally more positive than that with talk of Japanese-style bullet trains, Mag-Lev, Hyperloop and other expensive improbables, financed by "public-private partnerships." Good luck with that. Passenger trains in the U.S. have been money losers for over 70 years. Therefore, I personally believe that the future is Amtrak but with an even more run-down infrastructure.
I've made numerous postings about rail travel here.
And now ... on to automobiles: The WSJ's headline 'The End of Car Ownership' posited that "ride-sharing and self-driving vehicles are going to redefine our relationships with cars." There was an illustration in which all the cars have bubble roofs, recalling the futuristic Plexiglas dome fetish of the 1950s. But the people in the drawing are dressed like today - no silver lamé jumpsuits yet, so it can't be the real future, can it?
The article proclaimed that "One quarter of miles driven in the U.S. may be through shared, self-driving vehicles by 2030, according to an estimate by Boston Consulting Group." Zipcar (now a division of Avis), Turo (a venture-capitalized firm), car2go (the largest of the bunch with 14,000 vehicles, headquartered in Germany and owned by Daimler AG), Hertz on Demand and others have offered ride-sharing services for years. Most of these services are located in densely populated cities where many people don't own cars.
Car-sharing won't rob from automakers; its competition is Uber, Lyft and taxis. And maybe - in the future - Johnny Cabs; Car-sharing will grown only if urban areas grow - not necessarily a given, since many big cities in the U.S. are high tax, high crime and high cost. That's why so many cities are losing population to suburbs where car ownership is almost a must. Mass proliferation of shared vehicles will never happen - too much of a hassle and impractical. Like vacation time-shares, shared vehicles sound better on paper than in real life. In my view, most people will continue to own their own cars. Or lease them.
I should point out that Jack Baruth has a different, darker and more pessimistic view of our automotive future.
Then there are self-driving vehicles. General Motors announced that it has 180 autonomous vehicles under test and that it has the capability to begin mass production of them. (Sixty years ago, GM said that about turbine engines, too. Look how that turned out.) For now, the automaker is commiting $600 million per year to autonomous development.
Last year, Goldman Sachs projected that, between driver-assistance technology and autonomous vehicles, the market will grow from about $3 billion in 2015 to $96 billion in 2025 and $290 billion in 2035. One key is convincing regulators to allow vehicles that are designed with no driver controls at all - comfy chairs and a computer screen in a rolling box - and to convince people to get into them.
I believe fully-autonomous vehicles will arrive by 2030 or before. We already have vehicles with lane-change warning devices and 'smart' cruise control. Mercedes has demonstrated a self-braking car. Self-driving cars are the logical extension of these technologies. The first generation of these cars may require you to take over on some lesser country roads.
If this were the Good Old Days, J.C. Whitney would already be offering an Amazing Self-Driving Conversion Kit in their catalog for $49.95. "E-Z to install - takes only minutes! No special tools required! Fits all cars except Hudson and Kaiser."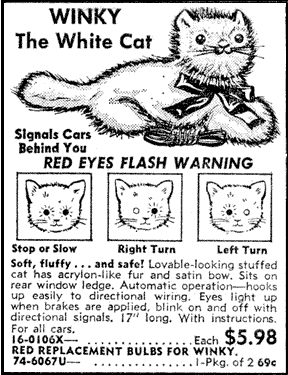 Yeah, send me one of those ... and a Winky the White Cat, too. (posted 8/1/17, permalink)
---
Homeworked: One of the more interesting cars destined for this year's Monterey auction is a Ghia-bodied 1953 Abarth Sport 1100. While Pebble Beach is full of professionally-restored vehicles with restoration bills in the millions, this beauty was "restored in an owner's garage, then hauled cross-country in a borrowed trailer towed by a friends truck." In 2015, the Abarth "won the Postwar Early class, on its way to being named as a finalist (one of three) for Best of Show." Now, this one-of-a-kind Abarth is heading to auction, at no reserve, part of RM Sotheby's upcoming Monterey sale.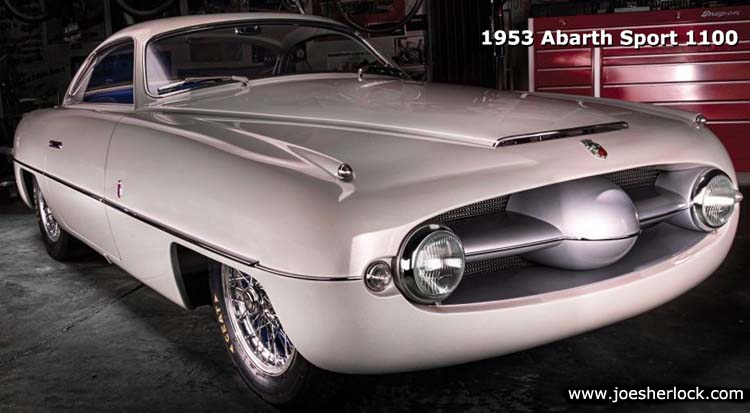 Ghia first exhibited this car at the 1953 Turin Salon. Aldo Farinelli, writing in the Italian magazine Motor Italia, described the car as "a masterpiece of design." Abarth sold the car to American Bill Vaughn, who exhibited it at the 1954 New York Auto Show as the Vaughn SS Wildcat.
This unique coupe looks a little bit like the French Cemo Turbo of the same era. I never saw the Cemo in person but it was one of my favorite Topps 'World on Wheels' trading cards. The one-off Cemo experimental car was powered by a 100 horsepower turbine engine. (posted 7/24/17, permalink)
---
Book Review: 'Go Like Hell: Ford, Ferrari, and Their Battle for Speed and Glory at Le Mans' by A. J. Baime

I clearly remember when the Ford GT40 debuted and the Ford-Ferrari racing battle which ensued. Baime's book provides the colorful backstory. Yes, the book does an outstanding job telling the many stories surrounding Ford's winning years at Le Mans, particularly the big win in 1966. But there's so much more in the book - the clash of two famous automakers by their two ego-driven top execs each of whom had their names on the buildings and the cars, the rise and fall of well-known race drivers of yore, the role of Carroll Shelby in making the Cobra and the GT-40 a success, the story of Lee Iacocca and his rise to fame due to his ability to turn racing performance and image into car buyers.
The book took this reader on a wonderful and exciting journey to a risk-filled, bygone era in racing and ... (more >>>)
---
Cool Idea: Here's a clever way for an entrepreneur to drum up some business. A retrofit shop selling an aftermarket auto air conditioner called the Refrigair Jr. Cooling Unit attracts the attention of sweating pedestrians by parking a 1952 Ford Customline Fordor sedan on a hot, downtown street. A sign invites prospects to "see how cool it is inside" with temperature gauges mounted inside and outside the Ford for comparison.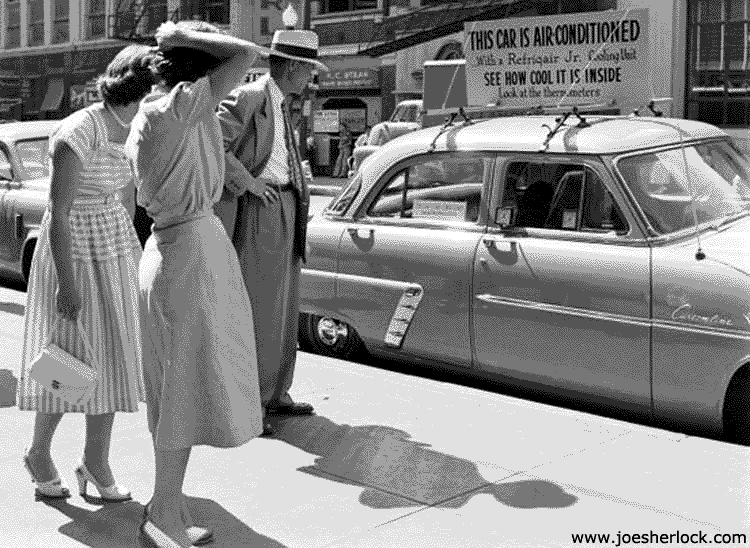 The Refrigair Jr. auto A/C kit was developed by Bill Lind, a Fort Worth, TX manufacturer, and veteran race driver Babe Stapp. The kit consisted of a compressor and condenser mounted underhood and a Freon cooler which was installed in the trunk of the car. The Refrigair Jr. was offered for 6-volt and 12-volt auto electrical systems and had dial controls mounted on an under-dash holder, according to an article in the August 1953 issue of 'Popular Science' magazine.
Air-conditioned cars in 1953 were few; Ford didn't offer factory A/C until 1955. Even on the pricey $10,000 1956-57 Continental Mark II, air conditioning was an extra-cost option. In 1959, twenty years after Packard became the first automaker to offer factory-installed A/C, air-conditioning was rarely found on non-luxury automobiles and was still optional on Cadillacs, Lincolns and Imperials.
When I was growing up in the 1950s, we had no A/C in our homes or cars. During hot, sticky weather, people would dine out or go to the movies to cool off with conditioned air. My parents never owned an A/C-equipped automobile. My first air-conditioned car was a 1976 model, purchased new. (posted 6/12/17, permalink)
---

Replacing Air: Although others had patented it previously, the first practical pneumatic tire was produced in 1888 by John Dunlop of Belfast Ireland. It was a hollow vulcanized rubber tube filled with air. Soon afterward, tires were constructed of rubber reinforced with cord and used a rubber inner tube to help prevent leaks.
Even in the 1920s, flat tires were a common occurrance because of rough roads and the fact that early cord-ply constructed tires were delicate and prone to punctures as were inner tubes. Flat tires were time consuming and, for business vehicles such as delivery trucks, time-wasting. If only there were a substitute for pressurized air.
Bettern-Air, the invention of a German chemist, was a vegetable compound which looked like rubber but was far more resilient. It was manufactured in 24-inch long logs, which are placed in tire casings under pressure. Bettern-Air minimized the number of flats and its spongy nature provided a smooth ride - like a pneumatic tire.
---
Remembering The Griffith: Inspired by the success of the Shelby Cobra, Jack Griffith, a Long Island, NY Ford dealer, shoehorned a Ford V-8 into a British-built TVR Grantura Mark III, replacing the car's anemic 4-cylinder, 76 horsepower motor. The small fiberglass coupe weighed less than 2,000 pounds and, with the high-performance version of the 289 cubic-inch Ford engine, could do - according to ads - 0-60 in 3.8 seconds and had a top speed of 145 mph. The car debuted in 1964.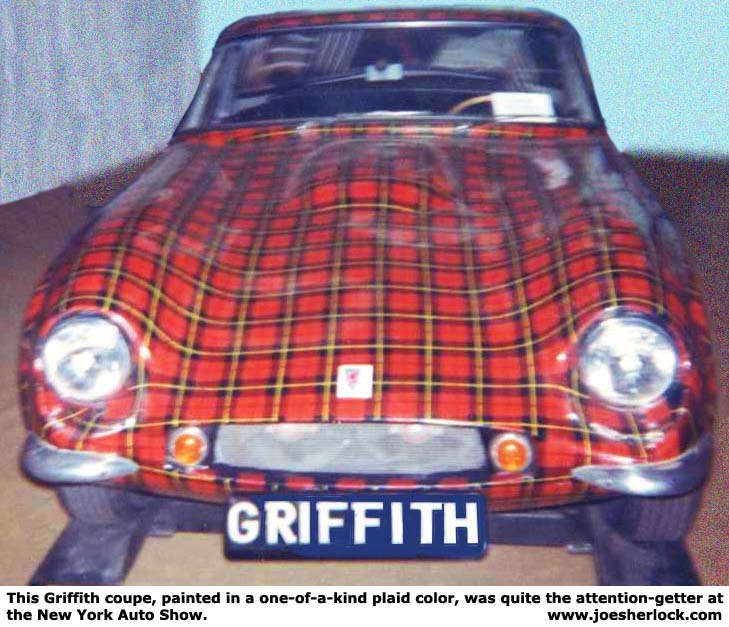 Priced at $3,995, the TVR Griffith Series 400 was crude compared with its Cobra and Corvette competitors, reflecting a lack of proper development of the car. The Griffith 400 is a rare car - less than 70 copies were produced. (posted 5/19/17, permalink)
---
Profit By The Pound: Porsche has found the magic - it has managed to increase sales, widen its market with sedans and SUV, while still managing to retain its exclusivity and desirability. The automaker "delivered 238,000 vehicles last year and posted an operating profit of $4.1 billion - a 14% increase over 2015's accounting.
A little back-of-the-envelope math places the per-car profit at roughly $17,250. As a premium automaker, you'd expect it to rake it in on every vehicle sold. However, Porsche doesn't limit production to the same extent that Ferrari does in order to maintain artificially high prices. And it absolutely decimates other premium brands that offer exclusivity at a higher volume. BMW and Mercedes-Benz both hover at around $5,000 in profit per car."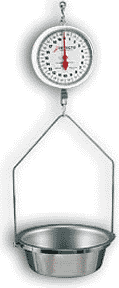 In today's market, a new, base-model Chevrolet Spark can be had for as little as $5.75 per pound. Ford Fusion? As little as $6.60 per pound. A Chrysler 300 sells for as little as eight bucks per pound.
On the other hand, a well-equipped Porsche Panamera sedan sells for about $130,000 and weighs 4,100 pounds - that's $31.70 per pound.
The Porsche Cayenne SUV sells for $40,000 for a stripper to $160,000 for the top line model. Curb weight ranges from 4,500 to 4,900 pounds. A well-equipped example sells for about $95,000 and weighs 4,700 pounds - that's just over $20 per pound.
When you're selling decent volumes of cars at prices north of $20 per pound, it's difficult to not make a big profit. I wrote about selling stuff by the pound several years ago, noting at it's not just a good measurement for cars but for tires and other merchandise as well.
In the mass market, Toyota does OK - a 2017 Highlander sells for $30,000 to $45,000, depending on the model. Curb weight ranges from 4,200 to 4,700 pounds. New Highlanders fetch between $7.17/lb to $9.57/lb.
Meanwhile a 2017 Lexus RX SUV sells for $43,000 to $56,000, depending on the model. Curb weight ranges from 4,200 to 4,700 pounds. New RXs fetch between $10.25/lb to $11.91/lb. Lexus commands a 25-40% premium over its Toyota cousin. This helps Toyota Motor Co. make a profit and makes up for low-margin items like the Yaris and Corolla.
If your volume of product is very limited, you absolutely must charge a large premium to survive. That's why the 2017 Rolls Royce Phantom Coupe starts at just over $80/pound.
Porsche has found its vehicular sweet spot, commanding high prices per pound while selling decent volumes of product. (posted 4/13/17, permalink)
---
Trouble Down Under: Graeme Ogg, writing in Model Auto Review, noted that "Australian car manufacturing will come to an end when the iconic Holden brand closes its last domestic plant later this year. Ford stopped building cars locally a year ago. Toyota will close its assembly plant (building Camrys for export) a couple of weeks before Holden. And of course Chrysler, another big name in Australian automotive history, sold out to Mitsubishi around 1980, and Mitsubishi eventually gave up in Oz in 2008." Too bad because, in their day, the Aussies produced some wicked muscle cars.
"The problem for local manufacturers is that Australians have become spoiled for choice with foreign brands, and demand for home-grown Fords and Holdens fell off to the point where local component manufacturers couldn't make a living from the low production numbers so, ironically, components were being imported to build cars in a country which is surrounded by developing nations like Thailand and Indonesia where labour costs are much lower. Not really a viable long-term option (subsidized by the taxpayer to the tune of AU$5 billion over the last 10 years)."


1948 215 (FX) - Holden's first all-Australian automobile
derived from the stillborn Chevrolet Cadet project
---
Australia is a big country but is sparsely populated. Canada has 52% more people. The U.S. has almost 14 times as many people as Australia. It's hard to justify bespoke cars for such a small market.
Big changes are afoot in the global auto market. Look what has happened with Vauxhall and Opel. (posted 4/7/17, permalink)
---
Commuting 1951-Style: I spent several years (1971-78) doing the smoggy daily round trip from my home in New Jersey to my job in downtown Philadelphia. Rush hour traffic was bumper-to-bumper and, apparently, it was no better twenty years earlier.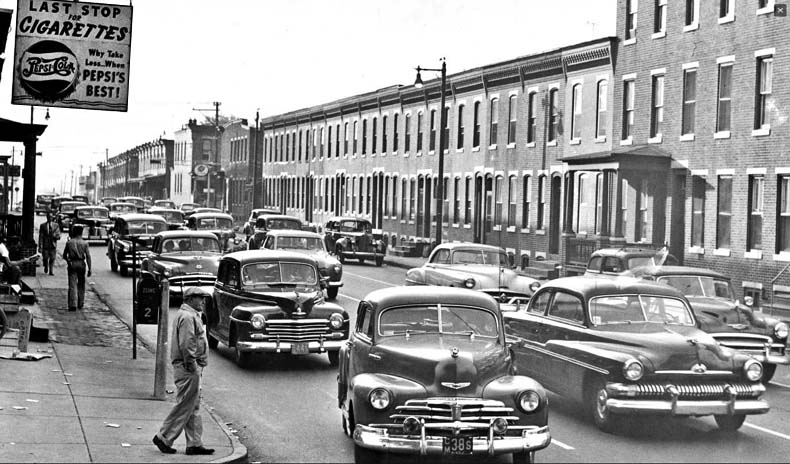 In this period Camden, NJ photo, posted on The Old Motor, there is lots to see. In the foreground ... (more >>>)
---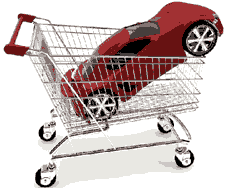 2017 Consumer Reports' Annual Auto Issue: This year's issue seemed to offer fewer data and more opinion than in prior years. CR's database comes from "more than half a million" vehicles owned by subscribers who fill out Consumer Reports annual survey. That number seems to be a significant drop from last year, when CR reported a base of over 740,000 vehicles.
That said, Consumer Reports remains the most comprehensive and believable of various reliability surveys. Cars which are awarded the coveted Buy Recommendation now only need to score 'average' in reliability.
Here are some interesting tidbits from the magazine:
• The highest road test score was Tesla Model S (100 points) - same as last year. This may be the case as long as the road test isn't a lengthy one where the Tesla runs out of juice.

• The lowest road test scores were Jeep Wrangler (20 points) and Mitsubishi Mirage ES (29 points), exactly the same numbers as reported in the 2016 issue.

• The worst gas mileage among tested vehicles was a three-way tie: Toyota Land Cruiser, Nissan Armada and Ford Expedition. Each delivered 14 mpg overall.

• The best brands, based on a combination of road test scores, predicted reliability and owner satisfaction, were Audi, Porsche, BMW, Lexus and Subaru.

• The worst brands, based on a combination of road test scores and reliability scores, were Fiat, Jeep, Mitsubishi, Land Rover and Dodge.

• Among luxury brands, Lexus had the best reliability, followed by Audi. BMW and Porsche. Mercedes, Infiniti and Acura offered only average reliability. Cadillac, Jaguar, Lincoln, Mercedes-Benz and Tesla all scored worse than average. Land Rover scored much worse than average in CR's survey.

• Specific models which score much worse than average in predicted reliability include all Alfa Romeos, Acura TLX, Cadillac ATS and Escalade, Chevy Suburban, Tahoe and Volt, Dodge Charger and Challenger, Ford Focus, Fiesta and Mustang, GMC Yukon and Sierra 2500HD, Fiat 500, 500C, 500L and 500X, Honda Civic, Jeep Renegade and Grand Cherokee, all Land Rovers, Lincoln MKC, Maserati Ghibli, Mercedes S-Class and GLS, Ram 1500 and 2500, Tesla Model X, Toyota Tacoma, Volkswagen Beetle, Golf Alltrack, Jetta, Tiguan and Toureg, as well as the Volvo XC90.

• The magazine's 2017 Alfa Romeo Giulia Ti test car "has hardly been able to undergo Consumer Reports' testing." After hoisting up the Giulia for inspection, CR "discovered that a brake wear sensor was hanging loose. The placement of the front license plate interferes with parking sensors." The sunroof on the brand-new car, "doesn't want to open." And the Check Engine light keeps coming on. The test car has visited the dealership for problems three times during its brief life.

• Some models rated much wore than average in reliability still have pretty good owner satisfaction scores, indicating that people like their cars so much that they excuse their vehicles' shortcomings. The Jeep Grand Cherokee and Jeep Wrangler are such examples; both had above-average satisfaction ratings, despite much worse than average reliability. Apparently, Jeep people will put up with vehicle flaws in order to get the Jeep Experience.

Vehicles which were ranked much worse than average in owner satisfaction included Acura ILX, Nissan Pathfinder, Sentra, Versa and Versa Note. All are unloved by their owners, even though some are average or above-average in reliability. The Versa and Note are noisy and have interiors which don't meet expectations.

The entry-level Acura is Civic-based. It has a harsh ride, a quirky transmission and uncomfortable seats - shortcomings unworthy of a luxury brand. Interestingly, the IRL has better than average reliability while its Honda cousin's not reliable at all.

• The Made-in-Mexico Lincoln MKZ sedan has a much better reliability rating (average) than the Made-in-Kentucky Lincoln MKC small crossover (much worse than average). It can't be the Kentucky work ethic; Toyota's Kentucky plant produces several high-quality, highly-rated vehicles, including the Camry, Avalon and Lexus ES350. The little Lincoln scored badly last year; why hasn't Ford Motor Co. improved the MKC, as well as the Ford Focus and Fiesta which seem to score poorly year after year?
I still put much stock in Consumer Reports' car survey data analysis. I recommend that you pick up a copy of the April issue for reference while it's still available. (posted 3/28/17, permalink)
---
Everything Old Is New Again: Introduced at the 2017 Geneva Auto Show, the Mercedes-AMG GT concept is a very sleek sedan - although I could do without the vertical jail-bar grille and the generic rear end.
Mercedes calls the car a "four-door coupe," representing the latest neck-bending fad. It's really just a synonym for a sloped-back sedan and has been around for ... what? ... almost 80 years.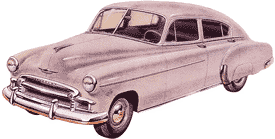 Fastback styling is revived every generation or so as something new and innovative. The 1950 Chevy Fleetline fastback is one such example. Back in the early 1940s, General Motors referred to its fastback sedans as having Torpedo Styling, just before the company shut down its automobile assembly lines so it could manufacture ... ummm ... actual torpedoes. Oh irony, thy name is Harley Earl.
Beginning in 1949, Chevrolet offered two body treatments. The fastbacks (two-door and four-door) were called Fleetlines. The hump-trunks or notchbacks (two-door and four-door) were called Stylelines. Both body styles were offered in two trim levels: Special (cheapie) and the DeLuxe (better). My aunt drove a 1949 Chevrolet Styleline Deluxe four-door sedan.
Interestingly, both the fastbacks and notchbacks sold at about the same rate in 1949. But, the following year, the notchback was outselling the fastback by almost two to one. By 1952, the notchback version was outselling the fastback by almost ten to one. That's why GM got out of the fastback business after 1952.
A generation later, GM revived the torpedo style with the hideous 1978 GM Aerodecks (or was it 'Aerodrecks'?): the Buick Century Custom and the Oldsmobile Cutlass Salon. Torpedos indeed ... they bombed.
In this second decade of the 21st Century, fastbacks have once again become a style trend. This too shall pass. (posted 3/14/17, permalink)
---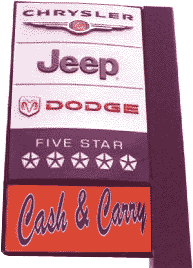 Fiat-Chrysler's Last Gasp? Fiat Chrysler Automobiles N.V. is in trouble and I think the Italian-controlled Dutch multinational corporation may actually die during the next economic slowdown. Over the past 40 years, Chrysler has been on the brink of disaster more times than sweet Nell has been tied-up on railroad tracks.
In January 2017, the world's seventh-largest auto maker experienced a U.S. sales drop of 11%, the fifth consecutive monthly year-over-year sales decline. What's more worrisome is that its perennial best-selling Jeep brand is declining as well. Jeep is FCA's top product and has been carrying the company. In 2016, Jeep was the 6th best-selling vehicle brand in America - 926,376 examples were sold, representing over 40% of FCA's total sales. After years of uninterrupted growth, Jeep sales began to fall in September 2016. And have declined every month since then.
Fiat-Chrysler's CEO Sergio Marchionne has been choking off new Jeep model development money, so he could allocate more bucks to development of his pet brand, Alfa Romeo. Peter De Lorenzo, the Autoextremist, wrote that Marchionne's strategy "resonates to a level of flat-out stupidity that is simply impossible to comprehend."
Ram pickups were up slightly in January but, as John Rosevear of The Motley Fool noted, were "eclipsed by the newer Ford F-150 and Super Duty models and General Motors' revamped Chevrolet Silverado and GMC Sierra. Both GM and Ford saw average transaction prices on their full-size pickups rise last month, while FCA's fell year over year - a bad sign."
Low-margin fleet sales represented 28% of FCA's total U.S. sales in January. Of even greater concern is the fact that ... (more >>>)
---
Pricey Halo Cars: Almost every luxury vehicle manufacturer offers a top-of-the-line limousine-like sedan. Sixty years ago, people actually bought them in fair quantities. Today, not so much because the market has moved away from sedans to SUVs.
Into this shrinking mix is tossed the 2017 Cadillac CT6, which - inexplicably - comes standard with a four-cylinder engine. Timothy Cain recently test one fitted with a more appropriate twin-turbo V6, making 404 horsepower and fitted to an eight-speed automatic. The Cadillac CT6 3.0TT Luxury model is priced north of $75,000. For that kind of money, it should have a better moniker than CT6.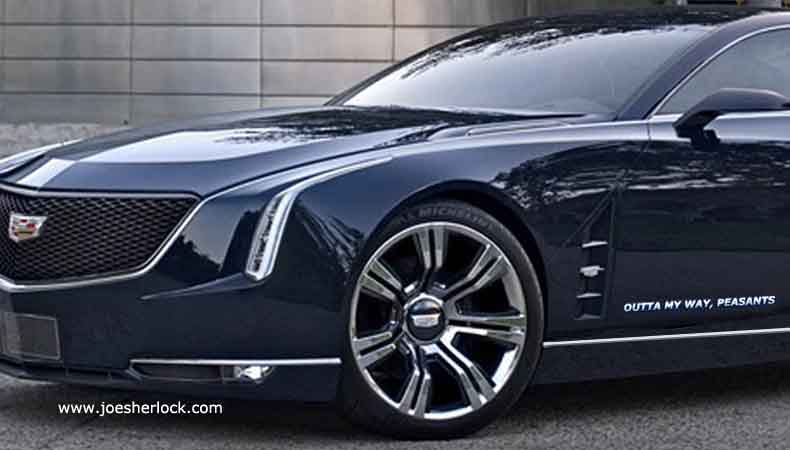 I would suggest something like 'Outta my Way, Peasants'.
It's a very nice car, but far from perfect. "In a flagship luxury car, however, stuff, space, and silence isn't just expected. It's assumed. Also assumed, at least in 2017, is an intuitive and speedy infotainment unit and an interior free from obvious miscues. The mode button that switches the CT6 out of Tour and into Sport or Snow settings responded. Sometimes." Then there was the "driver's door that didn't like to remain in its detents." Timothy noted that "the CT6 is a finicky place to spend time. Flagship Cadillacs should always infuse relaxation and never incite frustration."
Mr. Cain's article attracted a lot of comments, many of them bemoaning the numerous Cadillac missteps of recent years and complaining that Cadillac has lost its cachet and is no longer the Standard Of The World.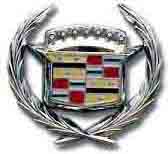 I would argue that Cadillac's slide from the pinnacle began a long time ago - 52 years ago, to be exact. Beginning in 1965, Cadillac sales began a steady climb. This was a deliberate move on General Motors' part. Aggressive tactics and special incentives allowed Cadillac dealers to offer hot deals on certain models. By 1973, Cadillac sales had risen to an annual rate of over 300,000 vehicles. In 1979, 382,958 new Cadillacs found buyers - outselling lower-priced marques such as Chrysler, AMC and Plymouth.
The increased number of Caddys seen on the road sacrificed prestige and exclusivity but the high-profit levels of Cadillac put lots of money in GM's pocket over the years. John DeLorean once said that the manufacturing cost difference between a Chevrolet Caprice and a Cadillac was only about $300. In 1966, a Caprice four-door hardtop had a list price of $3,063, while a Cadillac Calais hardtop was priced at $5,040. There was plenty of room for GM to make deals on its Caddys.
Interestingly, almost all luxury car makers now offer volime-building, entry-level models. Consider the Mercedes CLA, which starts at just over $32,400. You'd pay more for a decently-equipped Accord or Camry.
Top-of-the-line flagship sedans account for only about 4% of total sales at Audi, BMW, Lexus and Mercedes-Benz. The vast majority of luxury-brand vehicle sales are of lesser, more budget-priced models. If the CT6 isn't a big seller, no one at Cadillac will probably lose any sleep over the matter.
As to the SUV dilemma, Mr. Cain wrote, "There's always the Escalade, the upper-echelon Cadillac that's far more likely in this SUV-crazed world to capture the well-heeled Cadillac buyer's attention - but shouldn't a big Cadillac have a properly big back seat? Shouldn't it be properly long, low, and wide? Shouldn't it have the streetside presence of a much more costly car, rather than the silhouette of its $49,000 Chevrolet sibling?" You'd think that would be a problem but neither Cadillac nor Lincoln seem to have any problem moving those derivative SUVs off the showroom floor. (posted 2/10/17, permalink)
---
There's No Accounting For Taste: I always believed that my aesthetic judgment had improved with age. Then, I found a car drawing I had made when I was in 8th grade (1957). I cleaned it up and colorized it with PhotoShop:

It has every awful 1950s styling cliché possible. It's very derivative, containing traces of Chrysler Imperial, Corvette SS, Chrysler Dart show car and a touch of Lister Jaguar. But ... I still like the way it looks and wouldn't mind having it parked in my garage. Go figure. (posted 2/6/17, permalink)
---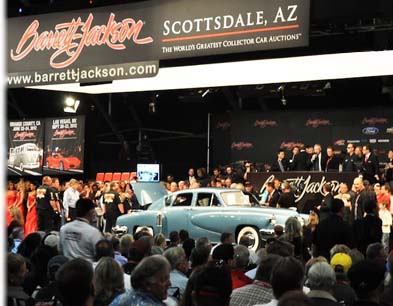 Scottsdale Auto Auctions: As usual, the various Arizona vehicle auctions were full of aging white dudes with buckets of cash bidding against each other, as they sought their automotive nirvana du jour. Or the nostalgia of their youth.
Auction prices have been rising for years but this year it seemed that prices had plateaued on the high-end and actually dropped in the sub-$100,000 segment of the vintage car market.
The famous red 1984 Ferrari 308 GTS Quattrovalvole used in filming 'Magnum P.I.' (one of five used for filming) and surely driven by Tom Selleck, who now stars in the television drama 'Blue Bloods' and does commercials for reverse mortgages on the side, was sold by Bonhams auction house for $185,000.
Justin Bieber's personal 2011 blue Ferrari 458 Italia crossed Barrett-Jackson's block at $295,000.
Record-setting auction prices have been rising for years but this year it seemed to me that prices had plateaued on the high-end and actually dropped in the sub-$100,000 segment of the vintage car market. That said, preliminary figures reported by Classic Car News indicate otherwise, noting that preliminary figures show that "overall totals were 30% above 2016 figures through the same point in the week, according to Hagerty, the insurance and value-tracking company that staffs each of the Arizona sales.
Higher sales volume was a factor, Hagerty noted, with 274 more lots offered and 266 more lots sold to date. However, average sale price across all auctions was another driver, it noted, with a 7% improvement compared with year-ago results."
Hagerty noted that "modern domestics" (American cars built from 1980-2009 - a market segment that doesn't particularly interest me) were hot items. Doing particularly well were 1984-96 Chevrolet C4 Corvettes, 1994-2004 Ford Mustangs, and 1982-92 Pontiac Firebirds.
On the other hand, "the sell-through rate on million-dollar lots has fallen by 9 points year over year, and many Enzo-era Ferraris (built until 1973) have been bid to less than condition-appropriate amounts. The 1960 Ferrari 250 GT SWB California Spider at Bonhams failed to sell with a top bid at $10.65 million, and the 1960 250 GT SII Cabriolet, also at Bonhams, sold for only $1.43 million."
RM Sotheby's sold Tommy Hilfiger's 2003 Ferrari Enzo for $2.695 million. A 2008 Lamborghini Reventon brought $1.32 million at the same venue. Sotheby's also sold a '48 Tucker Torpedo for $1,347,500. Bonhams sold a highly anticipated 1963 Jaguar E-type lightweight for $7.37 million, followed by a 1952 Ferrari 340 America Competizione Spider for $6.38 million. A 1964 Porsche 904 GTS fetched $2,310,000 - a record for a Porsche.
The high-dollar auction sales always make the news but I find the low-to-medium priced vehicles far more interesting. Watching parts of the televised Barrett-Jackson auction, these cars caught my eye:
• A nicely-done 1937 Plymouth mildly-customized two-door sedan, painted cream and brown and powered by a 318 cubic-inch Mopar V8, fetched $30,000. That gave me hope that, someday, I can get some decent money for my '39 Plymouth coupe when I decide to sell it at some point (hopefully) in the far future.

Speaking of Plymouths, a 1940 dark-yellow woody station wagon went under the gavel at $60,000. Only 2,126 of these Deluxe wood-bodied wagons were produced during the 1940 model year. Original prewar price: a mere $970.

• A not-seen-often 1939 American Bantam woody, painted gold, was sold for $21,000. These are rare cars; in 1939, American Bantam offered 10 different models but only produced 1,229 vehicles. This woody originally cost $565, rode on a 75-inch wheelbase and had a 20 horsepower, 4-cylinder engine. Don't drive one of these if you're in a hurry to get somewhere.

• A gorgeous, dark red 1940 Ford Deluxe business coupe with a period-correct modified Ford flathead V8 sold for $34,000. Later a black '40 Deluxe coupe - a very nice unrestored original - fetched $32,000. These prices seemed on the low side to me. Historically, '40 Fords always command a premium over other old Ford models. Iowahawk Dave Burge retweeted, "Good Lord, the two perfect '40 Ford Deluxe coupes that went low $30s had me kicking myself for not registering."

Back in the day, you could buy a new 1940 Ford Deluxe coupe for as little as $660. Which sounds reasonable until you realize that lots of folks were only making sixteen bucks a week. And had to dress up in suits and wear fedoras, which required the expense of periodic cleaning and hat blocking. Shucks, those good old days weren't so great after all.

Later, a cherry red '40 Ford Deluxe coupe, looking pretty stock but powered by a 350 cubic-inch Chevy V8 with a 4-barrel carb, sold for $40,000.

• A navy blue 1941 Cadillac Series 67 7-passenger sedan - one of only 280 made without the limousine divider window - sold for $40,000. Showroom new, this big sedan was priced at $2,735. Later, a 1941 black Cadillac convertible (one of 3,100 produced) with a deep red leather interior fetched $55,000. Caddy sold 3,100 convertibles in '41 at prices of $1,645 and up. Then a 1941 black Cadillac Fleetwood 60 Special, arguably the most stylish of the '41 Caddies, sold for $40,000. When new, it sold for $2,195; Cadillac made 3,818 examples in 1941. All 1941 Cadillacs were propelled by a 346 cubic-inch displacement flathead V8 engine, producing 150 horsepower.

• A nice-looking maroon 1941 Chevrolet Special DeLuxe with a white convertible top sold for $43,000. When it was new, you could buy one for $949; Chevy produced 15,296 examples of these 90 horsepower beauties. Here's a green '41 from the 2012 Dr. George Car Show in Indian Wells, CA:

• A 1946 Ford Super DeLuxe woody station wagon in a pleasant maroon color fetched $82,000. This 8-passenger, fully-restored example was powered by Ford's iconic 100 horsepower flathead V8 engine. Originally priced at $1,533, Ford sold 16,960 examples in the car-hungry, postwar year of '46.

My uncle John once owned a Ford woody wagon of the 1946-48 era; he had to get rid of it when it became termite-infested.

• A 1947 Cadillac Series 62 fastback club coupe (sometimes referred to as a 'Sedanet'), gaveled down for $42,000. It had the same 150 horsepower flathead V8 as prewar Caddys, although this postwar example had an automatic transmission. In '47, these were showroom-priced at $2,446; a total of 7,245 Series 62 club coupes were produced that year.

• A very nice-looking stock black 1948 Lincoln Continental coupe, powered by a flathead V12 engine sold for only $20,000. Twenty-five years ago, LC's of this vintage commanded higher prices. But the market has moved on to muscle cars and demand for most non-coachbuilt '30s and '40s cars has generally stagnated. Or, in some cases, fallen.

In 1948, the Continental Coupe cost $4,380; the Continental Cabriolet a little more. That's about twice as much as a standard Lincoln coupe and four times as much as a Ford 6 Club Coupe. In the period from 1946 to 1948, 3,334 Lincoln Continentals were produced - about 7% of total Lincoln production.

• A black 1948 Mercury convertible fetched $32,000.

As a child, I spent many hours in the back seat of my parents' black 1947 Mercury sedan.

• A 1951 dark green Lincoln Cosmopolitan convertible with a light green leather interior sold for $29,000. This example had an automatic transmission and the price seemed very reasonable to me. Lincolns of this era were powered by a 151 horsepower flathead V8 based on a Ford truck engine; it would get an all-new overhead-valve V8 in 1952. Lincoln sold only 851 Cosmo convertibles in 1951; prices started at $3,891. More information on the Lincoln Cosmopolitan can be found here.

• A 1952 Willys Aero Ace two-door sedan, in its factory colors of white over green, hammered down at only $13,500. Somebody got a good deal on this car. Aeros are not seen often, even at car shows. This example sported Willys' usual Cadillac-wannabe rear tailfins, was powered by a small (161 cubic-inch, 90 horsepower) engine connected to a three-speed stick and had only 13,000 miles on its odometer.

1952 was the first year of Aero production. Originally priced at $2,024, only 6,706 Ace two-doors were sold during the '52 model year. This Aero Ace would make a nice tour car because, unlike a six-figure, over-restored Shelby Mustang, no one will try to steal your Willys.

• A 1954 Packard convertible - red body with black top - was sold for $32,000. Selling price when new was $3,935 and was equipped with Packard's flathead straight eight which was rated at 212 horsepower. Only 863 convertibles were produced during the '54 model year. In 1954, Packard sales dropped greatly. Styling was dowdy and Packard's engine was obsolete and underpowered compared with its competition.

The 1954 acquisition of Studebaker and resultant cash problems forced Packard to delay the introduction of its all-new models for a year, leaving 1954 as a year of stale Packard offerings - compared with Cadillac, which sported an all-new body for 1954 and an even more-powerful V8 than before - 230 horsepower. That year, Packard's longer-wheelbase Cavalier model had a 185 horsepower motor. Entry-level Clipper models were powered by engines with as little as 150 horsepower.

• A black-over-yellow 1955 Ford Fairlane Sunliner convertible, with a 242 cubic-inch V8 engine and automatic transmission, found a buyer at $38,000. Its factory new price was $2,224; Ford sold almost 50,000 of them in '55. The husband of my wife's cousin owns a nice triple-black '55 Sunliner:

• A gorgeous, white 1956 Cadillac Eldorado Biarritz convertible, with a red and white leather interior, found a new owner for $77,000.

When new, Eldorado convertibles were priced at $6,556. Powered by a special Eldorado-only 305 horsepower V8 engine, the Biarritz convertible was fairly rare - only 2,150 were made in the '56 model year.

• A white-over-red 1956 Chevrolet Bel Air two-door hardtop, equipped with a V8 engine and Powerglide, sold for $33,000. Of the 1955-'57 models, the '56 is less iconic and typically goes for the lowest price of the three model years.

My friend Ray Lukas used to drive his dad's '56 Bel Air sedan but it was equipped with Chevy's gutless six hooked to a slushy two-speed Powerglide tranny and he hated it.

• A handsome 1956 Chrysler New Yorker St. Regis two-door hardtop painted white over deep red went under the gavel at a bargain $23,000.

Riding on a 126-inch wheelbase (one inch longer than the 1956 Continental Mark II), this Chrysler originally sold for $3,995/ It was powered by a Hemi V8, producing 280 horsepower.

• A 1956 Ford Fairlane Crown Victoria Skyliner with the tinted Plexiglas roof over the front seats sold for $52,000. This is the rarest of the '56 Ford models; only 603 vehicles were produced. This example was painted white over Aquatone Blue and was powered by a 292 cubic-inch V8 hooked to a Ford-O-Matic transmission. Original showroom prices for the glass-roof Ford started at $2,407. I learned to drive in a '56 Ford.

• A 1956 Ford Thunderbird - blue with a white porthole hardtop - found a buyer at $48,000. Prices started at $3,151 in '56; 15,631 T-Birds were produced that year. Later, a salmon-colored '56 Bird crossed the block at $70,000.

• A 1956 stock Volkswagen Beetle with oval window and anemic 36 horsepower motor, painted a factory bilious green color motor, hammered down at $21,000. Later, a gold '56 example fetched $24,000. The a red '56 model with sunroof sold for $31,000.

In the early '60s, I had a brief summer fling with a girl who lived at the Jersey shore. She drove a '56 Beetle - a hand-me down from her parents. I drove it once and it was a real slowpoke compared with my parents' 1962 Bug which had only four more horses. She was headed to the Philadelphia area and would be going to Rosemont College just a few miles from Villanova, where I was studying. She was very nice but a full-blown romance with her never bloomed because, just before school started, I met Carol and the rest is history. I've been romancing her ever since.

• A light blue 1957 Chevrolet Bel Air convertible, with the 283 cubic-inch engine with optional 220 horsepower Power-Pack and two-speed Powerglide transmission, sold for $100,000. The car was fully restored in 2013. In 1957 Chevy produced 47,562 Bel Air convertibles.

Older, white-haired buyers crave these vintage Bel Airs because they're perfect for Cruise-Ins with fellow geezers and look especially good with fuzzy dice hanging from the rear-view mirror.

• A rare, factory fuel-injected 1957 Chevrolet Corvette with red body and white painted coves went for $67,000. In addition to fuel injection, the car was equipped with the equally-rare optional cast iron finned brake drums. The Rochester fuel-injected 283 cubic-inch V8 engine was the first production American car to have one horsepower per cubic inch, a fact hyped in many period Chevrolet ads. The selling price for this car seemed low considering its rarity and historic significance. In 1957, 6,339 Vettes were produced; only a handful were fuel-injected models.

• A 1957 DeSoto Firesweep was the entry-level model for this marque. This Sportsman two-door hardtop was black with red side spears and was powered by a 325 cubic-inch, 245 horsepower non-Hemi V8. It gaveled down at $36,000. In 1957, you could have purchased one from your nearest DeSoto Plymouth dealer for $2,836 and up. 13,323 Firesweep two-door hardtops were produced during the model year.

Later, a 1956 Fireflite Adventurer convertible - in Indy pace car replica trim - painted cream over gold, fetched $135,000.

Funny thing - when Chrysler made 'em, nobody wanted a DeSoto. Now, it has become a popular and often pricey nameplate at auctions.

• A metallic-charcoal 1957 Ford Thunderbird with both tops, powered by a 275 horsepower, 312 cubic-inch V8 coupled to a Ford-O-Matic transmission, sold for $68,000. This one displayed an original factory invoice for $3,318.24. During the '57 model year, Ford made 21,380 T-Birds. Later, a pink '57 Bird with a white porthole top crossed the block at $56,000. It too had the 312 V8 and auto transmission.

1957 T-Birds featured canted fins and taillights similar to '57 Ford models. The 1957 Thunderbird rode on the same 102-inch wheelbase as the '55 and '56 models but was a little longer. Many car buffs, including myself, think that the '57 model is the best-looking of the two-seat Thunderbirds.

• A white-over-cherry red 1957 Mercury Turnpike Cruiser two-door hardtop, with its wild styling derived from the Mercury XM concept car, sold for $33,000, which seemed like a bargain to me. In 1957, Mercury sold 7,291 Turnpike Cruiser coupes with prices starting at $3,758. Turnpike Cruisers were powered by the 368 cubic-inch V8 motor shared with Lincoln and Continental models. The Turnpike Cruiser version made 290 horsepower.

Here's an idea: if you're a balding, middle-aged cube dweller feeling threatened by millennials with their Priuses, Snapchat accounts and hoverboards, why not shave your head, grow a goatee, dress in a silver lame jumpsuit and buy a retro-futuristic Mercury Turnpike Cruiser.

Then tell everyone you're from the future. Make startling predictions and impress management. Let them know that your Merc is a hybrid - it'll run on premium gas or artisanally-ground nuclear fuel rods.

Hey, this could be your ticket to success.

In related news, an off-white 1957 Turnpike Cruiser convertible with Continental kit, fitted out with Indianapolis 500 pace car decals, crossed the block at $100,000.

• A medium-blue 1957 Oldsmobile 98 Starfire convertible with white top, powered by 371 cubic-inch, 277 horsepower Rocket V8 engine and 4-speed Hydramatic transmission, sold for $73,000. In '57, showroom prices for this model began at $4,217; 8,278 examples found buyers that year.

• A tiny 1958 BMW Isetta 300 microcar with its single front door and 13 horsepower motor, painted white over light green, crossed the block for $22,000. The winning bid seemed downright cheap; last year, a 1957 pale yellow Isetta 300 was sold for $55,000. The Isetta was designed by the Italian manufacturer, Iso SpA. Several other manufacturers, including BMW, obtained licenses to produce the little car. BMW used its single-cylinder, four-stroke, 247 cc motorcycle engine which produced 13 horsepower. Top speed of the Isetta is 53 mph ... if you're feeling brave.

Later, a 1959 Isetta with a custom metallic orange-red paint job found a buyer for $30,000.

• A 1958 Chevrolet Corvette, painted red with white side coves, and equipped with the base 230 horsepower, 283 cubic-inch V8 engine hooked up to a two-speed Powerglide automatic transmission, sold for $62,000. It was promoted as having "matching numbers." Sticker prices started at $3,691 for the '58 Corvette; 9,168 Vettes were produced that year.

• A 1958 Edsel Citation two-door hardtop, painted white over medium blue, sold for $19,000. The Citation was the top-of-the-line model; coupe sticker prices began at $3,535.

Citations were powered by a 410 cubic-inch engine which produced 345 horsepower. In 1958, 2,535 Citation coupes were produced. Please do not confuse this icon with the dreaded X-body 1980 Chevrolet Citation.

• A 1958 Mercury Turnpike Cruiser two-door hardtop in white over steel blue with the rare triple two-barrel carb Marauder V8 engine (430 cubic-inch displacement, 400 horsepower) and unnecessary Continental kit, sold for $46,000. 2,864 examples of the two-door Turnpike Cruiser were made in '58; base price was $3,498.

• A 1960 Chevrolet Impala convertible in red (with white side trim stripe) and matching red and white interior fetched $38,000. The car was powered by the base 283 cubic-inch V8 engine with two-barrel carburetor (170 horsepower) and Powerglide transmission. Chevy made 79,903 of these '60 convertibles; prices started at $2,954. Such Impala convertibles were often featured on the 'Dinah Shore Chevy Show'. "See the USA in your Chevrolet!"

• A 1961 Chevrolet Impala SS convertible, featuring a white body with red trim and a red and white interior, sold for $65,000. This Chevy was powered by a 348 cubic-inch engine with a claimed output of 350 horsepower and was coupled to a four-speed manual floorshift transmission. Chevy produced 64,600 Impala convertibles that year. A relatively small percentage were SS models.

• A dark red 1962 Corvette with a black interior, described as "fully documented," sold for $140,000. This was one of 14,531 Corvettes produced during the '62 model year. Original pricing started at $4,038 sans options.

• A rare 1962 Imperial Crown convertible coupe, painted white with an off-white interior and top, sold for $33,000. This big beauty weighed 4,765 pounds and sold for $5,770 - a mere $1.21/lb. (On a per-pound basis, the Imperial would have been cheaper than deli roast beef in '62.) Imperials had those unique free-standing headlights up front and were powered by 340 horsepower, 413 cubic-inch V8 engine. Only 554 examples were produced in the '62 model year.

• A 1963 Buick Wildcat convertible, painted red with a white top went under the gavel for $25,000. The Wildcat was the performance model of the big Buick. It was powered by a 401 cubic-inch engine to pull its big mass (4,220 pounds). The Wildcat convertible was priced from $3,960; 6,021 examples were produced during the '63 model year.

• A silver 1963 Chevrolet Corvette Sting Ray roadster with the 340 horsepower, 327 cubic-inch V8 engine coupled to a four-speed manual transmission sold for $51,000. It was one of 10,919 roadsters produced that year; base price for a Corvette drop-top in '63 was $4,037. I paid attention to this offering because I once owned a '63 Corvette roadster.

Later, a navy blue '63 split-window coupe with the same engine/transmission combo sold for $107,000. There's always been a special mystique about the split-window Sting Ray, which was only available in the first model year.

• A bright silver 1963 Ford Thunderbird Sports Roadster with the factory fiberglass tonneau cover was sold for $62,000. Genuine Sports Roadsters are a sought-after car - only 455 were made in '63 and the original sales invoice was a pricey $5,563. This one was powered by the 300 horsepower, 390 cubic-inch displacement V8 engine.

• A pretty 1965 red Mustang convertible with less than 15,000 original miles on the clock, gaveled down at $75,000. Originally offered at a base price only $100 more than a Ford Falcon Futura convertible, the swoopy Mustang was a hot seller when introduced. 101,945 convertibles were sold during the extended '65 model year. Fifty-two years later, Ford is still making and selling ponycars.

• A 1965 Volkswagen Bus, mildly customized, painted black-over-cream and fitted with a hopped-up 1951cc air-cooled engine, sold for an inexplicable $275,000.

• A dark blue (Laguna Blue) 1966 Corvette Sting Ray coupe with the 427 cubic-inch, 425 horsepower engine and four-speed manual transmission sold for a mere $69,000. This car stickered at about $4,500 when new. In '66, 9,958 Corvette coupes were produced.

• A 1971 Fiat Jolly open beach car, with a bright yellow body by Ghia, wicker seats, a striped fringed canvas top and a 500cc engine sold for $30,000. These were fairly rare cars and the auction price seemed more than reasonable. Later, a 1959 red Fiat Jolly fetched $80,000.

• A cream-colored 1971 Mercedes 280 SL with the traditional pagoda-roof hardtop sold for $61,000. In 2014, a similar 280 SL crossed the block at $143,000.
Money-wise, the 2017 Scottsdale Auctions were a mixed bag. But, fear not. There is still plenty of dollars around and the collector car market is far from collapsing. People are feeling optimistic about the future and the very wealthy don't seem to have a care in the world. (posted 1/23/17, permalink)
---
2017 Detroit Auto Show: As regular readers know, the first auto show I ever attended was the 1960 Philadelphia Auto Show in November 1959. Ever since then, I have faithfully followed auto show coverage because I wanted to see what the future held by looking at all the wild concept cars on display. Alas, I continue to be disappointed by the lack of far-out machinery these days, such as bubble-topped flying cars, powered by nuclear turbine engines.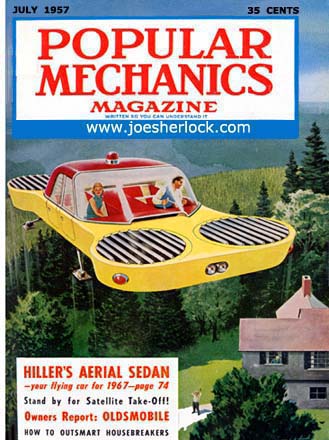 When I was growing up, magazines like Popular Mechanics and Mechanix Illustrated predicted that tires and roads would soon be obsolete and we'll get around in flying cars with transparent Plexiglas roofs. Never happened.
Also missing from this year's Detroit Auto Show were several auto manufacturers: Bentley, Jaguar, Land Rover, Maserati, Mini, Porsche, Rolls-Royce and Tesla. There are now a plethora of 'significant' auto shows throughout the planet and the one in Detroit loses more cachet every year.
While there were no teardrop-shaped aerocars to be seen at this year's show - the one precociously renamed the North American International Auto Show, there were some new model introductions that caught my attention:
• The 2018 Lexus LS 500 looks like it was styled by a Nissan/Infiniti designer, assisted by Optimus Prime. As expected, it still has the Lexus signature ugly, cheese-grater grille. "Open wide, George!" The '18 LS is now powered by a twin-turbo V6 fitted to a ten-speed automatic tranny. No more V8. Sad.

Steph Williams at TTAC wrote, "If the vehicle looks like it took the old Detroit adage of "lower, longer, wider" to heart, it has. The upcoming LS sports a wheelbase 1.3 inches longer than its long-wheelbase predecessor, while riding 0.6 inches lower. Hood and trunk elevation sinks 1.2 and 1.6 inches. Overall, the new LS stretches 1.1 inches longer than the lengthiest of the current generation."

I don't like the looks of this new beast and, if my classicly-styled, V8-powered 2008 LS 460 unexpectedly blows up, I think I'll be heading to a nearby Mercedes store.

• The 2018 Chevy Traverse - a Ford Explorer competitor - has had its styling butched-up and rides on a new, stretched platform shared with the GMC Acadia and Caddy XT5. My friend Ray has a 2010 model and has encountered numerous problems with it.

• The Audi Q8 concept is a luxury four-door crossover with a coupe-ish roofline and a butch, angular look. The grille looks like an old-fashioned egg slicer. It's the perfect vehicle for a short, wealthy lesbian with anger issues.

• Volkswagen showed off the I.D. Buzz, an electric VW Microbus with old-timey styling cues. It was pretty cool-looking. And it's got enough interactive goodies to dazzle millennials. The bus does 0-60 in 5 seconds, compared to 5 minutes for the 1962 VW Microbus. Road & Track noted, "In I.D. Pilot mode, the BUZZ retracts the steering wheel and allows the driver's seat to swivel a full 180 degrees to face the other passengers. That way the driver and passengers can all talk about how terrible driving is and how great their organic snacks (they'll be eating organic snacks, right?) are." Or they can sit around and get stoned. The yellow and white example displayed on the show floor should come with a matching bong, man.

• Toyota unveiled its eighth-generation 2018 Camry - a more sculpted version of the last iteration. It's supposed to be more sporty and engaging than the last seven generations, offering 36.4% fewer yawns per kilometer than the outgoing model.

• Honda introduced its next-gen Odyessy minivan for all the mommies and geezers. The 2018 model was described by Autoblog writer Greg Migliore as a "connected daycare suite on wheels." He elaborated thusly: "CabinWatch uses a camera to allow front passengers to monitor activity in the back with a feed displayed in the eight-inch high resolution touchscreen mounted in the dash. A CabinTalk feature lets the driver talk to passengers by booming their voice through the speakers and headphones (Sally, keep your hands to yourself!). The rear entertainment system has a 10.2-inch screen mounted in the ceiling and can stream PBS Kids, Spotify, and other feeds via the minivan's WiFi system, public internet, or your mobile provider." And it can be hacked by the Russians, who will turn the Odyessy into an olive-drab UAZ-452.

• Mercedes unveiled more AMG hot-rod models, as they do every year. If M-B ever gets in the wheelchair biz, they'll quickly offer an AMG performance version. I would expect BMW to retaliate by offering an M-Series Hurrycane.

• The Chevrolet Bolt electric car, the Honda Ridgeline pickup and the Chrysler Pacifica minivan won 2017 Vehicle of the Year awards at the show.

• Ford didn't show preview concepts of two coming-soon vehicles but did put out a press release stating that it's bringing back the Ranger midsize pickup truck to its North American vehicle lineup in 2019 and Bronco midsize SUV to its global vehicle portfolio in 2020. Both vehicles will be manufactured at Ford's Michigan Assembly Plant in Wayne, Michigan. Make America Great Again.

• Samsung announced that its next-generation battery would offer 320 miles of range after only 20 minutes of charging. Of course, you still have to find a fast-charger somewhere. And 20 minutes can seem like forever, when your gasoline-head friends are filling up and are back on the road in 3 minutes or so.
The U.S. auto industry sold almost 17.5 million vehicles in 2016, thanks to easy credit, steady jobs growth and relatively cheap gas. Many forecasters say auto sales have peaked and that 2017 will be a rough year for the industry. That's not surprising given the relatively sparse offerings of exciting vehicles. Everything seems to look the same; Dan Neil described the auto show as "acres of look-alike crossovers and SUVs, banal under the brilliant lights."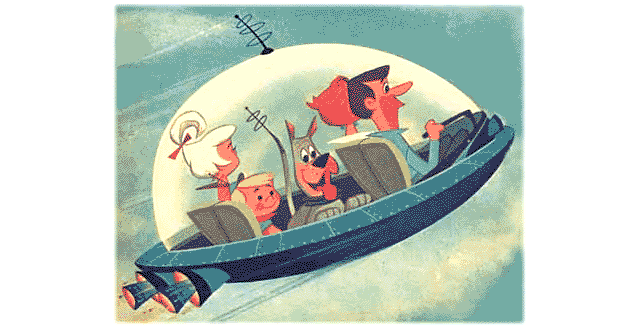 Maybe they could improve things by selling a Jetsons-style flying car. (posted 1/11/17, permalink)
---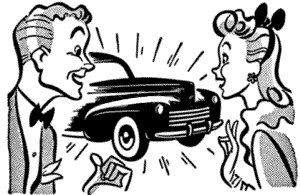 2016 Auto Sales: In calendar year 2016, U.S. light vehicle sales 17.465 million units, up from the previous record of 17.396 million set last year. Low gas prices, steady jobs growth and improving consumer confidence have helped the industry.
But there may be trouble ahead. The ratio of inventories to sales for motor vehicles and parts dealers is near the highest levels since the recession. Motor vehicle loans rose to a record $1.1 trillion in the third quarter, and the delinquency rate for subprime auto loans has been on the rise. Industry expert Michelle Krebs wrote, "Rising gas prices and rising interest rates ... put pressure on household budgets."
General Motors full-year sales were down 1% to just over 3 million cars and trucks. That was partly because the company cut back on low-profit sales to rental-car firms. Sales to retail customers in 2016 grew nearly 2% and GM gained half a point of U.S. retail market share. Chevrolet sales decreased over 1% to 2,096,511 units in 2016. GMC was off 2% to 546,628 trucks but Buick sales were up 3% to 229,631 vehicles. Cadillac sold 170,006 vehicles last year, a decline of 3%.
Overall, Ford Motor Company sales were flat in 2016, totaling almost 2.6 million vehicles. For the full year, F-Series pickup sales were up 5% to 820,799 units. The F-150 model extended its reign as the top-selling pickup to 40 years and its chart-topper position as the country's best-selling vehicle to 35 years. Lincoln sales increased over 10% percent, to 111,724 vehicles. Lincoln's best-selling model is the MKX (30,967 SUVs, up 40%), followed by the MKZ (30,534 sedans, down 1%).
Toyota Motor Co. sold 2.45 million vehicles in 2016, a decline of 2%. 48,080 Avalon sedans found buyers in 2016 - a decline of 20%. Prius sales fell 26% to 136,632 sedans. Lexus sales fell by 4% to 331,228 vehicles. Only 5,514 examples of the LS flagship send found buyers last year, a drop of 23%.
Fiat-Chrysler reported flat sales for 2016 - just over 2.2 million vehicles. Chrysler branded sales fell a whopping 27% last year, while Dodge sales dropped 4%. Jeep sales for 2016 rose 6%, although they fell in November and December - an ominous sign. Ram truck sales were up 11% for 2016, while Fiat sales declined by almost 24%. Alfa sales fell almost 22% last year.
American Honda's sales increased over 3% to almost 1.64 million vehicles in 2016, including 161,360 Acuras. Sales of Acura-branded products dropped 9% in 2016.
Nissan reported it sold an all-time high of 1.56 million vehicles in the U.S. last year, up over 5%, as both its Nissan and Infiniti luxury brand had record sales years. Infiniti sold 138,293 units in 2016 - a rise of almost 4%.
Hyundai-Kia sales increased 3% to 1,442.603 vehicles. Volkswagen sales fell 8% to 322,948 vehicles. Sales of Mazda vehicles dropped 7% to 297,773 Zoom-Zoomers. Volvo sales jumped 18% to 82,724 vehicles. Mitsubishi sales increased 1% to 96,297 buyers. Mini sales declined 11% to 52,000 units. 6,211 Smart cars found Dumb buyers in 2016 - a drop of 17%.
In the luxury field, Jaguar sales increased a whopping 116% to 31,243 vehicles. Audi sales grew 4% last year to 210,213 units. Mercedes-Benz sale were flat with 374,571 vehicles finding buyers last year. BMW sales declined by almost 10% to 313,174 units. Tesla sold just over 76,000 vehicles in 2016 according to the company. Most were luxury Model S sedans. Porsche sales increased by 5% to 54,280 vehicles. Maserati sales grew 7% last year to 12,534 vehicles. And 2,581 new Bentleys found homes in the U.S. - a drop of 4%. (posted 1/5/17, permalink)
---
Rocket 88: This mid-October 1956 photo of Fierstein Brothers Oldsmobile, a dealership in the West Oak Lane section of Philadelphia, shows a one-make small new car dealer. Such establishments dotted major cities across the U.S. in the mid-20th Century.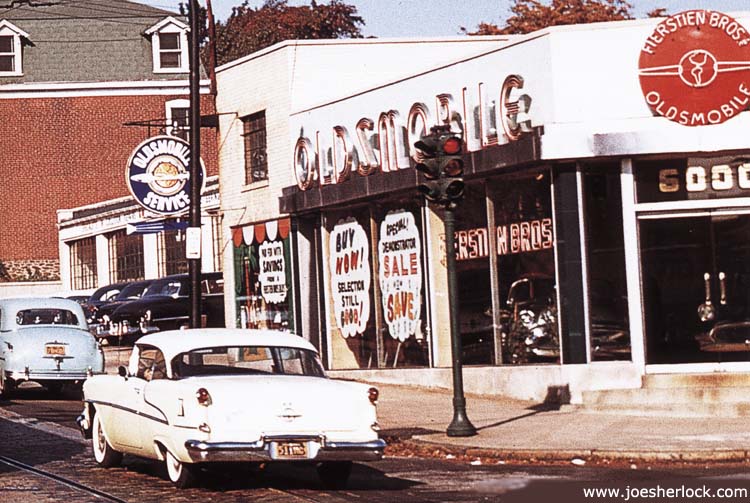 Fierstein Brothers was located at 6000 Old York Road - the intersection of Old York Road and Champlost Avenue. In the photo, a 1955 Oldsmobile 88 Holiday coupe drives past the dealership. That model was one of 85,767 Olds 88 two-door coupes made in ... (more >>>)
---
Earlier Car Musings can be found here.
---
Other Pages Of Interest
| blog: 'The View Through The Windshield' |
| greatest hits: various essays & articles | blog archives | '39 Plymouth | model train layout |
| about me | about the blog | e-mail |
copyright 2017 - Joseph M. Sherlock - All applicable rights reserved
---
Disclaimer
The facts presented in this blog are based on my best guesses and my substantially faulty geezer memory. The opinions expressed herein are strictly those of the author and are protected by the U.S. Constitution. Probably.
Spelling, punctuation and syntax errors are cheerfully repaired when I find them; grudgingly fixed when you do.
If I have slandered any brands of automobiles, either expressly or inadvertently, they're most likely crap cars and deserve it. Automobile manufacturers should be aware that they always have the option of trying to change my mind by providing me with vehicles to test drive.
If I have slandered any people or corporations in this blog, either expressly or inadvertently, they should buy me strong drinks (and an expensive meal) and try to prove to me that they're not the jerks I've portrayed them to be. If you're buying, I'm willing to listen.
Don't be shy - try a bribe. It might help.
---
---