Thursday May 5, 2016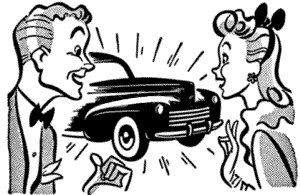 April Auto Sales: Light vehicle sales were at a healthy 17.42 million SAAR (Seasonally Adjusted Annual Rate) in April, up about 4% from April 2015, and up about 6% from the 16.46 million annual sales rate last month.
General Motors Co. posted total April U.S. sales of 259,557 vehicles, a decrease of 4% compared with April 2015. Retail deliveries rose 3%, fleet deliveries slipped 5% and commercial sales rose 4% in April.
The best-selling GM vehicle for the month was the Chevy Silverado pickup, which saw a year-over-year sales increase of 9% to 49,990 units. Sales of the GMC Sierra pickups rose 14% in April to 20,531 units, while the Colorado midsize pickup posted a sales increase of 48% to 10,362 units.
Total Chevrolet deliveries in April fell 2% year over year to 183,442 units, although retail sales rose 5% to 134,562 units. The company's Buick brand saw a year-over-year total sales decrease of 3% in April but an increase of 13% in retail sales. Cadillac's April sales dropped 29% to 11,236. Sales for the first four months of 2016 fell 12% to 46,869. Most Caddy sales were SUVs.
Ford Motor Co. reported a U.S. sales increase of 4% in April, to 231,316 Ford and Lincoln vehicles, compared with April 2015 sales of 222,498. Truck sales rose 14.8% for the month, and sales of F-Series pickups rose nearly 13%.
Sales of the Lincoln brand rose 20% year over year in April as sales of Lincoln utility vehicles rose by 53% to 6,985 units. Car sales totaled 2,791 units in the month (-22%). Overall Lincoln sales were 9,776 vehicles.
Year over year, sales rose 6% at Fiat-Chrysler in April to 199,631 units - the company's best April sales level in 11 years, mostly because of Jeep and Ram sales. The Jeep brand posted a sales gain of 17% year over year, its best April sales ever. The Jeep Compass posted a sales gain of 124%, the Renegade posted a monthly sales gain of 131% and Grand Cherokee sales rose 12%. Fiat sales fell 19% to 3,045 vehicles. Chrysler brand sales dropped 18%, while Dodge sales decreased 3%. Only 60 of 'Savior-of-the-Company Alfa Romeo brand were sold in April.
Toyota Motor Co. reported a modest 4% increase, while Lexus sales dropped 4%. BMW sales were off 7%, while Mercedes sales dropped slightly - less than 1%. Audi sales increased 6% to 17,701 units.
American Honda reported a 14% sales increase, with Honda brand sales increasing 15% and Acura sales increasing 9%. Nissan Motor reported 13% y-o-y growth. Nissan brand sales jumped 14, while Infiniti sales were up 5%. Sales of Hyundai-Kia were off 2%. Volvo sales leaped 33% to 6,169 vehicles, while Volkswagen sales slid another 10%. Subaru sales were up 7% to 50,380 vehicles. Mitsubishi sales increased 18% to 9,674 vehicles
Finally, only 110 Bentleys found buyers in April - a drop of 55%.
Automotive Slogan Of The Year: Recently, I watched a television commercial for the Audi A8. It ended with the tagline 'Ambition Never Rests'.
Where's The Passion? During a January 1987 trip to Arizona, we met some of my wife's uncles and aunts who were snowbirding from places like North Dakota, Montana and Colorado. When we pulled up in my white '87 Ford Thunderbird rental car, the uncles came running out ... to look over the car. "What's it got in it?" "Stick or automatic?" "How many speeds?" "What's the axle ratio?" I knew the T-Bird was a V-6 with a four-speed automatic and that the popular rental companies didn't even offer manual transmissions anymore but I didn't expect to be quizzed about the rear axle ratio.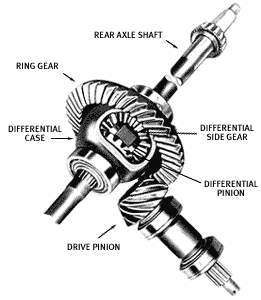 We quickly headed to a local cafe for 'second breakfast'. The portions were huge. The women sat at one table; the men another. At our table, the breakfast conversation was mostly about cars. And axle ratios. Everybody at the table knew theirs - to two decimal places - except me.
They were disappointed by that but were happy to learn that my personal car - a Lincoln Mark VII had a V8 engine. "That 302's a sweet motor," said one. "Got pretty decent git-up-n-scoot," opined another. They had less to say about my wife's brand-new Honda Accord. "Don't know much about that Jap stuff," one muttered. They teased one of the group, whose daughter drove a notoriously unreliable Fiat X1/9: "How's her tin can of Spaghetti-Os runnin' these days?"
These men drove mostly full-size GM and Ford products. All were custom-ordered from their local small town dealer. They sat next to the salesman and checked the option boxes together - one by one. No bundled 'packages' for them. They enjoyed their new cars and traded them every few years for another new one. And they kept track of who bought their old one. "You know ol' Barney, he's still drivin' my '77 Caprice. She still looks nice, too. He keeps her up purty good."
It wasn't that my wife's uncles were car guys, they just knew their machinery ... and how to spec it out. They had a passion for machines. I understood this, having a passion for not just cars but plastic processing equipment, too.
All of these men are now dead. A new generation of car buyers has emerged, who know nothing about axle ratios, engine sizes or anything else. Challenge them on it and they'll respond, "Do you know the horsepower of the electric motor on your washer? Or dryer?" A logical question from people who see cars as appliances. (permalink)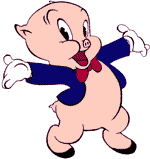 "Ble, Ble, Ble, That's All, Folks!" Trump won Indiana in a landslide - 53 to 37. Ted Cruz has suspended his campaign as has John Kasich, making Trump the Republican presidential candidate, barring some black swan event.
While all the establishment pundits talk about the Trump phenomenon as "something never before seen in my lifetime," they should go running to their libraries with all those leather-bound first editions and read up on Wendell Willkie.
I'm currently reading 'Those Angry Days' by Lynne Olsen about the years leading up to World War II. Wendell Willkie, when selected - reluctantly - by the Republican Party, had the support of less than 3% of his party's membership but, nevertheless, came close to winning the presidential election.
It makes for interesting reading. Willkie might have won except for the fact that he was running against the formidable Franklin D. Roosevelt, a sitting president.
There are many parallels between Willkie and Trump. Willkie was a business executive who had never before run for public office.
Given Hillary Clinton's many weaknesses, including her surprising loss to Bernie Sanders (53-48) in Indiana, I think Donald Trump has a fair shot at beating her in the general election. Many conservative pundits feel othewise, especially National Review magazine which devoted a full issue to The Case Against Trump.
In any case, the next six months should be interesting, exciting and entertaining.
The Troubleshooting Guide To Almost Everything: Successful, fast-growth, very high profit businesses appear, at first glance, to have little in common with one another. Some are retailers; some are manufacturers. Others are wholesalers; still others provide services. One may have no employees; another has several dozen. Some are flashy and high profile; others are so low-key that they're almost invisible. What they all have in common is an ability to quickly solve problems and to learn from their mistakes. They know how to troubleshoot. If you want to improve your business, you'd better learn to be a good troubleshooter, too.
This guide to problem solving was originally developed by J. Franklin Moore in the early 1960s for use in troubleshooting the processing of plastics in injection-molding machinery. By modifying some of the terminology, I've found that this six-step program can be used to fix all kinds of problems. This powerful program has already been used to troubleshoot vacuum forming equipment, diagnose and repair automobile engines, tune pianos, fix troubled marriages, landscape homes and treat illnesses. This simple and effective program has also been used by countless small companies to solve their business problems.
Here are the six steps to solving any problem ... (more >>>)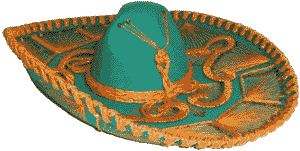 Happy Cinco de Mayo! Let's honor it with this little joke: Q - What do you call four Mexicans in quicksand? A - Cuatro sinko. Olé!
Book Review: 'Leonard: My Fifty-Year Friendship with a Remarkable Man' by William Shatner
I'm not a Trekkie. I did watch most episodes of the 'Star Trek' series when originally broadcast from 1966 to '69. And I've seen a couple of the movies but that's about it. Nevertheless, I enjoyed this book; it was a fast and easy read. Shatner is a good story-teller with a rich supply of anecdotes.
The book takes readers beyond the Spock actor to reveal ... (more >>>)
Happy Mother's Day this Sunday to all moms (especially mine) - whoever and wherever they may be.
Mother's Day was officially established in the early 20th Century. At first, it was the custom to wear a white carnation to honor one's mother. In part due to the shortage of white carnations, and in part due to the efforts to expand the sales of more types of flowers on Mother's Day, florists invented the idea of wearing a red carnation if your mother was living, or a white one if she was deceased; this was tirelessly promoted until it made its way into a popular observation at churches.
I remember carnations being sold outside of churches on Mother's Day, when I was young. Men wore one as a boutonnière on the left jacket lapel. I was always saddened by the sight of my dad wearing a white one; his mom died when he was only 23.
In the past 35 years, I've not seen carnations worn on Mother's Day, either because the custom never caught on in the Pacific Northwest or because the tradition has waned. Perhaps it's because no one seems to dress up anymore, so there are no lapels on which to affix carnations.
Quip Of The Day is from John Candy: "Whoever said nothing is impossible obviously hasn't tried nailing jelly to a tree."
---
Tuesday May 3, 2016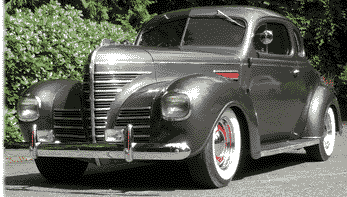 Saturday Sun: At 1:00 pm, the temperature was still a chilly 57 degrees but it felt warmer in the sun. I fired up my '39 Plymouth coupe and took a drive.
Traffic was light and the colors were from a 4 pack crayon set, Crayola orange, blue skies with white Johnson & Johnson puffy clouds and lots of Spring greenery. Mt. St. Helens was guarded by bright clouds but the Eastern hills were visible and in bloom.
It was a fine way to spend part of a Saturday afternoon. The temperature eventually reached 63 degrees.
Later in this sweater-weather day, I cooked a large filet mignon on the outdoor grill. My wife and I split it, along with scalloped potatoes, roasted onions and bottle of Robert Mondavi Private Selection Merlot (2001) from California's Central Coast.
Italian Dog: The Fiat 500 is sitting on dealer lots for an average of 138 days. Over the past year, sales have dropped by almost 26%. The 500L is parked on sales lots for 145 days.
That sounds awful until you realize that the Cadillac CTS has an inventory of 141 days and the ATS is even worse at 153 days. So much for Caddy's Dare Greatly ad campaign. Maybe people think it means We Dare You Not To Buy It.
Something Old Is New Again: Disneyland's 1955 Autotopia has been updated and reopened after a four-month closure. The update features cars powered by Honda. This Disney/Honda alliance brings a whole new look to this longtime guest favorite, with freshly-painted cars done up in Honda exterior colors.
May Third - A Day To Remember: 'The Third Of May', painted in 1814 by Francisco De Goya, commemorates Spanish resistance to Napoleon's armies during the occupation of 1808 in the Peninsular War - a military conflict for control of the Iberian Peninsula, involving Spain, Portugal and Britain against Napoleon.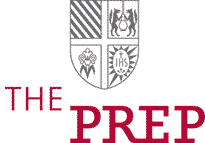 Fifty-seven years ago, May 3rd was drilled into my brain during my Junior year at St. Joe's Prep.
For six months, Father Pichla kept reminding us that he was taking on us on a field trip to see a steel mill on that date. Except, with his accent, he pronounced it May Turd. Then three weeks before the trip he got pissed off at the class for some minor infraction and canceled it.
"Dat's it! No May Turd trip for youse," he yelled. Therefore, I've never toured a steel mill. I don't think I missed anything.
Bessemer converter, my ass.
Down At The Shore: I've added one more image to the section on Atlantic City. It's a matchbox cover for Mammy's, a great place for chicken and waffles.
Located on the ocean side of the boardwalk at Pennsylvania Avenue, the restaurant was owned by Lew Tendler, a well-known Jewish boxer from the 1920s. Lew also owned a restaurant on South Broad Street in Philadelphia.
Anemic Economy: Scott Grannis has noted that "it's probably not a coincidence that for the duration of this unusually weak recovery we've seen a huge accumulation of public debt, a huge increase in regulatory burdens (e.g., Obamacare, Dodd-Frank), generally high and rising marginal tax rates, and a punitively high corporate tax rate. The rewards to risk-taking, and the burdens of running a business and complying with increased regulatory mandates have depressed the economy's animal spirits. The government is slowly smothering the private sector."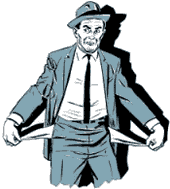 Small businesses, which create more than 70% of all jobs, have suffered under the burden of government regulations. The annual cost of all mandated Federal regulations for firms with less than 20 employees is estimated at over $15,000.
It would be easy to lay this at the feet of the Obama administration but the fact is, burdensome regulations have been imposed since the 1970s and get worse with each presidential administration. Most of these regulations are not put in place by congress or presidents but by government regulatory bureaucracies, which "assume" their mandate and impose whatever rules they want without oversight - neither executive or legislative. These bureaucratic agencies include the EPA, OSHA, HHS and more.
The cited cost of regulatory compliance does not include the added cost of training poorly-educated, near illiterate graduates - products of our failing unionized education system, which turns out near-illiterate slackers with little knowledge and even less work ethic.
Add in mandated health care costs, the cost of litigation insurance (product liability, employee negligence) and the risk/reward ratio for new business ownership or growth for an existing business becomes unattractive.