Thursday January 16, 2020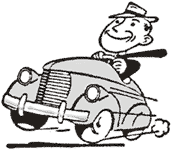 Goin' Nowhere: In 2019, we did less driving than last year. As a retired couple who don't do much long-distance car travel, we put less than 6,700 mile on our three automobiles.
My wife racked up 3,056 miles on her 2005 Toyota Avalon; the odometer read 74,510 miles at year's end. My 2008 Lexus LS 460 showed 39,411 miles on the odometer; 3,2532 miles were added in 2018.
My 1939 Plymouth coupe experienced 366 miles of fun in 2018, driving around the back roads of North Clark County.
Speedy Transfer: Mickey and Danny Thompson's record-setting 1968 Challenger 2 Bonneville streamliner crossed the auction block for the surprisingly low price of $510,000 last week.
Danny Thompson is the man who set the record in 2018 by driving the Challenger 2 to a record 448.757 mph at the Bonneville Salt Flats. Yet the 71-year-old told Autoweek that he's been living on Social Security, his wife hasn't had a reliable car to drive, and they have debts. "I made the biggest mistake you can make in motorsports. I borrowed money to go racing."
Thompson is the son of legendary drag racer and engineer Mickey Thompson, who built the original version of the Challenger 2 as a successor to the Challenger 1, which he raced to an unofficial 406.6 mph at Bonneville in 1960. I've written more about Mickey Thompson here.
Like A 1957 Ford Skyliner: Chevrolet has announced that Corvette buyers will be able to opt for a retractable hardtop on their Stingrays - another first in the sports car's 60-plus year history.
The new convertible's power hardtop was engineered to stow seamlessly into the body, maintaining the Stingray's ability to store two sets of golf clubs in the trunk even with the top down. The convertible also keeps the coupe's front storage compartment free to stow an airline-spec carry-on and a laptop bag.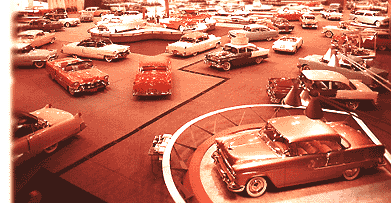 No Show: This time of year is usually when I write about the Detroit Auto Show. Starting this year, North American International Auto Show has moved from snowy, cold January to June 7-20, 2020.
And The Winners Are … Even though there was no Detroit Auto Show in January, that didn't stop a 50-member jury of independent journalists from naming the all-new Chevrolet Corvette Stingray as the 2020 North American Car of the Year.
The Kia Telluride was named 2020 North American Utility Vehicle of the Year and the Jeep Gladiator was named the 2020 North American Truck of the Year.
Book Review: 'Those Were The Days ... The American Dream: Chevrolet Impala 1958-1970' by Norm Mort
As I've mentioned before, "Those Were The Days …" is a series of small (7.5 x 8 inches), 100 or so page, softcover books about specialty automotive subjects. The books are moderately-priced ($25) and chock-full of photos, mostly in color.

The Impala name was first used in 1956 on a 4-5 passenger one-off, concept car - the Corvette Impala. This GM Motorama show car featured a Corvette-style grille and a C-pillar/rear window treatment similar to the production 1958 Impala. Otherwise, the concept car and production car had little in common.
General Motors introduced the production Impala in 1958 as a ... (more >>>)
Political Tweet Of The Week is from Johnny Deplorable: "Donald Trump has been in Politics for 3 years and is running in 2020 based off his accomplishments. Joe Biden has been in Politics for over 40 years and is running in 2020 based off what he wants to accomplish."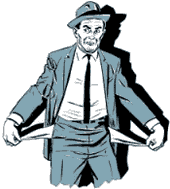 From Your Parish's Collection Basket: Pennsylvania's Roman Catholic dioceses have paid nearly $84 million to 564 victims of sexual abuse, a tally that's sure to grow substantially in the new year as compensation fund administrators work through a backlog of claims.
Seven of the state's eight dioceses launched victim compensation funds in the wake of a landmark grand jury report on sexual abuse by Catholic clergy.
The funds were open to claims for a limited time this year. They are independently administered, though each diocese set its own rules on eligibility.
Financial Tip: If your bank returns your check marked "Insufficient Funds," ask if they mean you or them.
Good Times For Many: The Foundation For Economic Education has pointed out that "in 1820, 94% of the world's population lived in extreme poverty. In 1990, 34.8%, and in 2015, just 9.6%." You can thank technology, the spread of democracy and capitalism.
Of those who still live in extreme poverty, over 40% resided in just two nations: India and Nigeria.
Quote Of The Day: "A fool and his money are good for business."
---
Tuesday January 14, 2020
Big Barge: The 1958 Lincolns and Continentals were totally new in body and appearance and were assembled in a new plant. The bodies were completely restyled with an aggressive, angular look replacing the Futura dream car-inspired styling on the '56 and '57 Lincolns. The 1958 Lincolns had unit body construction; they were the largest and heaviest frameless passenger cars ever made. The '58 models weighed 5,000 pounds and, at 229 inches long, they were the longest non-limo Lincolns ever made to date.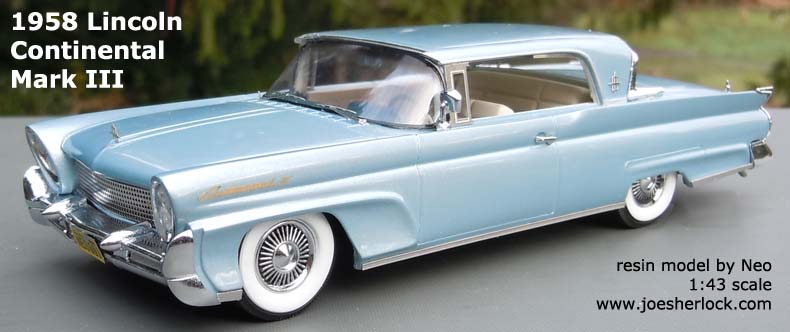 This 1:43 scale Neo model was resin-cast in China. Neo is a ... (more >>>)
Cars As Investments: Hagerty's 2020 Bull Market List of collector cars on the rise includes the 1990-95 Volkswagen Corrado, 1999-2005 Ferrari 360, 1971-80 International Harvester Scout, 1984-1992 Jeep Cherokee, 1970-78 Porsche 914 and 1996-2002 Dodge Viper GTS.
Big Bucks: The original Bullitt Mustang GT - from the movie of the same name - was auctioned for $3.4 million at Mecum's Kissimmee, FL auction last week.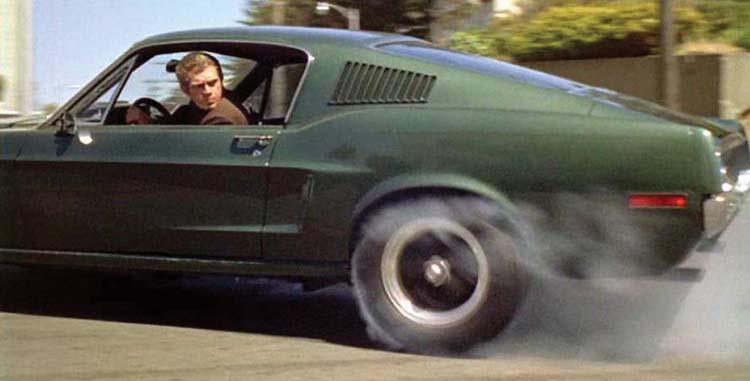 "Known as the "hero" car used in filming closeups and driving scenes, while an identical Mustang was setup as a stunt car."
Recycled Pipe Dream: Henrik Fisker, he of the failed Fisker automobile, has - like Preston Tucker and John DeLorean - risen from the automotive ashes and revealed a new vehicle - the Fisker Ocean electric SUV at the 2020 Consumer Electronics Show.
Fisker claims that the car will be available in 2022 and that "the company expects to build 1 million EVs between 2022 and 2027." The company is taking $250 reservation deposits on the new vehicle. "Drivers can get behind the wheel of the Fisker Ocean starting at $379 per month with $2,999 down before delivery in 2022, which includes both initiation and activation fees." Based on Henrik's track record, I'd think twice before coughing up any dough.
It should be noted that the prototype unveiled at CES is a non-runner and looks like an old General Motors proposal for a 2016 Saturn Vue. That's sad because Fisker's previous automotive ventures had stunning styling.
"The all-electric SUV will come standard with an extended range (target of approximately 250 to 300 miles, depending on driving conditions), enabled by an approximately 80 kWh lithium-ion battery pack …. The vehicle also uses fully recycled carpeting made from regenerated nylon, which is produced from abandoned fishing net waste pulled from the oceans and aquaculture. Other parts of the interior are vegan, and it meets stringent chemical emission limits for various VOCs (such as formaldehyde).
There are a slew of other features and actions taken in the design and production of the Ocean to reduce pollution, cut carbon dioxide emissions, use recycled materials and repurposed rubber waste to make the new Ocean as green a vehicle as one can find."
So … it's basically made from trash.
Trouble In Tireland: Les Schwab, the Bend, Oregon tire powerhouse known for its customer service, company culture and - once - its fierce commitment to keeping the business in the family, is considering a sale. The privately held company confirmed it had hired Goldman Sachs to find a buyer. It didn't disclose a potential buyer or expected price tag.

Bloomberg News reported earlier that the company expected it could fetch a price of at least $3 billion. The company has $1.8 billion in annual revenue. Les Schwab operates 492 locations across 10 states, including Washington, Oregon and California.
This could be very bad news if the company is acquired by some rape-and-scrape hedge fund. (See Cabella's for such an example. Paul Singer raped the company and Bass Pro Shops wrecked what was left.) I've written about Les Schwab here.
Gun Stats: There are about 30,000 gun-related deaths per year by firearms. What is never shown, though, is a breakdown of those deaths to put them in perspective; as compared to other causes of death:
• 65% of those deaths are by suicide which would never be prevented by gun laws - 21,175.
• 15% are by law enforcement in the line of duty and justified.
• 17% are through criminal activity, gang and drug related or mentally ill persons - 11,208 including law enforcement.
• 3% are accidental discharge deaths - 505.
Hence, "gun violence" is not 30,000 annually but 5,100. How are those deaths spanned across the nation?
• 480 homicides (9.4%) were in Chicago.
• 344 homicides (6.7%) were in Baltimore.
• 333 homicides (6.5%) were in Detroit.
• 119 homicides (2.3%) were in Washington DC (a 54% increase over prior years).
Therefore, 25% of all gun crime happens in just four cities. All four cities have strict gun laws so it is not the lack of law that is the root cause. In comparison:
• 40,000+ people die from drug overdoses.
• 36,000 people die per year from flu.
• 34,000 people die per year in traffic fatalities.
Quote Of The Day is from the late actress Billie Burke (the Good Witch in 'The Wizard of Oz'): "Age doesn't matter, unless you are a cheese."
---
Friday January 10, 2020
2019 U.S. Vehicle Sales: For the fifth year in a row, U.S. auto sales topped 17 million vehicles - finishing at 17.11 million. Purchases of new vehicles in 2019 declined slightly from the previous year's 17.3 million units. Since reaching a peak of 17.5 million in 2016, total U.S. sales have declined by 2.5%. There were sales declines at big manufacturers such as Fiat-Chrysler (down 1% at 2,203,663 vehicles, 23% of production went to fleets), Ford and Toyota. General Motors' deliveries fell 2% for the year, to 2,887,046 vehicles in 2019. Crossover deliveries totaled 1,165,769 for the year, up 13% versus 2018. A strong economy led to solid consumer confidence, and in turn, a surprisingly decent year for automakers and dealers.

"It's just interesting ... you take that uncertainty they have dealt with and everything that's been going on, and they have cranked out another 17 million-plus in sales," said David Kudla, CEO of Mainstay Capital Management LLC. "As long as the economy is good ... the demand is going to be there."
The year was also dominated by SUVs, which are expected to take more than 50% market share for the first time ever during the fourth quarter. In a level not seen since 2005, pickup trucks are likely to hit a market share above 19% in the quarter. Meanwhile, the market share for passenger cars, which Detroit automakers have slashed from the lineups, is expected to hit an all-time low of about 26% in the fourth quarter, according to Edmunds.
In a declining sedan market ... (more >>>)
Up In The Air: Hyundai Motor unveiled its personal air vehicle (PAV) concept at the Consumer Electronics Show in Las Vegas.
"Called S-A1, the 'flying taxi' was developed in partnership with Uber Technologies. Its multiple, electrically driven rotors allow for vertical take off before transitioning to wing-based flight when in cruise mode. It will then switch back for vertical landings. It has a range of 60 miles and a cruising speed of up to 180 mph at an altitude of up to 1800 feet. Its batteries can be recharged in seven minutes.
Hyundai said the 'flying taxi' would be operated initially by a pilot but will eventually be driven autonomously once the relevant technology is developed, tested and approved."
Meat: Is There Anything It Can't Do? A New York Post article reports that vegans may get worse hangovers than meat eaters. "Rabia De LaTour, MD, gastroenterologist and assistant professor of medicine at NYU Langone Health, says that vegans having low alcohol tolerance is something she hears anecdotally from patients."
Meat - the Miracle Food.
Weaning The List: Dave Burge tweeted, "After reading the entire Cheesecake Factory 50 page menu, looks like Democrats have decided on another order of old white people."
Is His First Name Groucho? Germany's Cardinal Marx said that "homosexual couples can get Blessings."
That Young Liberal Unbeliever Meme Is Accurate: According to the recent Pew Research Survey, "Those born in the '80s and early '90s as well as those who vote for the Democratic Party are the American demographic that has experienced the biggest drop in the practice of religion."
"Leaving churches is a fundamental phenomenon throughout the western region," said Jörg Stolz, professor of sociology of religions at the University of Lausanne. "At one time, it was thought that the United States was the exception, but the latest data confirms that the situation is the same as in Europe or Australia."
Stolz noted that the typical profile of the person who comes out of the Church is "a young person, with an urban lifestyle, who does not feel a particular link with religion": a category of the population that tends to grow in western countries. And, since the 19th century, "each generation is a little less religious than the previous one. It is likely to continue."

What Will Happen To Elsie The Cow?! Borden, the well known dairy company, which was founded in 1857, has filed for bankruptcy.
"American refrigerators are increasingly stocked with milk substitutes made from soy or almonds, hammering traditional milk and cheese producers. … Dean Foods, the nation's largest milk producer, filed for bankruptcy protection in November." In the past five years, almond milk consumption in the United States has exploded over 250%.
Iran - The Wile E. Coyote Of The Middle East: Both Newsweek and CBS now report that U.S. and Iraqi officials have evidence that the Iranians mistakenly targeted the Ukrainian passenger flight with anti-aircraft fire during their missile attack on American positions in Iraq. Their assessment is not just based on the photos, but also on comms intel that shows Iranian military forces lighting up the flight on its radar before it burst into flames.
It was probably an Acme missile, too.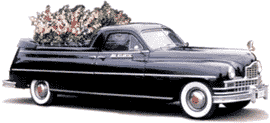 "Kookie, Kookie, Lend Me Your Urn." Actor Edd Byrnes, who played car valet and hot rodder Kookie on the 1950s television series, '77 Sunset Strip', has died at age 86.
He also was featured in the 1978 film 'Grease' as television teen-dance show host Vince Fontaine.
Darwin At Work: A poll shows that climate change fears put young couples off having children.
That's OK with me. It's probably good for the gene pool if the most gullible people don't have kids.
Quote Of The Day is from Herm Albright: "A positive attitude may not solve all your problems, but it will annoy enough people to make it worth the effort."
---
Wednesday January 8, 2020
Asymmetrical: The 1960 Plymouth XNR was a one-off concept car. Designed by Virgil Exner, the red sports roadster was based on the Plymouth Valiant chassis and was developed to show off Chrysler Corporation's new overhead-valve Slant Six engine.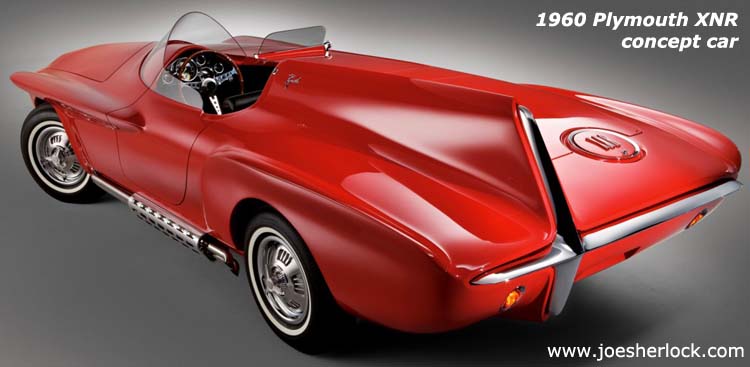 The car was built by Carrozzeria Ghia in Italy. After it completed the U.S. auto show circuit, it was ... (more >>>)
And The Winner Is … according to 24/7 Wall Street, in the merger of Fiat-Chrysler and Peugeot (Groupe PSA): "The Agnelli family, through its ownership stake in FCA, is a clear financial winner, and FCA also gets one of the auto industry's stars in Tavares who has been responsible for pulling Groupe PSA back from the edge of a cliff."
The so-called 'Merger of Equals' - a phrase used to describe the Daimler-Chrysler hook-up of years past - "will create the world's third-largest automaker measured by revenue and the fourth largest measured by sales volume. The two companies expect the merger to take 12 to 15 months to be completed." Time will tell.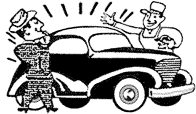 More Money; Better Deals: In 2019, average transaction prices for vehicles climbed above $36,000 for the first time. But, "as sales volumes have struggled, automakers have resorted to greater and greater incentive spending in order to move metal."
According to Automotive News, some automakers are pushing record discounts to clear inventory. BMW, Daimler and FCA topped December's incentive spending; always-plucky Subaru offered the least.
Happy Birthday, Elvis: Yesterday was Elvis Presley's birthday. He would have been 85. And probably would have weighed 850 pounds. Or, as the ever-quotable Yogi Berra might have said, "If Elvis were alive today, he'd be dead!"

Elvis didn't invent rock and roll but he spread the message across America. And the world. Music changed greatly during the postwar era, helped by ... (more >>>)
Never Forget: The Washington Examiner reported that a plurality of Germans think that Donald Trump is a bigger threat to world peace than the leaders of North Korea, Russia, China and Iran. Hmmmmm. Remember what a "plurality of Germans" accomplished in the 1930s?
From A Recent Parish Bulletin: "At a time when much of the Catholic Church seems to be in decline, and abortion and gender ideology are damaging so much of society, Our Lady of Guadalupe Monastery is a beacon of hope." It is good to read that our pastor is not a fan of recent politically-correct ideology and is plain-spoken. If only the pope and many of his cardinals spoke so forthrightly.
Incidentally, Our Lady of Guadalupe Monastery roasts and sells coffee. From the website: "All proceeds contribute to the expansion of our Monastery in order to receive the many vocations knocking on our doors. We are most grateful for your purchase which greatly helps to support our growing monastic community. May God bless you eternally!"

Not A Good Year For Death Predictions: The 148 players in last year's Old Blue Eyes Memorial Celebrity Death Watch had these as their top picks to die: Kirk Douglas, Bob Dole, Olivia de Havilland, Prince Philip, Jimmy Carter, Beverly Cleary and Bob Barker. All of their top seven picks are still alive. Let's all drink a toast to their continued health!
Of the Top 20 picks only five actually died in 2019. We wish the remaining 15 the best of health also.
Book Review: 'Finding The Bright Side: The Art Of Chasing What Matters' by Shannon Bream
Shannon Bream is well known to Fox News viewers. She is bright, intelligent, thoughtful and asks good questions of guests. 'Finding The Bright Side' is her autobiography. It is a story of many challenges faced, including ... (more >>>)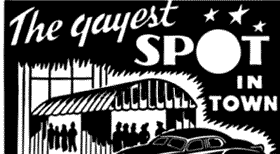 A Dose Of Their Own Medicine: Comedian and actor Ricky Gervais hosted the Golden Globe Awards for the fifth - and he insists final - time on Sunday and he really ripped all the self-important Hollywood phonies in the audience. "You're in no position to lecture the public about anything. You know nothing about the real world. Most of you spent less time in school than Greta Thunberg," said Mr. Gervais.
"Apple roared into the TV game with 'The Morning Show', a superb drama about the importance of dignity and doing the right thing, made by a company that runs sweat shops in China," Gervais said. "So, well, you say you're woke, but the companies you work for - I mean, unbelievable, Apple, Amazon, Disney. If ISIS started a streaming service, you would call your agent, wouldn't you?"
Recently, actor/director Martin Scorsese compared the movies that Marvel Studios make to theme park rides. Gervais joked about Scorsese's height: "Although I don't know what he's doing hanging around at theme parks - he's not big enough to go on the rides. He's tiny."
Bringing Sandra Bullock on stage to announce the final award, Gervais said, "Our next presenter starred in Netflix's 'Bird Box', a movie where people survive by acting like they don't see a thing. Sort of like working for Harvey Weinstein." After the crowd erupted in boos, Gervais quipped, "You did it! You did it! I didn't; you did it!"
Quote Of The Day is from Nobel Laureate economist Esther Duflo: "Your intuition can be so wrong. It is quite likely that your idea is not that great. You're going to learn it in the field and that learning is quite helpful because you are going to progressively learn, what is the real issue? If you have no humility to realize that, most of the time, our great ideas are not all that great."
---
Monday January 6, 2020
Shrunken Airflow? Skoda is an automobile manufacturer located in Czechoslovakia. It was founded in 1895. In the 1930s, Skoda introduced a new line of cars featuring a redesigned chassis backbone tube and all-around independent suspension. First used on the 1933 Skoda 420 Standard, the new chassis design became the basis for Popular (845–1,089 cc engines), Rapid (1,165–1,766 cc), Favorit (1,802–2,091 cc) and Superb (2,492–3,991 cc) models. These new models were well received and, by 1938, Skoda had 38% share of the country's car market.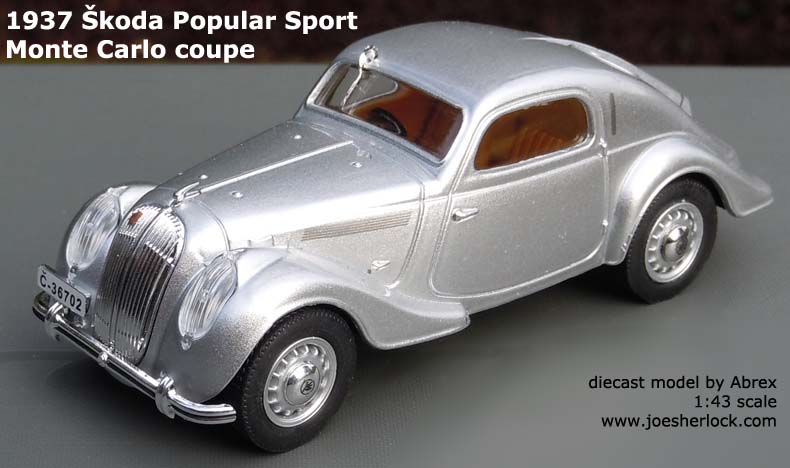 In 1934, Skoda launched the Popular Special Sport, which was an enclosed two-seater with a revised, streamlined body, a curved radiator grille and swept, fastback rear with a small center fin. It looked a bit like a miniature Chrysler Airflow. If only Chrysler had offered a three-window coupe styled like this little gem ... (more >>>)
Supply/Demand At Work: The Jeep Wrangler Unlimited holds its value better than any other vehicle - depreciation after 5 years is only 30%. The regular Jeep Wrangler depreciates only 32% after 5 years. The Toyota Tacoma and Tundra pickups rank 3rd and 4th respectively.
Cars that lose value fastest include the Maserati Quattroporte sedan - 72% depreciation after 5 years, BMW 7 Series (71%), Nissan Leaf electric (71%), BMW i3 electric (71%) and Acura RLX sedan (69%).
Sad … But True: Jack Baruth recently wrote, "When all the cars you can buy are basically identical, it turns into washing-machine shopping - you're only going to buy on price or reputation."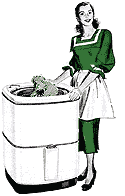 Remembering Bertie: In the 1950s, most kiddie television shows were local affairs. Howdy Doody was one exception; the show was broadcast live in New York and piped to several cities on the East Coast. Kinescopes were made available to selected cities elsewhere. 'The Buster Brown Show' was filmed and then distributed widely with Buster Brown shoes as the primary sponsor. The commercials were already baked into the show.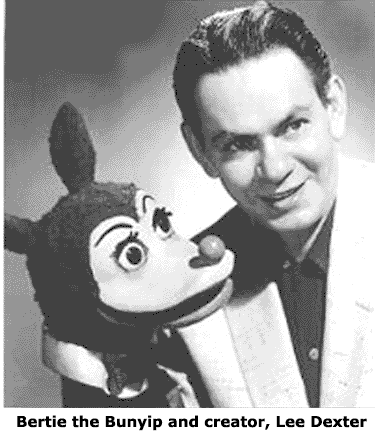 In Philadelphia, Bertie the Bunyip was the lead puppet character on a popular local children's television series, 'The Bertie The Bunyip Show', which ran from 1953 to 1966. Created and voiced by Australian Lee Dexter, Bertie was a bunyip (a mythological Australian creature - a cross between a bunny, a collie dog and a duck billed platypus).
Bertie's arch enemy was con-artist fox Sir Guy de Guy who wore a top hat and put on aristocratic airs. Other characters included Nixie the Pixie, Humphrey the white rabbit (he wore a black cape), Winnie the Witch, Poochie the Pup as well as guillible Fussy and Gussy. Sometimes, old film cartoons were shown in between puppet sketches.
In 1950, local artist and sketch cartoonist, Pete Boyle (father of well-known actor Peter Boyle) started to put together a kid's program on Channel 3, then WPTZ. He decided to bring his old Australian buddy Lee Dexter into the fold. Dexter created the puppet used on Pete's show, Snooper the Squirrel.
Dexter had a workshop in the back of his suburban Bala Cynwyd home where he made heads for puppets and rebuilt and restored puppets for celebrities Edgar Bergen and Paul Winchell and others. Lee Dexter developed his own system of molding rubber and plaster of Paris together to create heads that allowed puppet masters to get a greater facial expression from their dummies.
Bertie The Bunyip remained a popular show throughout its run, despite ... (more >>>)
Soggy Ending: It poured rain here on New Year's Eve but that didn't dampen our joy. We had much to celebrate on New Year's Eve. We stayed home and had cocktails and appetizers in the afternoon.
In the evening, I cooked an nine-ounce filet mignon on our outdoor grill - monitored by flashlight (technically, a Coast strap-on headlamp). In addition to the steak, my wife and I shared our last bottle of Sinclair Estates Vineyards Cabernet Sauvignon - a 2015 vintage. Only 20 barrels of ths fine wine were produced in Walla Walla, WA. The winery closed down last Spring.
Staying home seems more popular than ever - it's what 48% of Americans do on New Year's Eve. Only 9% actually go out to a bar, restaurant or event. About 70% of Americans stayed up past midnight as they welcomed 2019.
Hope you had a good end-of-year celebration.
Notice The Difference? President Obama sent $1.7 billion in unmarked bills to Iran. President Trump bombed Iran's terrorist leader, General Qasem Soleimani, into 1.7 billion unmarked parts. Also reportedly transformed into vapor was one Abu Mahdi al-Muhandis, leader of an Iraqi paramilitary group behind the attempted storming of the U.S. embassy in Baghdad. Good riddance.
Dave Burge tweeted, "Let's face it, there's a crazy maniac in the White House, so my best advice to Iran is airlift us $150 billion in unmarked bills in hopes it'll calm him down."
Holiday Retail Sales: Spending rose 3.4% during the 2019 holiday season, which is measured by retail sales starting November 1st. Online sales rose by 18.8%, while in-store sales were up only 1.2%.
Quote Of The Day is from Tom Lehrer: "If a person can't communicate, the very least he can do is to shut up."