Thursday October 20, 2016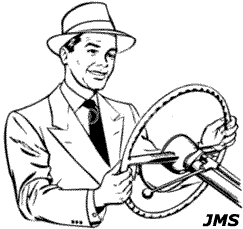 Charisma Is Standard Equipment: That's how Dan Neil described the new $400,000 Rolls-Royce Dawn streamlined (less blocky than the earlier edition) convertible.
He noted that "for a lot of people, an encounter with a Rolls-Royce is a tell-the-grandkids event, a touch of transcendence. The Dawn doesn't disappoint. For one thing it's unforgettably large: a 17.3-foot convertible, with the geometric subtlety of a shipping container." And it weighs over 5,600 pounds.
"The Dawn is full of rare delights, new and old: the clarinet-key window switches and organ-pull vent controls; the steel-and-wood umbrellas concealed in the door jambs; a glove-leather upholstery that practices aromatherapy without a license.
The Dawn's contribution to posterity is its finest-made fabric top, which rises and falls with eerie, near-silent precision in less than 22 seconds, at vehicle speeds up to 30 mph. When the top is up, its heavy soundproofing holds interior noise levels down to that of the steel-roofed Wraith.
With the top folded, the inside of this splendid car becomes the outside, private becomes public. When both suicide doors are swung wide, the glimpse of leather and veneer is like the flash of celebrity skin on the red carpet."
The Dawn is powered by a "twin-turbo 6.6-liter V12 rated at 563 hp and a massive 575 pound-feet of torque at just 1,500 rpm. That's what big displacement and twin turbos get you. Anyway, "whoosh" is too violent a word to describe how the Dawn gathers pace. With the superabundance of torque at any engine speed and the angels fluttering among the eight gears, the Dawn is ever ready, never hurried. From a standing start the Dawn can accelerate to 60 mph in under five seconds in a manner so unforced, so inevitable, as to take one off guard."
Sure, it's ridiculously expensive. But it's a Rolls. If I suddenly won the mega-millions Powerball, my first purchase would be a fractional-ownership subscription to NetJets. Then I'd order a Dawn.
Final Presidential Debate: It was a lively and fiery debate in Las Vegas. I thought moderator Chris Wallace threw tough questions at both candidates. He grilled Hillary on corruption. Trump muttered that Hillary is "a nasty woman" and suggested that she return Clinton Foundation 'donations' from those countries - Qatar and the like - that abuse women and kill gays.
When asked if he would accept the election outcome, Trump wouldn't commit. "I'll keep you in suspense," he said. Who can blame him based on the shenanigans revealed by Wikileaks and Project Veritas? Hillary, her liberal press friends, some political pundits and the usual bunch of Never-Trumpers expressed shock and outrage, calling Trump un-American. Gee, I don't remember these same people calling Al Gore un-American when he conceded and then un-conceded the 2000 election. Nor did they call Bill Clinton un-American when he urged Gore not to accept the election results.
Overall, I'm not sure that the debate moved the needles much either way. People who are pro-Trump or leaning toward Trump will remain so. Same for Hillary supporters.
I have no idea what the alleged 'undecideds' will make of the debate. Did those people actually watch the debate? Or are most a bunch of low-information voters who will decide on a whim at the last minute? Or not vote at all? Who knows?
I thought Donald and Hillary both gave as good as they got. But, in my opinion, Trump won. The Drudge Poll gave Trump the win by a large majority: 87% to 13%. A FoxNews poll declared Trump the winner with 59% over Clinton´s 37%. Frank Luntz's focus group also declared Trump the winner. But the only poll that counts is the one on November 8th.
Let's make America great again. Vote Trump!
Book Review: 'Over the Top and Back: The Autobiography' by Sir Tom Jones
We celebrated our third wedding anniversary in 1969 with a dinner show at Latin Casino; the featured performer was Tom Jones.
His autobiography is as good as his performance was those many years ago. The book is full of anecdotes - many quite humorous - about ... (more >>>)

"Hail, Hail Rock & Roll ..." Chuck Berry turned 90 this week.
Because he is both a Character and a Legend, there are a million Chuck Berry stories. My favorite is from Bruce Springsteen, who was in one of hundreds of obscure local back-up bands used by Berry in the early 1970s.
Springsteen said that Chuck arrived at the last minute, collected his money up-front and headed onstage. Looking for a set list, Bruce asked him, "What songs are we gonna do?" Berry looked straight at Bruce and replied, "We're gonna do Chuck Berry songs." And then began playing guitar, leaving Springsteen and his bandmates to figure out the song and the key.
Here's a Universal Law: Once you become a Legend, people will make up new legends about you. "Hey, Chuck. This is your cousin, Marvin. Marvin Berry. You know that new sound you're looking for? Well, listen to this ..."
Quote Of The Day is from Joan Rivers, "I don't know if the Ivory Coast has any actual ivory in it but I respect it because it's the only country named after two deodorant soaps."
---
Tuesday October 18, 2016
When Buicks Were Cool:
Just Wondering: Do you think any of the people who bought '70s cars with opera lights ever actually went to an opera? (permalink)
Party On, Dude: One auction buyer was worthy enough to acquire Wayne and Garth's blue 1976 AMC Pacer with those cheesy flames for $37,400.
If This Van's A Rockin', Don't Keep A Knockin' ... because someone inside might be having a seizure. Hillary's familiar black campaign van is a limited edition, raised-roof GMC Savana van, modified by Explorer Van Company of Warsaw, Indiana.
The luxurious model has a gray leather interior, heated seats, "a 29-inch Samsung television, and a Blu-ray DVD player." It also has a bed, which comes in handy for any .. ummmm ... medical emergencies the candidate may experience.
Bill Clinton's not allowed to use the bed-equipped van, for obvious reasons.
Don't Forget - Flu Season Is Coming: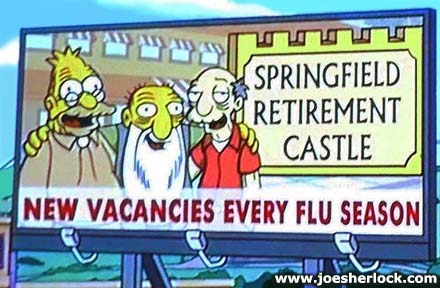 Suddenly It's October 1962: Russia is looking to expand its military presence and has its eye on Cuba and other Latin American countries.
"Defense Minister Sergei Shoigu said Russia has come up with a list of countries where its considering opening military bases. They include Cuba, Nicaragua, Venezuela and Vietnam."
Anyone else remember the Cuban Missile Crisis 54 years ago? It was another 'October Surprise', lasting from October 16th to 28th. I was a college student at the time and my friends and I were convinced we'd soon be off to war.
Domestic Terrorism? Karl Denninger has defined it as "the coordinated incitement of violence for a political purpose." That's sounds about right to me.
Hillary Clinton supporters are committing such acts if their own words are to be believed. Democrats are using trained individuals who they are sending into Republican rallies for the specific purpose of inciting violence. One thing I found especially disgusting was that they use gullible mentally ill people do some of their dirty work.
Karl remarked, "How is that not, may I ask, a crime?" And he's posted the Project Veritas video exposé as proof. It shows Democrats using trained provocateurs at Republican events nationwide throughout the 2016 election cycle.
Furthermore, the woman from James O'Keefe's Project Veritas video, who stated on camera that she was one of the people who shut down Donald Trump's Chicago rally, was directly paid by the Hillary Clinton campaign.
Is there no level to which the Clinton Machine will not stoop?
Joke Of The Day: As a lawyer awoke from surgery, he asked, "Why are all the blinds drawn?" The nurse answered, "There's a fire across the street, and we didn't want you to think you had died."
---
Friday October 14, 2016
Today's Public Housing Should Look This Good: In the late 1930s, Philadelphia's Hill Creek housing project, located at Adams and Rising Sun Avenues, was the only federally-funded housing scheme in Philadelphia. Rent for any of the 258 units was $7.50 per room monthly.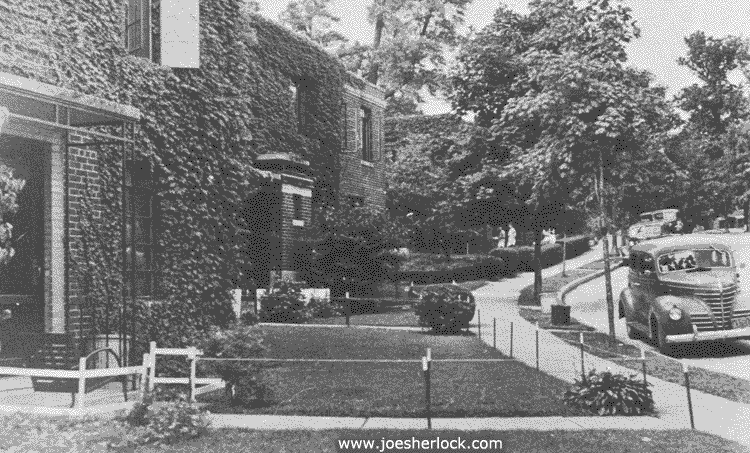 The low rent helped one of the tenants acquire a 1939 Plymouth sedan .... (more >>>)
How Plymouth Got Its Name: Plymouth Owners Club historian and author Jim Benjaminson has written a very informative article about the early days of the Plymouth automobile, which was published in the most recent issue of Collectible Automobile. (My copy arrived in late September, although it is dated 'December 2016'.)
Jim wrote about dealer sales promotion efforts when the first Plymouths rolled off the assembly line in June, 1928, with 'Mayflower' ship emblems and press release references to William Bradford and his band of Pilgrims, who landed at Plymouth Rock and founded Plymouth Colony in Massachusetts in 1820. "Playing on the Pilgrim theme, dealers were urged to dress in Pilgrim costumes, complete with buckle-adorned hats and blunderbuss guns, all supplied from the factory."
Adorning the showrooms was a 19-inch high wooden model of the Mayflower ship, complete with full rigging. Billed as 'the appropriate decorative piece on the show room table for the Plymouth dealer', the $4.75 model could also be "an attractive article for use as a prize." The price of the ship model in today's dollars comes out to $68 or so.
Interestingly, the Plymouth automobile's name wasn't really inspired by Pilgrims ... (more >>>)
Best Wishes & God Bless Her: Gerri Willis, one of Fox Business Network's more-informed and interesting personalities, has returned to the network after treatment for breast cancer. Her article, 'Six Things Cancer Taught Me', is definitely worth a read.
I'm glad to hear that she's well enough to return to work and wish her a complete recovery. I also learned many lessons from my cancer battle, which - so far - I'm winning.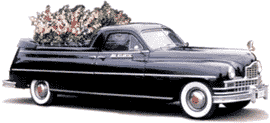 But ..But .. But ... Yul Brynner died 31 years ago: It was announced today, that Bhumibol Adulyadej, the King of Siam (now Thailand), who had been suffering from ill health for years, has died at age 88. He reigned for 70 years. RIP.
Crown Prince Maha Vajiralongkorn will take his place. He's not as beloved as his dad. "Married and divorced three times, the crown prince has lived for extended periods abroad, mostly near Munich, Germany. He had a poodle named Foo Foo, which held the rank air chief marshal until its death last year."
The Price Of Fame: The McCallum Theatre of Palm Desert, CA recently released ticket prices for its 2016-17 season. Here are some observations ... (more >>>)
Ghmlmm ... uhhh ... msplmmxx ... ummm: Bob Dylan has been awarded the Nobel Prize for Mumbling, handily beating the late Marlon Brando, Sylvester Stallone, Charlie Brown's teacher, Beaker from The Muppets and Senator Mitch McConnell.
As a fellow Nobel Laureate, I congratulate Mr. Dylan.
Quote Of The Day is from Will Rogers: "Lord, the money we do spend on government and it's not one bit better than the government we got for one-third the money twenty years ago."
---
Wednesday October 12, 2016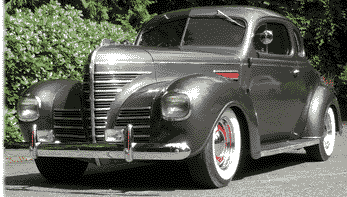 Floral Fall: Albert Camus once wrote, "Autumn is a second spring when every leaf is a flower."
Well, there is much Fall color these days and, given all the rain we had last week, there are many fallen leaves. I've missed driving my '39 Plymouth coupe and, even though it was partly cloudy or partly sunny depending on where one stood and was a bit chilly (48 degrees at 11:00 am Monday), I decided to take a drive.
I couldn't see much of Mt. St. Helens due to clouds but the little I did see was definitely snow white.
The Plymouth ran great and I had an enjoyable back roads mini-excursion.
On Tuesday at 11:40 am, the temperature was 50 degrees and the sky was a bright blue with almost no clouds, so I took another drive. This time I got a clear look at Mt. St. Helens and it is indeed snow-covered.
The Shroud Of Touring: Dan Neil described the 2017 Aston Martin DB11 as "what they call a grand touring car, or gran turismo - not small and spare like a proper sports car, but big, kingly and fast, with accommodations for two, or 2+2, and light luggage. Front-engine, if you please. Gran turismos branch along the lines of road and racing models. The all-new DB11 - even with the prodigious 600-hp V12 in its snout - is the former, while the latter is something like the Nissan GT-R. Track riffraff."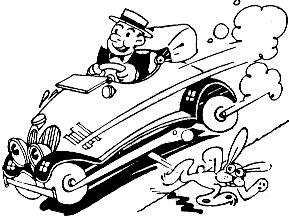 Dan wrote that the "DB11 is a road car, a big, voluptuous road car, a strider, a pacer - always graceful in the moment, untaxed, always a sense of great latency. I thought driving it was like saddling up on He-Man's Battle Cat, though I grant that isn't a very good advertising strapline."
Prices start at $211,995. "The public servants at the headquarters in Gaydon, Warwickshire, will be delighted to upsell you on fabulous paint, upholstery and trim options, of which there are multitudes."
Dan was pleased with the model he tested: "The 12 cylinders simmering like kettledrums at the valet stand; the pitching down in Doppler effect as the car flees the scene. That's kind of what you pay for, right, Your Eminence?
On the two occasions when I chanced to overtake on a two-lane road, I nailed the gas pedal and it was like pushing up the throttles of a luxury powerboat. The sweet gathering of momentum, the narrowing road, the oil-painting scenery run to watercolors. From 60 to 100 mph is covered in about 5 seconds, which is just enough to nick past harvesters waddling in the lane. No lack of torque, here. This mink fire hose is fully pressurized.
Quitting the back roads, the DB11 swept onto the M40 motorway as if it had been paved for the occasion. Turismo, heavy on the gran."
Sounds like great fun. Or, perhaps, grand fun.
Why Trump Might Win - In One Sentence: David P. Goldman wrote: "A very large portion of the electorate (how large a portion we will discover next month) believes that its government is no longer legitimate, and that it has become the instrument of an entrenched rent-seeking oligarchy."
Yes, and when we complain, elites like Hillary refer to us as "deplorables."
Lawrence Summers, Bill Clinton's former Secretary of the Treasury, explained Brexit and The Rise of Donald Trump thusly, "It can hardly come as a great surprise that when economic growth falls short year after year, and when its beneficiaries are a small subset of the population, electorates turn surly." Indeed.
The economy isn't good - growing far slower than it used to. Here's a dismal graph that explains ... (more >>>)
Why Vote For Someone Who Hates You? The most recent Wikileaks e-mails were "taken off the server of Democratic Presidential candidate Hillary Clinton's campaign chairman, John Podesta." There is a shocking admission from Podesta regarding Clinton and her true feelings about "everyday Americans."
In an e-mail dated April 19, 2015, Podesta wrote: "I know she has begun to hate everyday Americans, but I think we should use it once the first time she says I'm running for president because you and everyday Americans need a champion. I think if she doesn't say it once, people will notice and say we false started in Iowa."
Jennifer Palmieri, Director of Communications for Hillary's presidential campaign, agreed with Podesta, responding with only, "Truth."
Other leaked e-mails shows the Clinton Team's utter contempt for traditional Catholics.
Every day, there are more reasons to vote for Donald Trump.
Book Review: 'Off Script: An Advance Man's Guide to White House Stagecraft, Campaign Spectacle, and Political Suicide' by Josh King
Perception is reality, meaning that you are whoever people think you are. That is the essence of politics. Author Josh King was an political advance man working for Michael Dukakis and, later, Bill Clinton; his job was to "frame the optics" at political events so that the candidate (or president) looked his/her best.
He provides examples of success and failure in the image-crafting biz. The problem is that ... (more >>>)
Quip Of The Day is from comedian Billy Connolly: "Who discovered we could get milk from cows, and what did he think he was doing at the time?"
---
Monday October 10, 2016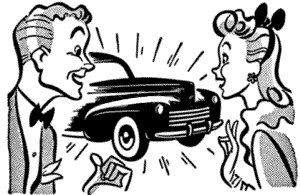 Heart Flutter, Hype & Whitewash: Once upon a time, Fall would make the automotive part of my heart go pitter-patter. (Now I take pills to prevent any unusual heart activity.)
There would be renderings and grainy photos of soon-to-be-released vehicles in car mags, followed by covert activities at local auto dealerships. Every year, before the new models came out, dealers moved new cars into their showrooms in the dark of night and whitewashed all the big plate glass windows so people couldn't see in. The public got curious and excited. Prospective buyers and old customers were invited to preview parties hosted by the dealership.
There would be champagne, balloons and ... (more >>>)
Second Presidential Debate: It was a fiery and contentious evening on the debate stage in St. Louis. Donald Trump was better prepared this time and, despite the surprise locker room audio, the debate soon moved beyond it onto more substantive issues. After the debate, Rudy Giuliani appeared on MSNBC. When pressed about Trump's remarks on the video tape, Rudy said he's played golf with Bill Clinton and Clinton has said worse. He also says that whatever Trump said, Bill Clinton actually did much worse.

Hillary Clinton found a way to weave Abe Lincoln into her explanation of the Wikileaks' revelation that one needs two faces in politics - a public position and a private one, suggesting duplicity. Donald Trump countered, "Honest Abe never lied. That's the difference between Abraham Lincoln and you, Hillary."
Trump challenged Clinton to spend her own money on her presidential campaign, saying it would give her some independence from her donors.
Hillary often sat down during the 90+ minute debate. Trump remained standing and paced around his table as Hillary spoke. Trump was strong and did not hesitate to call Hillary out on her deceit and incompetence. He did, as in the first debate, sniff a lot. The two moderators were lousy and seemed anti-Trump.
I thought Trump won. Brit Hume agreed, tweeting, "Donald Trump won this debate, not overwhelmingly, but clearly enough that he lives to fight another day. Lewd tape begins to fade." The Drudge Report poll declared Trump the winner - over 80% of respondents thought he won. At Brietbart, the figure was over 93%.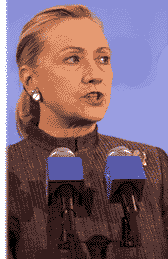 What To Expect ... if Hillary wins: In a speech to Goldman Sachs-Black Rock, Ms. Clinton said, "My dream is a hemispheric common market, with open trade and open borders, some time in the future with energy that is as green and sustainable as we can get it, powering growth and opportunity for every person in the hemisphere."
Translation: Prepare for the giant sucking sound of more jobs leaving the U.S. Expect more job-killing environmental regulations. Don't be surprised if the government has an even more Globalist View, as Hillary and her crew downgrade the lives of ordinary American citizens in exchange for "helping" the rest of the planet.
Even though it's not mentioned in the quotation, you shouldn't be surprised if America's foreign policy creates more of a disaster in the Middle East and makes Russia an even more aggressive 'strong horse'. Just look at what Hillary 'accomplished' as secretary of state.
Remember this when you're making your presidential election decision.
Actions Trump Words: Media pundits and establishment RINO politicians have collapsed upon their fainting couches and Special Snowflakes everywhere are melting - all over an 11-year old video showing Donald Trump making vulgar and misogynist wisecracks. The audio was caught from a hot mike while Trump was bantering with Billy Bush of 'Access Hollywood'. Billy egged Donald on, by the way. And, at the time, Trump was still a Democrat.
I bet most of the 'shocked' populace watch every episode of 'The Kardashians'. And/or 'Maury'. Let's not forget that eighty million people bought copies of 'Fifty Shades of Grey'.
Humorist Scott Adams tweeted, "Trump's bid for Sainthood officially ended today. I think he's still available for Kennedy-type jobs." Heh.
Interestingly, Billy Bush is cousins with George W. and Jeb Bush as well as nephew to George H.W. Bush. Given the disdain of the Bush Dynasty for Donald Trump - semi-senile Bush 41 has said he will support Hillary Clinton over Trump, while his wife, Barbara, has remarked that she's sick of Trump, and low-energy Jeb is still smarting from his crushing primary loss to The Donald - does the Billy connection to this October Surprise seem to be a strange coincidence? Especially, since the Bushes and the Clintons seem to be close buddies on occasion. You can be sure there are Clintons or their minions behind this 'news' item.
Donald Trump represents an existential threat to the globalist political class of which the Bushes are a part. You really have to wonder what part, if any, the Bushes played in the release of this embarrassing video so close to the election.
Trump's crude words are just that - words. Meanwhile, on the Clinton side, there are lots of actions, including "I did not have sex with that woman." Bill Clinton has been impeached and disbarred. He is a serial womanizer and accused rapist. His wife has been his Enabler-in-Chief. Oh ... and isn't that female body part Trump mentioned the same one Bill Clinton put his unlit cigar into? In the Oval Office? Now, that's gross.
The Donald is a brash and vulgar guy. Everyone already knew that - his public persona has been out there for decades. But he is also a credible change agent who threatens the Democratic and Republican establishment. He may talk rough but no one died because of Trump's sometimes crude behavior. Not so with Hillary. Think Benghazi, for starters.
Peter Ingemi wrote that "while Trump will occasionally disappoint me (when he does I'll call him on it) I am convinced he will neither persecute me nor strip me of my rights for holding my Conservative Catholic beliefs and acting on them.
I am very sorry to say I can not make that same statement about Hillary Clinton, and I'm even sorrier to see the day when I would say this about a presidential candidate."
Like Peter, I'm sticking with Trump, because we need to Make America Great Again.
Speaking Of RINOs ... My do-nothing RINO Congressional representative, Jamie Herrera Beutler (aka: Ridgefield Barbie), said she has "slammed shut the door" on Donald Trump and will write-in Paul Ryan's name instead. This from a woman who has missed hundreds of votes in Congress and fails to show up for congressional committees. But she always makes time for those photo ops.
Well, Jamie, when I get my ballot, I'll write in my name instead of voting for you. (If you live in Herrera Beutler's Southwest Washington District, you can write in my name on your ballot. After all, it's not the first time I've run for office as a write-in candidate.)
Rotten Tomatoes & Rotten Economy: Garden Fresh Restaurant Corp., owner of the Sweet Tomatoes and Souplantations restaurant chains, has filed for Chapter 11 bankruptcy protection. The company owns over 100 restaurants and could close up to 30 locations. Garden Fresh owes nearly $175 million to lender groups. The Sweet Tomatoes in Vancouver, Washington, which offers mostly salads and soups, plans to remain open.
The restaurant industry is in trouble, these days. "Revenues and same-store sales have been declining for most of 2016," said Kurt Schnaubelt, of restructuring firm AlixPartners, about the restaurant industry.
The general business climate continues to be lousy. According to the American Bankruptcy Association ... (more >>>)
Word Play: Boffins, strumpets, puffins, muppets - they all sound like things you might have for breakfast.
Quote Of The Day is from Soupy Sales: "Never make a doorknob your close friend. It might turn on you."
---
Thursday October 6, 2016

Final Ride: Dutch coachbuilder Remetzcar has constructed a Tesla hearse. No, thanks. I'd rather have a pollution-spewing, ozone-destroying, fins-to-the-sky '59 Cadillac Superior hearse at my funeral. It would be soooo me.
The Joylessness Of Robot Cars: Recently, financial analyst Malcolm Berko wrote, "I think the introduction of the driverless car will have about as much impact on the auto industry as would the advent of another fly to a slaughterhouse. The tornadic buzz surrounding the driverless car reminds me of the premature anticipation when Apple introduced the Apple Watch. High excitement, tremendous hype, deep passion, enormous enthusiasm and frantic hoopla.
In the end, it will be an ignominious failure; the consumer won't buy it, and the involved companies will lose multiple billions of dollars. Nobody wants a car that takes a week to go from zero to 60. I'd rather drive a Yugo."
Vice-Presidential Debate: I'm not sure that Tuesday's debate between vice-presidential candidates, Mike Pence and Tim Kaine changed many votes. But the debate was no dull ice-cream social. Numerous topics were covered and there was a lot of disagreement and annoying interruptions. Kane interrupted Pence over 70 times.
I think Pence won the debate quite decisively. He seemed cool and more on message. Kaine seemed agitated and eager to get in pre-rehearsed insults and rips. His rudeness did not serve him well. Tim Kaine spent more time Trump bashing and less time providing a vision or blueprint of a Clinton-Kaine administration. He appeared frazzled while Pence seemed articulate and dignified.
On the Drudge Report poll, Mike Pence won with more than 95% of the votes. Pollster Frank Luntz's focus group overwhelmingly proclaimed Pence the winner.
Book Review: 'Eruption: The Untold Story of Mount St. Helens' by Steve Olsen
Having experienced the Mt. St. Helens eruption firsthand, I looked forward to this comprehensive account by author Steve Olsen. I wasn't disappointed.
The author weaves history of the Forest Service, the Northern Pacific Railroad and timber giant Weyerhaeuser and Mount St. Helens itself, along with the science, politics and social history.
I enjoyed reading the history of ... (more >>>)
Best Fake Headline Of The Week: 'Stolen Kardashian jewels found inside Hillary Clinton's server'.
Lighting Up The Curve: This night photograph of the Pennsylvania Raildroad's Horseshoe Curve was produced by firing off ... (more >>>)
Joke Of The Day: "Two cannibals were eating a clown - one said to the other, 'Does he taste funny to you?'"
---
Tuesday October 4, 2016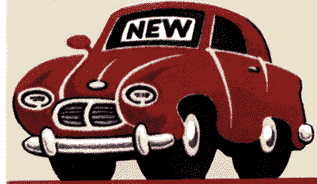 September Auto Sales: Light vehicle sales were at a 17.7 million SAAR (Seasonally Adjusted Annual Rate) in September, down about 2% from September 2015, and up 4% from the 16.9 million annual sales rate last month. Revenue from new U.S. vehicle sales fell to $47 billion in the month of September, according to TrueCar Inc.
Sales sputtered last month despite generous Labor Day deals, with four of the six biggest sellers in the U.S. declining from the prior September. Surprisingly, full-size pickup truck sales declined last month. Sales of the Chevrolet Silverado fell 15.5% while sales of the GMC Sierra slipped 8.5% and sales of the Ford's F-Series pickups fell 3%. However, sales of mid-sized pickups were up overall.
Dealership traffic is leveling off after more than six years of steady growth. This drop-off in showroom foot traffic is a worrisome sign. Passenger cars remain a tough sell these days: Sales of Ford's cars dropped 21% in September while sales of the Honda Accord fell 19% and Toyota Camry's sales fell 11%. Toyota Avalon sales declined by 20% to 3,844 sedans, while sales of the flagship Lexus LS sedan dropped 15% to 345 units. Overall, Lexus sales were up 2% to 25,801 vehicles, mostly SUVs - Lexus' SUV sales jumped 24% year-over-year. Trucks and SUVs are keeping the auto market afloat these days.
Auto companies spent nearly $400 more on incentives per vehicle on average in September compared with the same month in 2015. That $3,888 per-unit average rebate figure tops the prior record incentive-spending level for a single month set in December 2008, according to J.D. Power. The last time incentives-per-unit were this high, GM and Chrysler were appealing to Congress for bailouts and sales across the industry were sinking.
General Motor's sales slipped almost 1% to 249,795 vehicles amid a continued reduction in fleet sales. Buick sales were up a healthy 14% to 30,922 units, while sales of Cadillac increased 3% to 15,368 vehicles. Chevrolet sales were flat, while GMC sales fell 9%.
Ford, also pulling back from fleet sales during the month, skidded 8% to 203,444 units. Fleet sales declined by 21%. Ford's F-Series truck sales dropped 3%. Lincoln sales increased 1% to 8,797 vehicles, including 775 Lincoln Continentals.
Fiat-Chrysler edged down 1% to 192,883 vehicles as the Jeep brand posted a rare - and perhaps ominous - decline. Ram sales jumped 29% on strong sales of the Ram pickup and ProMaster van, but sales were down for the Chrysler (-27%), Jeep (-3%), Dodge (-6%), Fiat (-30%) and Alfa (-27%) brands.
Toyota sales rose almost 2% to 197,260 for the month on solid truck sales. The company's car sales were down 9%; sales of the hybrid Prius fell 23%, a victim of low gas prices. Toyota's SUV and truck sales were up 13%. The Toyota Corolla was America's best-selling car in September.
Rising truck sales and continuing appeals to sub-prime customers, gave Nissan Motor Co. a 5% increase to 127,797 vehicle sales in September. Infiniti sales were up 12%.
Honda, reported flat sales - 133,655 vehicles. Sales of Honda's new small SUV, the HR-V, were up 49% over last year, when it was just hitting the market, but the company's car sales fell 8%. The CR-V remained the best-selling SUV in America in September. Acura sales were down 13% to 12,813 units.
Volkswagen sales declined by 8% (24,112). Mazda sales were off 3% to 24,899 vehicles. Sales of Subaru vehicles increased 4% to 54,918 units.
Sales of Mercedes-Benz increased 4% to 32,470 units. Audi sales rose 2% to 17,617 vehicles, BMW sales fell 5% to 25,389 units and BMW was offering $6,732 in incentives per vehicle in September, up 44% from a year ago, according to TrueCar.com. By comparison, Fiat-Chrysler spent $4,302 per vehicle on deals, up 23%. Buyers could get $4,500 cash back on a 2016 Ford Escape or $2,000 on a 2017 Chevrolet Malibu.
At the other end of the scale, Bentley sales soared to 283 luxury vehicles (+155%) as did Jaguar sales - up 168% to 2,662 units. Maserati sales increased 36% to 1,185 vehicles. Porsche sales increased 1% to 4,479.
What Might Have Been: Making its debut at the Paris Auto Show, the Renault Trezor concept car could have been an inspiration for a classier, next-generation Viper.
Unfortunately, the Viper is dead and, the powerful-looking Trezor is an electric vehicle, so there won't be any multi-cylinder engine rumble.
Happy Birthday: Lucy, my daughter's dog, celebrated 15 years today.
She still loves the beach at the Oregon Coast.
The Truth About The Unemployment Rate: Jim Quinn wrote, "With a working age population of 253.9 million people and only 151.6 million of them employed (27 million part-time, 15 million self-employed, 7 million working multiple jobs and worst of all 22 million government workers), the BLS has the gall to report only a 4.9% unemployment rate. There are 102.3 million working age Americans not working, but only 7.8 million of them are unemployed according to the highly educated establishment lackeys at the BLS. The other 94.5 million non-working Americans must be frolicking in the surf, sipping margaritas and counting the millions they've made in the rigged Wall Street casino."
And furthermore, "If the country has actually been experiencing an economic recovery for the last seven years, why would 14% to 15% of all Americans be dependent on food stamps to survive? When the economy is actually growing and employment is really below 5%, the percentage of Americans on food stamps is below 8%. If the government economic data was truthful, there would not be 43.5 million people living in 21.4 households (17% of all households) dependent on food stamps. More than 100 million Americans are now dependent on some form of federal welfare (not including Social Security or Medicare). If the economy came out of recession in the second half of 2009, why would 6 million more Americans need to go on welfare over the next two years?" Yeah, you can't sell that big a number as 'welfare fraud'.
Quinn added, "As I drive to work through West Philly, every Thursday the Grace Lutheran Church at 36th & Haverford Ave. distributes food to the local community and the line at 7:30 a.m. in the morning extends around the block. This scene is duplicated in crumbling urban enclaves and deteriorating suburban municipalities across the land. Food banks and homeless shelters throughout the country are being inundated by those who haven't benefited from the Fed's QE and ZIRP "Save a Wall Street Banker" monetary schemes. One in seven Americans – 46 million people – rely on food pantries and meal service programs to feed themselves and their families."
Good Advice: Ann Coulter wrote, "From now until the next debate, every single person who works for Trump should personally insult him several times a day.
• 'Good morning, sir - your business is a total fraud.'

• 'Here are those trade stats you wanted - oh and you lied about opposing the war in Iraq.'

• 'The Cincinnati airport needs a tail number - why did you 'fat-shame' that poor girl?'
If he starts to respond, they should say, 'No one cares, sir. Tell me how you're going to stop Mexican drugs from pouring across our border.'"
Ann concluded, "Trump wins whenever he talks about issues; he loses whenever he talks about himself."
Nothing To See Here ... Move Along: Two men who found a travel bag containing a bomb on a Manhattan street last month - and then walked off with the bag but left the bomb - were not just employees of EgyptAir but in-flight security officers for the carrier.
Hassan Ali and Abou Bakr Radwan flew back to Cairo the day after the episode. American investigators have not been able to interview them, the officials said.
"Surveillance footage showed two men finding the bag on West 27th Street on the evening of Sept. 17, soon after a bomb exploded on West 23rd Street, injuring 31 people and triggering terrorism fears across the region.
In the video, the men were seen pulling from the travel bag a white plastic bag that contained a pressure cooker connected to wires and a mobile phone. They left the white bag on the sidewalk and walked away with the travel bag. The bomb did not explode, and investigators have said that the men may have inadvertently disabled the device."

RIP: Richard D. Trentlage, who wrote the Oscar Meyer Weiner Song in 1962, has died at age 87 of congestive heart failure. Other jingles penned by him include, 'McDondald's is your kind of place' and V8's 'Wow! It sure doesn't taste like tomato juice'.
This led me to think about the Oscar Meyer Weinermobile; I wrote about it here.
Quote Of The Day is from James Lileks: "People! It takes all kinds to make a world. I just wish sometimes they'd go off and make one of their own."