Wednesday March 12, 2014
Another Milestone: My wife's Toyota Avalon has turned nine years old.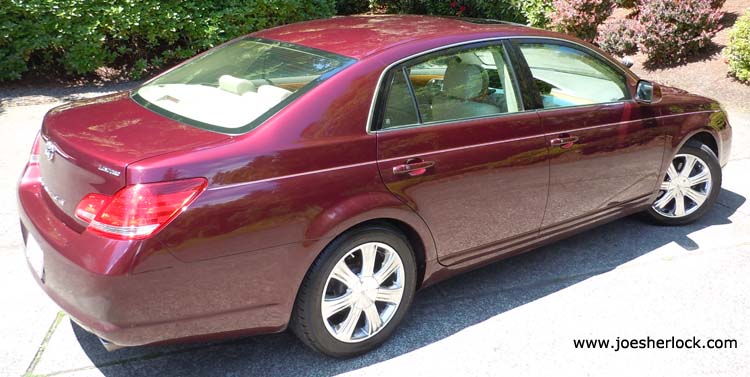 With 52,500 miles on the odometer, the car still looks - and runs - like new. It remains trouble-free and has neither rattles nor squeaks. And, thanks to a recent car wash, it now sparkles again. (permalink)
Lost In Translation: The late Steve Jobs once said, "You know how you see a show car, and it's really cool, and then four years later you see the production car, and it sucks? And you go ... what happened? They had it! They had it in the palm of their hands! They grabbed defeat from the jaws of victory!"
Double Shot: Automotive Design and Production posted an article about coinjected plastics - a process that used to be called two-shot molding in my plastics days. Inject one plastic into a mold then inject a second plastic into a second area of the mold. Both plastics must be chemically compatible (it's called melt compatibility) but can be different colors, different densities (one solid, one foam) or different aesthetics (ugly and strong overlaid with beautiful and glossy).
This process has been around for ages. The phone company used it for making characters on dial telephones so that, after years of dialing, you couldn't wear the numbers and letters off like painted ones. Ford used this process at its Saline, MI plastics plant to double-shot mold transparent red and clear acrylic to make red taillight lenses with clear integral backup lights for the 1968 full-size Fords. (I was a consultant on the project.) The resultant lens was stronger and more leakproof than those produced by other methods.
Lear Corp. uses this technology to produce large interior (instrument panels, door panels) and large exterior panels. There are numerous benefits, including such things as the elimination of the need to do outside the press assembly of two separate pieces, superior craftsmanship (better grain definition, sharper radii, softer touch), the ability to "dial-in" the sort of characteristics attained when using TPE plastics (soft, slick, silky), excellent performance and durability due to the consistency of wall thicknesses, consistency of gloss across the surface of the part, and the elimination of buzz-squeak-rattle problems that can occur due to the interface of mechanically-attached separate plastic pieces.
Everything old is new again.
Separated At Birth? Every time I see Pope Francis, I'm reminded of the late comic Ed Wynn.

I guess you have to be of a certain age to remember Mr. Wynn; he was a popular American comedian and actor noted for his Perfect Fool comedy character. He hosted a popular radio show, 'The Fire Chief' during the 1930s; it was sponsored by Texaco gasoline. He was often photographed wearing a too-small fireman's helmet. Wynn was offered the title role in MGM's 1939 film, 'The Wizard of Oz', but turned it down.
Ed Wynn was often seen on early television, either hosting his own show or as a guest on other popular shows. Wynn provided the voice of the Mad Hatter in Walt Disney's film, 'Alice in Wonderland'.
I wonder what the Pope would look like if he swapped his Papal Mitre for a little fireman's hat. (permalink)
Book Review: 'George Washington's Secret Six: The Spy Ring That Saved the American Revolution' by Brian Kilmeade with Don Yaeger
You may know Brian Kilmeade from Fox News' morning show 'Fox & Friends' which he co-hosts. In this book, Kilmeade and co-author Don Yaeger relate the fascinating story of the Culper spy ring that operated in Long Island and New York during the War of Independence. This is a slightly-fictionalized (because of the paucity of factual details available), dramatized history rather than a scholarly work.
You'll find no footnotes here but the story is compelling. It is a dramatic account ... (more >>>)
Headline Of The Week is from The Onion: 'Bicycle-Riding Circus Bear Pedals Back To Natural Habitat'.
Quote Of The Day is from Daniel V. De Simone: "The process of innovation is not simply an act. It is not just design, or market analysis, or investment, or entrepreneurship, or the intricacies that intervene between the concept and the marketplace. It is all of these, a complex sequence of steps. And it is all the more complex because there is nothing automatic about it. The engines of innovation are human beings."
---
Monday March 10, 2014
Head Of The Class: Consumer Reports has released its 2014 Car Brand Report Cards, with Lexus again reigning at the top. Lexus' lineup was credited for being "usually quiet, comfortable, and fuel-efficient." CR noted that it was the only brand on the list "to achieve an excellent average overall reliability score."
Ford and Jeep weighed in at the other end of the rankings, Jeep taking the lowest overall score in the road tests and hampered by "a mix of spotty reliability." Ford was sunk by reliability issues with its MyFord Touch infotainment system which consumers found troublesome enough to negate its cars earning "solid test scores" for being "very nice to drive."
RIP: William Clay Ford, Edsel Ford's youngest child and the last surviving grandchild of Henry Ford, has died at age 88.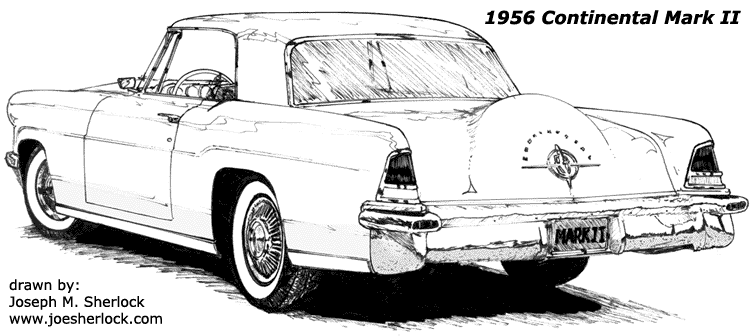 Ford served as the owner and chairman of the Detroit Lions and was briefly head of the FoMoCo's Continental Division. He championed the iconic Continental Mark II automobile. It is said there were only two pictures on his office wall, his father's Continental and his Mark II.
Restaurant Review: Hockinson Kountry Cafe; Battle Ground, WA
Once a local favorite in rural Hockinson, this restaurant moved to west Battle Ground in 2010. We've dined here often and are almost always pleased with the food and service, although the turkey platter is spoiled by a gravy that is both heavy and flavorless.
Friendly waitresses deliver food to your table quickly. Offerings are homemade, comfort in style and generous in portion. Prices are small-town reasonable. HKC's pies are ... (more >>>)
Where Would You Like To Sit? In the old days, such questions were asked so that prospective diners could select from 'smoking' and 'non-smoking'. In those times, my wife and I would reply, "We want the 'non-screaming' section." We were seeking a brat-free meal - and I'm not referring to sausage.
I'm talking about those idiot adults who drag their ill-behaved offspring to nice restaurants and don't force them to behave. Of course, these self-absorbed morons think that being a brat is a sign of precocious. Especially if it's their kid.
A few restaurants have done something about this. Unfortunately, not enough of them.
I, Robot: Congratulations to my grandson who participated in the Oregon Regional FIRST Robotics Competition. His Spartan Robotics team won the Creativity Award and made it through the semi-final rounds in Oregon City.
Why Bother Saving For Retirement? Barack Obama, the first Socialist U.S. president, plans to ask Congress to reduce some of the tax advantages for employer-sponsored retirement plans for higher-income earners. The president wants to limit the value of all tax deductions and include an overall cap on all retirement accounts, including pensions, that could bring in $1 billion a year in new tax revenue.
Anyone who has acted responsibly, saved money for retirement, has no debt and owns their own house, will be considered "rich."
By robbing retirees of their money, Barry O. will create "income equality." So we'll all be poor. Winston Churchill once said, "Socialism is a philosophy of failure, the creed of ignorance, and the gospel of envy. Its inherent virtue is the equal sharing of misery."
Betting On Israel: Last week, the state of California and Israel signed a historic technology-sharing agreement. Forty-plus years ago, Intel opened a small operation in Haifa. Today, Intel employs over 9,000 in Israel and its new Adam processor for mobile devices in produced there.
Israel has an entrepreneurial, tech-driven culture and turns out more engineering graduates each year than either the U.S. or Japan. Two and one-half times as much venture capital flows into Israel than the United States.
Meanwhile, in his typical, never-bet-on-winners strategy, our President is busy harassing Benjamin Netanyahu while befriending the useless, dysfunctional, terroristic Palestinians. What a moron.
Sometimes we ... (more >>>)
Quote of the Day is from H.L. Mencken: "If a politician found he had cannibals among his constituents, he would promise them missionaries for dinner."
---
Thursday March 6, 2014
A Gift Of Love: I'm late in reporting this because we were away on Valentine's Day but my wife gifted me with a 1:43 scale model of a 1972 Ford Torino hardtop coupe.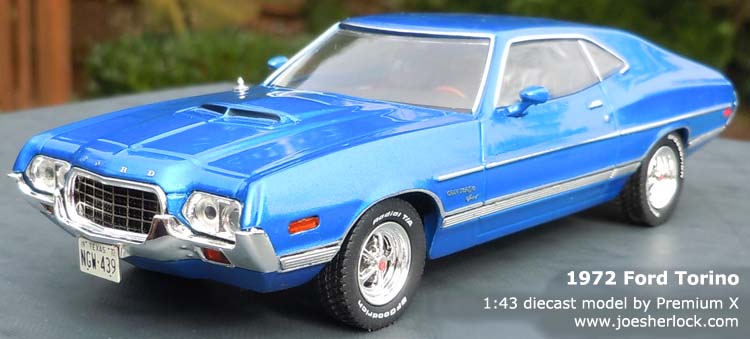 This diecast was made by Premium X Models, a firm located in Shenzhen, China. The little Torino is incredibly well-detailed, including the stump of a retracted radio antenna, painted exhaust system and even a period-correct Texas license plate.
I always liked the looks of the '72 Ford Torino. I remember reading that a soon-to-retire Ford engineer ... (more >>>)
Car Sighting: Monday was the first time I saw a Nissan GT-R being driven on the road. The $100,000 sports car seems to have every boy-racer styling cliché included in its bodywork, resulting in a very disjointed look.
Trendsetting: Southern California is the place where the future can be seen - in fashion, housing and cars.

Trends start in Southern California, jump to the Bay Area and NYC and then spread slowly westward across the remainder of the U.S. Eventually, they reach the Pacific Northwest which became the style repository of last resort for mood rings, leisure suits, disco dance floors, lapel decorations, glass block and the like.
Every rule has an exception and 'gourmet coffee' is such a case. That trend began in Seattle, jumping to Portland and the SF Bay areas simultaneously before moving south and east.
Underpants Gnome Business Model: Radio Shack appears to be on its way out of business. Fourth quarter 2013 sales plunged 19% and the firm is closing 1,100 stores. As far as I can tell, this is the Shack's business strategy:
Collect Everyone's Phone Number >>> ???? >>> Profit
When Lewis Kornfeld ran Tandy/Radio Shack in the late 1970s, he made the firm a major player ... (more >>>)
Book Review: 'The Death Of Punishment: Searching For Justice Among The Worst Of The Worst' by Robert Blecker
The author, a former prosecutor and criminal law professor, has written a passionate defense of the death penalty. He reviewed cases, interviewed inmates, toured prisons and attended trials of murderers.
While the book had some thought-provoking moments, it often ... (more >>>)
Headline Of The Week ... is from Weekly World News: 'Dalai Lama Retires - Moves To Playboy Mansion'.
Many of the 'Hef Girls' are happy to have the Dalai Lama move in. "He's a little younger than Hef, and a lot cuter," said Dolly Hart. "There's something so special about him," said Paige Peters. "I get a good vibe being around him and well ... let's just say it's a very spiritual experience being with him."
Bad Pun Of The Day: Definition of a will ... a dead give-away.
---
Tuesday March 4, 2014
February Auto Sales: Light vehicle sales were at a 15.3 million SAAR in February - up slightly from February 2013 and up 1.8% from last month.

Chrysler's year-over-year sales rose 11% to 154,866 units, the company's best February sales level since 2007. Its Chrysler, Jeep, Ram Truck and Fiat brands all posted year-over-year gains in February. The Jeep brand posted a sales gain of 47% and the Ram brand posted a gain of 28%. Dodge sales were off 11% and inventories are too fat. Chrysler has a 220 day supply of Dodge Avengers and a 129 day supply of Dodge Darts.
Ford's U.S. sales fell 6% year-over-year in February to 183,947 Ford and Lincoln vehicles, compared with February 2013 sales of 195,822. Sales were down for all types of vehicles, with car sales off 14%, SUV sales off 4% and truck sales down very slightly. Lincoln brand sales were up 36% to 6,681 units, led by its entry-level MKZ sedan.
Sales at General Motors fell 1% year-over-year in February to 222,104 units. Cadillac sales dropped 3% to 13,437 vehicles. Only 58 examples of Caddy's $76,000 Volt-like ELR hybrid coupe found buyers in February. Buick sales were up 19% to 19,192 units. GM's closely watched stockpile of cars and light trucks stood at 805,769 units - equal to a disturbing 87-day supply - at the end of last month.
Sales at Toyota for the month totaled 159,284 units, down 4% compared with February 2013. Lexus sales were up by 9%, although sales of the flagship LS model dropped 27% to 589 units.
Nissan's February sales rose 15.8%% to 115,360 units, a record for the month of February. Sales of the company's redesigned Rogue crossover rose a whopping 73% to 17,197 units year-over-year.
Subaru sales jumped 24% to 34,909 vehicles. Forester sales leaped 95%. Honda sales were down 8%, while Acura sales were up 3% led by its SUVs. Hyundai/Kia saw a 4% sales drop in February.
Volkswagen sold 27,112 units in the United States last month - a decline of 14% year-over-year, on top of a 19% drop in January sales.
On the high-priced end of things, Maserati sales soared 426%; 837 sporty, expensive Masers found buyers. Mercedes and BMW were up just of 3% each.
A Moving Experience: On Sunday morning, we moved my O-gauge train layout back into the garage. We had the layout into its storage spot by 11:45 am under light rainy conditions. The outside temperature was 39 degrees.
Everything went quite smoothly without incident.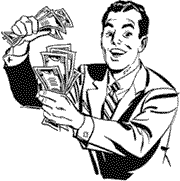 It's All A Big Joke Until The Economy Crashes: Barry Ritholtz has noted that "1,865 pages of Federal Open Market Committee transcripts from 2008 were released to the public. Bloomberg studied the transcripts, finding, on average, about 25 references to laughter per meeting. This was almost half of the 45 giggles per FOMC meeting noted in 2007."
And these people watch over our nation's money.
Management Advice - Deceased Equine Strategies: Dakota Tribal Wisdom says that when you discover you are riding a dead horse, the best strategy is to dismount.
However, the Harvard Business School (in a project underwritten by several well-known consulting groups, including Accenture, the Boston Consulting Group, Deloitte Global and BearingPoint, Inc. - formerly KPMG) offers alternate proposals .... (more >>>)
Another Reason I Hate Modern Life: The Girl Scouts have hired a lesbian as 'Chief Girl Experience Officer'. I'm sure she will teach the girls some new and unusual experiences.
"The main charge leveled by Girl Scout critics concerns the leftward drift of the Girl Scouts, which was founded along conservative religious principles. The leftward drift began in the early '90s when God was made optional in the Girl Scout promise. This precipitated the founding of American Heritage Girls and the first widespread exit from the Girl Scouts.
In the ensuing years, social liberals insinuated themselves into national leadership of the Girl Scouts so that now it is unremarkable when they feature and promote women who are offensive to the sensibilities of hundreds of thousands of traditional-minded moms, including: Betty Friedan; Gloria Steinem; Hillary Clinton; Kathleen Sibelius, U.S. Secretary of Health and Human Services and chief promoter of the Obamacare contraceptive mandate; and Wendy Davis, advocate for late term abortions."
Quote Of The Day is from James Lileks on service windows/counters/stations at the Dept. of Motor Vehicles: "They should never, ever build more windows than they need. Or rather they should hide the ones not in service, because you sit there looking at the empty windows, imagining public servants in the back working on a box of Krispy Kremes like vultures on a dead water buffalo, and you begin to fume."