Thursday January 19, 2017
Suitable For A Commander-In Chief: A new Cadillac-looking tank-like limousine will debut at Donald Trump's inauguration, replacing the 2009 presidential limousine - dubbed The Beast - which was used by President Obama.
"The limousine is expected to maintain the looks of a "Cadillac Escalade sedan" with a seven-seat, 2+3+2 layout meant to carry the chief executive and just a couple of aides on most journeys. The passenger compartment will still offer conference-style seating for five, and the rear passenger doors will still be positioned to the front of the rear quarter windows that will partially obscure the two rear seats."
President Trump's new ride will not look too much different than President Obama's. But inside, there are ... (more >>>)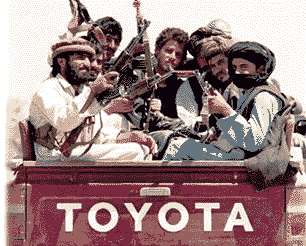 Pimp My Truck Bomb: Milo Yiannopoulos, who is like Dennis Miller remixed with a dose of Billy Idol, offered increasingly-irrelevant MTV a number of suggestions for new audience-building programs, including 'Pimp My Ride: Da'esh Edition'.
"There is a whole army of ISIS heartthrobs riding around in plain white Toyota trucks paid for by the CIA, or whoever. But you can't be a stylish terrorist in a factory fresh pickup, so MTV is going to help you pimp your ride! Yes, the format is the same, there will still be the requisite, "Yo dawg, we heard you like weapons, so we added forward and rear-facing machine guns."
Not only will every episode be heartwarming as a Jihadist gets the terror platform of their dreams, western audiences will pick up useful armor tips for driving around danger zones like Columbus, Ohio, Dearborn, Michigan and of course Chiraq."
He also proposed 'MTV Uneaten', which will feature "obese feminists gorging themselves half to death, live on TV, to the sympathetic cooing of the presenters." Don't have a cow, man.
Book Review: The Scandal Of Money: Why Wall Street Recovers but the Economy Never Does' by George Gilder
Mr. Gilder authored 'Wealth and Poverty'. First published in 1981, his book spread the gospel of supply-side economics to a broad audience. I enjoyed reading it.
I found Gilder's latest 224-page book to be very difficult to understand. Maybe it's me. George Gilder has been praised by many as brilliant. But now, Gilder wants to unleash economic growth by ... (more >>>)
Headline Of The Week: 'Left Wing Vegan Denied Swiss Passport Because She's 'Too Annoying''.
"Nancy Holten, 42, is a self-described animal rights activist who has campaigned against the Swiss tradition of cow bells, calling them cruel.
Despite living in the country since the age of eight, and speaking fluent Swiss German, local residents vetoed her application of citizenship, saying they were "fed up" with her challenging their traditions."
She has also campaigned against other Swiss traditions including hunting, pig racing, and even loud church bells.
Quip Of The Day: Ban pre-shredded cheese. Make America Grate Again.
---
Tuesday January 17, 2017
In Search Of Excellence: One of my Christmas gifts was a blue 1960 Facel Vega Excellence four-door hardtop. This 1:43 scale diecast model was produced by Altaya, a firm based in Barcelona Spain, which offers numerous lines of toys. Most are manufactured in mainland China.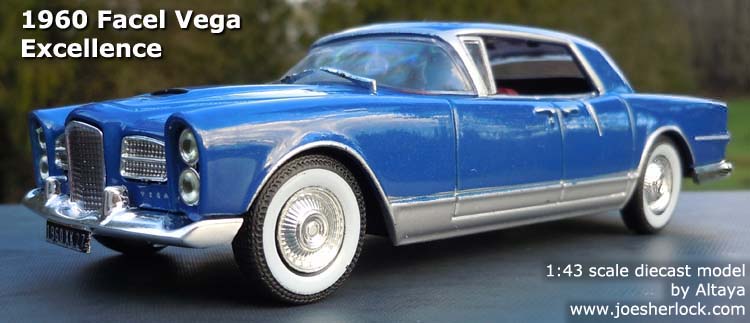 Ironically, there have been far more scale models of Excellences produced than actual full-size cars. The Excellence was introduced in 1958 and, over the next 6 years, only 156 were made. At $12,800 each, they were very expensive for the period. All were powered by Chrysler V8 engines, mated to Torqueflite automatic transmissions.
I've only seen one ... (more >>>)
Get Outta My Way Or I'll Smack Ya With My Cane: The number of Americans aged 65 or older without a disability that aren't in the labor force jumped by 800,000 in the fourth quarter of 2016. "The labor force participation rate for this group tanked to 23.6% in the final quarter of the year."
On the other hand, Keith Richards is still working.
Final Thoughts About President Obama: Regular readers know that I've never been a fan of Barack Obama. During the presidential campaign of 2008, I referred to him as a phony, Chicago machine politician who flip-flopped on many important issues. He often came across as a naive, spoiled child. During the '08 primaries, several pundits referred to Obama as Chauncey Gardiner, due to the senator's remarkable capacity for making the vacuous sound profound.
I won't go into all of my criticisms of Obama as president; if you want details, go here.
A well-known historian once said that ... (more >>>)
Bad Cuisine: James Lileks wrote, "I have discovered I can't cook. Last night I got some cheap on-sale cube steak - yeah, I know, that was my problem in the first place, but I figured I could cook it up with Stuff and chop it up, put it on a bun, add some sauce, and it would be okay. It was like eating a Sunday paper that had a picture of a cow somewhere in the sports section."
Dashing Though The Snow: Last week, I had blood work done at the oncology center. That was the easy part. The roads were slippery in spots but I had no problems. Meeting with my oncologist on Friday was a different matter. There was a huge snowstorm overnight on Tuesday, which dropped over 8 inches of snow on our driveway and local roads. Then it got very cold and nothing melted.
On Friday morning, the temperature was 10 degrees.
Thankfully, my daughter had arrived early Tuesday evening with her nimble Subaru Forester. On Thursday night, we put chains on the rear wheels and drove to my Friday morning appointment without incident.
The result of the blood test ... (more >>>)
Quote Of The Day is from the late Douglas Adams: "There is a theory which states that if ever anyone discovers exactly what the Universe is for and why it is here, it will instantly disappear and be replaced by something even more bizarre and inexplicable.
There is another theory which states that this has already happened."
---
Friday January 13, 2017
Rollie Pollie: This chubby 1950 Nash Ambassador four-door sedan - a 1:43 scale diecast model - was produced by WhiteBox (a house brand from Model Car World, a retailer in Florsheim, Germany) using old Ixo tooling and was manufactured in China. My daughter gave it to me as a Christmas gift.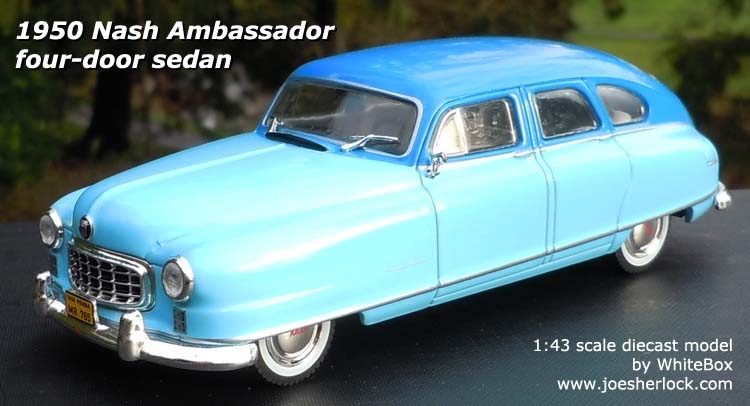 In 1949, Nash rolled out its Airflyte body style, referred to as the Bathtub Nash because, to many, it looked like an upside-down bathtub. This more-or-less egg-shaped vehicle may look retro-odd today, but sold surprisingly well during the 1949-51 era. Los Angeles bought a bunch ... (more >>>)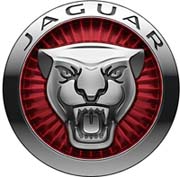 Ch-ch-ch-ch-Changes: After 42 years in business, the Monte Shelton Motor Company has been sold to the Don Rasmussen Company to be joined with Land Rover Portland in August 2016.
"Monte Shelton has been a fixture in Portland's business community since 1957. Shelton is best known for his Jaguar and Rolls-Royce dealerships, but he also sold MG, Triumph and other British marques as well. After beginning his career with a series of east side locations known as Monte's Motors, Shelton moved his business to the current site on West Burnside in 1974." Until about 15 years ago, he also sold Saabs.
I liked Monte but, after his son Neil took over management in the early 2000s, many of the long-tenured staff departed and the service department seemed to be taken over by uncaring moneygrubbers. I quit taking my Jaguar to them for service and patronized The Jag Shop on the east side of Portland. They took good care of me and they're still around.
Bed Holds a 2x3 Sheet Of Plywood: I spotted a recent-vintage, silver Mini pickup truck southbound on I-5 earlier this week. It seemed like a one-off - nicely done but looked silly. It might have been this one.
Higher Cost Per Inch Than A Fort Knox Gold Bar: New York City just opened its brand spankin' new Second Avenue Subway. Two miles long and with just three station stops, this subway line cost nearly $4.5 billion, or "more than $35,000 per inch, making it the most expensive subway in the world."
When first proposed in the late 1920s, the line was expected to cost $86 million.
Now Extremely Limited: Ohio-Based The Limited was the place to go for trendy women's clothing in the 1970s and early '80s. Back in the day, The Limited stores graced many tony shopping malls. But, to everything there is a season and The Limited has now gone away.
The Limited has closed all its brick-and-mortar stores and will continue to operate strictly as an online entity. The chain operated about 250 retail stores in 2016 and about 4,000 jobs have now evaporated.
Hard To Believe ... that it's been 11 years, but in January 2006, I wrote, "Yes, It's Friday the 13th and I'm off to the cardiologist today for my first post-heart-attack check-up. Good thing I'm not superstitious." Hey, my old heart is still beating and all those stents seem to be doing their jobs.
Quote Of The Day is from Thomas Sowell: "People who pride themselves on their 'complexity' and deride others for being 'simplistic' should realize that the truth is often not very complicated. What gets complex is evading the truth."
---
Wednesday January 11, 2017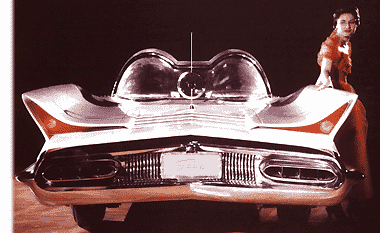 2017 Detroit Auto Show: As regular readers know, the first auto show I ever attended was the 1960 Philadelphia Auto Show in November 1959. Ever since then, I have faithfully followed auto show coverage because I wanted to see what the future held by looking at all the wild concept cars on display. Alas, I continue to be disappointed by the lack of far-out machinery these days, such as bubble-topped flying cars, powered by nuclear turbine engines.
When I was growing up, magazines like Popular Mechanics and Mechanix Illustrated predicted that tires and roads would soon be obsolete and we'll get around in flying cars with transparent Plexiglas roofs. Never happened.
Also missing from this year's Detroit Auto Show were several auto manufacturers: Bentley, Jaguar, Land Rover, Maserati, Mini, Porsche, Rolls-Royce and Tesla. There are now a plethora of 'significant' auto shows throughout the planet and the one in Detroit loses more cachet every year.
While there were no teardrop-shaped aerocars to be seen at this year's show - the one precociously renamed the North American International Auto Show, there were some new model introductions that caught my attention ... (more >>>)
Fierce & Pricey Luxury: The new top-end Lexus luxury coupe made its debut at the Detroit Auto Show. Last month, Dan Neil drove a preproduction 2018 Lexus LC 500 luxury coupe. He wrote that "this is the way auto makers used to do halo cars, with one wistful look at the project budget and a shrug. The LC is in every way estate grown, designed in-house and built in the clean rooms of Motomachi assembly plant by master craftsmen called Takumi. With production aimed at 4,500 units a month, the car won't generate much in the way of profits. Indeed, the accountants probably see the LC as a vast, Ultrasuede hole into which to throw money."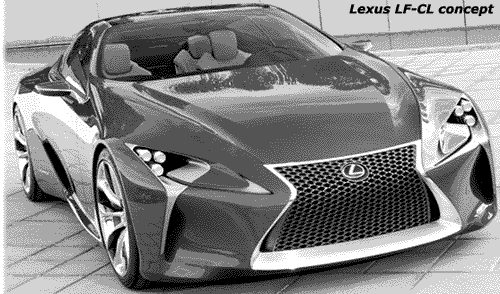 It looks much like the LF-CL concept coupe shown in 2012 and features that fierce pince-nez grille - a hideous face-only-a-mother-could-love front end which looks like a kitchen device for torturing vegetables and tubers.
The LC is a front-engine, rear-drive 2+2 luxury coupe, with a majority-steel unibody. It is 10 inches longer than a Porsche 911 and 10 inches shorter than a Mercedes-Benz S Coupe. The LC is powered by a 5-liter, 471 horsepower V8 hooked to a 10-speed automatic transmission.
The coupe is priced at $100,000 and up. I love my 2008 Lexus sedan, especially the style, but, if a concrete piano was dropped on it, I'd probably replace it with a Mercedes-Benz E-Class coupe which is much better looking than the LC 500 and less pricey.
Book Review: '1932 - The Rise of FDR & Hitler - Two Tales of Politics, Betrayal, and Unlikely Destiny' by David Pietrusza
Anything author Pietrusza writes about politics goes on my must-read list. I have previously written favorable reviews about '1920: The Year of the Six Presidents', '1948: Harry Truman's Improbable Victory and the Year that Transformed America' and '1960 - LBJ vs. JFK vs. Nixon: The Epic Campaign That Forged Three Presidencies'.
'1932' illustrates the struggles of two iconic leaders as each battled to rise to the top of their respective nations. Conventional wisdom says that Franklin D. Roosevelt had an easy victory over his reviled opponent, Herbert Hoover. He did but he had a far more difficult time securing the Democratic presidential nomination. Adolf Hitler's path to leadership was even more treacherous and almost didn't happen.
For those readers who are car aficionados ... (more >>>)
Speaking Of Books, Did You See This? On Sunday's episode of The Simpsons, Bill O'Reilly's latest book was previewed:

Last Of The Pack: Buddy Greco, legendary jazz and pop singer and pianist, has died at age 90. He began his career as a singer with Benny Goodman's orchestra at age 16. He was one of the members of Frank Sinatra's Rat Pack and appeared with them on stage and television. I believe he was the last living Rat Packer. In the 1950s and '60s, Buddy was a frequent performer in Las Vegas.
My wife and I thoroughly and enthusiastically enjoyed his performances during our stays in the Palm Springs area. RIP, Buddy.
How Did You Start Your Day Today? I was supposed to have elective surgery this morning but had to cancel because, at 7:00 am, there was snow - 11 inches of it - at the hospital which is about five miles from our house. There were trees and limbs on roads which made driving even more treacherous. We measured eight inches in our driveway and the snow is still coming down. Here are some photographs:

Toyota Avalon - 8:00 am

View From The Back Deck
Holy Fast Food, Batman! McDonald's has quietly opened a new restaurant in the Vatican and it is creating a backlash. The restaurant is located just steps from St. Peter's Square in a building owned by the Vatican. The Vatican is reportedly going to receive about $31,000 a month in rent. Here's a tip: If you go there and want to Super-Size your order, just say, "Gustalo Maxi!"
Vatican officials have also ... (more >>>)
Today's Inspirational Thought: Eagles may soar to great heights, but weasels never get sucked into jet engines.
---
Monday January 9, 2017
A Raymond Loewy Masterpiece: For Christmas, I received a model of a 1953 Studebaker Commander Starliner coupe from my son and his wife. This 1:43 scale diecast model was produced by Best of Show models and was manufactured in China. Bumpers are painted rather than chrome-plated, although ... (more >>>)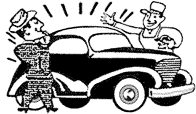 It's A Keeper: According to data from iSeeCars, the top ten brands owners keep for at least 10 years are: Toyota, Honda, Subaru, Acura, Hyundai, Lexus, Kia, Mazda, Nissan and GMC.
I guess we fit into that pattern. My wife's Toyota Avalon Limited is almost 12 years old and my Lexus LS 460 just passed its 9th birthday. Both cars were purchased new. And while my 78 year-old Plymouth wasn't purchased new, I've owned it for over 22 years. We tend to keep cars a long time, especially if they're dependable.
The record still belongs to our 1967 Volkswagen Beetle which we bought new and owned for over 28 years.
Happy Birthday, Elvis: Yesterday was Elvis Presley's birthday. He would have been 82. And probably would have weighed 820 pounds. Or, as the ever-quotable Yogi Berra might have said, "If Elvis were alive today, he'd be dead!"
Elvis didn't invent rock and roll but he spread the message across America. And the world. Music changed greatly during the postwar era, helped by ... (more >>>)

No Miracle On 34th Street: Macy's will close 63 stores this Spring and is laying off 10,000 employees. The retailer also announced that comparable sales, which include its booming e-commerce business and sales at stores open at least a year, fell 2.1% in November and December, prompting it to slash its full year profit forecast.
Macy's has said it would redouble its presentation and focus on its 150 very best stores, locations such as its Herald Square flagship in Manhattan and its stores in downtown Chicago and San Francisco.
The Three Rivers Mall store in Kelso, WA will close this Spring. The downtown Portland, OR store is already having a Final Clearance sale as is the Lancaster Mall store in Salem Oregon.
Leonardo Da Vinci and Thomas Edison Are Spinning In Their Graves: At the 2017 Consumer Electronics Show, it wasn't all about giant televisions and smart drones. There were some strange offerings as well:
• The $200 Kerastase Hair Coach has been created by Withings, L'Oreal's Technology Incubator, and Kerastase to "help people understand their hair more." This takes Personal Coaching to a new level.

• Griffin launched a toaster with Bluetooth support so you can control your bread toasting via an app on your phone. No word about English muffins or Eggos.

• One-upping the Hurrycane, the Smart Cane is designed to "detect any unusual situation like falling over or lower activity and then automatically alert carers and family, without any action from the user, if needed." Unlike the Hurrycane, it apparently doesn't come with a certificate of authenticity. If I need a cane, I'll use my grandmother's 1955 oak model.

• The Sleep Number Smart Bed "will warm your feet to help you fall asleep faster, but it will also detect when you are snoring and adjust the mattress to create the ideal position while you sleep to make you stop. It will also adjust the hardness of the mattress as you toss and turn to help give you the best night's sleep while even going as far to wake you when you are sleeping your lightest." Let's not forget that, for centuries, people were happy to sleep on a pile of dumb straw.

• Kolby debuted an "intelligent toothbrush" - it learns how you brush "in order to tell you when you're doing it wrong." This is just is one more downward step as we descend the societal staircase toward 24/7 nagging by machines. It all began in the early 1970s, when cars were equipped with buzzers to remind occupants to buckle up.
The future may be weirder than you thought.
Lock Her Up: California Congresswoman Maxine Waters said she will not accept any invitation to meet with President-elect Donald Trump, and plans to obstruct much of his platform.
"I don't trust him, I don't believe him, I have no intentions of sitting down with him; I'm going to fight him every inch of the way," Waters told MSNBC. The South Los Angeles Democrat said Trump has "stepped on everybody and has no respect for his colleagues" nor his ideological opponents.
Waters said, in contrast, Democrats are "nice" and "bend over backwards" to work with Republicans when in the majority. Yeah, right.
This woman should be in jail for her shenanigans with the very troubled, shoulda-been-closed OneUnited Bank - its current slogan is "Bank Black - Join The Movement." Imagine if another bank used the slogan "Bank White." It would be decried by liberals as racist. Jesse Jackson would be on every cable network. Why is no one calling out OneUnited?
Quote Of The Day is from Johnny Carson: "If life were fair, Elvis would be alive and all the impersonators would be dead."
---
Thursday January 5, 2017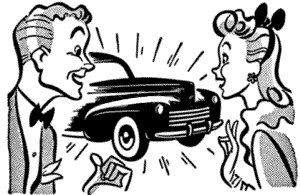 2016 Auto Sales: In calendar year 2016, U.S. light vehicle sales 17.465 million units, up from the previous record of 17.396 million set last year. Low gas prices, steady jobs growth and improving consumer confidence have helped the industry.
But there may be trouble ahead. The ratio of inventories to sales for motor vehicles and parts dealers is near the highest levels since the recession. Motor vehicle loans rose to a record $1.1 trillion in the third quarter, and the delinquency rate for subprime auto loans has been on the rise. Industry expert Michelle Krebs wrote, "Rising gas prices and rising interest rates ... put pressure on household budgets."
General Motors full-year sales were down 1% to just over 3 million cars and trucks. That was partly because the company cut back on low-profit sales to rental-car firms. Sales to retail customers in 2016 grew nearly 2% and GM gained half a point of U.S. retail market share. Chevrolet sales decreased over 1% to 2,096,511 units in 2016. GMC was off 2% to 546,628 trucks but Buick sales were up 3% to 229,631 vehicles. Cadillac sold 170,006 vehicles last year, a decline of 3%.
Overall, Ford Motor Company sales were ... (more >>>)
"Leave The Gun; Take The Cannoli." The 1955 Cadillac Fleetwood Series 60 sedan was Cadillac's premium sedan with a longish 133-inch wheelbase for a smoother ride and lots of legroom. The Series 60 sedan sold for $4,728 and was powered by a 250 horsepower V8. Only Eldorado models had a more powerful engine. In 1955 ... (more >>>)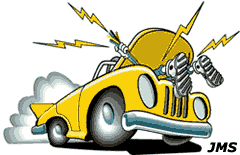 The Future Looks Boxy & Bland: The Chrysler Portal concept car debuted at the 2017 Consumer Electronics Show.
The tag line is 'Created By Millennials For Millennials'. Is it a sleek, fast electric sports car? Ummmm ... no. It's a small minivan with 10 docking stations inside to charge and hold smartphones or tablets and is self-driving.
It's not much to look at, though.
The Faraday Future FF91, also unveiled at CES, doesn't look particularly futuristic. Although the wannabe manufacturer claims that the FF is the fastest-accelerating electric car with a 0-60 time of under 2.4 seconds, it's unknown if the troubled startup company will ever manufacture a production vehicle.
Mostly Gone: 88% of the companies on the 1955 Fortune 500 list of top U.S. firms are no longer around.
Those that disappeared include American Motors, Brown Shoe, Rohm & Haas, Studebaker, Collins Radio, Pennsylvania Railroad, Detroit Steel, Zenith Electronics and National Sugar Refining.
Those remaining include 3M, Boeing, Campbell Soup, Coca-Cola, Deere, General Mills, IBM, Kellogg, Procter and Gamble and Whirlpool.
Book Review: 'MacArthur At War: World War II in the Pacific' by Walter R. Borneman
After a brief look at Douglas MacArthur's ancestry, childhood, family and World War I service, this 600-plus page book spends its time on his days in the Pacific Theater during World War II.
The General engineered stunning triumphs, which he made sure were very-well publicized, as well as humiliating defeats, which he tried to gloss over or conceal.
MacArthur was the ultimate ... (more >>>)
Buh Bye: Self-centered Megyn (aka: Me-Again) Kelly is said to be leaving Fox News for greener pastures ($20+ million/year) at NBC. According to a report in the New York Times, "She will host her own daytime news and discussion program, anchor an in-depth Sunday night news show and take regular part in the network's special political programming."
This won't be a problem for Fox; the network has a deep bench. Here are some replacement possibilities off the top of my head: Tucker Carlson, Jamie Colby, Jeanine Pirro, Harris Faulkner, Melissa Francis, Liz Wheeler, Lisa Boothe, Dennis Miller and Trish Regan.
Update: It's Tucker Carlson. Some exec at Fox News is saying, "There, I fixed it."
Best Wishes For A Happy Retirement: At age 86, conservative writer and economist Thomas Sowell has decided to stop writing his news/opinion column.
His parting advice: "We cannot return to the past, even if we wanted to, but let us hope that we can learn something from the past to make for a better present and future." Dr. Sowell will be missed.
Quote Of The Day is from Warren Hutcherson: "Remember in elementary school, you were told that in case of fire you have to line up quietly in a single file line from smallest to tallest. What is the logic in that? Do tall people burn slower?"
---
Tuesday January 3, 2017
Rocket 88: I've posted a photo of Fierstein Brothers Oldsmobile, a dealership in the West Oak Lane section of Philadelphia, which shows a typical one-make small new car dealer. Such establishments ... (more >>>)
Maybe They Could Get Hillary To Christen It: A petition currently on the White House website wants the next major warship to be named 'USS The Deplorables', as the petition notes, "to honor those citizens who rose up to defend America and the Constitution from the globalists."
I hope it has better luck than Boaty McBoatface.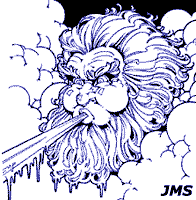 Hot,Windy Sermons: Catholic priests are now expected to preach to their congregations about the evils of global warming.
"Protecting the environment and caring for our common home - the Earth, belong fully to the Christian outlook on man and reality. Priests should be promoters of an appropriate care for everything connected to the protection of creation."
Catholic scientists who disagree and/or consider global warming to be junk science should expect consequences. It is my hope that a Roman Inquisition doesn't put me and other global warming 'disbelievers' under lifetime house arrest.
I've warned about this previously, noting that any time a religion gets involved with science, it's a bad idea and usually ends up with either people being locked up in the Vatican basement or the Scopes Monkey Trial.
Mistaken Identity: Writer Jim Goad named the 16 most annoying people of 2016. I had never heard of many, although, I recognized Trump-haters Kevin D. Williamson of National Review (who repeatedly dissed America's white working class), Bill Kristol (described by Mr. Goad as a "self-important smirking turd") of The Weekly Standard and "titless boar" Lena Dunham.
Jim gave the number one spot to Elizabeth Broadbent (a writer of lefty, self-loathing "brainwashing nonsense") - a shock to me. I took Elizabeth Broadbent on a movie date when we were in eighth grade. But she was sweet, not self-loathing, and went by Betty. She would be 73 years-old by now. Obviously a different Broadbent.
Chilling Recommendation: Investment advisor Malcolm Berko wrote, "I'd rather gargle with liquid nitrogen than own Ruby Tuesday. Enough said!"
The sole location in Vancouver, WA closed in mid-2011. It was part of the city's Black Hole of Dining. Ruby Tuesday was famous for overpriced, mediocre food, slow service and and screwing up orders.
Quote Of The Day is from Dave Barry: "You can say any foolish thing to a dog, and the dog will give you a look that says, 'My God, you're right! I never would've thought of that!'"