Thursday April 18, 2019
Sixty Years Ago: The April, 1959 issue of Rod & Custom (the "twelfth issue of our sixth year") - from my stash of old car mags - offers a nostalgic look at the past.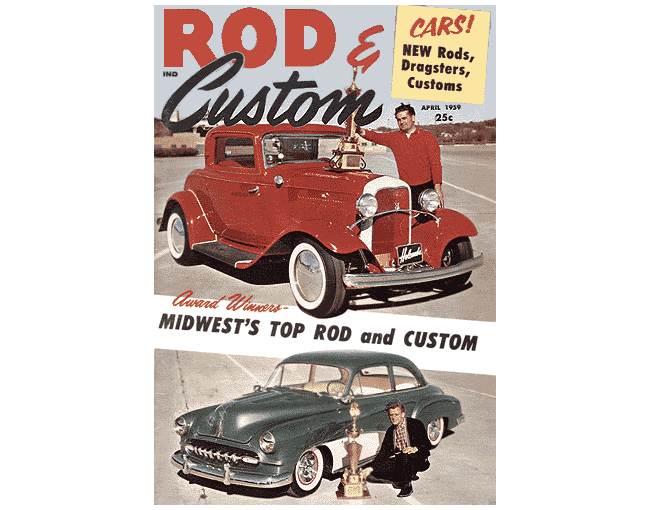 Aside from the usual customized prewar Fords and early postwar Chevys, there was a surprising amount of go-cart coverage within. On the back cover of the little 5" x 8" magazine was a full-page ad for Go Kart Mfg. Co. Inc. of Azuza, CA. It offered the 400 B model from $129.50, boasting that the firm had "over 2,500 genuine Go Karts in use today."
On the inside pages, Ed Roth was selling custom painted Weird-O-Shirts shirts with your design for $4.50 each postpaid. J.C. Whitney offered complete Continental kits for under $50 - under $60 for ones with a "stainless steel ring." R&C subscribers could get "6 big issues for $1.00."
Life was simpler then. And less costly. (permalink)
It's Been Rumored/Hyped For 40+ Years ... but the production-ready, mid-engined Corvette will be unveiled on July 18, 2019 as a 2020 model. I hope the car lives up to all the hype. Supposedly, the starting price is about $5,000 more than the 2019 front-engined version.
Seattle Is Dying: Gerard Van der Leun lived in Seattle for 10 years and has witnessed the decline of the city. He noted that "the Utopian compulsions of progressives to pose as 'compassionate and caring' has transformed Seattle into its own 3rd-world 'shithole country' of homeless drug addicts and criminals polluting what was once a fine city. Reason? This fine city keeps electing socialists and demented Democrats. Me? I'm out of there after ten years and I hope my friends there make their escape soon. After that the only thing that solves a descent this deep is fire."
Apparently, South Seattle - south of the old King Dome is now a city of homeless living in campers and tents. Twenty-five years ago, this was a respectable working-class community with lots of small manufacturers and wholesalers. There were some solid and decent restaurants in the area as well. Apparently, the whole thing has turned into a dump.
Believing In Nothing Has Consequences: For the first time in history, atheists constitute the largest religious group in America. According to a recent survey, the number of Americans who have no religion has increased 266% over the past three decades and now account for 23% of the population, just barely edging out Catholics and Evangelicals as the nation's dominant faith. Mainline Protestant churches have suffered the greatest collapse, declining 63% since 1982 and now comprising just 11% of the U.S. population.
As religiosity has declined, social ills have abounded. Nearly one in five American adults suffers from anxiety disorders. One in six Americans takes antidepressant drugs, a 65% surge over just 15 years. The problem is particularly acute among younger Americans. While depression diagnoses have increased 33% since 2013, that number is up 47% among Millennials and 63% among teenagers. Coincidentally, suicide rates among American teenagers have increased by 70% since 2006.
I'm Now An Expert, I Guess: Brian O'Neil of the Pittsburgh Post-Gazette recently wrote about the Aerotrain that used to run between New York City and Pittsburgh, PA in 1956. He cited my webpage on the subject and quoted from it.
It is always nice to be recognized. The New York Times cited my Aerotrain webpage several years ago.
Book Review: 'Militant Normals: How Regular Americans Are Rebelling Against the Elite to Reclaim Our Democracy' by Kurt Schlichter
The author divides America into two types: Normals - people who live in places like Fontana, CA, fought for their country and now have trouble finding work because illegal immigrants will work for peanuts - and Elites - well-connected, properly-educated liberals who eat vegan, drive Priuses and are ashamed of their white privilege. It is a political variant of the ... (more >>>)
Something To Remember On Good Friday: From the late, great Archbishop Fulton Sheen, in a piece titled: 'The Seven Last Words.' "My favorite is the Second, 'This day you will be with Me in Paradise.' Archbishop Sheen relates a legend surrounding Joseph fleeing with the Holy Family into Egypt. Along the way they stop at an inn and Mary asks for a basin of water to bathe the Baby Jesus. The innkeeper's wife senses the identity of the Holy Infant and asks that her baby afflicted with leprosy could be bathed in the same water. Mary consents and the baby is healed.
He is Dismas, the thief hanging on the right side of Christ. [For an unknown reason], he sees a cross and adores a Throne, he sees a condemned man and invokes a King: 'Lord, remember me when you come into your Kingdom.' In all that delirium of man's revolt against God, no voice was lifted in praise and recognition except the voice of a man condemned. It was a cry of faith in Him whom every one else had forsaken, and it was only the testimony of a thief. Christ turns to him and speaks, 'This day you will be with Me in Paradise.' No one before was ever given such a promise, not Moses or John not even Magdalen or Mary! (That is why Christ's head leans towards His right on crucifixes.)
It was the thief's last prayer, perhaps also his first. He knocked once, sought once, asked once, dared everything and found everything. Christ unlocked the keys of Paradise and won a soul. His escort into Heaven was a thief. May we not say that the thief died a thief, for he stole Paradise?"
Quote Of The Day is from Jonathan Winters: "If God had intended us to fly he would have made it easier to get to the airport."
---
Tuesday April 16, 2019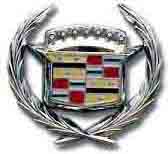 How Much?! Recently, Peter De Lorenzo was given a 2019 Cadillac CT6 Sport AWD as a press fleet car. He wrote, "So I was looking forward to the CT6 Sport, especially since it was designed and engineered back in the days when Cadillac had its sights on the luxury-performance German machines from Audi, BMW and Mercedes-Benz." Peter seemed to like it and had nice things to say about the styling.
As for me, I looked at the pictures and asked, "Where's the chrome?" The grille is blacked out as part of the Sport Package and that cheapens the car substantially, in my estimation. The rear end looked like an alien spacecraft and not in a good Citroën-like way. But what got me was the price as tested - $83,215 And it is powered by six-cylinders, not eight.
I am probably the target market for this car. But, for that kind of dough, I can buy a very nice Mercedes-Benz with chrome and the coveted three-pointed star. Peter admitted "I think this loaded tester should sticker for just under $70,000, all-in."
Cadillacs lost their premium cachet decades ago. The Caddy crest - which no longer contains a chrome wreath - can no longer command such a price.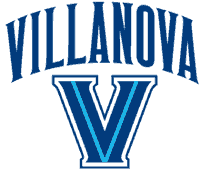 Diversity Drama: Villanova University professors Colleen Sheehan (professor of political science and a co-director of its Matthew J. Ryan Center for the Study of Free Institutions and the Public Good) and James Matthew Wilson (professor of religion and literature) decry a new set of "diversity and inclusion" questions to the course and teaching evaluations that Villanova students fill out each semester. "In addition to the standard questions about the intellectual worth of the course and the quality of instruction," they write, "students are now being asked heavily politicized questions such as whether the instructor has demonstrated 'cultural awareness' or created an 'environment free of bias based on individual differences or social identities'."
The professors note the implications and ill effects of these questions on the quality of teaching and discussion. They warn against "an atmosphere of fear-imposed silence."
Scott Johnson of Powerline observed ... (more >>>)
Notre Dame Fire: The huge blaze that decimated the iconic Notre Dame de Paris is under investigation. The roof has been destroyed and the center spire has collapsed but the main structure, as well as its two towers, has been saved, according to the Paris fire brigade chief. There are also reports that the North Rose stained glass window - La Rosace Nord - has survived. The cathedral dates back to 1163 AD.
As of this writing, the cause of the fire is unknown but there has been a recent spate of church attacks and arson across France. "Reports indicate that 80% of the desecration of places of worship in France concerns Christian churches and in the year 2018 this meant the profanation of an average of two Christian churches per day in France, even though these actions rarely make the headlines."
Here is a photo of my wife and the Cathédrale Notre Dame de Paris, taken in June 2001 during our trip to France: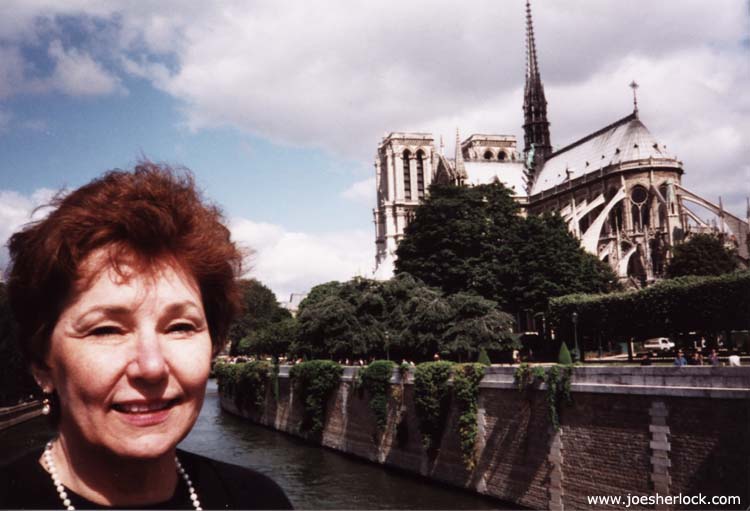 James Lileks wrote, "No one who ever stood before it or within its walls thought he would outlive it." Indeed.
Lighten Up: St. Thomas Aquinas wrote, "Unmitigated seriousness betokens a lack of virtue because it wholly despises play, which is as necessary for a good human life as rest is."
Creepy Joe: Paul Mirengoff of Powerline doesn't think much of Joe Biden, writing that he's "a low-grade hack whose rise to within, um, sniffing distance of the presidency is due in part to dumb luck and in part to the screwed up politics of our era. If our screwed up politics stop him from making it all the way to the top, he should not be heard to complain."
Keep in mind that Biden is also a plagiarist with hair plugs.
Closing Time: A third of Canada's 9,000 Christian churches will close in the next 10 years, according to the National Trust for Canada. Dozens of Catholic and Protestant churches in small towns across Western Canada and in southwestern Ontario also have been closing for years. It is not just the declining number of parishioners or their ability to pay for the repairs and maintenance an old church requires. There's also a dwindling number of priests.
Quote Of The Day is from George Bernard Shaw: "Martyrdom is the only way in which a man can become famous without ability."
---
Friday April 12, 2019
Somebody's Got Money: Koenigsegg sold 125 copies of its $3 million Jesko 'megacar' within 5 days of its debut.
"In fact, 83 of the company's "megacars" were sold before the vehicle was shown publicly for the first time at Geneva, according to a press release. The other 42 sold within 5 days of its debut, Koenigsegg said." The 1,600-horsepower supercar is named after von Koenigsegg's father. The carbon fiber, mid-engine coupe comes in two configurations, track and top speed.
New York Times Praises Trump: Bret L. Stephens wrote, "The Trump administration has succeeded in dramatically raising the costs to Iran for its sinister behavior, at no cost to the United States or our allies. That's the definition of a foreign-policy achievement. It's time to move the needle up again. The longer Hezbollah fighters go unpaid, or the Assad regime unaided, the better off the people of the Middle East will be."
"The U.S. is no longer looking the other way at Hezbollah's criminal enterprises, including drug smuggling and money laundering, the way it did during the Obama administration in order to engage Iran diplomatically."
"Iran's GDP is roughly equivalent to that of the greater Boston area, with 17 times the population. The regime may be a force to be reckoned with in the Middle East. But it is hardly a giant on the world stage, immune to any form of economic pressure." Sounds like good news.
Misguided Principles: In the April 2019 issue of Northwest Catholic magazine, an article listed the Catholic Principles of Migration, claimed to be the "church's position on migration is rooted in the Gospel and the rich tradition of Catholic social teaching. Five principles to help formulate migration-related policy were outlined in 'Strangers No Longer: Together on the Journey of Hope', a joint pastoral letter of the Catholic bishops of the United States and Mexico."
It was interesting to me that Mexico (which has quite harsh policies for illegal immigrants) and America (which struggles with an invasion of illegal immigrants) could agree on a joint statement. It is puzzling that Canada's bishops didn't participate, even though the country has its own immigration problems.
Here are the five principles ... (more >>>)
The 21st Century Is Not Turning Out How I Expected: Doctors are now giving 8 year-old girls testosterone, claiming they're 'Transgender'. And, 61 year-old Nebraska woman gave birth to her own grandchild for gay son and his husband.
Quote Of The Day is from Jerome K. Jerome: "It is always the best policy to speak the truth, unless, of course, you are an exceptionally good liar."
---
Wednesday April 10, 2019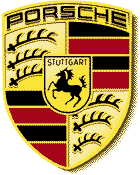 Pay For Performance: Porsche will award an $11,000 bonus to each of its 25,000 hourly and salaried employees following a 10% increase in revenue and a 4% increase in sales. The bonus isn't just for high-performing engineers and executives with fancy titles, but every qualifying employee ranging from cleaning staff and receptionists all the way to the top brass.
Sehr gut!
Financial Prediction: From First Trust Advisors: "With so many obsessed with the narrative that government saved the economy and created growth, it's no wonder more people are interested in socialism. It's time to pull back the curtain on the Wizard and reveal it to be far less powerful than so many believe. The true (and underappreciated) wizards of growth, entrepreneurs, continue to drive us forward. Technology is making things better and more efficient every day. It's when government gets out of the way that growth can flourish. Taxes have been cut, regulations reduced, and corporations are more profitable than ever before.
After some weird data covering the end of 2018 (which will lower Q1 GDP), the data are set to improve. Employment, wages, housing, and inflation will all head higher in the weeks and months ahead. There is no recession in sight. The markets, and the narrative, are in for a surprise, which will push both bond yields and stocks higher."
"Dorothy will be clicking her ruby slippers together soon to bring us all back to reality."
Shaken Not Stirred: James Bond has a "severe chronic alcohol problem," according to health experts. Iowahawk tweeted, "Breaking: Eight Health Experts Found Dead of Gunshots, Strangling Wire; Suspect Seen Fleeing In Aston Martin."
Book Review: 'Jesus Is Risen: Paul and the Holy Church' by David Limbaugh
This book is an account of Christianity's early years, covering the period before 70 AD. In 320 pages (plus extensive notes and index), Limbaugh focuses on the ravels and travails of the Apostle Paul.
Saint Paul was a key figure who ... (more >>>)
Dressing Down: The U.S. men's suit market has shrunk 8% to $1.98 billion since 2015. Over the same period, sports apparel, which includes a variety of clothing from performance gear to fashion, has grown 17% to $44.8 billion.
Question Of The Day is from Tom McMahon: "How come no business analyst ever wrote 'Gillette operates on razor-thin margins?'"
---
Monday April 8, 2019
Quarterly Vehicle Sales: U.S. light-vehicle sales fell just over 2% in the first quarter (compared with the same period last year), partly due to bad weather, mixed economic data and lower tax refunds, according to industry consultants J.D. Power and LMC Automotive. The seasonally adjusted annual rate (SAAR) is forecast at 16.9 million units. Overall, U.S. new-vehicle sales are expected to decline in 2019 after a long bull run since the end of the Great Recession, led by falling passenger car sales. Competition in the high-margin SUV market is intensifying.
Jonathan Smoke, chief economist for Cox Automotive, said, "The pool of people who can afford to buy a new vehicle is being reduced by higher prices and affordability concerns, and we're likely seeing signs of that in the sales numbers. So far this year, average new vehicle loan payments are up 3.5% compared to last year, to $567, and average lease payments are up 2.8% to $500. As a result of multiple years of rate and price inflation, new vehicles payments have become a big hurdle, driving people into used cars, where the average loan payment is $414, up less than 1% from a year ago."

An article in TTAC noted, "Pundits speculate that 2019 will see the industry drop below 17 million units for the first time since 2014. They're probably not wrong. Average transaction price in March hovered around $36,700, which is a number driven by high-zoot pickups, unsurprisingly. The average rate on a new vehicle note was (gulp) 6.36 percent because, according to Edmunds, only four percent of deals last month had zero percent interest rates. Yikes."
General Motors posted U.S. first-quarter sales of 665,840 vehicles, a decrease of 7% compared with the first quarter of 2018. The Chevy Silverado pickup and Equinox SUV are the company's two best-selling vehicles, with first-quarter totals of 114,313 units and 88,500 units, respectively. However, Silverado sales declined 16% for the first quarter. FCA's Ram pickups outsold the Silverado for the period. GMC brand sales declined 4% to 125,579 trucks.
Total Chevrolet deliveries in the quarter dropped by 8% year-over-year to 452,401 units. The Chevy Equinox sport utility vehicle posted a sales increase of 7% in the quarter, and the Impala full-size sedan saw a sales decline of 6%. Sales of the all-electric Chevy Bolt dropped 1% in the quarter. So much for all that Everything's Going Electric hype.
Cadillac brand retail sales were flat in the first quarter with 35,996 units finding buyers. In 1989, quarterly Cadillac sales were almost double 2019 quarterly sales.
Buick brand saw a year-over-year sales decrease of 9% in the first quarter to 51,865 units, including a 59% plunge in LaCrosse sedan sales. The Buick Encore subcompact crossover posted a year-over-year sales drop of 3% in the quarter. Sales of the Enclave mid-sized crossover rose by 28% to 12,580 units in the quarter. Thirty years ago, Buick typically sold 127,000 cars per quarter. In fact, GM's mid-priced three (Buick, Olds and Pontiac) accounted for almost half-million cars in a quarter back in 1989. How the mighty GM has fallen.

Ford Motor Company's sales dropped 2% in the first quarter to 590,249 vehicles. Ford-brand passenger car sales tumbled 24% in the first quarter. More than nine of 10 first-quarter sales came from SUVs, vans and trucks. Average transaction pricing for the F-Series rose to a whopping $47,454; Ford sold 214,611 F-Series trucks in the first quarter, up fractionally from the first quarter of 2018. The all-new Ranger accounted for 9,421 units in the quarter, lifting the company's total pickup sales to the highest level in 15 years. Sales of the Lincoln brand rose by 11% year-over-year in the first quarter to 24,975 vehicles. SUVs now account for 77% of Lincoln brand sales.
Toyota Motor Co. sales declined 5% for the quarter to 543,716 vehicles. Corolla sales were down fractionally, while all other sedans nosedived. Avalon sales fell 37% to 6,619 sedans. Truck and SUV sales were down for the quarter as well. Hybrid sales declined 37%, with the Prius brand falling 46%.
Fiat Chrysler Automobiles reported that first-quarter sales decreased by 3% year-over-year to 498,425 vehicles. The Jeep brand posted a quarterly sales decline of 7% year -over-year as sales of the new Grand Cherokee rose just 8% to 57,749 units and Compass sales dropped 14% to 37,306 units. Wagoneer sales declined 10% for the quarter. The Ram brand of pickups and other light trucks saw a first-quarter sales jump of 21% to 137,013 units.
Chrysler brand sales fell 32% year over year to 31,591 units in the first quarter, with Pacifica van sales off 29%. Fiat sales tumbled 45% to just 2,214. Alfa Romeo sales dropped 26% in the quarter to 4,286 vehicles The bump from the new Stelvio SUV is now well and truly in the rear-view mirror. Dodge brand sales fell 6% for first quarter to 110,517 units. Sales of the Journey rose 30% and Caravan sales fell 18%.
American Honda's sales were up just over 1% for the first quarter, while Acura sales increased 8% to 9,764 vehicles. Nissan sales dropped 12%; during the same period, its Infiniti luxury band saw a 16% drop to 10,302 vehicles. Hyundai sales increased 2% for the quarter, while Kia sales increased 8%. Subaru sales increased 5% to 156,754 units. Volkswagen sales rose 2% to 85,872 for the first quarter. Mazda sales dropped 15% to 70,831 zoomers. Volvo sales increased 8% to 22,058 vehicles. Mitsubishi sales rose 17% for the quarter to 42,070. Mini sales slipped 15% to 8.905 units.
Mercedes-Benz sales fell 13% to 78,667. BMW sales were flat at 73,999 vehicles for the quarter. Lexus sales increased 4% for the first quarter to 66,791 vehicles. Audi sales dipped 3% to 48,115 vehicles. Tesla output for the first quarter fell 31% to 63,000 electric cars - 81% of production were Model 3s. (It should be noted that Tesla's figures are always rounded to the nearest thousand, a suspicious practice to me. And Tesla continues to proclaim that sales demand exceeds production capacity, yet there are lots of images posted on the internet of parking lots filled with dusty unsold Model 3s.) Porsche sales were up 8% to 15,024 vehicles for the quarter. Jaguar sales leaped 31% for the first quarter to 10,222 vehicles, while Land Rover sales increased 3% to 25,028 vehicles. Genesis sold 4,203 cars during the quarter - a drop of 4%.
Only 231 electric Smart cars found buyers in the first quarter.
Creepy Joe Biden: The Old Man Who Would Be President certainly acts inappropriately among women of all ages. Just take a look at these pictures. Any one of them could be captioned, "Hey, sweetie. I've got a puppy outside in my van. Come with me and I'll show it to you."
Matchbook Ads: Many of the advertising methods popular 60 years ago have become obsolete and are rarely seen today: promotional post cards, print catalogs, imprinted pencils and pens, Yellow Page advertising and, of course, matchbooks. There was a time when many people smoked and matchbook advertising was used by all kinds of businesses to promote themselves. In the 1960s, every restaurant offered imprinted matchbooks. The fancier the joint, the fancier the matchbooks.
It was not uncommon to ... (more >>>)
Quote Of The Day is from Eric Hoffer: "Passionate hatred can give meaning and purpose to an empty life. Thus people haunted by the purposelessness of their lives try to find a new content not only by dedicating themselves to a holy cause but also by nursing a fanatical grievance. A mass movement offers them unlimited opportunities for both."
---
Thursday April 4, 2019
Giant Car Lighter: Once upon a time, when most people smoked, Zippo was a popular and durable cigarette lighter. Since its introduction in 1933, Zippos have been sold around the world and have been described "a legendary and distinct symbol of Americana."
In 1947, Zippo lighter founder George G. Blaisdell commissioned a Zippomobile, a conversion of a 1947 Chrysler Saratoga to a product-mobile, with ... (more >>>)

Big Bucks - Just To Sit High In The Saddle: Mercedes is preparing to build a super-luxury Mercedes-Maybach GLS sport utility vehicle at its plant in Vance, Alabama. The ultra-luxury SUV will be powered by a V8 engine making in excess of 560 horsepower and will have a starting price of around $200,000.
The GLS may be unveiled as soon at the upcoming Shanghai Auto Show. Chinese buyers bought more than two-thirds of all Maybachs sold last year, so it makes sense to reveal the GLS in China.
According to analysts at AutoForecast Solutions, the global market for ultra-luxury SUVs is on track to rise from around 7,500 last year to more than 20,000 by 2023, with 75% of the market shared between the United States and China. The Mercedes-Maybach will be competing with ultra-high-end SUVs from Aston Martin, Ferrari, Bentley, Rolls-Royce and Lamborghini, all of which are already available and all but the Ferrari Purosangue will be by the end of this year. The Rolls-Royce Cullinan sells for a tidy $325,000.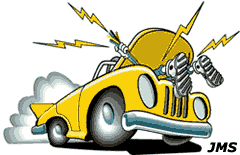 Electric Bets: General Motors is making a $300 million investment in its Orion, Michigan assembly plant to produce electric and autonomous vehicles on the Chevy Bolt platform. Ford plans to invest $900 million by 2023 in an expansion of its Flat Rock Mustang assembly plant and a second facility in Southeast Michigan for electric vehicles.
I wonder where all the customers will come from? Sales of the all-electric Chevy Bolt dropped 1% in the first quarter of 2019 - an ominous sign.
I Thought This Was A Costco Story: A giant mixing truck is serving cocktails in Florida.
"The makers of Monkey Shoulder whiskey said the "Monkey Shoulder Mixer," a 27-foot-long truck with a 2,400-gallon drink mixer on the back, will be serving cocktails at various locations in the Orlando area." Well, it is about bulk consumables, so you can understand my confusion.
Book Review: 'The Tangled Tree: A Radical New History of Life' by David Quammen
This is a book about recent discoveries in molecular biology can change our understanding of evolution and life's history. Unfortunately ... (more >>>)
In Praise Of Index Mutual Funds: Last week, Dan Weiner's Independent Adviser for Vanguard Investors, a paid financial advisory service, wrote, "Our Model Portfolios are showing good returns for the year … the Growth Model is up 11.4%." For the same period, Admiral shares of the Vanguard Index 500 Fund gained 12.88%. (For the first quarter of 2019 which ended a few days after Weiner's comment, the S&P was up 13.07%.)
The Vanguard Index 500 was John Bogle's first index fund; it tracks the S&P 500 stock average. It's superior performance makes me wonder whether a subscription to Weiner's newsletter is justified ... (more >>>)
Thought For Today: As a senior, always remember that once you're over the hill you begin to pick up speed.
---
Tuesday April 2, 2019
Delaware Avenue Dance: If you're a Philadelphian of a certain age, you may remember the automotive pinball alley known as Delaware Avenue. Driving along this wide thoroughfare, you'd spend much of your time swerving, weaving and dancing around a montage of tractor-trailers, trains and potholes.
Located by the river of the same name, Delaware Avenue was the industrial nexus of water, truck and rail shipping. The City of Philadelphia owned the Belt Line Railroad, built in ... (more >>>)
Smart Move? Smart parent company Daimler and Chinese auto manufacturer Geely (and owner of Volvo and Lotus) have announced a 50:50 joint venture to develop and build a new generation of global-market, electric Smart models in China.
Good luck with that.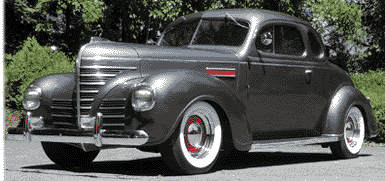 Weekend Travel: It is raining as I write this, but last Saturday was a really nice and sunny Spring day, so at noon, I fired up my 39Ply and went for a drive. The temperature was in the upper 50s and I had clear views of a snow-covered Mt. St. Helens as well as the eastern Cascades. There were lots of pink magnolia and flowering plum trees in bloom along my backroads route, so between them, the green foliage and the very blue sky there's was lots of color.
The Plymouth ran great and I drove with the window down so I could hear the V8 rumble through the Glasspacks. I had a great time.
Get Outta My Way: A new study has identified cities with the most aggressive drivers. The top four are Los Angeles, Philadelphia, Sacramento and Atlanta. Amazingly, New York City came in 23rd. Portland ranked 27th.
Socialism Is Coming Here: Saga Zhou moved to the United States from China in 2009. Recently, she began to see the American Left embracing policies that reminded her of those she'd fled in China. "One such policy was the Left's support for late-term abortion. When she lived in China, Zhou, like many young Chinese, didn't consider abortion to be a big deal. But her view changed after moving to America, getting married, and bearing two children."
Many Chinese-Americans are repelled by the Democrats' more recent embrace of policies they consider socialist. Socialism "is a great, great concern to (Chinese-Americans), which is why I'm really motivated to stop that," George Li said. "It's our duty." Li, a Chinese immigrant, finds the Left's obsession with political correctness maddening because it intimidates people into silence. "This intimidation is so bad for freedom of speech - a lot of things I see in this country are very similar to what I saw in the Cultural Revolution era in China," he said. He calls political correctness a "form of cultural Marxism."
Li continued, "I just want America to be America - not another Soviet Union, Cuba, or China."
What Music? Recently, James Lileks asked, "What's playing on the stereo in the picture above?" He was referring to the banner pix on The Bleat, apparently taken from a vintage advertisement.
"As for the banner image above, I wonder what most people under 40 think is playing in the background. It's not rock and roll. That would be ridiculous. Perhaps the Doodletown Fifers. Perhaps some Gleason make-out music. Perhaps Neil Hefti's latest, the one with that clever harpsichord. Looks a bit late for folk music."
Late? I don't think so. I'd peg the banner photo as mid-1960s era - before long hair and sideburns, wild ties and double-knit polyester suits. The clothes are definitely early 'Man From U.N.C.L.E.' era - 1964 or thereabouts. The woman seated at right has a kind of Claudine Longet vibe going on - pre Spider Sabich that is. I wonder if she spoke French?
While folk music peaked in the early 1960s, it was still around in the mid-'60s. The Kingston Trio had temporarily broken-up and Bob Dylan had gone amped-up electric but Peter Paul and Mary were still playing to large crowds and Joan Baez's singles were still charting as were Joni Mitchell's.
So, what might these thirty-somethings pick for background music in the mid-'60s? I'm guessing mellow jazz - Brubeck, Shearing, the Modern Jazz Quartet. Or something bland and innocuous - 101 Strings, The Kirby Stone Four, the Ray Coniff Orchestra and Singers or Montovani. By the mid-'60s, no one - I mean no one, James, not even some poor soul in a nursing home - was listening to Sauter-Finegan Orchestra's 'Doodletown Fifers'. Except as some kind of punishment.
As for me, in 1964, I was 21 years old and didn't have a stereo. So I had no collection of conversation-inducing background music albums. Most of the music I hear came from the small, tinny speaker of my '63 Volkswagen Beetle.
Four Stages Of Democratic Thought … from Charlie Kirk of Turning Point USA:
• Democrats in 2015: Everyone must accept results of the election.
• Democrats day after the election 2016: We do not accept the results of the election.
• Democrats 2017: Everyone must accept findings of the Mueller report.
• Democrats 2019: We do not accept findings of Mueller report.
Get Woke; Go Broke: Dick's Sporting Goods' bottom line took a very big hit after halting the sale of assault-style weapons in response to the Parkland school massacre. The policy change cost the nation's largest sporting goods retailer about $150 million in annual lost sales.
Quote Of The Day is from Jacques Barzun: "Political correctness does not legislate tolerance; it only organizes hatred."
---
Monday April 1, 2019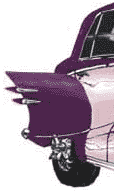 The Sad Tale Of The Chuffley-Waite: I wrote the fictitious Chuffley-Waite story as an April Fool's contribution to a local car club's newsletter in 1989. I just wanted to tweak the noses of a couple of British car buffs who were members of the club.
They enjoyed it and we all had a good laugh. And several pints of Mackeson stout.
It begins thusly:
Since its founding in 1903, the Chuffley-Waite Motorcar Company, Ltd. of Bumpford-on-Thames, England had been known for the very powerful motorcars which it produced. The sheer might of these cars was symbolised in the radiator ornament used - a nickel-plated locomotive.
For many decades, these automobiles were purchased by men of power who could be seen roaring up and down the motorways forcing lesser cars off to the roadside, much like medieval times, when indentured serfs would throw themselves off the footpath, anxiously tugging their forelocks as royalty approached and passed.
The Chuffley-Waite was so famous that it was celebrated in many plays and songs, including the British version of Chuck Berry's 'Maybelline':
"As I was motorin' to Harrod's Gate
I saw Maybelline in a Chuffley-Waite."
Now, as you all know from your history books, the Queen's Horsepower and Torque Act of 1957 placed prohibitive taxation on large, powerful road machines and it was precisely this Act which caused sales of Chuffley-Waite to plummet from 7,958 units in 1956 to less than 200 units in 1957. The company suffered great financial reverses, greater even than those during the Great Depression of the 1930s.
Fearing the wrath of shareholders, Geoffrey St. James, the managing director, took bold steps to stem the tide of financial distress. Noticing that the sales of powerful American imports seemed unaffected by the Act, St. James decided to Americanise the Chuffley-Waite for 1958.
Summoning his chief designer, Nigel Humphreys, to his office, St. James ordered Humphreys ... (more >>>)