Southern California Trip Report
In January 2002, Joe and Ray Lukas, friends from high school and fellow car nuts (and train nuts), met up at LAX to begin an eight-day, all-car/all-rail extravaganza. They visited every car, train, trolley and model train attraction in Southern California.
They recounted the trip in detail in their 2002 book.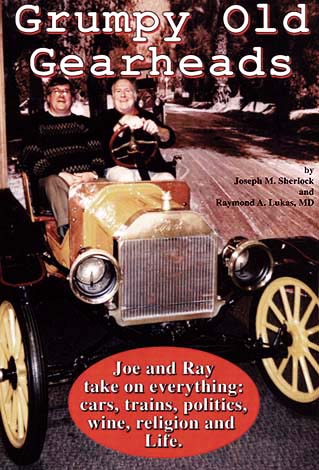 Here's the day-by-day description of the Great California Adventure, excerpted from 'Grumpy Old Gearheads':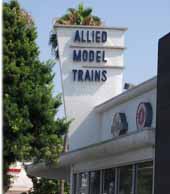 Tuesday 1/22/02: Arrived LAX. Joe flew in from Portland, OR; Ray flew in from Philadelphia, PA.
Grabbed our rental car (Ford Escort, a recently discontinued FoMoCo model), popped in a Beach Boys tape and headed off to Allied Model Trains in Culver City, billed as the largest model train store ever built.
Then checked into our motel and off to dinner at The Bistro, a nice Italian restaurant in a brick turn-of-the-century building in Santa Monica. Then we drove west to check out the sunset over the Pacific at Santa Monica Pier.
Wednesday 1/23/02: We spotted a new Mini on Santa Monica Boulevard. (They won't be in dealers' showrooms until mid-March, but this sighting achieved one of Ray's goals for the trip.) Also on Santa Monica Blvd., we saw a shoe repair shop with a car parked out front which was shaped like a shoe - including laces. Only in California!
Toured Beverly Hills, cruised down Rodeo Drive.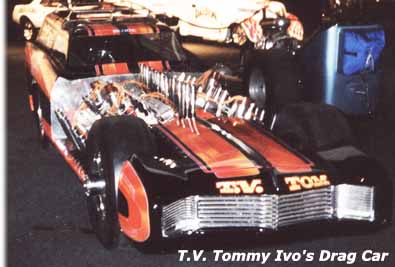 Then, off to the Petersen Automotive Museum to see cars, cars and more cars.
We spotted famous drag-racer 'TV Tommy' Ivo unloading his dragster from a trailer while we were there. A new exhibit was being set up featuring drag cars of the 1960s.
Tommy's now an old guy and looks like every other old guy.
You'd never recognize him as the hot shot drag legend which he is.
Lunch at the Sizzler - a new experience for Ray (No Sizzlers back East - heck, we don't have many in the Pacific Northwest anymore - most closed after that unfortunate e-coli incident a few years back.)
Back at the Petersen, we also saw Steve McQueen's Jaguar XK-SS which fulfilled another one of Ray's objectives.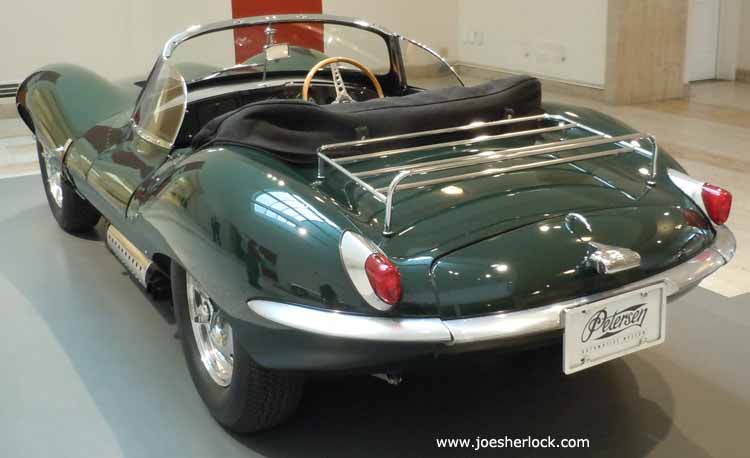 That evening, we dined on beef prime rib (what else?!) at Lawry's The Prime Rib in Beverly Hills.
Thursday 1/24/02: Drove south to San Diego and environs. Toured Balboa Park, stopping to see the San Diego Model Railroad Museum (claimed to be the world's largest model railroad exhibit - included layouts in O gauge, O scale, HO and N) and the San Diego Auto Museum (lots of motorcycles and 70-100 old cars, including a Tucker).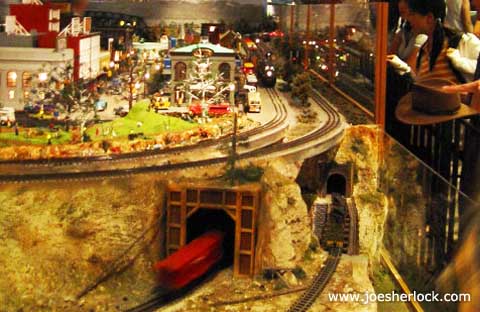 Drove to La Jolla to stop and drool at Ferraris, Lamborghini Diabolos and multiple Bentleys and Rolls Royces (new and used) at Symbolic Motorcars. (Don't understand how they can sell those new Bentleys for over $200,000 with exposed screws on the cowl and very primitive-looking headlamp washers. Seemed unfinished. Heck, even our lowly Ford Escort rental car didn't have exposed cowl screws. And it got over 25 mpg on regular gas. Better than a Bentley in those two respects.)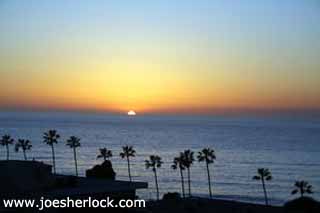 Had cocktails on the upper deck (outside, but glassed-in) of George's at the Cove, while watching the sun set over the Pacific in La Jolla. Then we headed downstairs for a very fine meal.
Friday 1/25/02: Headed north to Escondido and were stopped by INS agents along the way - checking for illegal aliens. "But officer, we don't look Mexican!" (Why would they stop two old fat guys? And we're light-skinned, too, demonstrating our respective Irish and Polish heritages. Guess they didn't want to be accused of 'profiling'.)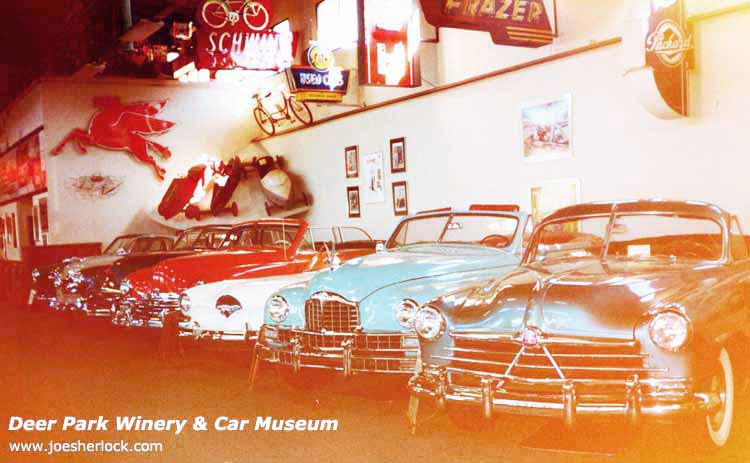 Visited the Deer Park Winery and Museum to taste their wines and see the 100+ cars on display, mostly convertibles. Went to Stuart Anderson's for lunch - another new dining experience for Ray (no Stuart A's east of Colorado, I believe), then drove to Planes of Fame in Chino. (We didn't go in - it was quite seedy-looking and the ticket seller was rude to us.)
Instead we moseyed over to Pomona and had a pleasant visit at the National Hot Rod Association Museum. Enjoyed a nice Italian dinner at an upscale place called Rosa's in Ontario. Accompanied by a nice, subtle Chianti.
Saturday 1/26/02: We began our day at the Orange Empire Railroad Museum in Perris. Spent time looking at all of the restored and unrestored trains and trolley cars and rode on three of the trolleys.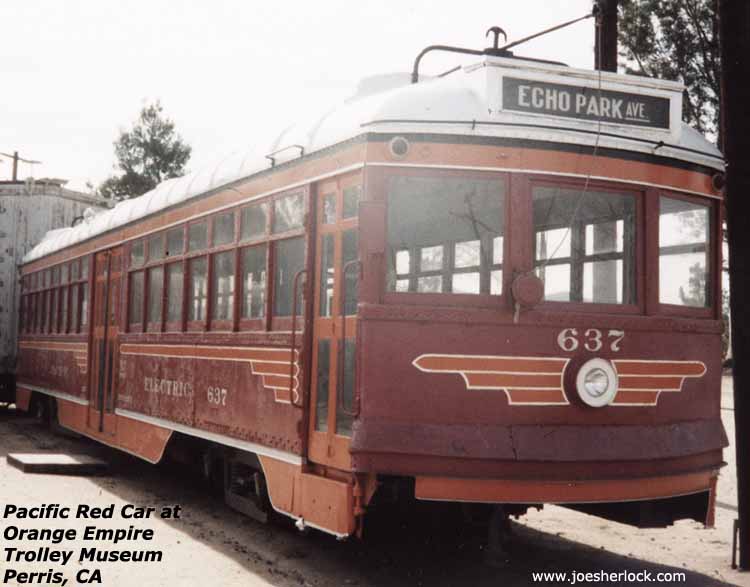 Then we grabbed lunch at Carl's Jr. - still another new culinary experience for Ray. (We each had a 'Six-Dollar-Burger'.) Afterwards, we drove north to visit the Roy Rogers Museum in Victorville, California.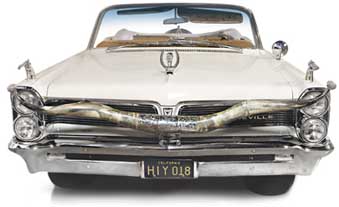 We both were big Roy fans from way back when, but the museum was kind-of a jumble of stuff Roy and Dale collected over the years. This place clearly needed the expert touch of a professional curator.
We enjoyed seeing Roy's silver dollar-encrusted 1964 Pontiac Bonneville convertible - the one with the longhorn hood ornament and fender-mounted chrome six-shooters
In the evening, we drove up a steep, winding, unlit and treacherous road to view the lights of the city while dining at the Pomona Valley Mining Company. The waiter talked us into having an appetizer of lentil soup which each of us normally dislike - but their version was very tasty.
Maybe because it was washed down with many glasses of Merlot. An exceptionally good dinner.
Sunday 1/27/02: We headed west on the Freeway to Griffith Park in Los Angeles where we rode on a miniature train at LA Live Steamers. We also checked out the old (full-size) steam locomotives and passenger cars at Travel Town, watched the kids ride the Griffith Park & Southern RR and toured the Gene Autry Museum of Western Heritage.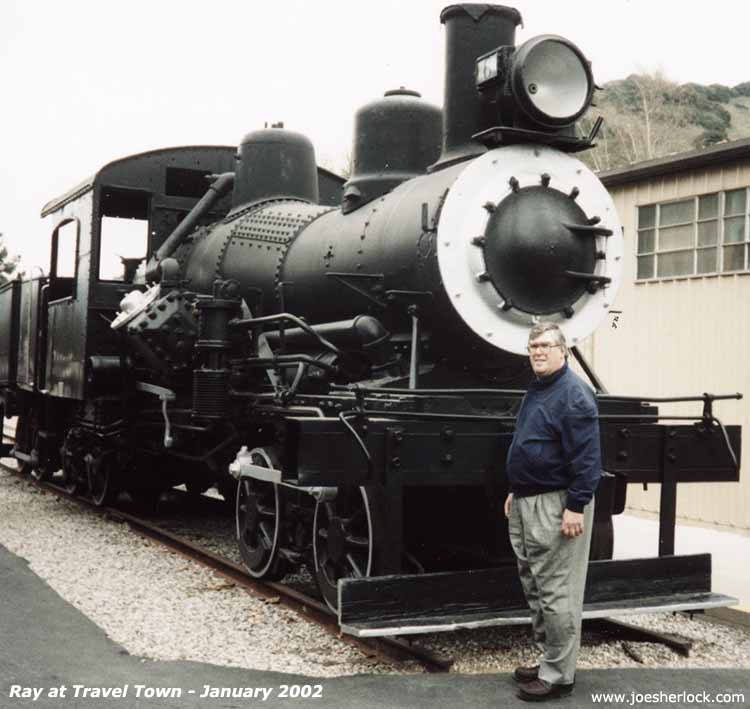 In the evening, we drove north (in the pouring rain - the only day it rained) to Calabassas and dined at Gaetano's Ristorante. Good meal.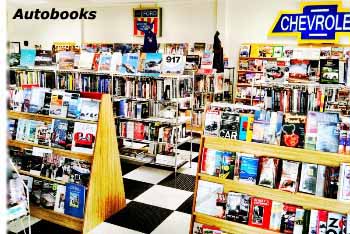 Monday 1/28/02: We headed north again, this time to Simi Valley, where we visited the Ronald Reagan Presidential Library. We had lunch at locally-famous Red's Barbecue and headed south to Burbank to visit Autobooks - the legendary book and model car retail store.
As youngsters, Ray and I used to see the Autobooks ads in Road & Track magazine and wondered what the far-away place was really like. For us, this was a pilgrimage.
We met Ray's nephew, Brian, for dinner at El Chollo - one of the oldest Mexican restaurants in Los Angeles, a favorite of many Hollywood stars including the late Gary Cooper.
El Chollo had a scale model of Coop's Duesenberg on display in the foyer.
Tuesday 1/29/01: We drove north on I-405 - LA really is a great big Freeway: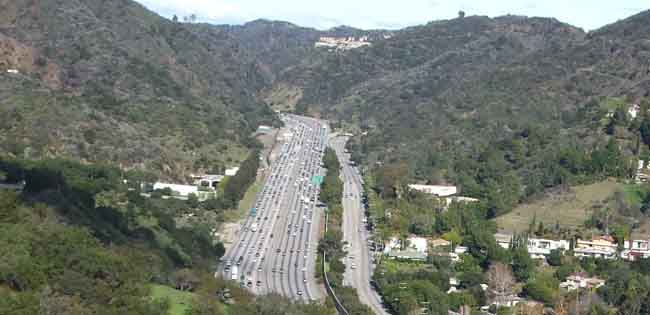 We exited in Sylmar where we visited Cadillacs of the Forties, then joined the reservations-only, guided, two-plus hour tour of the fabulous Nethercutt Collection (classic cars, chinaware, miniatures, mechanical musical devices and a giant pipe organ).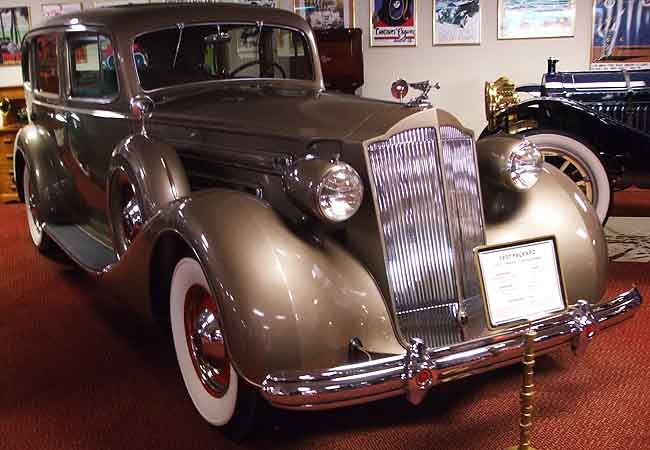 After a quick stop for lunch, we headed back to the Nethercutt Car Museum (in a second building) where we examined additional vehicles in the extensive collection of incredible classic cars (Packards, Duesenbergs, Cadillac V-16s, Lincoln K-series, Pierce Arrows, one entire row of custom-bodied Rolls Royces and even a Maybach), as well as the newly-restored Canadian Pacific steam locomotive (a Hudson 4-6-4) also on display.

Our farewell dinner was at The Belvedere in the Peninsula Hotel in Beverly Hills. We had cocktails followed by a couple of bottles of Merlot from Francis Ford Coppola's Vineyard. It was a fine conclusion to an enjoyable trip.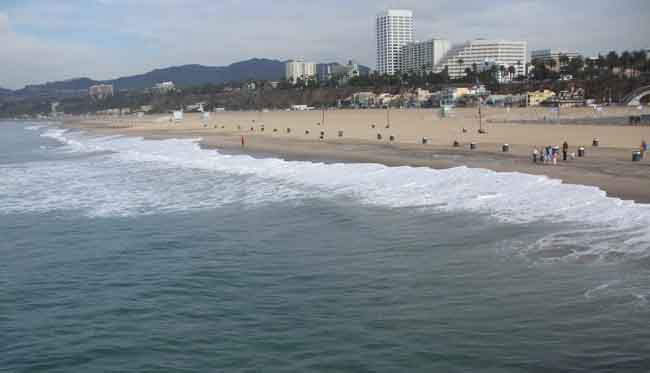 Wednesday 1/30/02: We got up early took a last look at Santa Monica Pier and the Pacific Ocean, drove to LAX, turned in our well-worn rental car (900+ miles added on this trip) and flew back to our respective cold, rainy and snowy destinations.
More photos from the trip can be found here.