---

1940 Packard Darrin - Driving In Style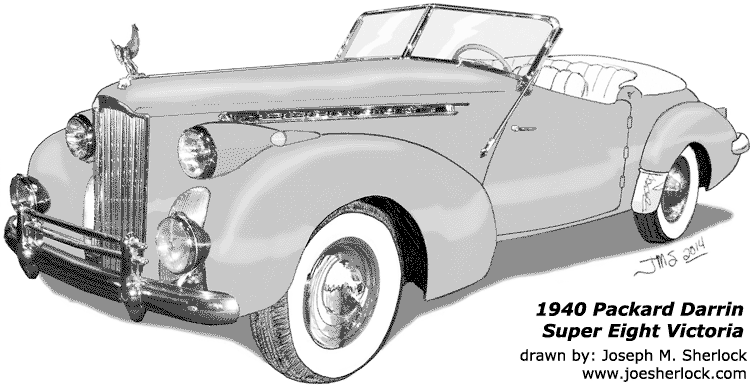 The first Packard automobile was produced in 1899. Packard quickly became the most well-known of the premium brands. The marque developed a following among wealthy purchasers both in the United States and abroad. In the 1920s, Packard exported more cars than any other in its price class. By the end of the 1920s, Packard was outselling every other luxury car in the world. During the mid to late 1930s, Packard outsold Cadillac by 2 to 1.
Packard cars were elegant and handsome, whether factory-bodied or custom-bodied by coachbuilders. But, one of the best-looking Packards of all time was the Packard Darrin, a semi-custom created by Howard A. 'Dutch' Darrin.
Dutch, the man behind the 1937-1942 Packard Darrin, left an indelible imprint on the brand. He spent most of the 1920s and '30s building custom bodies for the cream of European society, operating from his shop in Paris. In 1937, he relocated to southern California to make semi-custom vehicles for Hollywood's elite, including Clark Gable, Constance Bennett, Carole Lombard, Dick Powell, Rosalind Russell, Preston Foster, Chester Morris, Al Jolson and others.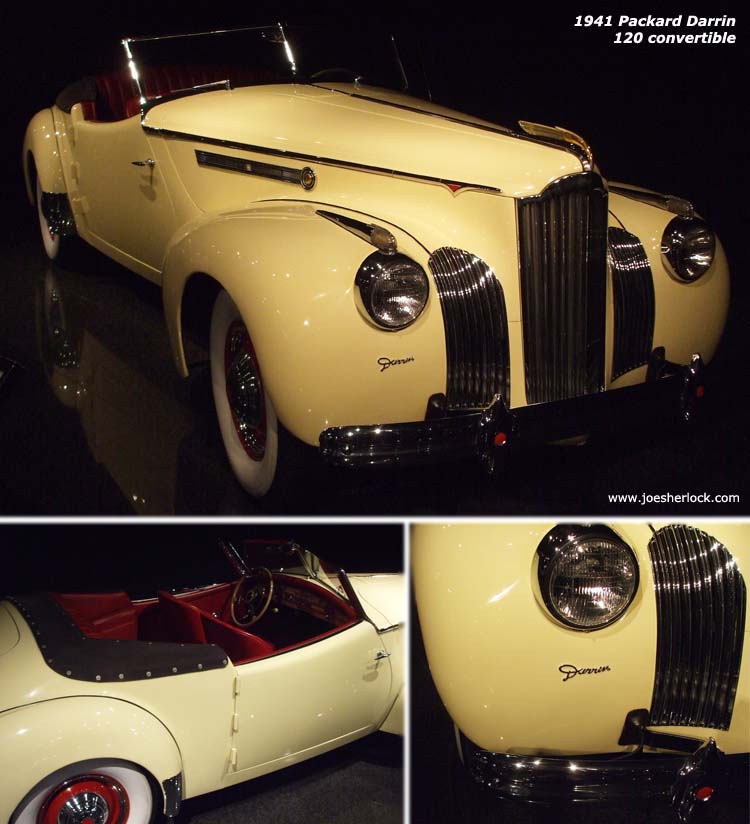 This Packard Darrin started life as a 1939 Dutch Darrin creation based on the Model 120 chassis and was owned by movie star Preston Foster. (Foster also wrote the blues song, 'Got My Mojo Working', popularized by Muddy Waters in 1957.) In 1941, Foster had the car updated with '41 Packard Super Eight front sheet metal, grille, bumpers and headlamps.
The first Packard Darrin with its distinctive 'Darrin dip' along the side was created in a Los Angeles body and fender shop before Darrin moved to Sunset Strip. The first example was built for actor Dick Powell on the chassis of a Packard 120 and had the sweeping fenders and low beltline characteristic of all Packard Darrins.
At first, Packard Motor Car Company paid little attention to Dutch Darrin's creations and offered no support. But the Darrin was such a 'halo' car - dealer showroom traffic increased 300% when a Darrin was on display - that the Darrin was added to the Packard catalog for the 1940 model year. The 1940 models were manufactured at the former Auburn plant in Indiana, rather than California.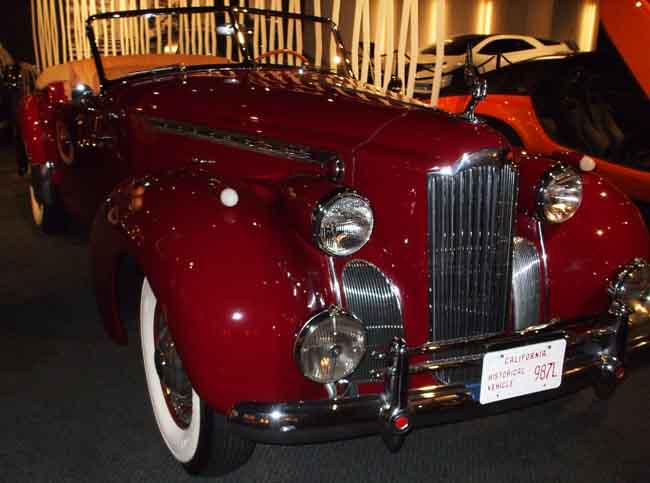 At an extremely high price of $4,570, only about 40 Victorias were produced in 1940. In comparison, the 1940 Lincoln Continental, another semi-custom car, was priced at $2,840 and 350 examples were sold. As production ramped up, 1,250 Continentals were sold in 1941. As for the Packard Darrin, production was moved to the Sayers & Scoville hearse plant in Ohio for the 1941 model year, where only 35 '41 Packard Darrin Victorias were produced. A mere 15 were built for the shortened '42 model year.
World War II and the advent of the envelope-body Clipper brought an end to Packard Darrin production. (10/30/14)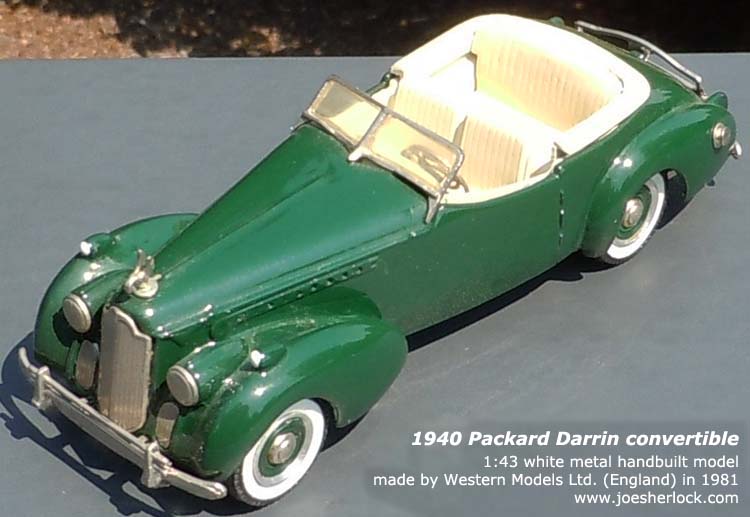 Something Western:
This 1:43 scale model of a 1940 Packard Darrin was made by Western Models Limited in 1981. Western, an English maker of handbuilt white metal models, offered the Packard Darrin in different colors over the years, including gold, green, red and black. Western Models was founded in 1973 and initially concentrated on automotive subjects but today produces only aviation models.
Remember When: 1940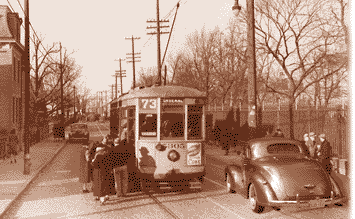 In 1940, the Great Depression was beginning to ease; Americans were earning more and buying more so being able to buy goods and further fueling the economy. Germany invaded France, Denmark, Luxembourg Belgium, Netherlands and Norway. Germany and Italy agreed to form an alliance against France and the United Kingdom. Bombs fell on Great Britain.

In the 1940 Presidential Election, Franklin D. Roosevelt defeated Republican Wendell Willkie and gained an unprecedented third term. The Selective Training and Service Act was signed into law as first peacetime military draft in United States history.

In 1940, a new house cost $3,920; the average income per year was $1,725. The price of a gallon of gas was 11¢.

Synthetic rubber was the most important of several new products debuting in 1940; fads included calypso music, and roller rink skating.

Popular films included 'Pinocchio', 'Fantasia', 'The Grapes of Wrath', 'My Little Chickadee' and 'The Great Dictator', starring Charlie Chaplin.

1940 produced several memorable hit songs: 'I'll Never Smile Again' by Tommy Dorsey with Frank Sinatra, Glenn Miller's 'In the Mood' and 'Pennsylvania 6-5000' and Artie Shaw's 'Frenesi'.

Several famous people were born in 1940: Mario Andretti, Tom Brokaw, Herbie Hancock, John Lennon, Ringo Starr, golfer Jack Nicklaus and singer Tina Turner.

Deaths included Walter P. Chrysler, Leon Trotsky, Austrian auto/airplane builder Edmund Rumpler, Neville Chamberlain, writer F. Scott Fitzgerald and movie cowboy Tom Mix, who died behind the wheel of his supercharged '37 Cord 812 convertible near Florence, Arizona (southeast of Phoenix). A flagman had stopped him and warned about roadwork in progress to repair a washed-out bridge. Ignoring the flagman, Mix drove on and plunged into a ravine; the convertible flipped, resulting in instant death. The gully has since been renamed Tom Mix Wash.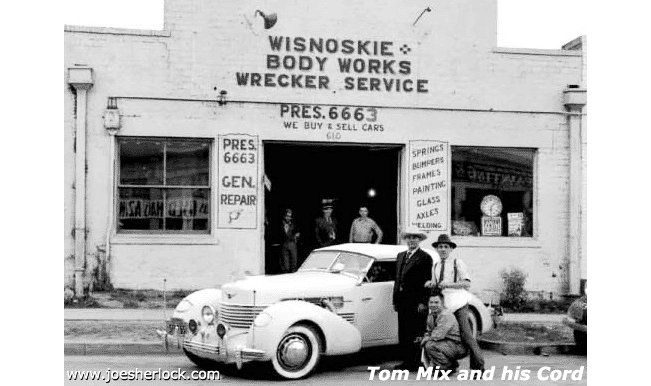 In baseball, the Cincinnati Reds defeated the Detroit Tigers to win the 1940 World Series.
---
More AutoSketch car drawings can be found here.
---
Other Pages Of Interest
| blog: 'The View Through The Windshield' |
| essays: greatest hits | blog archives | '39 Plymouth | model train layout |
| about me | about the blog | e-mail |
copyright 2014-21 - Joseph M. Sherlock - All applicable rights reserved. Drawing copytright 1997-2014
---
Disclaimer
The facts presented on this website are based on my best guesses and my substantially faulty geezer memory. The opinions expressed herein are strictly those of the author and are protected by the U.S. Constitution. Probably.
Spelling, punctuation and syntax errors are cheerfully repaired when I find them; grudgingly fixed when you do.
If I have slandered any brands of automobiles, either expressly or inadvertently, they're most likely crap cars and deserve it. Automobile manufacturers should be aware that they always have the option of trying to change my mind by providing me with vehicles to test drive.
If I have slandered any people or corporations , either expressly or inadvertently, they should buy me strong drinks (and an expensive meal) and try to prove to me that they're not the jerks I've portrayed them to be. If you're buying, I'm willing to listen.
Don't be shy - try a bribe. It might help.
---
---