---

---
Big Trains
To read about toy & model trains, go here.

---
About half the cost of each car's $1 million refurbishing goes toward workers' salaries, officials said. Amtrak runs about 1,500 passenger cars in 46 states on a 21,000-mile route.
A million bucks for a rebuild seems very high to me - as does two million dollars for one new passenger coach - but I'm not an expert in railcar construction/reconstruction. You can get a really nice, detailed O-gauge (1:48 scale) coach car for $100 or less. Multiply that by 48 and you've got - what? - $4,800. I'm just sayin' ... (posted 7/22/09, permalink)
---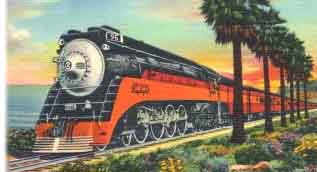 Alcohol Fueled: So, you think the use of ethanol as a fuel source is a 21st Century wonder?
Recently, I watched 'Daylight: The Most Beautiful Train in the World', a 2005 railroad documentary hosted by Michael Gross. The film tells the story of the famous Southern Pacific Daylight trains which traveled the Pacific Coast between Los Angeles and San Francisco from 1937 to 1971.
The trains had tavern lounge cars built by Pullman-Standard. Railroad historian Richard K. Wright said that revenues from the tavern car paid for the entire operating cost of the of the Daylight on every trip in the 1930s and '40s. All other revenues - tickets, dining costs, etc. were pure profit.
All hail the power of alcohol! (posted 6/1/09, permalink)
---
Train Wreck: Randal O'Toole, the Antiplanner, has referred to the Obama administration's high-speed rail plan as "Obama's Recycled Moderate-Speed Rail Plan," noting that it is neither a proposal for Japanese-style bullet trains nor for the Eurostar or trans-Europe TGVs. "Instead, it is conventional Amtrak Diesel-powered trains running a little faster - up to 110 mph, but averaging only 60 to 70 mph - than Amtrak runs today."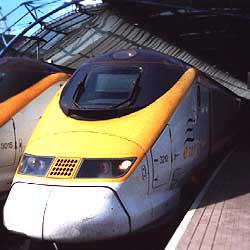 We traveled to and from Paris under the English Channel on the Eurostar train - top speed: 186 mph. I took the photo at Waterloo Station in London in 2001.
---
He pointed out that passengers now pay $69 to ride conventional trains from New York to Washington and $99 to ride high-speed Acela train. Those fares are already subsidized since Amtrak loses money every year.
"By comparison, an unsubsidized bus is $20 and unsubsidized airfares are $99. This means only the wealthy and those whose employers pay the fare will ride high-speed rail. All taxpayers will end up paying for rides of bankers, bureaucrats, and lobbyists."
In other words, people like Joe Biden.
Randal also noted that "Obama's moderate-speed trains will run on the same tracks as existing freight trains. Since many of America's rail lines are near capacity today, there is a real danger that moderate-speed trains will push freight onto the highways."
"Europe's rail network carries 6 percent of passenger travel, while ours carries only 0.1 percent. But European trains carry less than 17 percent of freight, while 73 percent goes by highway.
By comparison, American trains carry 40 percent of our freight, while only 28 percent goes on the highway. In other words, to get 6 percent of passengers out of their cars, Europe put nearly three times as many trucks on the road." (posted 4/22/09, permalink)
---
Challenger: The Union Pacific Railroad's mighty 'Challenger' locomotive No. 3985 visited Portland in September 2005. The 4-6-6-4 articulated steam monster was on a 2,800-mile tour to celebrate railroad heritage.

I took numerous photos and have posted three pages of them starting here. (posted 9/20/05)
---
End of an Era: General Motors is selling its LaGrange, Ill.-based Electro-Motive Division to an investment group led by the Greenbriar Equity Group of Rye, N.Y., and Boston-based Berkshire Partners LLC. This is a historic milestone.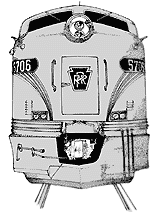 Electro-Motive produced many of the famous diesel 'streamliner' diesels for railroads across America. Famous passenger trains like the California Zephyr, Super Chief, Trail Blazer, Capitol Limited, Empire Builder, North Coast Limited, Southern Crescent, City of New Orleans and Texas Special were at some time or other headed by an Electro-Motive E or F-Series diesel. An Electro-Motive diesel powered the futuristic GM Aerotrain of the 1950s.
In the early days of locomotive-building, the chief engineer of each railroad had his own idea of how a steam loco should be made. And wrote his personal specifications for every purchase. This drove locomotive manufacturers nuts (or loco?) because it was impossible to offer a stock line of locomotives or build for inventory during slow times. (A very good book, 'The Baldwin Locomotive Works, 1831-1915: A Study in American Industrial Practice' by John K. Brown, offers details.) Baldwin, the largest builder of steam locos, made over 25% of its sales outside the U.S., because foreign railroads didn't have such egotistical engineers and were willing to purchase standardized, more-profitable products.
In the 1930s, GM's Electro-Motive Division developed diesel-electric locos which they offered to various railroads. The chief engineers harrumphed, demanding modifications to their custom specifications - just like they did with steam locos. General Motors - accustomed to building standard products - refused, limiting customization to minor items like marker light location and paint schemes. The diesels were so superior in performance and cost of operation compared with steam that railroad managements ignored their engineers' advice and purchased off-the-shelf diesel-electrics from GM. The steam locomotive soon became a thing of the past.
General Motors changed the locomotive industry forever. But now, the worm gear of progress has turned again and GM is exiting the locomotive business. (Sigh.) Time changes everything. (posted 1/17/05, permalink)
---

Book Review: I recently read 'Crosswords of Commerce - The Pennsylvania Railroad Calendar Art of Grif Teller' by Dan Cupper. A description: "Each year, starting in 1925, the Pennsylvania Railroad (PRR) commissioned a striking oil painting of a PRR engine in a dramatic setting, which was featured on a large wall calendar that the company distributed by the hundreds of thousands to customers and the public. Grif Teller painted 27 of the 33 scenes. This book reproduces his paintings in full color and recounts his life and career."
Teller also did work for other railroads and transport companies and did privately-commissioned paintings on various subjects. Surprisingly (since the conventional wisdom is that the 1940s and '50s were times of great job stability working for benevolent, womb-to-tomb employers), he was unemployed several times in his life because the companies he worked for would go out of business. He made ends meet during those times by free-lancing, sometimes using non de plumes on his paintings.
There are a couple of stories about fussy, hard to satisfy customers. ("The box cars need to have more rivets painted on them." ... etc.) We sometimes think that such jerks are something unique to today's economy. Nope. They've been around forever.
There were probably minor functionaries in ancient Rome who got their jollies from hassling some poor chariot maker about the shape of the wheel spokes.
I found this book to be most enjoyable. If you like trains even the slightest bit ... go buy it. (posted 5/22/04, permalink)
---
PRR Rail History: The above book review has prompted reader comments bemoaning the decline of "old-time railroading."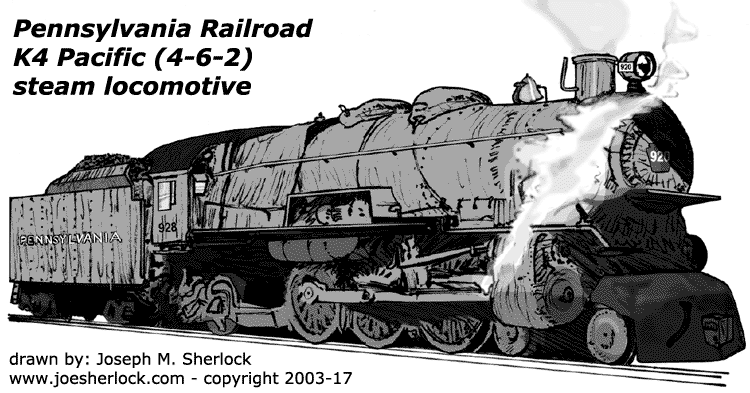 Once upon a time, U.S. railroads were the kings of transport. Railroads played a large role in the development of the United States from the industrial revolution to the settlement of the West.
In his book, 'Blood, Iron and Gold: How the Railroads Transformed the World', Christian Wolmar wrote, "The U.S. transcontinental railroad was made possible by Abraham Lincoln, who passed the Pacific Railroad Act through Congress in 1862 (in the midst of the Civil War), helped by the absence of southern politicians who had stymied previous attempts at legislation." The transcontinental road was greatly underwritten by the government using direct payments, loans and land grants.
U.S. railroads did more than just increase travel or expand local and national economies. Trains created ... (more >>>)
---
Amtrak: We rode the Acela from Boston to Washington in October 2004. It was a most pleasant experience.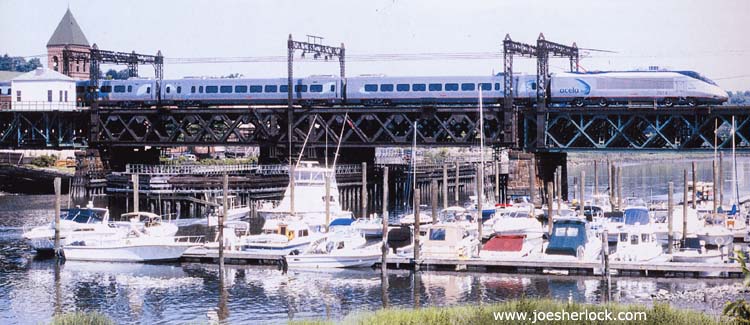 The rail upgrades are still in progress, so the train had to go slow in spots and the ride was not nearly as smooth as the Eurostar Chunnel Train, but the staff were friendly and the service was very prompt. (Special thanks to Manny the Boston ticket agent who got us on an earlier train with only minutes to spare and made all the changes with a smile.)

It was a thrill to go up and over the Hellgate Bridge into New York City.
The four-track section of the old Pennsy line (south of NY) has been mostly upgraded and we flew through New Jersey. I got jolts of nostalgia from seeing the familiar Philly railscape roll past - Holmesburg Station, Frankford Junction, the Zoo, the stately Art Museum and the spectacular 30th Street Station. The beautifully restored Union Station in D.C. is a sight to behold. And to wander around.
Our Acela train also offered a "quiet car" where cell phone use and loud talking were prohibited. (posted 10/14/04, permalink)
---
Other Pages Of Interest
copyright 2004-21 - Joseph M. Sherlock - All applicable rights reserved
---
Disclaimer
The facts presented on this website are based on my best guesses and my substantially faulty geezer memory. The opinions expressed herein are strictly those of the author and are protected by the U.S. Constitution. Probably.
Spelling, punctuation and syntax errors are cheerfully repaired when I find them; grudgingly fixed when you do.
If I have slandered any brands of automobiles, either expressly or inadvertently, they're most likely crap cars and deserve it. Automobile manufacturers should be aware that they always have the option of trying to change my mind by providing me with vehicles to test drive.
If I have slandered any people or corporations, either expressly or inadvertently, they should buy me strong drinks (and an expensive meal) and try to prove to me that they're not the jerks I've portrayed them to be. If you're buying, I'm willing to listen.
Don't be shy - try a bribe. It might help.
---
---