Philadelphia Memories - Part IX
---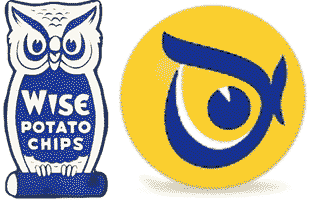 Wise Guy:
Most Philadelphians are familiar with Wise Potato Chips. In the early days, Pennsylvania and New York were Wise's largest markets.
In 1921 Earl Wise, Sr. owned Wise Delicatessen and often found himself with too many potatoes. He used the extra potatoes to make potato chips, initially cooking them in his mother's kitchen. Four years later, he opened his first production plant in Berwick, PA - near Wilkes-Barre in the North-Central part of the state.
He chose a wise old owl as the logo for his chips. The idea of owl wisdom dates back to ancient Athens - its silver four-drachma coin bore the image of the owl on one side as a symbol of the city's patron, Athene Pronoia, the Greek goddess of wisdom. Wise owls are mentioned in Aesop's fables, early Indian folklore and in Bobby Day's 1958 hit, 'Rockin' Robin': "The wise old owl, the big black crow flappin' their wings singing 'Go bird, go'."
In 1964, the family-owned business was sold to Borden's, which positioned it as an East Coast regional brand, using its other brands for other markets. In 2012, Wise was acquired by Arca Continental, a Mexican company. Since that time, Wise has been promoted and sold nationally.
In the 1970s, Wise updated its logo to show only the eye of an owl, which looks like the cartoon eye of almost anything. Or nothing. The restyle made it difficult for new customers to connect Wise to a wise owl.
Potato chips are now a $30-plus billion market. Wise is a minor player in the potato chip biz, well behind such giants as Lay's (PepsiCo), Herr, Utz and Snyder's. Critics say that Arca Continental has cheapened the product with lower quality, thinner (more brittle) chips and less seasoning. I dunno. Wise still tastes like a potato chip to me - a vehicle to deliver salt, grease, and crunchiness to your insides. (posted 9/28/17, permalink)
---
Am I Blue? I just re-read a book called 'Fifties Flashback' by Albert Drake. It is one man's memoirs about being a car nut and growing up in the 1950s. I enjoyed the book but I'm sure others who were closer to Drake in age and geography would enjoy it even more. Drake was born in 1935 and grew up in the Portland, Oregon area.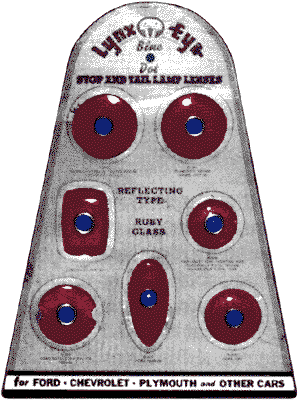 Drake wrote about blue-dot taillights - a jeweled, 3/4-inch diameter blue-tint glass lens installed in a red taillight. When the brake lights came on, the dots gave off an bright, eerie purple glow. I remember seeing cars with blue-dots rumbling down Roosevelt Boulevard on Saturday nights in the '50s and early '60s. You could buy blue dots, usually Lynx Eye brand, from most auto accessory stores such as Pep Boys.
While I never put blue-dots on any of my cars, I once had blue taillights. When I worked in the Plastics Engineering Lab at Rohm & Haas' Bristol plant, we had GM's 1958 Chevrolet taillight mold there for testing. I snagged some blue-tinted Plexiglas from the Color Lab and injection molded my own set of blue taillights for my blue 1963 Corvette roadster. (Corvette Sting Rays through the 1967 model year used '58 Chevy taillights.)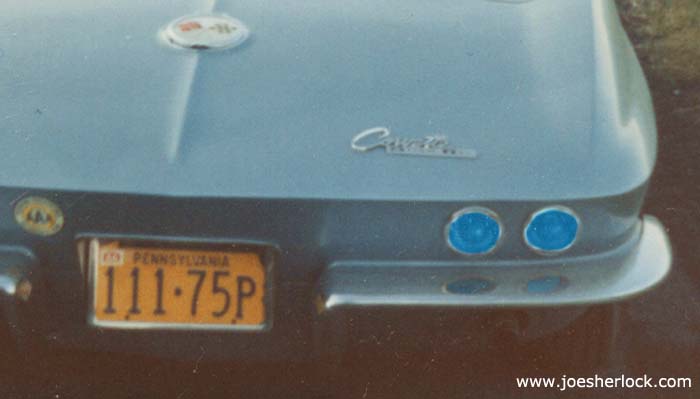 They looked cool when parked but, at night, they were very bright, almost white in color. I quickly reinstalled the red originals.
Drake talks about the term: 'cruising the gut' - driving up and down the main street of a town. This was not a term I remember. In Northeast Philadelphia, there were probably too many large 'main' streets. If you had a hot car, you'd drive it up and down Roosevelt Boulevard, a large twelve-lane road in North and Northeast Philadelphia. Speeds of 60 to 80 mph could be reached between traffic lights if you accelerated hard. Impromptu drag races on The Boulevard were a common occurrence when I was growing up. (posted 9/28/17, permalink)
---
Fast Commuting: The Philadelphia and Western Railroad was a high-speed, third-rail-operated, commuter-hauling interurban electric railroad operating in the western suburbs of Philadelphia. The line opened in 1907.
When commuting to college in the early 1960s, I sometimes used the P&W (nicknamed the Piss & Whistle), connecting from the PTC 69th Street Market-Frankford Elevated Line terminal and getting off at the Villanova station stop which was next to the campus parking lot. It was a relatively short walk to Tolentine Hall where many of my engineering classes were held.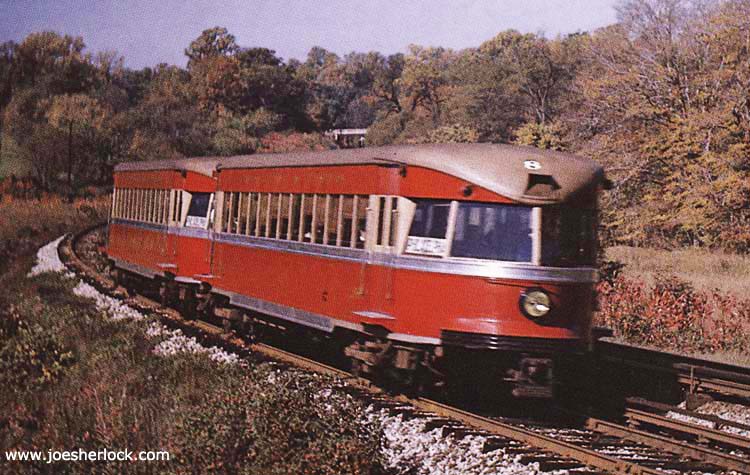 The P&W was as a double-track third rail line and was mostly served by Brill Bullets, the innovative interurban self-propelled cars built by Philadelphia's J.G. Brill Co. The Bullets ran in service from 1931 to the late 1980s. They regularly ran at 80–85 mph in normal passenger service (top speed was 92 mph) and were the world's first-ever high-speed 'Bullet' trains. The design influenced later streamlined trains built in the U.S., Belgium, Germany and Japan.
The aluminum-bodied Bullet was the first railroad equipment ever designed in a wind tunnel in order to lessen power consumption while improving schedule times. The Bullet's Norristown Express schedule times dropped 33%, while consuming some 40% less electric power than the MU equipment they replaced. The Bullets were in service for 59 years; The ugly replacement cars are Fisher-Price boxy and appear to have the aerodynamics of a brick. These 'new' cars were probably designed by a committee using Animal Cracker boxes, kindergarten scissors and Elmer's glue to construct a prototype scale model. No wind tunnel testing here.
The P&W once operated local freight trains to various industries along its line until 1970, when the Merion Golf Course stopped its deliveries of sand and other materials. (posted 9/14/17, permalink)
---
Down At The Shore ... 2017 Edition: My brother recently returned from a Wildwood Crest, NJ vacation. Knowing that my wife and I enjoy all things Jersey shore-related, he sent us numerous editions of those pulp giveaway shoppers' guides to the New Jersey shore. I reported on the 2016 editions last year. The 2015 report is posted here; the 2014 survey can be found here.
I love the tacky ads, unique offerings and the crazy business names. Businesses at the Jersey Shore have only three months to make their money for the year, so they promote cleverly, creatively and often. There's lots of East Coast chutzpah to be found in their ads. Here are some things that caught my eye this year:
• Mr. Softee is an ice-cream franchise and perpetual butt of erectile dysfunction jokes and a familiar sight when I was growing up in Northeast Philadelphia.

If you grew up in an area served by Mister Softee, you'll always remember the musical jingle. Sixty-plus years later and from 3,000 miles away, it still sticks in my head. Then there's that slightly-creepy smiling cone-head cartoon logo. It turns out that there is a Mr. Softee in Wildwood and it features a live Mr. Softee mascott in full cone-head costume.

• The Hole In The Wall in Wildwood Villas offers any hoagie or cheese steak in three sizes: $3.99 for 6 inches, $6.49 for 12 inches and $10.99 for the two-foot version.

• Mike's Rio Steaks & Pizza, located in the Rio Grande section of Cape May County notes that it is "now under new ownership" and carries the slogan: "You Wanna Pizza Me?" One of Mike's offerings is The Greasy Thumb Sandwich for $8.95, consisting of a cheese steak, grilled chicken, french fries, lettuce, tomato, mayo and ketchup.

• American Deli & Pizza's ad proclaimed, "The lobster salad hoagie is back!"

• The Blueprint Sub Shop, located at Exit 4 of the Garden State Parkway, offers "fresh subs, salads and sushi" - a combination not often seen on the planet.

• If you need your place cleaned there's a cleaning service in North Cape May: 'Sun of a Bleach'. Slogan: "Our Business Is To Make Yours Shine."

• The Fish Cakes Dockside Grill in Cape May offered a coupon: "Buy one order of donuts & get one order free." I don't know if they offer fish-flavored donuts. The restaurant/donut shop is located at the BreeZee Lee Yacht Basin.

• Speaking of donuts, there's a new establishment this year:

• Jerry Blavat - aka: The Geator With The Heater - appears weekly at The Cattle 'n Clover Irish Steakhouse, advertised as "home of the Guinness Book Of World Records for Sheppard's (sic) Pie," every Tuesday. On Thursdays, The Geater can be found at The Lighthouse Pointe.

• Morey's Amusement Pier has a new roller coaster. A full-page ad proclaims, "Like Grandma Morey always says, You only YOLO once!" Were he alive, I'm sure that Mr. Rogers would ask, "Can you say 'redundant'?"

A Morey ad in another paper offers this strange slogan: "It's More Summer Than Hungry Seagulls!"

Morey's also has a restaurant called Stubborn Brothers Beach Bar and Grille (sic).

• A new business just opened on the Wildwood Bpardwalk called It'sugar, pronounced 'It's Sugar', not 'It's Ugar'. A newspaper article noted, at It'sugar, bigger is better. The store carries giant-size candy, such as a one-pound Reese's Peanut Butter Cup and a five-pound gummy bear.

If I ever move to Wildwood, I think I'll open a pharmacy next door named It'sInsulin. And I'll sell two-pound Metformin pills.

• Wildwood's Firehouse Tavern (slogan: 'We're Just a Little Bar on a Big Island') suggests you "Try Our Fresh Homemade Pork & Spinach Sandwich."

• Need some shore furniture or decor? There's this place featuring testimonial from a talking swordfish head mounted on a trophy plaque:

• Your week at the shore could begin with Margarita Mondays - only $4 apiece - at The Blue Water Grille (sic) in Wildwood. At 6:00 pm and 8:00 pm, the establishment features an Elvis impersonator. I wonder if he sings 'Blue Hawaii'?

• Shamrock Beef & Ale ('A Wildwood Tradition Since 1937') offers 4 beers for $1.00 on Mondays. It's open daily 11:00 am to 3:00 am.

• I'm happy to report that two restaurants I've mentioned before, The Garden of Eatin' (Avalon) and The Surfing Pig (Wildwood) are still in business.

• The New Jersey shore is, as you'd expect, full of seafood restaurants. Wildwood is a favorite destination for South Philly Italians and their suburban descendents, so there is a plethora of Italian restaurants: Little Italy in Wildwood, Vincenzo's Little Italy II in North Cape May, Nino's, Natalie's Italian Kitchen, Sapore Italiano in West Cape May (East Cape May would be the Atlantic Ocean, you know), Poppi's (I hope it's no relation to the one in the 'Seinfeld' episode), Joey M's La Piazza Cucina, de Ninno's in Wildwood Crest and many more, including the Ravioli House, which is celebrating its 47th anniversary.

At the risk of stereotyping, I must point out that this year's North Wildwood Italian-American Festival featured meatball relay races.
Reading these pulp shoparama guides is the next best thing to being there. (posted 7/18/17, permalink)
---

It's Really Hard To Lose A Pal: My very good friend Dennis Gartland passed away on June 26th, following a massive heart attack at age 70. He is survived by his loving wife, Sandy, as well as three wonderful sons and a granddaughter on whom he doted.
Dennis worked in the Plastics Department of Rohm & Haas Co. for many years. In addition to stints at the Bristol (PA) Plant and the home office in downtown Philadelphia, he was a plastics sales representative in New York, Connecticut, California and later served as district manager for the entire West Coast.
When R&H sold off its plastics assets, Dennis continued ... (more >>>)
---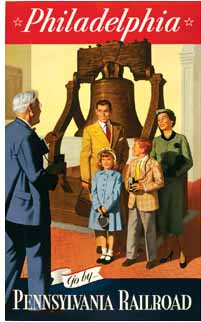 Taking The Fifth: Phoenix has officially edged out Philadelphia to become the fifth biggest city in the U.S. The total population of the city is 1,615,017, according to estimates released by the U.S. Census Bureau.
"Overall, New York has the highest population among all cities in the U.S. with 8,537,673. Los Angeles is second (3,976,322), Chicago is third (2,704,958) and Houston is fourth (2,303,482)." Philly is now relegated to sixth place.
From the dawn of the 20th Century until the 1950s, Philadelphia was America's third-largest city. But, its once-mighty industrial base deserted the city, choosing the suburbs or other lower-cost states. When that happened, workers and their families followed. Additionally, many of those who continued to work in Philly sought the American dream of a single family home on a large, landscaped lot by moving to Delaware Valley suburbs outside the city limits. Today, the Delaware Valley (composed of several counties in Delaware, southern New Jersey, Maryland, and Pennsylvania) has a population of just almost 6 million.
In the current Census Bureau update, Chicago was the only city among the nation's 20 largest to lose population in 2016; it lost nearly double the number of residents as the year before. (posted 6/12/17, permalink)
---

Book Review: 'Bobby Rydell: Teen Idol On The Rocks - A Tale Of Second Chances' by Bobby Rydell
While I was reading this autobiography, my wife had several friends over for a gathering. I mentioned the book and the almost universal reaction of these women (ages ranging from 68 to 80) was, "Bobby Who?"
I must say that I was shocked. Singer Bobby Rydell had a succession of top ten records in the early '60s, including 'Wild One' (Billboard #2), 'Volare' (#4) and 'Swingin' School' (#5). His 1963 recording, 'Wildwood Days', has become the anthem of the southern New Jersey shore. In all fairness, none of these ladies grew up on the east coast, so maybe that explains it.
In the 1950s, it was common for ... (more >>>)
---

Replacing Air: Although others had patented it previously, the first practical pneumatic tire was produced in 1888 by John Dunlop of Belfast Ireland. It was a hollow vulcanized rubber tube filled with air. Soon afterward, tires were constructed of rubber reinforced with cord and used a rubber inner tube to help prevent leaks.
Even in the 1920s, flat tires were a common occurrance because of rough roads and the fact that early cord-ply constructed tires were delicate and prone to punctures as were inner tubes. Flat tires were time consuming and, for business vehicles such as delivery trucks, time-wasting. If only there were a substitute for pressurized air.
Bettern-Air, the invention of a German chemist, was a vegetable compound which looked like rubber but was far more resilient. It was manufactured in 24-inch long logs, which are placed in tire casings under pressure. Bettern-Air minimized the number of flats and its spongy nature provided a smooth ride - like a pneumatic tire.
In this 1915 photo, related companies J.C.H. Galvanizing and Bettern-Air shared space at 1114 North Front Street, near the Delaware River in center-city Philadelphia: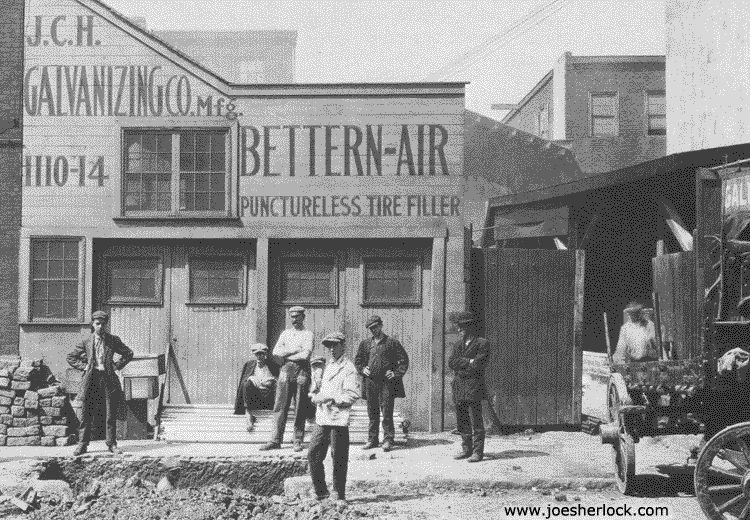 By 1917, Bettern-Air Co., owned by Allen O. Hulshiser, had moved uptown to 1306-08 Callowhill St. J.C.H. Galvanizing stayed put and could be found at the same Front St. location as late as 1920. (posted 5/29/17, permalink)
---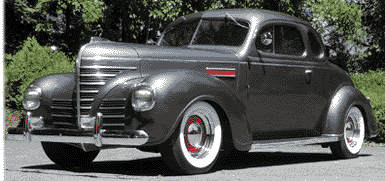 Music Of My Life: Last week, I drove my '39 Plymouth coupe to the local library - returning two books and picking up a new one. The temperature was a pleasant 63 degrees under almost cloudless blue Southwest Washington skies. I got a decent view of snow-covered Mt. St. Helens and had a fun drive, playing old rock-n-roll through the speakers and enjoying the scenery.
The music I was playing was 'Crusin' '57' with WIBG's Joe Niagara hosting. At one point, he announced with all the hyper-excitement a good DJ can muster, ''Don't you forget it. Saturday night - that's the night - the hippest record hop in WIBG-land. It all happens at the Maternity BVM auditorium - 9320 Bustleton Avenue. I'll be there lookin' for you ... I wanna see your face in the place."
The record hop "with guest stars galore" was held at Maternity of the Blessed Virgin Mary parish hall. Many Philadelphia area Catholic parishes held weekly dances to raise money. One other such place was Our Lady of Ransom parish on Roosevelt Boulevard. "I'm goin' to Ransom Saturday night," was an oft-heard phrase in late-1950s Northeast Philly.
Recently, I learned from the Northeast Times (a nice newspaper that once interviewed me) that Our Lady of Ransom will be merging into Resurrection parish. Once a vibrant Catholic parish - the church seats 1,250 people and is one of Northeast Philadelphia's largest-capacity churches - changing neighborhood demographics have reduced total weekend Mass attendance to only 400 people. Ransom's teenage dances are long gone but, if you stand at the site of the old auditorium and listen closely, you might hear some ghostly strains of music - probably 'Rockin' Robin' by the late Bobby Day.
Maternity BVM is still an active parish and even has an elementary school. (posted 5/29/17, permalink)
---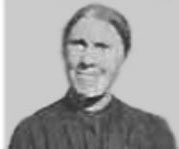 Looking At A Distant Past: This is a recently-discovered photo of my paternal great-grandmother, Kate, taken around 1895 in Cincinnati. She was in her mid-50s at the time and had emigrated from Western Ireland a couple of years earlier.
I had never seen a photo of her before. This one was smudged, cracked and quite yellowed but I fixed as much as I could in Photoshop. It's amazing that this 120+ year-old photo has survived at all. Kate has a nice smile.
I still haven't seen any photos of her husband, my great-grandfather. The couple had nine children, all of whom came to America.
Kate died in Philadelphia in 1908 and is buried in Holy Cross Cemetery in Yeadon, PA. (posted 4/5/17, permalink)
---
Commuting 1951-Style: I spent several years (1971-78) doing the smoggy daily round trip from my home in New Jersey to my job in downtown Philadelphia. Rush hour traffic was bumper-to-bumper and, apparently, it was no better twenty years earlier.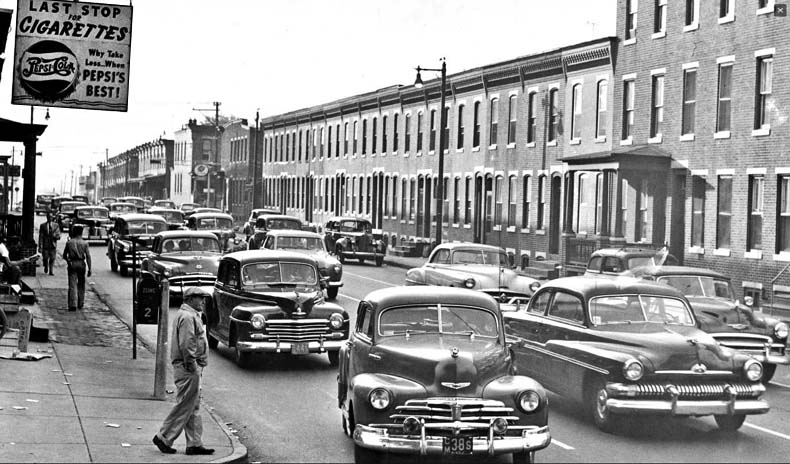 In this period Camden, NJ photo, posted on The Old Motor, there is lots to see.
In the foreground is a 1948 Chevrolet with fog lights, a 1951 Mercury two-door sedan and a 1950 Chevrolet convertible. Behind the Chevy and the Merc is a 1951 Pontiac Catalina hardtop. On the left side of the street is a sign: 'Last Stop for Cigarettes' (before you cross the Ben Franklin Bridge into Philadelphia, Pennsylvania where cigarette taxes are higher) and a Pepsi logo with the slogan 'Why take less, when Pepsi's best!'
Until the 1960s, Pepsi was promoted as a value cola proposition, compared with Coke. In 1936 Pepsi introduced a 12-ounce bottle, for the same 5¢ price as a 6-ounce Coca-Cola.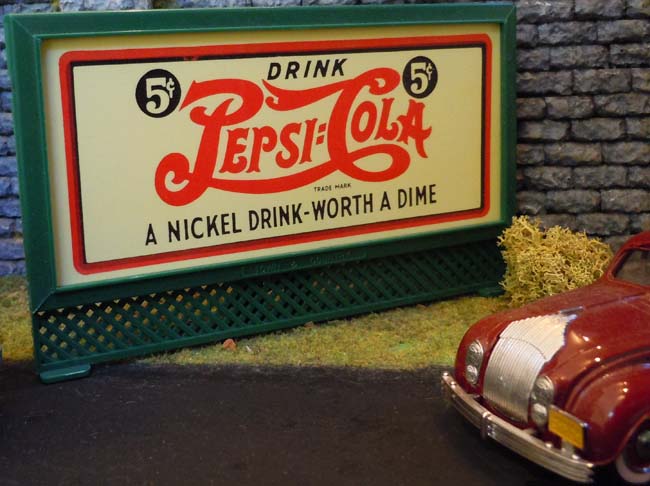 An early Pepsi slogan was, 'Costs a nickel, tastes like a dime'. (The billboard shown above is on my model train layout.) An early radio jingle: "Pepsi Cola hits the spot. Twelve full ounces, that's a lot."
Down the block - on the other side of the street is another little store with a Breyer's ice cream sign with the company's characteristic green leaf logo. If you look closely, you can see a lot of litter on the sidewalk and curbside. Philly and its neighbor, Camden, were full of litter, even in the old days. Note also the mailbox, mounted on a concrete post by the curb. The mailbox itself was probably painted in the post office color of dark olive.
Many people lived in New Jersey, seeking more space and a reasonably-priced plot of land, escaping row home living in Philadelphia. But they kept their jobs in Philly and commuted daily to work. In the 1950s, Camden was a thriving, blue-collar industrial city. Sadly, it's a high-crime slum today. (posted 4/3/17, permalink)
---
Tool Archeology: My father-in-law owned a large wood-handled flat-blade screwdriver, a Yankee No. 90, made by North Brothers Manufacturing Company, a Philadelphia manufacturer of hand tools. This No. 90 has a blade width is 5/16 inches, shaft length is 5 inches and the overall length is 10.6 inches.

North Bros. was an American manufacturer based in Philadelphia, Pennsylvania that specialized in the making of hand tools, small appliances and some specialized power tools. They were family-owned and operated for over ... (more >>>)
---
Haulin' Gas: Gulf Oil was established in Pittsburgh around the turn of the 20th Century and was the source for much of the Mellon family fortune. Gulf built its first Philadelphia refinery in 1905 at Girard Point in South Philly and was a well-known gasoline brand in the area. Grades were subregular Gulftane, Good Gulf regular, Gulf No-Nox Ethyl premium and later, Gulf Super Unleaded.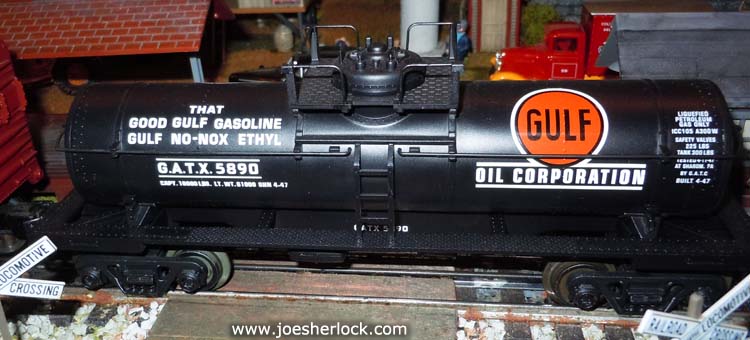 This O-gauge single-dome Gulf Oil Tank car, which I run occasionally on my Philly-themed model train layout, was made by Industrial Rail. I purchased it new in late 2001. According to the markings, it "carries" Gulf No-Nox Ethyl.
Car guys sometimes talk about fueling up with bad gas. I've experienced gasoline going bad when it got too old but, in my 57+ years of purchasing gasoline for my cars, I've only gotten one bad load and it was from a Gulf station. My red '63 Volkswagen became hard to start, idled roughly and stumbled when accelerating. The next time I filled up - with non-Gulf gas - the problem went away.
The other strong memory I have of Gulf is when their Girard Point refinery caught fire in 1975. It was a horrendous blaze. Eight firefighters were killed, 14 more were injured and four Philadelphia fire trucks were destroyed. I remember a relatively young Andrea Mitchell (who was then a field reporter for KYW television - an NBC affiliate at the time) reporting on the blaze with the Penrose Avenue bridge - which spanned the refinery - in the background. In those days, Ms. Mitchell was not the glammed-up, blonde NBC News Chief Foreign Affairs Correspondent you see on TV today. In the '70s, she had dark hair, a rough complexion and a New Yawk voice and attitude. Who would have guessed that she would eventually marry Alan Greenspan, who was once the Chairman of the Federal Reserve.
As for Gulf Oil, the company merged with Standard Oil of California in 1985 and its stations were rebranded as Chevron. These days, for convenience, I usually gas up my cars at the nearby Chevron station in Washington state. (posted 3/6/17, permalink)
---
Tank You: Lionel Electric Trains has offered Sunoco tank cars since the 1930s. On the three-level train layout built by my dad in 1947, the middle level had a steam loco pulling a freight consist. One of the freight cars was a post-war, silver double-dome Sunoco tank car.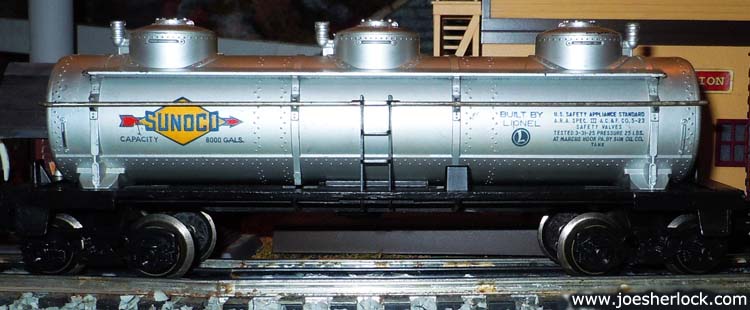 This three-dome plastic one, which I run occasionally on my present model train layout, was first introduced in 1953. I picked mine up at an area train swap meet in 2002 for $15. It is marked "built by Lionel."
Once known as Sun Oil Co., the Philadelphia-based refiner was best known for ... (more >>>)
---
Rocket 88: This mid-October 1956 photo of Fierstein Brothers Oldsmobile, a dealership in the West Oak Lane section of Philadelphia, shows a one-make small new car dealer. Such establishments dotted major cities across the U.S. in the mid-20th Century.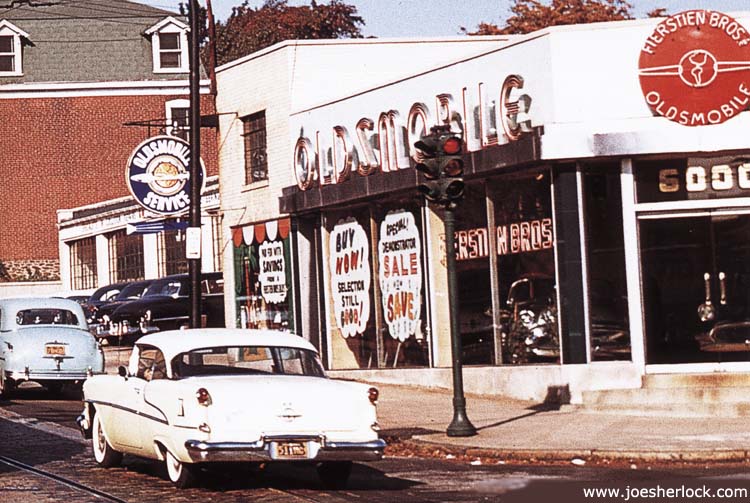 Fierstein Brothers was located at 6000 Old York Road - the intersection of Old York Road and Champlost Avenue. In the photo, a 1955 Oldsmobile 88 Holiday coupe drives past the dealership. That model was one of 85,767 Olds 88 two-door coupes made in the 1955 model year. Prices began at $2,474 and the car was powered by the legendary Oldsmobile Rocket 88 V8 engine, which made 185 horsepower in standard form. More on the 1955 Oldsmobile can be found here.

Oldsmobile's powerful postwar overhead-valve V8 engine was praised in Jackie Brentson's 'Rocket 88' recording in 1951. Many music critics consider this recording to be the true first rock and roll song. 'Rocket 88' was about a car - a 1950 Oldsmobile 88 with a high-compression, overhead-valve Rocket V8 engine. The song is also notable because it featured Ike Turner on keyboards.
Trolley tracks seen in the photo are for Route 6 trolley which used to run to Willow Grove Amusement Park.
Most of these small auto dealers consolidated, merged or disappeared in the latter part of the 20th Century, although Fierstein was still around in the early 1990s. Auto brands consolidated, too; General Motors discontinued Oldsmobile in 2004. (posted 1/3/17, permalink)
---
---
Other Pages Of Interest
copyright 2017 - Joseph M. Sherlock - All applicable rights reserved
---
Disclaimer
The facts presented in this blog are based on my best guesses and my substantially faulty geezer memory. The opinions expressed herein are strictly those of the author and are protected by the U.S. Constitution. Probably.
Spelling, punctuation and syntax errors are cheerfully repaired when I find them; grudgingly fixed when you do.
If I have slandered any brands of automobiles, either expressly or inadvertently, they're most likely crap cars and deserve it. Automobile manufacturers should be aware that they always have the option of giving me free cars to try and change my mind.
If I have slandered any people or corporations in this blog, either expressly or inadvertently, they should buy me strong drinks (and an expensive meal) and try to prove to me that they're not the jerks I've portrayed them to be. If you're buying, I'm willing to listen.
Don't be shy - try a bribe. It might help.
---