•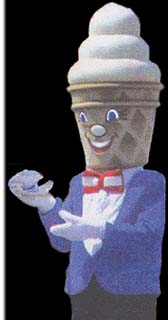 Mr. Softee is an ice-cream franchise and perpetual butt of erectile dysfunction jokes and a familiar sight when I was growing up in Northeast Philadelphia.
If you grew up in an area served by Mister Softee, you'll always remember the musical jingle. Sixty-plus years later and from 3,000 miles away, it still sticks in my head. Then there's that slightly-creepy smiling cone-head cartoon logo. It turns out that there is a Mr. Softee in Wildwood and it features a live Mr. Softee mascott in full cone-head costume.
• The Hole In The Wall in Wildwood Villas offers any hoagie or cheese steak in three sizes: $3.99 for 6 inches, $6.49 for 12 inches and $10.99 for the two-foot version.
• Mike's Rio Steaks & Pizza, located in the Rio Grande section of Cape May County notes that it is "now under new ownership" and carries the slogan: "You Wanna Pizza Me?" One of Mike's offerings is The Greasy Thumb Sandwich for $8.95, consisting of a cheese steak, grilled chicken, french fries, lettuce, tomato, mayo and ketchup.
• American Deli & Pizza's ad proclaimed, "The lobster salad hoagie is back!"
• The Blueprint Sub Shop, located at Exit 4 of the Garden State Parkway, offers "fresh subs, salads and sushi" - a combination not often seen on the planet.
• If you need your place cleaned there's a cleaning service in North Cape May: 'Sun of a Bleach'. Slogan: "Our Business Is To Make Yours Shine."
• The Fish Cakes Dockside Grill in Cape May offered a coupon: "Buy one order of donuts & get one order free." I don't know if they offer fish-flavored donuts. The restaurant/donut shop is located at the BreeZee Lee Yacht Basin.
• Speaking of donuts, there's a new establishment this year:
• Jerry Blavat - aka: The Geator With The Heater - appears weekly at The Cattle 'n Clover Irish Steakhouse, advertised as "home of the Guinness Book Of World Records for Sheppard's (sic) Pie," every Tuesday. On Thursdays, The Geater can be found at The Lighthouse Pointe.
• Morey's Amusement Pier has a new roller coaster. A full-page ad proclaims, "Like Grandma Morey always says, You only YOLO once!" Were he alive, I'm sure that Mr. Rogers would ask, "Can you say 'redundant'?"
A Morey ad in another paper offers this strange slogan: "It's More Summer Than Hungry Seagulls!"
Morey's also has a restaurant called Stubborn Brothers Beach Bar and Grille (sic).
• A new business just opened on the Wildwood Boardwalk called It'sugar, pronounced 'It's Sugar', not 'It's Ugar'. A newspaper article noted, at It'sugar, bigger is better. The store carries giant-size candy, such as a one-pound Reese's Peanut Butter Cup and a five-pound gummy bear.
If I ever move to Wildwood, I think I'll open a pharmacy next door named It'sInsulin. And I'll sell two-pound Metformin pills.
• Wildwood's Firehouse Tavern (slogan: 'We're Just a Little Bar on a Big Island') suggests you "Try Our Fresh Homemade Pork & Spinach Sandwich."
• Need some shore furniture or decor? There's this place featuring testimonial from a talking swordfish head mounted on a trophy plaque:
• Your week at the shore could begin with Margarita Mondays - only $4 apiece - at The Blue Water Grille (sic) in Wildwood. At 6:00 pm and 8:00 pm, the establishment features an Elvis impersonator. I wonder if he sings 'Blue Hawaii'?
• Shamrock Beef & Ale ('A Wildwood Tradition Since 1937') offers 4 beers for $1.00 on Mondays. It's open daily 11:00 am to 3:00 am.
• I'm happy to report that two restaurants I've mentioned before, The Garden of Eatin' (Avalon) and The Surfing Pig (Wildwood) are still in business.
• The New Jersey shore is, as you'd expect, full of seafood restaurants. Wildwood is a favorite destination for South Philly Italians and their suburban descendents, so there is a plethora of Italian restaurants: Little Italy in Wildwood, Vincenzo's Little Italy II in North Cape May, Nino's, Natalie's Italian Kitchen, Sapore Italiano in West Cape May (East Cape May would be the Atlantic Ocean, you know), Poppi's (I hope it's no relation to the one in the 'Seinfeld' episode), Joey M's La Piazza Cucina, de Ninno's in Wildwood Crest and many more, including the Ravioli House, which is celebrating its 47th anniversary.
At the risk of stereotyping, I must point out that this year's North Wildwood Italian-American Festival featured meatball relay races.