Philadelphia Memories - Part IX
---
Tool Archeology: My father-in-law owned a large wood-handled flat-blade screwdriver, a Yankee No. 90, made by North Brothers Manufacturing Company, a Philadelphia manufacturer of hand tools. This No. 90 has a blade width is 5/16 inches, shaft length is 5 inches and the overall length is 10.6 inches.

North Bros. was an American manufacturer based in Philadelphia, Pennsylvania that specialized in the making of hand tools, small appliances and some specialized power tools. They were family-owned and operated for over ... (more >>>)
---
Haulin' Gas: Gulf Oil was established in Pittsburgh around the turn of the 20th Century and was the source for much of the Mellon family fortune. Gulf built its first Philadelphia refinery in 1905 at Girard Point in South Philly and was a well-known gasoline brand in the area. Grades were subregular Gulftane, Good Gulf regular, Gulf No-Nox Ethyl premium and later, Gulf Super Unleaded.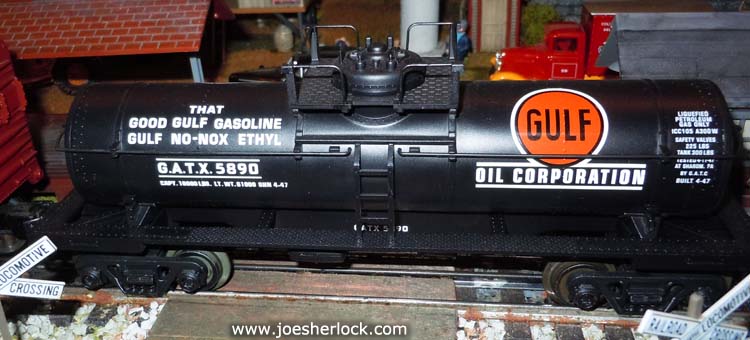 This O-gauge single-dome Gulf Oil Tank car, which I run occasionally on my Philly-themed model train layout, was made by Industrial Rail. I purchased it new in late 2001. According to the markings, it "carries" Gulf No-Nox Ethyl.
Car guys sometimes talk about fueling up with bad gas. I've experienced gasoline going bad when it gets too old but, in my 57+ years of purchasing gasoline for my cars, I've only gotten one bad load and it was from a Gulf station. My red '63 Volkswagen became hard to start, idled roughly and stumbled when accelerating. The next time I filled up - with non-Gulf gas - the problem went away.
The other strong memory I have of Gulf is when their Girard Point refinery caught fire in 1975. It was a horrendous blaze. Eight firefighters were killed, 14 more were injured and four Philadelphia fire trucks were destroyed. I remember a relatively young Andrea Mitchell (who was then a field reporter for KYW television - an NBC affiliate at the time) reporting on the blaze with the Penrose Avenue bridge - which spanned the refinery - in the background. In those days, Ms. Mitchell was not the glammed-up, blonde NBC News Chief Foreign Affairs Correspondent you see on TV today. In the '70s, she had dark hair, a rough complexion and a New Yawk voice and attitude. Who would have guessed that she would eventually marry Alan Greenspan, who was once the Chairman of the Federal Reserve.
As for Gulf Oil, the company merged with Standard Oil of California in 1985 and its stations were rebranded as Chevron. These days, for convenience, I usually gas up my cars at the nearby Chevron station in Washington state. (posted 3/6/17, permalink)
---
Tank You: Lionel Electric Trains has offered Sunoco tank cars since the 1930s. On the three-level train layout built by my dad in 1947, the middle level had a steam loco pulling a freight consist. One of the freight cars was a post-war, silver double-dome Sunoco tank car.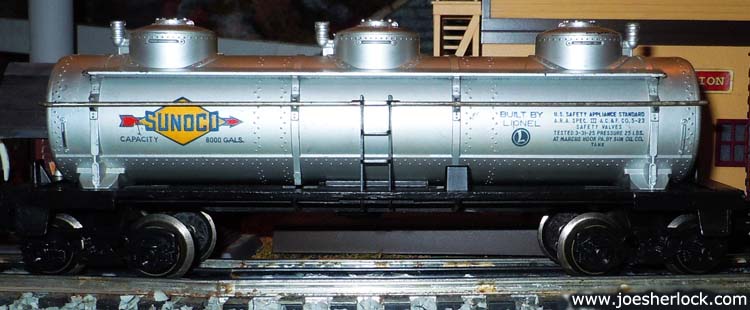 This three-dome plastic one, which I run occasionally on my present model train layout, was first introduced in 1953. I picked mine up at an area train swap meet in 2002 for $15. It is marked "built by Lionel."
Once known as Sun Oil Co., the Philadelphia-based refiner was best known for ... (more >>>)
---
Rocket 88: This mid-October 1956 photo of Fierstein Brothers Oldsmobile, a dealership in the West Oak Lane section of Philadelphia, shows a one-make small new car dealer. Such establishments dotted major cities across the U.S. in the mid-20th Century.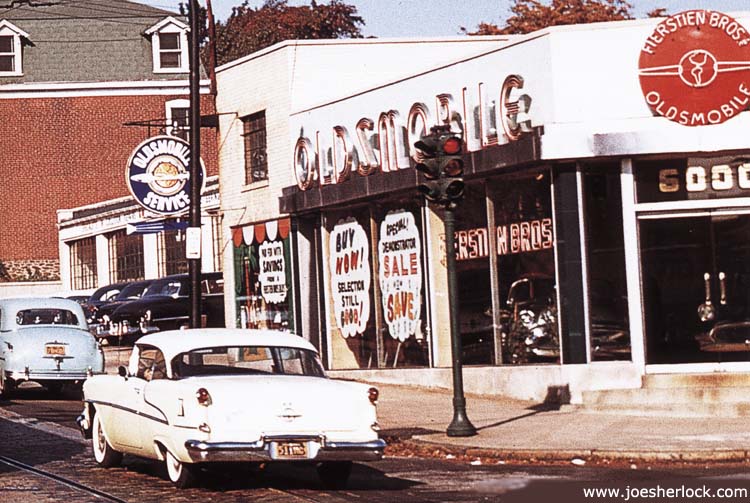 Fierstein Brothers was located at 6000 Old York Road - the intersection of Old York Road and Champlost Avenue. In the photo, a 1955 Oldsmobile 88 Holiday coupe drives past the dealership. That model was one of 85,767 Olds 88 two-door coupes made in the 1955 model year. Prices began at $2,474 and the car was powered by the legendary Oldsmobile Rocket 88 V8 engine, which made 185 horsepower in standard form. More on the 1955 Oldsmobile can be found here.

Oldsmobile's powerful postwar overhead-valve V8 engine was praised in Jackie Brentson's 'Rocket 88' recording in 1951. Many music critics consider this recording to be the true first rock and roll song. 'Rocket 88' was about a car - a 1950 Oldsmobile 88 with a high-compression, overhead-valve Rocket V-8 engine. The song is also notable because it featured Ike Turner on keyboards.
Trolley tracks seen in the photo are for Route 6 trolley which used to run to Willow Grove Amusement Park.
Most of these small auto dealers consolidated, merged or disappeared in the latter part of the 20th Century, although Fierstein was still around in the early 1990s. Auto brands consolidated, too; General Motors discontinued Oldsmobile in 2004. (posted 1/3/17, permalink)
---
---
Other Pages Of Interest
copyright 2017 - Joseph M. Sherlock - All applicable rights reserved
---
Disclaimer
The facts presented in this blog are based on my best guesses and my substantially faulty geezer memory. The opinions expressed herein are strictly those of the author and are protected by the U.S. Constitution. Probably.
Spelling, punctuation and syntax errors are cheerfully repaired when I find them; grudgingly fixed when you do.
If I have slandered any brands of automobiles, either expressly or inadvertently, they're most likely crap cars and deserve it. Automobile manufacturers should be aware that they always have the option of giving me free cars to try and change my mind.
If I have slandered any people or corporations in this blog, either expressly or inadvertently, they should buy me strong drinks (and an expensive meal) and try to prove to me that they're not the jerks I've portrayed them to be. If you're buying, I'm willing to listen.
Don't be shy - try a bribe. It might help.
---