---

---
Road & Track Magazine
Looking Back: I have thrown out most of my Road & Tracks. Having carted them through three moves and racking up over 4,000 miles on them, I've decided to let go. I'm no longer afraid that someone on the street will give me a pop quiz, asking the cc displacement of a 1974 Fiat.
My R&Ts went into the recycling bin because they're basically worth nothing. No one wants them. Even if someone did, the cost of shipping them exceeds their miniscule market value.
I had discarded a controlled amount each week, since our recycling bin only holds so much. This gave me time to peruse each issue before I got rid of it. I studied the 1970s and '80s issues and learned some interesting things:
• In 1972 - two years after its introduction, the Datsun 240Z still had a seven month waiting list.

• The Renault R5, known to us Americans later as LeCar, debuted at the 1972 Geneva Auto Show. It offered a fresh, groundbreaking design in the small car field and many of its various design details were incorporated into other automaker's offerings for the next decade or so.

• I had forgotten about all the cigarette ads the magazine used to carry. "There's never a rough puff once you come up to KOOL, with the smooth taste of extra coolness." "Tareton smokers would rather fight than switch." "Get hold of honest taste ... Old Gold." "Winston tastes good, like a cigarette should." "Salem refreshes naturally." And so forth.

• Some things never change though: General Motors teased everyone at the 1973 Frankfurt Show, by unveiling the mid-engine, Wankel-engined Corvette. But, of course, they never built it. Hmmmm. What else is new?

• The 1974 Honda Civic was really a small car - only 140 inches long and 1,600 pounds dry. But it cost a mere $2,000, had a 50 hp engine, got 30+ mpg and did 0-60 mph in a peppy-for-the-time 14.1 seconds.

• Perusing the 1972 classified ads at the back of the magazine, I found that one could be the owner of an early-1950s Bentley S-2 Mulliner-bodied Continental coupe for "best offer over $7,500." Or a '65 AC Cobra for $9,000. Or a '68 Lamborghini Miura for the same. Several Mercedes 300SL gullwings were available at prices ranging from $5-12,000. A '57 Porsche Speedster could be had for $2,000. And, if you had $5,000 to spend, you could be driving a 1938 Talbot-Lago Chausson-bodied three-position drophead coupe.

• In 1988, one of R&T's pundits wrote an article about future collectibles and predicted that, by 1998, a 1956-57 Continental Mark II would command sale prices of $200,000. He turned out to be optimistic by about $170,000.

• During the 1970s, Road & Track became as gloomy as the auto industry itself. The 12/72 issue carried the headline 'Farewell To Convertibles', predicting that drop tops would disappear due to changing market forces and draconian safety regulations. A November 1972 article carried the ponderous title 'The Cost Of Clean Air - Are We Going Overboard?' The article was full of depressing tables, graphs and charts. R&T editors were enamored with graphs. No wonder - publisher John R. Bond was an engineer by training.

Many of the road tests from the period reported stumbling, stalling and carburetor troubles. Early '70s readers were advised to buy a car now because - a bad as they may be - they're only going to get worse as "complicated smog and safety rules" blossom. There was also a lot of grumbling by various writers about the massive and ungainly 5 mph bumpers which became mandatory on post-1972 models.

• An extended report on a 1971 Chevrolet Vega proclaimed the car "stylish and reliable but noisy and cramped." Reliable was a relative term - the Vega gave R&T "a lot of carburetor trouble" during its 24,000 mile test and returned a mere 18.4 mpg. But gas mileage is relative - the 1972 Jaguar XJ-12 sedan returned only 10.3 mpg.

• In September 1973, editor John Dinkel previewed the new Mustang II. He ran the clock on a Mach I with V-8 and 4-speed and recorded a 0-60 time of 13.8 seconds (not much faster than the Vega four-banger or the little Honda Civic). Dinkel drove five different Mustang II models and reported that "none of them were exciting."

The same year, Henry Manney III tested a Beetle Sport (a superficially tarted-up VW with stock engine) and got a 0-60 time of 18.2 seconds.

• Several knowledgeable people have told me that Mercedes used to "make bank-vault solid, dependable cars but the new ones are crap." R&T staffers might beg to differ. During a 1973 road test on a Mercedes 280, "on the first hard corner to the right, the right axle shaft came out of its wheel hub. Some lock washers had been omitted at the factory, it turned out."

Carb problems made the engine "rough running", the engine dripped oil due to a bad seal, the heat control became jammed and the A/C compressor clutch had so much play that it was frequently hitting the engine fan, making "a loud clunk." Nicht sehr gut.

• Road & Track was, I think, forced to lower their expectations and eventually tried to find some good in every model tested. The 1973 Datsun B210 cost $2,600 new got 27.5 mpg and did 0-60 in 16.7 seconds with a four-speed stick.

With a straight face, R&T said that the it bore "some resemblance to the Maserati Indy and Citroen SM." Huh? My parents had two B210s; they were rolly little marshmallows with meager pep. And neither looked like a Maser to me. But I learned from the Road Test Report that the Datsun's 67 hp engine had a Hitachi carburetor. I never knew Hitachi made carbs but I can tell you that their televisions are damn fine - I've owned two of 'em.

By '81, with so many European cars being withdrawn from the American market, R&T was getting a bit desperate, testing things like the horrid Dodge Aires K wagon. (It took 14 seconds to 60 mph.)

• The folks at Road & Track once got into quite a pissing contest with Ralph Nader over his book which condemned the VW Beetle as fundamentally unsafe. R&T described the book's 'data' as "statistical masturbation" and offered a point-by-point rebuttal. The magazine was always a cut above the other car buff books, offering facts, engineering analysis and logic. And graphs. Publisher John R. Bond was an engineer and it showed.

In 1960, Bond wrote that the Wankel engine would never amount to anything. With the exception of the Mazda RX, he was right. John reasoned that it was "too dirty," foreseeing the eventual need for reduced tailpipe emissions.

As a young reader in the late 1950s, I thought John R. Bond must have been the coolest car guy on the planet. Being very ignorant about the realities of the independent specialty publishing business, I assumed that he was a multimillionaire mogul who had a stable of exotic Italian sports cars. And a Pegaso with desmodromic valves.

I was dismayed to learn that, by 1972, he was driving an AMC Javelin which was "running beautifully with 62,000 miles on the odometer." His wife Elaine had a yellow MG-TC - a conversation-starter of a car, to be sure. But a real tin can as modern sports cars go. It had the deadly trio of 1930s automotive technology, indifferent British craftsmanship and Lucas electrics.

• Road & Track tested the Caddy Seville diesel in '81 and recorded a 0-60 time of 21 seconds - identical to my 40 hp VW Beetle which I tested in 1964 using calibrated instruments. R&T's first-ever road test vehicle was a 1947 Ford. It, too, had the same 0-60 time as the Caddy diesel and got 14-15 mpg from its little flathead V-8.
In 34 years, automobile acceleration had returned to where it started. (posted 7/13/07)
---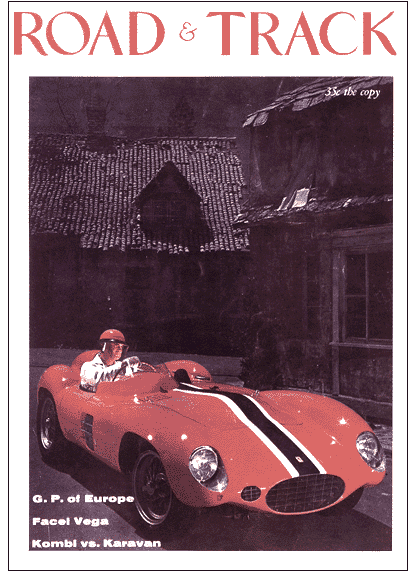 Basement Archeology: A recent clean, toss and reorganize campaign in my basement unearthed an additional discovery - another box of Road & Tracks in the lower corner of a metal shelving unit. Most were from the 1980s and got tossed. But I found a treasure trove of old ones from the 1950s and early '60s which I'm keeping.
I even have the October 1957 issue which I purchased at a newsstand on the way home from high school as a Freshman. For "35¢ the copy". Who would have ever thought that 50-plus years later I'd be giving it another look?
The magazine was mostly b&w; only the cover and the centerfold were four-color printed. On the masthead, one David E. Davis, Jr. was listed as Advertising Manager. John R. Bond's 'Miscellaneous Ramblings' included news and photos of the new 1958 Edsel. And mention of the revised VW Beetle, now sporting a larger, non-oval window. (The first R&T I ever purchased was the April '57 issue which featured the steam-powered Paxton Phoenix on the cover.)
Road tests in the September issue included a $3,889 Mercedes 219 4-door. (Cadillac pricing for a Rambler-sized car.) Equipped with a six-cylinder engine, four-on-the-tree and riding on a 108 inch wheelbase, the sedan did 0 to 60 mph in 15 seconds and the quarter-mile in 20.3.
R&T also tested the $1,598 Fiat Multipla. This microvan seated six, weighed 1,560 pounds, had a 21.5 horsepower engine and was under 12 feet long, riding on a 78 inch wheelbase. Top speed was 59 mph; it did the quarter mile in 32.3 seconds.
The period display advertising was most interesting. The Rootes Group ran a Sunbeam ad showing racing legend Stirling Moss and his two-door Rapier.
A full-page DKW ad posted by Germanic Auto Distributors of New Haven, CT invited folks to "Write for name of nearest dealer." No website, no toll-free number. Write a letter and put a stamp on it to prove to us that you're interested.
A full-page ad featured the Triumph TR-3 at "Only $2,625".
Autobooks, a Southern California firm which is still around (I last visited them in 2002 at the same address), advertised 1:24 scale plastic sports car kits for $2.00 each. Or "Buy all 9 for $16.00." There was a small box ad for Carroll Shelby Sports Cars, Inc. of Dallas Texas: "Maserati & Lotus Race cars - In Stock".
The MG Mitten columnar ad had the usual "Hi there" greeting from proprietress Marion Weber but carried an actual photo of Ms. Weber, not the pen & ink caricature used in later issues. Marion A. Weber started her car cover and auto accessories business in the mid-1950s. She sold it in 1987. Sadly, the new owners went bankrupt in 1988 and MG Mitten closed its doors.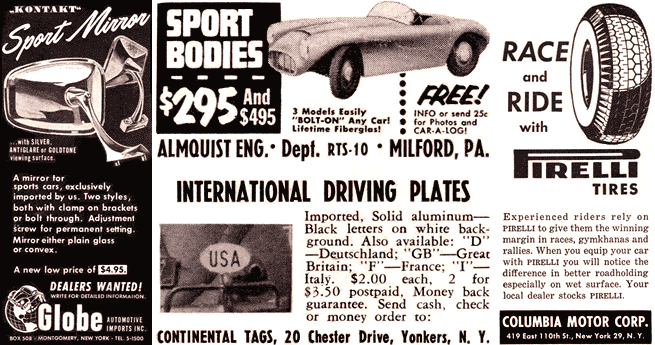 Then there were ads for various gadgets to improve fuel economy:

The best surprises came from the classified ads:
• A pre-war BMW 327 convertible (the model was made from 1936-41) described as "mint condition throughout" was offered at $1,400.

• A Bugatti Type 35 - "excellent condition throughout" - could be had for $1,900 OBO.

• A Cord 812 Sportsman, described as a "frequent concours winner" was priced at $2,750.

• A 1937 Jaguar SS 100 ("mint condition, perfect running order") was for sale for $2,500.
Those were the days. (posted 3/14/08, permalink)
---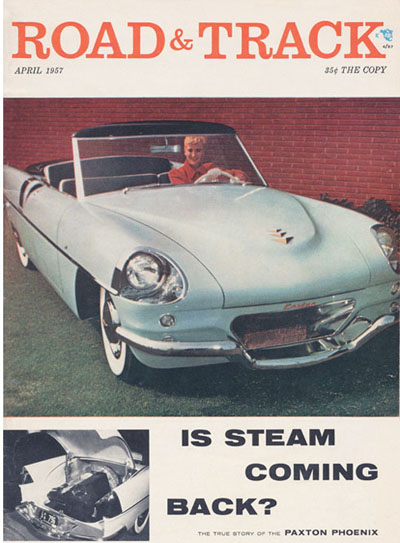 Unfulfilled Dream: The very first Road & Track I ever bought was the April 1957 issue.
I purchased it with my hard-earned 35¢ when I was in 8th grade, giving me something to read while riding multiple bus lines to take the entrance exam for LaSalle High School in Philadelphia. (I was later accepted but chose another school, St. Joe's Prep, instead.)
That R&T issue featured a cover story on the stillborn Paxton Phoenix sports car. The story was titled 'Is Steam Coming Back?' and was written by the legendary John R. Bond.
The Paxton was to be a steam-powered automobile and was designed by Brooks Stevens.
Stevens seemed to be a bi-polar designer; he is responsible for some of the best-looking and worst-looking cars ever made.
The Paxton was pretty advanced-looking for the period. It was originally designed in 1952 and looked a bit like the Renault Caravelle of the 1960s.
The Paxton Phoenix was conceived by Paxton-McCullough Engineering (of Paxton supercharger and McCulloch chain saw fame).
It was supposed to be powered by an Abner Doble-designed three-cylinder 120 horsepower steam engine but the prototype was powered by an air-cooled Porsche engine mounted amidships.
The Phoenix had a fiberglass body which rode on a 118-inch wheelbase.
The Paxton featured a novel retractable hardtop. The top design was very clever. The contour of the top was similar to the trunk lid.
The top would slide down in one piece on chrome rails mounted on either side of the back deck, creating a top-down convertible.The project was eventually abandoned because of higher-than expected anticipated production costs. After spending more than $1 million on development, Robert Paxton McCulloch killed his pet project. It was diverting too much money and engineering time from his other, more-profitable business ventures.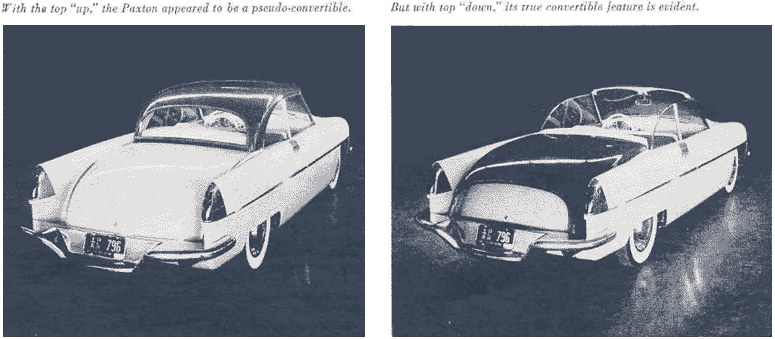 The Phoenix is still around and is now in the hands of a private collector. (posted 12/18/10, permalink)
---
Smells Like A Merger Is In The Offing: In what many long-time readers see as sacrilegious, Road & Track magazine is moving from Newport Beach CA to Ann Arbor MI. Owner Hearst Corporation is relocating R&T to the same town as its other car buff mag, Car and Driver. In a telling move, former C/D editor Larry Webster will now be calling the shots at R&T. Connect the dots, folks.
I was a subscriber to Road & Track for many years. Its southern California location made sense - good weather allowed year-round road testing, and the proximity to many iconic racetracks and the California car culture made for potentially good content. These advantages will be lost when the magazine completes its move to the land of harsh Michigan winters. (posted 6/4/12, permalink)
---

Buh Bye: 24/7 Wall St. has compiled a list of 10 brands that will disappear in 2014. Found in the doomed top ten were Mitsubishi (car sites have been predicting its demise for years), J.C. Penney (I'm surprised Sears didn't make the list, too), Volvo (its market share in America has dropped to 0.3%) and Martha Stewart Living Magazine (ad pages fell from 1,306 in 2008 to 766 last year).
One entry that surprised me was Road & Track. "Founded in 1947, Road & Track is the oldest and most well-regarded automotive magazine in the country, according to Hearst, the publication's owner since 2011."
Unfortunately, Hearst also owns Car & Driver which is doing better than R&T. C&D has an audience of 10.7 million people, which according to Hearst makes it the world's largest automobile magazine brand. "The four dominant magazines have all posted advertising sales drops in the past five years as Car & Driver, Motor Trend and Automobile have each lost hundreds of ad pages. Road & Track has had the worst of it. Ad pages fell from 1,092 in 2008 to 699 last year. Pages are down another 31% to 232 for the first six months of this year." No large national magazine can continue that kind of long-term slide and Hearst has no reason to keep two similar and competing titles.
The very first R&T I ever bought was the April 1957 issue. I was a subscriber for many years. I'll be saddened to see it go. (posted 5/29/13, permalink)
---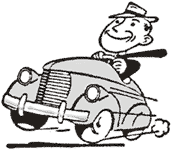 Godspeed: Peter Egan is retiring from his 'Side Glances' column at Road & Track, something he's been producing every month since 1980. In his final column, he wrote, "I'd like to pull back from the monthly-column routine and have more free time to wander about the country, visiting friends and family and exploring the hinterlands. Just feels like time. I also have a couple of moderately serious health problems (tainted with the usual whiff of hypochondria and sloth) and feel the need to step down onto a slightly slower treadmill."
I've always enjoyed Peter's writing. His automotive anecdotes are funny, self-deprecating and informative. Many involve tales of living in the wilds in Wisconsin - winter weather, salted roads, rust, avoiding deer, etc. Or working on British cars. He was born in 1948.
Mr. Egan was the only writer I missed when I gave up my subscription to Road & Track in the early 1990s. There are many good auto columnists but few outstanding ones. Peter Egan fits the latter category. Luckily for me, his columns have been posted online.
Recently, Peter wrote, "Wikipedia goes on to say that Bondo was developed to replace lead filling in automotive dent repair, as lead posed a toxic hazard both to people and the environment. But then it adds that Bondo fumes are also quite toxic, so the filler should be used with gloves, a mask, and adequate ventilation.
Great. After decades of using the stuff, I finally read the small print. I spent my youth hovering over a lead smelter in my dad's printing office, then immediately graduated to slathering Bondo on rusty old sports cars. I just can't win. ... My doctor recently told me that I have mild emphysema, and for this I blame Bondo. Not so much from the pink sanding dust itself, but for all the cigarettes I smoked while sitting around waiting for it to dry. ... Still, it's fun to sit back and watch the paint dry on something you've done. Makes you want to light a Lucky with a Zippo."
I wish Peter well in his retirement. (posted 9/9/13, permalink)
---
Farewell, R&T: Road & Track, once a great car mag, "will now be a lifestyle publication appearing six times a year for a minimum price of $75 and a maximum price of $899."
Jack Baruth, a former contributor, wrote that the magazine now "appears to be a Men's Journal mishmash, the authorial equivalent of the shaggy nonentities who support state-fair tours by former lead singers of Great White or Cinderella. The whole thing, from full-throttle reboot to sheepish lifestyle transition, took exactly eight years."
I was a long-time reader of Road & Track. I bought my first issue in April, 1957. I continued to be a buyer/admirer/subscriber until the early 1990s.
Lifestyle mag?! John R. Bond must be spinning at 6,500 rpm in his grave. (posted 11/10/20, permalink)
copyright 2007-20 - Joseph M. Sherlock - All applicable rights reserved
---
Disclaimer
The facts presented on this website are based on my best guesses and my substantially faulty geezer memory. The opinions expressed herein are strictly those of the author and are protected by the U.S. Constitution. Probably.
Spelling, punctuation and syntax errors are cheerfully repaired when I find them; grudgingly fixed when you do.
If I have slandered any brands of automobiles, either expressly or inadvertently, they're most likely crap cars and deserve it. Automobile manufacturers should be aware that they always have the option of trying to change my mind by providing me with vehicles to test drive.
If I have slandered any people or corporations, either expressly or inadvertently, they should buy me strong drinks (and an expensive meal) and try to prove to me that they're not the jerks I've portrayed them to be. If you're buying, I'm willing to listen.
Don't be shy - try a bribe. It might help.
---
---