'Skin in the Game: Hidden Asymmetries in Daily Life' by Nassim Nicholas Taleb
The premise of this book is fairly straightforward: If you expect a desired outcome in any venture - business, war, money-lending - you must share in the risks/rewards of said venture. Hence the book's title.
Do you really need 236 pages to teach this simple concept? I surely don't think so. Nassim Taleb comes off as a spiteful blowhard within these pages. He describes himself as a flaneur - variously defined as an idle man-about-town, a wanderer with no purpose, or a boring old fart.
He doesn't like Bob Rubin, Secretary of the Treasury during the Clinton Administration, former chairman of Citigroup during the time the failing bank was bailed out by the U.S. Treasury. (The bank's failure didn't cost Rubin anything because there was no downside risk for him - no skin in the game.) He also dislikes former Chairman of the Federal Reserve Ben Bernanke - aka: the Father of Quantitative Easing and enabler of Bailouts during the Great Recession as well as all book reviewers. (I guess that would include me.)
Verdict: Don't bother. This book is worthless because this mean-spirited, arrogant author is only interested in presenting himself as the smartest man on the planet and in enumerating his many grudges and perceived slights. (posted 6/21/18, permalink)
---
'12 Rules for Life: An Antidote to Chaos' by Jordan Peterson
Jordan B. Peterson is a Canadian clinical psychologist, cultural critic, and professor of psychology at the University of Toronto. He has become a You-Tube sensation based on videos of his self-help lectures.
In this rambling but insightful book of almost 400 pages, Peterson expounds upon his twelve rules using stories about his patients, lobster behavior, Egyptians and the Bible. He implores readers to use a set of rules in order to focus on goals, find meaningful and fulfilling work and do things to make our (nearby) world a better place. There are numerous Biblical references in the book and Dr. Peterson constantly reminds readers that earthly life is full of suffering.
I enjoyed the book but, for me, it was too long, with too many details and some repetition. '12 Rules for Life' seemed to be a heavy-duty version of M. Scott Peck's classic self-help book from 1978, 'The Road Less Traveled'.
Verdict: Recommended, as long as you're prepared for a lengthy read. (posted 6/13/18, permalink)
---
'To Change the Church: Pope Francis and the Future of Catholicism' by Ross Douthat
Conservative columnist (and Catholic convert) Ross Douthat relates the turmoil in the Church caused by Pope Francis' actions, writings and interviews. Douthat explains how this Pope has turned the papacy of John-Paul II and Benedict upside down and the danger he has created over giving sacraments to divorced & remarried Catholics and his prevarication over seemingly-settled issues such as homosexuality and abortion. Francis and his supporters seem to think, as the author writes, that people "struggling with the tensions between their personal lives and their Catholicism become neurotics in need of reassurance, not sinners wrestling with grace."
The book is interesting to read, well-written. Douthat believes that the reign of Francis may cause a schism within the Roman church. He notes: "Record numbers of Italian Catholics "took steps to disaffiliate from the Church" in 2015. In Brazil, the decline of Catholic numbers steepened in the Francis era, with nine million fewer Brazilians identifying as Catholics in 2016 than just two years before. Likewise Australia: What had been a gentle decline in Catholic identification under John Paul and Benedict has accelerated in the 2010s." I'm not sure that schism is a certainty but it is worth noting that, as Provincial Superior of the Jesuits in Argentina from 1973 to '79, Francis left quite a mess. According to one Argentine Jesuit, "He left the Society of Jesus in Argentina destroyed with Jesuits divided and institutions destroyed and financially broken. We have spent two decades trying to fix the chaos that the man left us."
On the other hand, this book went to print before Pope Francis forced two legitimate Chinese bishops to step down in favor of Beijing's seven Communist Party-approved bishops. This may be Catholicism's biggest moral crisis since the 16th Century selling of indulgences, which begat the Reformation, a major schism.
Verdict: A recommended read for Catholics concerned about the future and direction of the Church. It is a fact-packed, 208-page book. (posted 6/7/18, permalink)
---
'Kingdom Of Speech' by Tom Wolfe
Sigh ... the best thing I can say about Tom Wolfe's latest book is that it is mercifully brief - 169 pages, not including notes and index.
Yes, I know and I've written it before: Tom Wolfe is an American Treasure. He has produced many thoughtful, thought-provoking, funny works. In past books - fiction and nonfiction - he has conducted archaeological digs at the fringes of our culture and has unearthed treasure troves of interesting artifacts, fetishes and characters. I enjoyed many of Tom's earlier books, including 'The Kandy-Kolored Tangerine-Flake Streamline Baby' in which Wolfe explored car culture and profiled customizers such as Ed 'Big Daddy' Roth and George Barris, 'Radical Chic & Mau-Mauing the Flak Catchers', 'Bonfire of the Vanities' and 'From Bauhaus To Our House'.
Lately .... not so much. 'Kingdom of Speech' is primarily a skewering of Charles Darwin, Noam Chomsky and others regarding their various theories about how speech evolved. I got two takeaways from reading Wolfe's latest book:
• Wolfe further confirmed my belief that Noam Chomsky is an arrogant lefty jerk.

• The Pirana, a numerically small Amazon tribe - extensively studied by modern-day anthropologist Daniel Everett, are the dumbest and most-gullible rubes on earth.
Sadly, the book never answers the question: How did language develop?
Verdict: Move along. Nothing to see here. (posted 5/30/18, permalink)
---
'Secret Empires: How the American Political Class Hides Corruption and Enriches Family and Friends' by Peter Schweizer
This 225-page book (with almost 100 additional pages of notes and index), opens with a quote from Harry Truman: "Public service is a privilege, not a right, and people who accept the privilege of holding public office in the government must of necessity accept that their entire conduct should be open to inspection by the people they are serving." Too few of today's politicians and bureaucrats abide by Harry's admonition.
Schweizer's eye-opening book offers insight into the corruption found in the swamp of D.C. The players are from both parties and are familiar names to most: Joe Biden. Barack Obama, John Kerry, Mitch McConnell and his current wife, Elaine Chao (now U.S. Secretary of Transportation), Dick Durbin, Orrin Hatch, Dennis Hastert, Donald Trump's relatives, the Bushes and, of course, the Clintons.
This book reveals how the children (and relatives) of powerful political figures go into business and profit handsomely, not necessarily because they are good at it, but because people want to curry favor with their influential parents. It amazed me how many relatives of powerful politicians are lobbyists and have made millions for themselves and the politicians, too. In a different book, I read that "in 1974, just 3% of retiring (congressional) members became lobbyists. Now 50% of senators and 42% of congressmen do."
Recently, Thomas Kreutzer wrote that people like himself (and me, for that matter) "haven't been represented by the political elite for a long time and nothing made that clearer than the last presidential election. Early in the campaign, the Democratic candidate wrote off entire states as lost and, as a result, made zero effort to engage the people that live and work there."
Verdict: A must-read if you're interested in learning how corrupt, elected politicians make millions while in office. Highly recommended. (posted 5/24/18, permalink)
---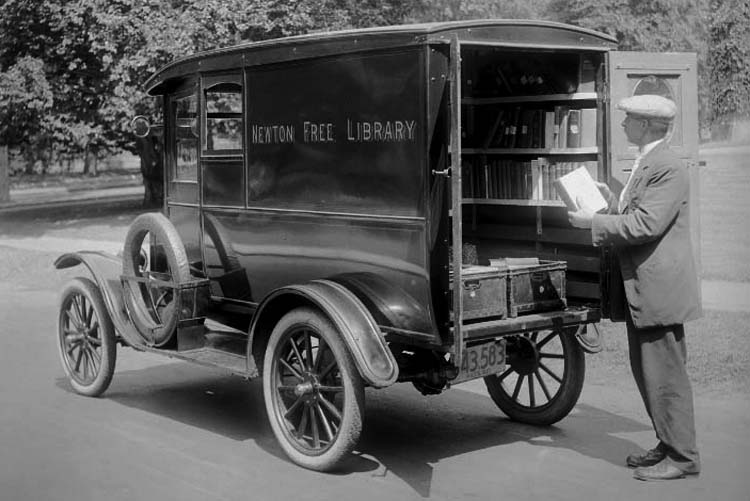 ---
'Movie Nights With The Reagans: A Memoir' by Mark Weinberg
This 237-page sentimental book by President Ronald Reagan's former special advisor and press secretary makes for an easy read. The chapters are built around various movies screened by the Reagans at Camp David.
There is nothing earthshaking here but the author provides unique insight into the Reagans' life away from political settings.
Verdict: Recommended - a nostalgic journey back to the 1980s. The book is a light but enjoyable read. (posted 5/16/18, permalink)
---
'The Second World Wars: How the First Global Conflict Was Fought and Won' by Victor Davis Hanson
Unlike most books about World War II, Hanson's offers dispassionate, strategic look at the multiple conflicts which coalesced into a two gigantic wars - the most lethal conflicts in recorded history. Hanson's book offers a 40,000-foot level overview of the wars.
Victor Davis Hanson is a conservative icon and has a chair at the Hoover Foundation of Stanford University. In his book, he carefully assesses the strengths and weaknesses of the various combatants, comparing equipment, technological improvements, productivity, military strategy and the shortcomings of various leaders. He concludes that America prevailed because of geography - two oceans prevented a large scale invasion, raw material access (Germany, Japan and Italy suffered shortages of fuel and raw materials), massive production capacity, combined with the willingness to improve military designs based on field experience, and well-trained manpower. England prevailed because they had determination and Churchill successfully persuaded Roosevelt to help in the European theater. Russia prevailed because of brute strength and numbers of soldiers who were willing to fight under terrible battle conditions. Hanson also thoroughly debunks the myth of organized Nazi technical and tactical superiority.
In reviewing the book, John Dale Dunn wrote, "Hanson titled the book for the fact that there were at least two major wars going on in World War II, and it is a mistake to think of the Axis Powers and the European and Pacific wars as a one big theater of war."
Hanson also sets up the thesis that the Axis Powers succeeded initially only because of the hesitance and even fecklessness of the Allies during the late 1930s, "when the Nazis and the Bushido Empire expanded without resistance to take regional control and acquire influence, and even more while the major Allied powers pretended not to see the threat or, in some cases, refused to do anything to stop the aggression.
For the French, English, and Americans, the problem was a collective memory of the carnage of WWI and the commitment to pacifism, or at least weak responses to evil and aggression that resulted."
This book is comprehensive, well-documented and packed with facts - so many that it makes for a slow read because the reader must take time to absorb it all. This is not a book that can be skimmed.
Verdict: Highly recommended. (posted 5/10/18, permalink)
---
'The Cars Of Harley Earl' by David W. Temple
This 192-page book covers Harley Earl the man as well as many of his influential cars. It is bipolar in that it covers neither the man nor his cars in complete detail, due to page limitations. I wish the photos were larger but the smaller photos are also a result of the book being designed to a price. Nevertheless, it is a very good read and provided me with information I hadn't known about before.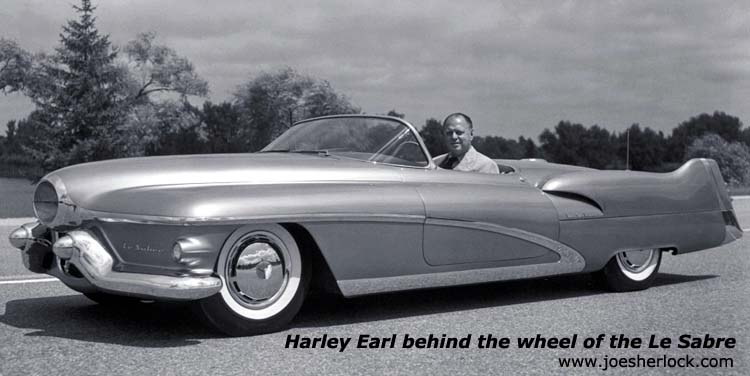 In early 2016, I favorably reviewed Mr. Temple's earlier work, 'Motorama: GM's Legendary Show & Concept Cars'.
I never met Harley Earl - he was before my time - but heard a lot of stories about him from Mort Blumenfeld, who was manager of industrial design at Rohm and Haas' plastics marketing development group from 1952-69. Mort was a renowned industrial designer and knew many of the people who worked for Earl. He related stories of Harley visiting various styling studios late at night and pasting notes on clay models ordering subordinates to move trim from one model to the another, put more horizontal strips on a grille or make taillamps larger.
Mort was quite a raconteur with a large stable of jokes and funny stories. I loved talking about car design with him. He was later inducted into the Academy of Fellows of the Industrial Designers Society of America, joining such luminaries as Gene Bordinat (former Ford VP of Design), Henry Drefuss, Raymond Loewy, Brooks Stevens and Norman Bel Geddes.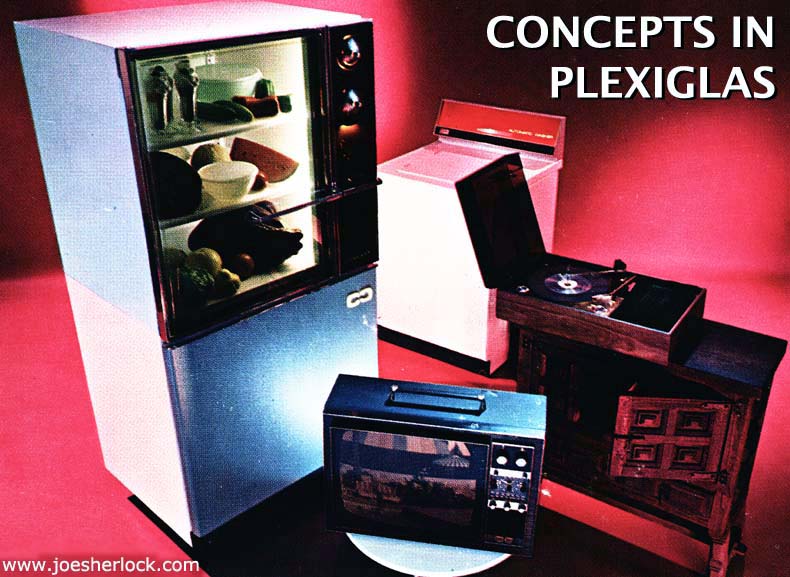 During his tenure at Rohm and Haas, Mr. Blumenfeld spearheaded Concepts In Plexiglas, a 1966 program and traveling exhibit, designed to promote wider use of acrylic plastic in the appliance market.
You might complain that Mort's story has little to do with the book review and is, therefore, a distraction. Yes, but the book itself is full of such distractions ... interesting and information-filled sidebars which are so lengthy that they become much more than mere sidebars and make one - me, at least - lose one's place in the book. But they're good sidebars.
Harley Earl was nothing like other automotive designers of the 1920s. Most of them worked for staid carriage builders in the industrial eastern U.S., designed yachts, or went to art schools. Harley Earl designed and built flashy cars for movie stars in his dad's Los Angeles body-building firm. Noted auto writer Michael Lamm once wrote, "Harley grew up fast and tall in Hollywood at a time when the hometown economy was shifting from citrus to cinema. Earl learned showmanship and flair from the best in the business." Impressed with his sleek custom designs, GM hired him and tasked him with designing the new 1927 LaSalle which - with its Hispano-Suiza looks - became an overnight success.
General Motors surpassed Ford Motor Company in sales during the 1920s - thanks to the leadership of Alfred Sloan and the styling of Mr. Earl. While Ford continued to refine its manufacturing process to reduce costs, Sloan paid special attention to consumer desires. GM offered style and a variety of colors - at a more expensive price, of course. Its focus was on comfort and product improvement - a contrast to Ford's penny-pinching on the now-dated T design which old Henry deemed 'good enough'.

The General served up lines of cars in different price ranges from the entry-level Chevrolet, to the mid-priced Pontiac and Oldsmobile ranges, to the near-luxury Buick and LaSalle topping out with the legendary Cadillac brand. General Motors engaged in aspirational marketing - start out with our little Chevrolet then move up to our nicer Pontiac and later, our big, comfy Buick. Or our stylish, posh LaSalle. It worked.
By the 1950s, GM was the largest automobile producer and largest manufacturer in the world, with operations all over the globe. It had over 100 manufacturing plants in the U.S. alone. GM was one of the largest employers in the world – only Soviet state-run industries had more workers. In 1955, General Motors became the first American corporation to pay taxes of over $1 billion. Harley Earl ran the group that styled very attractive cars which attracted lots of customers and made GM a world leader.
Many well-known auto designers were former Earl employees. Frank Hershey who designed the 1955 Ford Thunderbird, also worked with Earl and was responsible for the tailfins on the 1948 Cadillac. Richard Arbib, who styled the Packard Pan Am show car and once dated legendary pin-up Bettie Page, worked for Earl. Even Ford styling head George Walker - the Cellini of Chrome - worked for Harley Earl at one time.
But the magic which had worked so well for decades, eventually failed. When General Motors found out about Chrysler Corporation's new 1957 designs, the styling department almost soiled its corporate trousers. Suddenly, The General realized that Harley Earl's age of high 'power dome' hoods and chrome applied by the bucketful with a trowel was over. It was too late to do anything about the '58 models (the '58 Buicks and Oldsmobiles are case studies in high hoods and excess brightwork), but a crash program was initiated to make GM's 1959 models as wild as Chrysler's. The result were creations such as the soaring-finned '59 Caddy and the bat-winged '59 Chevy. Those designs were overseen by Bill Mitchell, Earl's successor. Harley Earl retired from General Motors in 1958.
Ironically, Chrysler's Forward Look 1957 cars, which shook up the other Detroit automakers - including Ford, were styled by Virgil Exner, who once worked for Harley Earl in the 1930s, where he rose to head of Pontiac styling.
Verdict: Highly recommended. (posted 5/2/18, permalink)
---
'Passing Parade: Obituaries & Appreciations' by Mark Steyn
This is a 326-page collection of 50 obituaries for celebrities or near-celebrities as well as Frank Sinatra's piano player and the man who invented Cool Whip. Post-mortem profiles included Bob Hope, the Queen Mum, Prince Rainier, Ray Charles, Rosemary Woods, JFK, Jr., Idi Amin and more. Each obit is interesting in itself. Many are irreverent and witty; all are chock full of information about the deceased.
Mark also wrote 'America Alone' and 'After America', both of which I favorably reviewed.
This book contains lots of fun stories including a few involving sexual peccadilloes of the famous. Here are some tidbits I enjoyed:
• Andrew Cavendish, the 11th Duke of Devonshire, was known for his "prodigious philandering," he testified in a court case. "English girls are the best in the world. As for a dalliance, well, the French have their strengths and the Italians are very agreeable. But, if you want my advice, stick to English women." Spoken like a true patriot.

• Centenarian Senator Strom Thurmond had wandering hands and once "made an ill-advised attempt at bipartisan outreach and groped Senator Patty Murray." This doesn't speak well of the man's taste in women or, perhaps, it simply demonstrates what a horndog the orange-haired geezer was. He once had sex in the back seat of his car with a condemned murderess during her transfer from the women's prison to death row. Strom was said to have "a soft spot for (the murderous) Mrs. Logue, whom he'd hired as a teacher back when he was School Superintendent. She didn't meet the minimum qualifications for the post but was said to have had unusual 'vaginal muscular dexterity'." She probably was hotter in the sack than Patty Murray, though. Here's a quote attributed to Senator John Tower: "When ol' Strom dies, they'll have to beat his pecker down with a baseball bat in order to get that coffin lid closed."

• Mark wrote about Englishman Jess 'The Bishop' Yates, "the organ-playing host of a top-rated religious show called 'Stars on Sunday'. The Bishop's career had come to a sudden end when he was discovered also to be playing his organ with a 16 year-old girl." Oops.

• Katherine Graham was proprietress of the Washington Post and was famous for her D.C. A-list-only parties. When she died in 2001, Steyn remarked that "judging from the tome of the drooling eulogies," some people were assuming that ol' Kay would be "continuing her salons in the unseen world and that, come their own demise, they want to make sure they're at the top table with Kay, the Kennedys, Pam Harriman and not down at the déclassé end near the powder room with God, Christ, St. Peter and other losers."

• In his Tupac Shakur obit, Mark mentioned that he never knew that thug/record magnate Suge Knight lived next door to Wayne Newton in Las Vegas. "What did Wayne do to deserve that? It's like discovering Saddam Hussein lives next door to Angela Landsbury. What do they talk about over the fence?"
Verdict: Recommended. A fun and informative read. (posted 4/26/18, permalink)
---
'The Big Picture: The Fight for the Future of Movies' by Ben Fritz
As we've all seen many times before, the knockout punches of technology, globalism and culture shifts have put many industries on the ropes. Or turned them upside-down. Twenty-first-century Hollywood is no exception.
Stars have seen their power diminished. Productions are more often than not lifted from old television series and action comic books. Films are positioned to provide a platform for toy sales and to be re-edited to suit foreign markets, especially China. Animation films are popular because they can easily be dubbed into many languages. In addition, subscription services such as Amazon and Netflix are now commissioning films of their own. (The book doesn't cover this but, as I write this review, Netflix is proposing a venture with Comcast to broaden its audience and better compete with Amazon in the longer term.) Market strategies seem to change by the minute.
The author also points out that the old business model no longer works. In the 1980s and '90s, losses from unexpectedly-low U.S. movie theater losses could be made up with a combination of foreign theater distribution and worldwide video sales. But video sales began drying up as internet streaming (Netflix) and short-term DVD rentals (Redbox) became popular.
Author Ben Fritz has skillfully chronicled the dramatic industry shake-up of the past 15 years with emphasis on both the financial and entertainment aspects of movie making. The downfall of Sony Pictures and the rise of Disney and Marvel are analyzed in detail, revealing the effects of emerging entertainment trends.
Stories are told in the breezy, fast-paced style of a knowledgeable insider. I learned much, including why the film business is such a crap shoot, why everything made is subject to remake and why action movies are a better bet financially than dramatic films. The author also provided expert guesses about where the industry is headed.
Verdict: Highly recommended for anyone interested in films and/or the movie biz. (Review copy provided by Houghton-Mifflin-Harcourt) (posted 4/20/18, permalink)
---

---
'Why We Sleep: Unlocking The Power Of Sleep And Dreams' by Matthew Walker, Ph.D.
This book is a New York Times bestseller probably because people are attracted by the title and by thumbing through the first chapter or so. In fact, the first few chapters were quite interesting, then the style lurched into Research Paper Mode and became dreadfully boring. I shouldn't be surprised; Walker is a professor of neuroscience and psychology at UC Berkeley.
He is also master of the In My Field overstatement, positing that we are in the midst of a "silent sleep loss epidemic" that poses "the greatest public health challenge we face in the 21st century." Funny, I would have thought it was North Korea. Or Iran. Or global warming. Silly me.
I did learn a few tips for better sleep but I had to trudge through a lot of wordy, scientific mumbo sprinkled with jumbo to find them.
Verdict: A real snoozer. (posted 4/18/18, permalink)
---
'The Life Steve McQueen' by Dwight Jon Zimmerman
Done in a lotsa-pictures, coffee-table-book style (but too-small in size) and containing biographical information (but lacking the drilled-down details found in most biographies), this book is more of a celebration of Steve McQueen - the person, the movie star, the racer and, ultimately, the legend - the King of Cool.
Each chapter is a stand-alone vignette about a particular aspect of McQueen. Naturally, there's a chapter for each of his films, including his first starring role in the 1958 horror flick, 'The Blob'. The title song became a minor hit that year; it was written by another unknown, Burt Bacharach. Naturally, there's a chapter on 'Bullitt', McQueen's most iconic movie.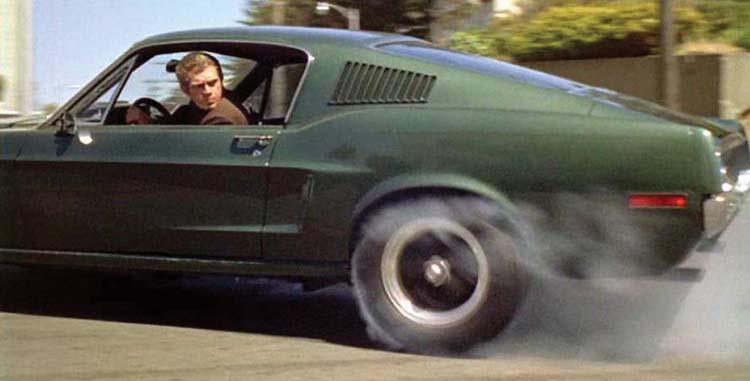 In addition to films, there are chapters devoted to his early days, his television years, his motorcycles, cars, racing endeavors, his Don Quixote-like quest for the ultimate racing movie: 'Le Mans', the 1971 film which bankrupted his production company and reportedly cost him his first marriage.
There are also chapters about McQueen's possessions, his love of jazz and his street cars - including his Jaguar XK-SS Roadster (Steve called it The Green Rat) which the book reveals he sold in 1969, "but missed it so much that he bought it back in 1977." I stood beside that very Jaguar at 'Allure of the Automobile' exhibit at the Portland Art Museum in 2011: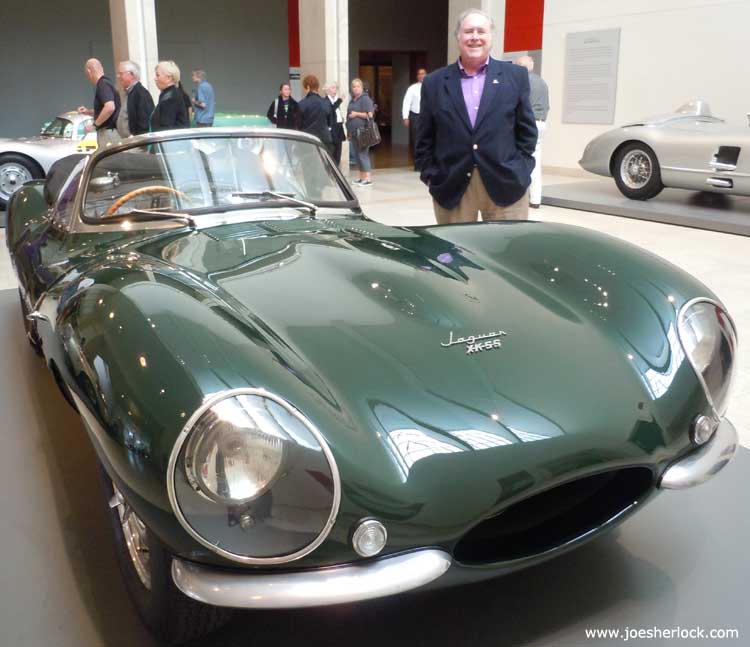 There are also chapters about his watches, favorite alcoholic beverages (Old Milwaukee beer) his love of jazz - as exemplified by Bullitt's jazz-inspired score, arranged for brass and percussion by legendary Lalo Schriffrin. In the same movie, the jazz quartet performing in the Coffee Cantata scene was Meridian West - chosen by McQueen when he heard them play at a gig in Sausalito.
This book is an easy and informative read for anyone who enjoyed Steve McQueen - the man, the racer or the actor.
Verdict: Strongly recommended. (Review copy provided by Motorbooks, an imprint of Quarto Publishing Group) (posted 4/12/18, permalink)
---
'China's Great Wall of Debt: Shadow Banks, Ghost Cities, Massive Loans, and the End of the Chinese Miracle' by Dinny McMahon
This book is part-way between China-Cheerleader Tom Friedman ('That Used To Be Us') and China-Is-Killing-Us John Bassett III ('Factory Man').
Author McMahon, who spent a decade in China as a journalist covering the Chinese economy and financial system for the Wall Street Journal and for Dow Jones Newswires, provides an inside look at the unsteady foundations of China's 'miracle' economy, which is built on mountains of debt combined with corrupt and unprofitable state-owned industries. Solid data are hard to come by and the numbers are often fudged. The state still controls the actions of independent companies which makes them uncompetitive or are forced to abandon markets because the state suddenly deems products as "not profitable enough."
I have previously related the story of price increases by Chinese manufacturers of diecast model cars caused by the Chinese government deciding that major industries such as mobile phones, computers, and iPads get priority for land space and other less-clean, lower-margin industries such as diecasting must relocate - sometimes to a low-labor-cost country like Bangladesh or Vietnam. Or go out of business.
The book is filled with individual stories and I learned much: Bobbies, the lavender-stuffed teddy bears which are so popular in China that they have severely tested Australia's lavender-growing capacity. Or the personal shoppers (daigou): There are forty thousand of them in Australia alone, who purchase foreign-made products (milk powder, vitamins, shampoo, painkillers, etc.) for Chinese citizens who are wary of consumables manufactured in their home country.
Verdict: Recommended. An eye-opener of a book. (Review copy provided by Houghton-Mifflin-Harcourt) (posted 4/10/18, permalink)
---
'The Last 100 Days: FDR at War and at Peace' by David B. Woolner
Seventy-three years after his death, historians are still debating the presidency of Franklin D. Roosevelt. Regardless of how you feel about his legacy, there is no doubt that, in his 12 years as president, FDR changed America forever.
This book is about the 100 days preceding Roosevelt's death. Significant events happened during this period including the Yalta Conference and FDR's visit to Egypt for a meeting with King Ibn Saud of Saudi Arabia, when Roosevelt unsuccessfully lobbied for support Jewish homeland in Palestine. Author David B. Woolner presents a favorable impression of FDR during this period, nor surprising , since the Woolner is a Senior Fellow and Resident Historian of the Roosevelt Institute.
Woolner discusses Roosevelt's cardiac and circulatory problems in a less harsh manner than in Stanley Weintraub's 'Final Victory'. Contemporary physicians have speculated that the president had melanoma that started with a lesion above FDR's left eye - removed in 1940 or so - but eventually spread to his brain and abdomen. This is an explanation for the serious weight loss observed in period photographs, which were not widely published at the time. He had suffered at least one major heart attack hours before a speech in California. FDR was a very sick man and had been so for some time. He died at a relatively young age 63 and looked at least 10 years older in the days before his passing.
The book 'Stalin's Secret Agents' suggested that FDR's ill health caused him to give away too much to Russia at the wartime conferences at Teheran and Yalta, speculating that his addled (and probably cancer-ridden) brain was likely unable to comprehend the extent of his actions.
Woolner's book contains a lot of minutiae, some of it revealing, some boring.
Verdict: OK, but there are better books available which cover much of the same ground. (posted 4/4/18, permalink)
---
'Win Bigly: Persuasion in a World Where Facts Don't Matter' by Scott Adams
I enjoy Adams' 'Dilbert' cartoon and his blog posts abut politics, so I thought I would enjoy the book. I did somewhat. But it felt like a lot of his old blog posts stitched together in a less-than-organized way. The book contained some valid observations and good insight into Donald Trump's campaign tactics. But, about the third time I read "I am a trained hypnotist ...", I began to scream. And Scott kept using that phrase over and over to my dismay. Unfortunately, the book so is stuffed with the author's self-praise, I'm surprised he didn't dislocate his shoulder from patting himself on the back.
Like his other book, 'How To Fail At Almost Everything And Still Win Big', as 'Win Bigly' progresses, the amount of filler and nonsense increases exponentially.
Verdict: This is a short book and is a relatively fast read, so - if you don't like it - you won't spend a lot of painful evenings with it. (posted 3/29/18, permalink)
---
'Martin Luther: The Man Who Rediscovered God and Changed the World' by Eric Metaxas
In this nearly 450-page book, author Metaxas produces a thorough biography of Martin Luther, the once-Catholic priest who spearheaded the Reformation and probably saved the Catholic Church from collapsing due to the weight of its own corruption. I favorably reviewed the author's earlier work, 'Bonhoeffer: Pastor, Martyr, Prophet, Spy', and was not disappointed by 'Martin Luther'.
This book is full of details, some interesting, some tedious. The tales of indulgence-selling (the primary cause of Luther's break from the Roman church) were well-told. I especially enjoyed reading about Pope Leo X, one of four Medici popes. Leo was a money-grubbing buffoon and was not even ordained when elected pontiff. He ramped-up the sale of indulgences - get-out-of-jail cards for those whose sins would or did send them to purgatory - in order to build the magnificent St. Peter's Basilica and care for his pet elephant. Leo employed grifters, such as the Dominican priest Johannes Tetzel to drum up business for these buy-your-way-into-Heaven schemes.
The book ends with Luther's death. I would have appreciated a additional chapter summarizing the spread of the Reformation and the growth of the Lutheran religion beyond Germany.
Verdict: Recommended. (posted 3/21/18, permalink)
---
'Republican Like Me: How I Left the Liberal Bubble and Learned to Love the Right' by Ken Stern
I watched Tucker Carlson interview the author and was inspired to read his 350-page book. Unfortunately, Stern - a former CEO of NPR - offers a plodding, dry work. The reality is that the author was never converted. Throughout the book, he described his encounters with Republicans as if he were observing the strange rites of a primitive tribe - a mixture of awe and disdain. His subtext is to present pro & con comparisons - many factual - but he always comes down on the side of the liberals or, when presented with a strong case for a conservative viewpoint, wonders why we can't all just get along.

As I read the book, I kept waiting for the epiphany promised in the book's title. It never happened.
Verdict: Disappointing ... a con job. (posted 3/14/18, permalink)
---
'Kennedy Babylon: A Century of Scandal and Depravity - Volume I' by Howie Carr
The Kennedy balloon known as Camelot has been leaking air for years as multi-generational scandals have poked holes in the inflated legend. Now Howie Carr comes along and stomps the myth flat with his fun, informative, 268-page paperback book. I particularly liked the cartoon caricatures of the players on the book's cover.
Carr is a sharp-tongued, witty columnist for the Boston Herald and a well-known radio talk-show host. The book is chock full of juicy Kennedy family scandals, including many I didn't know about. Blatant corruption, blackmail, payoffs, cheating, etc. are sprinkled throughout this book like Reese's Pieces in a Dairy Queen Blizzard. Howie peels away Jackie's carefully groomed sainted image; I learned that other Kennedys referred to her as The Widder. Teddy gets some well-deserved takedowns. The family has a multi-generational belief that they are above the law and better than the rest of us. Good hair and toothy grins will get one pretty far in gullible America.
Verdict: I can hardly wait for Volume II. (posted 3/7/18, permalink)
---
'Hacks: The Inside Story of the Break-ins and Breakdowns That Put Donald Trump in the White House' by Donna Brazile
Ms. Brazile has been active in political campaigns since the 1970s. She was Al Gore's campaign manager in the 2000 election. In this 240-page book, she looks at the 2016 election via her role as DNC chairperson - a role she unexpectedly inherited after U.S. Representative Debbie Wasserman Schultz was forced to resign at the start of the Democratic National Convention in Philadelphia.
The DNC was a mess when she inherited it. The party was beset by infighting, scandal, hubris and the embarrassing revelations courtesy of WikiLeaks.
Donna thought she was going to be running the party but found out that she was really just a figurehead with little money or power. President Obama drained the DNC coffers in the 2012 campaign and after. Unlike other presidents Barry O. had little interest in raising money to pay off debt. DNC chair Wasserman Schultz was more interested in perks and partying than fiscal responsibility. Some congresswoman, eh?
The cash-rich Clintons stepped in and bailed-out the DNC in 2015 in exchange for a legal agreement giving Hillary control of money disbursement and senior appointments within DNC. This agreement helped screw Bernie Sanders during the primaries. As Mr. Dooley opined some 123 years ago, "Politics ain't beanbag."
A frustrated Brazile tried to fight back but was undercut when a WikiLeaks document showed that, as a CNN insider, Donna leaked a debate question to Hillary before a primary debate. Donna became a non-person in the Clinton's eyes and never even got a post-election Thank You from Hillary. Ms. Brazile got her revenge with this book, trashing Hillary's operatives with great fervor as well as Donald Trump, whom she despises.
This short book drags in spots, especially in the prolonged tales of hacking, especially by Russia. Brazile seems to believe that the Russians threw the election to the "despicable" Trump, glossing over Hillary's health issues, strategic campaigning mistakes, her infamous 'deplorables' speech and Hillary's general unlikeability. Her claims that Hillary won all the debates with candidate Trump are contradicted by contemporaneous polls. Brazile's charges that Trump inspired his supporters to violence are nonsense; she conveniently forgets the overwhelming violence incited by paid Democrat agitators in many places - Chicago, San Diego and Phoenix come to mind. The Democratic Party has always been the violent party - going back to the election of 1968.
Brazile has nothing but contempt for WikiLeaks yet neither she nor any other embarrassed Democrat has disproven the accuracy of Julian Assange's leaked info. Assange has denied that he got DNC information from the Russians, implying that it may have come from Brazile's friend, DNC staffer Seth Rich, whose 2016 murder remains unsolved. While Donna was spending much time and money trying to insulate the DNC servers from hacks, Hillary was busy Bleachbitting her own personal server while blithely sending classified info to Huma Mahmood Abedin who would transfer documents to her perverted husband Anthony Weiner's laptop - when he wasn't using it to troll adolescent girls, that is - so that she could print out hard copies.
I laughed out loud when I reached page 205 and read "I knew Hillary was an honest person ..." As the late Mr. Rogers might say, "Can you say 'delusional'?"
Verdict: An angry book by another bitter woman who was tossed overboard by the Clintons when she was no longer useful to their interests. Even though she claims to be a political expert, Donna Brazile still hasn't figured out why Donald Trump won and Queen Hillary lost. (posted 3/1/18, permalink)
---

---
'All Out War: The Plot to Destroy Trump' by Edward Klein
I don't want to be a Deep State conspiracy guy, but sometimes there is a compelling narrative with the ring of truth. It is believable that the Deep State screwed up the Bay of Pigs and, when Kennedy threatened to eviscerate the CIA, he was assassinated and replaced with war-monger, get-along-guy Lyndon Johnson. When Bobby Kennedy threatened to make Big Changes, he was done away-with. When MLK became too powerful, he was disposed of. When George Wallace threatened the establishment, he was taken out. And so on.
Now there's Donald Trump who threatens to "drain the swamp," and is suddenly the target of the media, Never-Trump cuckservatives, lefty Democrats and George Soros-backed radical groups. As well as those Deep State alphabet government agencies and quasi-government organizations (CIA, NSA, DOJ, FBI, OIC, NRO, State Dept., etc.) whose middle management is solidly entrenched and unaffected by political shifts in the Executive branch.
The jacket blurb for this book states: "With ferocity not seen since the Civil War, the Washington establishment and the radical Left are joining forces in an attempted coup d'état to overturn the will of the people and return power to the political and media elites who have never been more unhinged." Indeed.
Written by former New York Times Magazine editor-in-chief Edward Klein and published in October 2017, this fast-paced, easy-to-read 243-page book (excluding appendices and index) will wake you up and engage you. Despite President Trump's impressive accomplishments so far, Klein's book documents in detail the efforts of the left and Hillary supporters who will stop at absolutely nothing to try to derail Trump's presidency.
I have favorably reviewed Ed Klein's previous works, 'The Amateur: Barack Obama in the White House' as well as 'Blood Feud: The Clintons Vs. The Obamas'. Mr. Klein has once again written an insightful, interesting, timely and well-researched political book in 'All Out War'.
Recently, at American Thinker, Clarice Feldman wrote, "I stopped in for a late-night coffee with my friend, a fiction novelist who was depressed. 'I spent a year writing about a coup attempt against an outsider who by strategic brilliance defeated the handpicked candidate of a cabal of establishment powerhouses. It involved the highest officials of the FBI and Department of Justice. They manipulated a FISA Court into letting them electronically surveil the candidate and all who worked with him, unmasked their names, leaked what they found, and they still couldn't beat him. Then they engineered the recusal of the attorney general, got his deputy to appoint their bestest pal to be special counsel.
Given free rein, he (the special counsel) hired fierce partisans of the defeated candidate, used the ill-gotten information against her opponents to prosecute three people with minimal connection to the campaign - one for a dubious process crime dependent on the notes of an FBI agent who had earlier orchestrated lies about Benghazi, covered up for the misuse of classified information by the losing candidate, and oversaw the investigation into the president.'
'Sounds great,' I said, so why are you depressed?
'Every publisher I sent it to rejected it as being too implausible to sell to readers.'"
Verdict: I highly recommend Mr. Klein's book. Be afraid, be very afraid. (posted 2/21/18, permalink)
---
'God: A Human History' by Reza Aslan
In 171 pages (with many more pages of footnotes at the end), Aslan explores the history of worship, demonstrating that humans seem to be hardwired to believe in a supreme being (or many of them) and that even early humans ceremoniously buried their dead with the expectation of an afterlife.
The author was raised as a Muslim converted to Catholicism and later became a Sufi, so he has an interestingly broad viewpoint. Born in Iran, he currently lives in California. Aslan presents religious history for the lay reader in an engaging manner. Even the earliest religions assigned human characteristics to gods: "Whether we are aware of it or not, and regardless of whether we're believers or not, what the vast majority of us think about when we think about God is a divine version of ourselves."
Reza Aslan notes that early religions had multiple gods - one for crops, another for fertility, still another for war, etc. Israel went from many gods to one and started a trend which endures.
This book will neither make you a believer nor change your brand of religion. But it will make you think - a good thing.
Verdict: Recommended. (posted 2/15/18, permalink)
---
'The Smear: How Shady Political Operatives and Fake News Control What You See, What You Think, and How You Vote' by Sharyl Attkisson
If you're interested in the inside skinny on political dirty tricks, this is the book for you. Smear tactics have been in use for ages but, in today's world, the process has been organized, optimized, streamlined and supercharged. It helps that many of today's journalists are lazy, careless and have a liberal bias. The result: easily-implanted Fake News delivered to content-hungry journalists by professional sleazeballs hiding behind political PACs and LLCs.
In this 285-page book, Attkisson exposes the opposition researchers, spin doctors and pundits who attempt to shape the viewpoints of potential voters.
Speaking of pundits, the book included a quote Karl Rove made in early 2016 about the presidential election: "If Mr. Trump is its standard-bearer, the GOP will lose the White House and the Senate, and its majority in the House will fall dramatically." So ... how'd that work out, Karl? Why is Rove still on television?
Recently, Michael Walsh wrote, "Ever since postwar American journalism sacrificed its soul on the altar of celebrity sometime in the mid-'80s, a terrible day of reckoning for the craft has been in the works. The "gets" and the gotchas, the "how do you respond to" questions, the how-do-you-feels; the unseemly scrums, the willingness to endure any humiliation from their betters in the hopes of basking, however fleetingly, in reflected glory - that day finally arrived," stripping bare "the profession's pretenses to objectivity and truth-seeking, and exposed them for the tawdry, politicized whores they really are." Indeed.
Much of the book focuses on the devious attempts to derail the Trump campaign by both Republican and Democratic operatives. Ms. Attkisson documents, in great detail, many of the behind-the-scenes conniving and dirty tricks. While a slow read at times, much of the book was a real eye-opener, although I thought Sharyl's 2015 book, 'Stonewalled', was more interesting.
Verdict: Recommended. (posted 2/7/18, permalink)
---
---
'Andrew Jackson and the Miracle of New Orleans: The Battle That Shaped America's Destiny' by Brian Kilmeade and Don Yaeger
Most people think that the War of 1812 concerned battles in DC and around the Chesapeake Bay. Not so. In fact, the Battle of New Orleans was a vital part of the campaign to drive the British military out of America. This 232-page book sets the record straight and relates the efforts of Major General Andrew Jackson to protect New Orleans, a major U.S. port, at the mouth of the commercially-vital Mississippi River.
The authors also wrote, 'George Washington's Secret Six: The Spy Ring That Saved the American Revolution', which I reviewed favorably in 2014.
As expected, they present the compelling story, interesting personalities and various locations in a readable manner making for an enjoyable history lesson.
Verdict: As a casual student of history, I found this book fascinating and interesting. Recommended. (posted 2/1/18, permalink)
---
'Billionaire At The Barricades: The Populist Revolution from Reagan to Trump' by Laura Ingraham
In a world full of RINO consultants and Never Trumpers, Laura Ingraham was an early supporter of Donald Trump. A self-described political junkie, she began working as a speechwriter during the Reagan administration. In her latest book, she recounts the beginnings of the conservative movement with Barry Goldwater's unsuccessful 1964 presidential run. Recounting the foibles and accomplishments of various presidencies since then, Ingraham posits that Ronald Reagan was the first conservative/populist president. And that Donald Trump may be the second.
In this insightful, fast-paced 275-page book, Laura soon gets to the political rise of Donald Trump. As a well-connected pundit and political insider, Laura Ingraham shares a lot of behind-the-scenes information I hadn't heard before. She also analyzes political history, showing how the populist movement grew - not just from the frustration with the liberal overreaching policies of the Obama administration, but also the despair over big-government, globalist policies of the Bushes and the dismal candidacies of McCain and Mitt Romney.
Nascent populism fueled the campaigns of Pat Buchanan and Ross Perot, when conservatives were dismayed by the global ambitions of George H.W. Bush. Populism rose again with the birth of the Tea Party, which helped create a Republican House and later, a Republican senate.
The ever-growing populist movement held-its-nose at the Republican establishment's offering of 2016 presidential candidates, rejecting those who spouted the same old tired Party line (Bush, Kasich, Rubio, Pataki, Gilmore, Graham) and those purists who don't play well with others (Ted Cruz, Rand Paul), in favor of a shake-em-up populist/pragmatist and sometimes-conservative Donald Trump.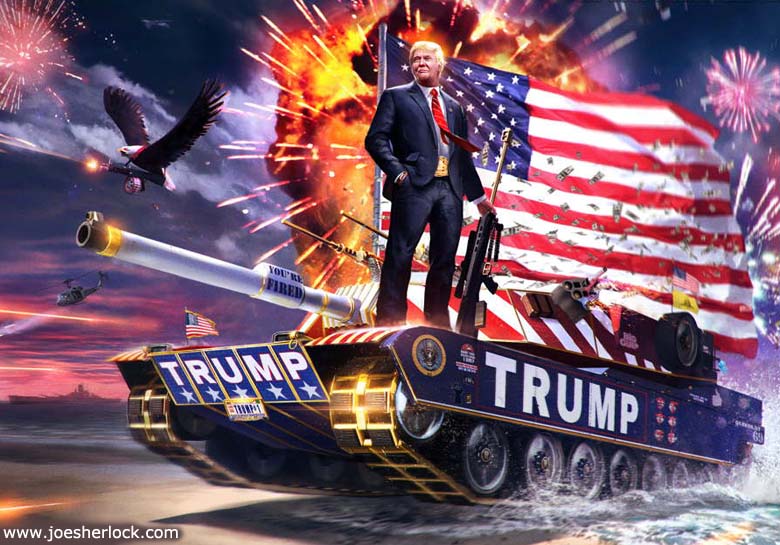 Trump appeared in all full-on brashness - the first candidate to announce by descending from above on a gold escalator. He is a rare breed - a candidate with enough fuck-you money that he doesn't have to be nice to lobbyists - a big selling point with unhappy voters, who feel that their representatives are being co-opted by influence peddling.
On a personal note, I enjoyed watching the usual gang Beltway television pundits go into various states of apoplexy when the subject of the Trump candidacy was brought up. These Washington Insiders never understood the Trump phenomenon. At 2015 Iowa State Fair, The Donald even gave kiddie rides on his Trump-branded helicopter, while - across the field - frightening Men-in-Black kept children away from the Hillary Bus, which had the joyless air of a prison transporter about it. How appropriate.
Laura reports on Trump's unconventional but successful campaign, warts and all. And post-election, his struggle to fulfill his promises to the people, despite resistance from his own party in Congress and having to battle a spiteful, biased press (who are still in mourning because the expected coronation of Queen Hillary never materialized and consider President Trump the Devil Incarnate).
The easy-to-read book is full of facts, humorous tidbits and has the ring of authenticity. I enjoyed every page.
Verdict: Highly recommended. (posted 1/24/18, permalink)
---
'Leonardo Da Vinci' by Walter Isaacson
The author demonstrates his usual impressive thoroughness in this 600+ page biography. Isaacson also wrote 'The Innovators: How a Group of Hackers, Geniuses, and Geeks Created the Digital Revolution' and 'Steve Jobs' - both of which I reviewed favorably.
The da Vinci book has two problems. First, since the subject died almost 500 years ago, it is difficult to obtain reliable biographical details about Leonardo Da Vinci. Second, the author mixes biographical information with lessons in art history and appreciation. While it was informative, there was waaay too much art analysis for my liking.
My takeaway from reading the book was that, while Leonardo was brilliant, he was easily distracted by his many simultaneous projects and failed to deliver works to his patrons on time - sometimes not at all. Mona Lisa apparently began as a commission for a patron but da Vinci kept screwing around with it and took almost 40 years to complete the painting. His lifetime of procrastination left a legacy of unfinished works and ideas which never got beyond the sketch or model stage.
It should be noted that this book is printed on thick, high-quality paper with numerous photographs of relevant artwork and sketches.
Verdict: This massive book will probably impress Renaissance historians but casual readers will likely skip through some parts which they find tedious. (posted 1/18/18, permalink)
---

---
'Printer's Error: Irreverent Stories from Book History' by J.P. Romney and Rebecca Romney
This 280-page book contains some interesting stories. The one on Ben Franklin was especially enjoyable. In this tome about the history of printed books, each chapter stands on its own. Some chapters are very educational; others are boring.
I picked this book up because it was on display at my local library and the cover attracted me. I knew nothing about the authors. I found out later that Rebecca Romney is a regular on 'Pawn Stars' - a program I have never watched - and has a following as a knowledgeable hottie. Which meant nothing to me.
The problem with 'Printer's Error' is that each chapter is littered with sarcasm, snide remarks, snark, filppancy, stupid pop culture references and pointless profanity. The authors' lame attempts at humor fell flat, making it difficult to take them as serious as historians.
Verdict: Too bad. It could have been a contender. (posted 1/10/18, permalink)
---
'The Great Quake: How the Biggest Earthquake in North America Changed Our Understanding of the Planet' by Henry Fountain
On Good Friday, March 27, 1964, a massive 9.2 magnitude earthquake struck Alaska. It was the biggest earthquake in North American recorded history and the shaking and the huge tsunamis that followed killed more than 130 people. It demolished the city of Valdez and swept away the island village of Chenega. Portions of the Alaska Railroad were destroyed, buildings and people were devoured by large fissures, large commercial buildings in Anchorage crumbled. People in Crescent City, California and near Newport, Oregon were killed by surprise waves. Well-water tables surged as far away as Florida.
This book is about the quake, its devastating effects and about the people who were affected by it. Human interest stories are sprinkled throughout and, at under 250 pages, the book makes for an easy read.
Verdict: Recommended ... very informative. (posted 1/4/18, permalink)