Book Reviews
(
2018
) by Joseph M. Sherlock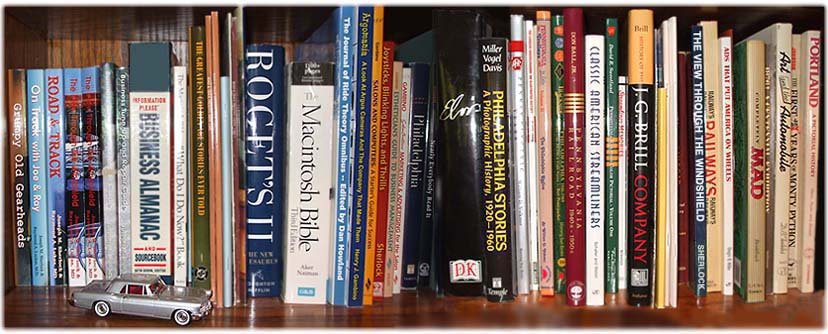 ---
Newer Book Reviews Are Posted Here.
---
'21 Lessons For The 21st Century' by Yuval Noah Harari
Try to imagine the difficulty of someone in 1918 writing a guide to the 20th century. Antibiotics, high-resolution, color talking movies, radios, televisions, interstate highways, MRIs, organ transplants, plastics, satellites, personal computers, jet and supersonic airplanes, polio vaccines, life-saving cancer treatments, walking on the moon - these and other society-changing improbables became common before century's end. The best futurists in the world of 1918 would have missed most of them, because the prediction business is fraught with peril. Therefore, the very title of Mr. Harari's book makes a promise he probably can't deliver.
Then there's the bias of the author - any author. Would you like to read a book predicting the future from a gay, vegan, tenured history professor? Because that's who Yuval Noah Harari is. Hardly a mainstream fellow and, as it turns out, not an objective one either.
This is a book of 323 pages (plus acknowledgements, notes and index), stuffed with the common fluff found in so many politically-correct lefty publications dealing with the future. There are lots of references to global warming as well as the comment that "we now face an ecological collapse." This reminds me of the Nuclear Winter and Global Cooling alarmists of the 1970s. He remarked that "global problems need global answers," a hackneyed and trite globalist cliché.
Mr. Harari argues for some sort of basic universal pay for doing nothing on the basis that artificial intelligence will wipe out most jobs. Interestingly, as I was reading this book, I watched an interview with noted economist George Gilder, who is far more skeptical of AI than Harari. Gilder made a strong case that AI will either be a net job creator or, at least, neutral and defended his position well. I suppose we'll just have to wait and see what the rest of the 21st Century brings to find out who is right.
The author asks readers to "imagine the situation in 2050, when an algorithm can tell any teenager exactly where he is on the gay/straight spectrum." Would this be something like an old-time photo booth, where you step inside drop a quarter and instead of a strip of photos, a chart with your sexual orientation drops out the slot? I would suggest that people imagine a 2050 world of designer babies, where parents can choose characteristics and eliminate birth defects on a prenatal or embryonic basis. Most parents-to-be would opt for straight teeth and babies free of birth defects such as spina bifida and Down syndrome. With such technology, how many parents would also leave the 'gay' box unchecked, assuring that their children would be as straight as the vast majority (97% or so) of their peers and not be an outlier?
Being a vegan, Harari devotes considerable space to the quest for 'clean meat', apparently a trendy name for lab-grown hamburger and the like. He states that the meat industry "is one of the chief causes of global warming." Funny, when I think of great emitters of greenhouse gases, I tend to think of China or India, not meatpackers or feed lots.
Verdict: Great title, not-so-great book. Don't waste your time on this one. (posted 12/27/18, permalink)
---
'The True Jesus: Uncovering the Divinity of Christ in the Gospels' by David Limbaugh
This 353-page book (plus acknowledgements, notes and index) begins with a historical narrative of the time between the Old Testament and the New Testament (ca. 500 years). I learned much despite having 20 years of Catholic education.
Combining the four books of the New Testament Gospels into a single chronological narrative, David Limbaugh provides a look into the life and ministry of Jesus Christ. Limbaugh also provides historical context as well as quotes from biblical scholars to help explain times in which Jesus lived.
The author explained why the Jews felt so threatened by Jesus' ministry and clearly that even his Disciples took a long time to realize that Jesus was the Son of God. Because Jesus' life was reported without all the little details found in biographies of contemporary figures, we'll never know what gave the Lord his great personal magnetism, nor the details of His early years, nor how He and his Apostles obtained funds for the expenses of travel, food and lodging during his three-year public ministry.
Verdict: Highly recommended. This is a practical, in-depth, scriptural journey. I am looking forward to David Limbaugh's next book. (posted 12/20/18, permalink)
---
'The Gutfeld Monologues: Classic Rants from the Five' by Greg Gutfeld
I've reviewed Mr. Gutfeld's books before: 'Not Cool: The Hipster Elite and Their War on You', 'The Joy of Hate: How to Triumph over Whiners in the Age of Phony Outrage' and the very-funny 'The Bible Of Unspeakable Truths'.
His latest is a short, 295-page tome containing Greg Gutfeld's monologues, mostly from FoxNews' 'The Five'. Each rant contains annotations, updates and corrections, where needed. Most of this material is new to me; I normally don't watch 'The Five' because I can't stand that wretched, insufferable airhead, Dana Perino, whose voice is only slightly less shrill than Hillary Clinton's. I do watch the weekly 'Greg Gutfeld Show' and find it funny and enjoyable. Here are a few gems from his latest book:
• "The Left is great at selling bad ideas; the Right is awful at selling great ideas." True dat.

• "I have no science to back (my claim) up, just my gut, which is 98% more accurate than science. I also have no science to back that up either, but now that it's published in a book, it's as good as gold."

• On team mascot controversies: "We have so few problems that we need to make some up just to pass the time."
Unfortunately, this is not Greg's best work. The book is redundant in numerous spots and his humor is sometimes tiresome on the printed page. He's much better on his show, where his quips get reactions from cohorts/guests and a studio audience. And his material is fresher and more timely.
Verdict: Gutfeld is best in real time, not in dry pages full of annotated old material. (posted 12/14/18, permalink)
---
'Liars, Leakers And Liberals: The Case Against the Anti-Trump Conspiracy' by Judge Jeanine Pirro
As a retired geezer, I have to limit my FoxNews viewing time or I'll go nuts. So, I'm not a regular viewer of 'Justice With Judge Jeanine', although I have watched it a few times and did enjoy her style. If you like the Judge, you'll like her book. It is written in her 'voice' with listings of facts, legal opinions and her trademark quips.
It seems like every FoxNews personality has a book about Fake News The Evil Media Doesn't Want You To Hear (as do many other non-Fox authors) and the Judge's book fits the genre. It's not that the facts presented are false or overstated. There is indeed a liberal sabotage of the Trump presidency - vicious attacks I've never before witnessed in my lifetime. I believe there is a Deep State, Swamp or whatever you want to call it - a cabal whose corrupt members obstruct real change and want to continue the globalist status quo.
Judge Jeanine documents all of her assertions. But the book comes off as an unevenly written tome. The early part of the book is full of facts and outrage - mirroring the Opening Statement of her weekly television show. As the book progresses, it becomes more conversational in tone with the Judge revealing some personal experiences (including a 2012 bout with cancer) as well as personal anecdotes about the Trump family - she has known them for over 25 years and they come off well in her telling.
Verdict: Recommended. 257 pages (plus endnotes) of convincing facts and relevant stories. Overall, it's a good read. (posted 12/10/18, permalink)
---
'Fly Girls: How Five Daring Women Defied All Odds and Made Aviation History' by Keith O'Brien
This story is about five women who raced and set flying records in the 1920s and '30s. Planes, navigation and weather forecasting were primitive in those days, which made airplane racing especially dangerous. The women decided that they were more than capable to compete in a man's world and overcame many challenges to score victories.
Their many adventures, which were often triumphant or tragic - sometimes deathly so, make for a great potential read - but the author managed to make some of the story boring. And confusing. There were so many women introduced so rapidly that I couldn't keep track of them. The author chose to write chronologically, which jumped back and forth between people and locations, causing disorientation. And somehow, he failed to bring out the fire and passion that drove these brave women, leaving them as two-dimensional figures in a big, broad 3D sky.
I know a good book can be constructed despite multiple characters and multiple flying machines. In his book, 'Atlantic Fever: Lindbergh, His Competitors, and the Race to Cross the Atlantic', author Joe Jackson created excitement as well as intrigue. He painted interesting portraits of the personalities and their compelling stories while immersing the reader in the era's public excitement about flying. The story of the Fly Girls had equal potential but the author never got the excitement off the ground.
Verdict: A near miss. (posted 12/6/18, permalink)
---
'Hot Rod Empire: Robert E. Petersen and the Creation of the World's Most Popular Car and Motorcycle Magazines' by Matt Stone and Gigi Carleton
This book chronicles Robert E. Petersen's rise from a MGM publicist to a man who created a publishing empire based on his interests, mostly cars. While Petersen was responsible for many magazines, including Hot Rod, Motor Trend, Motor Life, Car Craft, Rod and Custom, Teen, Cycle Guns and Ammo, as well as other periodicals and even books, the focus of this book is on Hot Rod, his first publication launched in 1948, despite the fact that Motor Trend, which debuted in September 1949, was a more successful publication. That's OK with me because I purchased many issues of both over the years.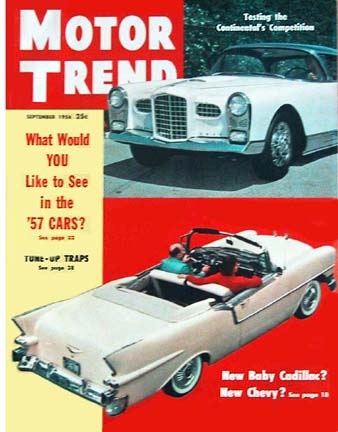 I bought my first car magazine in 1954; it was Motor Trend. I have now realized that, if I had taken all the money I've spent on pulpy car magazines over the past 60-plus years and invested it in a good no-load mutual fund, I'd probably have enough money to buy a couple of new Bentley Continentals. But, without Petersen's magazines, would I have been knowledgeable enough to select a Bentley?
Aside from Motor Trend, I also used to purchase Motor Life. Petersen discontinued it in 1961 because it didn't have the sales growth of its sister publication. I could never figure out what Motor Life's identity was ... MT seemed to do a better job. I used to love Motor Trend's spy shots of future cars. Or photos of the latest concept cars from various auto shows.
MT's first editor, Walt Woron, didn't get much coverage in the book but he was an enthusiastic hot-rodder and former racer at SCTA dry-lakes events was also a connoisseur of fine machinery. Walt once owned a concours-winning 1948 Lincoln Continental cabriolet. To distinguish MT from Hot Rod, the only other Petersen auto publication at that time, Walt sought to shape it in the image of Motor, a British car mag, with a broad editorial menu that included testing of new automobiles. Woron noted, "We started with just a stopwatch and a clipboard, using the car's speedometer as our primary instrument. It wasn't very scientific."
Petersen Publishing Company would grow to become the most influential enthusiast publisher in America. Petersen's various magazines covered most aspects of the car, truck, and motorcycle hobbies, as well as nurturing and promoting all segments from car building to racing to show events. Despite the Southern California influence, his magazines quickly found a national market. Petersen's 75 or so enthusiast titles dominated newsstands and provided substantial influence over transportation and numerous other hobbies.
The growth of auto magazine sales in the 1950s and '60s was over 16% annually, and Robert Peterson and his wife, Margie, became quite wealthy. Nevertheless, the pair became well known for their various charitable efforts, including the foundation which created the iconic Peterson Automotive Museum in LA. The museum is well-covered in the book.
I thoroughly enjoyed 'Hot Rod Empire'. It is loaded with period photographs and brought back many memories. I wish that the book were larger in size, so that the detailed sidebars didn't interrupt so many pages of the main story. I also wish that the photo captions were larger in type size and were in black rather than eye-straining gray. The photo quality was excellent and there were lots of charming little touches such as the embossed hot rod image on the front cover behind the book's jacket.
Verdict: I highly recommend this book; auto enthusiasts will find it engaging and it will evoke many memories of automotive times gone by. 'Hot Rod Empire' is an excellent history, covering 80 years of ever-evolving American car culture. (Review copy provided by Motorbooks.) (posted 11/28/18, permalink)
---
'West Like Lightning: The Brief, Legendary Ride of the Pony Express' by Jim DeFelice
The Pony Express was a service delivering messages, newspapers, and mail. It was founded in 1859. During its 18 months of operation, it reduced the time for messages to travel between the Atlantic and Pacific coasts to about 10 days. In 1860, there were about 186 Pony Express stations that were about 10 miles apart along the Pony Express route. While its demise was primarily brought about by the transcontinental telegraph (established in 1861), the Civil War, various Indian Wars and the Utah Mormon Wars contributed to the firm's financial problems. While the Pony Express had a short life, it lived on in romanticized fiction (novels, movies) and drama as practiced in shows such as Wild Bill Cody's Wild West Show. Cody claimed to have been a Pony Express rider; it cannot be confirmed because of the paucity of records from the defunct firm.
That lack of factual material about the Pony Express makes it difficult to put together a definitive history of the firm. Author DeFelice has chosen to write what he is able to find and then, flesh his story out with tangential tales, such as the early days of the Mormon Church, political implications of the abolition movement and the development of the Colt revolver. Some of these are interesting; others are boring. The book is 270 pages bulked up with an additional 89 pages of appendix, notes, bibliography and index.
Verdict: This book contained some compelling stories but veered off the main trail too often for my taste. (posted 11/21/18, permalink)
---
'The Russia Hoax: The Illicit Scheme to Clear Hillary Clinton and Frame Donald Trump' by Gregg Jarrett
The title of this book says it all - the Mueller investigation of President Trump is indeed a hoax. David Catron at the American Spectator wrote, "The primary target isn't really the President. Mueller and his apologists know Trump is the voice of a nationwide rebellion against their authority, and realize that the threat can't be neutralized until he is silenced. The end game is to crush what they see as a peasant's revolt. Mueller's function is to provide a legal pretext for removing the President from office."
He added that the Mueller probe "is an obvious attempt to restore the old order that the electorate rejected in 2016. It seeks to annul the will of the voters and return us to the incipient authoritarianism that germinated during the Obama era, and which the ruling class expected to blossom under Clinton. The bureaucrats who support the restoration of Beltway despotism call themselves public servants, yet despise the public. The politicians who support it call themselves Democrats, yet despise democracy."
Author Gregg Jarrett, a lawyer himself, proves that the special prosecutor appointment has no legal basis in this instance. His 286 page book (plus notes) is written in clear and precise language. Gregg offers step-by-step proof that Hillary Clinton, the DNC and Barack Obama conspired to overturn an American presidential election, colluding with Russia to obtain/create a damaging fake dossier. Were Mr. Rogers still alive, he might have asked, "Can you say 'malfeasance'?"
Recently, Scott Johnson posted an article on Powerline, which quoted Seth Lipsky's observations on the Mueller 'Get Trump' investigation: "This is part of an effort by the Democrats and their collaborators to overturn a presidential election that they thought they would win." A Pittsburgh Post-Gazette editorial, which noted that "all of this is about squeezing, delegitimizing, and, if possible, ultimately removing Donald Trump from office. Neither of these cases (against Paul Manafort or Michael Cohen), and none of the case being built with the president as target, so far as we know, are about Russian interference in our elections, or political corruption. They are not about justice. They are about politics. They are about 'getting' Mr. Trump. … The voters elected Donald Trump. Why not trust them to decide if he should have majorities in Congress in 2018 or be removed from office in 2020?" The editorial concluded, "If a special counsel or special prosecutor can negate a presidential election, we really are a banana republic and the republic is truly dead."
A visitor from another planet would look at the evidence presented by Mr. Jarrett and leave convinced that he was reading about an attempted coup. He'd be correct.
Verdict: Recommended - an excellent ... and damning read. (posted 11/15/18, permalink)
---
'Ultimate Speed: The Fast Life and Extreme Cars of Racing Legend Craig Breedlove' by Samuel Hawley
If you're an Indianapolis 500 enthusiast, there's a nice museum at the Speedway. On some days, you can even arrange to be ferried around the oval. If you like drag cars, there's the Don Garlits Museum of Drag Racing in Ocala, Florida. If you're a fan of Land Speed Record Cars, you're mostly out of luck. You won't find a dedicated museum in Bonneville, Utah or anywhere else. Various museums have one or two cars but that's about it. The Beaulieu Motoring Museum in Southern England has a couple of the Campbell's Land Speed Record cars.
If you read car magazines in the 1960s, Craig Breedlove is a familiar name. Craig was always interested in cars and motorcycles. Born in 1937, he was part of the postwar LA hot rod scene in the early 1950s. He had a high school education but had good seat-of-the-pants engineering skills and built several hot rods, eventually running one at Bonneville. Hooked on speed, awestruck by Mickey Thompson's four-engined Challenger LSR machine and the various Arfon Brothers vehicles, he decided to design and build his own LSR vehicle, the Spirit of America. The story of his quest for speed records what this biography is mainly about.
Breedlove lived a tumultuous life. He learned business via the school of hard knocks. He got rich, then lost nearly everything many times in his life. He got jerked around by Goodyear - not surprising, since most American rubber companies are lowlifes and have morals darker than the carbon black they use in their tires. Carroll Shelby screwed Craig on a business deal, a familiar tale which repeated many times during ol' Shel's life. Breedlove was married seven times and had an on-and-off again affair with Linda Vaughn, well-known as Miss Hurst Shifter. (I can't wait to tell my car buddy Ray about this; he always had a thing for Ms. Vaughn.)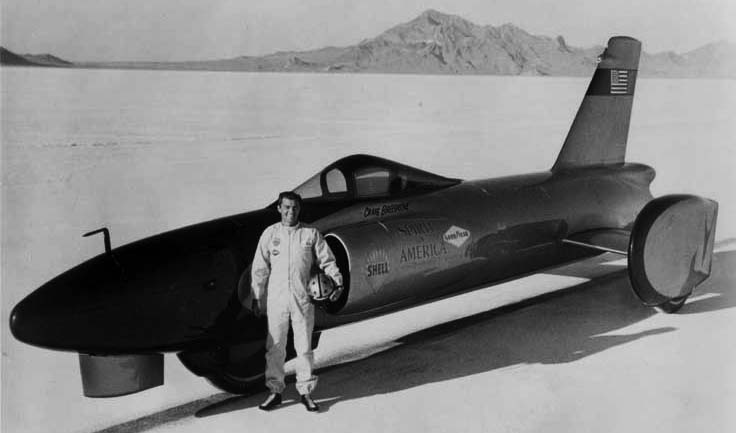 Nevertheless, Craig Breedlove is an underappreciated American hero. In 1963, he set a new LSR of 407 mph in his jet-powered three-wheeled streamliner and inspired the Beach Boys to record a tribute song, 'Spirit of America'. He was the first person to drive 500 and 600 mph, breaking the land speed record five times. In the early 1970s, he set an acceleration record at Bonneville that stands to this day using a rocket-powered streamliner. He survived many crashes, including one at 675 mph.
This is an excellent biography, 269 pages (plus sources, notes and index) full of details but never boring. Craig met many obstacles and suffered many setbacks throughout his life. The physical danger, the injuries, the engineering, logistical and monetary hardships of the quest to set a land speed record are spelled out in this book. Today at age 81, Craig Breedlove remains a driven man, planning a 1,000 mph version of the Spirit of America. Even after a career of breaking speed records, he remains a man still chasing his next dream.
Verdict: Highly recommended. (Review copy provided by Chicago Review Press) (posted 11/9/18, permalink)
---
'The Capitalist Comeback: The Trump Boom and the Left's Plot to Stop It' by Andrew F. Puzder
Andy Puzder is the former CEO of Carl's Jr.'s parent company and grew the firm to 2,700 restaurants globally. He is a knowledgeable businessman and ardent capitalist. In 2016, President-elect Donald Trump nominated Puzder to serve as Secretary of Labor, but Andy later withdrew due to possible lack of confirming votes in the Senate as well as threats to and harassment of his family.
In 280 pages (plus acknowledgements, endnotes and index), the author presents a well-written and documented moral, philosophical, and economic defense of free-market capitalism. He recounts the history of capitalism, the results when socialism replaces it and the tactics of the American Left to attempt to destroy the free market. I found this to be one of the better books about street-level, practical capitalism.
Verdict: Recommended. (posted 11/5/18, permalink)
---
'Mustang By Design: Gale Halderman and the Creation of Ford's Iconic Pony Car' by Ames Dinsmore and James Halderman
The Mustang is one of the most significant cars of the second half of the 20th Century. Earlier this year, the 10 millionth example rolled off the assembly line. For all its mistakes, Ford has resisted the temptation to make the Mustang something else. No four-door sedans or station wagons (both discussed in this book), no SUV version, no foreign editions made outside America - nothing to sully the purity of this American sporty coupe.
There have been many books written about the marque, this is the first one to focus on the designer behind the first pony car, Gale Halderman. It is a 178-page (plus appendix and index), large-format (9 x 11) book with hundreds of photos and sketches, many of them in color. It covers four major subjects:
• The design and development of the Mustang automobile, the first pony car
• The career of Gale Halderman, the designer behind the Mustang
• The ups and downs of various Mustang iterations
• Stories of corporate intrigue and company politics observed by Halderman during his time at Ford Motor Company
Each of these subjects is interesting in its own right and the four combined in one book make for a relative bargain for all the stories inside.
There is no car quite like the Ford Mustang. Once introduced, it has never gone out of production. Fifty-four years later, you can still buy a brand-new Mustang. Other 'hot' cars have come and gone: the Pontiac GTO, the Trans Am, even the Chevrolet Camaro went out of production for a while. 1983 was a year when there was no Corvette. But the Mustang soldiered on, despite changing markets, onerous federal regulations, years of high inflation, fierce competition and design compromises. During good times and bad, the Mustang always found buyers. Introduced as a pony car, it quickly developed muscle car variants. This book reveals some of the reasons behind its success.
When conceived, the Mustang was targeted at the emerging youth market. The American economy was prosperous in the 1960s and a large group of young-uns were entering the workforce at wages providing sufficient disposable income for them to buy new cars. Ford's demographics confirmed that and there were enough seat-of-the-pants, gut-feel indications that they didn't want stolid, dull compact cars such as the Falcon or Corvair.
Lee Iacocca was vice-president and general manager of the Ford Division at the time and, as an ex-field rep who called on dealers, he liked to keep his finger on the pulse of things at the retail showroom level. He knew the market needed a sexed-up Falcon and championed the Mustang as an answer to that market. He liked the design proposals Gale Halderman had made and brought them to fruition, convincing a recalcitrant Henry Ford II to sign off on the sporty car. Essentially, the Falcon's passenger compartment was shoved back about eight inches, then a uniquely-styled, low-slung body with fake side scoops was created with a prominent, distinctive snout, mildly reminiscent of a Ferrari Testa Rosa (especially on cars painted red), added to the front end. The Mustang was fast-tracked and the budget was tight. The book details the demanding and multifaceted process of quickly taking the car from sketch to clay model to prototype to preproduction and fully-finished model.
The Ford Mustang was a great success, selling over 417,800 units in the first year. By 1968, two million had found buyers. The authors note that the Mustang was unveiled at the New York World's Fair in April, 1964. I was surprised that there was no reference to the fact that Lee Iacocca and the Mustang made the covers of both Time and Newsweek magazines during the same month. Supposedly, Iacocca's face on both covers (rather than that of Henry Ford II), was the beginning of Lee's eventual downfall at Ford Motor Company.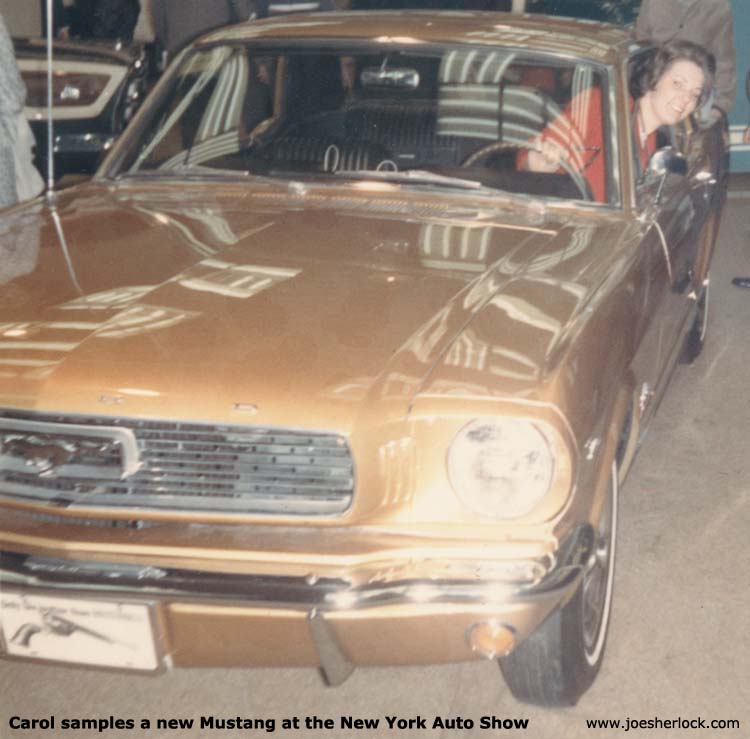 My soon-to-be wife enjoyed sitting in a gold Mustang at the New York Auto Show.
---
I would mention that, just as the Mustang's design was cobbled together from many other cars (for example, the kick-up aft of the door was reminiscent of the 1956-57 Continental Mark II and 1961-64 slabsided Lincoln Continentals), Iacocca's next big success, the pricey and very profitable 1969 Lincoln Continental Mark III, was a car made up of parts and ideas taken from somewhere else. The engine, chassis and front cowl came from the Ford Thunderbird, the massive upright grille was "inspired" by Rolls Royce, the Continental "tire hump" on the trunk lid was from the 1956-57 Mark II and the long nose/short deck styling was derived from a '61 Plymouth (or the Mustang, for that matter). The name was stolen from the 1958 Continental Mark III, which Ford Motor Company had conveniently forgotten. But it worked, and like the Mustang, it was introduced several months earlier than the traditional model year debuts. Iacocca was named president of the Ford Motor Company at age 46.
Gale Haldeman was promoted to design director, moved on to other projects (he created the opera window used in the Lincoln Continental Mark IV and other Lincoln models and was part of the group responsible for the 1990 Lincoln Town Car). Gale retired in 1994.
This is a very good book, full of new and interesting information. But I did notice some errors and omissions:
• The real reason behind the Mustang Mark I was not discussed. The mid-engined, V4-powered Mustang I concept sports car of 1962 was fully functional and originally designed to help promote the V4-engined Ford Cardinal sub-compact car. The front-wheel drive, VW Beetle-sized, Cardinal was rejected by Lee Iacocca as too small for the American market and instead became a German Ford model, the Taunus 12M.

• Ford World Headquarters in Dearborn is nicknamed Glass House, not Glass Box.

• The Edsel was manufactured for the '58-60 model years. The last example rolled off the assembly line in late November, 1959. There was no 1961 Edsel, as the book claims.

• Reference is made to "the late '50s Falcon." The Ford Falcon debuted as a 1960 model.

• The iconic and prestigious Mark II was a Continental, not a Lincoln as the book states. Even the Mark II's factory battery had a unique Continental star molded on the case. The only place the word 'Lincoln' appeared was on the glass jar used as the windshield washer reservoir.

• Ford's Whiz Kids began their work at the company in 1946, not "the late 1950s" as stated on page 128.

• The authors briefly mention the Mustang Bertone, noting that Italian design house Bertone "hired a man named Giorgetto Giugiaro to design an Italian Mustang." Actually, Giugiaro was a Bertone employee from 1960-65, became quite famous in his own right, founded his own firm, Italdesign in 1968, and was named Car Designer of the Century in 1999. He designed a wide variety of iconic automobiles, including the De Tomaso Mangusta, DeLorean DMC-12, Lotus Espirit S1, BMW M1, the original VW Passat, Golf and Scirocco.

In 1965, Automobile Quarterly publisher L. Scott Bailey commissioned this coachbuilt Mustang. The unique and handsome car was unveiled in April of 1965 at the New York International Automobile Show.

Striking in a light, almost silvery metallic turquoise, the AQ Mustang carried the magazine's Quatrefoil logo as well as the Bertone badge on its flanks. The gorgeous one-off was used to promote Automobile Quarterly and increase awareness of this unique publication.

• On page 152, there is a discussion of federal bumper regulations "in the 1980s" which caused a design crisis at Ford. Actually, the bumper design crisis was a result of the 'no damage at 5 mph' federal regulation which began with the 1973 model year and affected all manufacturers. (Auto companies truly freaked when the feds hinted that they would soon be raising the stakes to 10 miles-per-hour. The feds eventually relented on the 10 mph zero-damage proposal.) Most bumpers became big and ugly after 1972 and it took several years before materials technology improvements allowed a return to well-integrated bumpers on cars.

• The book references Chase Morsey who "provided key demographic information (about the Mustang's potential market)." Chase is quite famous in his own right at Ford: He's the man who saved Ford's V8 engine.

• There are portions of the book which are repetitious, including discussions about the use of Falcon interiors in the Mustang as well as Falcon gauge clusters and fit problems at the headlight/grille intersection.
These minor nitpicks should not stop you from buying this book. It tells the Mustang story from a fresh perspective, that of designer and Ford insider Gale Halderman. Enjoy it - just as you would your favorite Mustang. I never owned one but always liked the lines of the 1967-68 Mustangs, enjoyed Steve McQueen's Highland Green GT fastback in 'Bullitt' and have fond memories of a couple of rental Mustang convertibles. One was an '87 with the 5.0 V8. I still remember the burble of the exhaust with top-down and windows open as I traveled the wooded roads of Northern California on the way to the coast.
Today, U.S. sales of the Mustang are dropping, but they are accelerating overseas in markets such as China and Germany. In 2018, the Mustang was the best-selling coupe in China. The Pony Car has become a World Car - who knew?
Verdict: Recommended. Even if you're only mildly interested in Mustangs, this will an informative and fun read for you. (Review copy provided by CarTech. Copies of this book personally signed by Gale Halderman can be ordered directly from CarTech.) (posted 11/1/18, permalink)
---
'Donald J. Trump: A President Like No Other' by Conrad Black
Mr. Black is an author, entrepreneur and former newspaper owner. He has known Donald Trump for many years and once sold him a building. A talented writer and shrewd political observer, Black provides an interesting and insightful analysis of what made The Donald successful.
He doesn't hold back, recounting Trump's successes as well as the near collapse of his real estate empire in the early 1990s. Black was one of the first to take Trump's presidential campaign seriously and, while he is friendly with President Trump, he presents a balanced picture of our current commander-in-chief. Conrad is appalled by how partisan the press has become, taking particular aim at Wolf Blitzer, a former employee, noting that Blitzer "scrambled like an asphyxiated cockroach between electoral maps in the CNN newsroom, desperately trying to unearth a thread of plausible data that would conduct Hillary Clinton to the White House." He described Wolf as "the greediest employee I ever had." Black also has no time for the never-Trumpers, especially Bill Kristol as well of most of the gang at National Review.
Highly recommended. At just over 200 pages, this book is a fast-paced witty, yet worthy read. It's one of the best books about Donald Trump I've ever read. (posted 10/26/18, permalink)
---
'Frenemies: The Epic Disruption of the Ad Business (and Everything Else)' by Ken Auletta
The first 'real' use of advertising was in newspapers. Advertisements in colonial America were most frequently announcements of goods on hand but, even in this early period, some were well-crafted appeals and product descriptions. Benjamin Franklin's Pennsylvania Gazette reached out to readers with new devices like headlines, illustrations, and advertising placed next to editorial material. Those newspapers which were built on an ad-revenue supported model grew. Patent medicine ads vied for consumer attention with large, often outrageous, promises and colorful, dramatic advertisements and were arguably the first 'persuasive' ads.
Advertising agencies, once in the business of peddling advertising space in local newspapers and a limited range of magazines, began servicing new national advertisers, designing copy and artwork and placing advertisements in the places most likely to attract buyer attention. This was done on a by-guess-and-by-golly basis. There was no science involved and little data available for guidance. Ad agencies made their money on the 15% commissions paid by publications. Over time, advertising gravitated to newer forms of media - radio, then television, then desktop internet, now mobile devices.
Over a century ago, legendary department store retailer John Wanamaker said, "Half the money I spend on advertising is wasted; the trouble is I don't know which half." And that's the problem with advertising. It has no science, its rules are flexible and there is no rock-solid core foundation. It is an industry built on horseshit.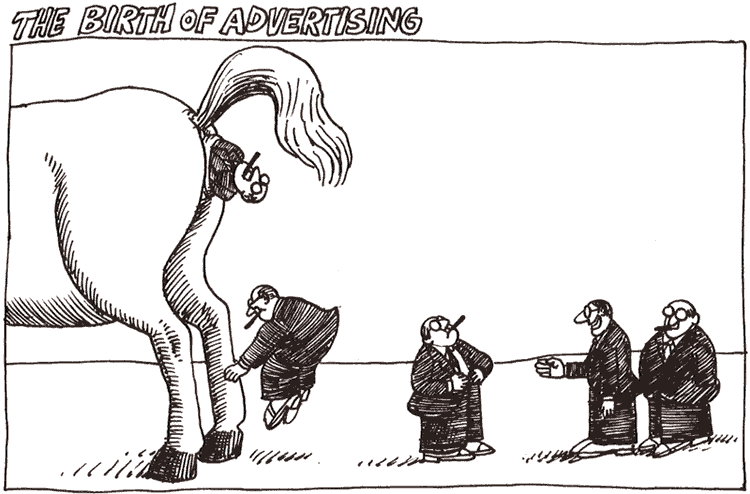 The question, "Does advertising work?", has been asked for centuries. My answer is yes, but it doesn't do miracles. The best ad agencies have been excellent at developing a compelling message and delivering it to a correctly-targeted, if imperfect audience.
If the product is bad, the best advertising in the world won't save it. Whoever got the 1957 Nash account, for instance, was doomed before a single tag line was set to type. The bulbous, uncompetitive car couldn't match its flashy mid-priced rivals. Modernista's Hummer ads - print and television, especially the Happy Jack spot - were entertaining, clever and engaging but couldn't save the dead-end brand. The iconic 'Somewhere West of Laramie' didn't rescue Jordan; the advertising was more intriguing than the car.
When a manufacturer mis-targets the audience (such as the Honda Element, perceived as a college car, rather than the empty-nester/haul-gardening-stuff geezermobile it turned out to be), the ad agency can't be blamed for inappropriate ads and/or improper placement of same. Marketing people and product planners employed by automakers dictate the identity of target audiences based on research. Or the reading of chicken entrails.

When given a decent and appealing product, ad agencies can showcase it and, occasionally, turn it into a legend. The Doyle Dane Bernbach VW Beetle campaign - exemplified by 'Think Small', 'Lemon' print ads and 'Funeral' television spot - is one example. The memorable Hal Riney campaign for the newly introduced Saturn - 'A Different Kind of Car Company' is another example. Packard's 'Ask The Man Who Owns One' (created by the Austin Bement agency in 1901) is still another. The iconic 1975 'Ultimate Driving Machine' created by Ammirati & Puris, helped propel BMW from an also-ran brand to a serious challenger to Mercedes in the U.S. luxury car market.
Then there's 'branding' or as Autoextremist Peter De Lorenzo calls it, "image wrangling."
Consider a simple thing such as water. Before 1977, most Americans drank tap water. Then Perrier launched a $5 million U.S. marketing campaign for its imported bottled water. Perrier's timing was perfect; it took advantage of growing pollution concerns and the emergence of brand-conscious Yuppie consumers who loved expensive, ordinary things with European (or European-sounding) names. By openly carrying Perrier bottles around, Yuppies could demonstrate their sophistication and elevated status. Saturated advertising by Perrier's various bottled water competitors made consumers aware of and fearful about the dangers of "not being properly hydrated."
And now, the ad biz is being turned on its head by new platforms, new competitors and new technologies. And few know what to make of it and where it will be a decade or two from now. That's what Ken Auletta's new book is all about. 'Frenemies' is a readable, engaging tour through the ever-shifting topography altering the landscape of the marketing and advertising industries. Here are a few nuggets gleaned from its pages:
• A 2015 study by Distilled Networks "concluded that one out of every three digital ad dollars as wasted by ad fraud, meaning ads are clicked and paid for but are not viewed by desired consumers." Bob Liodice of the Association of National Advertisers said, "Roughly at least 12% of digital ads are going to non humans (bots) and 23% of digital ads are going to criminals."

• Conventional ad agencies are under attack: "Today, up to three-quarters of the $2 trillion or so spent on advertising and marketing is not funneled through the creative ad agencies featured in 'Mad Men'." Publishers (newsprint, magazine, online) are set up to function as creative agencies. Many large companies have taken the creative function in-house. Online platforms offer targeted, creative ads of their own.

• Gary Vanerchuk of VaynerMedia is profiled positively in the book. He is the poster boy for rah-rah vagueness in the social media world. And, to me, is a good example of the horseshit part of the business. Reviewing his book, 'The Thank You Economy', I wrote about Gary's strange marketing philosophy: "Numbers are irrelevant. Return on Investment? Who cares. There is enormous ROI in social media. It's like my famous saying though, "What's the ROI of your mother?" The data isn't as black and white like it has been in the past. I firmly believe that the brands that have a soul and a heart and understand how to scale this will win." Hmmmm. If you're reporting 'heart and soul' rather than financial results, maybe the whole idea is bogus. Sounds like unicorn flatulence and rainbows. How this charlatan stays in business is a mystery to me.

• Facebook and Google have turned the ad industry on its head and are a major threat to ad agencies, since they encourage producers to work with them directly. By the end of 2016, Facebook collected $27 billion from ads. Mary Meeker of Kleiner Perkins Caulfield Byers reported that, "of every new digital ad dollar, 85¢ went to Google and Facebook." Facebook declines to share their vast array of first-person user data with anyone, which cripples ad and media agencies. These days, digital ads are number one in dollars, television is #2.

• The mesmerizing power of Facebook cannot be underestimated - the average user clicked on the site 150 times each day.

• Part of Lexus' launch of their small crossover, the Lexus NX, was creating 1,000 different online ads targeted at various categories of Facebook users, in order to tailor the pitch to meet the interests of individual consumers. Of course, the horseshit factor is still there because Lexus didn't pay $100 for each NX sold by this campaign. Instead, Lexus apparently paid by the click. How many clicks came from Russian hackers or bots is not known.

I'll end this review with another car story from 'Frenemies', related by longtime advertising sage, Jeremy Bullmore. He met a friend for lunch outside London. When they stepped from the restaurant, the friend pointed to his shiny new Aston Martin. "Well done," Bullmore said. "I bought it because of an advertisement," the friend replied. "Good to know that what we do works," Bullmore said. "I saw the advertisement when I was 14 years-old," the friend responded.
Bullmore mused, "How do you attribute that seventy-five thousand pound purchase to an ad that ran 52 years earlier?" Even with digital ads, whose clicks are more easily measured, if his friend had clicked on the Aston Martin website, Bullmore said, "The click would get the credit for the purchase. But nobody would know and could possibly calculate what led to the click in the first place." Good point.
Verdict: Recommended. A timely and educational dive into an industry gone haywire by fast-moving technology and new players. (posted 10/22/18, permalink)
---
'The V12 Engine: The Technology, Evolution And Impact Of V12-Engined Cars' by Karl Ludvigsen
We live in an age where many manufacturers are killing-off their legendary V8 engines in favor of fewer cylinders. It is therefore a great time to visit the times and siren song of the V12 motors of yore.
---
copyright 2018 - Joseph M. Sherlock - All applicable rights reserved
---
Disclaimer
The facts presented in this blog are based on my best guesses and my substantially faulty geezer memory. The opinions expressed herein are strictly those of the author and are protected by the U.S. Constitution. Probably.
If I have slandered any brands of automobiles, either expressly or inadvertently, they're most likely crap cars and deserve it. Automobile manufacturers should be aware that they always have the option of trying to change my mind by providing me with vehicles to test drive. I'll dutifully report my road test impressions on this car blog.
If I have slandered any people or corporations in this blog, either expressly or inadvertently, they should buy me strong drinks (and an expensive meal) and try to prove to me that they're not the jerks I've portrayed them to be. If you're buying, I'm willing to listen.
---