---
American Graffiti - Philadelphia-Style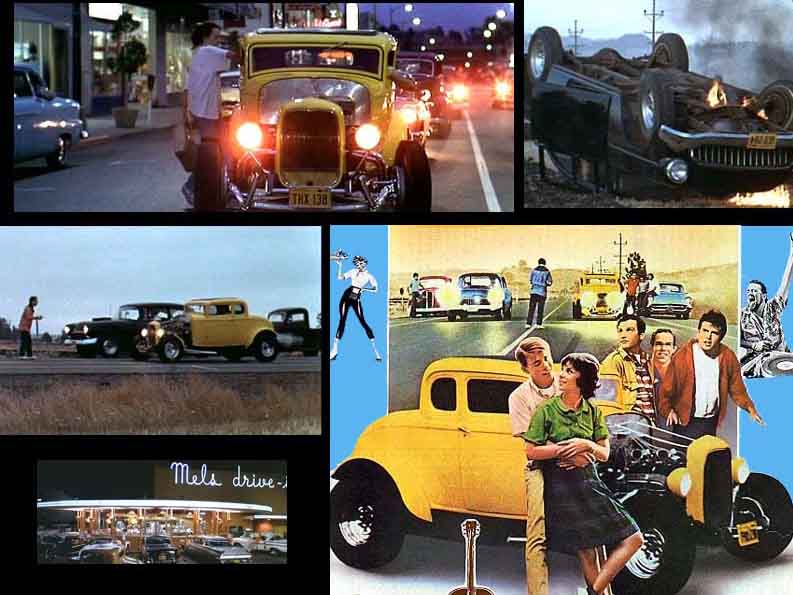 I always enjoy watching the 1973 movie, 'American Graffiti'. Set in 1962, it's about a couple of high schools grads who spend one night hanging out, cruising the strip with their buddies before they go off to college. I can identify with it because of the time frame - I graduated from high school in '61 - but have trouble relating to the California setting and the coolness of the cars in the film.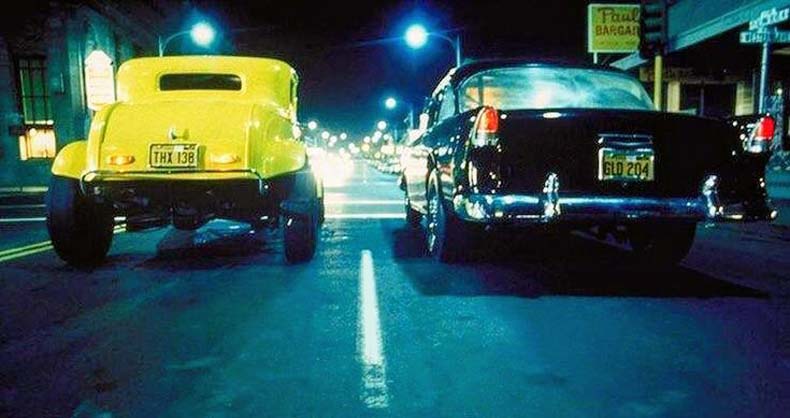 In the 1950s and '60s, California was perceived as America's dream, especially Southern California - a land of warmth and sunshine, blue ocean and beaches not far from the city. Then there were the palm trees, modern freeways, interesting and novel (for me) architecture and lithe, tanned people dressed in sharp clothes who drove gleaming, desirable autos. Just watch old '50s television shows set in the Golden State - like '77 Sunset Strip' - you'll see what I mean. My dad used to rave about California; he got his Navy training there during World War II.
In the period from 1955 through 1960, over 600,000 people migrated from other states to California - almost 44,000 from Pennsylvania alone.

In January 1972, I finally visited the fabled state, arriving from cold, snowy Philadelphia - after slogging through a dirty, slush-strewn airport parking lot full of filthy, salt-encrusted cars. I landed at LAX with its iconic, spaceport-like control tower and my senses were overwhelmed: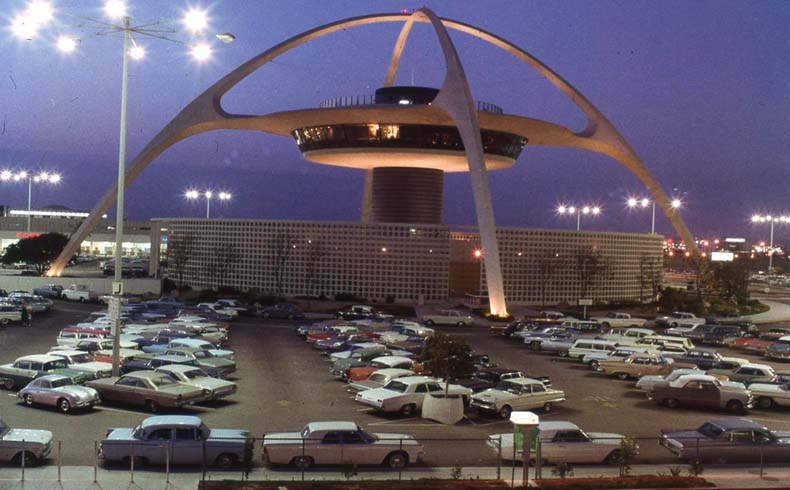 It was a warm night with starry skies ... goodbye wool overcoat. Spellbound, I rode the freeway with its a lava stream of red taillights, gawked at the big palm trees, the colorful signage, the always green grass, the unusual desert-type shrubbery, the unfamiliar chains of restaurants (Carl's Jr., The Velvet Turtle, Taco Bell, Sizzler, In-N-Out Burger), the sleek, gleaming cars speeding down the wide concrete, the huge and sophisticated outdoor miniature golf arcades and the tightly-packed housing developments - each with a tile roof, swimming pool and privacy walls.
I remember sitting outdoors at 10 pm with business colleagues in someone's backyard, drinking California Zinfandel and looking up at the stars, with only a small firepit to provide a bit of warmth in winter. Not that I needed it; compared to the freezing industrial East, it was practically tropical.
That night I fell in love with Southern California. To me, it was just like in the movies. And on TV.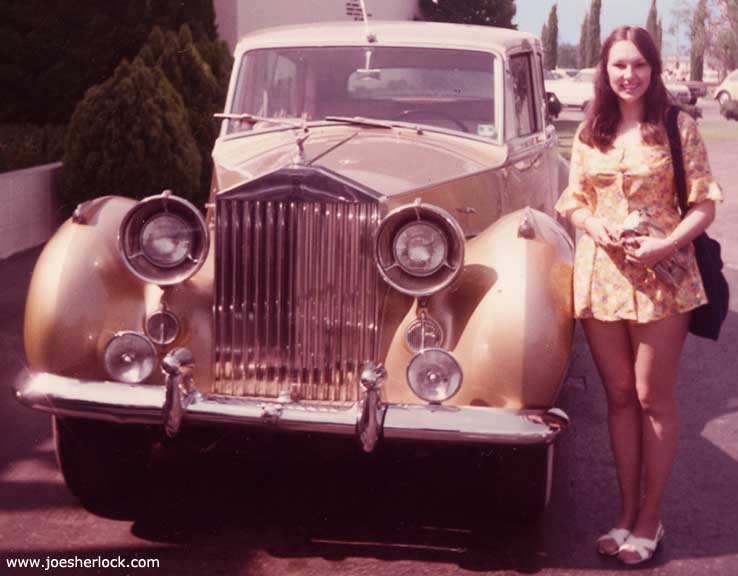 At the conclusion of my 1972 week-long California business trip, my wife flew out from Philadelphia and joined me for a little vacation. She's posing with a vintage Rolls Royce at the 'Cars of the Stars' museum in Buena Park, CA.
---
That said, in the 1950s and early '60s, my East Coast adolescent reality was much different than the 'American Graffiti' kids.
California was (and still is) much more car-centric than Philadelphia.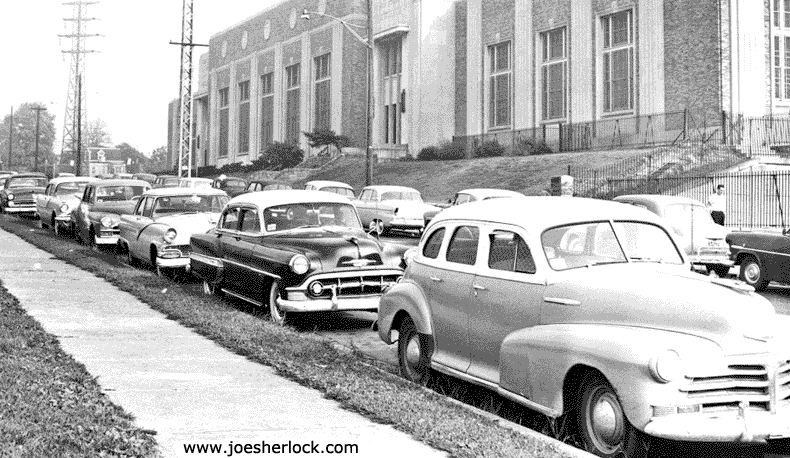 A 1958 photo of John Bartram High School, a public school in South West Philly, shows a collection of positively ordinary vehicles from the 1940s and '50s, including a tired-looking 1948 Chevrolet Fleetmaster four-door sedan (nearest the camera), followed by a shiny 1953 Chevrolet Bel Air sedan, a 1957 Ford Fairlane Club Coupe with a V8 engine, a 1950 Plymouth De Luxe four-door sedan, a 1955 Pontiac Chieftan two-door sedan and a dark-colored, monotone 1955 Ford Customline sedan.
---
Most of my friends in high school didn't have cool rides. My school buddies who were car guys couldn't do much work on vehicles because of the heavy academic load at our prep school, a lack of funds, too little free time and nowhere to carry out automotive work. Most of us had crappy minimum-wage summer jobs but had no after-school employment to fund car projects. The intense academic pace kept us plenty busy.
For us, working on our old heaps was also dependent on favorable weather conditions.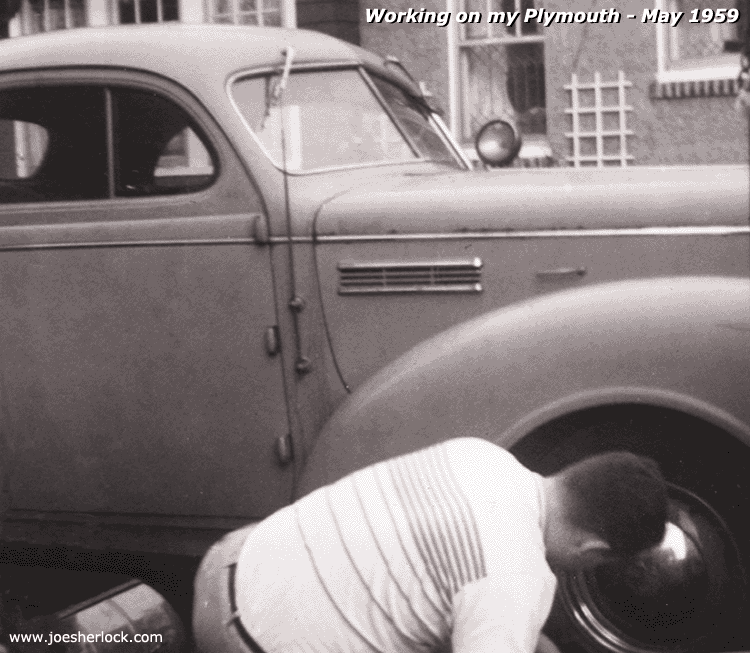 The inclemency of Philadelphia's winters made it difficult to work on machinery outside. The standard ritual was to pack away the outside hoses on the day after Thanksgiving and not reattach them until Good Friday. Cars stayed dirty all winter with an occasional Windexing of windows and headlights. Unless you were well-to-do and could afford to patronize a car wash - which we almost never did.
None of us had dads with extensive automotive tool collections or shop space where we could fix machinery. I met people from other schools who worked on their cars in shop class. My school had neither a shop class nor a shop. Just four years of Latin. So that option was out.
No one at St. Joe's Prep had neat cars like those in 'American Graffiti'.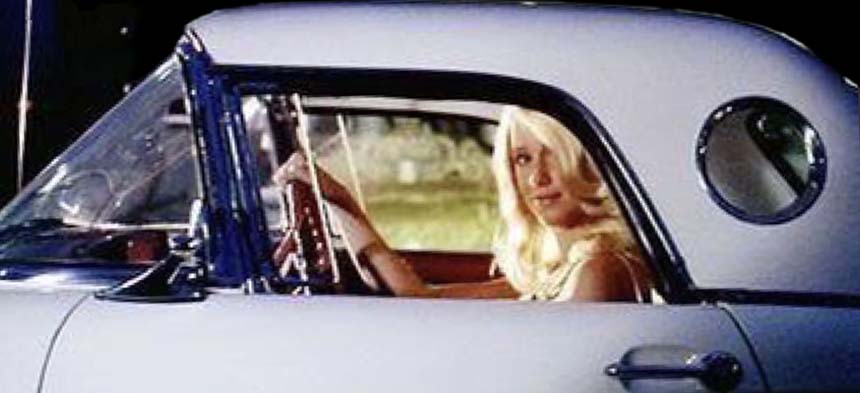 No Suzanne Somers in a white T-Bird. (Of course not. It was an all-boys school.) No mint-condition, desirable hot rods, either. (No hot rods of any kind, that I can recall.) No one owned a chopped and channeled 1932 Ford. Or a '55 Crown Vicky.
My school friends were mostly from were from middle-class families with ordinary cars. Their parents had disposable income but not so much as to have a really nice second car.
Some didn't even have a second car. But if they did, that's what their kids drove and it was usually an absolute POC - Pile-O-Crap.
Here are some examples of the kinds of automotive machinery we experienced:
• The most serious gearhead in our group was my friend, Ray Lukas. He could explain the benefits of desmodromic valves over conventional spring-loaded intake and exhaust valves and could tell you how many spokes were in each Borrani wire wheel on a 1960 Ferrari. Therefore, you might think that Ray's parents would have something exotic to drive - like a Facel Vega, a Borgward Isabella or, at least, a Sunbeam Rapier. Nope.

Ray tooled around in his dad's white-over-green 1956 Chevy Bel Air four-door sedan. It had the special POC performance package - a stovebolt six-cylinder engine and Powerglide two-speed automatic slushbox. That powertrain package could barely outrun a small dog with two game legs.

After graduation from high school and college, Ray went on to medical school, then to Vietnam and later established an anesthesiology practice in north-central Pennsylvania.

Ray now has an '88 Corvette and a nice '90s-era Mustang convertible and some other vehicles obviously to make up for his years of performance deprivation. He also owns a 2005 Dodge Dakota pickup to haul all his stuff. Ray was also my travel companion on The Great California Adventure - an eight-day, all-car/all-rail extravaganza.

Ray with Steve McQueen's Jaguar XK SS at the Petersen Auto Museum in Los Angeles.

---

• When I could manage to borrow it, the car I drove during my high school years was the family's blue 1956 Ford Mainline two-door sedan.

It was equipped with the base 137 horsepower six-cylinder engine with three speed stick and overdrive. It was a stripped model with no radio and was rusty from spending summers outdoors at the New Jersey shore (too much salt air) - a real POC-mobile. My dad had bought it new and I learned to drive in it - along with our other car - a 1939 Plymouth coupe.

The Plymouth was also a major POC. It burned a quart of oil every 70 miles. A leaky master cylinder made panic stops a thrilling, foot-pumping experience.

When it rained heavily, I wore galoshes because the floor was so full of rust holes the water just came spraying upwards from the road.

But it was a bargain car - my dad only paid $25 for it.

I spent the summer of 1959 fixing it up after I was finished my working day job. Unfortunately, the car was in an accident shortly after I got my driver's license and was dispatched to the junkyard.

My dad bought the '39 coupe in April 1959. By the end of the year, the Plymouth was no more.

I've also owned some other very ordinary cars as daily drivers and workhorses. And some vehicles that turned out to be real crapmobiles.

---

• Marty Hayes was the exception to the 'all my friends have crap cars' rule. A doctor's son, he always had relatively cool family cars to drive in high school - his aunt's white-over-green 1955 Chevy Bel Air V-8 hardtop or his dad's white 1959 (and later a 1961) Buick Electra four-door hardtop. Marty was my closest friend during my high school and college years.

Or, in college, his dad's 1963 Buick Riviera.

Marty's parents soon endowed him with his own college transport, starting with a sleek black 1959 Impala convertible.

And later, a brand-new white 1962 Buick Skylark convertible with the aluminum V-8 engine. Whenever we rode with Marty, we rode in style.

Marty was the best man at my wedding and transported my new bride and me in his dad's dark green 1965 Riviera, which had replaced the 1963 model in the doctor's stable. He was also the godfather of my firstborn child.

Throughout his adult life, Marty always owned neat cars - all purchased new - including a blue 1966 Chevrolet Impala convertible, a yellow 1968 Opel Kadett Rallye coupe, a yellow 1970 Opel GT and a white Mercedes 280 SL with the removable pagoda roof. As a doctor himself, he could afford the best.

But he drove his cars hard and wore them out quickly. Sadly, he did the same to himself and died in 1986 from a heart attack at age 42.

---

• In high school, Eddie Bauer inherited his dad's old car, a two-tone green 1947 Chevy coupe. You may be familiar with some of the hideous early-postwar color combinations - this one was pea soup over bile.

Ray, Marty and I often went to Ed's home to help work on his old Chevy. The car had a vacuum shift which was useless for speed shifting. Or for push starting when the battery was dead and the lever was locked in neutral.

Ed didn't have his driver's license the day we got the '47 started after two years of storage. I did and became the designated driver - and almost hit a milk truck at the first intersection because the %#@* Chevy had such bad brakes. What a POC! (Ray had push started the stalled car with his dad's 1956 Bel Air and, when I popped the clutch on the old Chevy, the two cars locked bumpers, tearing the bumper off the front bumper of the '56.)

Ed's dad, an attorney, had a huge 1958 blue Cadillac Sixty Special Fleetwood four-door hardtop with air suspension. I don't think I ever got to ride in it. Even though the car was less than a year old, the right side air bags had developed a slow leak. When parked overnight, the Caddy would list to starboard like a sinking cargo barge with a badly unbalanced load.

His old '47 Chevy is long gone (so is the Cadillac - it was traded in for a new burgundy '61 Comet two-door by Ed's recently-widowed mother) but Ed himself is doing better these days; he drives a large Mercedes sedan as befits a successful attorney. Ed now claims to be car repair expert, having helped his son overhaul an engine in an ancient Volvo.

---

• My classmate Skip O'Donnell had his car interest tweaked because his dad owned a classy, two-tone blue 1955 Ford Fairlane sedan with V-8. The family later acquired a second car - POC pea-green '59 Vauxhall Victor, with a tiny, always-out-of-breath 1.5 liter engine. It was so underpowered, it couldn't pull a hobo off a can of Sterno.

Even in a large cosmopolitan city like Philadelphia, Vauxhalls were a rare sight.

Skip's dad later traded his '55 Fairlane for a white-over-blue 1960 Ford two-door with an anemic V-8 (185 hp engine driving through the dreadful, two-speed Fordomatic transmission), which couldn't even outrun my dad's '56 Mainline six. These days, Skip's a Subaru man.

---

• My school friend Paul Erfle drove his dad's hand-me-down 1953 Pontiac Catalina two-door hardtop with the amber plastic Indian head hood ornament.

The white-over-mustard yellow lump was pretty gutless and, because the choke cable was broken. Paul's Pontiac had a pull-string running from the carb out the back of the hood opening through the vent window to operate the choke. On one occasion, the engine backfired, setting the string on fire. That was the closest his Pontiac ever got to being 'hot'.

Paul recently reminded me that the car's "starter had some dead spots and you had to bounce the car to move off the spot." I remember quite a few friends who's cars had dead spots on the starter. Funny, you never hear about that particular automotive affliction any more.

Paul also mentioned that "for ventilation or a speed check, remove the rubber floor mat and a grapefruit-sized rust hole allowed one to time the white stripe of the roadway to get speed." My first '39 Plymouth had rusted out floorboards too but I was never clever enough to use them as a timing device.

Sadly, the Pontiac threw a rod and, like so many old cars, went off to the junkyard.
We may have driven POCs in those high school days, but we still had a lot of fun and shared some great times.
Many of my prep school car buddies now own the kinds of cars they always desired as youngsters. And can enjoy them and cruise around American Graffiti style, even if the summers of '61 and '62 are long gone.
Life is good. (posted 7/25/11)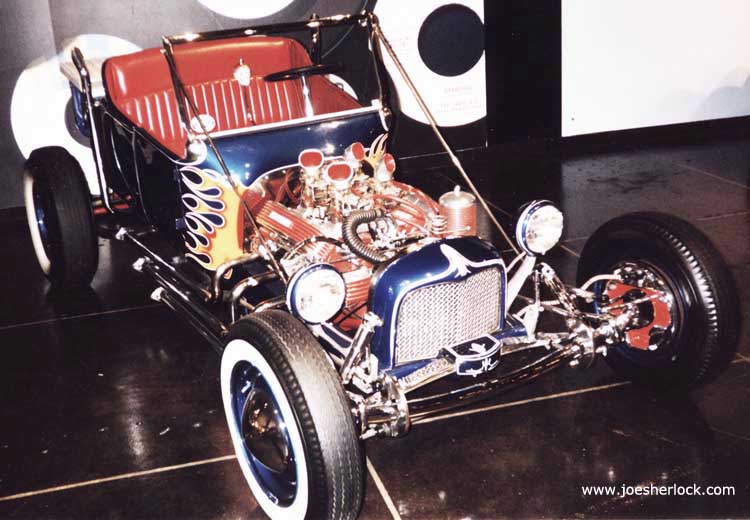 'Kookie' Edd Byrnes' hot rod - from the 1950s TV show '77 Sunset Strip' - at the Petersen Automotive Museum in Los Angeles. 'Kookie's Kart' was built by hot rod builder and actor Norm Grabowski. He modified the original car several times. In 1956, he brought it to Valley Custom Shop where the car received its Royal Blue paint with flames flickering across the cowl sides. This color combination was the one seen in the TV series '77 Sunset Strip'. Grabowski's creation started the mid-1950s T-bucket craze in Southern California. T-bucket refers to a hot rod, based on a Ford Model T body of the 1915 to 1927 era.
---
Other Pages Of Interest
copyright 2011-21 - Joseph M. Sherlock - All applicable rights reserved
---
Disclaimer
The facts presented on this website are based on my best guesses and my substantially faulty geezer memory. The opinions expressed herein are strictly those of the author and are protected by the U.S. Constitution. Probably.
Spelling, punctuation and syntax errors are cheerfully repaired when I find them; grudgingly fixed when you do.
If I have slandered any brands of automobiles, either expressly or inadvertently, they're most likely crap cars and deserve it. Automobile manufacturers should be aware that they always have the option of trying to change my mind by providing me with vehicles to test drive.
If I have slandered any people or corporations, either expressly or inadvertently, they should buy me strong drinks (and an expensive meal) and try to prove to me that they're not the jerks I've portrayed them to be. If you're buying, I'm willing to listen.
Don't be shy - try a bribe. It might help.
---
---