---
The Dual-Ghia automobile featured a custom Italian-made body on an American chassis with Dodge Hemi-V8 power. 117 cars were produced between 1956-58. All but two were convertibles.
D-G owners included Rat-Packers Frank Sinatra, Peter Lawford and Dean Martin. Dean can be seen driving his '57 Dual-Ghia in the 1964 film 'Kiss Me, Stupid', while Peter Lawford drove his in the opening credits of his short-lived (1957-59) television series, 'The Thin Man'.
Other owners included actors Sterling Hayden and Glenn Ford, singer Eddie Fisher, comic actress Lucille Ball, songwriter Hoagy Carmichael, composer David Rose, politician Richard Nixon, actor/producer/bandleader Desi Arnaz (he wrecked his), ladies' swimsuit magnate Fred Cole, American female tennis star Gussie Moran, and singer/actress Debbie Reynolds.

Ronald Reagan owned a Dual-Ghia, which he lost in a high-stakes poker game with then-President Lyndon Johnson, who kept the car for several years.
Hollywood columnist Dorothy Kilgallen once wrote, "A Rolls-Royce is the Hollywood status symbol for those who can't get a Ghia."
The D-G saga began when Eugene Casaroll, father of the Dual-Ghia, reportedly bought the rights to the 1954 Dodge Firearrow IV concept car design and modified it for production, replacing the quad headlights with street-legal dual lights and adding sturdy 1956 Dodge bumpers front and rear. As well as tailfins.
There is indeed a bit of Firearrow (designed by Chrysler's head stylist, Virgil Exner) in the Dual-Ghia. I last saw one of these rare cars at a Pebble Beach auction during 1996's Monterey Week: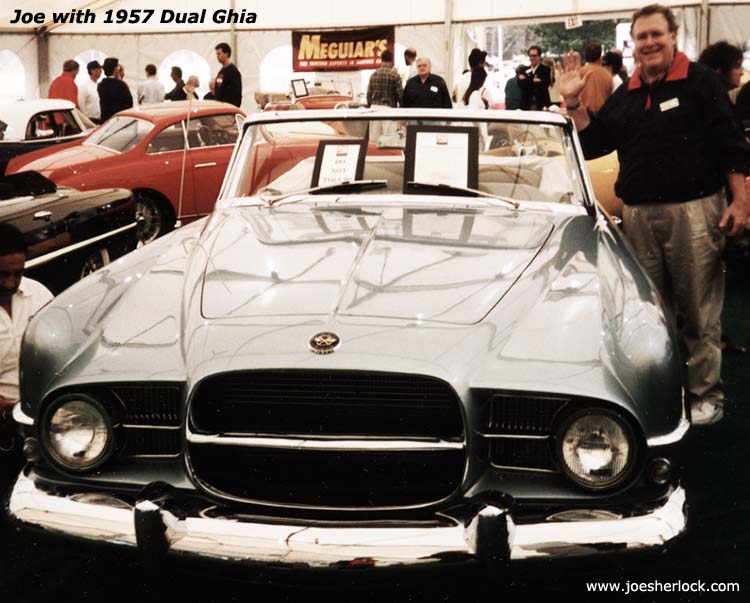 Eugene Casaroll owned Dual Motors Corporation, a Michigan manufacturer of twin-engined trucks for the Army and the Corps of Engineers. Casaroll also operated Automobile Shippers, Inc., a trucking company that hauled new for Chrysler and sponsored 'Auto Shipper Specials' for the Indy 500 in the late 1940s and early '50s. Casaroll was a Mopar enthusiast and liked the idea of Italian-bodied sportsters with big American powerplants. But he didn't want a true sports car, he felt that a five-seat tourer or boulevard cruiser offered better market potential.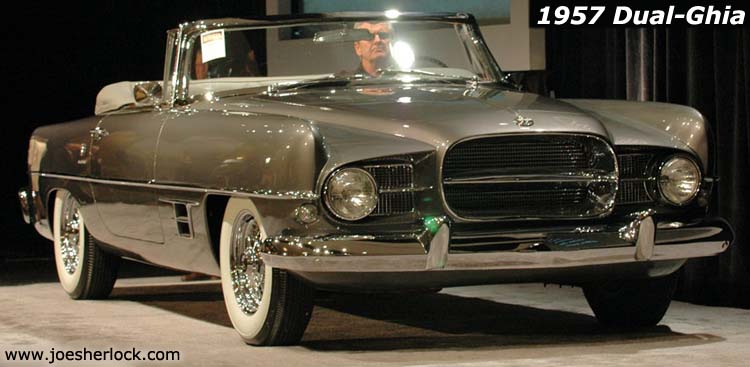 The Dual-Ghia made its debut at the 1955 Geneva Auto Show but problems delayed production and U.S. car sales commenced with the 1956 model. Frank Sinatra was one of the first customers, ordering one in black, presumably to match his new Continental Mark II.
Underpinning the stylish Dual-Ghia body was a Dodge-supplied chassis, shipped from Detroit to Carrozzeria Ghia's factory in Italy. There, Ghia shortened the wheelbase to 115 inches before sliding the chassis under the hand-built body and installing the interior. Ghia then shipped the rolling chassis back to the United States, where a 315-cu.in., 230 horsepower (or optional 260 hp) Dodge Hemi V-8 and a PowerFlite two-speed automatic transmission were installed.

The D-G was praised by the automotive press. Popular Science magazine called it a "Dodge with an Italian accent." Motor Trend tested the sleek convertible and recorded 0-60 times of 8.2 seconds. MT estimated the car's top speed at 124 mph. It is difficult to tell a '56 Dual-Ghia from a '57 or '58 model.
Sales were less than expected, partly due to pricing. The base price for the 1956 Dual Ghia was $7,646. Power brakes were a $40 option; power steering added $95 to the bill. The more powerful 260 horsepower engine cost $100 more. A loaded version topped out at $7,881, $1,325 more than a Cadillac Eldorado Barritz convertible or Seville two-door hardtop.
Another problem with sales was the lack of a dealer/distribution network. The D-G would have probably done much better had it been offered through select Chrysler Corp. dealers. Perhaps a tie-in with Chrysler's new Imperial brand, which did not offer a covertible in 1956, would have boosted sales. This Dodge-based car was quite expensive when compared to the 1956 Dodge Custom Royal convertible coupe, priced at a mere $2,913.
The Custom Royal, Caddy Eldorado and $10,000 Continental Mark II were roomier since they rode on longer wheelbases. The smaller $9,750 1956 Facel Vega coupe offered European flair, a Chrysler Hemi engine, choice of Chrysler's automatic tranny or Pont-à-Mousson four-speed manual transmission, and better handling as a true European tourer.
This chart compares the Dual-Ghia with some other automobiles of the period:
Model

1956 Price

Total Production

Avg. Annual
Production

Horsepower

Dimensions
wheelbase/length

Dual-Ghia convertible

$7,465

117 cars (3 years)

39/yr.

230

115"/204"

Continental Mark II coupe

$10,000

3,000 cars (2 years)

1,500/yr.

285

125"/219"

Facel Vega coupe

$9,750

1,200 cars (9 years)

133/yr.

255

103.5"/180"

'56 Cadillac Eldorado coupe & convertible

$6,566

6,050 cars (1 year)

6,050/yr.

305

129"/222"

'56 Dodge Custom Royal convertible

$2,913

3,630 conv. (1 year)

3,630/yr.

230

120"/212"
The Facel Vega also attracted the famous: Stirling Moss, Ava Gardner, Danny Kay, Tony Curtis, Ringo Starr and Pablo Picasso - all owned Facels at one time or another. Continental Mark II owners included such luminaries as Nelson Rockefeller, William Clay Ford, Barry Goldwater, Frank Sinatra, Cecil B. DeMille, R.J. Reynolds, Bill Harrah, Elvis Presley and the Shah of Iran.
One problem with Dual-Ghias, according to David Burgess-Wise, writing in Automobile Quarterly (Volume 24, Number 3, 1987), was continuing quality control issues. Filippo Sapino of Ghia said, "The cars just hadn't been built for road use. The workmen didn't understand that these cars were going to be operated over all types of highways. They had used plenty of body filler to get the smooth lines of the Dual-Ghia just right: so that when the cars were driven on rough roads, the filler dropped off in lumps!"
Casaroll decided to produce the next generation Dual-Ghia based on the tall tailfinned 1956 Chrysler Dart showcar.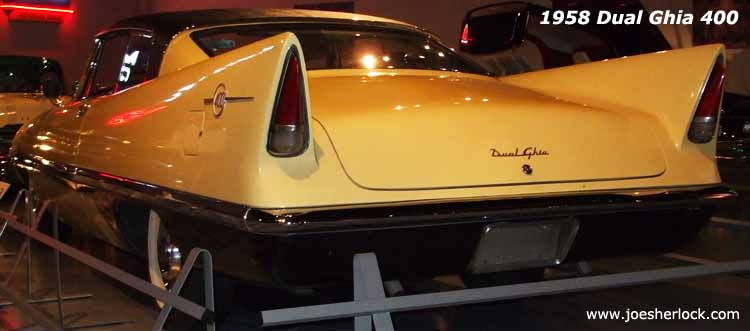 Ghia also crafted the body for the 400. The car featured a 400-hp Chrysler powerplant - hence the name - and was built on a 1957 Chrysler 300 chassis. Only a single running prototype was produced.
Another Dual-Ghia replacement was designed by Virgil Exner, Sr. The car was exhibited at the 1960 Paris Auto Show, wearing Dual-Ghia badging but Eugene Casaroll, in failing health, sold his interests to Ghia and the car was subsequently marketed to customers as the 'Ghia L6.4' - the 6.4 designation indicated engine size - the 383 cubic-inch (6.4 liter) Chrysler V8 under the hood. The Dual-Ghia moniker had disappeared from the car. The L6.4 was initially priced at $13,500 - a lot of money in 1960. In a three-year period only 25 Ghia L6.4 examples were built; Frank Sinatra bought a black one - again.
Additional information on the Dual-Ghia and its development can be found in the December 1993 issue of Collectible Automobile, which contains an authoritative article on the marque by John F. Katz.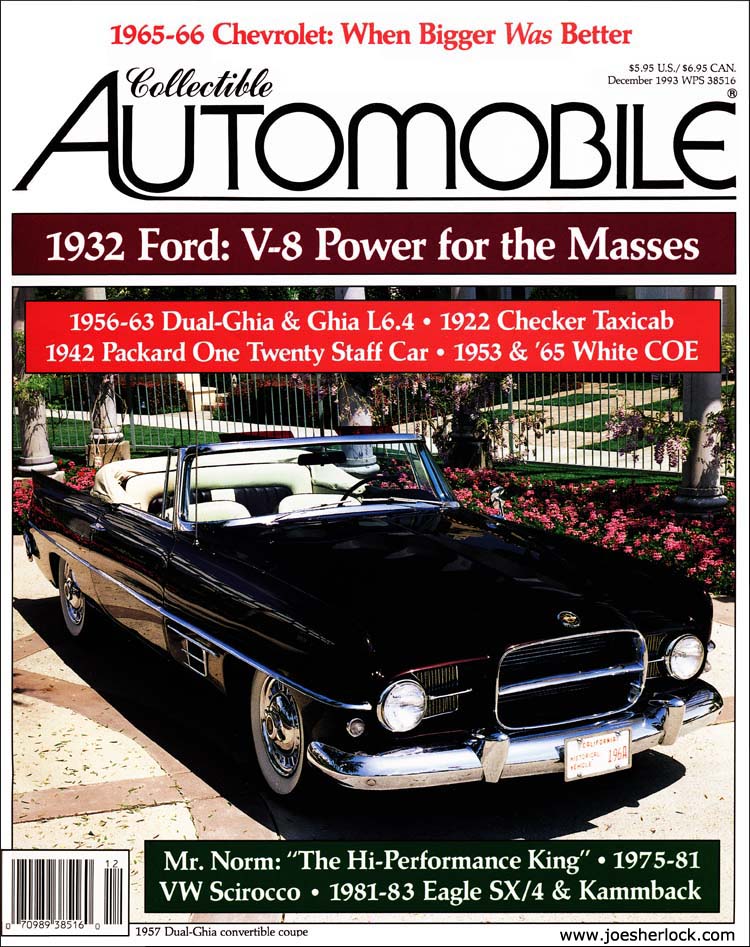 With limited production and a nostalgia for old Hollywood, the Dual-Ghia has attracted a lot of collector interest. Thirty years ago, you could buy a show-condition example for under $80,000. These days, first generation Dual-Ghias typically cross the auction block at prices in the $300-500,000 range, depending on condition and the madness of the bidders.
In January 2015, auction house Gooding & Co. sold a burgundy 1958 Dual-Ghia for $363,000. Its new owner can now fantasize about being a Fifties Hollywood Big Shot. (5/30/16)
Remember When: 1956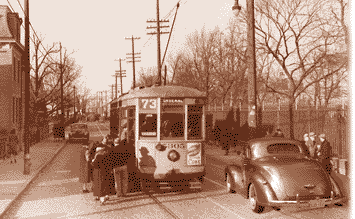 In 1956, cultural icon-to-be Elvis Presley appeared on the national scene with several #1 selling records. Elvis used some of his earnings to buy a '56 Lincoln Premiere coupe (wisteria with a white roof) and, later, a white Continental Mark II.

New products included Raid insecticide, Crest toothpaste and Comet cleanser. Ford Motor Company went public, issuing stock. Midas Muffler and Burger King began franchising. The 'Dear Abby' advice column debuted.

New words for 1956 included brainstorming, brinkmanship, industrial park and tranquilizer. Ike was reelected. Dean Martin and Jerry Lewis split up. Briget Bardot made her film debut in 'And God Created Woman.' 'In God We Trust' became the U.S. motto.

Grace Kelly married Prince Rainier of Monaco. Chrysler and Packard offered pushbutton transmissions; Packard also offered power door locks. The first Volvos (PV444 models, which reminded folks of a shrunken '47 Ford) were imported to the U.S. Ford offered seat belts and padded dashboards as options and dished steering wheels as standard equipment, touting its cars as safer. The public wasn't interested, then-sales manager Lee Iacocca developed the oft-heard axiom, "Safety doesn't sell."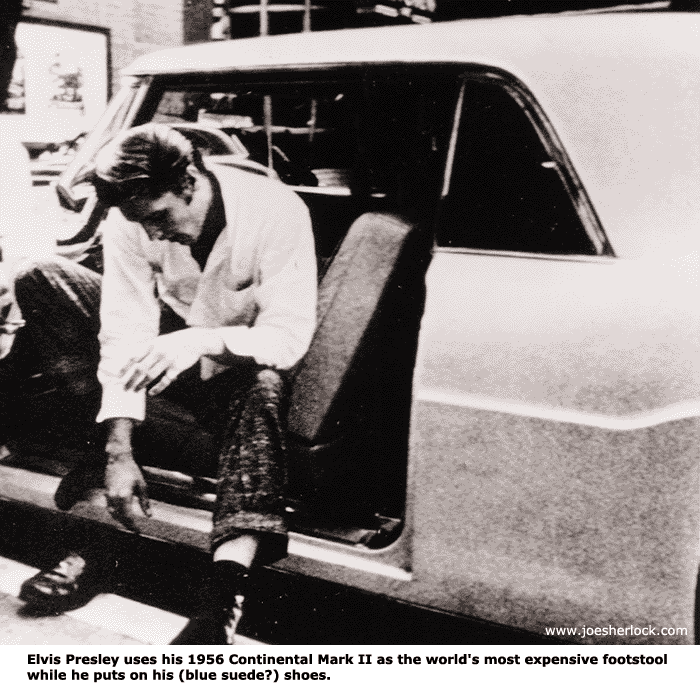 Best-selling songs of 1956 were Elvis' 'Hound Dog' and 'Don't Be Cruel'. Other record hits included Guy Mitchell's 'Singing the Blues', Fats Domino's 'Blueberry Hill', The Platters' 'My Prayer' and 'The Great Pretender', Carl Perkins' 'Blue Suede Shoes', 'The Wayward Wind' by Gogi Grant, Pat Boone's 'I Almost Lost My Mind', Dean Martin's 'Memories Are Made of This', 'Hey Jealous Lover' by Frank Sinatra and Elvis Presley's 'Heartbreak Hotel.'
Top 1956 movies included 'The Ten Commandments', 'Around the World in 80 Days', 'Giant', 'The King and I', 'Love Me Tender' and 'High Society'.
Deaths included actor Bela Lugosi, automobile manufacturer Preston Tucker, bandleader Tommy Dorsey, essayist H.L. Mencken, baseball legend Connie Mack, abstract artist Jason Pollock and comedian Fred Allen.
The Yankees won the World Series over the Brooklyn Dodgers: 4 to 3.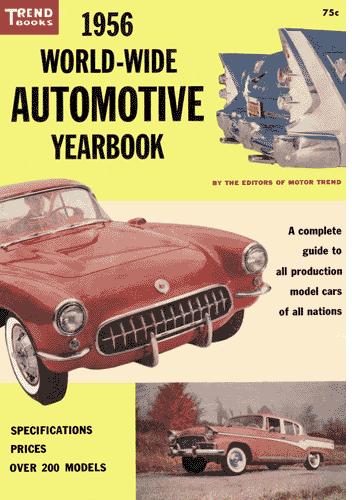 More AutoSketch car drawings can be found here.
---
Other Pages Of Interest
| blog: 'The View Through The Windshield' |
| essays: greatest hits | blog archives | '39 Plymouth | model train layout |
| about me | about the blog | e-mail |
copyright 2016-21 - Joseph M. Sherlock - All applicable rights reserved - Drawing copyright 2016
---
Disclaimer
The facts presented on this website are based on my best guesses and my substantially faulty geezer memory. The opinions expressed herein are strictly those of the author and are protected by the U.S. Constitution. Probably.
Spelling, punctuation and syntax errors are cheerfully repaired when I find them; grudgingly fixed when you do.
If I have slandered any brands of automobiles, either expressly or inadvertently, they're most likely crap cars and deserve it. Automobile manufacturers should be aware that they always have the option of trying to change my mind by providing me with vehicles to test drive.
If I have slandered any people or corporations, either expressly or inadvertently, they should buy me strong drinks (and an expensive meal) and try to prove to me that they're not the jerks I've portrayed them to be. If you're buying, I'm willing to listen.
Don't be shy - try a bribe. It might help.
---
---