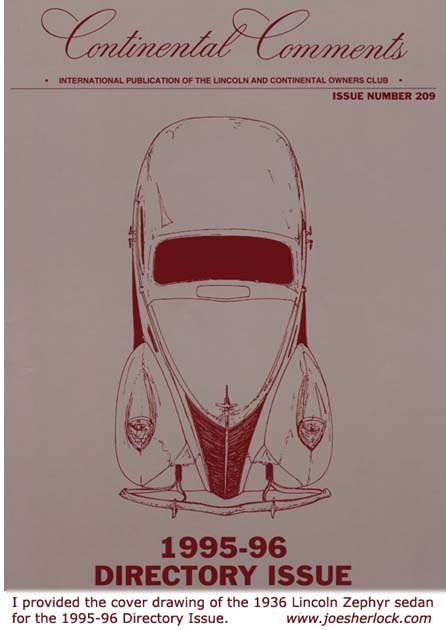 While much has been written (by me and many others) about the current woes of the Lincoln brand, there was a time when the marque was in serious danger of being discontinued.
Introduced in the 1920s, Lincoln thrived as a maker of mostly custom-bodied luxury cars - aided by a healthy infusion of Ford capital. But the economic depression of 1930s severely wounded all luxury car makers, especially Lincoln, which had no mid-priced production model to offer.
By 1935, annual sales of the big, expensive Lincoln K Series models (with prices starting at $4,200 - eight times as much as a Ford coupe) had fallen to a mere 830 cars and Lincoln brand was on the brink of extinction. The Zephyr - a much needed addition to the line - saved Lincoln.
When the Lincoln Zephyr was first introduced in November 1935 as a 1936 model, it was hailed by automotive critics as the first good-looking aerodynamic U.S. production car. (The 1934 Chrysler was first with aerodynamics, but most people thought it was stone ugly.)
Reportedly, the model's name came from the famous Burlington Zephyr streamlined passenger train of the period.
The Lincoln Zephyr had a 267 cubic inch V12 engine with 110 horsepower with a two-barrel carb.
Ads of the period claimed 14 to 18 miles per gallon fuel economy and 0 to 60 times of 16 seconds. Zephyrs weighed about 3,400 pounds and rode on 7:00 x 16 tires.
In 1937, Lincoln added two additional models to the Zephyr line - a town limousine and a 3 passenger coupe shown above. Zephyrs received only minor changes for the 1937 model year - a mildly-revised grille, side louvers to help cooling, revised front bumpers with a less-pronounced center dip and a new instrument panel with a center console.
The '37 models used the same engine as in 1936. All Zephyrs rode on a 122 inch wheelbase and were 210 inches long. The coupe cost $1,165. The town limo was the most expensive Zephyr at $1,425.
The Zephyr proved itself to be a worthy competitor in the medium-priced field, stealing sales from LaSalle, Packard, Nash and Buick. Concerns about the death of the Lincoln name with the impending demise of the big K Series were swept away by Zephyr's success.