---
Car Musings (2018)
---
Texas Three-Step: Dave Burge posted photos of "the infinitely recursive supercharged Nash Metropolitan" from this year's Lone Star Roundup - the "best little hot rod show in Texas."

The white and yellow Metropolitan has a supercharged V8 engine with a yellow-and-white Metro-shaped air box topped by a scale model of the blown Nash. It's a very-cool triple-stack. (posted 4/24/18, permalink)
---
Autos Ordinaire: Lest you think that typical Philadelphia high-school students drove cool cars like those seen in 'American Graffiti', a 1958 photo of John Bartram High School, a public school in South West Philly, shows a collection of positively ordinary vehicles from the 1940s and '50s ... (more >>>)
---

Sedan Death Watch: We are living in an SUV-crazed world. That's why the tiny Chevrolet Sonic, Ford Fiesta subcompact and full-sized Ford Taurus are on the chopping block. And rumors of the compact Ford Fusion's demise abound. As well as the full-sized Chevy Impala.
First introduced as the top-of-the-line model for the 1958 model year, the Impala was Chevrolet's most expensive passenger model through 1965 and helped Chevrolet maintain its crown as the best-selling automobile in the United States from 1958 through '60 and '62 through '65, when the range-topping Caprice model appeared.
Ford debuted the Taurus for the 1986 model year. The Taurus' influential jellybean aero shape helped Ford recapture second place among domestic automobiles (it had dropped to #3 behind Oldsmobile in '85). In 1986, Ford sold 236,362 Tauruses. By 1988, Ford had become the top-selling domestic brand and the millionth Taurus was sold during the 1989 model year.
These former champions appear to be on their last legs. Meanwhile, Aston Martin's first SUV "will be launched next year into the ultraluxury SUV space where it will rival the Bentley Bentayga, Rolls-Royce Cullinan, Lamborghini Urus, a Ferrari SUV and high-end versions of the Range Rover." The five-door luxury SUV is expected to be called Varekai. Extended-wheelbase versions of luxury SUVs have replaced stretch sedan icons such as the Cadillac 75 and Lincoln Town Car L.
We live in strange automotive times, my friends. (posted 4/12/18, permalink)
---
Rare Sighting: In Chapter 13 (titled: The Wizard's Challenge) of the 15-chapter movie serial, 'Batman & Robin', a 1941 Lincoln Custom makes an appearance, driven by the bad guys. The Custom was a special model - limited-production, long-wheelbase version of the Lincoln Zephyr.
The Lincoln Custom featured ... (more >>>)
---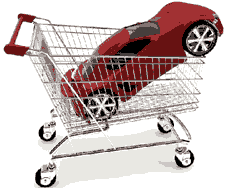 2018 Consumer Reports' Annual Auto Issue: Consumers Union began as a socialist organization in the 1930s and was once declared a subversive organization by the House Un-American Activities Committee. They still come off as a bunch of anti-capitalist lefties sometimes but Consumer Reports magazine remains the most comprehensive and believable of vehicle reliability surveys.
CR's database comes from "more than 640,000" vehicles owned by subscribers who fill out Consumer Reports' annual survey. That's only half as many vehicles that surveyed in 2012. Cars which are awarded the coveted Top Picks or Buy Recommendation now only need to score 'average' in reliability.
Here are some interesting tidbits from the magazine:
• The top-rated large car for 2018 was the Chevrolet Impala. Yet, the Impala is also listed as the least reliable in the eight and twelve year-old large car category. The Toyota Avalon is ranked tops in these categories.

• This year's top-rated brands are Genesis, Audi, BMW, Lexus and Porsche.

• The five worst-rated brands are Fiat, Jeep, Land Rover, Alfa Romeo and Mitsubishi.

• The brands that dropped the most in overall score are Buick (eight points) and Acura (six points) due to declining reliability. Once paragons of dependability virtue, Acura and Honda now have mediocre reliability ratings overall. Interestingly, the Koreean and China-made Buicks have better reliability ratings than the ones made in the U.S.

• The poorest road test scores went to the Jeep Wrangler and Mitsubishi Mirage ES, although the Mirage got really good fuel economy.

• Several Toyota models are on CR's Top Picks list and the reliability of Toyota and Lexus models remains quite high.

• I am surprised at the high prices for electric cars: the Chevrolet Bolt Premier cost over $43,000 and the Ford Focus Electric is priced at almost $41,000. By comparison, a Prius Hybrid runs from $20-$30,000, depending on the model.

• Specific models which score much worse than average in predicted reliability include all Alfa Romeos, Acura ILX, Buick LaCrosse, Cadillac Escalade, Chevy Corvette, Camaro and Suburban, Dodge Charger and Challenger, Ford Focus and Fiesta, GMC Yukon XL and Acadia Denali, anything with a Fiat badge on it, Jaguar E-Pace and F-Pace, Jeep Renegade and Grand Cherokee, all Land Rovers, Lincoln MKX, everything Maserati, Mercedes-Benz GLC and GLS, Mazda CX-9, Porsche Cayenne, all Range Rover models, Tesla Model X and Volvo XC90.
I continue to put much stock in Consumer Reports' comprehensive vehicle survey data analysis. I recommend that you pick up a copy of the April issue for reference while it's still available. (posted 3/27/18, permalink)
---
Brought To You ... By Electricity: Electric trucks are in the news these days. Tesla, Navistar and others are developing all-electric delivery trucks, while UPS is converting 1,500 of its delivery vans to electric operation. Navistar has been testing its electric vehicles, which boast a 100-mile range, tight turning circle, and up to 4,400-pound payload with Federal Express.
Electric trucks have been around for over 100 years, produced by such firms as Columbia, Walker Vehicle Co., CT Electric and Frederick R. Wood & Sons.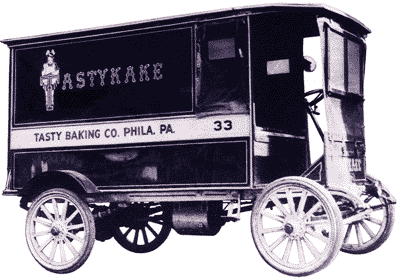 Bakeries (including Philadelphia's Tasty Baking Co.), express companies and breweries also ran electric fleets. Many department stores used electric trucks for city deliveries. John Wanamaker employed such vehicles for its New York and Philadelphia stores, many made by George W. Hoover & Sons of York, PA and Buffalo Vehicle Company of NY. In 1912, Gimbels boasted a fleet of 76 electric delivery wagons. Macy's had electric delivery vans as well. American Express had 300 electric vehicles in 1913. Brewer Jacob Ruppert ran a fleet of 72 electric delivery wagons in 1912. (Many were still in used in the 1940s; they were very popular during the war because of the war-rationed gasoline.)
Curtis Publishing Co. of Philadelphia had a fleet of 22 heavy-duty C.T. Electric flatbed trucks to haul tons of paper, coal for the printing plant, bulk tonnage of finished periodicals to the U.S. Post Office and supplies. They were also used for quiet, overnight delivery to newsstands throughout Philadelphia. The vehicles were made by Commercial Truck Company of America, located in Philadelphia. Curtis was one of the largest and most influential publishers in the United States during the early 20th century, producing 'Ladies' Home Journal', 'Saturday Evening Post', 'American Home', 'Holiday' and other popular magazines.
I once worked up the street from Curtis' impressive corporate headquarters, located about 200 feet southwest of independence Hall. I also remember seeing ancient, solid-tire electric trucks in downtown Philadelphia in the early 1970s, although they weren't from Curtis - the company retired the last of its fleet of CTs in 1964.
An electric ambulance made by F.R. Wood carried mortally-wounded President William McKinley from the Pan American Exposition's Temple of Music to the Exposition Hospital in Buffalo, NY on September 6, 1901.
'Electric Ambulance' sounds like the title of a vinyl LP album from the late 1960s. (posted 3/7/18, permalink)
---
Hello Seventies: The sleek 1970s Italian icon, the Stratos, is returning in updated form but it will not wear Lancia badges this time around.
The bulging-fendered, mid-engined black beauty is based on the 2010 concept car. The 2,800 pound rocket will be powered by a 550-horsepower engine of unspecified origin.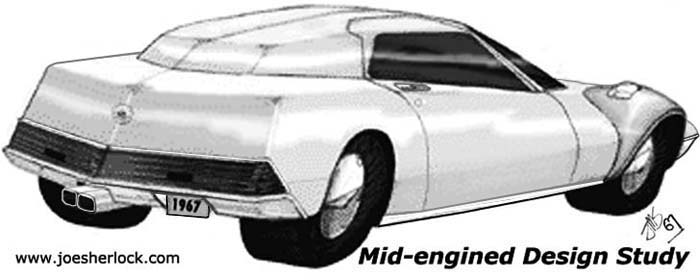 The new Stratos' front-fender bulges remind me of a mid-engine design I sketched in 1967. (posted 2/21/18, permalink)
---
"The Thickly-Cushioned Luxury Of Seats Covered In Rich Corinthian Leather." Recently, Mac's Motor City Garage published an article about the mid-1970s Chrysler Cordoba, proclaimed as The Car That Saved Chrysler.
First, a bit of history: The phrase Personal Luxury Coupe was unheard of in 1956. The name developed shortly after the wildly-successful four-seat Thunderbird arrived for the 1958 model year. General Motors management took notice and eventually entered the market segment with the 1963 Buick Riviera.
Later, Chevrolet decided to get a piece of the personal luxury coupe action with the 1970 Chevrolet Monte Carlo.
What eventually became the Chrysler Cordoba was originally planned as Plymouth's personal luxury coupe - its answer to the popular Monte Carlo. Chrysler management decided to make it a more upscale Chrysler model after experiencing alarming declines in sales of its flagship brand.
"With some minor changes in trim, features, and badges, the Plymouth became the 1975 Chrysler Cordoba ... Billed as "the new, small Chrysler," the model sold more than 150,000 units in its first year, accounting for 60% of the division's total volume of 251,000 cars in '75." Buyers could also choose between interiors: classic '70s velour fabrics or the "rich Corinthian leather" as described by the suave actor Ricardo Montalbán in Cordoba commercials.
The Cordoba was quite successful in its day. Priced almost 20% higher than the Monte Carlo, the Cordoba was undoubtedly more profitable than the original Plymouth-badged proposal would have been. It sold in far greater quantities than the similarly-priced Mercury Cougar coupe - almost 140% more, probably because the public still perceived Chrysler as a more prestigious marque in those days.
Cordoba sales peaked in 1977, with over 183,000 examples finding buyers. Then came the Iranian Revolution-caused early 1979 energy crisis, the government bailout of a nearly-bankrupt Chrysler in late '79, the double-dip recession of 1980-82 and the public's new fascination with compact, economical cars.
All of those factors doomed the Cordoba. It didn't help that the boxier, second-generation 1980 model was based on the smaller Plymouth Volaré. In any case, Cordoba's sales began to slide in 1978 and continued downward until reaching a mere 12,471 units in 1983. That's when Lee Iacocca's 'New' Chrysler Corporation pulled the plug. Corinthian cattle everywhere rejoiced. (posted 2/15/18, permalink)
---
'Bullitt' - The Movie ... And More: Recently, Jack Baruth at The Truth About Cars favorably reviewed the classic 1968 movie, 'Bullitt' - the one with the spectacular CGI-free, 10-minute car chase.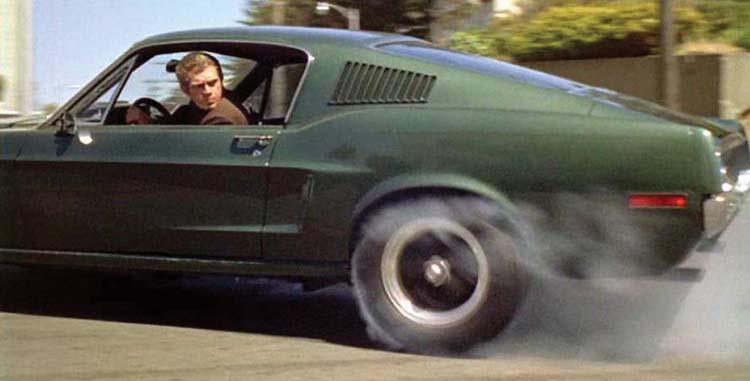 In addition to the awesome chase sequence, I enjoyed the movie on its own merits. The scenes were period-realistic, the characters were believable, and the acting was excellent. The casting seemed perfect. Robert Vaughn was well suited to play the oily and ambitious district attorney, Walter Chalmers. His two unnamed and uncredited butt-boy assistants looked like they were former fraternity members at Faber College's snooty Omega Theta Pi fraternity. They could have been roomies with Greg Marmalard.
Jaqueline Bisset made the perfect architect girlfriend for Lieutenant Frank Bullitt. Although Vic Tayback's part is small, he was a more believable mob boss than as diner owner in TV's 'Alice'. Norman Fell, best known as the hapless Mr. Roper on 'Three's Company', played the consummate prick, Captain Baker, while Simon Oakland was cast as Bullitt's gruff boss, Captain Sam Bennett.
Steve McQueen had quite a bit of input on the film since ... (more >>>)
---
Automotive Obesity: Several years ago, I wrote about automotive convergence. Small cars are getting larger (due to crash requirements and fatter buyers who need more interior room), while large cars are shrinking (due to better interior packaging efficiency and generally smaller - but more usable - trunks).
Kim du Toit provided examples of automotive bloat, comparing the original Mini with today's fatter version: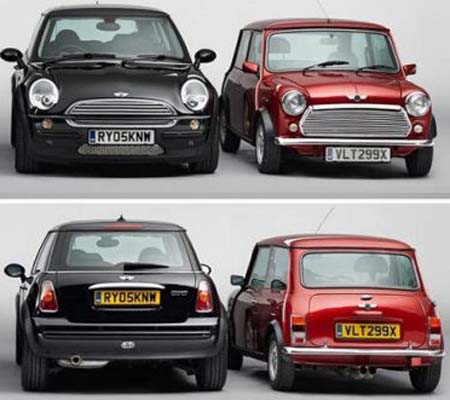 ---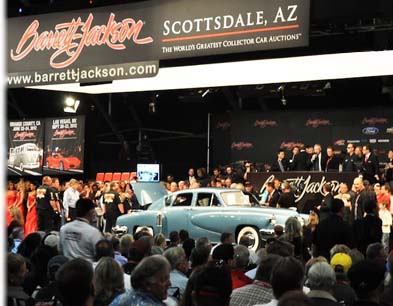 Arizona Money Show: As usual, the various Scottsdale vehicle auctions were full of aging white dudes with buckets of cash, bidding against each other, as they sought their automotive nirvana du jour. Or the nostalgia of their youth.
Serious car collectors, such as someone who pays millions for a single vehicle, does not just have one collector car. Typically, he has a collection - 20 to 50 cars - and employs several mechanics just to care for them. Often, such folk own a tricked-out enclosed car carrier to transport their prized vehicles to shows. It's fair to assume that this person's collection is worth north of $30 million. That collectior is quite rich, probably worth a half-billion or more. This man is likely a first or second generation business owner, with a firm large enough to allow his sheet-metal indulgences, including the time off to travel to auctions and hobnob with other, like-minded collectors.
How old are these guys? Looking at the televised Barrett-Jackson events, I'd guess that the age of the average bidder was 50-70. Hemmings Motor News used to claim that its average subscriber was 52 years-old. By that age, the kids are out of college, the mortgage is shrinking (or paid off) and it's usually peak income time at work. All of that means there's disposable income to spend on various toys. Speaking of toys, other auto-related items fetched high prices this year. At Barrett-Jackson, a German-made 1957 Wilhelm Hennecke transportation-themed carousel (32 feet diameter, 16 feet tall) fetched $485,000, and 30-inch diameter, double-sided porcelain-enameled 1939 Husky Gasoline sign (Canadian) sold for $130,000.
Money-wise, prices are rising for most collectible cars; average sale prices increased almost 4%. Auction houses experienced an 84% sell-through rate - better than last year. At Mecum's January auction in Kissimmee, Florida, sales were up over 12% compared with last year. A 2015 Ferrari LaFerrari topped that auction, selling for $3.41 million.
There were, however, exceptions. Only half as many cars valued in the $2 million to $5 million range were sold this year. Gooding & Co. offered a red 1956 D-Type Jaguar. It failed to sell at a bid of $8.8 million. RM Sotheby's D-Jag was also a no-sale at $9.8 million.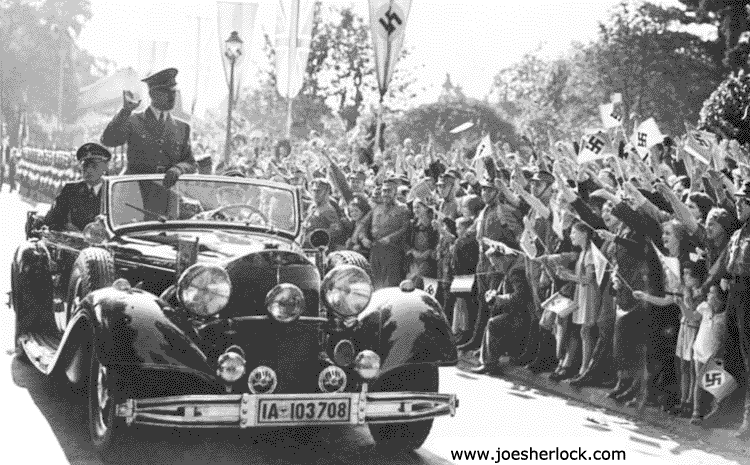 At Worldwide Auctioneers, a 1939 Mercedes-Benz 770K said to have carried Adolf Hitler during parades in Nazi Germany, failed to sell at a high bid of $7 million. One of five surviving Offener Tourenwagens, the big Merc was formerly part of the famed Imperial Palace Auto Collection. In my view, the problem with these no-sales is that over-optimistic (or overly greedy) sellers set unrealistically high reserve prices.
This year, aside from the usual multi-million-dollar exotics, muscle cars and vintage trucks pulled surprisingly high sale prices. It's impossible to cover the various auctions in their entirety, so here is a sampling of cars that I found interesting:
• A silver 1966 Shelby Cobra 427 S/C (one of 31 semi-competition models produced) fetched $2,948,750 at RM Sotheby's. The auction house also sold a silver 1948 Tucker 48 Sedan for $1,793,750.

• Bonhams gaveled a 1958 Porsche 550A Spyder works race car that placed fifth overall at Le Mans for $5.17 million. Bonhams also sold a 1972 Ferrari 365 GTS/4 Daytona for $2.64 million and a 1957 Mercedes-Benz 300SL Roadster for $1,512,500.

• At Gooding & Co., a gorgeous red 1954 Ferrari 500 Mondial roadster crossed the block for $4.455 million. And, a one of a kind, Pininfarina-bodied silver-blue (Acqua Verde Metallizzato) 1965 Ferrari 275 GTB Speciale with V12 power sold for $8,085,000.
I binge-watched almost all of Barrett-Jackson's televised Scottsdale auction. It was chock full of 1965-72 muscle cars, pony cars and Corvettes as well as over-restored old pickup trucks - former workhorses, now show horses. My eyes were drawn to some of the vintage passenger cars offered:
• Several Lincolns crossed the block this year. A rare 1942 Lincoln Continental coupe - one of 200 made during the war-shortened '42 model year - was finished in dark green and sold for $45,000. A black 1948 Lincoln Continental cabriolet (with red leather interior) fetched $54,000. These older Connies haven't budged much in price over the past 25 years. The market has moved on to muscle cars and demand for most non-coachbuilt '30s and '40s cars has generally stagnated. A black 1963 Lincoln Continental four-door convertible, sold for a whopping $130,000. Twenty years ago, a nice example of a slabside Lincoln convertible could be had for under $15,000. They have since rocketed an popularity and price. (Later, a black '64 four-door convertible sold for 'only' $69,000.) A dark blue 1956 Continental Mark II (with only 32,000 original miles on the odo) - a far rarer car than the '63 Lincoln - fetched $87,000. And a 1956 turquoise 1956 Lincoln Premiere convertible gaveled down at $100,000, even though its original price tag was about half that of the Mark II.

• In the world of old woodies, a 1931 Ford Model A station wagon once owned by Mary Tyler Moore went for a mere $24,200, while a black 1938 Ford station wagon sold for $47,000. A red 1948 Ford Super Deluxe wagon fetched $60,000. In 1948, Ford made 8,912 examples but most are long-gone. My uncle John once owned a Ford woody wagon of the 1946-48 era; he had to get rid of it when it became termite-infested.

• Some nice old Buicks found new buyers including two gorgeous 1953 Buick Skylark convertibles. A yellow example sold for $69,000, while a white one with a red leather interior fetched $160,000. Only 1,690 examples were produced and were originally priced at $5,000 - a lot of dough in '53. A white-over-red 1957 Buick Roadmaster convertible, with the iconic four Ventiports on each side, sold for $120,000. It stickered for only $4,066 in '57. Where's a time machine when you need one?

• Several vintage Cadillacs were at the B-J auction. A white '53 Cadillac Eldorado convertible with Continental kit fetched $165,000. 1953 was the first year for this expensive Caddy model; it was originally priced at $7,750 (more than five times as much as a '53 Chevy business coupe) and only 532 were made. President Eisenhower rode in one of these during his Inaugural Parade in D.C. Only 532 Eldos were produced in this first year. A 1957 black Cadillac Eldorado Biarritz convertible with red leather interior crossed the block at $200,000 and a black 1959 Series 62 convertible with red leather sold for $130,000. Finally, the notorious Car Pool, a light blue 1969 Cadillac de Ville with top and interior removed and replaced by a large, functioning hot tub, crossed the block for $24,000. The car was featured last season on 'Jay Leno's Garage'.

• A 1957 Studebaker Golden Hawk - gold with white fins - crossed the block at a bargain $45,000.

Meanwhile, another '57 model, an Oldsmobile 88 Fiesta four-door hardtop station wagon, fetched $105,000 - surprisingly high for a station wagon, although it was very nice-looking in blue and white. Speaking of Oldsmobiles, a white-and-red 1953 Fiesta convertible sold for $225,000. In 1953, this top-of-the-line model cost $5,717; that was Cadillac money in those days. Actually, it's more than Caddy money; you could get a new '53 Coupe de Ville for only $3,995. No wonder only 458 Fiestas found buyers in 1953.

• A 1963 Volkswagen 23-window Microbus, painted white over pale green, sold for an amazing $145,000 - a jump of over 30% compared with last year's VW Bus offerings.

• A Tweety Bird yellow 1970 Plymouth Road Runner hardtop coupe, with the 426 cu-in, 425 horsepower Hemi and 4-speed manual tranny crossed the block at $195,000. If anyone wants to buy my V8-powered Plymouth coupe for that price, it's yours.

A cream-colored Plymouth Superbird with black vinyl top and obligatory giant rear wing and long, droopy front nose found a buyer at $260,000, while a red '70 Hemi 'Cuda, with 7,350 original miles on the odometer, sold for $175,000. Speaking of Plymouths, the red, one-off 1954 Plymouth Belmont roadster concept car failed to sell at a high bid of $600,000. Finally, a 2000 silver Plymouth Prowler faux street rod sold for $30,000.

• A green 1970 Pontiac GTO Judge convertible with the Ram Air IV engine option fetched an astounding $400,000, demonstrating the muscle car fever which swept Scottsdale this year.
The auction biz seems to be doing well these days. Bidders are feeling flush, there are plenty of disposable dollars around and the collector car market is reflecting the overall economic optimism. And the very wealthy don't seem to have a care in the world. (posted 1/22/18, permalink)
---
Showtime: Not too long ago, the Detroit Auto Show was one of the best in the world. No more. There is too much competition. It must compete with shows in Tokyo, Shanghai, Los Angeles and even the Consumer Electronics Show in Las Vegas - all held within a relatively-short period. Once a showcase for electronic gizmos, CES has now embraced tech-laden, futuristic vehicles.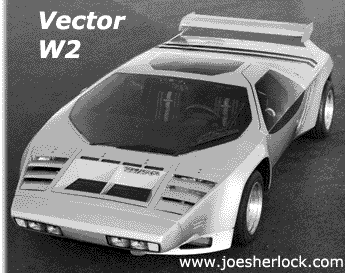 At an early-1980s CES, I saw only one car on display - the mega-hyped, never-produced Vector W2 mid-engined supercar, with its twin-turbocharged, 600 horsepower V8 motor. Top speed was claimed to be 242 mph. (In my opinion, the Vector was the Tucker of the late 20th Century.)
There were numerous cars on display at the 2018 Consumer Electronics Show: Hyundai unveiled its Nexo fuel-cell vehicle (with a 370 mile range). Fisker showed off its swoopy EMotion electric vehicle. Chinese-backed car startup Byton officially unveiled its all-electric crossover.
The new Kia Niro EV was launched in Las Vegas, offering a range comparable to the Chevy Bolt and Tesla Model 3. Toyota showed its e-Palette concept van which features automated driving and 'mobility' - a word used a lot by automakers in 2018. As if we didn't have mobility before. What about feet? Or bicycles? Or roller skates?
Daimler debuted a self-driving electric Smart car. Venderhall Motor Works introduced an electric 3-wheeler trike, the Edison; it has a range of 200 miles on a single charge and an unoriginal name. The two-seater has a top speed of 105 mph and a 0-60 mph time of 4 seconds. Genovation unveiled the GXE, an 800 horsepower all-electric Corvette.
On the other end of the scale, the Ujet electric scooter made its debut; it offers 93 miles on a single charge for those who wish to actually endure 93 miles on a scooter of any kind. Oh, it's foldable, too.
These introductions happened one week before the Detroit Auto Show, taking some of the wind out of the Motor City's sails. The Detroit Show was more about trucks and navel-gazing. Peter De Lorenzo wrote, "Detroit isn't a 'retail' show like the Chicago show, where real people look over real vehicles to buy. And it's not a trendsetting show like the Consumer Electronics Show or even L.A., or a mainstream media-centric show like New York. Let's face it: the Detroit Auto Show is a metal and carbon fiber-filled dog-and-pony show staged more for industry players than anything else."
Pickups and utility vehicles dominated this year's North American International Auto Show (official name, although everyone still calls it the Detroit Auto Show). There was a revamped Chevrolet Silverado, a resurrected Ford Ranger midsize pickup, which is a lot bigger than the old Ford Ranger we used to know (What's next - a Chevy Luv the size of a Peterbuilt?), a new Ram 1500 (also available as a hybrid), the totally-redesigned Mercedes-Benz G-Class SUV (looking a lot like the old one), the new, tech-loaded 2019 Acura RDX crossover, a refreshed Jeep Cherokee with softened styling (think 1960 Buick versus '59), the BMW X2 small-but-pricey crossover and the very quick Lamborghini Urus SUV (making its North American debut).
The navel-gazing part of the show was about autonomous vehicles and mobility in general. Various executives mused that perhaps vehicle ownership is coming to an end, replaced by 'subscription services'. This is like having a coven of vegans give the keynote address at a meatpackers convention. Detroit is publicly shooting itself in the foot, in my view.
So what kind of non-truck iron was on display? Well, a new, even-more-Americanized 2019 Volkswagen Jetta sedan and a restyled Hyundai Veloster sorta-coupe. Ford offered up yet another iteration of the Bullitt Mustang, available this summer as a green-hued 2019 475-horsepower model for aging dudes who think they're Steve McQueen reincarnated. Kia introduced a very sleek, redesigned Forte compact sedan. Honda debuted a new, larger Insight hybrid, which is much better-looking that previous models. The 2019 Toyota Avalon debuted with a big in-your-face grille and lots of new features. The Avalon's prominent nose won the show's Jimmy Durante Lookalike Award.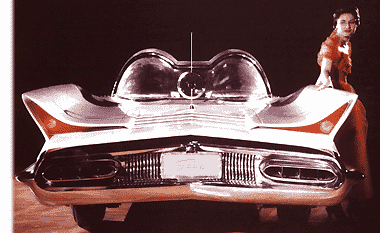 There was a smattering of concept cars on display, but nothing truly futuristic like the bubble-topped Lincoln Futura, the imposing yet unpredictable Packard Predictor or the outrageous, multi-finned, turbine-powered GM Firebird III of yore.
The slinky four-door Infiniti Q Inspiration Concept sedan was on display at the show. It's a mid-sized four-door piece of eye candy, powered by a technically-interesting four-cylinder variable-compression turbo engine. Lexus debuted the large, tech-laden LF-1 Limitless luxury crossover concept. It has an oversized version of the dreaded Lexus spindle grille which is beginning to morph into a cowcatcher. This Lexus is not a looker to my tired eyes, despite the fact tham I'm a fan of old steam locomotives and, therefore, like cowcatchers.
The worst concept vehicle at Detroit was the Nissan Xmotion CUV-thingie, which is pronounced Cross-Motion. You know that, if they have to tell you how to pronounce its name, it's going to be a bad idea, unless Mel Brooks is somehow involved: "It's pronounced Frahn-ken-steen."
Several auto brands, including Audi, Cadillac, Chrysler and Lincoln, did not present any new vehicles, while Porsche, Jaguar and Land Rover skipped the Detroit show entirely. Which speaks volumes about the show's declining relevance. Better luck next year, Motown. (posted 1/18/18, permalink)
---
A Sign Of Things To Come: The Tucker Automobile Club has merged with AACA (Antique Automobile Club of America) Museum.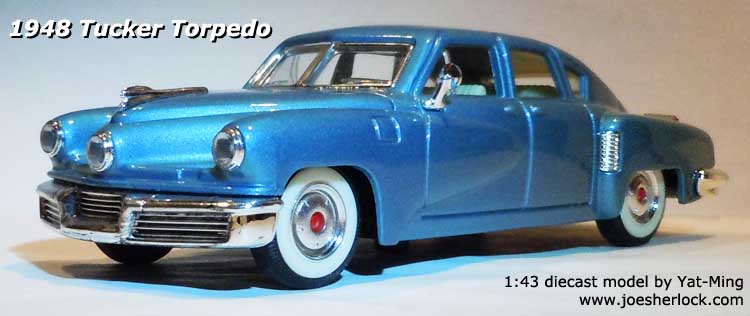 Eric Breslow, president of the Tucker Club echoed AACA Executive Director Jeff Bliemeister's assessment of the car club scene as a whole: "In my opinion, the car club model of the Seventies is dead and not coming back. Clubs are not what they used to be. The next generation is not interested in joining old-school car clubs."
Bliemeister also said he and other museum officials would like to form similar partnerships with other car clubs as they find themselves in similar positions to the Tucker club. "The possibility is there; we're open to any kind of partnership moving forward," he said. "Standalone clubs are dying, so we as a public museum want to do whatever we can to help out the hobby as a whole. And for us to house other marque clubs, that's how we're going to grow as a museum."
Sadly, Eric is correct. The old car culture is also undergoing gigantic changes. Many car clubs are suffering. I belong to a regional club which is experiencing decline in membership - dropping from 284 members at its peak in the 1990s to less than 100 today. But that's not the big problem - it's the volunteer pool which is drying up. Other car clubs I've belonged to have substantially shrunken and curtailed their activities. Or gone out of existence. A secondary problem is that some car clubs are inbred and not welcoming to new members. And do stupid things.
My experience is that people start buying old cars when they reach their mid-40s. That's when most guys start getting what economists call 'disposable income' and what we call 'pissing-around money'. I bought my first collector car when I was 44. I quickly joined two car clubs - both run by people in their mid-to-late 50s and populated by 40-somethings like me. Each club's 'elders' encouraged us to get active. We did and, by age 50 or so, we were running the club. The problem is that no one ever came along to replace us. There are few forty-somethings in these car clubs, despite aggressive recruitment efforts by club members. Those who do join aren't very active and have no interest in volunteering to help run a club. "No spare time," they plead.
An underlying problem is that today's 44 year-old graduated from high school in 1992, when cars were mostly crap. I've never heard anyone say, "I'm saving my money so I can someday buy a fully-restored '92 Buick Riviera. Or '92 Dodge Daytona. Or Geo Metro." Most don't have a high-school 'car dream' to chase - unlike people of my generation. I began buying car magazines when I was 12 years old. And spent a lot of time dreaming about what exotic car I'd like to own someday:

Today's forty-something is more likely to be spending any excess money on toys of the 1970s and '80s - old Fisher Price stuff, Merlin, Mr. Machine, a J. Chein litho roller coaster, Slip 'n' Slide, G.I. Joe stuff, Stretch Armstrong, Simon, Big Wheel, Green Machine, etc.
The dropping membership numbers reflect the general membership decline of most social and fraternal organizations in the U.S. - Elks, Masons, Eagles, etc. (No time to head down to the Moose Lodge to have a beer and make new friends - too busy doing social networking online - like updating your Facebook or Instagram page. Or saying something clever on Twitter.)
I have no solutions to offer here - just observations. (posted 1/10/18, permalink)
---

2017 Auto Sales: In 2017, new U.S. vehicle sales were 17.2 million, marking the first decline after seven years of growth, capped by a record 2016. 2017 sales were down by about 2% overall. 2017 was the first year since 2009 in which auto sales failed to beat the previous year's.
Although 2017 sales volumes were kept afloat by sticker discounts, manufacturer incentives, cheap loans, cut-rate lease deals and a push into sub-prime financing, sales for 2018 are expected to decline because the U.S. vehicle market is quite saturated after several record or near-record years. There is also the expected influx of millions of nearly-new, off-lease vehicles that are cheaper than new vehicles.
Ford Motor Co. reported a U.S. sales year-over-over decrease of 1.1% for 2017. Sales totaled 2.587 million units compared with 2.615 million sold in 2016. Passenger car sales dropped 14.2% while sport utility vehicle sales rose 2.9% and truck sales rose 4.3%. The Ford brand declined 1.1% to 2,464,041 vehicles, while Lincoln was down 0.5% to 111,159 vehicles. Lincoln sold 12,012 Continentals in 2017 - an increase of 128% over 2016.
Ford's F-Series sales increased 9% with 896,764 trucks sold; this represents its best performance since 2005 and marks 41 consecutive years as America's best-selling pickup.
General Motors Co. posted total U.S. sales of 3.002 million units, a drop of 1.3% compared with 3.042 million units sold in 2016. Sales were lower in three of the company's four divisions - Buick, Cadillac and Chevrolet - but up in the GMC division. Cadillac sales declined 8% to 156,440 units; Buick deliveries were down 5% to 219,231 vehicles, Chevrolet sales dropped 2% to 2,065,883 units, while GMC sales were up 3% to 560,687 trucks and SUVs.
Fiat Chrysler Automobiles N.V. reported that 2017 sales fell 8% compared with 2016, from 2.244 million to 2.059 million units. Chrysler brand sales were down 19% to 188,545 vehicles, Dodge dropped 12% to 446,996 units, Ram truck sales increased 2% to 556,790. Once seen as the savior of Fiat-Chrysler, sales of the Jeep brand dropped 11% to 828,522 units. For the full year, Jeep Grand Cherokee sales increased 13%. Fiat sales fell 19% to 26,492 vehicles. Alfa Romeo sold 12,031 units in 2017.
Toyota sales declined 1% to 2,434,515 vehicles, while Lexus sales were down by 8% to 305,132 in calendar year 2017. Prius sales dropped 20%; Avalon sales were down 32%. Sales of the flagship Lexus LS sedan fell 26%.
The Honda brand was up 1% to 1,486,827 vehicles, while Acura dropped 4% to 154,602 vehicles.
Nissan sales rose 1% to 1,440,049 units; Infiniti jumped 11% to 153,415 vehicles.
Hyundai was down 13% to 664,961 vehicles, while Kia declined 9% to 589,668. Genesis sold 20,594 cars in 2017.
Mazda was down 3% to 289,470 vehicles. Back-from-the-Dead Mitsubishi sales rose 6% to 103,686 vehicles. Volkswagen increased sales 5% to 229,676 VWs in 2017. Mini was down 10% to 47,105 units, while Smart dropped a whopping 51% to 3,071 cars - only 166 found buyers in December. Smart had the dubious distinction of experiencing the largest sales decline in 2017.
Subaru sales were up 5% to 647,956, Subaru declared, "Best. Year. Ever."
Luxury automaker Bentley sales were down 7% to 2,405 vehicles, while Jaguar leaped 27% to 39,594. Audi sales increased by 8% to 226,511 units.
Tesla's estimated sales were up 35% to 55,120 vehicles but Tesla delivered only 1,550 Model 3 EVs in the fourth quarter - far below forecasts.
Mercedes-Benz sales increased very slightly to 375,240 - enough to make it America's top-selling luxury vehicle. Porsche sales were up 2% to 55,420 units. BMW sales declined 2% to 305,685 vehicles. BMW sold 100,000 electric vehicles in 2017, mostly in Western Europe and the U.S. Most were the i3 two-door compact coupe. Maserati sales increased 9% to 13,697 vehicles. Land Rover was up 1% to 54,379 SUVs.
Despite various ups-and-downs, 2017 was a very satisfactory year overall for manufacturers, OEM suppliers and dealers. (posted 1/4/18, permalink)
---
Earlier Car Musings can be found here.
---
Other Pages Of Interest
| blog: 'The View Through The Windshield' |
| greatest hits: various essays & articles | blog archives | '39 Plymouth | model train layout |
| about me | about the blog | e-mail |
copyright 2018 - Joseph M. Sherlock - All applicable rights reserved
---
Disclaimer
The facts presented in this blog are based on my best guesses and my substantially faulty geezer memory. The opinions expressed herein are strictly those of the author and are protected by the U.S. Constitution. Probably.
Spelling, punctuation and syntax errors are cheerfully repaired when I find them; grudgingly fixed when you do.
If I have slandered any brands of automobiles, either expressly or inadvertently, they're most likely crap cars and deserve it. Automobile manufacturers should be aware that they always have the option of trying to change my mind by providing me with vehicles to test drive.
If I have slandered any people or corporations in this blog, either expressly or inadvertently, they should buy me strong drinks (and an expensive meal) and try to prove to me that they're not the jerks I've portrayed them to be. If you're buying, I'm willing to listen.
Don't be shy - try a bribe. It might help.
---
---