Showtime: Not too long ago, the Detroit Auto Show was one of the best in the world. No more. There is too much competition. It must compete with shows in Tokyo, Shanghai, Los Angeles and even the Consumer Electronics Show in Las Vegas - all held within a relatively-short period. Once a showcase for electronic gizmos, CES has now embraced tech-laden, futuristic vehicles.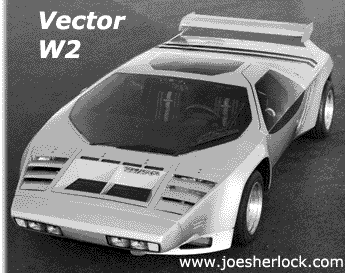 At an early-1980s CES, I saw only one car on display - the mega-hyped, never-produced Vector W2 mid-engined supercar, with its twin-turbocharged, 600 horsepower V8 motor. Top speed was claimed to be 242 mph. (In my opinion, the Vector was the Tucker of the late 20th Century.)
There were numerous cars on display at the 2018 Consumer Electronics Show: Hyundai unveiled its Nexo fuel-cell vehicle (with a 370 mile range). Fisker showed off its swoopy EMotion electric vehicle. Chinese-backed car startup Byton officially unveiled its all-electric crossover.
The new Kia Niro EV was launched in Las Vegas, offering a range comparable to the Chevy Bolt and Tesla Model 3. Toyota showed its e-Palette concept van which features automated driving and 'mobility' - a word used a lot by automakers in 2018. As if we didn't have mobility before. What about feet? Or bicycles? Or roller skates?
Daimler debuted a self-driving electric Smart car. Venderhall Motor Works introduced an electric 3-wheeler trike, the Edison; it has a range of 200 miles on a single charge and an unoriginal name. The two-seater has a top speed of 105 mph and a 0-60 mph time of 4 seconds. Genovation unveiled the GXE, an 800 horsepower all-electric Corvette.
On the other end of the scale, the Ujet electric scooter made its debut; it offers 93 miles on a single charge for those who wish to actually endure 93 miles on a scooter of any kind. Oh, it's foldable, too.
These introductions happened one week before the Detroit Auto Show, taking some of the wind out of the Motor City's sails. Yhe Detroit Show was more about trucks and navel-gazing. Peter De Lorenzo wrote, "Detroit isn't a 'retail' show like the Chicago show, where real people look over real vehicles to buy. And it's not a trendsetting show like the Consumer Electronics Show or even L.A., or a mainstream media-centric show like New York. Let's face it: the Detroit Auto Show is a metal and carbon fiber-filled dog-and-pony show staged more for industry players than anything else."
Pickups and utility vehicles dominated this year's North American International Auto Show (official name, although everyone still calls it the Detroit Auto Show). There was a revamped Chevrolet Silverado, a resurrected Ford Ranger midsize pickup, which is a lot bigger than the old Ford Ranger we used to know (What's next - a Chevy Luv the size of a Peterbuilt?), a new Ram 1500 (also available as a hybrid), the totally-redesigned Mercedes-Benz G-Class SUV (looking a lot like the old one), the new, tech-loaded 2019 Acura RDX crossover, a refreshed Jeep Cherokee with softened styling (think 1960 Buick versus '59), the BMW X2 small-but-pricey crossover and the very quick Lamborghini Urus SUV (making its North American debut).
The navel-gazing part of the show was about autonomous vehicles and mobility in general. Various executives mused that perhaps vehicle ownership is coming to an end, replaced by 'subscription services'. This is like having a coven of vegans give the keynote address at a meatpackers convention. Detroit is publicly shooting itself in the foot, in my view.
So what kind of non-truck iron was on display? Well, a new, even-more-Americanized 2019 Volkswagen Jetta sedan and a restyled Hyundai Veloster sorta-coupe. Ford offered up yet another iteration of the Bullitt Mustang, available this summer as a green-hued 2019 475-horsepower model for aging dudes who think they're Steve McQueen reincarnated. Kia introduced a very sleek, redesigned Forte compact sedan. Honda debuted a new, larger Insight hybrid, which is much better-looking that previous models. The 2019 Toyota Avalon debuted with a big in-your-face grille and lots of new features. The Avalon's prominent nose won the show's Jimmy Durante Lookalike Award.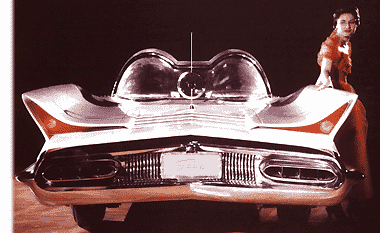 There was a smattering of concept cars on display, but nothing truly futuristic like the bubble-topped Lincoln Futura, the imposing yet unpredictable Packard Predictor or the outrageous, multi-finned, turbine-powered GM Firebird III of yore.
The slinky four-door Infiniti Q Inspiration Concept sedan was on display at the show. It's a mid-sized four-door piece of eye candy, powered by a technically-interesting four-cylinder variable-compression turbo engine. Lexus debuted the large, tech-laden LF-1 Limitless luxury crossover concept. It has an oversized version of the dreaded Lexus spindle grille which is beginning to morph into a cowcatcher. This Lexus is not a looker to my tired eyes, despite the fact tham I'm a fan of old steam locomotives and, therefore, like cowcatchers.
The worst concept vehicle at Detroit was the Nissan Xmotion CUV-thingie, which is pronounced Cross-Motion. You know that, if they have to tell you how to pronounce its name, it's going to be a bad idea, unless Mel Brooks is somehow involved: "It's pronounced Frahn-ken-steen."
Several auto brands, including Audi, Cadillac, Chrysler and Lincoln, did not present any new vehicles, while Porsche, Jaguar and Land Rover skipped the Detroit show entirely. Which speaks volumes about the show's declining relevance. Better luck next year, Motown. (posted 1/18/18, permalink)
---
A Sign Of Things To Come: The Tucker Automobile Club has merged with AACA (Antique Automobile Club of America) Museum.
Eric Breslow, president of the Tucker Club echoed AACA Executive Director Jeff Bliemeister's assessment of the car club scene as a whole: "In my opinion, the car club model of the Seventies is dead and not coming back. Clubs are not what they used to be. The next generation is not interested in joining old-school car clubs."
Bliemeister also said he and other museum officials would like to form similar partnerships with other car clubs as they find themselves in similar positions to the Tucker club. "The possibility is there; we're open to any kind of partnership moving forward," he said. "Standalone clubs are dying, so we as a public museum want to do whatever we can to help out the hobby as a whole. And for us to house other marque clubs, that's how we're going to grow as a museum."
Sadly, Eric is correct. The old car culture is also undergoing gigantic changes. Many car clubs are suffering. I belong to a regional club which is experiencing decline in membership - dropping from 284 members at its peak in the 1990s to less than 100 today. But that's not the big problem - it's the volunteer pool which is drying up. Other car clubs I've belonged to have substantially shrunken and curtailed their activities. Or gone out of existence. A secondary problem is that some car clubs are inbred and not welcoming to new members. And do stupid things.
My experience is that people start buying old cars when they reach their mid-40s. That's when most guys start getting what economists call 'disposable income' and what we call 'pissing-around money'. I bought my first collector car when I was 44. I quickly joined two car clubs - both run by people in their mid-to-late 50s and populated by 40-somethings like me. Each club's 'elders' encouraged us to get active. We did and, by age 50 or so, we were running the club. The problem is that no one ever came along to replace us. There are few forty-somethings in these car clubs, despite aggressive recruitment efforts by club members. Those who do join aren't very active and have no interest in volunteering to help run a club. "No spare time," they plead.
An underlying problem is that today's 44 year-old graduated from high school in 1992, when cars were mostly crap. I've never heard anyone say, "I'm saving my money so I can someday buy a fully-restored '92 Buick Riviera. Or '92 Dodge Daytona. Or Geo Metro." Most don't have a high-school 'car dream' to chase - unlike people of my generation. I began buying car magazines when I was 12 years old. And spent a lot of time dreaming about what exotic car I'd like to own someday:
Today's forty-something is more likely to be spending any excess money on toys of the 1970s and '80s - old Fisher Price stuff, Merlin, Mr. Machine, a J. Chein litho roller coaster, Slip 'n' Slide, G.I. Joe stuff, Stretch Armstrong, Simon, Big Wheel, Green Machine, etc.
The dropping membership numbers reflect the general membership decline of most social and fraternal organizations in the U.S. - Elks, Masons, Eagles, etc. (No time to head down to the Moose Lodge to have a beer and make new friends - too busy doing social networking online - like updating your Facebook or Instagram page. Or saying something clever on Twitter.)
I have no solutions to offer here - just observations. (posted 1/10/18, permalink)
---

2017 Auto Sales: In 2017, new U.S. vehicle sales were 17.2 million, marking the first decline after seven years of growth, capped by a record 2016. 2017 sales were down by about 2% overall. 2017 was the first year since 2009 in which auto sales failed to beat the previous year's.
Although 2017 sales volumes were kept afloat by sticker discounts, manufacturer incentives, cheap loans, cut-rate lease deals and a push into sub-prime financing, sales for 2018 are expected to decline because the U.S. vehicle market is quite saturated after several record or near-record years. There is also the expected influx of millions of nearly-new, off-lease vehicles that are cheaper than new vehicles.
Ford Motor Co. reported a U.S. sales year-over-over decrease of 1.1% for 2017. Sales totaled 2.587 million units compared with 2.615 million sold in 2016. Passenger car sales dropped 14.2% while sport utility vehicle sales rose 2.9% and truck sales rose 4.3%. The Ford brand declined 1.1% to 2,464,041 vehicles, while Lincoln was down 0.5% to 111,159 vehicles. Lincoln sold 12,012 Continentals in 2017 - an increase of 128% over 2016.
Ford's F-Series sales increased 9% with 896,764 trucks sold; this represents its best performance since 2005 and marks 41 consecutive years as America's best-selling pickup.
General Motors Co. posted total U.S. sales of 3.002 million units, a drop of 1.3% compared with 3.042 million units sold in 2016. Sales were lower in three of the company's four divisions - Buick, Cadillac and Chevrolet - but up in the GMC division. Cadillac sales declined 8% to 156,440 units; Buick deliveries were down 5% to 219,231 vehicles, Chevrolet sales dropped 2% to 2,065,883 units, while GMC sales were up 3% to 560,687 trucks and SUVs.
Fiat Chrysler Automobiles N.V. reported that 2017 sales fell 8% compared with 2016, from 2.244 million to 2.059 million units. Chrysler brand sales were down 19% to 188,545 vehicles, Dodge dropped 12% to 446,996 units, Ram truck sales increased 2% to 556,790. Once seen as the savior of Fiat-Chrysler, sales of the Jeep brand dropped 11% to 828,522 units. For the full year, Jeep Grand Cherokee sales increased 13%. Fiat sales fell 19% to 26,492 vehicles. Alfa Romeo sold 12,031 units in 2017.
Toyota sales declined 1% to 2,434,515 vehicles, while Lexus sales were down by 8% to 305,132 in calendar year 2017. Prius sales dropped 20%; Avalon sales were down 32%. Sales of the flagship Lexus LS sedan fell 26%.
The Honda brand was up 1% to 1,486,827 vehicles, while Acura dropped 4% to 154,602 vehicles.
Nissan sales rose 1% to 1,440,049 units; Infiniti jumped 11% to 153,415 vehicles.
Hyundai was down 13% to 664,961 vehicles, while Kia declined 9% to 589,668. Genesis sold 20,594 cars in 2017.
Mazda was down 3% to 289,470 vehicles. Back-from-the-Dead Mitsubishi sales rose 6% to 103,686 vehicles. Volkswagen increased sales 5% to 229,676 VWs in 2017. Mini was down 10% to 47,105 units, while Smart dropped a whopping 51% to 3,071 cars - only 166 found buyers in December. Smart had the dubious distinction of experiencing the largest sales decline in 2017.
Subaru sales were up 5% to 647,956, Subaru declared, "Best. Year. Ever."
Luxury automaker Bentley sales were down 7% to 2,405 vehicles, while Jaguar leaped 27% to 39,594. Audi sales increased by 8% to 226,511 units.
Tesla's estimated sales were up 35% to 55,120 vehicles but Tesla delivered only 1,550 Model 3 EVs in the fourth quarter - far below forecasts.
Mercedes-Benz sales increased very slightly to 375,240 - enough to make it America's top-selling luxury vehicle. Porsche sales were up 2% to 55,420 units. BMW sales declined 2% to 305,685 vehicles. BMW sold 100,000 electric vehicles in 2017, mostly in Western Europe and the U.S. Most were the i3 two-door compact coupe. Maserati sales increased 9% to 13,697 vehicles. Land Rover was up 1% to 54,379 SUVs.
Despite various ups-and-downs, 2017 was a very satisfactory year overall for manufacturers, OEM suppliers and dealers. (posted 1/4/18, permalink)