AutoBiography - Cars In My Life: Collecting Madness
In an earlier chapter, I wrote about company vehicles I've lived with. They were functional vehicles purchased for an intended purpose. On the other end of the automotive scale are collector cars - vehicles which are purchased simply to please their owners. Non-car people consider this a form of madness. Car enthusiasts know better.
Why do people buy old cars? For many, it's because they wish to recapture their youth. Or to own a vehicle they once admired but couldn't afford when it was new. Or to own something they've rescued from the junk pile and brought back to life.
• Continental Mark II: I've always been crazy about the looks of the Continental Mark II, ever since it was introduced in the fall of 1955. It was offered in only one body style, a two-door hardtop coupe and was a virtually hand-assembled car with a price tag of $10,000. As a grade-schooler, I remember seeing a black one on display in the small showroom of Ray Swenson Lincoln Mercury on Philadelphia's Kensington Avenue in Spring 1956.
I went there so often to admire it that a salesman finally approached me and remarked, "Say, kid, you must really like this car ... how'd ya like a photo of it?" He offered me a factory-photo an 8x10 black and white glossy of my dream machine posed in front of an elegant stone structure. Then he said, "I'll give it to ya if ya promise to never come in here again." I grabbed it and was outta there as fast as my chubby 12 year-old legs could move.
I framed the photo and kept it all these years. It still hangs on the wall of my office: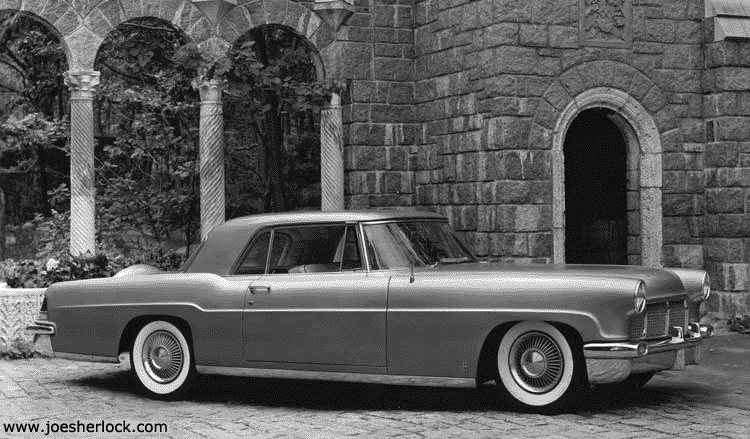 In November, 1987, I finally bought a Continental Mark II. It was a white 1957 model with a red and white interior. When I went to look at it, I arrived at the Boring, Oregon owner's home a little early. As he and a helper were trying get the beast started, it backfired copiously through the carburetor belching flames and setting the engine compartment ablaze.
While the helper was trying to find a fire extinguisher, I quickly tore off my beloved gray hoodie and beat the flames out with it. I guess that was me making a purchase commitment. I bought the car at a good price and quickly fixed the backfire issues once the Continental became mine.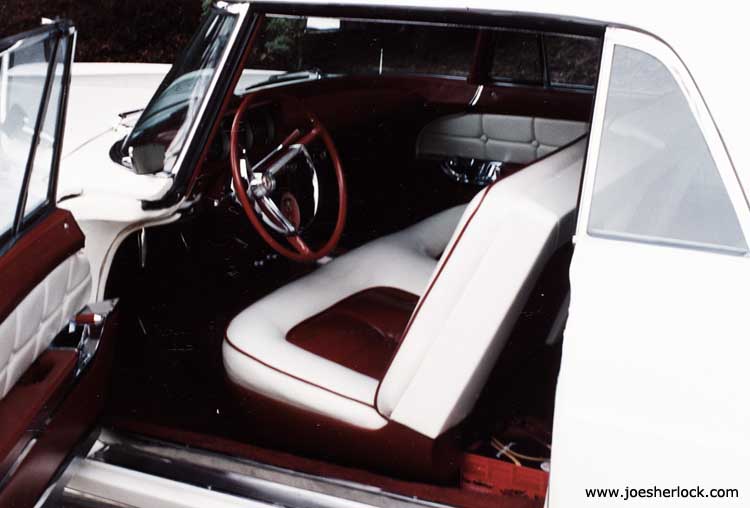 I had a lot of fun with that car. My wife and I took it to car shows and won prizes, too. My daughter posed with it as part of her high school graduation portfolio: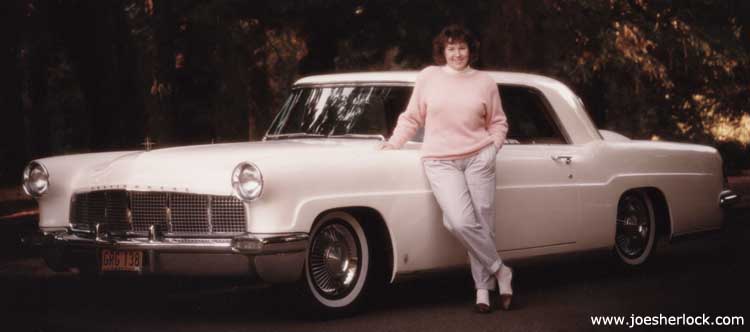 We drove our '57 on a lot of Lincoln Club tours through five states, including trips to Salt Lake City, Utah and St. Maries, Idaho. It was a great driver but had been restored inaccurately and unauthentically. The '57 was equipped with an aftermarket A/C system and the radio had been replaced with one that played eight-track tapes. The rubber gaskets around the front and back glass as well as the taillights were tired and cracked, although they didn't leak. During its life, the Continental apparently developed some rust issues which had not been properly addressed and repaired - Bondo patches were starting to blister.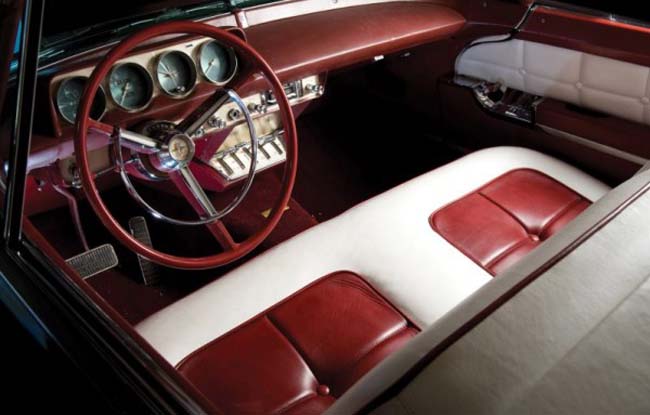 The vehicle also had a chromed tow hitch welded to the back bumper. I was told that a prior owner had used the Mark II as a tow vehicle for his restored brass-era Hudson touring car, which he took to various concours. It was also equipped with air horns which played 'La Cucaracha' - an accessory my friends found very amusing.
In 1992, I located a better Mark II - a white 1956 model with factory air-conditioning which I purchased. The car also had the very rare factory headlight dimmer system. It was in spectacular, original condition and was truly a show car with only 76,000 miles on the odometer. I became its fifth owner.

Not needing two white Mark IIs, I then sold the '57 to a collector in Houston, Texas. In 1994, I entered our '56 Mark II in the Lincoln and Continental Owners Club's National Meet in Silverdale, Washington.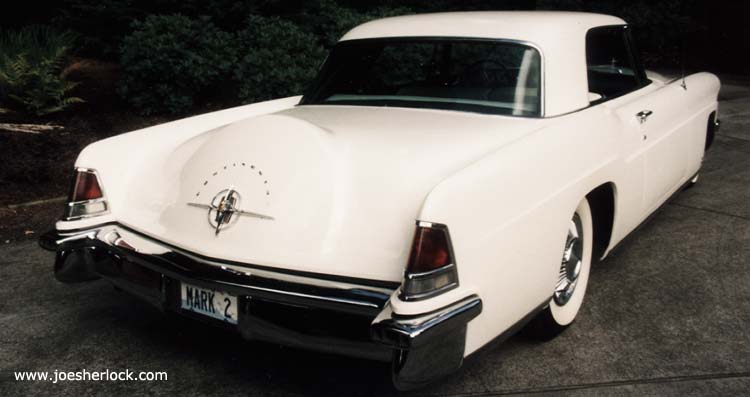 It won the Ford Motor Company Trophy for 'Best '56-'57 Continental Mark II.'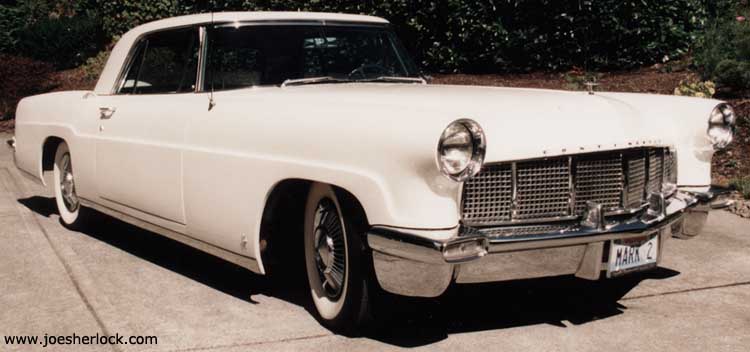 In October, 1998, I sold this car to a collector in St. Louis, Missouri. As of late 2018, this 1956 Continental Mark II is in a private collection near Toronto in Canada and has less than 80,000 original miles on the odometer.
I truly enjoyed both of my Mark IIs but I had gotten them out of my system and it was time to let go and move on.
I've written more about the Continental Mark II here. (permalink)
---
• 1979 Lincoln Town Car: When we bought the '56 Mark II, I realized that it was 'too good' to take to every Lincoln Club Meet, so I started looking for a 'driver' with a Lincoln badge. That's how I got 'The Barge' - a huge, last-of-the-big-Lincolns 1979 Lincoln Town Car. The model I bought was the Williamsburg Edition which had special paint and trim. It was painted light silver over dark silver and had a deep-red leather interior.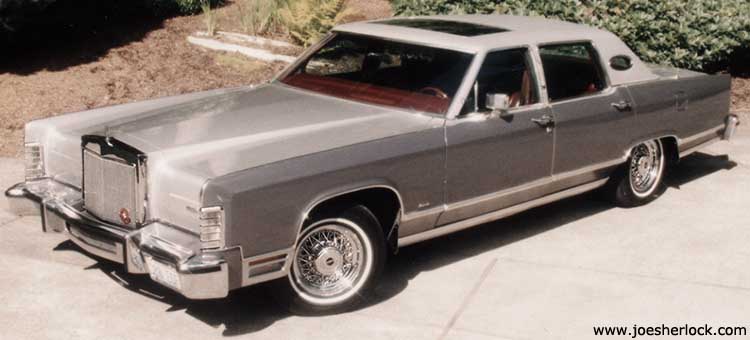 The Sherlock's 1979 Lincoln Williamsburg Edition Town Car, which featured every wretched styling cliché from the 70s, including fake Rolls Royce grille, gunsight hood ornament, padded vinyl roof, B-pillar opera lights, oval opera windows, hidden headlights and faux wire wheels. While it looked like an ungainly beast, it was quite comfortable to drive - rode very well on the highway and had no squeaks or rattles even after 150,000 miles. Disco music poured from its many speakers, compliments of the eight-track player mounted in the fake-wood dash.
---
I bought this car as a joke - its baroque styling, chrome-plated fake wire wheels, imitation Rolls-Royce grille and padded vinyl top wasn't my idea of tasteful design. But it rode and drove wonderfully and the big 400 cubic inch V-8 engine never missed a beat. It was a one-owner car from Montana and was in excellent shape. We took it everywhere, including two trips to Canada.
The Barge was the roomiest car we've ever owned. Of course, at almost 20 feet long, it was a bear to park and it sucked gas like there was no tomorrow - 12 miles to the gallon on regular unleaded in the city and the exact same on the highway. Nevertheless, it was a comfortable and pleasing Interstate cruiser and we kept it for almost three years.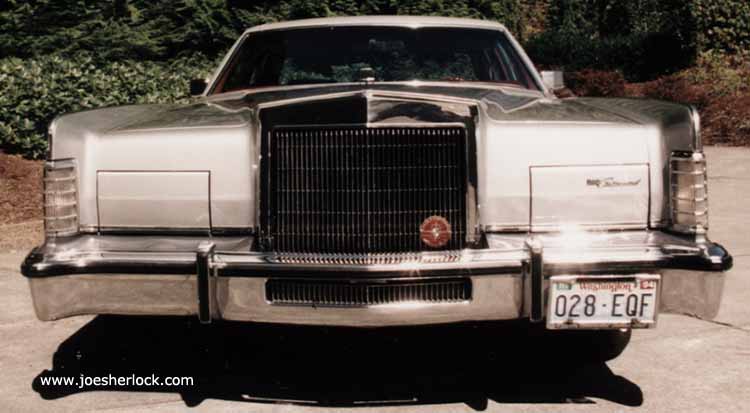 When my wife got her new 1996 Lincoln Continental, we no longer needed the Barge and sold it to another Lincoln enthusiast who cleaned it up a bit and picked up some serious car trophies at Lincoln meets and shows. (permalink)
---
• 1939 Plymouth coupe: Through the years, I've always had a nostalgic soft spot for 1939 Plymouth coupes - I had one when I was in high school. I finally bought another one in 1994.
Like the one I drove back in 1959, it's a P8 Deluxe business coupe. But, unlike my first '39, this one isn't stock. It has a 350 cubic-inch Chevy V-8 engine and a GM TurboHydramatic transmission. It also has cruise control and air-conditioning. I've had it sub-framed with a Mustang II front suspension and disc brakes.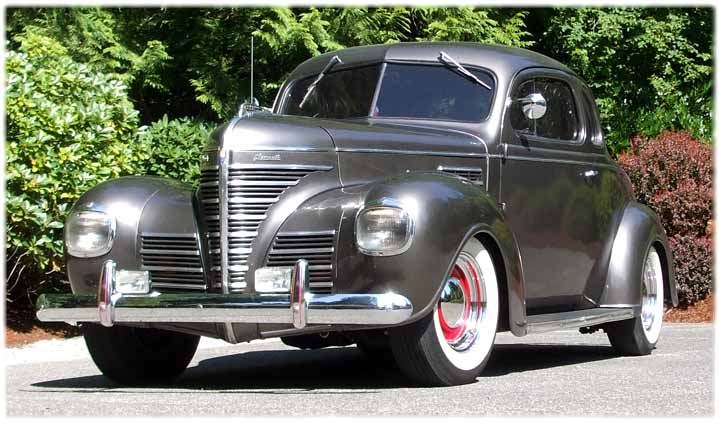 It looks pretty much like a stock '39 Plymouth until you look closely. The color is bronze-grey metallic with red wheels. The interior is tuck-and-roll, just like a hot rod from the '50s. You'll find numerous photos posted on my 1939 Plymouth website.
This is my last remaining old car. I enjoy driving it on the back roads near home but no longer take it on long excursions. I put less than 500 miles per year on the '39, restricting my outings to nice sunny days which are scarce in Winter and Spring. Nevertheless, I have no interest in getting rid of my Plymouth coupe at present.
---
• 1967 Volkswagen Beetle: This car was purchased new as a daily driver but we owned it so long that it eventually became a collector car, drawing admiring glances from passerby. It won prizes at car shows. I've written about and posted extensive photos about our old Bug here.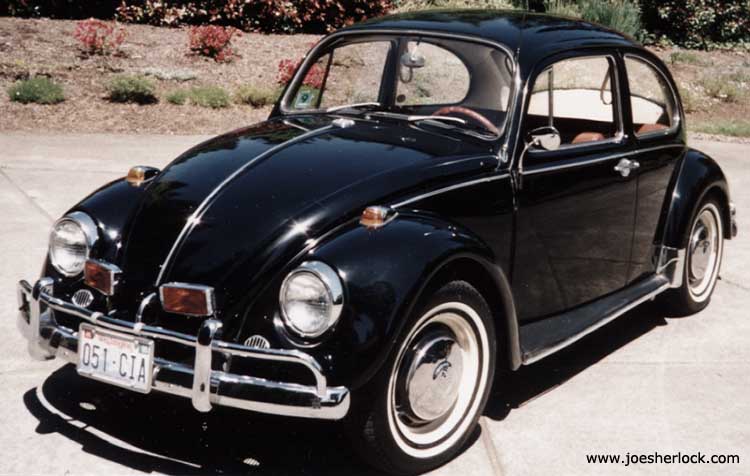 We sold the VW because, with the addition of the '39 Plymouth, I found that I wasn't driving it very much.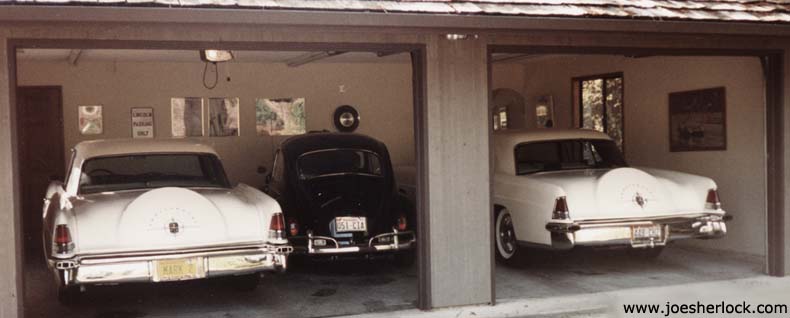 We were also out of garage space - a constant problem for car collectors - and something had to go. A VW enthusiast snapped it up. My wife and I still remember the Beetle fondly. (posted 4/29/13)
---
Next AutoBiography Chapter: 'Comfy Chairs' is posted here.
---
A chronological list of AutoBiography chapters can be found here.
---
Other Pages Of Interest
copyright 2013-21 - Joseph M. Sherlock - All applicable rights reserved
---
Disclaimer
The facts presented on this website are based on my best guesses and my substantially faulty geezer memory. The opinions expressed herein are strictly those of the author and are protected by the U.S. Constitution. Probably.
Spelling, punctuation and syntax errors are cheerfully repaired when I find them; grudgingly fixed when you do.
If I have slandered any brands of automobiles, either expressly or inadvertently, they're most likely crap cars and deserve it. Automobile manufacturers should be aware that they always have the option of trying to change my mind by providing me with vehicles to test drive.
If I have slandered any people or corporations, either expressly or inadvertently, they should buy me strong drinks (and an expensive meal) and try to prove to me that they're not the jerks I've portrayed them to be. If you're buying, I'm willing to listen.
Don't be shy - try a bribe. It might help.
---