---

1948-49 Cadillac Sedanet: GM's Best-Looking Fastback
In the 1940s, General Motors was in love with fastback styling, calling it 'the torpedo look'. It was a Forties fad and GM made the most of it. The 1948-49 Cadillac club coupe models - also referred to as Sedanets - were arguably the best looking of GM's fastbacks. 1948 and '49 were also very significant years for Cadillac.

The 1948 model was the first true postwar design at Cadillac. It was the first Caddy with fins - often referred to at the time as 'fishtails'. The fastback design and twin-fin combo were inspired by the tail of the Lockheed P-38 Lightning fighter plane, a favorite of GM styling honcho Harley Earl.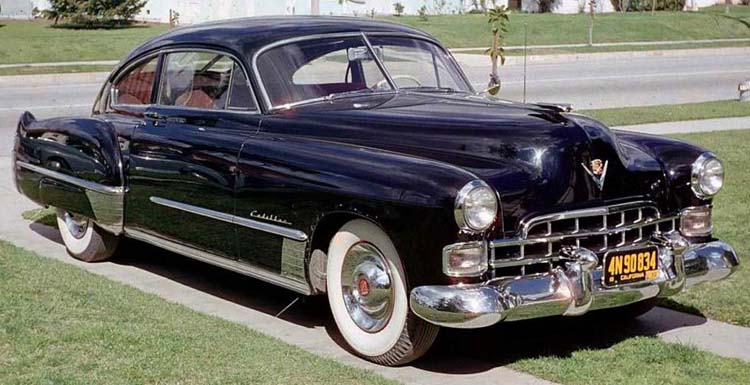 Imitation is the sincerest form of flattery and not long after the 1948 Cadillacs made their debut, mail order houses began business selling Caddy-like tailfins that could be mounted on the rear fenders of lesser cars. I recall that most ended up on '49-52 Chevrolets and Pontiacs. The little 1951 Henry J sported miniaturized '48 Caddy fins on its flanks.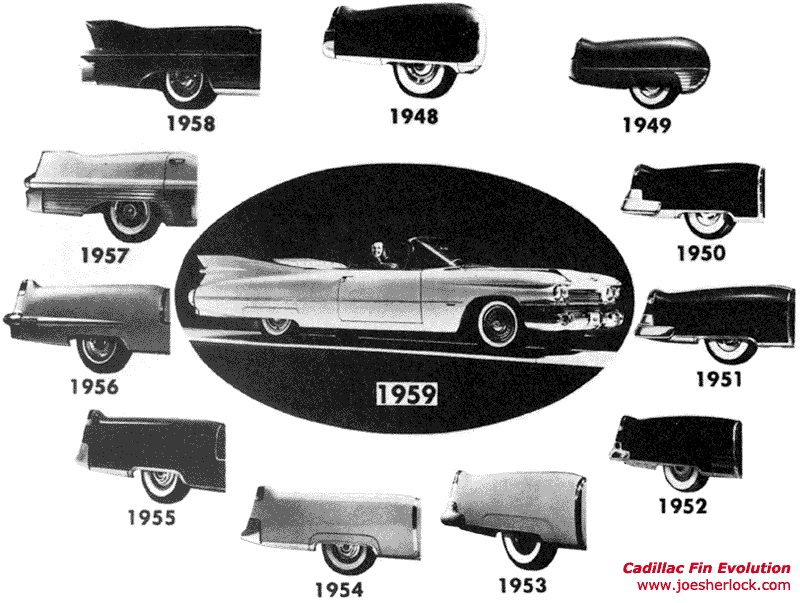 The Cadillac Sedanet was offered in two trim levels, Series Sixty-One and Series Sixty-Two. In 1948, 3,521 Series 61 club coupes ($2,728) were made; and 4,764 Series 62 club coupes ($2,912) were produced. All '48 Cadillacs were powered by the durable prewar Caddy flathead V8.
In 1949, Cadillacs were mildly restyled and a two-door hardtop, the Coupe de Ville was added. This sporty hardtop coupe probably helped kill off the Sedanet - the fastback was not offered after the '49 model year. Cadillac's big news for 1949 was its engine - an all-new overhead valve V8 engine. It displaced 331 cubic inches and developed 160 brake horsepower. While that was only 10 horsepower more than the old flathead, the engine was 200 pounds lighter providing faster response and more balanced handling.

Tom McCahill of Mechanix Illustrated reported, "With this engine, Cadillac, despite its large size, out-performs just about every car being made."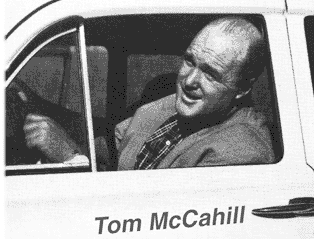 He claimed a 0-60-mph time of 12.1 seconds (with the three-on-the-tree stick shift) and a top speed of around 105 mph. The ohv also boasted more torque and 14% better fuel economy that the previous Caddy powerplant.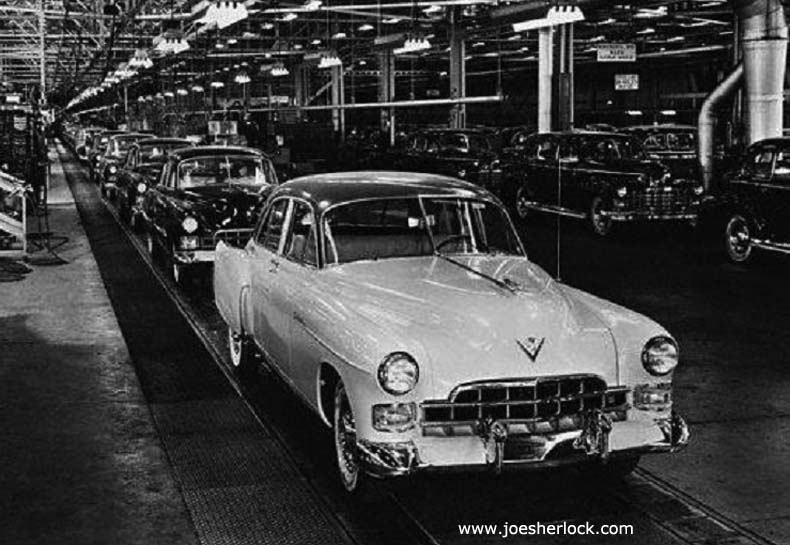 In 1949, 6,409 Series 61 fastback club coupes ($2,788) were made and 7,515 Series 62 club coupes ($2,966) were produced. People liked the style of the fastback; it was also lightweight and, therefore, fast.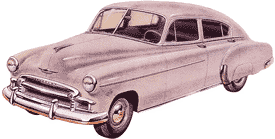 While the Cadillac fastback disappeared after the 1949 model year, other fastback GM models were still available. Chevrolet's fastbacks (two-door and four-door) were called Fleetlines, while The Chevy hump-trunks or notchbacks (two-door and four-door) were called Stylelines. Interestingly, the fastbacks and notchbacks sold at about the same rate in 1949. But, the following year, the Chevy notchback was outselling the fastback by almost two to one.
By 1952, the notchback was outselling the fastback by almost ten to one. No wonder GM got out of the fastback business after 1952. (Although the auto manufacturer tried it again in 1978 with the GM Aerodecks - or was it 'Aerodrecks'? - the Buick Century Custom and Olds Cutlass Salon. But these cars were not good-sellers and the fastback bodystyles were soon dropped.)
Another Caddy milestone occurred in 1949. In late November (after 1950 model production had commenced), Cadillac produced its 1,000,000th car. During the 1950s, Cadillac sales continued to climb higher; so did its fins. But it all began in 1948 with those little fishtails. (posted 4/30/10)
Remember When: 1948 and '49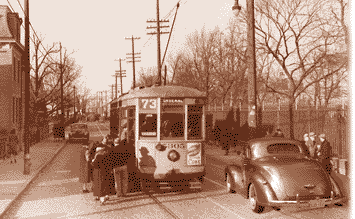 In 1948, the Berlin Airlift delivered food and supplies in defiance of the Russian blockade. Truman defeated Dewey in a U.S. Presidential upset. Israel became an independent nation.

New products included V-8 Juice, Nestle Quik, Pepsi-Cola in cans and 33 rpm and 45 rpm records. UAW autoworkers were paid $1.60 per hour; a new Ford cost $1236. The 100 millionth American car was produced. In occupied Japan, the Honda Motor Company was founded.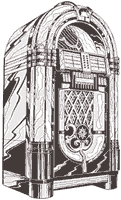 Big '48 record hits included Nat King Cole's 'Nature Boy', Vaughn Monroe's 'Red Roses for a Blue Lady', 'The Woody Woodpecker Song' by Kay Kaiser Orchestra and for Christmas 'All I Want For Christmas Is My Two Front Teeth' by Spike Jones & his City Slickers.
Several new TV shows debuted: Ed Sullivan's 'Toast of the Town', 'Candid Camera', kiddie show 'Kukla, Fran and Ollie', 'The Perry Como Show' and 'The Milton Berle Show'. Among the top movies for 1948 were 'Easter Parade', 'Key Largo' and 'The Treasure of Sierra Madre'. In 1948, a movie ticket cost 45¢.
Several famous folks were born in 1948: Bruce Jenner, photographer Annie Leibovitz, Bruce Springsteen and Meryl Streep.
Deaths included Mohandas Gandhi, Orville Wright and Babe Ruth.
And, in 1948, the Cleveland Indians won the World Series, defeating the Boston Braves.
---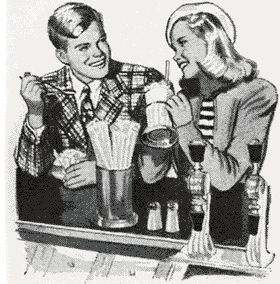 In 1949, the first nonstop flight around the world was made by a U.S. Air Force B-50. The National Bureau of Standards announced the development of the world's first atomic clock.
Fads and inventions included canasta (a card game) and shingle haircuts. 'Hopalong Cassidy', 'The Lone Ranger' and 'Roller Derby' debuted on TV.
New words included afterburner, bikini, simulcast and community college. The GM Motorama appeared for the first time at the Waldorf Astoria in NYC. The first two Volkswagen Beetles were sold in the U.S. Key ignition replaced starter buttons on some Chrysler products.
New products included Sara Lee cheesecake, Oreo cookies, Silly Putty and the infamous Denver Boot. The minimum wage was raised from 40¢ to 75¢ per hour.
George Orwell wrote the novel '1984'. New recording artists included Burl Ives, B. B. King, Dean Martin and Fats Domino. Top songs for 1949 included Vaughn Monroe's 'Ghost Riders In The Sky', 'Some Enchanted Evening' by Perry Como, Frankie Laine's 'Lucky Old Sun' and 'Rudolph The Red-Nosed Reindeer', recorded by Gene Autry.
The N.Y. Yankees won the World Series, beating the Brooklyn Dodgers.
More AutoSketch car drawings can be found here.
---
Other Pages Of Interest
| blog: 'The View Through The Windshield' |
| essays: greatest hits | blog archives | '39 Plymouth | model train layout |
| about me | about the blog | e-mail |
copyright 2010-21 - Joseph M. Sherlock - All applicable rights reserved
---
Disclaimer
The facts presented on this website are based on my best guesses and my substantially faulty geezer memory. The opinions expressed herein are strictly those of the author and are protected by the U.S. Constitution. Probably.
Spelling, punctuation and syntax errors are cheerfully repaired when I find them; grudgingly fixed when you do.
If I have slandered any brands of automobiles, either expressly or inadvertently, they're most likely crap cars and deserve it. Automobile manufacturers should be aware that they always have the option of giving me free cars to try and change my mind.
If I have slandered any people or corporations, either expressly or inadvertently, they should buy me strong drinks (and an expensive meal) and try to prove to me that they're not the jerks I've portrayed them to be. If you're buying, I'm willing to listen.
Don't be shy - try a bribe. It might help.
---