Model & Toy Cars
(
2017
)
---
Newer toy car photos and stories are posted here.
Read more about the model car business here.
---
Electric Trucks - Not A New Idea: Walker Electric Trucks were battery-powered vehicles built from 1907 to 1942 in Chicago, Illinois and Detroit, Michigan. The vehicles were initially designed and manufactured by the Walker Vehicle Company in Chicago.
Matchbox produced a model (approximately 1:60 scale) of the 1919 Walker Electric Parcel Van as part of its Yesteryear series in 1985. It was painted in Harrods Ltd. (the iconic London department store) livery.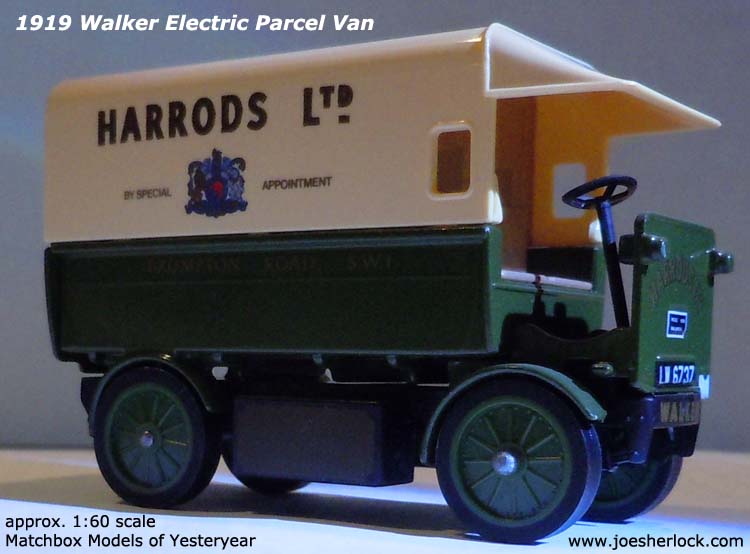 The box for the model carried this message: "The Walker one-ton balance drive electric truck was manufactured by the Walker Vehicle Company Chicago. U.S.A. during the early 1920s, it was used by distinctive stores and manufacturers to deliver goods in towns. The Van is driven by an electric motor, developing 3.5 horsepower, contained within the differential housing of the rear axle. The van had a range around 50-60 miles per charge, with a maximum speed of 12 mph. Today, the only known example is owned by Harrods Limited, Knightsbridge, and can be seen taking part in the annual historical commercial vehicle London to Brighton run." According to Harvey Goranson, "Harrods had a fleet of 60 Walker delivery trucks in the 1920s."
There are four Matchbox versions of this unique van; Harrods, Joseph Lucas, His Master's Voice (RCA Victor) & Harrods Special Bread Delivery. These Yesteryear models were mass-produced, widely-distributed and are not particularly rare or valuable. (posted 10/10/17, permalink)
---
Not Often Seen In Scale: In the model car world, miniature 1956 Chevrolets are seen far less often than its '55 and '57 brethren. The 1957 Chevy has been modeled in various scales thousands of times. Almost as much as Ferrari 458, '57 Thunderbird and Porsche 911 models.

In the late 1980s, Franklin Mint offered a 1:43 scale diecast model of the 1956 Chevrolet Nomad station wagon as part of its 'Classic Cars of the Fifties' series. The model's two-tone colors are Twilight Turquoise/India Ivory - a good replication of a factory paint combination available on full-size Nomads.
While the '56 Chevy may not be that popular in the model car world, in the real one, Chevrolet sold more cars in 1956 than in '57 - a statistic which might surprise some vintage car enthusiasts. And, in 1956, Chevy increased its overall U.S. market share as well.
I've posted more information about the 1956 Chevrolet here. (posted 10/2/17, permalink)
---
Did Your Wife Give You A Cadillac For Valentine's Day? Mine gave me two of them. The first is a 1:43 scale diecast model of a 1955 Cadillac Fleetwood Series 60 with pink body and white top. This model is marketed by Greenlight Collectibles as the Elvis edition. It's a nicely-detailed model available for under $20.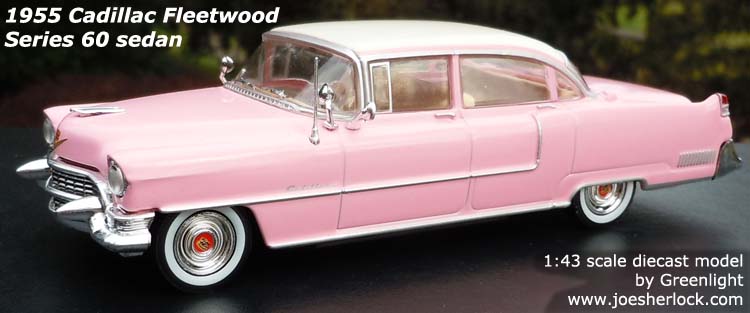 As his fame and fortunes grew, Elvis Presley purchased a new Cadillac Fleetwood Series 60 for his mom. The original color was blue but Elvis had it repainted in pink. Unlike most of his cars, Elvis never got rid of his mom's Caddy, even though she died in 1958. The full-scale Cadillac remains on permanent display at the auto museum across from Graceland in Memphis.
Greenlight also produced a black 1955 Caddy Godfather edition sedan. More about that version can be found here.
I also received a 1:43 scale diecast 1956 Cadillac Eldorado Biarritz convertible with a metallic blue body and white convertible top. This model was made by Premium X Models, a firm located in Shenzhen, China. Premium X models are made by the same firm that makes Ixo Models, Premium & Collectibles Trading Co. (PCT Co, Ltd.)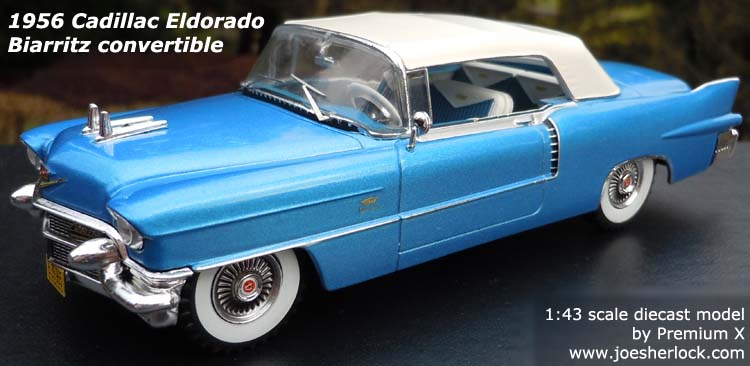 This little Eldo is incredibly well-detailed, although it is priced at more than double the Greenlught model.
There's an Elvis connection to the '56 Eldorado as well. In June 1956, Elvis and his girlfriend, June Jaunico flew to Houston to purchase a white Biarritz convertible with a black interior. Elvis later had the car customized, with taller longer tailfins, a white tuck-and-roll leather interior and a wild purple exterior paint job.
2,150 examples of the pricey ($6,556) and flashy Eldorado convertible found buyers in 1956. More about the 1956 Cadillac is posted here. (posted 2/16/17, permalink)
---
Suitable For A Commander-In Chief: A new Cadillac-looking tank-like limousine was supposed to debut at Donald Trump's inauguration, replacing the 2009 presidential limousine - dubbed The Beast - which was used by President Obama. Unfortunately, it wasn't yet ready for prime time. But it will be delivered to the White House soon.
"The limousine is expected to maintain the looks of a "Cadillac Escalade sedan" with a seven-seat, 2+3+2 layout meant to carry the chief executive and just a couple of aides on most journeys. The passenger compartment will still offer conference-style seating for five, and the rear passenger doors will still be positioned to the front of the rear quarter windows that will partially obscure the two rear seats."
President Trump's new ride will not look too much different than President Obama's. But inside, there are new, state-of-the-art security features which are not being disclosed.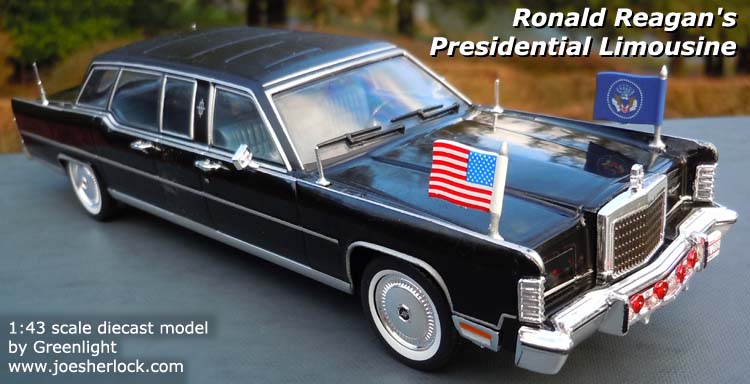 For Christmas, I received a model of the Reagan Presidential Limousine. This highly modified Lincoln Continental started out as a 1972 model. It was stretched to a 162-inch wheelbase and 259-inch overall length. The final vehicle, code-named 200X was bullet-proofed and weighed over 10,000 pounds. It was used in the service of several presidents, including Richard Nixon, Gerald Ford, Jimmy Carter and Ronald Reagan.
This was the very automobile Reagan was walking towards when he was shot in 1981 by would-be assassin John Hinkley. This limo was used to rush President Reagan to the hospital. The Lincoln was updated in 1982; visual changes included a 1979 Town Car grille and 1979 taillights. This Presidential limo was retired from service in 1987 and is now on display at the Henry Ford Museum in Dearborn, Michigan. Reagan's Cadillac limo replacement is on display at the Ronald Reagan Presidential Library in Southern California.
This 1:43 scale diecast model was produced by Greenlight Collectibles and was manufactured in Bangladesh. (posted 1/19/17, permalink)
---
In Search Of Excellence: One of my Christmas gifts was a blue 1960 Facel Vega Excellence four-door hardtop.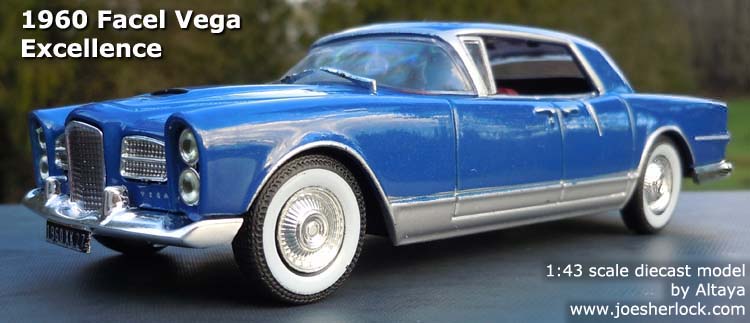 This 1:43 scale diecast model was produced by Altaya, a firm based in Barcelona Spain, which offers numerous lines of toys. Most are manufactured in mainland China.
Ironically, there have been far more scale models of Excellences produced than actual full-size cars. The Excellence was introduced in 1958 and, over the next 6 years, only 156 were made. At $12,800 each, they were very expensive for the period. All were powered by Chrysler V8 engines, mated to Torqueflite automatic transmissions.
I've only seen one Excellence in my life - a burgundy example parked at the entrance to Episcopal Academy in 1959 or so. I was getting off the football bus as my school's JV team was preparing to play the lads from Episcopal in suburban Philadelphia. I don't remember how the game turned out but I'll never forget the sight of that striking French sedan.
More information about the Facel Vega automobile can be found here. (posted 1/17/17, permalink)
---
Rollie Pollie: This chubby 1950 Nash Ambassador four-door sedan - a 1:43 scale diecast model - was produced by WhiteBox (a house brand from Model Car World, a retailer in Florsheim, Germany) using old Ixo tooling and was manufactured in China. My daughter gave it to me as a Christmas gift.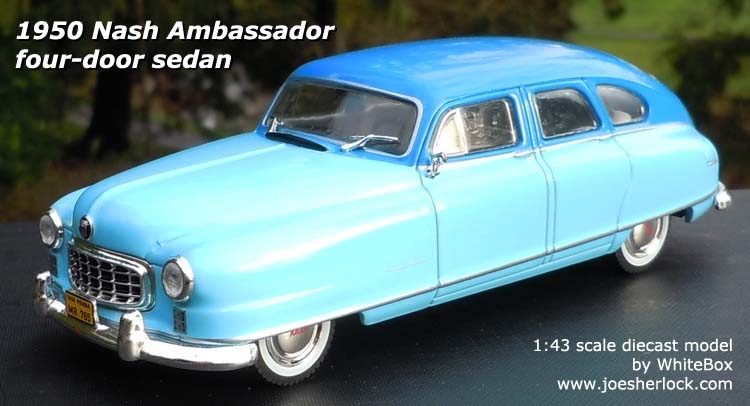 In 1949, Nash rolled out its Airflyte body style, referred to as the Bathtub Nash because, to many, it looked like an upside-down bathtub. This more-or-less egg-shaped vehicle may look retro-odd today, but sold surprisingly well during the 1949-51 era. Los Angeles bought a bunch to use as police cars - old crime movies from the period are full of 'em.
Eight Nash Ambassadors were entered in the 1950 Carrera Panamerica, a 2,172-mile endurance race run over five days across Mexico. Three of the Nash Eggs completed the race.
The Ambassador rode on a 121-inch wheelbase, nine inches longer than the entry-level Statesman model. The Ambassador had a better engine, too - a 235 cubic-inch, 112 horsepower overhead-valve straight six. The Ambassador Custom four-door sedan was priced at $2,223. In 1950, Nash sold 49,100 Ambassadors and 111,300 Statesman models. (posted 1/13/17, permalink)
---
A Raymond Loewy Masterpiece: For Christmas, I received a model of a 1953 Studebaker Commander Starliner coupe from my son and his wife. This 1:43 scale diecast model was produced by Best of Show models and was manufactured in China. Bumpers are painted rather than chrome-plated, although the chrome-silver paint is nicely done.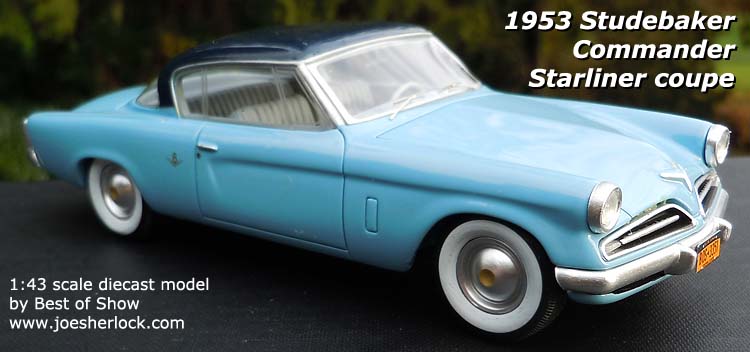 When the 1953 Studebaker Starliner coupe debuted in late 1952, it stunned the public and the other automakers. It was a complete break in style from every other American auto. The swoopy lines of the coupe model were like nothing else on the road - a testament to Raymond Loewy's design team. It made its competition look stodgy. The low-slung coupes were only 56.4 inches high. In comparison, the 1953 Chevrolet Bel Air hardtop coupe was 64 inches in height and looked positively stodgy when parked next to a Starliner. Read more about the '53 Studebaker here.
Commander models were powered by Studie's overhead-valve V8 engine which produced 120 horsepower. Popular Mechanics road-tested a Starliner coupe and recorded a 0-60 time of 17.9 seconds. (posted 1/9/17, permalink)
---
"Leave The Gun; Take The Cannoli." The 1955 Cadillac Fleetwood Series 60 sedan was Cadillac's premium sedan with a longish 133-inch wheelbase for a smoother ride and lots of legroom. The Series 60 sedan sold for $4,728 and was powered by a 250 horsepower V8. Only Eldorado models had a more powerful engine. In 1955, Cadillac sold 18,300 of these Series 60 sedans.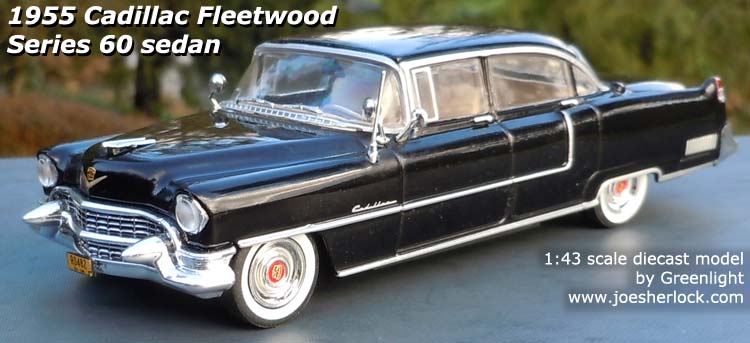 This 1:43 scale diecast model - a Christmas gift - was produced by Greenlight Collectibles and manufactured in China. It was boxed in black packaging with 'The Godfather' movie logo prominently displayed. In the movie, Peter Clemenza - he of the famous Cannoli Quote - drove a black 1955 Cadillac 60 Series at one point. There were also several '55 Caddies in the cemetery scene at Vito Corleone's funeral.
Greenlight specializes in movie and TV-themed licensed model vehicles. (posted 1/5/17, permalink)
---
More toy car photos and stories are posted here.
Read more about the model car business here.
---
Other Pages Of Interest
copyright 2017 - Joseph M. Sherlock - All applicable rights reserved
---
Disclaimer
The facts presented in this blog are based on my best guesses and my substantially faulty geezer memory. The opinions expressed herein are strictly those of the author and are protected by the U.S. Constitution. Probably.
Spelling, punctuation and syntax errors are cheerfully repaired when I find them; grudgingly fixed when you do.
If I have slandered any brands of automobiles, either expressly or inadvertently, they're most likely crap cars and deserve it. Automobile manufacturers should be aware that they always have the option of trying to change my mind by providing me with vehicles to test drive.
If I have slandered any people or corporations in this blog, either expressly or inadvertently, they should buy me strong drinks (and an expensive meal) and try to prove to me that they're not the jerks I've portrayed them to be. If you're buying, I'm willing to listen.
Don't be shy - try a bribe. It might help.
---