•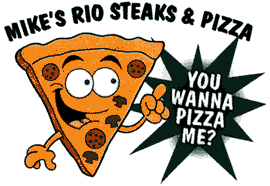 Mike's Rio Steaks & Pizza, located in the Rio Grande section of Cape May County uses the slogan: 'You Wanna Pizza Me?' As with many of the area restaurants, Mike's offers Early Bird specials for geezers between 3 and 6 pm. For $8.95, you have your choice of spaghetti and meatballs, open-faced turkey sandwich, meatloaf with French fries or chicken parmigiana. Included in the meal is a salad, garlic bread and dessert.
• The New Jersey shore is, as you'd expect, full of seafood restaurants. Wildwood is a favorite destination for South Philly Italians and their suburban descendents, so there is a plethora of Italian restaurants. In fact, this year's North Wildwood Italian-American Festival had former teen idol Bobby Rydell as the Grand Marshal. There was a Little Miss Italy contest and, at the risk of stereotyping, I must point out that there were meatball relay races.
• Joey M's La Piazza Cucina in Wildwood offers a five-course dinner for two with a bottle of wine for $60.
• Little Italy in Wildwood offers a 4-5 pm Early Bird - a complete dinner for $14.50 with over a dozen entrees listed. Many restaurants start their Early Birds at 3 pm. People get hungry after walking the Boardwalk.
• Big Time Vending of Wildwood ran ads in several papers, offering free installation and service. Big deal. When I had my plastics manufacturing business, vending machine companies gave us a piece of the action too, based on sales. We used the money - which was substantial - for employee parties and such.
• Morey's Piers is a classic seaside amusement park, family owned and operated since 1969. It has over 100 rides and attractions, including three amusement piers and two beachfront waterparks. The Giant Wheel is Morey's 156-foot tall Ferris wheel. In the early mornings of the summer, Morey's offers Breakfast In The Sky, "a picnic in the sky complete with white linens and culinary delights" on the Giant Wheel.
• 5 De Mayo is a Mexican restaurant in Cape May. I guess New Jersey people don't know the word Cinco.
• There's a new ice cream parlor in the Rio Mall on Route 9. The name: Game of Cones.
• Hot Dog Tommy's in Cape May uses the slogan: 'Relish today, Ketchup Tomorrow'.
• Beefie's in North Wildwood offers "hand carved, hot beef, pork and ham plus veggie sandwiches." Go figure.
• The Milky Way, located at The Villas, offered 'Tee For $2 on Tuesdays'.
The ice cream and miniature golf emporium opened in 1965. It looks like many such places from the 1950s that dotted the Eastern Seaboard.
• Many places have $2 and $3 beer specials - something unheard of around here.
• Westside Meats in Rio Grande offers USDA first-cut fillet mignon for $9.95/lb. Tips - $4.99/lb. Foot-long hoagies: $4.99 each or two for $8.00.
• On Tuesdays, The Deck in Cape May serves $2 tacos and $4 margaritas.
• Ship n' Shore in Wildwood offers a cheese steak with French fries as Monday's special as well as "Happy Hour Prices - All Day, Every Day."