Philadelphia Memories - Part X
---
Autos Ordinaire:
Lest you think that typical Philadelphia high-school students drove cool cars like those seen in 'American Graffiti', a
1958 photo of John Bartram High School
, a public school in South West Philly, shows a collection of positively ordinary vehicles from the 1940s and '50s.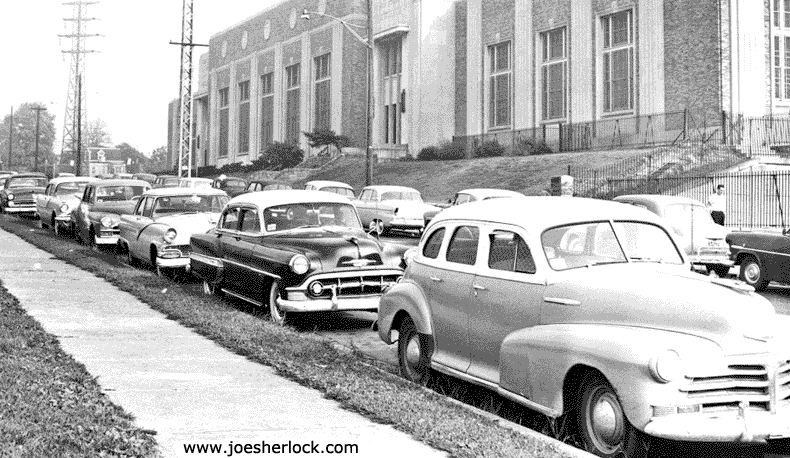 In the foreground is a tired-looking 1948 Chevrolet Fleetmaster four-door sedan, followed by a shiny 1953 Chevrolet Bel Air sedan, a 1957 Ford Fairlane Club Coupe with a V8 engine, a 1950 Plymouth De Luxe four-door sedan, a 1955 Pontiac Chieftan two-door sedan and a dark-colored, monotone 1955 Ford Customline sedan.
The photo is a good example of Philadelphia Graffiti, as opposed to American Graffiti which was set in sunny, car-crazy California. (posted 4/18/18, permalink)
---
More Face Not Needed: Auto parts retailer Pep Boys has suspended all advertising on Facebook following concerns about data privacy.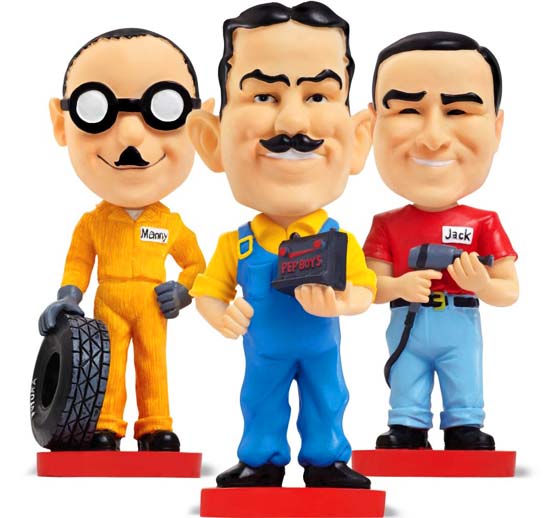 This shouldn't be a problem: Manny, Moe and Jack already have plenty-big faces. In 1921, Pep Boys started business in Philadelphia. I've written more about Pep Boys here. (posted 4/4/18, permalink)
---
The View From The El: Looking at some old Philadelphia photographs recently, I was reminded of the many times I rode the Frankford El - now designated the Frankford-Market Street Line - a rapid transit train which is elevated for much of the line and becomes a subway train in downtown. The line was completed in 1922.

In his excellent book, 'You Can't Get to Heaven on the Frankford El', author Tom Lyons relates stories about growing up in Northeast Philadelphia including riding on the old, dark-green rattly Frankford El train cars in the '40s and '50s.
I was a regular El patron from age 3 (when my mom would take me to a downtown department store to visit Santa Claus) until age 22 when I'd park my Corvette near the Bridge Street terminal and commute to evening post-grad classes at Drexel University.
Seeing an old photo of the Burpee Seed building in the Kensington section of Philadelphia made me recall that the red brick structure, with the company's slogan 'Burpee Seeds Grow', was visible when riding the El or when I hitched a ride with my high school buddies as we bounced along northbound Aramingo Avenue.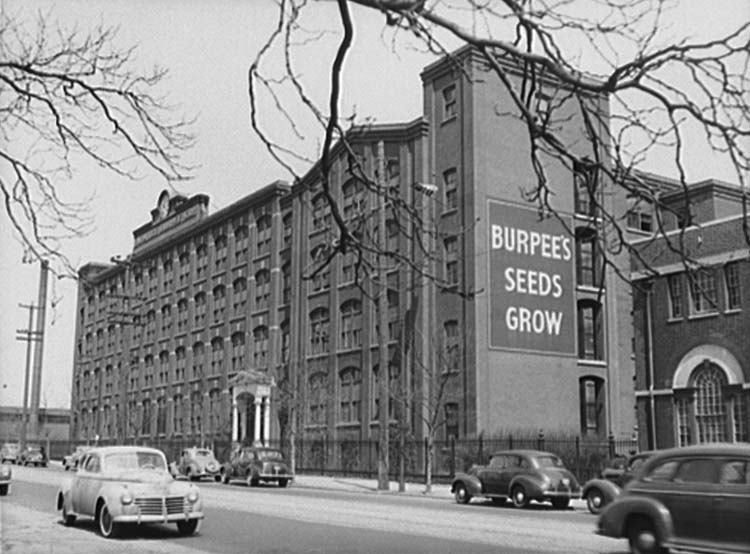 W. Atlee Burpee Company was founded in 1876 in Philadelphia. Mr. Burpee and his son, David, were pioneers in mail-order marketing. The 1891 catalog was the first to feature engravings made from photographs. Burpee's move to photography changed the whole mail-order industry and the hand-drawn illustration in catalogs disappeared. By 1915, the catalogs were 200 pages and a million were distributed. W. Atlee personally wrote most of the catalog copy and printed lots of customer testimonials - another pioneering move.
By the time Atlee died in 1915, the company had 300 employees and processed 10,000 orders a day. David Burpee sold the company in 1970 and the firm relocated to suburban Warminster, PA in 1974.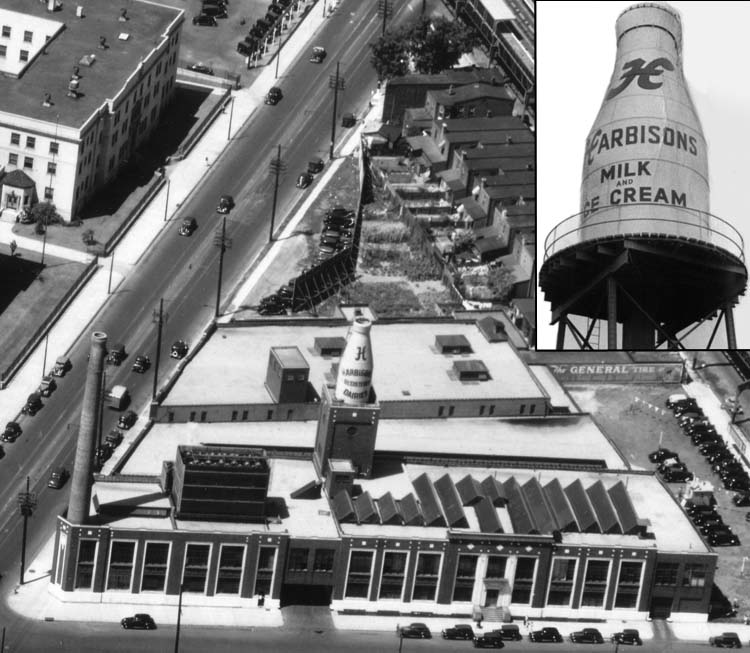 A prominent landmark visible from the Frankford El in East Kensington is the giant dairy milk bottle water tower at the former Harbison's Dairy building near the Erie-Torresdale El station. When Harbison's Dairy opened in 1865, milk trains from the farms would bring the fresh milk to the Dairy. The dairy closed in the mid-1960s but the giant bottle remains, although its appearance has deteriorated.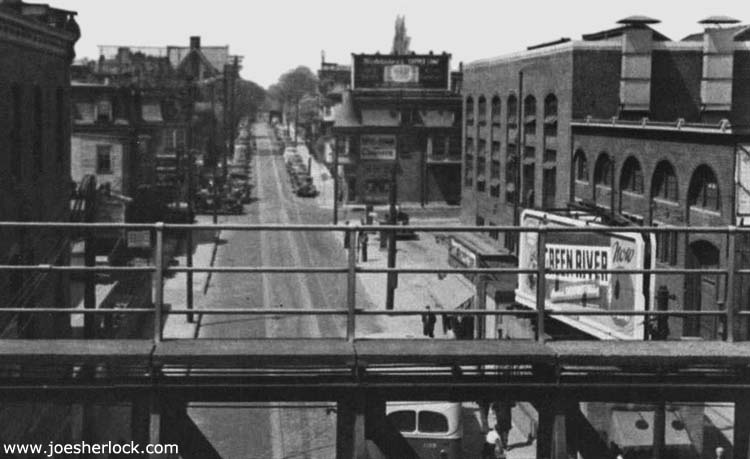 This 1941 photo was taken from the from the Frankford El platform at Margaret-Orthodox Station, looking west on Arrott Street. This area is now known as Arrott Transportation Center and is located at the intersection of Margaret St., Arrow St. Frankfort Avenue and Oxford Ave. Orthodox Street is just up the block.
The building on the right side of the photo is a power station owned by the transit company; it was constructed by Philadelphia Rapid Transit Co. in the early 20th century.
The bus waiting for passengers is either the J or K bus. The J bus line went to from Frankford to Germantown while the K bus line traveled from Frankford to East Falls section of Philly. The trolley tracks were used by Route 75 which became a trackless trolley (trolley bus) in 1948. The 75 was a feeder line from the Frankford Elevated to the Broad St. Subway. When the 59 double-ended Brill trolleys on Route 59 were converted to trackless trolleys, the 59 route looped around Arrott Street, and after traveling a block or so looped back on Castor Avenue in the other direction.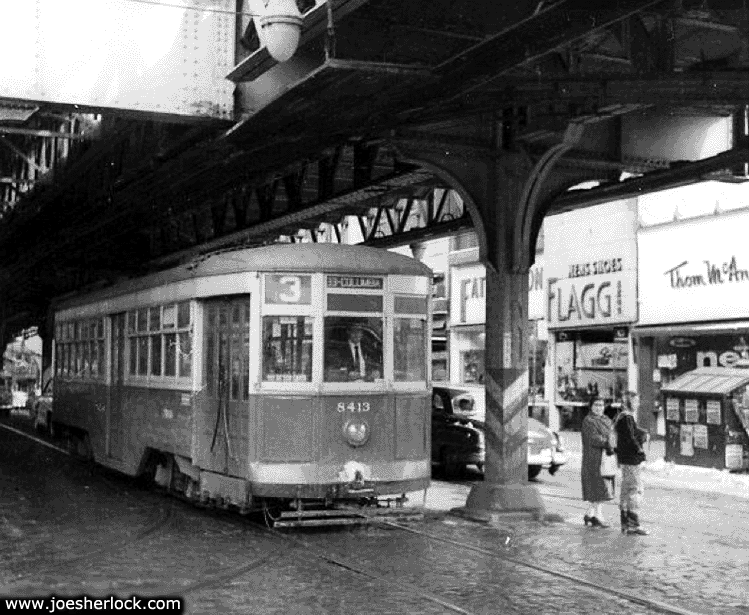 The Margaret-Orthodox area was transit-intensive - the Route 3 and Rte. 5 trolleys ran along Frankford Avenue underneath the elevated tracks. Route 3 used old-style Brill trolley cars; Route 5 used the newer streamlined PCC design.
Whenever I took the El home from high school, I'd get off at Margaret-Orthodox, traipse down the stairs and catch whatever transport was available - J bus, K bus or 75 trolleybus. All headed up Arrott Street to Castor Avenue, which was where I exited a mere two blocks from home.
I remember summer nights, when I was four years old, lying in bed with the windows open - trying to catch any breezy relief from Phily's heat and humidity - and hearing the screech of the old Rte. 75 trolley's wheels against the rails as it as it made the sharp turn from Arrott St. on to Castor Avenue at Northwood Park.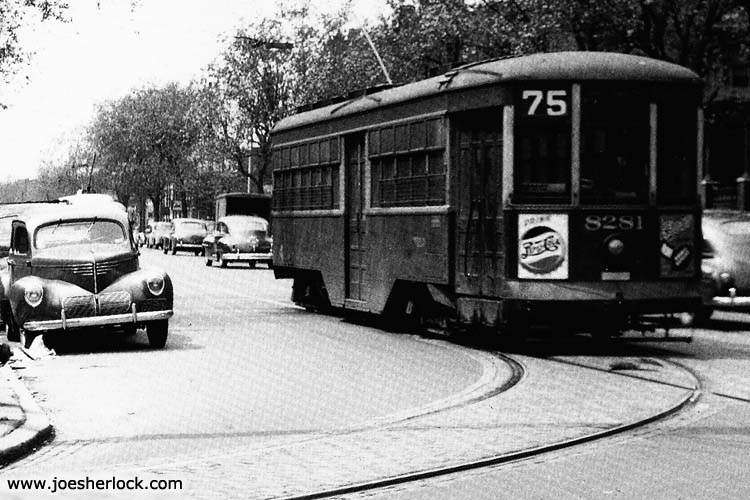 That sound has stayed with me, even though the old Brill trolleys were gone by the time I turned five - replaced by quiet, more-maneuverable trackless trolleys: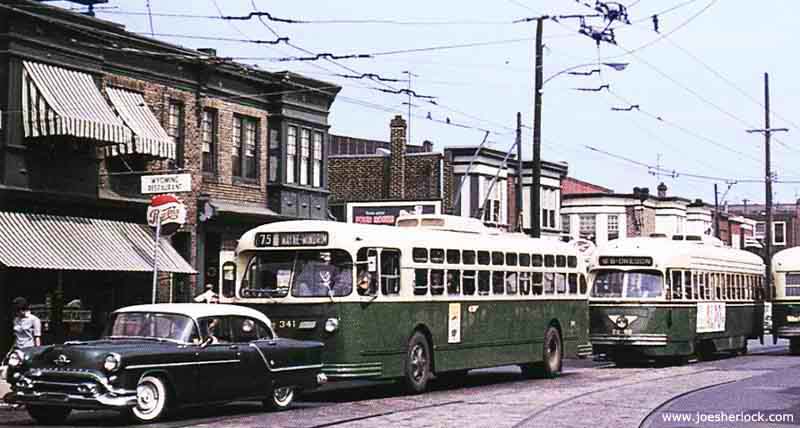 Old sounds and old photos trigger old memories - even seventy-plus years later. (posted 3/12/18, permalink)
---
"Well We're Living Here In Allentown ..." When I was growing up in Philadelphia, it seemed as if every truck I saw was a Mack. In those days, Mack was headquartered in Allentown, PA, about 60 miles north of Philly.
When I moved to the Pacific Northwest, Mack sightings became ... (more >>>)
---
Brought To You ... By Electricity: Electric trucks are in the news these days. Tesla, Navistar and others are developing all-electric delivery trucks, while UPS is converting 1,500 of its delivery vans to electric operation. Navistar has been testing its electric vehicles, which boast a 100-mile range, tight turning circle, and up to 4,400-pound payload with Federal Express.
Electric trucks have been around for over 100 years, produced by such firms as Columbia, Walker Vehicle Co., CT Electric and Frederick R. Wood & Sons.
Bakeries (including Philadelphia's Tasty Baking Co.), express companies and breweries also ran electric fleets. Many department stores used electric trucks for city deliveries. John Wanamaker employed such vehicles for its New York and Philadelphia stores, many made by ... (more >>>)
---
He-Man Sandwiches: That was the calling card of The Chuckwagon, a small restaurant chain located in the Philadelphia area. This cafeteria-style restaurant offered made-to-order, tall deli-style sandwiches (including pastrami and corned beef), sides, Panama jumbo shrimp, beef stew, and chili. Glass-front, refrigerated cases held beer (including a good selection of imported beers - a relative rarity in '50s-'60s Philly) and sodas.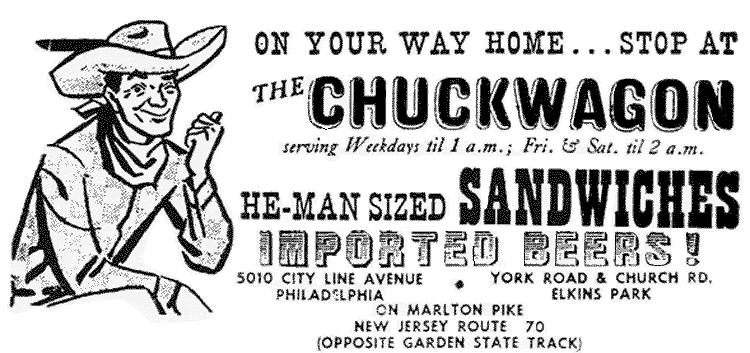 The exterior and interior decor was rustic, vaguely-Western themed. The outside didn't look that appealing by day, but had well-lit signage and looked a lot better at night, when I was there.
The Chuckwagon debuted in the mid-1950s and, eventually, grew to seven Delaware Valley locations: There in downtown Philadelphia (816 Chestnut St., 1818 Chestnut Street, 811 Sansom St.), West Philly at 40th and Walnut, 8040 Old York Road in Elkins Park, 50th and City Line Avenue in Overbrook and Marlton Pike (Route 70) across from the Garden State Park racetrack in South Jersey. I patronized the Elkins Park and City Line locations while in high school and college. Their medium-rare roast beef sandwiches were my favorite.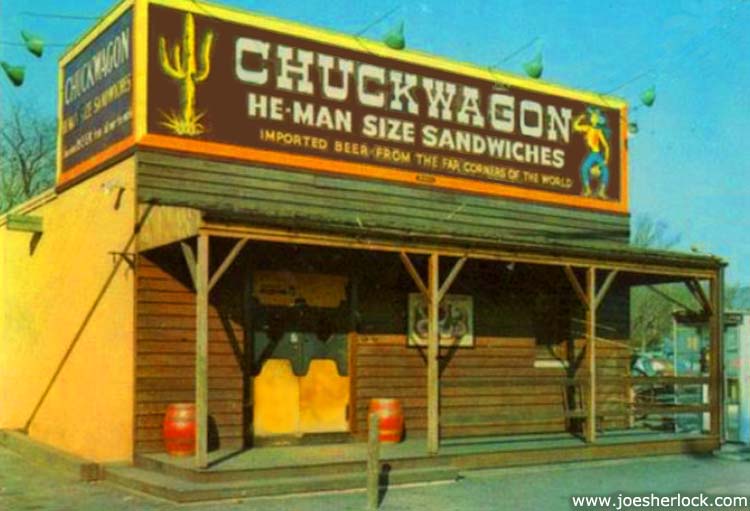 Sadly, the small chain disappeared in the 1970s; I'm not sure why. The food was always good, prices were reasonable and the locations I visited always seemed to be doing a brisk business. (posted 2/5/18, permalink)
---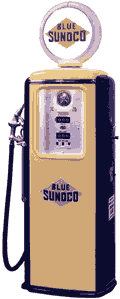 Shoulda Never Got Rid Of Those Dial-A-Grade Pumps: The largest oil refinery on the East Coast has filed for Chapter 11 bankruptcy protection.
The 335,000-barrel-per-day Philadelphia Energy Solutions (PES) refineries at Girard Point and Point Breeze employ about 1,100 people and supplies about 25% of the East Coast's refining capacity. PES acquired venerable brand Sunoco in 2012.
Sunoco is one of the largest fuel distribution companies in the United States, with Sunoco brand gasoline being sold in over 4,700 outlets spanning 26 states, just over a third hosting convenience stores.
The company has spent some $800 million in the past five years to comply with the U.S. Renewable Fuels Standard, a cost that critics say weighs on all refiners. For PES, the cost of the compliance with the standard was second only to crude oil costs on its expense sheet.
Once known as Sun Oil Co., the refiner was best known for its Sunoco 'custom blending pumps', an innovation that, beginning in 1958, allowed customers of Sunoco service stations to choose from several octane grades through a single gas pump. Sunoco stations offered five to eight octane grades of 'Custom Blended' gasolines from its Dial-A-Grade pumps which dispensed fuels ranging from cheapie Sunoco 190 to super-premium, 102 octane Sunoco 260.
'260' was very popular with '60s muscle car owners. (posted 1/26/18, permalink)
---
Mmm, Mmm, Good: One of the reasons that I read James Lileks is he reminds me about things I've forgotten. Recently, he took on the Campbell Kids. The Kids were especially well-known in Philadelphia because Campbell's Soup was just across the river in Camden, NJ. When I was growing up, the big tomato processing facility was located there as well. One of my high-school buddies, Eddie B., worked there unloading crates of Jersey tomatoes during the big August harvest. At the time, he lived in Pennsauken, not far from the Camden plant.
James Lileks asked, "What kid would ever want to play with the Campbell Kids?" Why not? Well, as James wrote, just "imagine yourself being chased by one of the Campbell Kids, its lidless eyes wide and startling. And needing."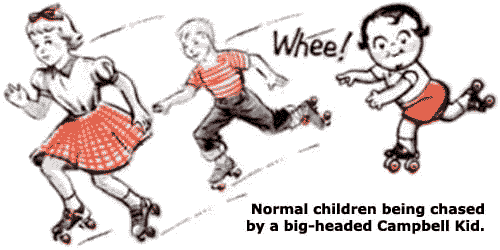 When you think about it (and I must admit that I hadn't done so before), they are kinda creepy. And what's the message from these chubby-faced children, anyway? Is it that too much soup makes your face fat?
The Kids consist of two boys and a girl. The boys looked a little light in the loafers and dressed like they were from 1920s Europe. Could they have been relatives of that chubby German exchange student, Üder, on 'The Simpsons'? In the episode where all the teachers at Springfield Elementary turned into cannibals, the cafeteria celebrated Octoberfest by featuring "Üderbratten."
And what about the Campbell girl? Did she look any better as a teenager? Probably not. What would you have done if she came up and asked you to her Junior Prom? Run, probably.
My daughter had Campbell Kids dolls as a toddler; she said that they weren't her favorite, remarking, "Those Campbell Kids' eyes are even more whacked out than I remember - i.e. - "I will eat nothing but Campbell soup for the rest of my life ..." said in a tranced voice. LOL."
Campbell's was started in 1869 by Joseph A. Campbell in Bridgeton, New Jersey. The firm produced canned tomatoes, vegetables, jellies, soups, condiments, and minced meats. Bridgeton and nearby Vineland were farm towns, best known for grapes, tomatoes and poultry. As the business grew, it moved to Camden, NJ.
The Campbell Soup Kids first appeared in 1905, when the company was still called the Joseph Campbell Company. They first appeared on the sides of streetcars and in magazine advertisements. They were so popular that the company licensed their images for dolls and other merchandise. The Campbell Kids were the Cabbage Patch Kids of the Teddy Roosevelt era.
Campbell's official line is that "the main object-in-life of these rollicking youngsters is to remind you of Campbell's Tomato Soup. To remind you that it is good for your own young people as well as the older ones; that its lively and enticing flavor adds to the enjoyment of life just as its wholesome equality helps you to promote good digestion and robust health." M-kay.
I'll end this soliloquy with a Little Known Fact: Ronald Reagan was a spokesman for V8 Juice when Campbell's acquired the brand in 1948. And that's the truth. (posted 1/12/18, permalink)
---
---
Other Pages Of Interest
copyright 2018 - Joseph M. Sherlock - All applicable rights reserved
---
Disclaimer
The facts presented in this blog are based on my best guesses and my substantially faulty geezer memory. The opinions expressed herein are strictly those of the author and are protected by the U.S. Constitution. Probably.
Spelling, punctuation and syntax errors are cheerfully repaired when I find them; grudgingly fixed when you do.
If I have slandered any brands of automobiles, either expressly or inadvertently, they're most likely crap cars and deserve it. Automobile manufacturers should be aware that they always have the option of giving me free cars to try and change my mind.
If I have slandered any people or corporations in this blog, either expressly or inadvertently, they should buy me strong drinks (and an expensive meal) and try to prove to me that they're not the jerks I've portrayed them to be. If you're buying, I'm willing to listen.
Don't be shy - try a bribe. It might help.
---