Derham Body Co.
Coachbuilders To The World
Headquartered in Rosemont, PA (a Main Line suburb of Philadelphia), a custom coachbuilding company was founded by Irish wheelwright Joseph Derham in 1887 to make carriages for the well-to-do. As automobiles became popular, Derham provided car bodies for their wealthy clients. Derham quickly developed a reputation for fine quality, durable bodywork.
The Derham family turned out $15,000 to $20,000 custom-built auto bodies for such notables as Joseph Stalin, Pope Pius XII, King Farouk, President Eisenhower, Gary Cooper and Raymond Loewy. Derham's limousines were used in fifteen coronations around the world. The company was also the longest-lived American body builder, and the only classic-era coachbuilder that survived the Depression.
Derham built almost 40 bodies for Duesenberg's Model J and SJ chassis, including the town cars mentioned previously, plus several series of sedan, phaeton and convertible sedan bodies, including Derham's best known classic-era creation the low-slung dual-windshield sport phaeton Tourster: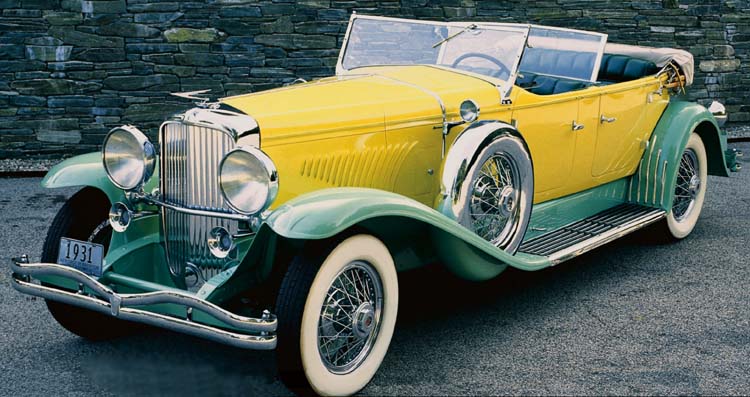 Actor Gary Cooper bought his Primrose Yellow and Parkway Green Model J Tourster off the floor at the Los Angeles Auto Show in 1930. El Chollo, one of the oldest Mexican Restaurants in Los Angeles, was a favorite of many Hollywood stars including Mr. Cooper. The restaurant still displays a 1:24 Franklin Mint scale model of Coop's Duesenberg in the reception area.

Pope Pius XII had several Cadillacs (prewar and postwar), including a Derham-bodied model with a throne in the back seat that could be elevated. His 1938 Cadillac V16 Fleetwood 75 Series was bodied in a town car style with an open chauffeur's compartment.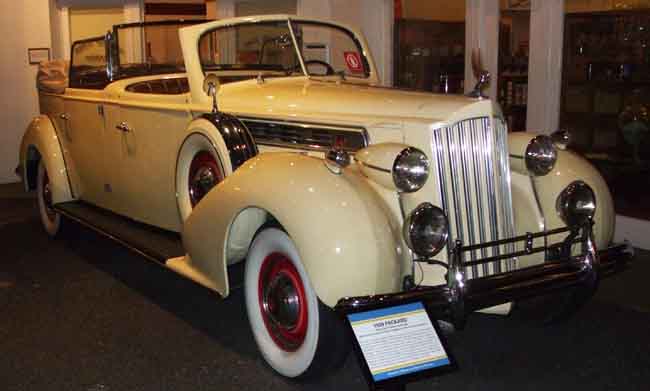 1939 Packard Super Eight Phaeton, body by Derham - used by Juan and Eva Peron
---
After World War II, Derham's business steadily declined. Most competitor coachbuilders (as well as many luxury car manufacturers) had already been destroyed by the Great Depression of the 1930s. The first three years of the Great Depression slashed the number of U.S. automakers almost in half. The depression, which truly didn't end until the pre-war military build-up of 1940, changed the way wealthy Americans lived. Conspicuous consumption became muted. Household staffs were reduced - fewer gardeners, chauffeurs, maids and other servants. Cars were often piloted by owners themselves.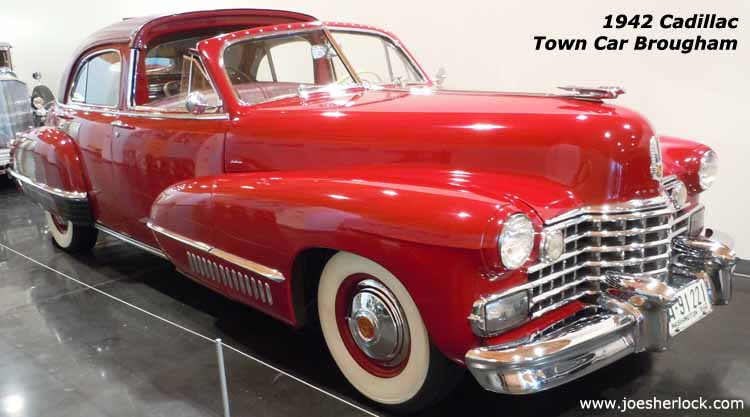 One of two 1942 Caddy town cars produced by the Derham Body Co. of Rosemont, PA
---
The postwar luxury market was much different than 20 years earlier. The custom coachbuilt market had pretty much dried up. Except for hearses and some limousines, luxury vehicles had become mass-produced, factory-finished items.
Two 1946 "Chrysler Continentals" were constructed for Harry Rosensteil of Schenley Distillers. Rosensteil admired the styling of the 1940s-era Lincoln Continental but refused to purchase any product made by Henry Ford. (The elder Ford's very public anti-Semitism turned off many prospective customers. Even in the late 1950s, Fords, Mercuries and Lincolns were a relatively rare sight in the Jewish neighborhoods of my hometown, Philadelphia. Most often seen were General Motors products with DeSotos and Chryslers sprinkled here and there.)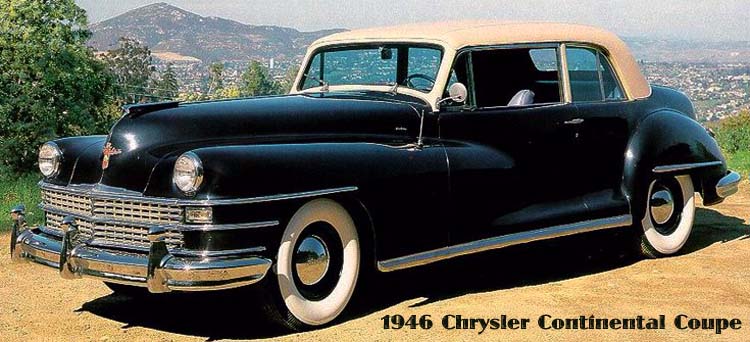 Mr. Rosensteil purchased two new 1946 Chrysler Club Coupes - one a Saratoga, the other a New Yorker - and had them shipped to Derham. The bodies were cut off from the windshield back and a framework of ash was built on the bare chassis. Aluminum panels mimicking the Continental's lines were fabricated and the results of the 'mating' were quite successful. The two examples cost Rosensteil $21,000.
In 1956, Derham produced a convertible version of the Continental Mark II coupe. Using a concept designed by Ford Motor Company's designer, John Reinhart, Derham constructed a very handsome Mark II convertible for introduction by Ford at the Texas State Fair in Dallas.
An odd Derham project was a $10,000 formal alteration done to a 1962 Corvair Monza sedan. The car featured a padded, leather-covered top with a small rear window and many luxurious upscale interior touches.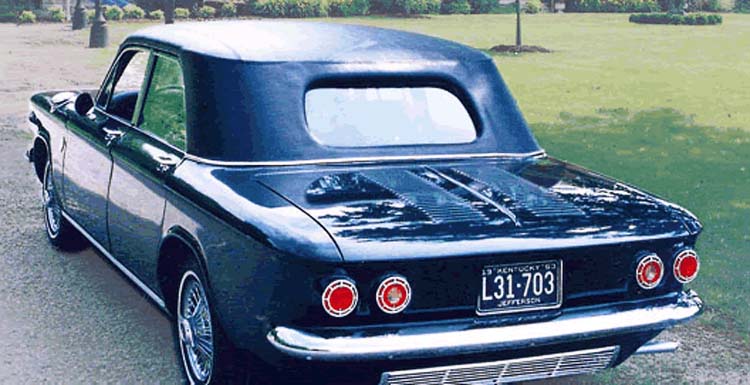 Intended for limited production, it was exhibited at the 1963 New York Automobile Show by newspaper publisher and politician Charles P. Farnsley of Kentucky. No orders resulted - not surprising given the $19,600 price, which was about nine times that of a stock Corvair and higher than a Rolls-Royce Silver Cloud. What was Mr. Farnsley thinking?
I visited the Derham Body in 1964 and the modified Corvair was on display in their small showroom at 1234 Lancaster Avenue in Rosemont, PA. The Corvair was less impressive in person than in photographs, probably because of its small size compared with a typical formal sedan.
Al Garthwaite Jr., former president of Lee Tire and Rubber Company, bought the Derham building and the business in 1964. By that time, the bulk of Derham's business was armoring Cadillac and Lincoln limousines.
In 1967, Derham produced a brochure promoting their coachbuilding services. There were line drawings (rendered by Enos Derham) of several Cadillac and Lincoln-based vehicles, including a Cadillac Town Victoria, Cadillac Town Car or Eldorado Sport Wagon.

From the brochure: "The two-door Lincoln Continental coupe serves as the basis for this elegant Fixed Head Cabriolet, with small oval rear window and circular rear quarter windows, for greater privacy. Roof covering may be vinyl, cloth or genuine landau leather. The authentic French Lalique crystal hood ornament may be either the automotive eagles head or lovely danseuse figurine. Interior fabrics, appointments, and custom luxury features to your own specifications."
---
Enos Derham, son of the founder, continued to work in a small corner of the shop on a very limited basis until 1971, when he retired. After his retirement, the building was home to a Ferrari dealership. Mr. Derham died in 1974. He willed his rather extensive archives to the Classic Car Club of America. Derham's archives are stored at the Gilmore Car Museum in Michigan. (posted 5/18/18)
---
Other Pages Of Interest
| blog: 'The View Through The Windshield' |
| greatest hits: index of essays & articles | blog archives | '39 Plymouth |
| model train layout | about me | about the blog | e-mail |
copyright 2018-21 - Joseph M. Sherlock - All applicable rights reserved
---
Disclaimer
The facts presented on this website are based on my best guesses and my substantially faulty geezer memory. The opinions expressed herein are strictly those of the author and are protected by the U.S. Constitution. Probably.
If I have slandered any brands of automobiles, either expressly or inadvertently, they're most likely crap cars and deserve it. Automobile manufacturers should be aware that they always have the option of trying to change my mind by providing me with vehicles to test drive. I'll dutifully report my road test impressions on this car blog.
If I have slandered any people or corporations, either expressly or inadvertently, they should buy me strong drinks (and an expensive meal) and try to prove to me that they're not the jerks I've portrayed them to be. If you're buying, I'm willing to listen.