Model & Toy Cars (2018)
---
License Plates - Big & Small: Dave Burge has posited that a 1943 Wyoming license plate is "the standard by which all license plates shall be judged."

He added: "I prefer my license plates the way God intended: two-color enamel paint, embossed, and stamped by a convicted felon."
France was the first country to introduce the registration plate with the passage of the Paris Police Ordinance on August 14, 1893, followed by Germany in 1896. New York has required plates since 1903 (originally black numerals on a white background).
As to 1943 license plates, well, they'll always catch my eye because that's the year I was born.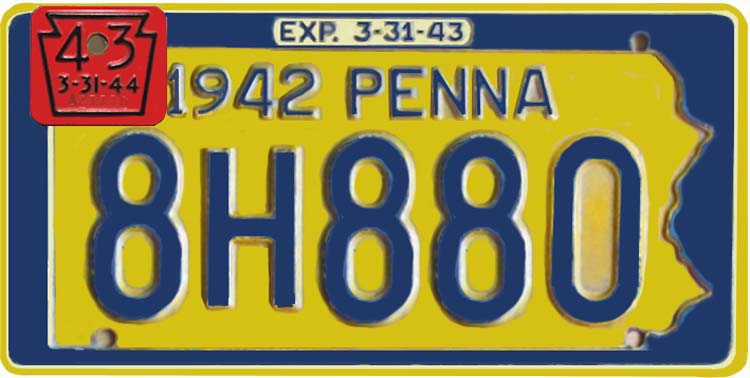 I made my debut in Pennsylvania which did not have an actual license plate in '43, just a tab which fit awkwardly over the 1942 plate. The use of a small tab was probably due to metal shortages.
I have a few out-of-date license plates for cars I used to own. But the only plate I display (in a case with some of my model cars), is a small-scale plate (2.25 inches x 3.975 inches) which came out of a Wheaties box - a 1953 plate from Prince Edward Island in Canada.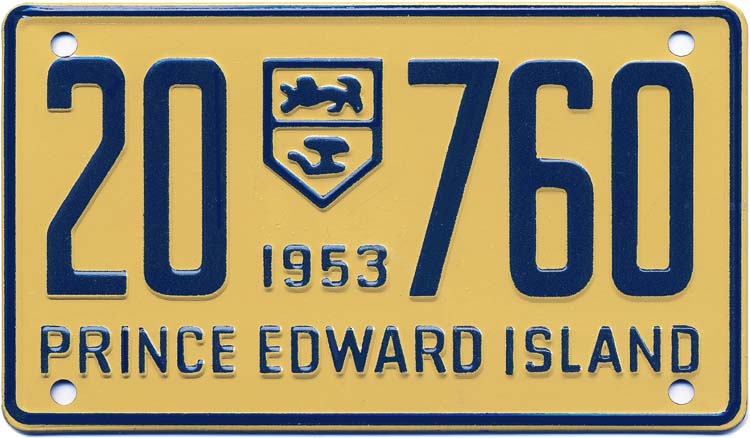 I've had it since it was poured out of the box when I was a 10 year-old.
In 1953, General Mills produced four different series of miniature license plates that came as premiums in boxes of Wheaties cereal. You could also mail in 25¢ and a box top for an envelope with 10-12 plates. This successful cereal premium program reportedly boosted Wheaties sales by 50%. Quite a few kids must have kept their little plates because each is only worth $5-7 these days on eBay. (posted 5/4/18, permalink)
---
"Well We're Living Here In Allentown ..." When I was growing up in Philadelphia, it seemed as if every truck I saw was a Mack. In those days, Mack was headquartered in Allentown, PA, about 60 miles north of Philly.
When I moved to the Pacific Northwest, Mack sightings became scarce. Most big trucks I saw were Peterbilts, Kenworths or Freightliners - all West Coast brands, with manufacturing facilities in the region.
I don't pay much attention to the truck market and was surprised to learn that Volvo now owns Mack. While Mack headquarters has moved to South Carolina, its entire line of Mack products is still produced in Lower Macungie, a suburb of Allentown.

I acquired a 1950 Mack LJ tractor-trailer 'Guinness' diecast 1/48 scale model made by Corgi in 2000. It was a Christmas gift for me that year. From 1940 to 1956, 13,931 full-size LJ series Macks were made. 127,786 examples of the more popular Mack B Model were built from 1953 to '66. (posted 3/12/18, permalink)
---
Seasonal Scale: Every year, I put three Christmas-themed vehicles on my O-gauge model train layout: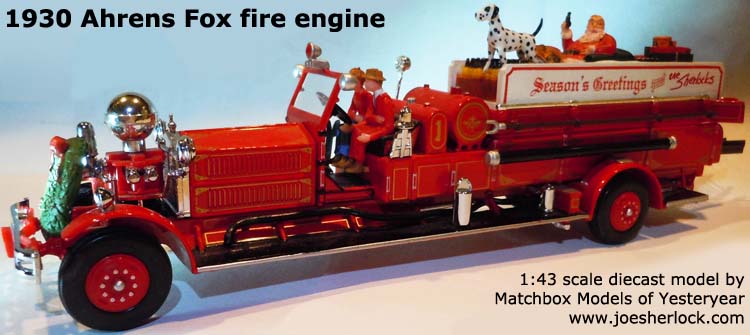 A red 1930 Ahrens Fox fire engine has green Christmas wreath on front, Santa shares the top with a dalmatian dog, riding among cases of Coke while holding a six-ounce bottle in his hand. The Coca-Cola signboards on each side have been modified to read: 'Seasons Greetings from the Sherlocks'. I purchased this 1:43 scale Matchbox Yesteryear diecast model in November 2002.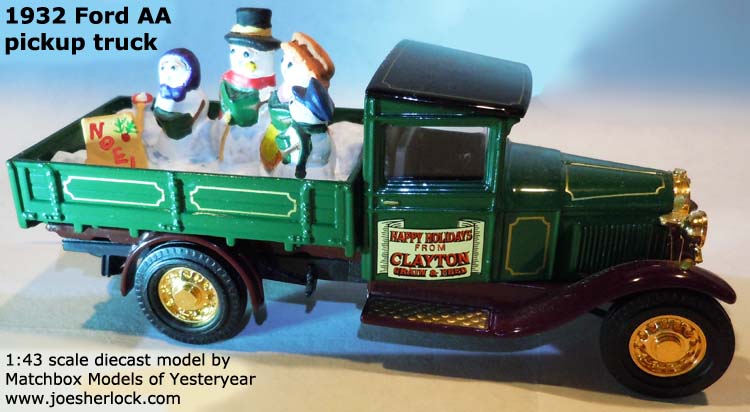 This green 1932 Ford Model AA pickup truck model is emblazoned with 'Happy Holidays from Clayton Grain & Feed'. Made by Matchbox as part of its limited edition Models of Yesteryear collectibles, this 1:43 scale diecast was one of 9,500 produced. It features carolers and a snowman in the pickup bed with a hand-lettered Noel sign. Matchbox produced this model in 1997, I purchased it at a closeout sale in mid-2002.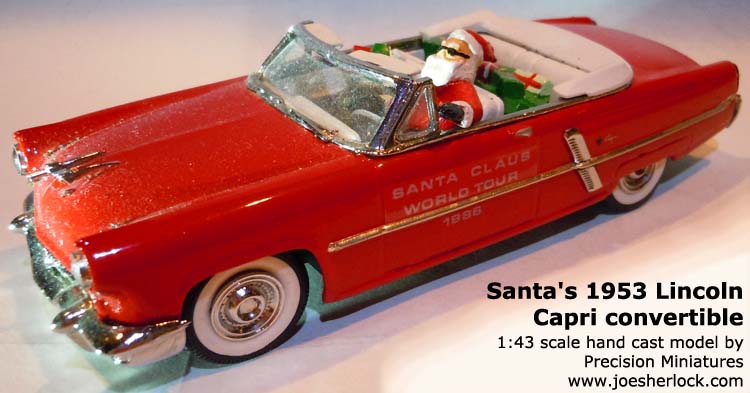 A sunglasses-wearing Santa is hauling gifts in a red 1953 Lincoln Capri convertible. This heavy (13.9 ounces) 1:43 hand-cast white metal model was made in California by Precision Miniatures. Only 350 were manufactured in 1986; I purchased mine new from the late, great Autofanatics Ltd. in Sherman Oaks, CA. Decals on each door proclaim 'Santa World Tour 1986'. (posted 1/12/18, permalink)
---
Mmm, Mmm, Good: Campbell's is the top selling soup brand in North America. It has been so for over 70 years.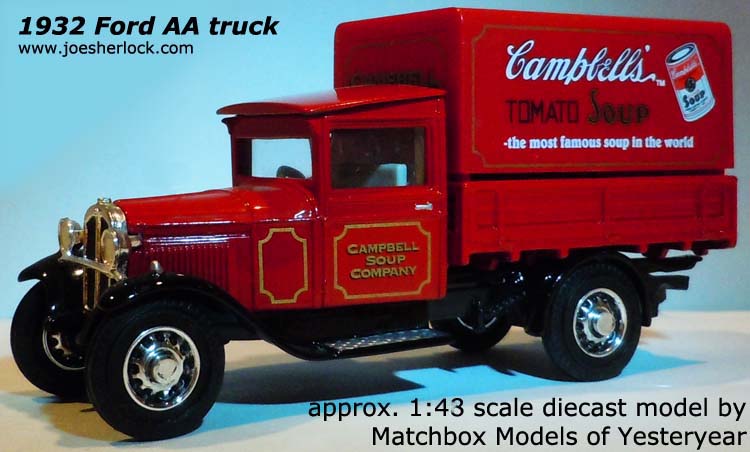 This 1:43 scale Matchbox 1932 Ford AA truck carries the Campbell's Soup livery with the slogan: 'The Most Famous Tomato Soup In The World'. And it now is, although 25 years ago, it was outsold by Heinz in Great Britain.
I purchased this model in 2001 from the late, sometimes-great KayBee Toys for only $4. (posted 1/8/18, permalink)
---
More toy car photos and stories are posted here.
Read more about the model car business here.
---
Other Pages Of Interest
copyright 2018 - Joseph M. Sherlock - All applicable rights reserved
---
Disclaimer
The facts presented in this blog are based on my best guesses and my substantially faulty geezer memory. The opinions expressed herein are strictly those of the author and are protected by the U.S. Constitution. Probably.
Spelling, punctuation and syntax errors are cheerfully repaired when I find them; grudgingly fixed when you do.
If I have slandered any brands of automobiles, either expressly or inadvertently, they're most likely crap cars and deserve it. Automobile manufacturers should be aware that they always have the option of trying to change my mind by providing me with vehicles to test drive.
If I have slandered any people or corporations in this blog, either expressly or inadvertently, they should buy me strong drinks (and an expensive meal) and try to prove to me that they're not the jerks I've portrayed them to be. If you're buying, I'm willing to listen.
Don't be shy - try a bribe. It might help.
---