Model & Toy Cars (2018)
---
Father's Day Gifts: I hope you had an enjoyable Father's Day 2018. My two grown children were here for the weekend and I was presented with several gifts, including seven bottles of Merlot (that should hold me for a while), as well as a book and other gifts - including three model cars: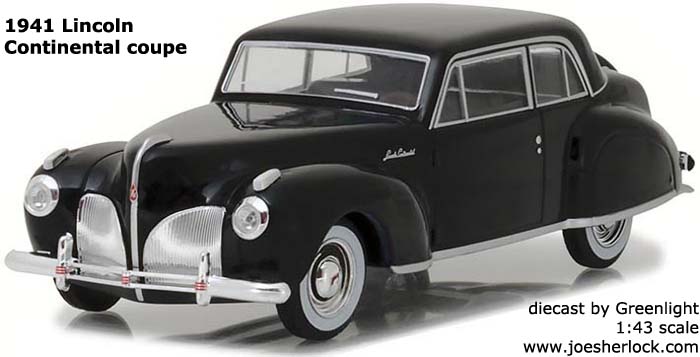 In its 'The Godfather' series - featuring appropriate box art, Greenlight Models offers Sonny Corleone's 1941 black Lincoln Continental coupe in two 1:43 scale versions: stock, or riddled with bullet holes. I chose the stock one. Both models are made in China. I've written more about the first-generation 1940-41 Lincoln Continental here.
---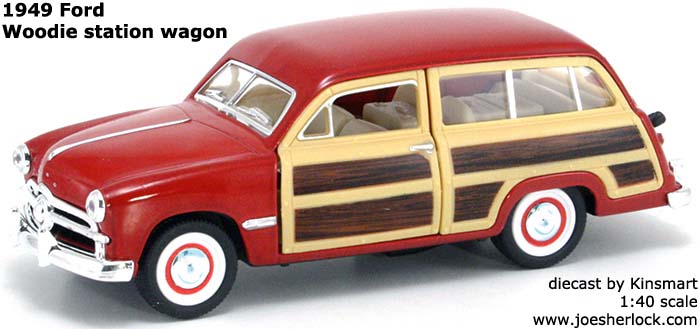 This '49 Ford woodie wagon is a bit oversize (1:40 scale) but has a pull-back action motor and opening front doors. Kintoy is a Hong Kong based die-cast toy car manufacturer established in 1992. Kinsmart models are manufactured in Shenzhen, China. According to the firm's website, "The factory is an integrated operation including prototype, tooling, engineering, production and quality control."
---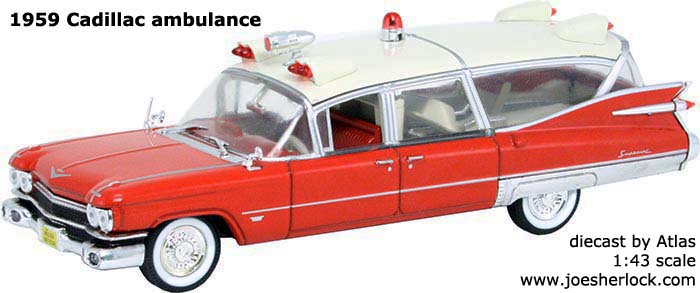 This diecast model is manufactured in China for the Editions Atlas Collection. The 1:43 scale diecast ambulance is a 1959 Cadillac bodied by Miiller-Meteor, a coachbuilder of hearses and ambulances. I've written more about the 1959 Cadillac here.
---
(
posted 6/19/18, permalink
)
---
Wagons Ho! Edsel offered three station-wagon models in 1958. All were on the Ford 116-inch wheelbase platform. (Mercury wagons had a 122-inch wheelbase.)

The upscale Bermuda wagon was based on the higher trim-level Edsel Pacer. This four-door model was offered in 6-passenger (priced at $3,190, 1,436 produced) or 9-passenger (priced at $3,247, 779 produced) versions. Minichamps offered nicely-detailed 1:43 scale diecast Edsel Bermuda station wagons in at least two different color combos.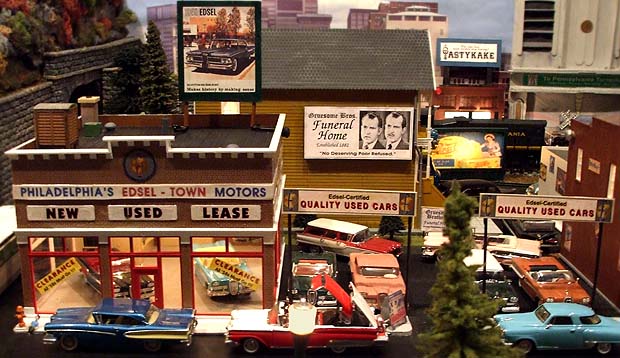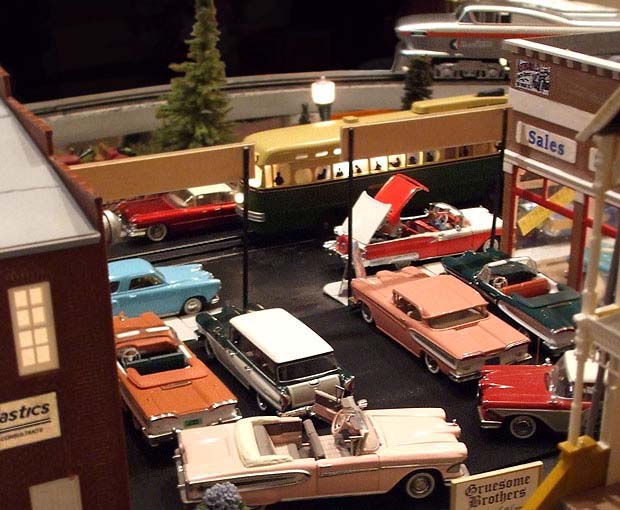 I purchased mine in in 2004 and 2008 and use them to fill up the Edsel dealership sales lot on my O-gauge model train layout. I've written about the predestined fate of the Edsel automobile here and more about Edsel station wagons here. (posted 6/13/18, permalink)
---
A Ride Fit For A Pope: Pope Pius XII had several Cadillacs (prewar and postwar), including a Derham-bodied model with a throne in the back seat that could be elevated. His 1938 Cadillac V16 Fleetwood 75 Series was bodied in a town car style with an open chauffeur's compartment.

A 1:43 scale diecast model of the Pope's Cadillac town car was produced by Rextoys. Founded in 1987 by Swiss model railway manufacturer Fulgurex, Rextoys designed 1:43 scale diecast model cars, beginning with variations of 1938 Cadillacs. Production took place in Portugal, before moving its operation to France. The company released its last models in 2001. I purchased the Pius XII Cadillac model from Model Auto of Leeds, UK during a July '87 visit to the firm's retail shop.
More information about various Popemobiles is posted here. (posted 5/22/18, permalink)
---
How Could I Have Forgotten This? A belated Happy 50th Birthday to Mattel's Hot Wheels which made their debut on May 18, 1968. I vividly remember when they first appeared on store shelves, because they looked nothing like other little cars of the era. Sporting flashy metallic 'Spectraflame' paint jobs and modeling cool American iron, Hot Wheels instantly made all Matchbox offerings look dowdy. Matchbox saw its U.S. sales drop 75% after the introduction of Hot Wheels.
Mattel's diecast vehicles offered revolutionary features, including low-friction wheels and cool California styling. Chevy Camaros, custom VW Beetles and Ed Roth's Beatnik Bandit show rod were some of the early models produced. Some product was manufactured in America, although by 1972, all production had moved to Hong Kong.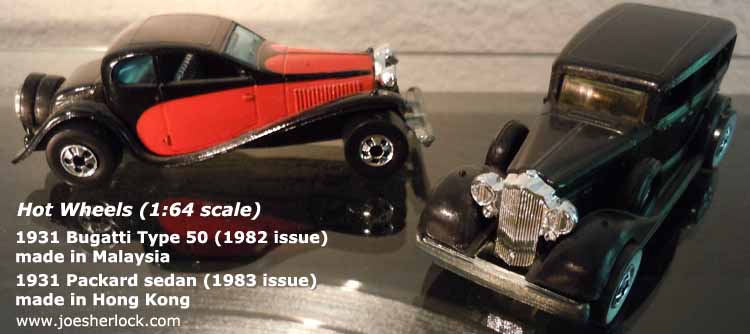 The real brilliance of Hot Wheels was the track. For realism's sake, it should have been colored dull asphalt black but some unsung genius at Mattel suggested bright orange, making it visible down the block and creating instant envy for Hot Wheelless kids in every neighborhood. The polyethylene track also made excellent weaponry - good for sword fights, terrorizing stray animals and thrashing of younger siblings. Forget all those pop-history books which erroneously claim that the most-common 1960s phrase was, "Groovy, man" or, "Make love, not war." It was: "Mom! He's hitting me with his Hot Wheels track!"
Here's hoping that Hot Wheels are still around to mark their 100th birthday in 2068. (posted 5/22/18, permalink)
---
Upscaling The Downscale: In the mid-to late 1990s, Matchbox decided to go into head-to-head with Franklin Mint. The toymaker set up 'collectibles' stores, retailers who sold Department 56 buildings, Hummel figurines, and other collector items, as Authorized Matchbox Collectible dealers. Each dealer had a fancy glass display case with built-in spotlights to showcase the model vehicles. Matchbox repackaged its Yesteryear product line and increased prices by 100% or more.
Unfortunately, the strategy failed - people still thought of Matchbox as low-cost little toy cars and were unwilling to pay 'designer' prices for something with the Matchbox name on it.
Matchbox gave-up on Authorized Matchbox Collectibles and sold all of their stock to a diecast mail-order house, which offered items at fire sale prices in 2002. I purchased eight 1:43rd scale vehicles that I thought were nice, but not at the original $40 to $50 prices. I got some good Matchbox bargains at the sale, including this 1937 Dodge Airflow delivery van decorated in Budweiser Beer livery which was priced at a mere $8: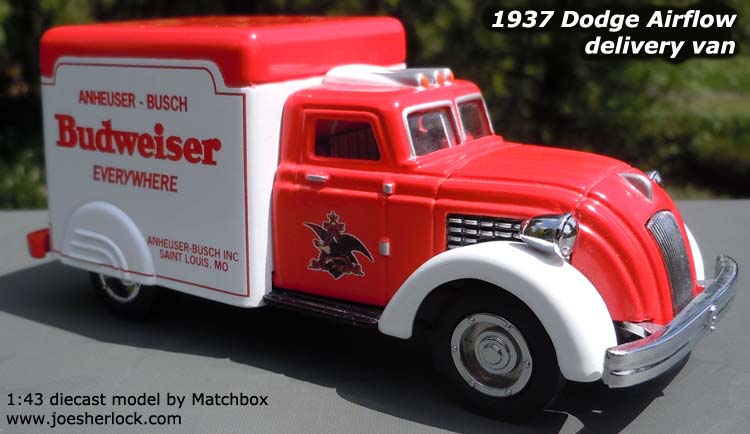 He added: "I prefer my license plates the way God intended: two-color enamel paint, embossed, and stamped by a convicted felon."
France was the first country to introduce the registration plate with the passage of the Paris Police Ordinance on August 14, 1893, followed by Germany in 1896. New York has required plates since 1903 (originally black numerals on a white background).
As to 1943 license plates, well, they'll always catch my eye because that's the year I was born.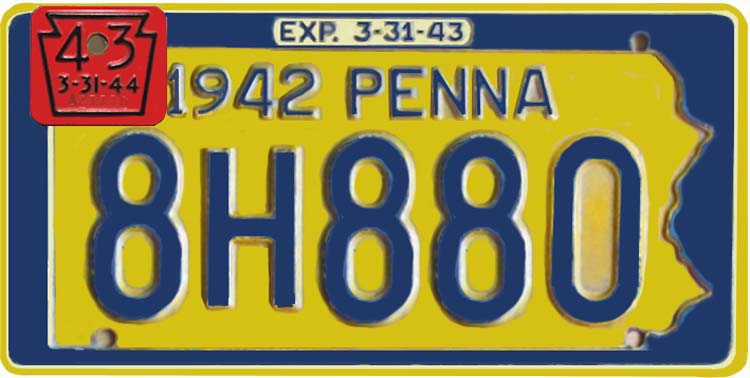 I made my debut in Pennsylvania which did not have an actual license plate in '43, just a tab which fit awkwardly over the 1942 plate. The use of a small tab was probably due to metal shortages.
I have a few out-of-date license plates for cars I used to own. But the only plate I display (in a Plexiglas case with some of my model cars), is a small-scale plate (2.25 inches x 3.975 inches) which came out of a Wheaties box - a 1953 plate from Prince Edward Island in Canada.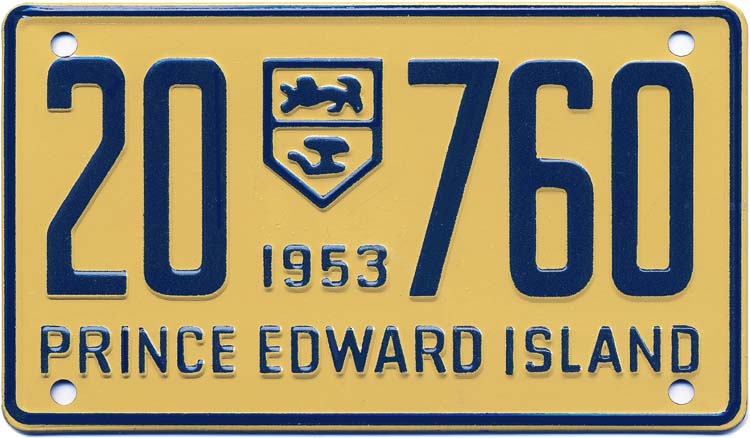 I've had it since it was poured out of the box when I was a 10 year-old.
In 1953, General Mills produced four different series of miniature license plates that came as premiums in boxes of Wheaties cereal. You could also mail in 25¢ and a box top for an envelope with 10-12 plates. This successful cereal premium program reportedly boosted Wheaties sales by 50%. Quite a few kids must have kept their little plates because each is only worth $5-7 these days on eBay.
Back to full-size license plates: Today, states produce a variety of custom license plates for almost any group. Modern printing technology allows for short-run production of multi-colored plates. A hefty premium is charged, of course, and this is a good money generator for any state licensing agency. If you're a blind cross-dresser who likes to visit the zoo, California will probably sell you and your friends a plate with a fishnet-wearing zebra with Ray Charles-style wraparound dark glasses. (posted 5/4/18, permalink)
---
"Well We're Living Here In Allentown ..." When I was growing up in Philadelphia, it seemed as if every truck I saw was a Mack. In those days, Mack was headquartered in Allentown, PA, about 60 miles north of Philly.
When I moved to the Pacific Northwest, Mack sightings became scarce. Most big trucks I saw were Peterbilts, Kenworths or Freightliners - all West Coast brands, with manufacturing facilities in the region.
I don't pay much attention to the truck market and was surprised to learn that Volvo now owns Mack. While Mack headquarters has moved to South Carolina, its entire line of Mack products is still produced in Lower Macungie, a suburb of Allentown.

I acquired a 1950 Mack LJ tractor-trailer 'Guinness' diecast 1/48 scale model made by Corgi in 2000. It was a Christmas gift for me that year. From 1940 to 1956, 13,931 full-size LJ series Macks were made. 127,786 examples of the more popular Mack B Model were built from 1953 to '66. (posted 3/12/18, permalink)
---
Seasonal Scale: Every year, I put three Christmas-themed vehicles on my O-gauge model train layout: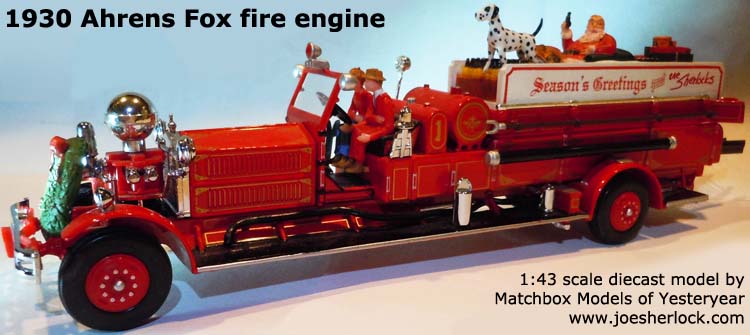 A red 1930 Ahrens Fox fire engine has green Christmas wreath on front, Santa shares the top with a dalmatian dog, riding among cases of Coke while holding a six-ounce bottle in his hand. The Coca-Cola signboards on each side have been modified to read: 'Seasons Greetings from the Sherlocks'. I purchased this 1:43 scale Matchbox Yesteryear diecast model in November 2002.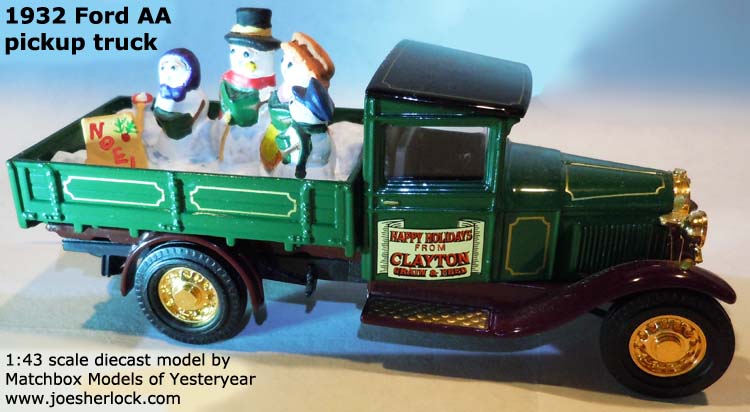 This green 1932 Ford Model AA pickup truck model is emblazoned with 'Happy Holidays from Clayton Grain & Feed'. Made by Matchbox as part of its limited edition Models of Yesteryear collectibles, this 1:43 scale diecast was one of 9,500 produced. It features carolers and a snowman in the pickup bed with a hand-lettered Noel sign. Matchbox produced this model in 1997, I purchased it at a closeout sale in mid-2002.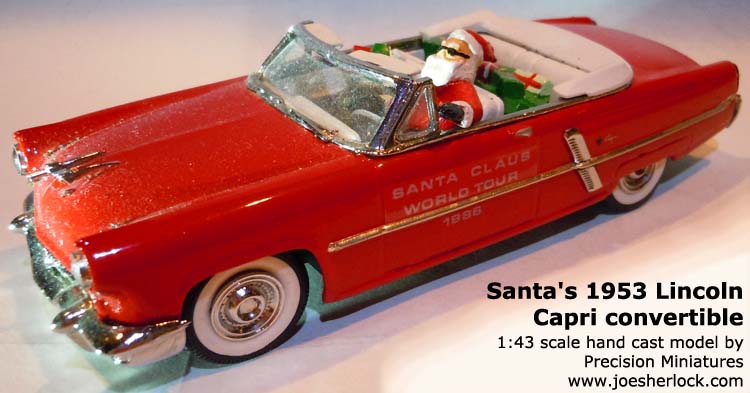 A sunglasses-wearing Santa is hauling gifts in a red 1953 Lincoln Capri convertible. This heavy (13.9 ounces) 1:43 hand-cast white metal model was made in California by Precision Miniatures. Only 350 were manufactured in 1986; I purchased mine new from the late, great Autofanatics Ltd. in Sherman Oaks, CA. Decals on each door proclaim 'Santa World Tour 1986'. (posted 1/12/18, permalink)
---
Mmm, Mmm, Good: Campbell's is the top selling soup brand in North America. It has been so for over 70 years.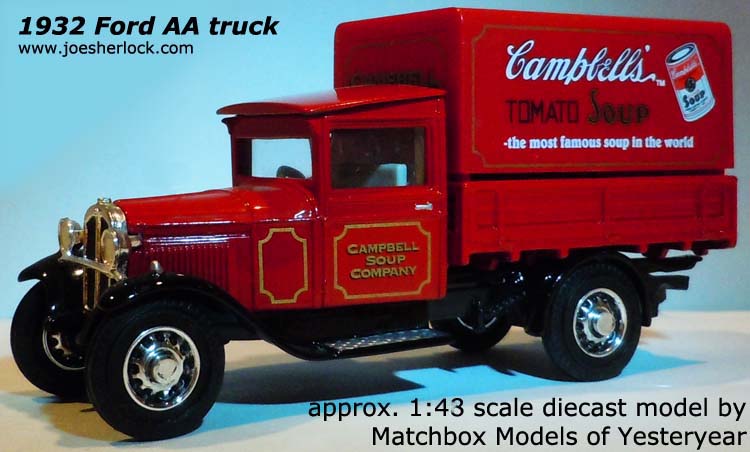 This 1:43 scale Matchbox 1932 Ford AA truck carries the Campbell's Soup livery with the slogan: 'The Most Famous Tomato Soup In The World'. And it now is, although 25 years ago, it was outsold by Heinz in Great Britain.
I purchased this model in 2001 from the late, sometimes-great KayBee Toys for only $4. (posted 1/8/18, permalink)
---
More toy car photos and stories are posted here.
Read more about the model car business here.
---
Other Pages Of Interest
copyright 2018 - Joseph M. Sherlock - All applicable rights reserved
---
Disclaimer
The facts presented in this blog are based on my best guesses and my substantially faulty geezer memory. The opinions expressed herein are strictly those of the author and are protected by the U.S. Constitution. Probably.
Spelling, punctuation and syntax errors are cheerfully repaired when I find them; grudgingly fixed when you do.
If I have slandered any brands of automobiles, either expressly or inadvertently, they're most likely crap cars and deserve it. Automobile manufacturers should be aware that they always have the option of trying to change my mind by providing me with vehicles to test drive.
If I have slandered any people or corporations in this blog, either expressly or inadvertently, they should buy me strong drinks (and an expensive meal) and try to prove to me that they're not the jerks I've portrayed them to be. If you're buying, I'm willing to listen.
Don't be shy - try a bribe. It might help.
---