Buick Stories
Dream Buick: Mac's Motor City Garage posted an interesting article on the 1951 Buick XP-300 concept car.
The XP-300 contained many technical and styling innovations - so many that two different examples were constructed. "The XP-300's body shell was fabricated in heat-treated aluminum sheet attached to a steel tubing superstructure, which was then welded to the frame to form a unitized structure. Of chrome-moly box-tube construction, the chassis featured torsion-bar IFS and a De Dion rear axle, all rolling on a 116-inch wheelbase. Overall length was 192.5 inches, while the total height was just 53.4 inches at the top of the windscreen.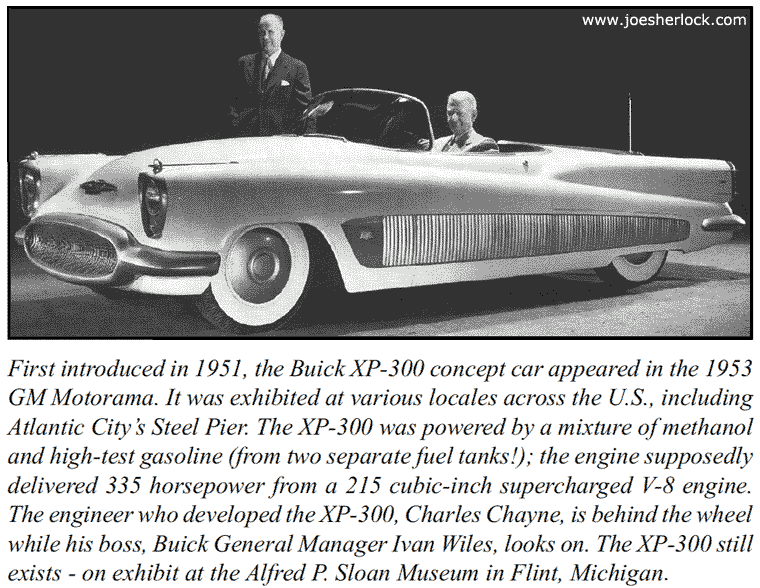 One of Earl's favorite developments, the wraparound windshield would first appear on GM production cars in 1953 and was eventually adopted across the board by the automaker. The XP-300's distinctive teardrop-shaped headlamp bezels became a Buick production feature in 1953 as well, and the fine-toothed, electric-razor grille texture can be found on the 1957 Buicks."
General Motors has always obtained spectacular publicity for its concept cars. The traveling Motorama put these dreams in front of a wide audience. In addition, GM's dream cars would be exhibited at major U.S. auto shows. The following year, the vehicles would be seen at smaller shows. Sometimes, GM would loan aging concept cars to key dealers as perks to build showroom traffic. During the entire life cycle of a particular concept, GM's well-oiled publicity machine would be at work getting national - and later, local - press for the vehicle, whenever it made an appearance.
By 1953, the '51 Buick XP-300, having done yeoman's service in the Motorama and auto show circuit, could be found in the boardwalk front window of the permanent GM Exhibit at Atlantic City's Steel Pier. The sleek Buick had a velvet rope separating it from the public but, if you asked nicely, an attendant would open the door and let you sit behind the wheel of this dream car. How do I know this to be true? I have proof in the form of our family's old 8mm film reel, shot in 1953. (posted 11/4/21, permalink)
---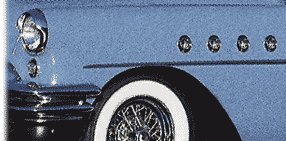 Chinese Portholes: Buick's success in China "remains what many industry observers say is key to the survival of the brand, which still seems to be struggling on its home turf in the U.S. - just a decade after it was saved from the chopping block during the financial crisis," wrote Robert Ferris. Seventy-five years ago, Chinese dignitaries rode in big black Buicks and those big portholed Roadmasters became the envy of ordinary Chinese peasants. As a result, Buick still carries a large whiff of prestige in today's mainland China market.
"About 80% of Buick's global sales last year were in China, and nearly a third of GM's sales in the country came from that brand alone. About 64% of Buick's sales in China come from vehicles it doesn't sell in the U.S., such as the Excelle sedan, the GL6 and GL8 minivans, the Velite 5 hybrid and the Verano compact car."
The future may not be so bright in People's Republic of China for Buick. GM's decision to stake "Buick's future on China may not be a smart bet over the long term. Government policy in China has increasingly favored the development of a local automotive industry, and trade tensions with the United States could make business more difficult for foreign automakers in the region. China's auto market also endured its most severe slowdown in roughly two decades in 2018.
Furthermore, Chinese firms are learning from more experienced international firms, and J.D. Power data suggests customers are increasingly feeling they do not need to buy a foreign brand to get a good quality product."
Buick sales fell 6% in 2018, a far greater decline than for any other General Motors brand in the U.S. (posted 2/11/19, permalink)
---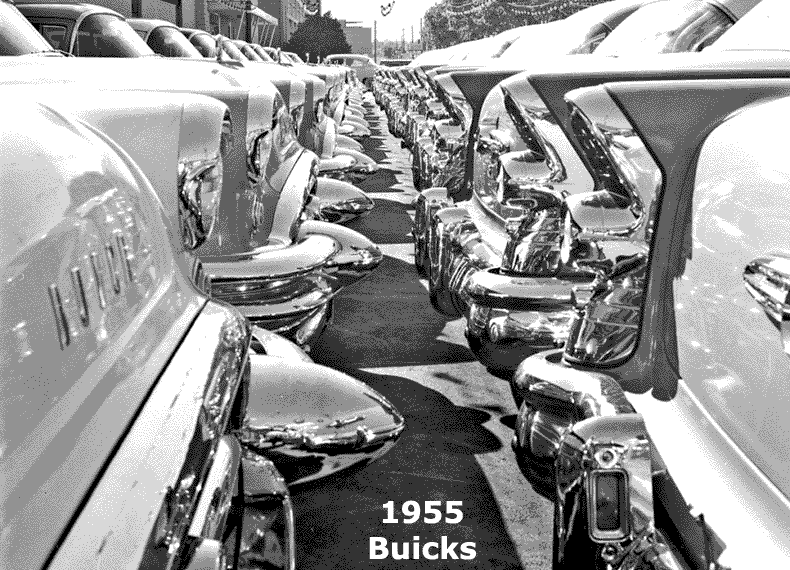 ---

Second Act: The little, Korean-made Buick Encore crossover was introduced in 2015. And heavily advertised - I've seen more commercials for this model than any other Buick - clearly aimed at the female market. Now that I think of it, I haven't seen TV spots for any other Buick offerings.
Mark Baruth observed, "Nearly 50% of all Buick volume is the Encore, which sets new sales records every year and is on pace to do so again in 2018." Unfortunately, Buick heavily subsidizes the diminutive CUV to make its sales numbers - $6,000+ discounts off list - and it is questionable whether Buick really makes any profit from the pint-size Encores it manages to sell.
Mark concluded, "Just call Buick dealers what they are at this point - Encore dealers who take a loss on every car sold." As I've said before, it may be popular in China but, in the U.S., "Buick is a dead brand walking." (posted 7/13/18, permalink)
---
No Name: Starting with the 2019 model year, Buick will do away with the Buick nameplate on all its products. The only identifier remaining will be the tri-shield emblem. Buick spokesman Stu Fowle said that the decision relates to "global brand consistency," and that General Motors feels "the tri-shield has enough recognition to stand on its own."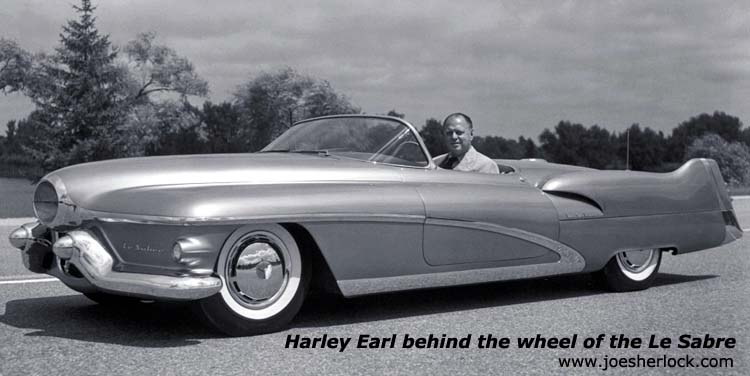 Harley Earl must be spinning in his grave. Buick was the late stylist's favorite brand and he always imbued Buick with Earl Magic by adding unique design details throughout. And lettering.
Ever since the 1990s, when its sales went in the tank, Buick has been "reinventing itself." The phrase is trumpeted every time a new model is announced. Venerable designations Electra, Roadmaster, Rivera, Park Avenue (named after Caroline Kennedy's address, I believe) and LeSabre have been replaced by Enclave, Envision and LaCrosse. And Lucerne, which is also a Swiss city and Safeway's house brand of milk.
It should be noted that Bugatti, Rolls Royce, Bentley, Aston Martin, Lexus, Porsche and others have the brand (and often the model) clearly spelled out somewhere on the vehicle.
Anyone else remember when Oldsmobile logo was changed from the rocket to a vaguely-Asian calligraphic abstract? And minimized the Oldsmobile name on the exterior of its vehicles. How'd that work out, GM?
Perhaps General Motors is ashamed of what Buick has become. Meanwhile, Jack Baruth believes that "Buick must die." It won't happen - China sales are keeping the brand alive. Some will continue be imported to the U.S. so that Buick dealers won't sue.
Summary: Dead brand walking. (posted 3/21/18, permalink)
---
Buick - A Brief History: Buick is the oldest active American marque of automobile, and the original Buick Motor Company was a cornerstone of the establishment of General Motors in 1908.
Buick's roots trace back to the Buick Auto-Vim and Power Company, established in 1899 as an independent internal combustion engine and motor car manufacturer. It was later incorporated as the Buick Motor Company on May 19, 1903, by David Dunbar Buick in Detroit, Michigan. Later that year, the company was taken over by James H. Whiting, who moved the firm to his hometown of Flint, Michigan, and brought in William C. Durant in 1904 to manage his new acquisition.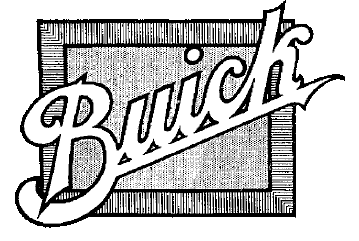 Between 1899 and 1902, two prototype vehicles were built in Detroit. In mid-1904, another prototype was constructed for an endurance run, which convinced Whiting to authorize production of the first models offered to the public. The first Buick made for sale, the 1904 Model B, was built in Flint. There were 37 Buicks made that year.
Before the establishment of General Motors, GM founder William C. Durant previously served as Buick's general manager, while his friend Louis Chevrolet worked as a racing driver for Buick and later learned automotive design working there.
Durant was a natural promoter, and Buick quickly became the largest car maker in America. Using the profits from Buick Motor Company, Durant embarked on a series of corporate acquisitions, eventually forming the automotive conglomerate General Motors. (posted 1/27/15, permalink)
---
Master Of The Road: The Roadmaster was once the top-of-the-line Buick model. Roadmasters produced between 1936 and 1958 were built on Buick's longest non-limousine wheelbase and shared their basic structure with entry-level Cadillac and, after 1940, senior Oldsmobiles. Between 1946 and 1957 the Roadmaster served as Buick's flagship. The name was resurrected for the 1991 through 1996 model years, when it was once again the marque's largest vehicle.
For the 1953 model year, Buick had something to crow about - a new overhead-valve, "nailhead" V8 engine replacing the ancient straight-eight which had been used since 1937. It arrived just in time to celebrate Buick's Golden Anniversary. Helping to bring in that new year was the semi-custom, expensive and striking Skylark convertible, as well as the availability of power steering on Buick models. A 12-volt battery system was now standard to help crank the big, new high-compression V8 motor.
Entry-level Buick Specials still had the old L-head straight eight engine, which produced 125 horsepower. All other Buicks got the new ohv V8; the Roadmaster version produced 188 horsepower. In 1953, Roadmaster was the only model with four portholes in the side of each front fender; Buick Referred to them as VentiPorts.

The 1953 Roadmaster Riviera sedans were big cars: 211.6 inches long with a spacious wheelbase of 125.5 inches. The sedan was tall - 63 inches in height and weighed 4,200 pounds. The Riviera four-door was priced from $3,254.
While the limited production Skylark convertible stole the media spotlight, only 1,690 were made (at $5,000 a pop, they were quite pricey for the era), while over 50,000 Roadmaster Riviera sedans were produced in '53. In those days, Buick was an aspirational brand, purchased by well-to-do folks who disdained the flashiness of a Cadillac. The sales brochure claimed that, with a Buick, "your greatest expectations of truly luxurious motoring are realized." James Lileks has posted a scan of the 1953 Buick brochure here.
Buick was General Motors VP of Styling Harley Earl's favorite brand and he always added unique design details throughout, although the big 'V' hubcaps on the '53 models looked a bit tacky to some. Buick seized the number four sales spot for model year 1953, just behind the low-priced trio of Chevrolet, Ford and Plymouth. 486,812 new Buicks found homes in 1953. Buick sales were up over 32% in 1953, partly due to the easing of Korean War material & production restrictions.
1953 was the last year for the Roadmaster Estate, and it was the last wood-bodied station wagon mass-produced in the U.S. Its body was a product of Ionia Manufacturing which built all Buick station wagon bodies between 1946 and 1964. Priced at $4,031, the Estate was second in price only to the Skylark, with only 670 Buick woodies sold.
A 1953 Buick Roadmaster Riviera four-door sedan, once owned by Howard Hughes was sold at the 2015 Barrett-Jackson Scottsdale auction for $100,000. The white-over-blue Roadmaster was equipped with air conditioning and a special air filtration system. (posted 1/27/15, permalink)
---
Resurrecting Old Memories: One of the toys I remember from when I was four years old or so, was a Tootsietoy model of a Buick.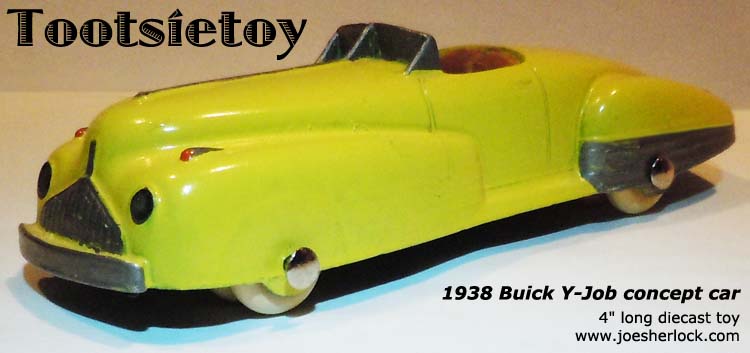 I found out later that it was a somewhat crude interpretation of the 1938 Buick Y-Job, General Motors' first show car ... (more >>>)
---
Buick Century: "Wouldn't You Really Rather Have A Buick?" This mid-1960s slogan and commercial jingle promoted the desirability of all things Buick but for many, the Buick they really wanted was Buick's hot rod Century.
The Buick Century first appeared in 1936; it combined the shorter, lighter body from lesser Buicks with the more powerful engine of pricier Buicks and could arguably be considered the first production attempt at a muscle car. The Century designation commemorated the company's first model to reach 100 mph.

Buick revived the Century name in 1954 for their new performance offering. Based on the smaller (122-inch wheelbase), entry-level Special chassis and body, the new Century received the Roadmaster's more powerful 322 cubic-inch V-8 engine from the big Roadmaster 127-inch wheelbase model. About half the Centuries made were equipped with Buick's Dynaflow automatic transmission, while the rest received a three-speed column-shift manual.
All body styles had ... (more >>>)
---
Sleek But Unobtainable: Every five years or so, Buick shows a swoopy two-door concept car and slaps Riviera badges on it. It's just another way to taunt people who lust after the concept car, then examine Buick's production line-up of chubby-looking sedans and SUVs that ape Lexus in the same way $10 timepieces hawked from sidewalk folding tables mimic Rolexes.
The latest Riviera debuted at the Shanghai Auto Show, with the intention of wetting Chinese whistles, so that eager buyers would flock to showrooms throughout the Middle Kingdom and be satisfied with a humble little sedan carrying the same Buick medallion. It's same way that a Coach luggage tag somehow confers "dignity" on cheap frangible suitcases, which - ironically - are most likely made in China.
This Chinese Riv is powered by ... (more >>>)
---
1963 Buick Riviera - Modern Classic:
The phrase Personal Luxury Coupe was unheard of in 1956. The name developed shortly after the four seat Thunderbird arrived for the 1958 model year. Automotive purists were loudly denouncing the end of the two-seater Bird - which they never bought anyway because it wasn't really a sports car.

Ford Motor realized that they had to do something, so they described the new T-Bird as a Personal Luxury Coupe. The phrase would have shortly evaporated from the nation's lexicon, except that the new Thunderbird was a big sales hit.
Even though the '58 Thunderbird had a late introduction (mid-February 1958) and steep pricing ($3,630 for the coupe, $3,914 for the convertible), Ford managed to sell almost 38,000 of them during the truncated model year. And in the midst of a recession! 94% of the T-Birds produced were hardtop coupes.
The new Bird added a bit of class to the Ford line as well as big profits. Priced at the top of the brand's product offerings - the '58 Thunderbird cost almost twice as much as the base-level 1958 Ford.
General Motors management took notice. They muttered, stuttered and finally grumbled, "We need one of these." A clay model was rendered and presented to Cadillac, to be called the LaSalle. Cadillac wasn't interested: "Let's not undermine the Eldorado, fellas."
So, Buick, who could always a little sales help - especially in the area of trying to attract younger, hipper buyers, was offered the design. And so it came to pass ... (more >>>)
---
Buick's Chinese Fire Drill: Ever since the 1990s, when its sales went in the tank, Buick has been "reinventing itself." The phrase is trumpeted every time a new model is announced. Venerable designations Electra, Roadmaster, Rivera, Park Avenue (named after Caroline Kennedy's address, I believe) and LeSabre have been replaced by Enclave and LaCrosse. And Lucerne, which is also a Swiss city and Safeway's house brand of milk.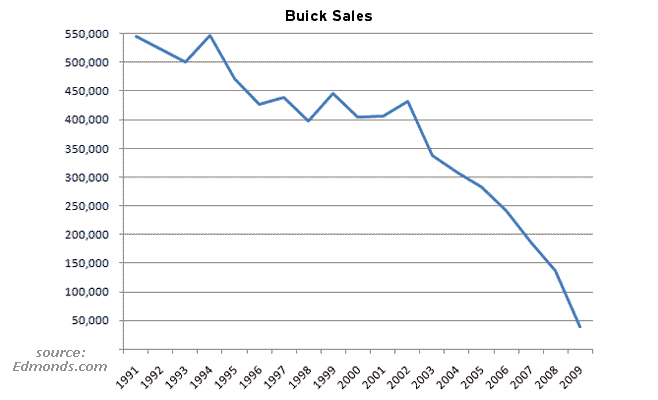 The "all-new" LaCrosse, which looks pretty nice in press photos, will debut at the Detroit Auto Show next week and arrive in showrooms later in 2009, is yet another "reinvention." This time it's Asian.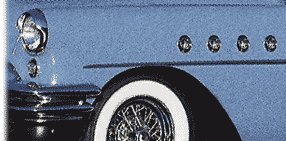 Due to Buick's popularity in China, the company's design team over there took the lead in remodeling the LaCrosse, according to Russ Clark, GM's executive director of product for Buick, Pontiac and GMC. (Buick has fallen so far that doesn't even have its own executive director of product.)
"We've learned there's a lot of matching (in North America) to what the Chinese market might expect out of Buick," Clark said. "They were keenly involved in the vehicle, particularly the interior design, the amount of space and room and attention to detail in the backseat."
Harley Earl must be spinning in his grave. Buick was the late stylist's favorite brand and he always imbued Buick with Earl Magic by adding unique design details throughout.
In America, Buick sales are now a fraction of what they once were. The brand has seen a steady decline since the early 1990s.
Today, GM suffers from such as dearth of ideas that it must turn to its Chinese division for assistance with "attention to detail in the backseat" for this former American icon.
Maybe they should have named the new model the Buick Shanghai. (posted 1/9/09, permalink)
---
1949 Buick Roadmaster Estate Wagon - A Great Big Luxo-Woodie: This behemoth weighed 4500 pounds; Buick ads hyped "honest heft that levels the miles with majestic smoothness." You could tell that it was a Roadmaster by the four portholes (officially name: VentiPorts) along the side. Lesser Buick models only got 3 holes.

The '49s were the first all-new postwar design from Buick and were the first models to feature VentiPorts. 1949 Buick styling was very attractive compared with ... (more >>>)
---
What's In A Name? In 1959, the Guide Lamp Division of General Motors (now a separate company known as Guide Corp.) developed the Twilight Sentinel - a sensor system which automatically turned the headlights off and/or on at dusk/sunrise. It was first offered as an option on 1960 Buick models.

This is not to be confused with Autronic Eye headlamp control, introduced by GM in 1952. A phototube atop the left end of the dashboard, just inside the windshield, dimmed the lights upon the approach of an oncoming car and cycled back to bright when the traffic had passed. It was offered ... (more >>>)
---
Other Pages Of Interest
| blog: 'The View Through The Windshield' |
| greatest hits: index of essays & articles | blog archives | '39 Plymouth |
| model train layout | about me | about the blog | e-mail |
copyright 2005-21 - Joseph M. Sherlock - All applicable rights reserved
---
Disclaimer
The facts presented on this website are based on my best guesses and my substantially faulty geezer memory. The opinions expressed herein are strictly those of the author and are protected by the U.S. Constitution. Probably.
Spelling, punctuation and syntax errors are cheerfully repaired when I find them; grudgingly fixed when you do.
If I have slandered any brands of automobiles, either expressly or inadvertently, they're most likely crap cars and deserve it. Automobile manufacturers should be aware that they always have the option of trying to change my mind by providing me with vehicles to test drive.
If I have slandered any people or corporations, either expressly or inadvertently, they should buy me strong drinks (and an expensive meal) and try to prove to me that they're not the jerks I've portrayed them to be. If you're buying, I'm willing to listen.
Don't be shy - try a bribe. It might help.
---