Convergence: Many car pundits have bemoaned the fact that there are too many car models today. I agree. But it's not just because of badge engineering. I think the larger problem is that too many models are converging toward a single size.
Big cars are shrinking. Small cars are getting bigger.
Consider this: in 1966, you could walk into a local Ford dealer and choose from five different sedans of five different sizes. The 'English Ford' Anglia was a miniscule 153 inches long. The English Cortina was 168" in length. The Ford Falcon was 184"; the Fairlane was 197" and the big LTD was 210". The biggest Ford sedan was almost 5 feet longer than the smallest. (British-made Fords weren't carried by every Ford dealer but they were part of Ford USA's dealer program and were seen in showrooms of larger cities, especially on the East coast.)
In 2008, you have three Ford sedan choices: the 175" long Focus, the 190" Fusion or the Taurus (nee 500) which measures 202 inches in length.
Since its introduction in the late 1970s, the Honda Accord has grown in size. The 2008 model is 194 inches long - a growth of 16 inches in 22 years. The 'little' 2008 Civic is now 176" in length - only 3 inches shorter than the 1988 Accord.
Little Toyotas aren't so little anymore. The 1966 Corona was a mere 161" long. It's successor, the '09 Corolla, has stretched by 18".
While most cars seem to be converging toward a single mid-range size, a few models are staying the course. The VW Golf/Rabbit is only five inches longer than it was 34 years ago. In fact, the 2008 Volkswagen Rabbit is almost exactly the same length as the 1949 VW Beetle. The BMW 3-Series has grown only a few inches over the last 20 years.
Meanwhile, big barges are shrinking. The 1972 Chevy Impala was 220", long; today, it's 20 inches shorter. The 1966 Cadillac De Ville measured 224 inches in length; the 2008 DTS has shrunk to 208". The vast majority of the 2009/2010 "biggest" luxury cars - domestic and import - will be 195-205" in length.
These days, most mid/large-size sedans sold in America are between 190 and 200 inches long. That's a narrow range.
How many different models do you need of that size? General Motors thinks in double digits, offering at least a dozen or so sedans that more-or-less fit in that size range. I think that's too many for GM to be sustainable and/or profitable. (posted 4/18/08, permalink)
---
Lilliput World: In a Cars.com posting, Dave Thomas noted that the new Ford Fiesta subcompact "was the fourth best-seller in the subcompact segment at 3,473 units, behind value leaders like the Nissan Versa (6,724) and Hyundai Accent (4,052) and the well-established Honda Fit (4,052). Even Chevy's much-forgotten Aveo sold only a few hundred fewer units (3,262) than the Fiesta with less available inventory."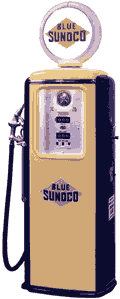 It's important to recognize that:
• Even though gasoline prices are heading upward, past experience indicates that it would have to get to well-above $5.00/gallon before a significant shift to smaller cars would happen.

But every extra dime per gallon helps. Thank you, Ben Bernanke.

• The Fiesta is a new model and there are few 'deals' to be found as are offered on its aging competitors.

And deals are available on larger cars, like the getting-long-in-the-tooth Ford Focus.

• The Nissan Versa sells well because it has a lot of interior room for its size, By interior volume, the Versa is classified as a mid-size car.

The base model carries an attractive low-ball price.

• In the U.S., the subcompact auto market has always been a niche segment. Americans love big cushy vehicles with cavernous trunks for shopping at big box stores. These days, that means SUVs.
Nevertheless, it is wise for automakers to offer a full-portfolio of vehicles so that they don't get caught with nothing to offer when markets unexpectedly shift. (posted 12/13/10, permalink)
---
Automotive Obesity:
Several years ago, I
wrote
about vehicular convergence. Small cars have been getting larger (
due to crash requirements and fatter buyers who need more interior room
), while large cars have been shrinking (
due to better interior packaging efficiency and generally smaller - but more usable - trunks
).
Recently, Kim du Toit provided examples of automotive bloat, comparing the original Mini with today's fatter version: