---
Model & Toy Cars - 2015
---
Newer toy car photos and stories are posted here.
Read more about the model car business here.
---
Something Shiny For Christmas: I gave my daughter a chrome-plated, 1:43 scale model of a 1933 Auburn Boat Tail speedster for Christmas.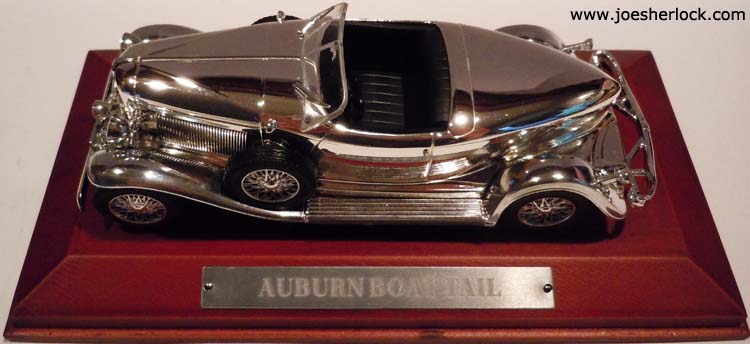 This model was produced by Les Éditions Atlas, a French firm, on older Ixo tooling. Les Éditions Atlas is a direct marketing arm of the De Agostini group. (posted 12/29/15, permalink)
---
A Reflective Gift: I gave my daughter a chrome diecast 1:43 scale model of a 1933 Pierce Silver Arrow for her birthday. The full-size Silver Arrow was originally priced at $10,000; only five were built. The V-12 engined swoopy sedan debuted at the 1933 Chicago Century of Progress exhibition. It had a top speed of 115 mph.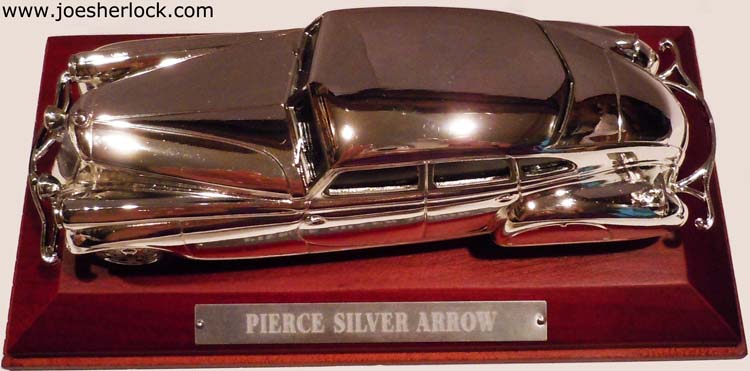 The scale model was produced by Les Éditions Atlas, a French firm, on older Ixo tooling. Les Éditions Atlas is a direct marketing arm of the De Agostini group. Its products are mainly themed magazines and associated collectibles sold by direct subscription or through magazine stands. It has produced a range of collectible vehicles over the years, directed mostly at continental Europe markets.
The original painted Ixo model is shown here: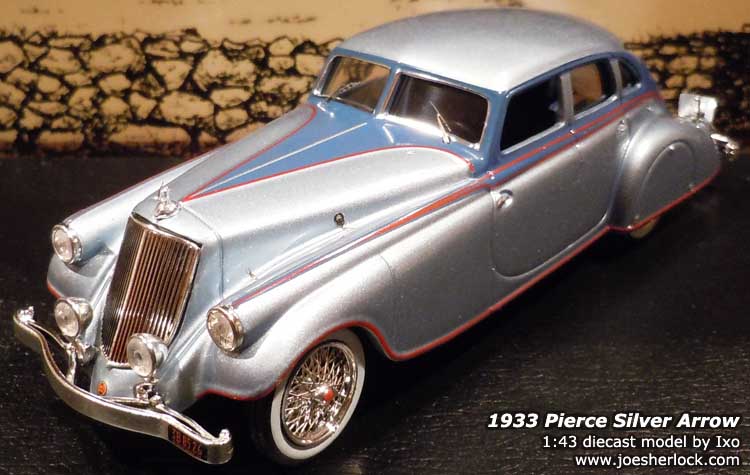 (posted 11/10/15, permalink)
---
Motorama Dream Machine:
This 1:43 scale handbuilt white metal model was the first of a series of concept cars produced by Great American Dream Machines in 1987.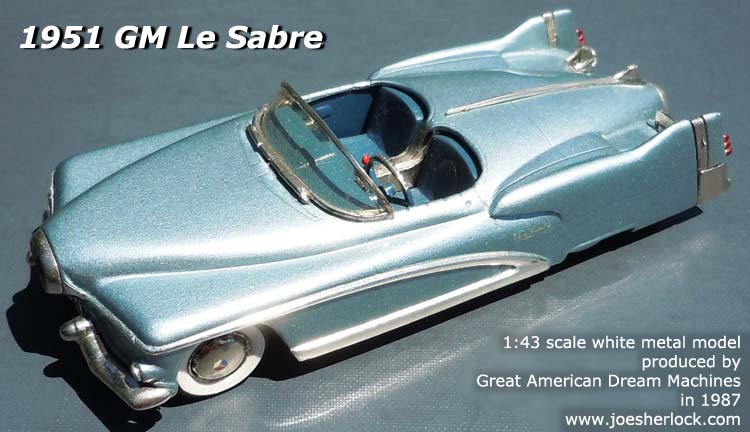 I purchased mine from Georgetown Hobby in New York. The owner was also the founder of GADM. The model was contract-manufactured in England by Scale Model Technical Services Ltd. More information on the full-size one-off Le Sabre is posted here. (posted 10/29/15, permalink)
---
Big & Front Wheel Driven: The Oldsmobile Toronado, arguably GM's most ground-breaking production car, turned 50 this month. At the time, makers of toy and model cars realized that the big Olds would make a popular offering; Toronados were produced in a variety of scales and colors by various manufacturers.

The ones made by Corgi Toys sold like hot cakes - tens of thousands were produced during a four-year period. More information on the full-size Oldsmobile Totonado is posted here. (posted 10/21/15, permalink)
---
South Of The Equator: Argentina has long had difficult and ever-changing export laws as well as an unstable currency, so there is generally a dearth of imported products from the country.
Buby was a well-known and respected maker of diecast model and toy cars. Born in 1931, Haroldo Buby Malher manufactured model cars from the late 1950s until the late '90s. He made scale models of both European and American cars often interpreted for the South American market and were made only in Argentina.
In its heyday, Buby's Don Torcuato factory employed 200 workers making 200,000 scale vehicles per month, using mostly automatic machinery, including an automated painting process.
In 1990, Buby began offering a series of Collector Classics. These were well-made and well-finished 1:43 scale models of classic American cars. These limited edition models came with a signed certificate of authenticity and 500 examples of each color were produced.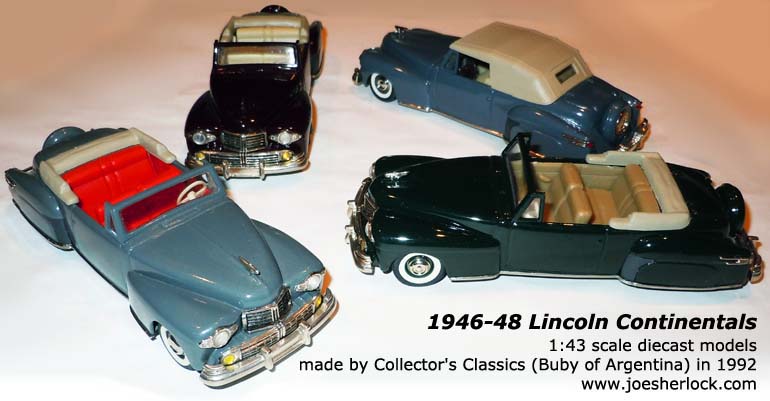 Cars modeled included 1946 Lincoln Continental, '53 Ford Crestline, 1954 Mercury, 1956 DeSoto, '56 Packard Caribbean, '64 Studebaker Avanti and 1969 Chevrolet Camaro.
Selling at too-reasonable prices ($25-$35 U.S. retail), it is said that these models broke the back of Buby's empire and, eventually, put him out of business in the late 1990s. Furthermore, the collector market is limited and sales did not meet expectations.
Buby models are mildly collectible today; prices on eBay seem to range from $35-$60 depending on the model. That's still a bargain for these accurate, charming model cars.
More on the full-size 1946-48 Lincoln automobiles can be found here. (posted 9/15/15, permalink)
---
Fan Gifts: Many thanks to Mark E. of Texas who sent me two 1:43 scale diecast model cars in appreciation of my View Through The Windshield blog.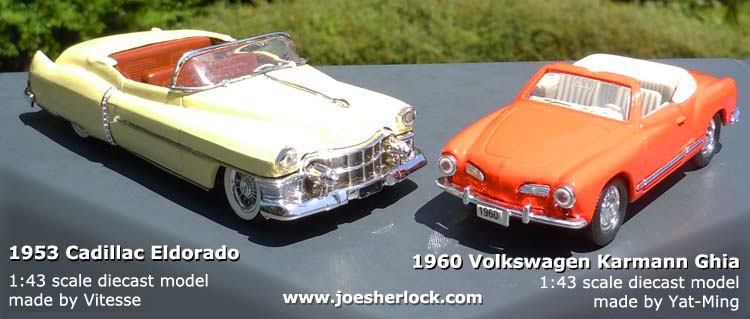 One is a yellow 1953 Cadillac Eldorado convertible, made in Portugal by Vitesse. The other is a 1960 orange Volkswagen Karmann Ghia convertible made by Yat Ming in China. (posted 7/9/15, permalink)
---
Ancient Zinc: Dinky Toys are die-cast miniature vehicles which were produced by Meccano Ltd. – the makers of Hornby Trains. Dinky Toys were made in Liverpool, England from the mid-1930s until late 1979. Originally, Dinky cars and trucks were promoted as accessories for Hornby's O-gauge line of trains and, therefore, were made in 1/48th scale to match the scale of the toy locomotives.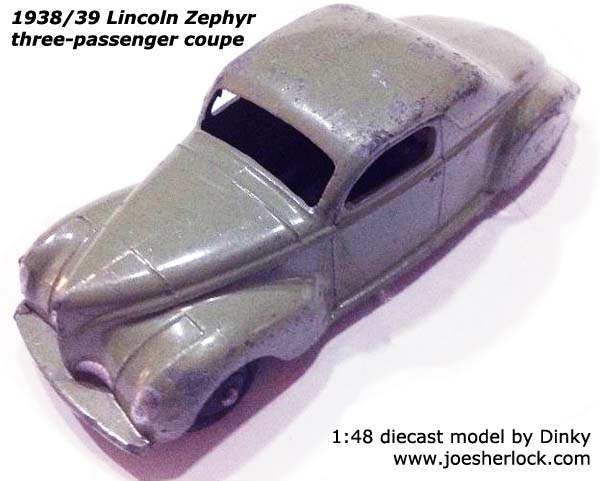 Described by collectors as a 1939 model, this Dinky Lincoln Zephyr three-window coupe looks more like a '38 model to me, with its shorter split grille. This gray-colored pre-WWII model (this toy was produced between 1939 and 1950) is quite valuable today.
In pre-World War II England, Meccano's Dinky Toys reigned. But, when Corgi came on the scene in the 1950s, the company's fortunes began to erode. The company was further challenged by other diecast competitors from Europe and Asia.
Beginning in 1965, some production was moved to Hong Kong. The Dinky trade-name changed hands many times before ending up as part of Matchbox International Ltd. in the late 1980s. The brand name is now owned by Mattel but no Dinky models have been produced since 2000. (posted 7/3/15, permalink)
---
Father's Day Gifts: I received three 1:43 scale model automobiles for Father's Day.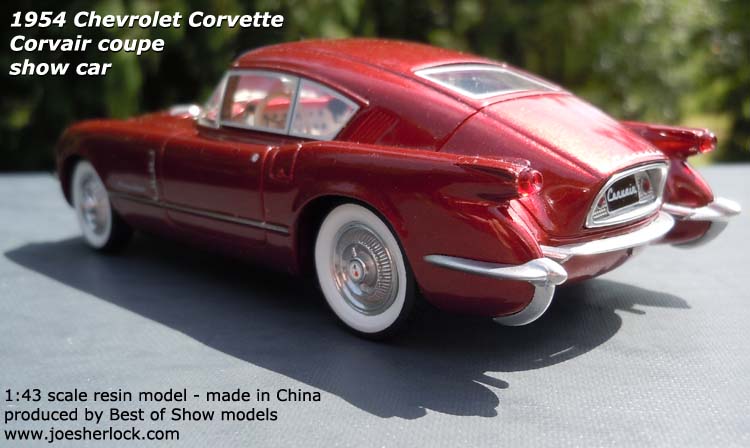 The 1954 Chevrolet Corvette Corvair concept was a 2-door fastback, 2-passenger coupe. When it made its debut at the 1954 GM Motorama in New York City. It was a ruby red color but was repainted light sea foam green for the Los Angeles show in March '54. Based on the 1954 production Corvette, the Corvair featured wind-up windows instead of the roadster's side curtains.

Corvette finally got a production fastback coupe model with the introduction of the iconic 1963 Corvette split-window coupe. The Corvair name plate was used again for the 1960 Chevrolet Corvair, GM's rear-engined, air-cooled compact car. The whereabouts of the full-size model is unknown.
---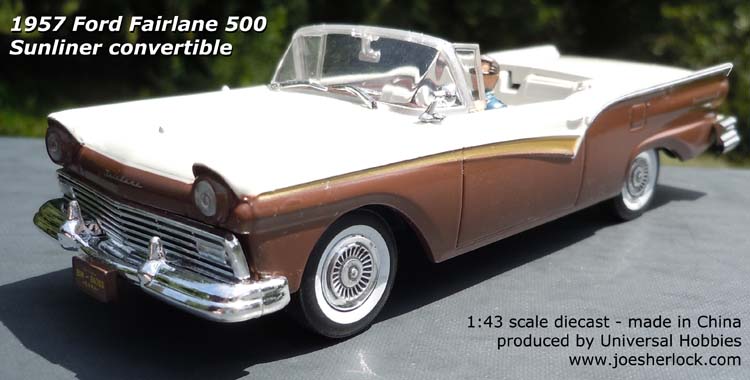 A brown and white 1957 Ford Fairlane 500 convertible was briefly driven by James Bond (Pierce Brosnan) during his 2002 visit to Cuba in 'Die Another Day'. The figure in the car is a very generic version of Mr. Brosnan.

This model is part of a licensed James Bond series of 1:43 scale offerings, manufactured in China. I've detailed the model by blackwashing the grille and wheel covers and using silver paint to add the chrome sweep strip.
---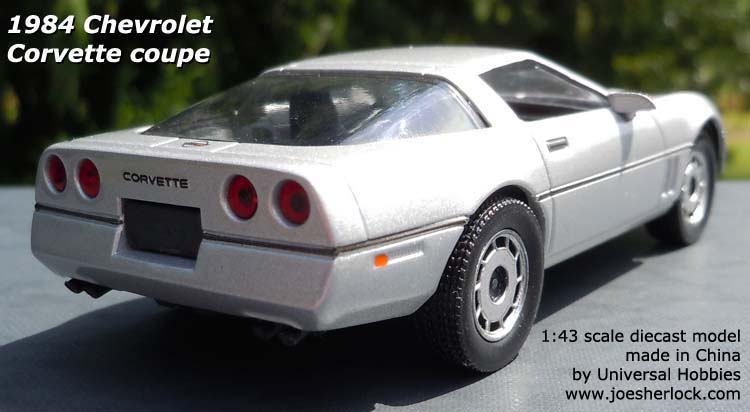 The movie, 'View To A Kill', was made in 1985. Roger Moore played James Bond. KGB spy Pola Ivanova drove a silver 1984 Corvette coupe.

This cheap-n-cheerful $13 model is one of a series of licensed James Bond series of 1:43 scale offerings, manufactured in China.
---
This trio will make a nice addition to my collection. (posted 6/25/15, permalink)
---
Lighting Up A Corgi: In 1956, the British firm Playcraft toys offered their line of Corgi diecast vehicles. English cars were usually the subjects modeled but, in 1959, models of American vehicles became part of the toy line. In 1964, Corgi introduced a model of the first-generation Buick Riviera. While many modelers refer to these as 1:43 scale models, the actual size of the Riv is closer to 1:48.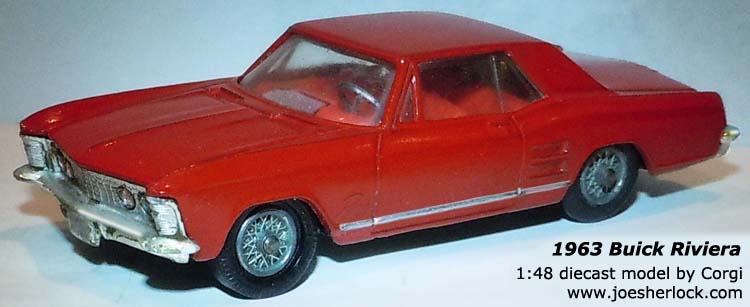 In 1962, Corgi introduced a feature known as Trans-O-Lite headlamps and taillamps on selected models. Bright ambient light was piped through a molded transparent plastic square on the dashboard to light up the headlights and tail lamps which were part of a one-piece clear plastic molding. The feature didn't work that well unless one shined a flashlight on the dashboard square; then the lamps would really shine. The basic light-pipe principle is used in fiber optics today.
The Corgi #245 Buick Riviera had the Trans-O-Lite feature. Corgi's little Rivieras were offered with light blue, metallic blue or gold paint schemes during the 1964-68 run.
The only Buick Riviera in my model collection is an example I picked up at a San Francisco Bay-area swapmeet in 1983 for the princely sum of $3. It's paint was in bad shape, so I repainted it in a red color. It's a simple diecasting by today's standards, but has a certain 1960s toy charm to it.
Read more about the Buick Riviera here. (posted 5/28/15, permalink)
---
Something Big: Ever see a full size recreation of a Dinky model?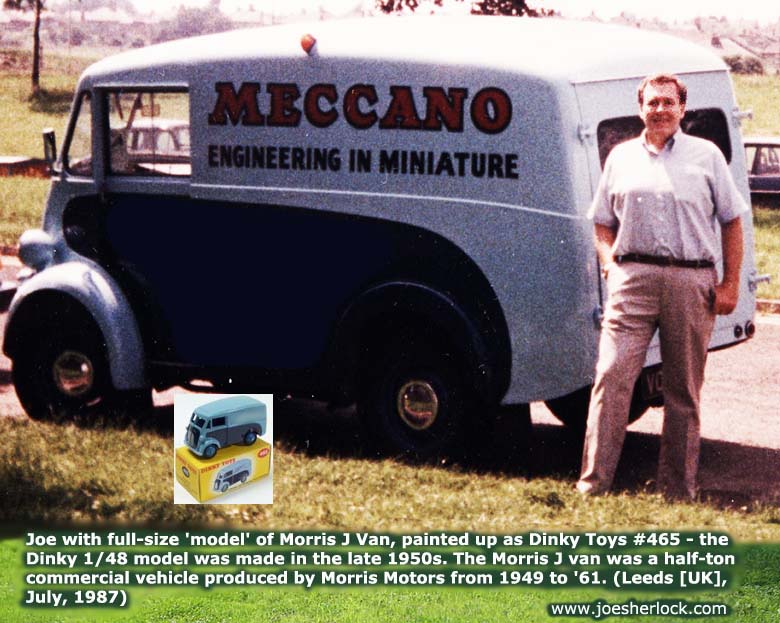 I spotted this cool van the same day we visited the Modelauto shop in Leeds, where I purchased several 1:43 models for my collection. (posted 5/22/15, permalink)
---
My Merry Oldsmobile: This 1:43 scale model of a 1955 Oldsmobile Starfire convertible was manufactured in China by Road Champs in 1997: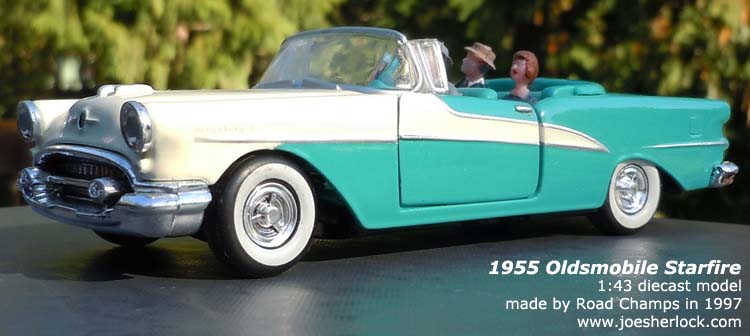 I bought this little model new in the late 1990s for less than $5.00. More information on the 1955 Oldsmobile is posted here. (posted 4/13/15, permalink)
---
Little Nash: George W. Mason was a talented and successful executive in the kitchen appliance field. He soon became head of Nash Motors, recruited by Charles Nash himself.
High value per dollar was the key to success in the appliance field and Mason brought his philosophy and skill to Nash, bringing unibody construction, lower-weight and better features to the company's automotive offerings.
Nash was always a mid-priced car but, in the postwar era, Mason realized that he needed to break into the low-priced field. But the firm needed to offer something more than just another "me-too" car. The result was the Nash Rambler, introduced in mid-April 1950. The car was smaller than any of the low-priced three offerings but was loaded with standard equipment and elegant interior trim.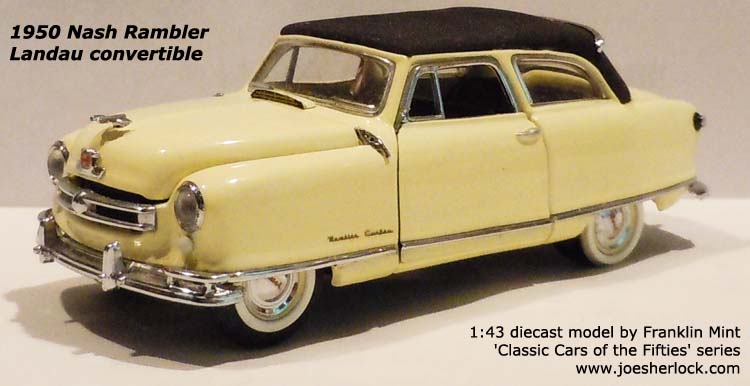 In the late 1980s, Franklin Mint offered a 1:43 scale diecast model of the 1950 Nash Rambler as part of its 'Classic Cars of the Fifties' series.
More on the Nash Rambler can be found here. (posted 4/13/15, permalink)
---
Code 3 - Lights & Siren: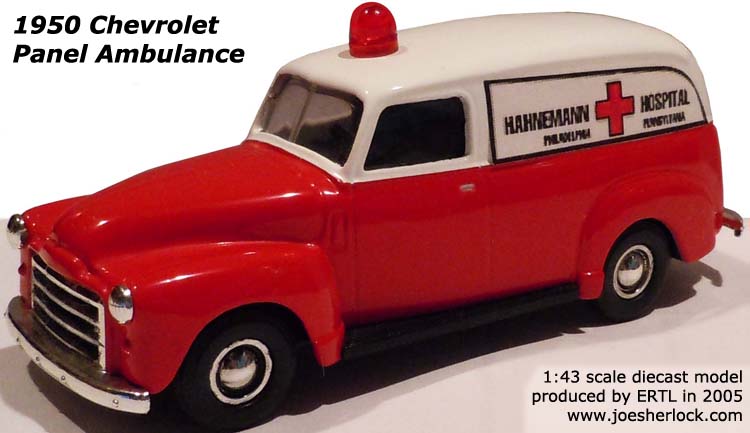 This diecast ambulance can usually be found on my Philadelphia-themed O-gauge model train layout. I customized it with Hahnemann Hospital markings, as a tribute to the people I know who attended Hahnemann's medical school as well as those who ... (more >>>)
---
A Bit Of Red For Valentine's Day: This white convertible with red trim is a 1:43 example of the rare fiberglass-bodied Volvo P1900 Sport. Only 68 examples were ever made. The car was built on a tubular-steel chassis and used the Volvo PV444's 1414 cc engine which produced 70 hp.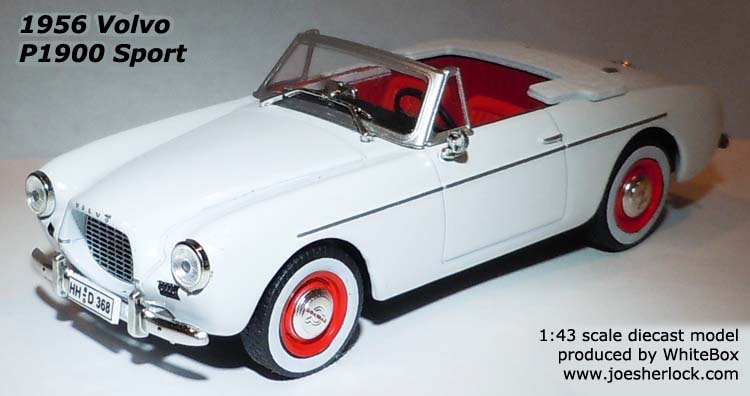 The diecast model - a gift from my wife - was produced by WhiteBox, a house brand from Model Car World, a retailer in Florsheim, Germany. The white sportster with the red interior was one of 1,000 examples produced in 1:43 scale. (posted 2/10/15, permalink)
---
It Looks Like A Trip To Canada Is In My Future: In my view, British-made chocolates, such as Cadbury bars, Yorkie Bars and Maltesers, just plain taste better than American-made chocolate. But, in the alleged Land of Free Trade, we'll no longer be able to buy them. Sad, because I'm quite a fan of the chocolate malted milk balls known as Maltesers.

"As a result of a settlement with the Hershey's Company, Let's Buy British Imports, or L.B.B., agreed this week to stop importing all Cadbury's chocolate made overseas. The company also agreed to halt imports on KitKat bars made in Britain; Toffee Crisps, which, because of their orange packaging, and yellow-lined brown script, too closely resemble Reese's Peanut Butter Cups; Yorkie chocolate bars, which infringe on the York peppermint patty, and Maltesers."
Jeff Beckman, a representative for Hershey's ... (more >>>)
---
Among My Souvenirs: Whenever we travel, I try to pick up an auto-themed souvenir. I'm not talking about tasteless crap, such as a cheap die-cast generic stretch limo with 'I Love New York' emblazoned on the sides via tampo printing. A shelf full of these was inexplicably being sold next to Statues of Liberty, miniature Empire State Buildings and Liberty Bells at a souvenir shop in Philadelphia during our last visit. I guess there wasn't enough Philly detritus to fill the shelves.
On the other hand, the chance to acquire a short-run model of a 1949 Fordson 5CWT van, with the 'London Toy and Model Museum' name and logo on the side was a real opportunity and, since it was made in England - not some obscure Asian nation, I gladly bought one, when we first visited the British Isles in 1986.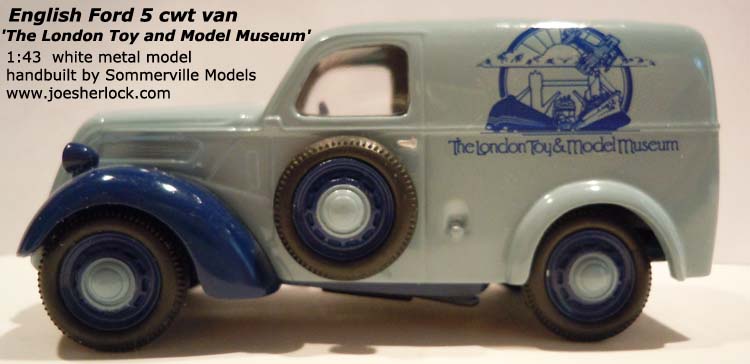 The London Toy and Model Museum closed in the late 1990s. It was considered one of Europe's most extensive collections of commercially made toys and models from 1850 onwards. On display was an early Paddington Bear, made by Shirley Clarkson - an art teacher from Doncaster, for her young son Jeremy, whom you know from his 'Top Gear' exploits.
The museum, once attracted 120,000 visitors a year at its home-like Craven Hill location. The museum was founded in 1982 by two collectors, Alan and Nerissa Levy. Seven years later, it was bought by Fujita Corporation, a Japanese firm run by Kazuaki Fujita, a toy collector who died in 1995. (posted 2/10/15, permalink)
---
Book Review: 'Ford In Miniature' by Randall Olson
This large, color-photo-filled softcover book as lots of high-resolution photos and information about miniature models of American Ford, Mercury and Lincoln vehicles, most of them produced in 1:43 scale as limited-production, white metal models. The author is knowledgeable about the models themselves, the vehicles and the model car manufacturers. It was an educational and informative read for me. If you like model cars, I'd recommend it.
I had just found out about Olson's book, even though it was printed over eight years ago. I received it as a Christmas present. Reading the book illustrated the tumultuous changes which have occurred in the model car business in the relatively short time since this book was first published.
Many of the active manufacturers discussed in the book have either disappeared or gone dormant. I'd guess that close to half the scale model retailers listed in the appendix have closed or have substantially downsized. Internet retailing, the rise of lower cost, made-in-China models and competition from a proliferation of diecast model offerings has turned the white metal handbuilt market on its ... (more >>>)
---
Cadillac Style: The Space Race in car design began when General Motors found out about designer Virgil Exner's new 'Suddenly It's 1960' '57 Chrysler Corp. line-up; the GM styling department almost soiled its corporate trousers.
Suddenly, The General realized that Styling VP Harley Earl's age of high 'power dome' hoods and chrome applied by the bucketful with a trowel was over. It was too late to do anything about the '58 models (the '58 Buicks and Oldsmobiles are case studies in high hoods and excess brightwork), but a crash program was initiated to make GM's 1959 models as wild as Chrysler's. The result were creations such as the soaring-finned '59 Caddy and the bat-winged '59 Chevy.
Understandably, Cadillac had some reason to worry. In 1957, sales of the all-new, big-finned Imperial more than quadrupled and came very close to Lincoln's sales figures for the year. Cadillac's sales were down 5% from 1956, despite the demise of the big Packards - which most auto pundits thought would send conservative Packard clients in Cadillac's direction. Looking at the sales data, it appeared that Packard's loss was Imperial's gain.
Postwar Cadillacs were always modern-looking automobiles but they also carried hints of the brand's historic values. But the 1959 models introduced so many style changes simultaneously - huge, soaring rocket fins, bullet taillights, a large compound wraparound windshield, thin-section rooflines and slim roof pillars - that they received much criticism from the press, design experts and others for abandoning Caddy's familiar design touchstones.

The Cadillac Eldorado represented the zenith of the 1959 Cadillac line. This white '59 Cadillac Eldorado Biarritz is 1:43 scale and is part of the Franklin Mint 'Classic Cars of the Fifties' series - a 12-diecast vehicle subscription series which began in 1987. (posted 1/23/15, permalink)
---
Sleek & Smooth: This 1:43 model diecast, manufactured by Ixo Models as part of its Museum Series and one of my Christmas gifts, is a scale representation of Pourtout-bodied Delage D8-120 S Aero Coupe was commissioned by Louis Delage himself for the 1937 Paris Auto Show and as his personal car.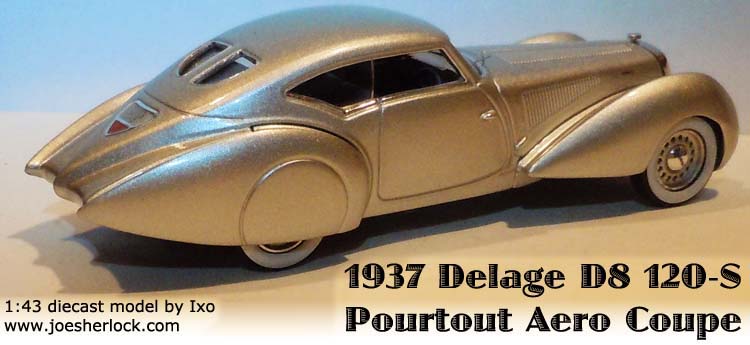 Georges Paulin, principal stylist for coachbuilder Marcel Pourtout, designed the sleek aerodynamic body.
Unlike many other designers of the era, Paulin did not use any chrome filets or external decorations on the body to emphasize the design. Instead, the continuous curves and tapers of the all-aluminum coachwork speak for themselves.
In 2005, this one-off example won Best of Show at the Pebble Beach Concours d' Elegance. (posted 1/19/15, permalink)
---
Pontiac Dream: The 1954 General Motors' Motorama featured a one-of-a kind 1954 Pontiac Bonneville Special concept car.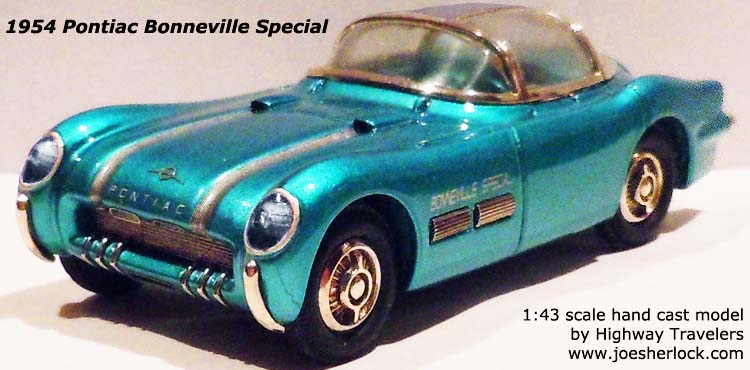 The fiberglass bodied, Corvette-like Pontiac two-seater featured a bubble top and Pontiac's straight engine. Only two were produced - one in bronze and one in metallic green. A hand cast 1:43 scale model of the Bonneville Special was produced by Highway Travelers, a small American company which commissioned models made in England. This scale model was made in 1999 and is quite rare.
The real Bonneville Special was auctioned by Barrett-Jackson in January 2015. The green full-size example fetched $3,000,000. (posted 1/19/15, permalink)
---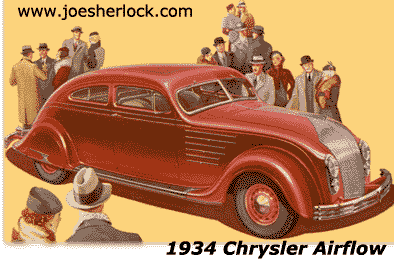 Streamlined Flop: The Chrysler Airflow was produced by the Chrysler Corporation from 1934 to 1937. The Airflow was one of the first full-size American production car to use streamlining as a basis for building a sleeker, more aerodynamic automobile.
The Airflow was a huge commercial failure; it was shunned by prospective buyers because they did not like its looks. In 1935, Chrysler responded by installing a slightly peaked grille that replaced the unloved waterfall unit of 1934.
For the 1936 model year, the grille became more pronounced and more conventional.
Chrysler offered a more conventional-looking automobile, the Airstream, starting in 1935. In 1936, Chrysler sold only 1,590 of its Airflow four door sedans. In contrast, over 6,500 Airstream four-door models found buyers that year.
The 1936 Chrysler Airflow four-door weighed a hefty 4,100 pounds and was priced from $1,345. The unpopular Airflow was discontinued after the 1937 model year.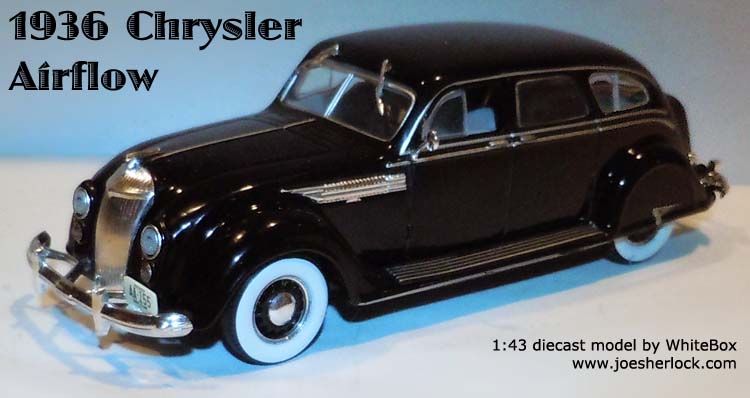 For Christmas, I received a model of a black 1936 Chrysler Airflow four-door sedan, made in 1:43 scale by WhiteBox on the Ixo diecast tooling from a few years ago. (posted 1/16/15, permalink)
---
Modele Ordinaire: If you want a toy or model of a '57 Chevy or Porsche 911, there are thousands of choices. Almost every model car manufacturer makes 'em. They're available in all scales and price ranges, from a few bucks to nearly a thousand dollars.
AutoWeek recently published an article about Neo Scale Models - resin-based, limited-edition models of 1970s and '80s-era cars like the Caprice Classic, Lincoln Town Car or first-gen Cadillac Seville. Neo models are manufactured in China.
Unlike the low-cost diecasts made by Yat-Ming, Motor Max and others, these scale models retail between $60 and $90 apiece, so make your choices carefully. On the other hand, if you've got your heart set on owning a mint 1984 Dodge 600 K-car convertible, the $65.95 price tag for the 1:43 scale example is probably cheaper than the real thing, even a beater.
I have a few 1:43 scale Neo models, including a not-so-ordinary 1941 Packard One-Ten Deluxe woody station wagon finished in metallic green. It was a recent Christmas gift.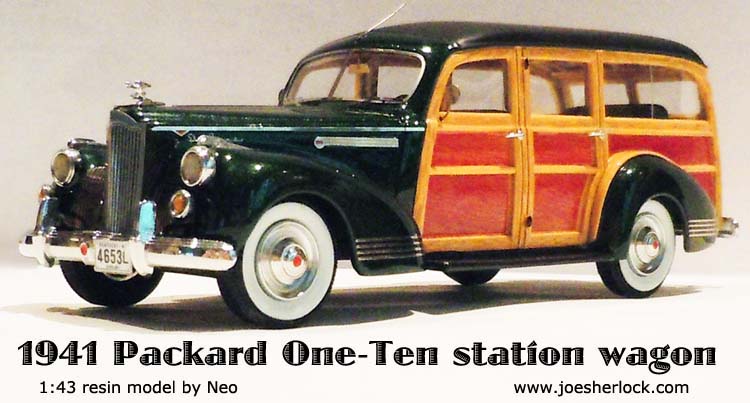 In 1941, fewer than 140 One-Ten mahogany and ash woody wagons were built. These entry-level Packard models were powered by a 100 horsepower, six-cylinder flathead engine. In 1941, you could buy a brand-new, full-size example for $1,236.
Packard's wood bodies were built by Hercules in Evansville, Indiana. From the cowl forward, the car was all steel, but the doors were wood as was the roof panel. The rear inner and outer fenders were also steel, and were bolted to the wood body, which was attached to a steel frame. (posted 1/9/15, permalink)
---
"Wouldn't You Really Rather Have A Buick?" This mid-1960s slogan and commercial jingle promoted the desirability of all things Buick but for many, the Buick they really wanted was Buick's hot rod Century.
The Buick Century first appeared in 1936; it combined the shorter, lighter body from lesser Buicks with the more powerful engine of pricier Buicks and could arguably be considered the first production attempt at a muscle car. The Century designation commemorated the company's first model to reach 100 mph.
Buick revived the Century name in 1954 for their new performance offering. Based on the smaller (122-inch wheelbase), entry-level Special chassis and body, the new Century received the Roadmaster's more powerful 322 cubic-inch V-8 engine from the big Roadmaster 127-inch wheelbase model. About half the Centuries made were equipped with Buick's Dynaflow automatic transmission, while the rest received a three-speed column-shift manual.
All body styles had new wraparound windshields and sported Buick's signature plunging chrome side spear. The 1954 Century was a "three-hole" Buick, with three Ventiports in each of the front fenders. The Century moniker was last used by Buick in 2005.

For Christmas, I received a model of a 1954 Buick Century Riviera two-door hardtop coupe made by TrueScale Miniatures Ltd. in 1:43 scale. The model company is headquartered in Hong Kong, China.
This is slightly off-topic but the 'Wouldn't You Really Rather' jingle was sung by Linda November, a well-known performer in the ad and music business. She was the voice of the singing cat in the Meow Mix commercials, sang the jingle 'Galaxy Glue' in the 1981 film 'The Incredible Shrinking Woman', the 'Have It Your Way' Burger King song and the 'Coke and a Smile' jingle in the classic Mean Joe Greene Super Bowl commercial. Linda also sang 'Have You Driven a Ford Lately?', as well as GE's 'We Bring Good Things To Life'.
Ms. November was one of the backup singers on Dionne Warwick's 'Do You Know The Way To San Jose'. She now lives in Las Vegas. (posted 1/7/15, permalink)
---
Departing In Style: LaSalle was an automobile brand manufactured and marketed by General Motors' Cadillac Division from 1927 through 1940. Long and stylish, LaSalles were slotted just below Cadillac in price. LaSalle offered a commercial chassis which was popular with most U.S. hearse builders in the 1930s.

For Christmas, I received a 1:43 diecast Altaya model of a 1939 LaSalle hearse - the same one used in the Bond movie 'Dr. No'. Altaya is based in Barcelona Spain, and produces numerous lines of toys. Most are manufactured in mainland China. This model was produced by Ocean Metal Factory of Shenzhen, China. To further confuse things, the baseplate is embossed with 'Ixo', the name of another diecast manufacturer.
The full-size hearse used in the movie was coachbuilt by well-known A.J. Miller Co. of Bellefontaine, Ohio.
For the 1941 model year, Cadillac offered the Series 61 - an entry-level model - to replace the LaSalle brand, which was discontinued after the 1940 model year. The Series 61 cost $125 more than a comparable LaSalle sedan from the prior year. (posted 1/5/15, permalink)
---
More toy car photos and stories are posted here.
Read more about the model car business here.
---
Other Pages Of Interest
copyright 2015 - Joseph M. Sherlock - All applicable rights reserved
---
Disclaimer
The facts presented in this blog are based on my best guesses and my substantially faulty geezer memory. The opinions expressed herein are strictly those of the author and are protected by the U.S. Constitution. Probably.
Spelling, punctuation and syntax errors are cheerfully repaired when I find them; grudgingly fixed when you do.
If I have slandered any brands of automobiles, either expressly or inadvertently, they're most likely crap cars and deserve it. Automobile manufacturers should be aware that they always have the option of trying to change my mind by providing me with vehicles to test drive.
If I have slandered any people or corporations in this blog, either expressly or inadvertently, they should buy me strong drinks (and an expensive meal) and try to prove to me that they're not the jerks I've portrayed them to be. If you're buying, I'm willing to listen.
Don't be shy - try a bribe. It might help.
---