---
The phrase Personal Luxury Coupe was unheard of in 1956. The name developed shortly after the four seat Thunderbird arrived for the 1958 model year. Automotive purists were loudly denouncing the end of the two-seater Bird - which they never bought anyway because it wasn't really a sports car.

Ford Motor realized that they had to do something, so they described the new T-Bird as a Personal Luxury Coupe. The phrase would have shortly evaporated from the nation's lexicon, except that the new Thunderbird was a big sales hit.
Even though the '58 Thunderbird had a late introduction (mid-February 1958) and steep pricing ($3,630 for the coupe, $3,914 for the convertible), Ford managed to sell almost 38,000 of them during the truncated model year. And in the midst of a recession! 94% of the T-Birds produced were hardtop coupes.
The new Bird added a bit of class to the Ford line as well as big profits. Priced at the top of the brand's product offerings - the '58 Thunderbird cost almost twice as much as the base-level 1958 Ford.
General Motors management took notice. They muttered, stuttered and finally grumbled, "We need one of these." A clay model was rendered and presented to Cadillac, to be called the LaSalle. Cadillac wasn't interested: "Let's not undermine the Eldorado, fellas."
Buick needed a boost in image. In 1955 and '56, Buick was the third-best selling car in the U.S. But its rank began to slip as Plymouth reclaimed third place in 1957 with its futuristic styling and tall fins. In 1958, Pontiac's new performance car image moved it up the ranks. In 1959, Buick fell to 7th place; its traditional customers were unhappy with its wild styling and unfamiliar model names. By 1960, the brand had dropped to 9th place among U.S. buyers.
So, Buick, who could always a little sales help - especially in the area of trying to attract younger, hipper buyers, was offered the Cadillac LaSalle design. And it came to pass that the 1963 Buick Riviera Personal Luxury Coupe debuted on October 4, 1962. The car sold well (40,000 sales in the first year) and generated showroom traffic for Buick, which by 1964 had regained fifth place in U.S. sales. Riviera sales continued to grow and, by 1969, reached 52,872 coupes annually.
It was a stunningly handsome machine which still looks good today. Its styling was reportedly inspired by GM styling chief Bill Mitchell's visit to London during the development period, when he was struck by the sight of an elegant, custom-bodied Rolls Royce in the fog. He later said that 'knife-edged' styling was what he wanted for the new model but with a lower and sleeker profile and a touch of Ferrariness thrown in for to give it a performance look. The actual design of the Riv was done by General Motors stylist Ned Nickles.
The production Riviera shared its bodyshell with no other model, which was unusual for a GM product. The two-door hardtop coupe was the first mass-produced GM car with frameless door glass. Riding on a 117-inch wheelbase, the 208-inch long Riv was powered by the 325 horsepower, 401 cubic-inch Buick 'nailhead V8engine running through Buick's continuously variable design Twin Turbine automatic transmission. Power brakes were standard, using Buick's massive, aluminum-finned, 12-inch drums.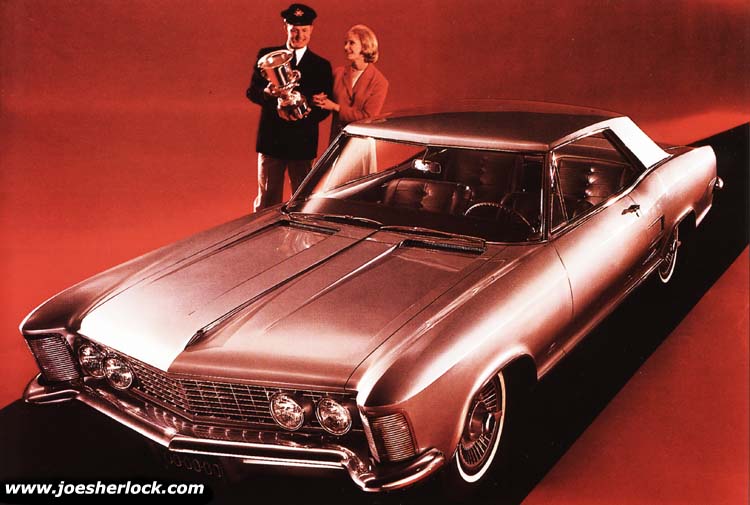 Contemporary road-testers considered it one of the most roadable American cars, with an excellent balance of comfort and agility. And speed. The big Riv scooted to 60 mph in 8 seconds and did the quarter mile in 16 seconds. Top speed was reportedly 115 miles per hour.
In order to maintain bit of exclusivity, Buick limited sales of the 1963 Riviera to 40,000 units. Total sales for the three model years ('63-'65) of the first-generation Riviera was a respectable 112,244. The Riviera was well-received by the public and was considered a great success by General Motors. The Riv gave the Thunderbird its first real competition. Motor Trend magazine crowned the Riviera 'Car of the Year' for '63.

My good friend and fellow student Marty H. was the sole exception to the 'all my friends have crap cars' rule. A psychiatrist's son, he always had relatively cool family cars to drive including, his dad's new white 1963 Buick Riviera. It was a smooth-riding car and seemed wickedly fast to me - but then, my daily driver in those pre-Corvette days was a '63 Volkswagen Beetle.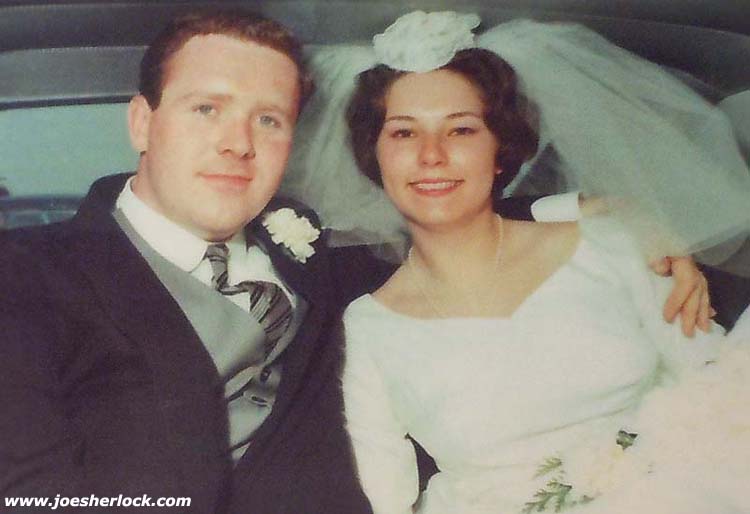 Marty was the best man at my wedding and transported my new bride and me in his dad's dark green 1965 Riviera, which had replaced the 1963 model in the good doctor's stable.
In later years, the Riviera would lose some of its luster, as more competitors emerged: In 1966, the Oldsmobile Toronado, the '67 front-wheel-drive Cadillac Eldorado and, in April of 1968, the 1969 Lincoln Continental Mark III.
In the 1980s, I often rented Lincoln Town Cars from Budget. When they raised their prices, I switched to Alamo who offered the big Riviera coupes of the pre-'86 period. Rivs were still nice rides. When GM did its second round of downsizing with the 1986 models, its personal luxury line lost much of its luster. By the end of the 20th Century, the personal luxury coupe market had become mostly extinct.
The Riviera may live again, for the Chinese, who seem to love All Things Buick. A concept Riviera was also shown at the 2013 Shanghai Motor Show. It featured gull-wing doors and a plug-in electric driveline. (original post: 5/28/15)
Cars In Scale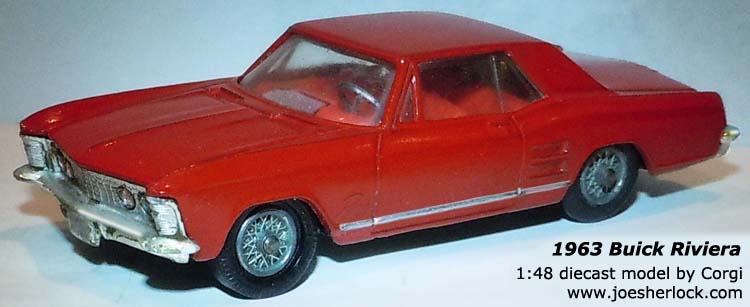 In 1956, the British firm Playcraft toys offered their line of Corgi diecast vehicles. English cars were usually the subjects modeled but, in 1959, models of American vehicles became part of the toy line. In 1964, Corgi introduced a model of the first-generation Buick Riviera. While many modelers refer to these as 1:43 scale models, the actual size of the Riv is 1:48.

In 1962, Corgi introduced a feature known as Trans-O-Lite headlamps and taillamps on selected models. Bright ambient light was piped through a molded transparent plastic square on the dashboard to light up the headlights and tail lamps which were part of a one-piece clear plastic molding. The feature didn't work that well unless one shined a flashlight on the dashboard square; then the lamps would really shine. The basic light-pipe principle is used in fiber optics today.

The Corgi #245 Buick Riviera had the Trans-O-Lite feature. Corgi's little Rivieras were offered with light blue, metallic blue or gold paint schemes during the 1964-68 run.

The only Buick Riviera in my model collection is an example I picked up at a San Francisco Bay-area swapmeet in 1983 for the princely sum of $3. It's paint was in bad shape, so I repainted it in a red color. It's a simple diecasting by today's standards, but has a certain 1960s toy charm to it.
Remember When: 1963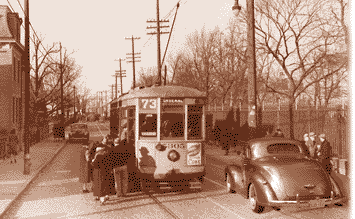 In 1963, the USS Thresher nuclear sub sank killing 129 aboard. Civil rights leader Medgar Evers was killed in Jackson, Mississippi. President Kennedy presented a $98.8 billion budget, the largest in American history, to Congress. The projected $10 billion deficit of 1963 exceeded the total U.S. budget for 1940.

In Berlin, JFK gave his famous "Ich Bin Ein Berliner" speech before a crowd of 150,000. In August, Martin Luther King gave his famous "I Have A Dream" speech before a crowd of 200,000 in Washington, D.C.

Several new products debuted in '63: TAB, Valium and touch-tone phones. Green Giant introduced boil-in-bag frozen vegetables. Mary Kay Cosmetics and Weight Watchers were founded during that year. Troll dolls became a big hit with a price of $1.95 each for the three-inch tall version. Boeing tested the 727 prototype jetliner. In Great Britain, the Leyland Motor Corporation was formed. NSU announced the Spyder, the first production car to use a Wankel engine in the Fall of '63. Slot car mania was in full bloom; in 1963, slot cars overtook electric trains in market popularity in the toy business.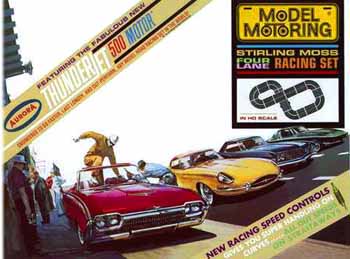 Coca Cola brought out a new slogan: 'Things Go Better With Coke', while Avis Rent-A-Car introduced its 'Try Harder' campaign. In a memorable television ad, Volkswagen asked, "Did you ever wonder how the man who drives a snowplow drives to the snowplow?"

And Mrs. Olsen pitched Folger's Coffee, noting that it's "mountain grown." The Post Office debuted five-digit zip codes, replacing old-style one to three-digit postal codes.

In music, The Beatles were introduced to America, beginning with the song 'Please Please Me'. Other 1963 hit songs included 'Hey Paula' (Paul & Paula), 'Fingertips - Part II' (Little Stevie Wonder), 'It's My Party' (Lesley Gore), 'Louie Louie' (Kingsmen), 'Deep Purple' (Nino Tempo/April Stevens), 'Little Deuce Coupe' (Beach Boys) and 'Puff The Magic Dragon' (Peter, Paul & Mary).
The Rolling Stones were formed in January of '63.
Several new TV shows debuted in 1963, including 'Burke's Law', 'The Fugitive', 'The Outer Limits', 'Pettycoat Junction' and 'My Favorite Martian'.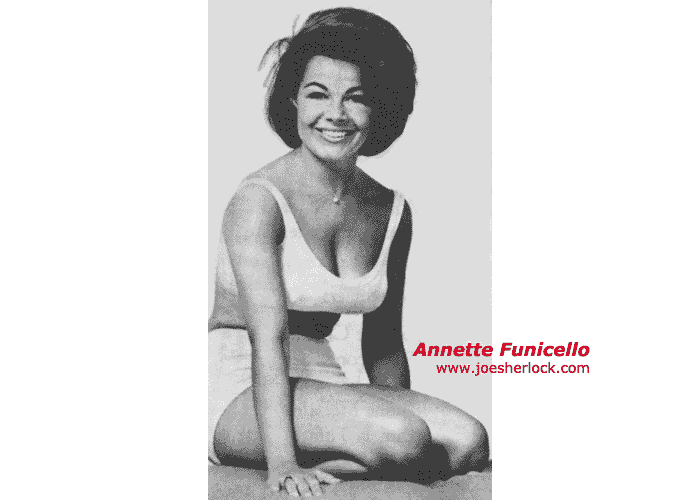 Numerous movies were released in '63: 'The Birds', 'From Russia With Love', 'The Great Escape', 'Hud', the low-budget Frankie Avalon/Annette Funicello flick 'Beach Party' and 'It's A Mad, Mad, Mad Mad World', the first single-lens, single-camera Cinerama commercial film screened in theaters. Liz Taylor's 'Cleopatra' was considered the biggest and most expensive film flop of '63. In 1963, a movie ticket cost 85¢.
New words included 'biodegradable', 'Cosa Nostra', 'jet-setter', 'peacenik', 'pop art' 'surfer' and 'software'.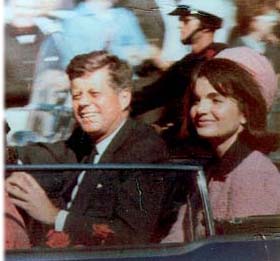 In November, President John F. Kennedy was assassinated while riding in SS-100X, his open-topped Presidential Lincoln in Dallas, Texas. Other deaths include poet Robert Frost, Pope John XXIII, singers Patsy Cline, Edith Piaf and Dinah Washington, novelist Aldous Huxley and actor Adolphe Menjou.
In baseball, the LA Dodgers won the World Series, defeating the New York Yankees 4-0. The Cincinnati Reds' Pete Rose was named 'Rookie of the Year' by the National League.
More AutoSketch car drawings can be found here.
---
Other Pages Of Interest
| blog: 'The View Through The Windshield' |
| essays: greatest hits | blog archives | '39 Plymouth | model train layout |
| about me | about the blog | e-mail |
copyright 2015-21 - Joseph M. Sherlock - All applicable rights reserved.
---
Disclaimer
The facts presented on this website are based on my best guesses and my substantially faulty geezer memory. The opinions expressed herein are strictly those of the author and are protected by the U.S. Constitution. Probably.
Spelling, punctuation and syntax errors are cheerfully repaired when I find them; grudgingly fixed when you do.
If I have slandered any brands of automobiles, either expressly or inadvertently, they're most likely crap cars and deserve it. Automobile manufacturers should be aware that they always have the option of trying to change my mind by providing me with vehicles to test drive.
If I have slandered any people or corporations, either expressly or inadvertently, they should buy me strong drinks (and an expensive meal) and try to prove to me that they're not the jerks I've portrayed them to be. If you're buying, I'm willing to listen.
Don't be shy - try a bribe. It might help.
---
---