AutoBiography - Cars In My Life: Livin' the Dream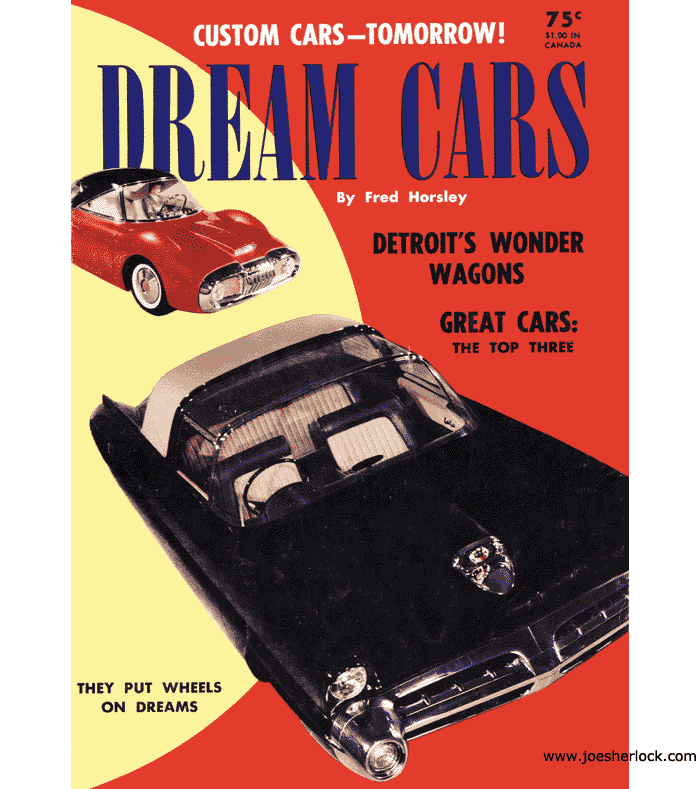 Here's How It Begins: You're a kid. You use your grass cutting money to buy car magazines. You dream about automobiles you'd like to own. You argue with your young car buddies about which car would be the best to drive and/or own, even though none of you have ever driven an actual car. Much less owned one.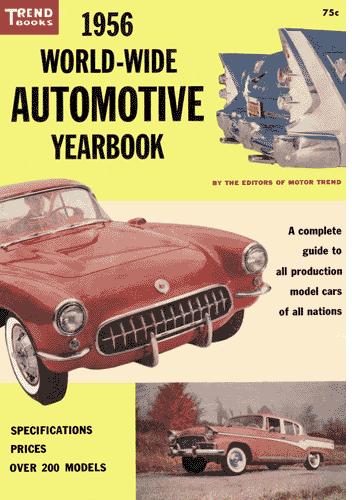 I bought my first car magazine - Motor Trend - in 1955. I now realize that if I had taken all the money I've spent on pulpy auto mags over the past 57 years and invested it in a good no-load mutual fund, I'd probably have enough money to buy a Bentley Continental GT. Or maybe two.
As a 12 year-old, I spent my days pouring over various car publications, becoming an expert on which vehicle was best suited to fulfill my dreams. And getting ammunition to win debates with my pre-teen car buddies.
I especially liked the annual-type publications. These little 6.5" by 9.5" pulp softcovers were published by people like Motor Trend and Popular Mechanics and cost 75¢. They had all the basics on every car made that year, including photos and specifications.
While there were a lot of technically-interesting cars in the world by the mid-1950s, such as the Panhard Dyna and Citroen DS 19, most European cars were small, underpowered and unsuited to America's roads and speeds. Europe was still reeling from World War II, infrastructure was still not completely rebuilt, some factories were never reopened, people were short of money and, in England, food rationing was still in place. Many of the everyday cars in showrooms were still warmed-over uninspiring prewar models, like the Ford Popular in England.

To the French, the futuristic and quirky DS 19 was a fine luxury automobile but its engine offered only 75 hp, due to the unusual French method of taxing cars based on rated horsepower.
Many foreign cars weren't geared for the prolonged high speeds of U.S. turnpikes and freeways of the period. These little cars did just fine puttering around town or driving along country roads at 40-45 mph. Or passing through English hamlets or Bavarian villages, traveling the German Clock Road through the Black Forest, rambling along parallel to a Norwegian fjord or leisurely climbing a narrow Sicilian mountain road. But, in America at sustained highway speeds, their engines often experienced short lives because they revved too high and either blew up or wore out quickly. The Volkswagen Beetle was an exception and became a U.S. success story in part because its fourth gear was an overdrive, designed so it could cruise all day at top speed - Autobahn-style - without overrevving and wrecking its miniscule air-cooled motor.
Italian cars were cute but buzzy little things. Nardi, Moretti, OSCA (Officine Specializzate Costruzioni Automobili) and Stanguellini - all were miniature dynamos with pint-sized powerplants. Even Maseratis of the period also had small four-cylinder engines, ranging in size from 1.5 to 3 liters. The Ferrari Monza was also powered by a four-cylinder motor.
Many car magazines, especially the sports car-oriented ones, made fun of American autos, which they deemed unsophisticated. Their engines couldn't be revved to high rpm like their European counterparts because flathead and overhead valve motors were prone to 'valve-float', where the valve train - pushrods, springs etc. - couldn't remain in contact with the camshaft at higher rpms.
The overhead cam designs found on some of the more exotic European offerings raised the limit a couple of thousand revs. Then there were desmodromic valves - found on the Mercedes 300 SLR and OSCA Barchetta - which eliminated valve springs and raised achievable rpms as high as five figures. (Until they blew up - usually in a spectacular fashion.) The problem was that most Euro engines of the era - which were tuned to get maximum horsepower at high rpms - had fairly lousy low-end grunt. Their horsepower and torque curves looked anemic at low-rpms. (It was the Japanese in the 1980s, who figured out how to develop high-revving, production-worthy OHC motors which also produced decent pull at lower rpm ranges.)
Unlike 12 year-old boys, American car manufacturers knew that the buying public wanted demonstrable power from their cars in the form of quick throttle response without shifting. That meant designing engines which had a broad torque range at low-to-mid engine speeds. It so happened that this could be done cheaply with easy-to-manufacture pushrod engines. In any case, Americans loved low-end torque. We are a shiftless bunch and hate rowing through gears. That's why - in the days before automatic transmissions - so many 1930s auto ads bragged about acceleration from 10 mph to 50 mph using top gear only. No one did low-end grunt like US automakers.
Actually, our very laziness made us inventive, developing labor-saving devices which thrilled the world. If it wasn't for the U.S., women might be still pounding clothes on rocks instead of using automatic washing machines. Or keeping food cold using blocks of ice hauled up from an ice house via donkey cart.
Furthermore, U.S. cars weren't as bad as some of the buff books would have you believe. Max Balchowsky and his Buick-powered home-built Old Yeller won many a sports car race in the 1950s, regularly beating the pants off big Ferraris and Maseratis in the late 1950s.
Upon closer inspection, European automobiles weren't always the stuff dreams were made of. Most British motorcars were stodgy, except for Jaguar's XK-120 and, later, XK-140 (it had a big six engine making 190 hp).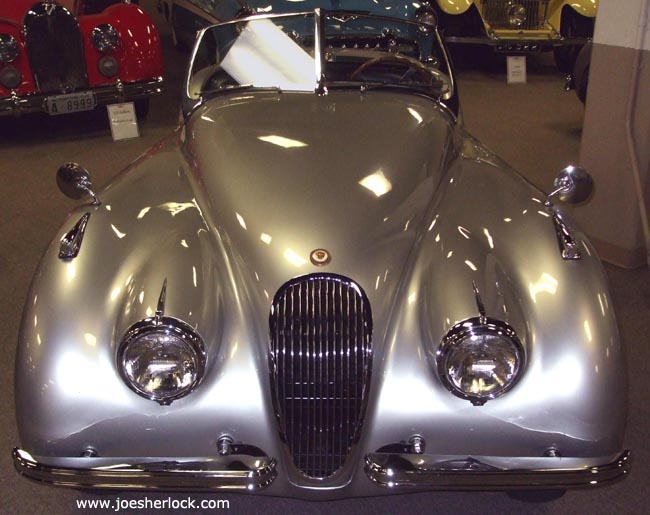 And, maybe, the new and sleek but still-anemic, 68 horsepower MGA. Or the Sunbeam Rapier, a stylish little two-door hardtop with a small four-banger which put out 62 hp. At 160 inches long, it was slightly shorter than a VW Beetle.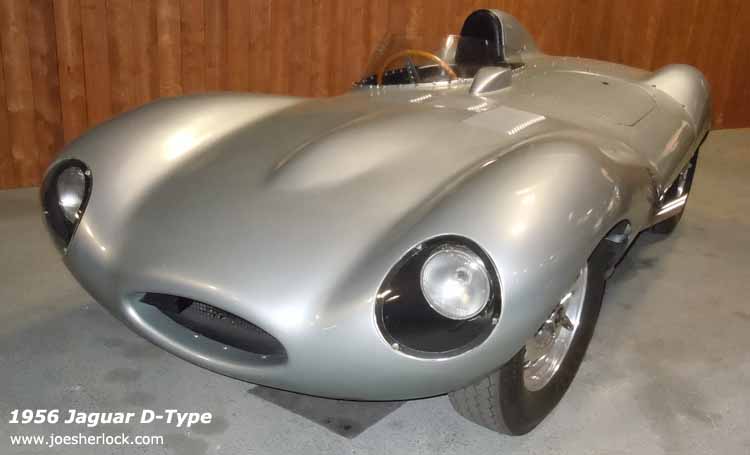 Yes, yes ... there was always the handsome Jaguar D-Type but that was strictly a race car. Its curvy lines became the inspiration for the production XKE which debuted in 1961.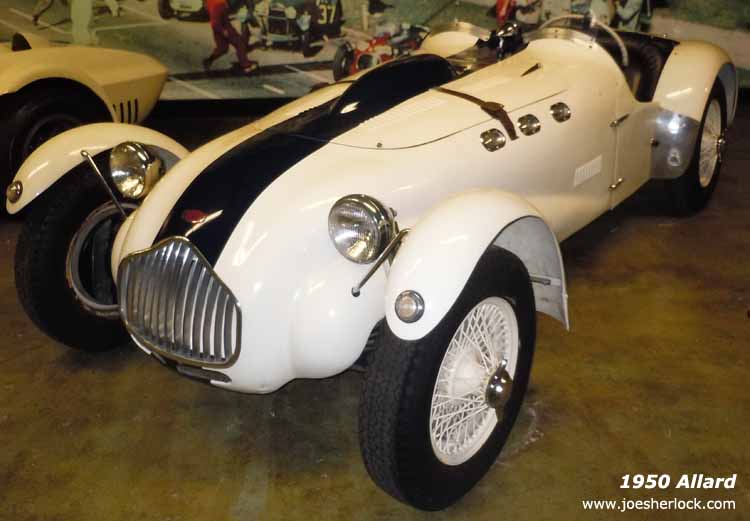 The 250 hp Cadillac-engined Allard K-3 certainly had the power but was not particularly good-looking and it only had a three-speed gearbox.
The Bertone-bodied Arnolt-Bristol was very sleek-looking but produced only 130 horsepower from its small British Bristol 1,971 cc. engine. And, at $5,000 per example, it cost almost twice as much as a 1956 T-Bird or Corvette. Both of them produced a lot more horsepower and delivered a big gruntful of torque at low rpm.
When it came to selecting a dreamy "maybe I'll buy one of these when I grow up" vehicle to discuss with my friends, most of my picks ended up being cars with large, powerful engines. Often, they were American powerplants.
I was quite stricken with the Facel Vega, a swoopy two-door coupe from France which had a big Chrysler Hemi V-8 under its lovely hood. And, it could be mated to a four-speed manual transmission - a Pont-à-Mousson all-synchro gearbox. While the transmission's appellation was exotic in the manner of all things French, it was simply named for the small industrial town in northeastern France where it was made. But Pont-à-Mousson sounded so alluring and richly foreign that I loved saying it over and over again to my 13 year-old friends - much to their annoyance.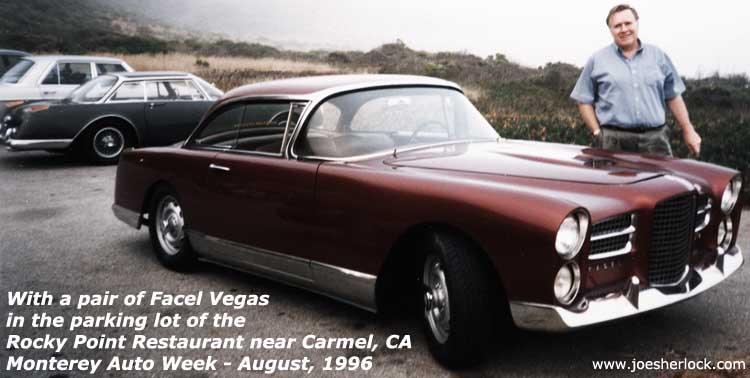 Later, a four-door Facel Vega was introduced, using a stretched body. The $12,800 Excellence was supposed to compete with Rolls Royce but the rear suicide door latches tended to give way on turns popping the doors open and the chassis was not stiff enough to support the 'pillar-free' design. Only 152 were made. In 1959, I saw an absolutely stunning burgundy one while getting ready to play a JV football game against Episcopal Academy in the Philadelphia suburbs. It was the only one I've ever seen.
If one posits that a truly powerful European car must have an American engine, Pegaso, the Spanish truck and bus builder, would have begged to differ. The 1956 models featured a double-overhead cam 275 cubic-inch V-8 engine which was rated at 300 horsepower. The car was quite sophisticated with a DeDion independent rear and all-around torsion bar suspension. Only a small number of Pegasos were made and most had coachbuilt bodies. The Pegaso Thrill, built in 1953 by Carrozzeria Touring, was particularly stunning.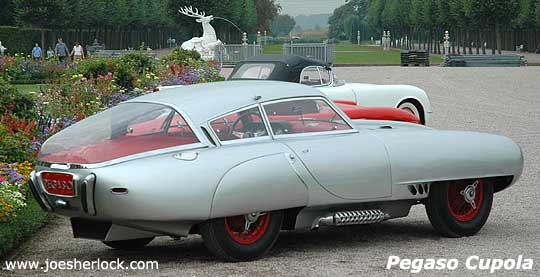 One factory-built model, the Z-102 Cupola coupe had a swoopy and futuristic Kammback-type aero design.
Also on my 'gotta have' list was the Mercedes 300SL gullwing coupe. In an era where engines with one-horsepower per cubic-inch displacement were rare, the 300 SL's motor made 240 hp from 183 cu. in. The car was described by Trend Books as "probably the top sports car in the world today." Indeed. And the cost was $6,900 - a lot of money but far less than another powerful car, the Ferrari 410 Superfast (later named Super America). Almost every example was coachbuilt - some were quite handsome.

My pre-teen brain was particularly fond of the original Pininfarina-bodied 1956 Paris show car - the one with fins. Super Americas cost $15,000 and up, depending on the body builder. All of these large front-engined touring cars were equipped with V-12s and made 234 horsepower. Less than three dozen were made between 1956 and 1959.
As I grew older, my thoughts turned to American cars. I always liked the looks of the two-seat Thunderbirds. But they were boulevard cruisers more than sports cars and - alas - Ford quit making them after 1957.
Another two-seater, the Chevrolet Corvette, was pretty much off my radar during its early years. The original 1953 design had pleasant enough styling but it was all show and no go. It didn't handle like a sports car and it was powered by Chevy's underwhelming six-cylinder motor coupled to a two-speed Powerglide slushbox. It didn't even have roll-up windows - just canvas side curtains.
Then Zora Arkus-Duntov arrived at General Motors and started turning the Corvette into a performance car. He helped to introduce the new small-block Chevy V-8 engine to the Corvette in 1955, providing the car with the much needed power. Arkus-Duntov took a Corvette to Daytona Beach the same year and hit a record setting 150 mph over the flying mile.
Later, this General Motors driver/engineer developed the famous Duntov high-lift camshaft and helped bring fuel injection to the Corvette in 1957. And a four-speed gearbox. I started paying more attention to the Vette.
For the 1963 model year, Corvette received a major restyling, some new mechanicals and a new name: Sting Ray. Zora convinced the brass at GM to include independent rear suspension on the '63. The passenger compartment was kept far to the rear of the car to allow the engine/transmission to sit behind the centerline of the front wheels. This allowed for a better weight balance that improved handling.

A more rigid ladder-type frame replaced the old X-braced chassis. Four-speed gearboxes were ordered in more than four out of five cars. Output of the carburetored 327-cid V-8 ranged from 250 to 340 bhp, while a fuel-injected version reached 360 horses. As for handling, Road & Track reported that the "new Sting Ray sticks with great gripping gobs of traction."

Car & Driver noted that: "Waiting lists of great length and duration for the Corvette Sting Ray at all Chevrolet dealers' are the best proof of the public's acceptance of the new model. ... The new all-independent suspension has completely transformed the Corvette in terms of traction and cornering power." Zora Arkus-Duntov summed it up this way: "For the first time I now have a Corvette I can be proud to drive in Europe."
C&D said, "We understand his feelings and are happy to agree that the Sting Ray is a fine showpiece for the American auto industry, especially since it is produced at a substantially lower price than any foreign sports or GT car of comparable performance."
I wanted one. Forget Facel Vega, Pegaso, Ferrari and Jaguar. The new Sting Ray had become The Dream.
After I graduated from college and had worked for a few months, I sold my dented-up college car - a red VW - and bought a 1963 Corvette Sting Ray convertible.
The Dream had begun. (posted 1/31/12)
---
Next AutoBiography Chapter: 'Sports Cars' is posted here.
---
A chronological list of AutoBiography chapters can be found here.
---
Other Pages Of Interest
copyright 2012-21 - Joseph M. Sherlock - All applicable rights reserved
---
Disclaimer
The facts presented on this website are based on my best guesses and my substantially faulty geezer memory. The opinions expressed herein are strictly those of the author and are protected by the U.S. Constitution. Probably.
Spelling, punctuation and syntax errors are cheerfully repaired when I find them; grudgingly fixed when you do.
If I have slandered any brands of automobiles, either expressly or inadvertently, they're most likely crap cars and deserve it. Automobile manufacturers should be aware that they always have the option of trying to change my mind by providing me with vehicles to test drive.
If I have slandered any people or corporations, either expressly or inadvertently, they should buy me strong drinks (and an expensive meal) and try to prove to me that they're not the jerks I've portrayed them to be. If you're buying, I'm willing to listen.
Don't be shy - try a bribe. It might help.
---