Miscellaneous 1939 Plymouths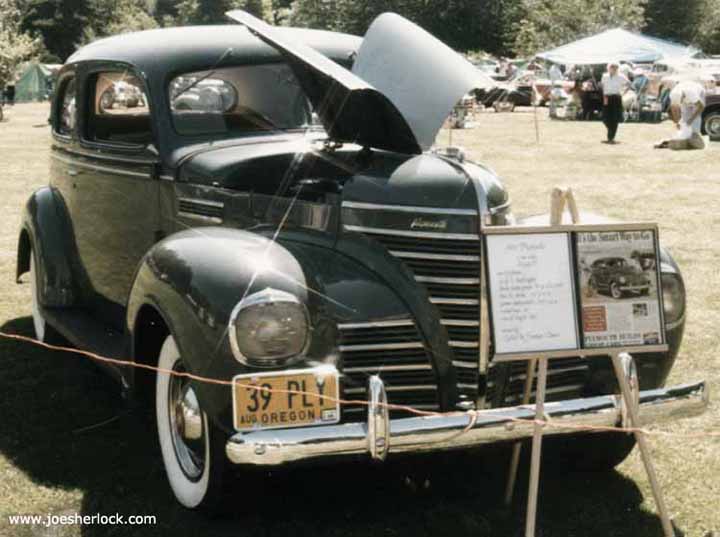 This 1939 Plymouth P7 two-door sedan, owned by Luther and Frances Osborn, was on the judging field at the 1983 Oregon State University Concours in Corvallis, OR.
---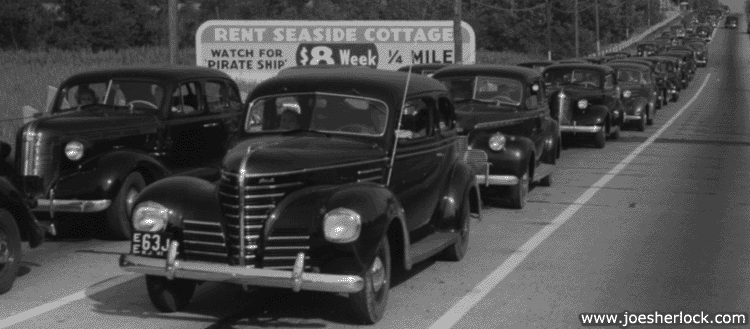 In this 1941 photo, a 1939 Plymouth two-door sedan returns from the New Jersey shore in heavy Sunday afternoon traffic ... (more >>>)
---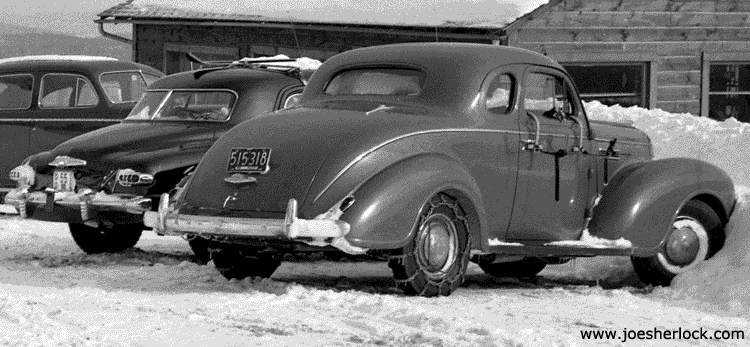 A post on Hemmings.com pointed me to a photo taken in the late 1940s (probably during the winter of 1947-48) in southern Vermont, west of Brattleboro. It shows a 1939 Plymouth business coupe parked on a snowy road on top of Hogback Mountain. The Plymouth has navigated the snowy climb up the mountain using chains on the rear wheels. The removable ski rack mounted on the passenger's door is a novelty I've never seen before.
---

Less than 400 Plymouth four-door convertible sedans were made in 1939; this one is particularly unique. It has a clear Plexiglas top. The body was made of made of a special material called Steelplast and was painted with 16 coats of white mother of pearl paint. The upholstery was white leather, dyed to match the exterior. All interior components were white including the pedals and floor mats. The car was produced by Briggs Mfg. Co., a supplier to Chrysler Corp. and other automobile manufacturers.

The acrylic bubble top is in two pieces which are joined over the rear door and is held to the body by toggle-type clamps. This vehicle was reportedly displayed at the 1939-40 World's Fair. The Plexiglas-bodied Pontiac Ghost Car also made an appearance at the Fair. (permalink)
---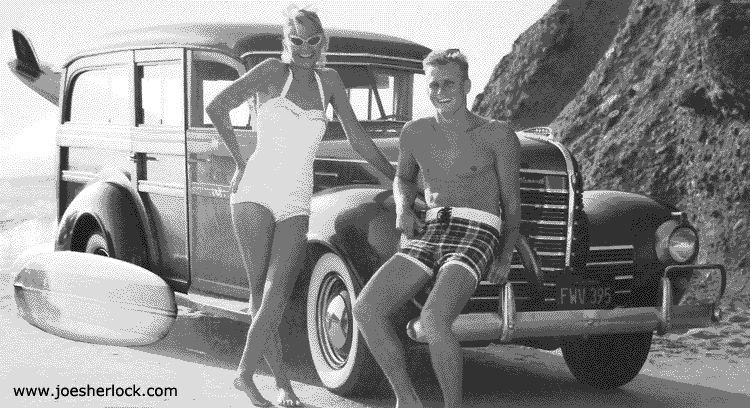 I found this '39 woody photo on the back cover of a California Pizza Kitchen menu many years ago.
---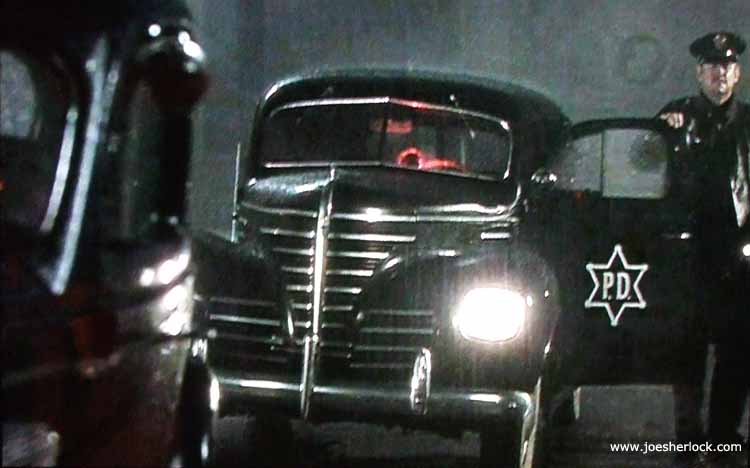 This '39 Plymouth police car was in the 1999 science fiction film, 'Thirteenth Floor'.
---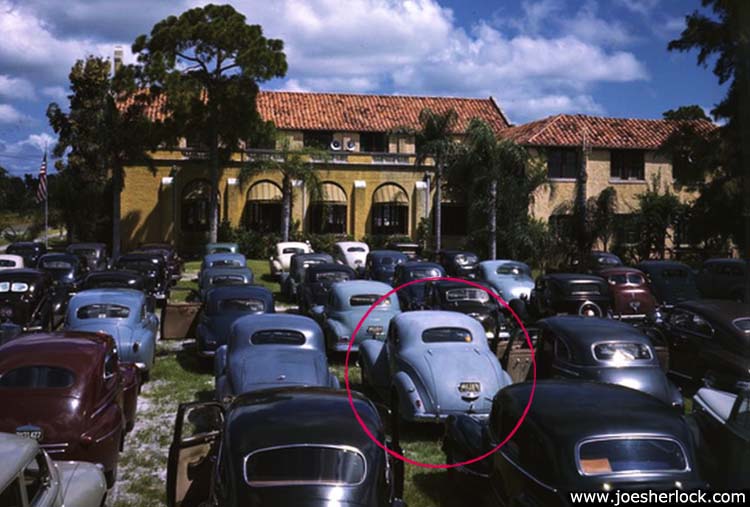 The above photo, originally posted on Hemmings, shows cars lined up for an outdoor church service in 1947. The Pasadena Community Church in St. Petersburg, FL had been holdng drive-in worship services since 1940, "when the church built the 'Garden Sanctuary' with space for 2,000 cars – originally intended to help the elderly or infirm who couldn't make it inside the church itself for services."

The circled 1939 Plymouth coupe had faded & chalky blue paint after 8 years of Florida sun exposure. My original 1939 coupe wore the same faded blue color in 1959, after 20 years of Philadelphia weather. I later painted the car black. (permalink)
---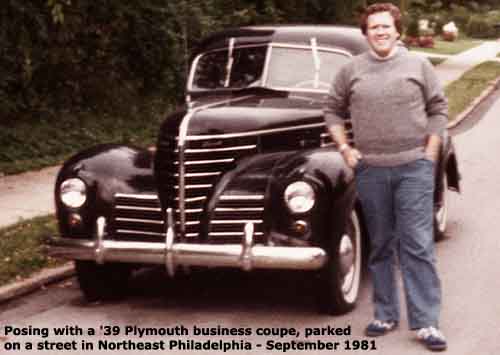 ---
A 1939 photo of Carl's Drive-In - not to be confiused with Carl's Jr. which began as a hot dog cart in 1941 - is chock full of interesting old cars, including at the lower right, a new 1939 Plymouth coupe. Sadly, Carl's Drive-In (established in 1931) is long gone as are most - if not all - of the vehicles in the parking lot.
---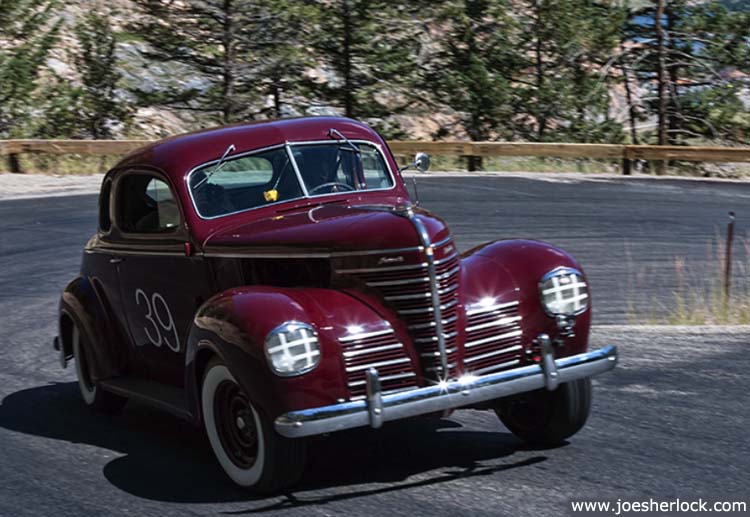 Here's a great photo of a 1939 Plymouth coupe racing around a curvy uphill bend during Colorado's Hot Rod Hill Climb held last month.

The Hot Rod Hill Climb was conceived by promoters Mike 'Nick' Nicholas and Amy 'Sweetheart' Bourcy as a tribute to the original event in 1953 and 1954 where drag racing hot rodders (the Denver Timing Association, Boulder Timing Association, Strippers Car Club and Cam Winders of Colorado Springs) took on the Denver Sports Car Club that was there in 1952, and as a way to honor local heroes with connections to Colorado's 1950s hot rod scene. (posted 9/17/15, permalink)
---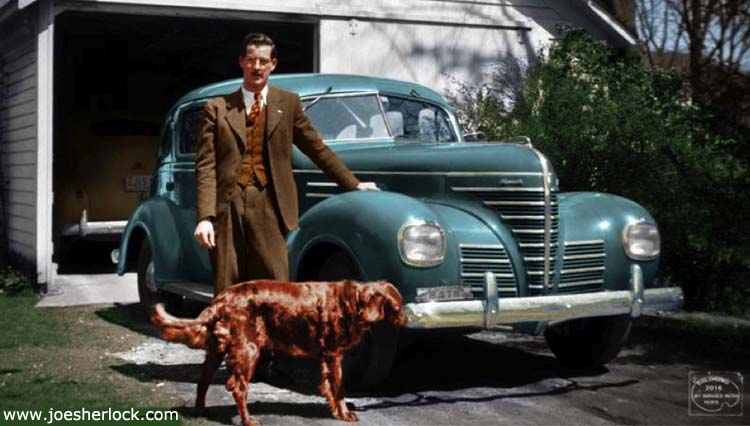 Talented artist Patty Allison of Imbued with Hues is an expert photo restorer who enjoys colorizing old black & white images, especially cars and trucks. She spends the extra time to find the original factory colors and hues that were available at the time that vehicles were produced. This bluish '39 Plymouth sedan is an example of her work. (posted 8/8/16, permalink)
---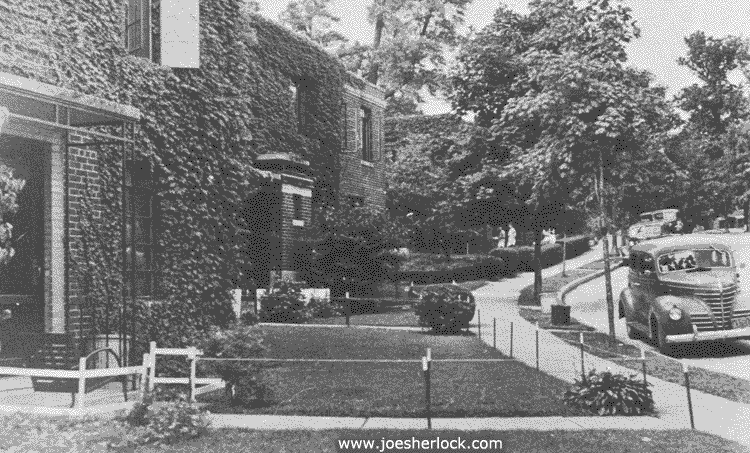 In the late 1930s, Philadelphia's Hill Creek housing project, located at Adams and Rising Sun Avenues, was the only federally-funded housing scheme in Philadelphia. Rent for any of the 258 units was $7.50 per room monthly. The low rent helped one of the tenants acquire a 1939 Plymouth sedan, shown at right. The Plymouth is equipped with an aftermarket sealed-beam headlight conversion kit. The photo was probably taken in 1940 or '41. Today's public housing should look this good. (posted 10/14/16, permalink)
---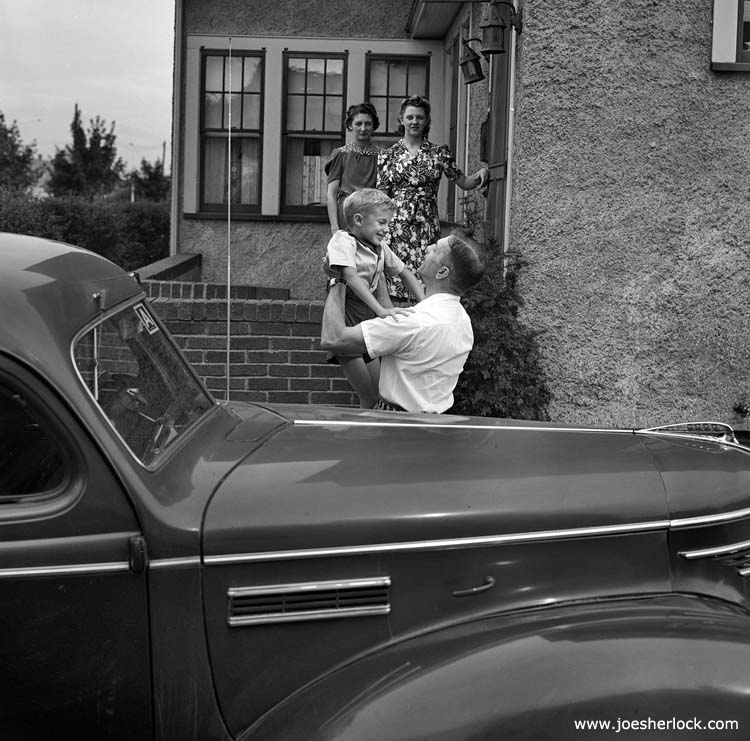 As breadwinner, Mr. Babcock pulls into the driveway in his 1939 Plymouth P8 Deluxe after a hard day's work, possibly at a war defense plant. He is greeted by Mrs. Babcock, Shirley and Earl. It's an unseasonably warm March 1943 day in Rochester, New York. Note the 'A' ration sticker on the Plymouth's windshield. (posted 3/18/17, permalink)
---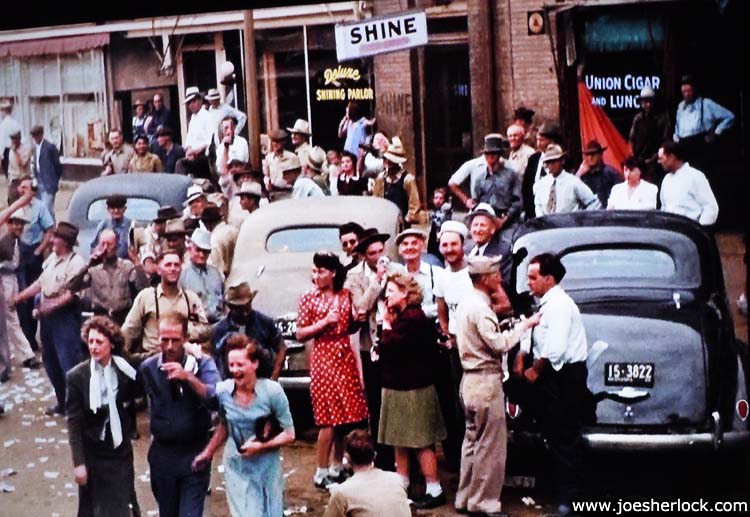 Three 1939 Plymouth business coupes are parked along a street in North Platte, Nebraska during V-J Day celebration on September 2, 1945 (posted 9/8/17, permalink)
---
More '39 Pages
| Facts & History | Owner Testimonials |
| My First '39 | My Latest '39 |
| Famous 1939 Plymouths |
| Frequently-Asked Questions | The Death Of Plymouth |
| '39 Plymouth Musings | The End |
| AutoSketch: 1939 Plymouth | How Plymouth Got Its Name |
---
Other Pages Of Interest
copyright 1997-2017 - Joseph M. Sherlock - All applicable rights reserved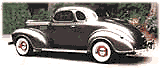 4439