Monday January 31, 2005
Auto Show: My wife and I attended the Portland Auto Show this weekend. I hadn't been to this annual event since 1992 but we're looking for a new car and it seemed reasonable to examine all candidates at one time/one place.

The Portland show is definitely a second or third tier show on the circuit. Few concept cars are shown and most are last year's leftovers. Only a selected group of exotic machines are exhibited. You won't see Rolls Royce, Bentley or Aston Martin - there are no dealers for these marques in the Portland area. The following is a stream-of-consciousness ramble of impressions ... (more >>>)
Most Unlikely Headline: New Honda is destroyed by fire at car wash.
The Bell of Freedom Has Rung: Pay no attention to the churlish remarks by Ted Kennedy (Admiral Oldsmobile) or John Kerry (The Loser). Something profound has happened in Iraq. Regardless of what happens next week or next month, the insurgents lost on Sunday. Freedom and democracy will ultimately defeat terror.
Democracy has come to Iraq. Power to the people!
Hot Pee: A Slovak man trapped in his car under an avalanche freed himself by drinking 60 bottles of beer and urinating on the snow to melt it.
Rescue teams found Richard Kral drunk and staggering along a mountain path four days after his Audi was buried in the mountains.
Bad Pun of the Day: If killer whales sing as other whales do, do they have an orca-stra?
---
Friday January 28, 2005

No Nomad: AutoExtremist.com notes that "Automotive News reported this week that GM wouldn't be doing any more cars off of the rear-wheel-drive Kappa platform - beyond the Pontiac Solstice, Saturn Sky and possibly an Opel or Vauxhall two-seat roadster already in the works. Which means don't count on the production version of the Chevy Nomad concept, which wowed the crowds at the 2004 Detroit Auto Show. And if that's the case, that's too bad and the wrong move in our book. We would much rather have seen the Nomad brought to fruition over the infamous and now polarizing Chevy HHR."
My car buddy from central Pennsylvania has the best idea. When the Pininfarina-built Nomad was introduced last year, he wrote, "The Chevy Nomad concept should be married with the C-6 Corvette ... immediately! Forget that little 2.2-liter turbo Ecotec motor; drop in the current, all-aluminum, small-block, Corvette V-8 motor from the C-6 into the Nomad and be done with it! GM would sell a million!"
He agrees with me that the shark's-teeth retro-grille needs to be chromed.
Money To Burn: At a time when most automakers are luring buyers into showrooms with rebates and other hefty incentives, a Bentley dealer turning away customers who are offering $50,000 over the sticker price of $170,775 to get into a 2005 Bentley Continental GT.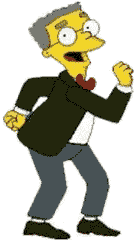 Outing: On February 20th, a Simpsons' character will come out of the closet. To boost tourism, the town decides to legalize same-sex marriage. Homer discovers the monetary value of gay union, becomes an ordained minister via the Internet and soon marries everyone and everything in town - including someone he knows. At least one online betting service is taking wagers.
Marge's sister Patty is the favorite at 4/5 with Waylan Smithers trailing at 4/1. Ned Flanders is a long shot at 15/1. I'm guessing it's Lenny or Carl.
Wisdom of the Day: A good friend will help you move. A really good friend will help you move a body. And bring a shovel.
Bad Pun of the Day: When fishermen get too competitive, they start suffering from pier pressure.
---
Thursday January 27, 2005
The Death of Branding: The 'packaged goods' marketers brought in to GM in the 1990s are finally leaving. These people knew nothing about cars and lots about selling consumer goods in grocery stores. They caused many of GM's woes. And helped kill Oldsmobile. (One of Olds' managers used to heading up brand management for Alpo dog food.)
Jim Burt writes: "GM discovered it had become a slave to focus groups that were draining the blood out of nearly every design at the company."
Renting? Renting?!! There is something very disturbing about renting cool-looking alloy wheels for your vehicle. If you're so broke you have to rent, maybe you should stick to public transportation. Or buy a used Cavalier/Neon/Escort. With stock wheels.
Vagrant Vandals: Millions of New York subway riders will suffer enormous inconveniences for 3 to 5 years because of a fire set by a bum.
The New York Post writes that "blame for this fiasco also must accrue to those who have made the notion that "homelessness" is just an "alternative lifestyle" into public policy - which insanely grants vagrants the right to take up residence anywhere they damn please. ... New York City spends hundreds of millions of dollars every year to feed, clothe, shelter and provide all manner of services to needy street folk. ... If they refuse good-faith help, they need to be hauled off to Rikers Island" prison.
David Frum added ... (more >>>)
Another Reason To Avoid Portland: The FBI knows of "jihadists" who have trained in terrorist camps in Afghanistan and are now living in Oregon.
Phone Tip: If you're calling a company, don't know anybody and the phone screener is giving you grief, ask for "Brad in Sales."
There's a Brad in every Sales Department.
If that doesn't work, ask for "Chris in Tech Support."
You're welcome.
Bad Pun of the Day: Police are searching for a thief who robs his victims by threatening them with a lighted match. They want to catch him before he strikes again.
---
Wednesday January 26, 2005
Toyota Gets It: Toyota has the right philosophy/strategy for the car business. It's the Customers-for-Life concept, meaning if you create happy entry-level buyers they will stick with you as they move up the vehicular food chain.
Jim Farley, the Toyota Motor Corp. executive who heads the automaker's new, entry-level Scion brand, has said: "The real payoff is going to be when these people buy Lexuses and Siennas and Priuses."
New Car: My son just got a new vehicle - a black 2005 Hyundai Elantra GLS. A good choice for a relatively low-cost, dependable vehicle. It has a bulletproof warranty - 5 years/60,000 miles overall with 10 years/100,000 miles on the drivetrain.
Edmunds.com says that "the Elantra presents one of the best values on the market in the economy class." It has a fairly long list of standard features, too.
Black cars run in our family. My dad had a black 1948 Mercury. My son learned to drive in my black '67 VW Beetle. And I learned to drive in this car which I painted black.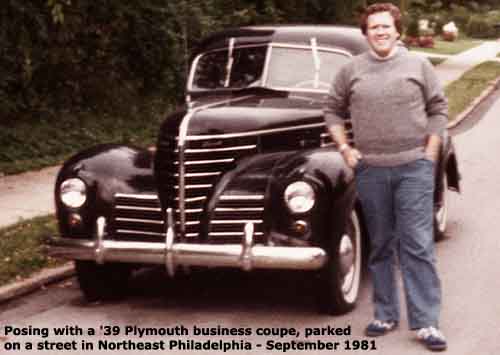 Sign That End Times Are Near: A new Fidelity Investments commercial features Blondie's 'Call Me'.
Bag-Gate: San Francisco's Commission on the Environment wants a 17-cent per bag charge on paper and plastic grocery bags. While the goal is reducing plastic bag pollution, paper was added so as not to discriminate.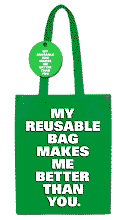 The Commission calculates that the city spends 5.2 cents per bag for street litter pickup and 1.4 cents per bag for extra recycling costs. That's 6.6 cents. So who gets the rest of the 17 cents?
Bad Pun of the Day: Why do people become bakers? Because they knead the dough!
---
Tuesday January 25, 2005
Personnel Shift: Auto writer Jerry Flint wants Ford and Chrysler to take the people who develop dream cars (aka - concept cars) and put them to work on making better Ford Explorers and Chrysler/Dodge Minivans.
Misheard Music: Between the awful car audio systems of the '60s-70s (I use the word 'system' as an act of generosity; for many cars, it was an AM receiver and one, cheap, tinny speaker.) and my loss of hearing (resulting from running noisy injection molding machines, saws and routers in those manly, no-earplug, pre-OSHA days), I've probably misunderstood half the songs I've listened to.
Last week, I was losing myself in the sublayers of a Google search, when I came across the lyrics to 'Let 'Em In', one of those trite but can't-get-it-outta-your-head ditties from the mid-1970s. By Wings. You know the one. With the McCartneys warbling, "Someone's knockin' at the door ..." I always thought it was some kind of bizarre religious/political statement:
"Sister Suzie, Brother John,
Martin Luther, Falun Gong ..."
Well, Google informed me that there is no reference to the China-outlawed spiritual group, Falun Gong. The correct phrase is "Phil and Don" - a nod to the Everly Brothers, who were an inspiration to Paul in his early years.
To Phil and Don Everly, my sincere regrets.
I'm still not yet ready to apologize to Neil Diamond over that 1978 song about the pseudo-hip preacher, 'The Reverend Blue Jeans.'
Retro Evil: The ever-brilliant Mark Steyn offers this sum-up: "... Senate Dems badgered the incoming secretary of state, Condoleezza Rice - culminating in the decision of West Virginia porkmeister Robert C. Byrd to delay the incoming thereof. Don't ask me why. Byrd, the former Klu Klux Klan Kleagle, is taking a stand over states' rights, or his rights over State, or some such.
Whatever the reason, the sight of an old Klansman blocking a little colored girl from Birmingham from getting into her office contributed to the general retro vibe that hangs around the Democratic Party these days."
Techno Smug: James Lileks writes about his latest gizmo: "By the time you read this I will have my new iPod shuffle, and you know what that means: I am better than you. No, that's not quite right. Better, and more stylish. Also hipper and cooler. Behold! Behold as I walk through the world with my little white stick dangling from my neck, two thin white wires connected to my ears, head bobbing slightly as I listen to music so cool it will be out of style by the time you hear about it. If you ever do."
And: "My mini iPod has a screen, and holds about two days' worth of music. The shuffle has no screen, and has one-eighth the space. Naturally I wanted one immediately, because it was new and it was white. Gimme gimme!"
It Was Probably Rump Roast. The Italian Supreme Court has ruled that an unexpected slap on a woman's bottom (aka - pacca sul sedere) at work could not be labeled sexual harassment as long as men didn't make a habit of it.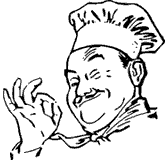 I swear I saw 'Pacca sul Sedere' on the menu at the Olive Garden. On the 'Taste of Tuscany' page, I think. (permalink)
Bad Pun of the Day: Help Wanted Ad - Newspaper needs freelance writer to cover zoo story about a mother bear about to have babies.
Applicant must be willing to start as a cub reporter.
---
Monday January 24, 2005
No Girlie Cars: A Dodge designer admits to ignoring female tastes.
Back in the mid-Fifties, Dodge offered the LaFemme model with special trim and touches designed to appeal to female buyers. Finished in two-tone Misty Orchid and Regal Orchid with gold-tone LaFemme badging inside and out, it sold poorly - less than 1,500 units in two years.

The dashboard color scheme was very ... ahem ... purply.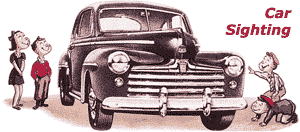 Car Sighting: Spotted a black 1987-or-so Chevrolet Nova hatchback sedan. It had the 'anonymous appliance' look of all mid-1980s small economy cars but was recognizable because of its fairly large bowtie emblem on the grille.
The Nova was the first product of the Chevy-Toyota joint manufacturing venture and was the most reliable Chevy of its time with Toyota-like build quality.
The car is historically significant because it dispelled the long-held notion that the Japanese had some special high-tech magic which allowed them to make reliable cars. Or that the UAW was the cause of America's bad quality. Novas were made in a converted California GM plant by the same union workers who used to make quality-deficient Camaro and Firebirds.
The lesson was that appropriate design (making things easy to assemble) plus attention to detail made the difference between quality and crap.
Twenty years later, it is unclear whether GM has applied the lessons learned there to its other plants. The same plant produced the Geo Prism (a Toyota Corolla clone) in the 1990s and now assembles the Pontiac Vibe side-by-side with the Toyota Matrix.
More Car Sightings: Saw some nice older Lincolns at the Lincoln Club's January Dinner in Portland at The Rheinlander on Saturday. Even though it was dark outside. And hard to find a parking space. But ... we had our own banquet room, the libations flowed freely and everyone seemed to have a good time.
Volvo Hater: Jon Carroll hates Volvo drivers ... and others. His belief that many people who drive Volvos "tend toward a sense of entitlement anyway" jibes with my own observations of certain Volvo-ites.
John writes that they have "a kind of passive recklessness, combined with an "I'm sorry, are there other people in my universe?" attitude."
Johnny We Hardly Knew Ye: The legendary Johnny Carson has died.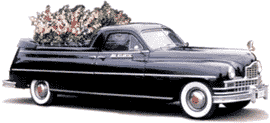 I'll always remember Carnac-the-Magnificent:
The answer is: "Siss, Boom, Bah!"
And (tears envelope) ... the question is: "What noise does an exploding sheep make?"
The answer is "Dippity Do."
And (tears envelope) ... the question is: "What's that moisture on your dippity?"
Felony Assault or 129 = 129: The Seattle Times says at least 129 felons voted in the November gubernatorial election in Washington state. Christine Gregoire "won" by 129 votes. You do the math.
There Better Be A Big Bar, Too. From the always delightful Scrappleface: "To accommodate the 840-passenger loads of the new super-sized Airbus A380 jetliner, the European Union (EU) today unveiled its first in a series of 50-acre airport lounges."
Glenn Reynolds at Instapundit wonders if "they can really get 800-900 passengers boarded and seated in less time than it takes to fly across the Atlantic." Good point.
Revitalizing CBS News: James Lileks has some ideas: "Give it over to Kent Brockman, the Simpsons anchor.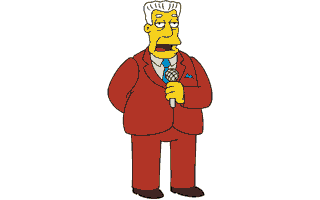 Have Alf Clausen score a new parody network news theme. Upside: since it takes six months to animate an episode, any attempts by the news division to push a particular agenda will be someone blunted. Or give it over to Space Ghost: three shots, endlessly repeated, with deadpan Zorak reaction shots."
Freedom of Expression: A U.S. News and World Report article states that the new White House dog, Miss Beazley, was housebroken before being delivered but staffers put newspapers around just in case she has to go before a walk on the South Lawn. In fact, some aides take great glee in picking the pages Miss Beazley should aim at.
I'm sure the pup finds the New York Times thick and absorbent.
Bad Pun of the Day: A man continued to eat wheat, even though he was allergic to it, because he was a gluten for punishment.
---
Saturday January 22, 2005
Bush's Inaugural Address: It was only twenty minutes long - that's good. But Peggy Noonan didn't like it. Neither did David Frum. Although James Lileks thought the speech's tone was one of "muscular optimism."
Over this weekend, the nation will be exposed to endless televised talking heads wringing their hands over the content and implications of Bush's words. Including much yelling and screaming from 'The McLaughlin Group.' (So, what else is new?)
My advice - stay away from the tube unless you're watching a game. Or the Detroit auto show recap on NBC. Or 'The Shawshank Redemption' on a Turner network. (Shawshank is always playing on one Turner station or another. I'm surprised there isn't a TNS - Turner Shawshank Network. Maybe there is - on one of those triple-digit digital channels that I don't receive.)
I liked the speech. While lacking the elegant wordsmithing of a Kennedy performance, it was a plain and clear talk. And, while George Bush doesn't have the ability to "sell" a prepared speech like The Gipper, his delivery was acceptable. At least he didn't wander verbally all over the place in the manner of a Clinton will-this-ever-end meandering message.
To those like Noonan and Frum, who seem to be frightened and/or dismayed by the tone and implication of Bush's spoken words, I would suggest that they compare the 2005 address with JFK's 1961 address:
George W. Bush: "The survival of liberty in our land increasingly depends on the success of liberty in other lands. The best hope for peace in our world is the expansion of freedom in all the world. America's vital interests and our deepest beliefs are now one."
John F. Kennedy: "... yet the same revolutionary beliefs for which our forebears fought are still at issue around the globe - the belief that the rights of man come not from the generosity of the state but from the hand of God. ... Let every nation know, whether it wishes us well or ill, that we shall pay any price, bear any burden, meet any hardship, support any friend, oppose any foe to assure the survival and the success of liberty."
Liberty and freedom everywhere. An American tradition. And a goal. Let the word go forth ...
---
Friday January 21, 2005
Big Dog Barks about the folly of those pricey, ultra luxury cars.
Shivers "like wet Chihuahuas over rough asphalt": Dan Neil of the Los Angeles Times has good things to say about the new Corvette and funny things to say about Corvettes in general.
Inauguration Vehicles: I'll let others cover the ceremonies, I was too busy watching the stuff on wheels. I couldn't help but notice the ancient early 50s GM Coach 4500-Series bus just behind the phalanx of cop cars at the head of the parade. It was white with red and blue trim - the oldest vehicle in the convoy.
I was surprised to see a pair of early-1980s 'Queen Marys' - big black Cadillac limos with partially-raised roofs with roof-mounted grab bars and foot rails for the Secret Service. The 2006 Cadillac DTS-based Presidential limo was massive and tank-like. The armored doors seemed to be six inches thick. Probably to accommodate the thickness of the bulletproof glass.
Nevertheless, the Secret Service had no trouble swinging it open. I once got up close and personal with a Hitler-era armored Mercedes parade car at a restoration shop. The doors were just as thick and the hinges alone must have weighed eighty pounds each. But the door was so well counterbalanced that you could move it with your little finger. Amazing.
What's Next - The Jeffrey Dahmer Dining Hall? A professor who murdered her six-month-old baby is to be honored at Villanova University. (She was also director of the Center for Arab American Studies at Villanova.) A memorial student lounge will be dedicated in her name. Villanova ... it figures. The place where Big Bird was last year's commencement speaker.
Evil Tater: Toy maker Hasbro Inc. introduces its latest Mr. Potato Head figure, Darth Tater.
Quote of the Day is from Ann Coulter: "Hollywood liberals could not be reached for comment on the cost of the inauguration because they were being fitted for gowns and jewelry worth millions of dollars in anticipation of Oscar night."
Bad Pun of the Day: Mahatma Gandhi walked barefoot most of the time; this produced an impressive set of calluses on his feet. He also ate very little, which made him rather frail and, because of his odd diet, he suffered from bad breath. This made him ... a super calloused fragile mystic hexed by halitosis.
---
Thursday January 20, 2005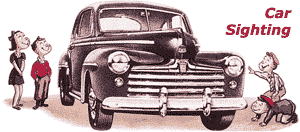 Car Sighting: Not mine, but a good friend from Pennsylvania had a look at a 1965 MGB fitted with an R8 Wankel engine - a Mazda rotary running through a Mazda 5-speed manual transmission. The MG was painted British Racing Green. Last summer, he saw a Wankel-converted Triumph Spitfire roadster at a local car show.
It has not been good car sighting weather around here - the climate has been bizarre and rainy. On Saturday, it was 28 degrees with an ice storm; on Tuesday, it was a balmy 64 degrees at 6:20 am. Go figure. Did see a '48 Ford convertible (top up, of course) cruising down the freeway.
It's Too Expensive For Me But It Sure Looks Good: The Bentley Continental Flying Spur sedan will go on sale in the Spring.
On The Web, There's Something For Everyone: Richard M. Nixon bowling merchandise is available here.
Bad Pun of the Day: Two fish swim into a tall concrete wall. The one turns to the other and says,"Dam!"
---
Wednesday January 19, 2005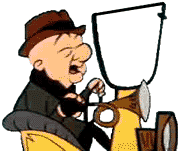 Pat Goss Is An Idiot. I enjoy MotorWeek on PBSSpeed; I've watched it for years. But the Goss' Garage segment has run out of things to say. Last week, Pat Goss discussed "Things You Should Always have In Your Car."
First one - fuses. Hey, I haven't replaced a fuse in a car since I owned my 1963 Beetle. (I sold it in '65.) In my present cars, I don't even know where the hell the fuse box is.
Second - a hose repair kit. In all my years of driving, I've only had one hose leak - on an aging collector car with 150,000 miles on the odometer.
Third - an emergency fan belt kit. The kit Goss showed would only work on old-style V-belts. Most cars today have multi-grooved flat belts. And in 46 years of driving, I've never had a belt fail.
IMHO, the only things you need in a car today are - a charged cell phone, a valid AAA membership, a first aid kit and a bottle of wine with a screw top - to consume while you're waiting for the tow truck to arrive. (permalink)
And It's Fast, Too. I found this on the Toyota Press website: "The Avalon can effortlessly accelerate from zero-to-60 mph in 6.6 seconds while achieving an impressive estimated EPA fuel economy mpg rating of 22 city/31 highway. In addition to being more powerful and more fuel efficient, the Avalon is targeted to be certified as an Ultra Low Emissions Vehicle (ULEV)." The first drive report is here.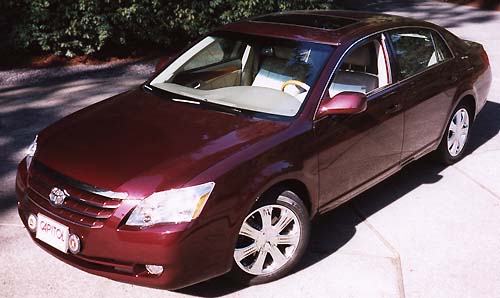 I Thought Linux Was A 'Peanuts' Character. Instapundit often brags about his brother's accomplishments. Now it's my turn.
My brother will be making a 90 minute presentation at the upcoming Open Source Development Conference in San Francisco. If your interest is in the emergence of Linux in today's corporate network, better sign up now.
Bad Pun of the Day: A group of friars got behind on their belfry payments, so they opened up a small florist shop to raise funds. Since everyone liked to buy flowers from the men of God, a rival florist across town thought the competition was unfair.
He asked the good fathers to close down, but they would not. He went back and begged the friars to close. They ignored him. So, the rival florist hired Hugh MacTaggart, the roughest and most vicious thug in town to "persuade" them to close. Hugh beat up the monks and trashed their store, saying he'd be back if they didn't close up shop.
Terrified, they did so, thereby proving that only Hugh can prevent florist friars.
---
Tuesday January 18, 2005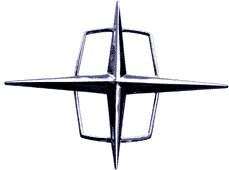 Lincoln-Free Garage: In 2005, we will purchase a replacement for my wife's aging 1996 Lincoln Continental. We have a list of possible candidates. And there isn't a single Lincoln model on it.
For the first time in 21 years, there will be no Lincoln vehicle in our garage because none of their product offerings are of interest to us. (more >>>)
Ultra-Armored Caddy: The President Bush is getting a new limo - based on the 2006 Cadillac DTS. The taillights look like they're from a 1994 Eldorado - or a 1984 Lincoln Mark VII. I'm not crazy about the styling of the front end but the reliability is said to be "bulletproof."
Roadster Overload: The VW Concept R will be built as a low-priced roadster, joining the Mazda Miata, Pontiac Solstice, Saturn Sky and (maybe) others. I love roadsters but will the market soon become oversaturated?
Don't Count Honda Out: Honda has much more up its sleeve than the Ridgeline pickup truck. Edmunds has spy photos of the cool-looking 2006 Civic which will debut at the Chicago Auto Show.
Most American: Michelle Krebs of Global Auto Systems writes that the Toyota Avalon "outdoes the Big Three in its Americanness."
Well, it is made in Kentucky.
You Lost ... Get Over It! Senator John Kerry, commenting on November's presidential election, invoked Martin Luther King Jr.'s legacy as he criticized President Bush and decried reports of voter disenfranchisement on election day. Kerry spoke at Boston's annual Martin Luther King Day Breakfast. What a pandering loser.
Good God! Ellen Johnson, president of American Atheists, criticized President Bush for saying he can't see how one can be president without a relationship with the Lord. Bush's comments were "divisive," they say, and an insult to those who don't believe in religious creeds or a deity. The president has every right to express his 'personal' opinion.
If Ellen doesn't like it, she can go to ... oops, she doesn't believe in that either. Same to that other, pain-in-the butt unbeliever, Michael Newdow.
Speaking of pain-in-the-butt jerks, an Alternative Inaugural Address directed precisely at such people is offered by P.J. O'Rourke. (The same P. J. O'Rourke provided the pithy witticism: "Santa Claus is a Democrat but God is a Republican.")
Bad Pun of the Day: Two Eskimos sitting in a kayak were chilly, so they lit a fire in the craft. It quickly sank, proving once again that you can't have your kayak and heat it too.
---
Monday January 17, 2005
Car Show Ennui: John McCormick of the Detroit News asks, "Has the Detroit auto show lost its thrill? As the press fest wound up this week there were more than a few voices commenting about the low buzz factor."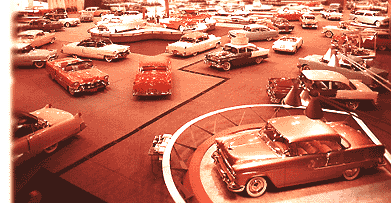 As I have related here, auto shows aren't what they used to be.
Car Sightings: Saw quite a few Minis on the road last week. More than I've ever spotted before. Maybe supply is finally catching up with demand. Also sighted a black Citroën Traction Avant in (of all places) Battle Ground, Washington - just down the street, actually.
Clickety-Clack: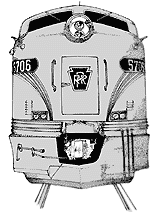 General Motors is selling its LaGrange, Ill.-based Electro-Motive Division to an investment group led by the Greenbriar Equity Group of Rye, N.Y., and Boston-based Berkshire Partners LLC. This is a historic milestone.
In the early days of locomotive-building, the chief engineer of each railroad has his own idea of how a locomotive should be made. And wrote his personal specifications for every purchase. This drove loco manufacturers nuts (or loco?) because it was impossible to offer a stock line of locomotives or build for inventory during slow times.
Baldwin, the largest builder of steam locos, made over 25% of its sales ... (more >>>)
Ice Pussies: On Saturday, our area got an ice storm. A mild one. But the roads were chaos (because people were ill-prepared, poorly-equipped idiots). In Portland, several bus routes were canceled or delayed.
Last year, we had a much worse storm. Portland's entire trolley and light rail system was out-of-service for three days! "We have ice on the wires and there is snow on the tracks," said a spokesman. Well, duh! Apparently, they have no ice or snow removal equipment. (In other cities, most trolleys have ice-breakers which are installed on the forward pole when a storm is anticipated.)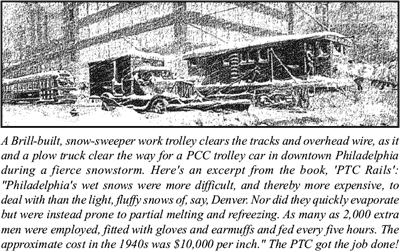 I grew up in Philadelphia where they had real storms. Big storms! But the trolleys and El were almost always kept running because they had dedicated equipment to handle snow and ice chores. In those days, part of National City Lines contract with the city of Philadelphia stipulated that they had to keep all bus and trolley routes open. And they did so.
Not in Portland: "It's too hard!" Portland, Oregon - City of Wusses. (permalink)
Lend Me Your Ears: The television coverage of the ice storm was unnecessarily dramatic, including a report urging people to keep their pets inside (during 28 degree weather), lest they get frostbite and "lose their ears." This was followed by an announcement that the Portland Zoo was closed - presumably because people were tripping over animal ears.
The zoo has now reopened but, if you go and patronize the concession stand, I'd recommend that you not order the elephant ears.
Psycho Teddy: It is a teddy bear in a straightjacket and comes with its own commitment papers. Mental health advocates are angry (but not mad). Nevertheless, the Vermont Teddy Bear Co. says it won't pull the $70 "Crazy for You" bear from store shelves.
"This bear was created in the spirit of Valentine's Day and as with all of our bears it was designed to be a light-hearted depiction of the sentiment of love," says the company.
The Vermont chapter of the National Alliance for the Mentally Ill has complained, calling the bear a "tasteless use of marketing that stigmatizes persons with mental illness." Jeeeez. Lighten up! If you think this is a bad idea, you're probably a nut case!
PC Gone Wild: Now that I have learned to refer to midgets and dwarfs as "little people", the producer of an upcoming 'Doctor Who' movie complains that, because other movies are using little thespians, it is "very difficult to employ persons of restricted growth."
So I guess I'll now have to refer to such folks as PRGs. As in 'Snow White and the Seven PRGs.'
Bad Pun of the Day: Two hydrogen atoms meet. One says "I've lost my electron." The other says "Are you sure?" The first replies "Yes, I'm positive."
---
Friday January 14, 2005
Saab Story: A General Motors review of its Saab subsidiary could lead to the upmarket car brand being axed, if the heavy investment required to revive it is deemed unjustified.
Zephyr Madness: Ford promises the 2006 Lincoln Zephyr "will look, feel and drive like a luxury Lincoln even though it will share a basic design with the Ford Fusion and Mercury Milan." All three cars will be built in Hermosillo, Mexico. The Zephyr will be launched with front-wheel drive; an all-wheel-drive option will be added later. "Competitive vehicles, all priced in the $30,000 range, include the Infiniti G35, Cadillac CTS, Lexus ES 330 and the Acura TL."
This is baloney. Ford is living in a dream world. The Acura TL has 275 horsepower and a stellar reputation. The Infiniti G35 has 280 horsepower and you can buy one with AWD now - not two years from now. The Zephyr's puny 210 horses and Lincoln's tarnished image will relegate it to a rental car lot, next to a pair of Buicks.
William Jeanes (AutoWeek and Automotive News) wrote: "Lincoln-Mercury assured the press ... that the division is on the road to success, and nobody really believed it. Not the folks I heard express opinions anyway. It will come as no news to anyone with a pulse that a lack of distinctive product lies at the core of Lincoln-Mercury's palpable angst."
In an article about the Jaguar's falling fortunes Daniel Howes of the Detroit News writes: "Ford needs a healthy Jaguar to make its Premier Automotive Group of Jaguar, Land Rover, Volvo and Aston Martin work. That's especially important because Lincoln cars and trucks, for the foreseeable future, promise to be little more than gussied-up blue-oval Fords."
This is sad but true. Lincoln - a once-great brand - has been brought to its knees by managerial incompetence. Edsel Ford must be spinning in his grave. .... (more >>>)
The Other Lincoln: A new book by the late historian C.A. Tripp, 'The Intimate World of Abraham Lincoln,' claims that the 16th president was gay. Many conservative critics are outraged and charge that the evidence for such a claim is weak, at best.
Books like this sell well because, as Don Henley sang in 1982, "... give us Dirty Laundry." (This song reportedly inspired Kitty Kelley to change careers.) Personally, I don't really care about Abe's idiosyncrasies.
Lincoln should be be judged by his accomplishments, not his personal preferences. But in the spirit of tawdry gossip, I'll point out that Lincoln favored dark clothes and never showed his teeth. Soooo ... maybe ol' Abe was a vampire.
Like A Video Game Only Bigger: NASA engineers are set to launch their Deep Impact space mission. The space shot aims to smash an 820-pound projectile into a comet on July 4, 2005. "We expect to provide some great fireworks," said a NASA engineer.
Bad Pun of the Day: A woman has twins and gives them up for adoption. One of them goes to a family in Egypt and is named Ahmal. The other goes to a family in Spain; they name him Juan. Years later, Juan sends a picture of himself to his birth mother. Upon receiving the picture, she tells her husband that she wishes she also had a picture of Ahmal.
Her husband responds, "They're twins! If you've seen Juan, you've seen Ahmal."
---
Thursday January 13, 2005
Car Sighting: Saw my first Mini convertible earlier this week cruising down the road in Battle Ground, Washington. Looked impressive.

What's In A Name? I finally found out - from AutoExtremist - what the Ford SynUS concept car name means: "Synthesis" and "Urban Sanctuary."
AE calls the armored compact a UPV - "Urban Paranoia Vehicle."
Smart Move? DaimlerChrysler gave a little Smart car to Firehouse Number 1 in Detroit (photo). It was painted fire engine red with emergency flashing lights and the Detroit Fire Department logo on the doors.
AutoBlog quipped: "Why do I have visions of 50 clown paramedics piling out of this car?"
Which Is It? I don't know if this is 'Damning With Faint Praise' or 'Praising with Faint Damns', but AutoExtremist writes: "When better Buicks are built, Toyota will build them, apparently. But then again, Toyota does bland so well that maybe a new design language for Lexus or Toyota is irrelevant.
Just to make sure no one would think Toyota had lost it and gone off of the deep end with the LFA, they unveiled the new "Reimagined" Avalon. Conservative, inoffensive and guaranteed to blend into the woodwork (but with a nicely detailed interior), the "new" Avalon was precision-crafted blandness at its best. Reimagined? Please. But it's the best goddamned Buick I've ever seen."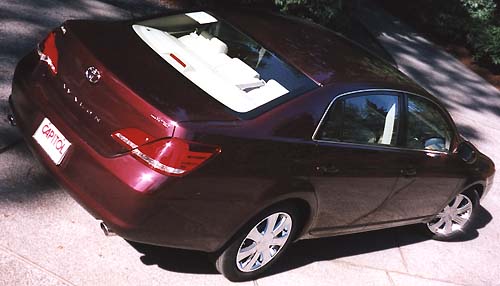 Not Everyone Likes The New Jag Coupe. For instance, there's AutoExtremist (sorry for all the AE posts but Peter DeLorenzo is very quotable): "One of the biggest disappointments of the Detroit Show was the Jaguar Advanced Lightweight Coupe Concept. Said to be a thinly-disguised version of the next-generation of the XK8, the Jag concept did its best to sap all of the emotional energy out of the Jaguar design language.
For a sports car that was supposed to be brimming with Jaguar heritage, the Advanced Lightweight Coupe Concept was one of the most emotionally detached and uninvolving designs we've seen in a long time. How can you not advance the ball with the historic legacy of Jaguar to build on? We'd love to think this car won't see the light of the day, but we're hearing that's not the case. Not only disheartening, but unbelievable too."
Meanwhile, Daniel Howes of the Detroit News believes that the next Jaguar XK coupe is the marque's last chance: "Ford needs a healthy Jaguar to make its Premier Automotive Group of Jaguar, Land Rover, Volvo and Aston Martin work. ... Ford thought it was buying a generator of premium profits when it paid some $2.5 billion for Jaguar. Fifteen years on, it's still waiting. Auto companies are fixable and, Lord knows, I hope Jaguar can be fixed because I'm a fan. But if it doesn't work this time, Ford, pull the plug."
I don't think that the XK is a make-or-break vehicle. It may be a 'halo' car but the sports tourer only accounts for about 6% of Jaguar sales. For my thoughts on what changes would make Jaguar a successful brand, go here.
Change Is Good: David Letterman provides the 'Top Ten Proposed Changes At CBS News' in the wake of Rathergate.
Here are a couple: "Stories must be corroborated by at least two really strong hunches." And: "Conclude each story with comical "Boing" sound effect."
Bad Pun of the Day: A group of chess enthusiasts checked into a hotel and were standing in the lobby discussing their recent tournament victories. After about an hour, the manager came out of the office and asked them to disperse. "But why?" they asked, as they moved off. "Because," he said, "I can't stand chess-nuts boasting in an open foyer."
---
Wednesday January 12, 2005
Lucas - Still the 'Prince Of Darkness': "But there was a little dose of irony at the glitzy unveiling (of the new Jaguar concept car). When the sky-blue concept rolled out of a darkened tunnel onto the stage at the Cobo Center, one of its headlights was out."
It is a cool and swoopy-lookin' car, however.
Toyota Geezeron? "The Avalon was designed for empty-nesters in their 60s who need something larger than a coupe for their active lifestyles," said Don Esmond, Toyota Division's senior vice president.
Well, OK then. I'm a geezer and I like it.
Magnetic Attraction: An expensive MRI unit at Virginia Mason Medical Center sustained at least $200,000 in damage when a metal floor buffer was mistakenly placed nearby and was sucked in by the machine's powerful magnets.
Stick To Scotch: Tea - the beverage of violence.
For Much Happy Fun Time, visit here. Best product warning label: "The manufacture not propitious to under 6 year of children and elder use."
Bad Pun of the Day: Did you hear about the Buddhist who refused Novocain during a root canal? His goal: transcend dental medication.
---
Tuesday January 11, 2005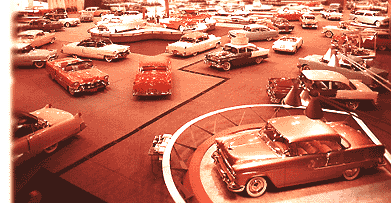 Auto Shows - Now and Then: The 2005 Auto Show Season has begun. Los Angeles ... Detroit ... then Chicago and New York. Somehow, these auto shows and the cars don't seem nearly as exciting as they used to.
Major technical innovations for 2005 are few ... and minor in nature. And there are too many long lead introductions ... 2006 models ... even 2007 models. Not enough introductions of vehicles that you can buy right now.
Concept cars? Well, the Chrysler Firepower concept looks good. But the Mercury Meta One concept vehicle seems like a real yawner. And many other concepts are .. not practical ... not particularly futuristic ... just odd.
Look backward to an auto show season of the past - say, 50 years ago - 1955. It makes the 2005 show is lame by comparison. The technical and styling innovations introduced on 1955 models and showcased at the various auto shows were profound ... (more >>>)
Pink Cadillac Replaces Religion: Writing about Elvis Presley on Power Line, the Big Trunk (aka - Scott W. Johnson) praises the Sun Records releases, specifically the song "Baby, Let's Play House."
It's a little known fact that the original words to the song were: "... You may go to college ... You may go to school ... You may get religion .. But doncha be nobody's fool ..." God-fearing Elvis was offended by the 'religion' verse and changed the song to: "... You may go to college ... You may go to school ... You may drive a pink Cadillac .. But doncha be nobody's fool ..."
One of the best 'obscure' Elvis songs is 'I Was The One' from 1956. It was Elvis' only do-wop recording. Unfortunately, the song became the B side of 'Heartbreak Hotel' and has never received its due. (More on Elvis here.)
On-Site Reports: For all the real news about what the U.S. and Aussies are doing (and what the UN is not doing) in tsunami relief efforts, be sure to check out The Diplomad. It's stuff you don't see/hear on the Evening News.
On the other hand, if you're reading this blog, you probably don't watch televised news anyway.
While On That Subject: Please read this now. (hat tip - Instapundit and Recovering Liberal)
Bad Pun of the Day: A vulture boards an airplane, carrying two dead raccoons. The flight attendant looks at him and says, "I'm sorry, sir, only one carrion allowed per passenger."
---
Monday January 10, 2005
A Big Thanks to AutoBlog's Dave Thomas who has been live-blogging the Detroit auto show. Don't forget to check AutoBlog.com for all the latest news. I'll have an extended piece on auto shows in tomorrow's posting. But, for now, here are some observations:
Wild-and-Crazy: The twin-Hemi Jeep Hurricane captures the spirit of the old-time concept cars in its most outrageous form. 16 cylinders, 670 horsepower and spins on its own axis like a turntable! Waaay-cool, even if it's totally impractical.

Droopy-nosed describes the Lexus LF-A two-seater sports coupe concept. Lexus says that the LF-A is the "future of Lexus styling extended to a two-seat sports car." I hope not. Lexus is rumored to be working on a new sports car. I hope the production model doesn't look this bad. And Lexi are so well built, that such a monstrosity would be around for years.

Worst Concept Car - Ever. I'm sure that's what Comic Book Guy (from The Simpsons) would say about the Ford SynUS.

It is butt-ugly in ways far deeper (and more troubling) than other utilitarian boxes on wheels, like the Honda Element and Scion xB. With its small windows and armor protection, the SynUS looks like a miniature version the Raymond Burr's converted armored truck from the old TV series, 'Ironside.' (Come to think of it, I think that was a Ford product, too.) Ford considers it "a prototype of the American city cruiser of the future."

Ford must be envisioning a very grim future. Could be a big seller in Iraq, though. (Alternate headline considered: SynUS Infection.)

Speaking of Ford: Lots of quality glitches and screw-ups are being reported by Blue Oval News.

Topless Act: ASC unveiled a one-off Chrysler 300 four-door convertible at the Detroit auto show. Isn't it sad that, in 2005, there is no Lincoln product deemed worthy of such a conversion?

Speaking of Lincoln, it had another unveiling of the 2006 Zephyr sedan. It was posed next to a 1936 V-12 Zephyr. The older Zephyr looked embarassed to be parked next to its made-in-Mexico, V-6 progeny. (Or, maybe 'bastard' is a better word.)

Me? I'd rather have the '36 model.

One Last Try: Readers of this blog know that I've never thought much of Saturn. Based on falling product sales, it's obvious that many others feel the same way. But General Motors is going to give Saturn a do-or-die opportunity with two new products.

The Saturn Aura is a sedan built on the same platform as the Chevrolet Malibu and Pontiac G6. While it's officially dubbed a concept car, GM and Saturn officials say the Aura is very close to the vehicle that will go on sale sometime in 2006. Based on examination of photos, the exterior looks pleasant and less anonymous that previous Saturns. The transmission is a six-speed automatic. The interior seems substantially upgraded, although I don't think much of the gray and brown color choice for the concept's interior.

Then there's the Sky, an aggressively-styled, two-seat convertible roadster. It's based on the stylish Vauxhall VX Lightning and looks very cool. The interior looks great for a $25,000 vehicle.

Both cars are scheduled to become production models within the next 12 months or so. I hope nothing gets lost in the translation. And that the fit-and-finish improves over previous Saturns.
The End of The Tire As We Know It? Developed in the Michelin's Technology Center in Greenville, North Carolina, the non-pneumatic 'Tweel' - a tire/wheel combo - is said to have the potential to transform the automotive, military, construction and personal mobility industries. The heart of the Tweel is its simple looking hub and spoke design that replaces the need for air pressure while delivering performance previously only available from pneumatic tires.
Tweel performance characteristics can be tuned independently - meaning that vertical stiffness (which primarily affects ride comfort) and lateral stiffness (which affects handling and cornering) can both be optimized, enabling new performance levels not possible for current inflated tires. My question is, when the rubber wears out, do you have to replace the alloy wheel, too?
Getting Out The Zombie Vote: At least eight people who died well before the November general election were credited with voting in King County, raising new questions about the integrity of the vote total in the very close Washington State governor's race.
Republican Dino Rossi has filed a sweeping lawsuit challenging Democrat Christine Gregoire's election as governor. "It is clear this election is a mess," Rossi said.
Punish The Customer: Passengers on Alitalia's European flights were left hungry as cabin crew refused to serve meals and drinks in a "snack strike" to protest new working conditions at the Italian carrier.
This is reminiscent of U.S. Air's recent "sickout." When all of these idiotic airline employees - the ones who screw-over the paying customers just so they can throw a hissy fit - are unemployed and have no benefits and minimal pensions because their employers have gone out of business, I hope they still feel smug as they dine on cans of Alpo in their run-down retirement shanties.
Heh-heh. Heh-heh. Cool. Someone has changed the name of Bevis Lake near lake Stevens in Washington State to 'Butthead Lake.' The U.S. Geological Survey uses Bevis Lake on its topographic map.
But the U.S. Census Bureau calls it Butthead Lake in its records.
The Madness of Hobbies: Every one of us hobbyists has experienced it. One has finally documented it. (Confession: I once spent an entire sleep-deprived week of vacation building a 1:8 scale model of a 1907 Fiat race car from a Pocher kit. The car had a chain drive; the kit provided links and pins to make your own chain!)
Obscure Trivia! I learned this from Page Six (of the New York Post): Gilbert Gottfried is the voice of the duck in the AFLAC commercials.
---
Saturday January 8, 2005
Happy Birthday, Elvis! If Elvis Presley were alive today, he'd be 70 years old. And weigh 800 pounds! Or, as the ever-quotable Yogi Berra might say, "If Elvis were alive today, he'd be dead!"
Elvis didn't invent rock and roll but he spread the message across America. And the world. It's hard to say which was the first rock and roll record; some believe it was Jackie Brentson's 'Rocket 88' from 1951. (It certainly has the correct elements - it was about a car - a 1950 Oldsmobile 88 with a high-compression, overhead-valve Rocket V-8 engine - and featured Ike Turner on keyboards.)
Others claim that 'Shake, Rattle and Roll' (a remake of a Thirties R&B song) by Bill Haley and his Comets in 1954 was the first rock and roll song. Little Richard claimed he invented it, screaming, "I am the architect of Rock and Roll!" Still others credit Chuck Berry.
Regardless of who the inventor was, the credit for the mass-popularization of this new music must be given to Elvis Presley, who flew onto the scene in 1956 with the number one hit, 'Heartbreak Hotel.'
For 25 of the next 37 weeks, Elvis held the absolute top of the charts with no less than seven single, million-seller hits. ... (more >>>)
---
Friday January 7, 2005
I Like The Name, Though: French carmaker Venturi unveiled the Fétish at the L.A. Auto Show. Powered by a an mid-mounted, 245-hp electric motor, the sporty roadster zooms from zero to 60 mph in 4.3 seconds and reaches a top speed of 106 mph. Range is 217 miles.
Your personal Fétish will cost you $675,000. Zap!
New Resident: Miss Beazley has arrived.
Chappaquiddick Redux: At the Gonzales appointment hearing in the Senate Judiciary Committee, Senator Ted Kennedy (aka - Admiral Oldsmobile) spoke about "water boarding" - an aggressive interrogation technique used on possible terrorists - dripping water into a wet cloth over a suspect's face, which can feel like drowning.
Kennedy opined that "as a human being," he would have been "offended" by something that could have caused "drowning."
Extra! Extra! Jack Kelly on media: "Most years recently have been bad years for newspapers. In 1950, 123 percent of households subscribed to a newspaper. (One household in five subscribed to more than one paper.) Today the figure is less than 53 percent. Senior citizens are, by far, the most reliable newspaper readers and watchers of broadcast television news. The younger people get, the less likely they are to subscribe to newspapers or watch Dan or Peter or Brian. When our current crop of seniors dies off in five or ten years, we're going to be in a world of hurt.
People who work at journalism full time ought to be able to do a better job of it than people for whom it is a hobby. But that's not going to happen as long as we "professional" journalists ignore stories we don't like and try to hide our mistakes. We think of ourselves as "gatekeepers." But there is not much future in being a gatekeeper when the walls are down." (permalink)
Three Simple Rules: RelapsedCatholic.com quotes interesting observations from former Clinton advisor William Galston: "You need only do three things in this country to avoid poverty - finish high school, marry before having a child, and marry after the age of 20. Only 8 percent of the families who do this are poor; 79 percent of those who fail to do this are poor."
Beyond The Sea: This is, apparently, the movie to bash. Bill McCuddy, the Fox News entertainment guy pronounced 'Beyond the Sea' "beyond watchable." Others have written that Bobby Darin was an "arrogant egomaniac" undeserving of a biopic.
I can only say that, on a dark evening in 1969, I saw Bobby Darin at the Latin Casino in New Jersey. His performance was spectacular; one of the best I've ever experienced. (And, in the many years I spent entertaining clients, I've seen a lot of big name stars perform. Many were a major disappointment.)
The first half of Darin's show had the full house-orchestra backing. After intermission, he sang sitting on a stool singing with no back-up - the only accompaniment was his acoustic guitar. He was a versatile performer with a great voice. When the show was over, the applause brought down the house.
I haven't seen the movie, so I can't judge it. But those who dismiss Bobby Darin's talent are waaaay off base. (permalink)
---
Thursday January 6, 2005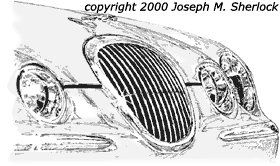 Jaguar Woes: Jaguar took a 534 million-pound ($1.02 billion) charge to cover a writedown on the company's investments after losing 601.1 million pounds ($1.148 billion) in 2003, double the previous year.
Worldwide, Jaguar sells about 120,000 cars per year. So, just to break even, the price of each vehicle would have to be increased by almost $10,000! And, to cover a decent profit and the losses from the drop in the value of the dollar, a price increase of $15,000 per vehicle would be needed. Which would price Jaguar completely out of the market.
If I were running Jaguar, I'd make changes; they are enumerated in this longer essay about Jaguar's troubles. I believe such changes would result in a good-selling, profitable brand with a good reputation. I'd make Jaguar the jewel of Ford Motor Company. It deserves nothing less ... (more >>)
I'll Paint 'Em For Less. Ford has released a price/option list for the mid-engined Ford GT. Racing stripes cost $4,350 extra! Painted brake calipers are a $653 option.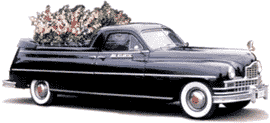 Rest In Peace: Kelly Freas, an influential illustrator who produced sleek, stirring images for science fiction and fantasy books and helped shape the image of Mad magazine mascot Alfred E. Newman, has died at 82.
His science fiction and fantasy illustrations included emotive images of pained robots, insidious aliens and exotic women. Freas illustrated the covers or the pages of books by writers including Isaac Asimov, Robert Heinlein, Arthur C. Clarke, A.E. Van Vogt, Poul Anderson and Frederik Pohl. in the 1950s, he spent seven years as the main cover artist of Mad magazine, creating stylishly detailed portraits and helping to make famous Alfred E. Newman, the freckled, front-tooth-deprived purveyor of the phrase, "What? Me Worry?"
Freas started as a commercial illustrator, but soon moved on to science fiction and fantasy illustrations. He illustrated publications including Analog and Weird Tales or Astounding Science Fiction. Freas received 11 Hugo awards for his achievements in science fiction.
The Other Side of Bangladesh: This already poverty-stricken country suffered devastating losses of life after the December tsunami. But not everyone is suffering.
The New York Post's Page Six reported that "Tauhidul Chandury of Bangladesh ... ran up a $129,626 tab at Scores (a NY club) in just seven hours. We never would have found out, but he went to court rather than pay the credit card bill, claiming the East Side mammary mecca took advantage of his drunkenness. And when it was revealed that his wife was a diplomat who represented Bangladesh, one of the poorest nations on the planet, at the United Nations, she quickly lost her job and was ordered to return home."
One wonders how much of a tsunami warning system could be purchased for $129,626? This incident is indicative of the corruption of Bangladesh and a culture at the U.N. which tolerates/accepts/encourages such activities. And the ordinary people of the Third World suffer because of it.
We Want Uncle Sugar! Jackie Mason and Raoul Felder write in The American Spectator: "After the horror of the tsunami, Israel immediately leapt into a rescue mode. While most nations were dithering about and making promises, or promises to make promises, Israel sent 82 tons of medical and humanitarian aid to Sri Lanka, as well as a planeload of blood products and an additional 40 tons of supplies from private donors.
On December 27 a medical team specializing in rescue work, trauma, and pediatrics was dispatched carrying medicine and baby food. A rescue-and-recovery team with specialized equipment for identifying bodies was sent, and a Health Ministry group of doctors, nurses, and members of IDF arrived in Thailand. ... The world media, along with a substantial portion of the American media, have a vested interest in continuing to cast Israel as a Palestinian murdering villain.
In addition to the help it has already sent, Israel offered to send 150 experienced military medics and support personnel to set up field hospitals. It was then that a light went off in the collective heads of at least three of the recipient nations, Sri Lanka, Indonesia, and India. These countries with substantial Muslim populations apparently realized that in their condition, they would not be able to bite the hand that fed them, and, therefore, either turned down or did not respond to offers of Israeli aid. They much prefer to have Uncle Sugar pay the bills. And believe it or not, when President Bush suggested an amount that they did not feel to be sufficient, they had their public relations machines - the same ones whose usual bill of fare is a panoply of propaganda condemning the United States, its foreign policy, and anything remotely connected with Israel - complain that President Bush was a cheapskate and that we should throw more money at them.
It should not pass without notice that fellow Muslim nations, particularly the oil-rich Arab states, who are among the richest in the world in per capita income, yet their contributions to tsunami relief are amongst the lowest."
Frying Into A Rage: A Burger King customer berated the employees and nearly hit one of them with his truck after the clerk at the drive-thru window told him they were out of french fries.
---
Wednesday January 5, 2005
Toyota Avalon: The 2005 model is completely redesigned. I like it. The styling is unexciting but the car is powerful, roomy and offers a lot of features. We may buy one; it is on our 'short list' to replace our aging 1996 Lincoln Continental ... which developed a sudden case of perpetually-running thermostatic fan Tuesday afternoon.

An Omen, perhaps. We'll test drive the Avalon in the Spring.
Co-Dependent: CarConnection.com evaluates the new Chevrolet Cobalt SS: "The concept of a truly "American" small car may finally be dead. Take Chevy's new supercharged Cobalt SS. Its tires come from Italy, the 18-inch wheels from Taiwan, the engine is screwed together in Germany, the transmission is shared with a Swedish Saab, the "Delta" platform upon which it is built also underpins Opels and Saturns, and the whole thing is assembled in the same Lordstown, Ohio plant that once built the Vega. The Cobalt SS is American mostly in the sense that, like American culture in general, it shamelessly steals from other cultures to make itself better."
And, at $21,995 base, it ain't exactly cheap.
Bad Omen: AutoNews.com has reported that Finbarr O'Neill has quit Mitsubishi. Finbarr, who is credited with saving Hyundai has been the CEO of Mitsubishi for about a year. He jumped ship immediately to become the CEO of a dealership software company called Reynolds and Reynolds.
With Finnbar bailing, it's probably a sign that Mitsubishi is at death's door. The move comes after the resignations of Mitsubishi Marketing Senior V.P. Ian Beavis in November and Director of Advertising Diane Hong in December. (hat tip - AutoBlog)
Bad Motors: Blue Oval News reports that Ford Motor Company has instructed assembly plants to stop shipping certain 2005 model year vehicles because they can contain defective 4.6L or 5.4L engines.
The products that can contain the defective engines include the 2005 Ford Mustang GT, 2005 F-Series, 2005 F-Series Super Duty, Ford Expedition and Lincoln Navigator.
Good Sandra ... and Michael: The American Red Cross said it received a $1 million donation from Sandra Bullock for tsunami relief in South Asia and East Africa. The star of 'Miss Congeniality' and 'Speed' previously donated $1 million to the Red Cross in the aftermath of the Sept. 11 attacks. But Ferrari F1 driver, Michael Schumacher, has put everyone to shame with a contribution of some $10 million.
Hot Dog Wagon Serves Many Kinds of Weiners: A pair of Long Island New York hot dog vendors allegedly did their job with a little too much relish, selling sex along with hot sausage inside their tan camper.
"We've never seen hot dogs mixed with prostitution before," said the commanding officer of Nassau County's narcotics/vice squads. "It's out there, the most unusual thing I've seen."
This was a difficult story for me to post - there were soooooo many headline possibilities ... "Hot Dog!" ... something about "buns", "foot-longs", "toppings", "get yer dogs steamed", etc.
Pig Out. A mural of pink pigs painted on the side of a barbecue restaurant is apparently too spicy for officials in this city's historic district. The mural features five pink pigs on a white concrete wall, unwilling participants in meal preparation.
One is ready to be grilled as another attempts escape in a hot air balloon. The remaining three appear to be to enticing drivers to stop.
The city objected to the painting because it doesn't fit the district's landscape and because naked pigs might lead to paintings of naked people.
World's Shortest Joke: "A dyslexic man walks into a bra..." And then there's the dyslexic, agnostic insomniac who stayed awake all night, wondering if there really is a dog.
---
Tuesday January 4, 2005
Malcolm In The Middle: The notorious Malcolm Bricklin is back. He announced an agreement between his New York-based Visionary Vehicles LLC and Chery Automobile Co., one of the fastest-growing players in the fledgling Chinese auto industry. The deal marks a stunning return to the industry for the 65-year-old Bricklin. I have a lot to say about ol' Malcolm ... (more >>>)
Losermobile Prediction: I hate to predict the failure of a new model without even seeing it in person but the new Chevy HHR has all the marks of a loser. The HHR - which stands for Heritage High Roof (Is that a dumb designation or what!?) debuts Wednesday at the LA Auto Show.
The Detroit News says that it "resembles a cross between a 1949 Chevrolet Suburban and the current Chevy SSR roadster. Joe Barker, sales analyst for consultants CSM Worldwide, admires the HHR's styling, but he questions GM's decision to give it a retro design four years after the PT Cruiser's entry into the marketplace."
No kidding. The base HHR is expected to sell for about $23,000, while you can buy an entry-level PT Cruiser for $10,000 less! Even the PT Turbo is cheaper than the HHR.
The Chevy SSR, which is a big failure in the market because it is priced waaay too high, at least has clever retro-styling. The HHR lacks the powerdome hood, the round headlights and other touches which might characterize it as a contemporary interpretation of the '49 Suburban. It doesn't look retro - just dumb.
Furthermore, unlike - say - the Thunderbird, there's no cult following for the original 'classic' vehicle. "HHR runs the risk of being a copycat product," said Joe Barker. "It likely would have greater market potential if its styling was more conventional."
Yep, it's a loser all right - any way you look at it.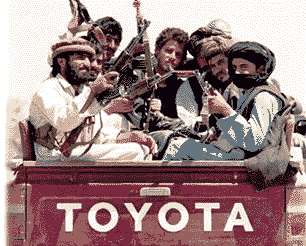 The Toyota Taliban: From Winds of Change: "I've often seen the term "Toyota Taliban" used to refer to non-governmental 'aid' agencies and U.N. bureaucrats. I've even used it myself on occasion. What does it mean, and where does it come from? Here's an excerpt from U.N. Insider's June 04 summary:
In a letter from Kabul, British satirical biweekly Private Eye reported on the private life of international community members in the Afghan capital. It claims that only 16% of the $4.5 billion pledged at the Tokyo conference goes to the government; the rest in the hands of NGO; a term used to refer to "the well heeled" international staff of the U.N. and aid organizations who reportedly spend time shopping for wide screen tvs and laptops at a new Sony Centre. "Most other shopkeepers only ever glimpse them as they are driven past in one of the $75,000 Toyota Landcruisers most of them owned by the U.N. - known here as the Toyota Taliban," the letter says, adding that the cruisers ferried them from office to restaurant to guest house.
It continues: "There's a swimming pool at a central U.N. compound and regular parties and barbecues. Memories of a party held by the DHL courier group last November, when an opium pipe was passed around by U.N. staff, are still fresh. If boredom strikes, aid workers might also sign up for Tai Chi and Argentinean tango lessons."
Useless UN: From Diplomad: "Well, we're heading into Day 7 of the Asian quake/tsunami crisis. And the UN relief effort? Nowhere to be seen except at some meetings and on CNN and BBC as talking heads. In this corner of the Far Abroad, it's Yanks and Aussies doing the hard, sweaty work of saving lives.
Check out this interview (on the UN's official website) with SecGen Annan and Under SecGen Egeland ... Mr. Egeland: Our main problems now are in northern Sumatra and Aceh. ... In Aceh, today 50 trucks of relief supplies are arriving. ... Tomorrow, we will have eight full airplanes arriving. I discussed today with Washington whether we can draw on some assets on their side, after consultations with the Indonesian Government, to set up what we call an "air-freight handling centre" in Aceh.
Tomorrow, we will have to set up a camp for relief workers – 90 of them – which is fully self-contained, with kitchen, food, lodging, everything, because they have nowhere to stay and we don't want them to be an additional burden on the people there.
I provided this to some USAID colleagues working in Indonesia and their heads nearly exploded. The first paragraph is quite simply a lie. The UN is taking credit for things that hard-working, street savvy USAID folks have done. It was USAID working with their amazing network of local contacts who scrounged up trucks, drivers, and fuel; organized the convoy and sent it off to deliver critical supplies. A UN "air-freight handling centre" in Aceh? Bull! It's the Aussies and the Yanks who are running the air ops into Aceh. We have people working and sleeping on the tarmac in Aceh, surrounded by bugs, mud, stench and death, who every day bring in the US and Aussie C-130s and the US choppers; unload, load, send them off. We have no fancy aid workers' retreat -- notice the priorities of the UN? People are dying and what's the first thing the UN wants to do? Set up "a camp for relief workers" one that would be "fully self-contained, with kitchen, food, lodging, everything."
The UN is a sham." (hat tip: Power Line)
---
Monday January 3, 2005
Whither NASCAR? In the early years of NASCAR stock car racing, cars looked like the models you saw on the road. Except for the missing hubcaps and the numbers on the doors. The first official Strictly Stock Division race had nine makes participate, including Buick, Cadillac, Chrysler, Ford, Hudson, Kaiser, Lincoln, Mercury and Oldsmobile.
In some instances, rental cars were actually used as race cars. Of course, no one told Hertz about it. The participating cars always "looked" stock even if they had been tweaked by the likes of Holman-Moody or Smokey Yunick.
By the 1980s, cars no longer looked like street machines. They were rolling billboards for corporate sponsors. The multi-colored sponsor decals covered up the styling of the cars. Which was just as well because they were 'template' machines - aerodynamically-efficient, cartoon parodies of the lines of the production vehicles they were supposed to emulate.
So what should become of NASCAR? ... (more >>>)
Playing The Right Song: Every luncheonette and diner used to have a Wall-O-Matic Jukebox Selector at each table. Feed it a nickel and hear your favorite song. These devices always worked, too. Punch up "Kansas City" and you never got "Mr. Blue."
Maybe they should use these things for voting. E-7 is Danny and the Juniors singing "At The Hop." B-9 is "Dino Rossi for Governor."
Speaking of which, there's good information about the recent Washington State "election" here. And, if you're unhappy and want a do-over, you can sign a petition here.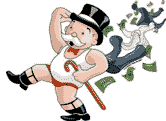 Stock Market Predictions from Business Week: "Standard & Poor's 500-stock index and the Dow Jones industrial average will post gains of 15% or better, as a lot will go right in the world, and many of the things we worry about going wrong will continue to not happen."
And from Sam Stovall, Standard & Poor's chief investment strategist: "We see the S&P 500 ending 2005 at 1,300, an 8.3 percent gain from the 1,200 we project for year-end 2004. Add in a 1.7 percent dividend yield, and our projected total return is just slightly below the 11.2 percent annual average posted by the "500" since the end of 1969."
Administrative Note: I have compiled and posted expanded blog essays in a series of articles under the umbrella of 'Greatest Hits.'
Many have additional and/or updated information and new photos. Enjoy.
Crude But Effective: AutoExtremist defines "percussive maintenance" as "the fine art of whacking the crap out of an electronic device to get it to work again."