Thursday August 27, 2009
Trip Report: We have completed a wonderful 12-day driving trip to Montana, putting over 2,300 miles on our car. There were spectacular sights to see and we returned home with lots of great memories - visual, culinary and historic.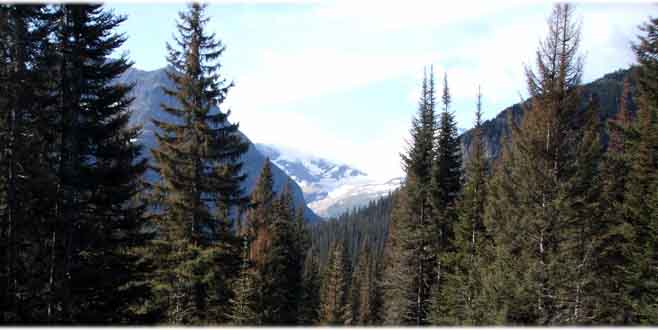 Trip Photos can be found here.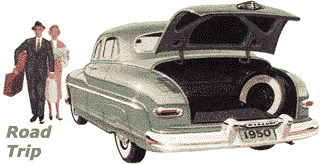 Car Sightings: Spotted many old cars, especially on weekends as they ambled along to various car shows and meets. Saw lots of street rods, including a '48 Ford in Spokane and a '47 Chevy Panel rat rod stopped at a light in Post Falls, ID. Spotted an Austin Healey 3000 on I-90 eastbound out of Ritzville, WA. (Ritzville isn't very ritzy although it does have a Top Hat Motel.)
Glimpsed a probable '39 Ford Tudor project car (no hood, no grille) screaming down I-90 near Coeur d'Alene, ID on a chilly Saturday morning. Saw a couple of '34 Fords cruising the streets of Missoula.
While traveling, I spotted a half dozen new Camaros in various colors, including silver, yellow & black, tomato red and blue. Say what you will about its looks, at least the Camaro's lines are true to those of the concept car. During our entire trip, I spotted only one other LS 460 - a black example - on Montana's I-15.
Subaru seemed to be the most popular car brand in Montana - mostly in Outback form. I also saw a lot of Camrys, Avalons and Hyundais. And, inexplicably, 10 year-old white Buick sedans.
In Great Falls, we spotted an old cowboy with a shock of white hair pouring out from under his hat, standing next to a green '74 (or so) Caddy Eldorado with a Continental kit on the back and chrome bull horns on the nose. In Walla Walla, I saw a pale yellow '66 Cadillac convertible gliding down the street. Gorgeous.
Dining: We had many spectacular meals during our stay. Worthy of special mention are The Windseeker (The Dalles, OR), Whitehouse-Crawford and T. Maccarone's (both of Walla Walla, WA), Tomato Street (Spokane, WA), Nate's New York Pizza (Post Falls, ID), The Breaks Ale House and Grill and Dante's Creative Cuisine (both of Great Falls, MT), Capers (Kalispell, MT) and Lucca's (Helena, MT). You'll find all my restaurant reviews here.
Traveling In Style: This was the first long distance trip in our Lexus LS 460. The car was a joy to drive. It rode and handled well. The car averaged 23.8 mpg on the trip. On the final leg, which was mostly Interstate travel at 75 mph, it posted 26.4 mpg. Not bad for a big V8-engined sedan.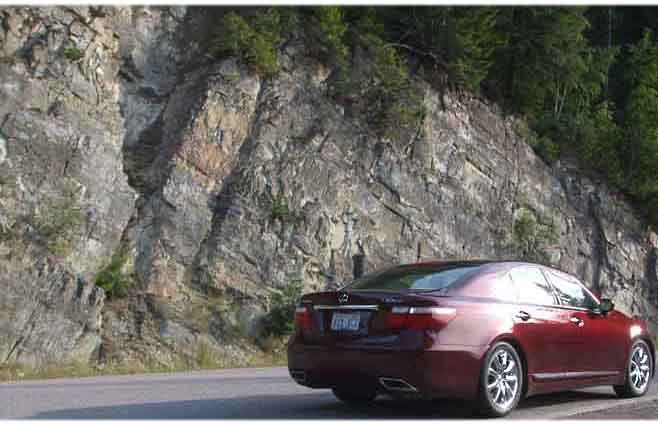 On Route 2, near Glacier National Park, there are few opportunities for passing. When they came along, I took 'em. The Lexus' jackrabbit acceleration from 50 mph scared the hell out of geezers in Buicks and Camrys. Wheeeee. That eight-speed tranny does the trick; it downshifts quickly to just the right gear.
Montana now has a posted speed limit of 75 on rural interstates but most folks cruise along at 85 or so. On a smooth, straight, lonely stretch of Montana's I-15 (where the skies are blue and the clouds look like the opening sequence of The Simpsons) not too far from the Canadian border, I eased the throttle down slowly until the Lexus reached 120 mph. In terms of ride and stability, it felt no different than 50 mph - just a whisper of wind noise and fence posts flashing by too quickly gave the speed away. I love this car.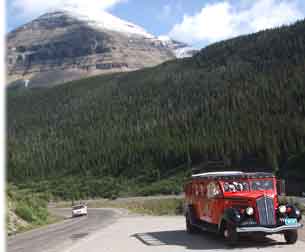 The Tour: The pinnacle of the trip was traveling the Going-to-the-Sun Road in Glacier National Park in northwestern Montana. Appropriately, we toured the park in a 1937 White Motor Coach.
The bus holds 17 people (four rows of four across plus one next to the driver) and has a rollback canvas roof which provides spectacular views. The White Motor Company built these 25-foot-long vehicles from 1936 to 1939; the Glacier Park ones are painted "ripe mountain ash berry red."
Originally powered by a straight-six truck motor with a four-speed manual transmission, the buses were once driven by 'Jammers', college students who would jam the non-synchro tranny into lower gears during steep climbs. Our driver, Bill - a fine tour guide, was a Jammer as a student back in '61.
The buses were refurbished in 2000 and now have Ford V-8 engines with automatic transmissions and are powered by LPG. The restored, upgraded bodies now ride on a modified Ford E-450 chassis. But the seats and dimensions are mostly original and after eight-plus hours of touring, you're ready for a couple of Aleves and a cocktail or two. There's not much legroom and the four across seats were designed for half-starved Depression-era Joads. Not Supersized Boomers. Thank goodness none of our seatmates were wearing jodhpurs.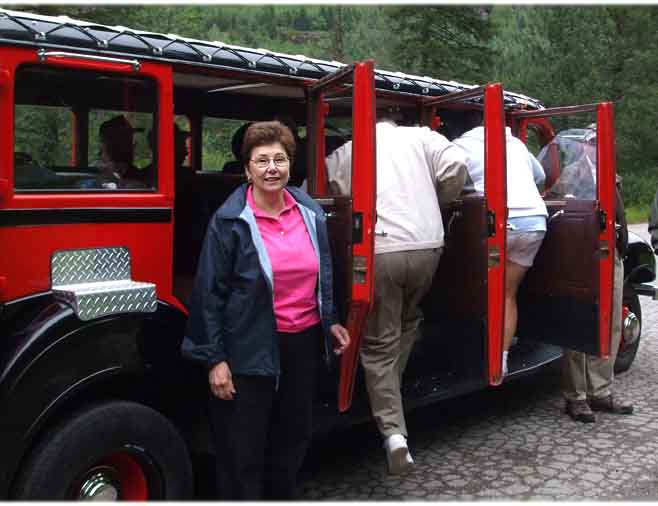 We chose the 'Crown of the Continent Tour' which began in the cedar and hemlock forests of the McDonald Valley. The sun played hide-and-seek as we climbed the Continental Divide. We traveled up a glacially formed arête to the Logan Pass summit, which - unfortunately was cold (32 degrees) and socked in with fog during our visit. We headed down through the sunny and scenic St. Mary Valley and out to the prairies of Big Sky Country, then into the impressive Swiftcurrent Valley.
We lunched on Buffalo burgers at the Many Glacier Hotel's Ptarmigan Dining Room. (The hotel was beautiful with an outstanding view; the burgers were dry and mediocre.) Then we headed back on the bus. The return trip was better because it warmed up and the sun came out for good.

Grape Expectations: On the way back home, we spent two nights in Walla Walla. It is a very nice little town in the southeast part of Washington state with tree-shaded streets, surrounded by verdant rolling hills, wheat fields and a well-kept downtown with lots of interesting old buildings. But our objective was to visit wineries and purchase drinkables.
Washington State is the second-biggest producer of wine in the country (after California, of course). We returned with 20 bottles of liquefied grape. We visited about a dozen wineries (out of 100+), including Dunham Cellars. We were hoping to revisit Port, the winery's three-legged canine mascot. Sadly, he died last year. We bought two bottles of Dunham's Three-Legged Red in his memory; the dog's picture is on the label.
For us, the best place was the Cougar Crest Estate Winery which had moved since our last visit. We purchased rosé and Cabernet Franc at the nice new digs west of town. We also visited Reininger (good Merlot), L'Ecole No. 41 (located in an old schoolhouse in Lowden; we purchased a couple bottles of Recess Red), Waterbrook Winery (meh), Amavi Cellars, Whitman Cellars, Dama (my wife bought a bottle of Cowgirl Cabernet), Seven Hills Winery, Chateau Rollat (good rosé and Cabernet - but expensive and the downtown tasting room is under construction and dumpy) and Isenhauer (nice folks, bought a bottle of 2007 Red Paintbrush).
Random Observations/Experiences:
• The Carousel for Missoula is open every day in Caras Park. The majestic merry-go-round is a popular kiddie ride but spins surprisingly fast. In Missoula, there is a big street fair every Saturday which really jams traffic in the little college town. Leftover hippies are still living here and they come out of the woodwork for the Saturday market.
• The buffalo really do roam in Montana; we spotted several herds of the stately, grunting beasts during our travels.
• In Whitefish, MT - an otherwise pretentious, yuppified little burg, there is a nicely-restored Great Northern train depot. Even now, it is the busiest station stop for the Amtrak Empire Builder in Montana. On display outside is a restored 1951 'bruck' - a Kenworth bus/truck combo that GN used to replace its doodlebug self-propelled railcars. It had extra ground clearance to handle rutted and/or snowy roads. Great Northern's loco #181, one of only seven built, was also exhibited outside. This 1,000 hp road switcher diesel-electric locomotive was built in 1942 by EMD.
•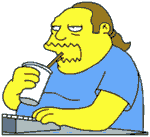 Whenever we visit an unfamiliar place, we sign up for the town tour. These one to two-hour city excursions offer a usually glimpse of the best that the area has to offer. The Helena Last Chance Tour Train, for example, was a delight.
On the other hand, the Great Falls tour trolley was not - overpriced, dull and unprofessional - the worst city tour .... ever (as Comic Book Guy would have said). I can only hope that our $40 will be used by the owner/operator/bozo to save up for nasal surgery - so that he is no longer noisily sucking back mucus after every third sentence. Did we really need to see all those payday loan stores and pawn shops (including one named Pawnarama)? Or a couple of pet goats outside a KOA?
• Flathead Lake is huge and entrancing, especially when the sun is shining and the lake is blue and sparkly. It is the second largest freshwater lake in the U.S.
• We experienced more bad drivers in Flathead County MT than anywhere else. Whenever I encounter a bad driver henceforth, I will refer to him/her as a 'F**king Flathead'.
• Saw at least four miles of empty yellow, low-slung TTX railcars, the ones used to carry double-stack cargo containers, stored on idle track along I-15 between Great Falls and Helena, MT. Yes, there is a recession.
• The most disgusting thing we witnessed was two gay Harley bikers making out during breakfast at our Great Falls hotel. Get a room. Or keep it in your saddlebags.
• Every major road in Montana, including the Going-to-the-Sun Road was under construction, with inherent traffic delays and the usual lava stream of red brake lights.
• Kalispell - named 'Best Mountain Town In America' by Mountain Sports & Living (a magazine I've never heard of) - had a charming, old-timey downtown area and friendly people. The historic, architecturally Flathead County Courthouse, built in 1903 is now located in the middle of the main road. Traffic must detour around it using a makeshift not-quite traffic circle.
• Cut Bank is a small, dreary town nestled between two large wrecking yards. It is home to the most unfriendly McDonald's in America, staffed by surly fat chicks. (FYI: The McD's in Paulsbo, WA is a close runner-up. Along with the one on Bristol Pike in Bensalem, PA. It's a shame because McD's are usually pretty decent.)
• Helena is the capital city of the U.S. state of Montana; the town is dominated by the spires of the impressive neo-Gothic Catholic Cathedral. The first Catholic services were held at the Cathedral of St. Helena in 1914. The town has a lot of charm and really does have a street named Last Chance Gulch. The ice cream parlor at the Helena's Great Northern Carousel offers delightfully good homemade ice cream. And sundaes. The merry-go-round is enchanting with sculpted horses, bunnies, otters, salmon, a bear and a triceratops - all of which have saddles so kids can ride them. Triceratops were once residents of Montana - 65 million years ago.
• We saw a lot of wind farms in Montana, Washington and Oregon during out trip. There's a large one just east of Cut Bank.
• We had never been to a Cabela's before. We were blown away by the place - guns, rifles, camping stuff, ghillie suits suitable for a Sasquatch Halloween costume. There were engaging displays of taxidermied animals in their natural settings - including a mountain in the middle of the store. A huge aquarium was full of trout and salmon. A yellow bush plane hung from the ceiling. We were sucked in, signing up for a Cabela's credit card at the Post Falls, Idaho location. They wooed us with free hats - well-made, dark green ones. (Although I wore my Miracle Hat during most of the trip.)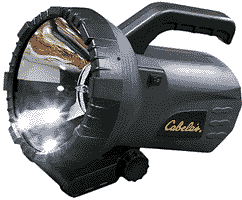 I almost joined the NRA which was recruiting folks just outside the store.
I purchased a giant 10 million candlepower rechargable portable spotlight with a nine-inch diameter face. (My wife wouldn't let me buy the 20 mm candlepower one.) I later tested it out by shining it on the wall of our hotel room and found that the insulation between the walls was pink Owens-Corning Fiberglas and the Tyvek was slightly wrinkled.
A sign at the entrance to Cabela's cafeteria urged patrons to Eat Like A Hunter. We did, consuming half-pound Bison cheeseburgers. They were awesome and juicy - best burgers of the entire trip. We passed on the ostrich, wild boar and elk sandwiches, the safari salad and the venison bratwurst.
• The Comfort Inn & Suites in Walla Walla is a decent-enough facility but is staffed by the unfriendliest and most stolid people on earth. This was quite a contrast with most of our other hotel experiences. The economy is down and we found that motel people were happy to enjoy our custom. From the time I began planning the trip until the time I actually made reservations (60 days or so), quoted hotel prices had dropped 10-15%.
The folks at the Kalispell Hampton Inn were the nicest by far.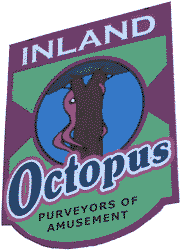 • The Inland Octopus of Walla Walla, WA may be the world's best little toy store. Owner Bob Catsiff is cheerful, helpful and obviously loves his business. The sign accurately describes the business as 'Purveyors of Amusement'.
We buy lots of things every time we go there; it is full of whimsical, neat stuff, including lithographed tin toys which are both enthralling yet sharp enough to slash the throats of screaming, ill-behaved toddlers. Just like toys used to be. (This is why children were polite and circumspect in the 1950s.)
• Did you ever have lunch at a cafe, then find a front page story in the next day's newspaper about the owner being indicted (for stealing from his former employers - a restaurant in another town)? Well, it happened to us in Walla Walla.
• After multiple hotel Business Center experiences with PCs, it was a delight to return home to my old-but-trusty Mac. I was so sick of "Internet Explorer needs to close now. Do you wish to send a report?" Thankfully, a couple of hotel PCs had Firefox browsers installed. (permalink)
---
---
Monday August 10, 2009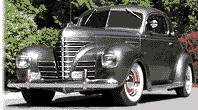 iDrive: After a week of cloudy weather, the sun showed itself this morning, so I took a ride in the Plymouth and admired the beautiful summer-blue sky.
Car Sighting: I spotted my first new Camaro last week - a silver one. The car looked OK but was just like the photographs I've seen. No better, no worse. No surprises. Unlike the Mustang which looks better in person and the Challenger which looks worse.
One-Off: Jalopnik has posted photos of the one-of-a-kind 1932 Bucciali TAV - a massive V-12-powered front-wheel-drive French car, with Saoutchik coachwork.
I have a 1:43 scale model of this car which goes on my O-gauge train layout each year. Go here and scroll down to the fifth photo to see a rear view of the Bucciali with its distinctive chromed double spares at the back.
Geezermobile: Dan Neil has tested the new 2010 Buick LaCrosse and judged it far superior to the Lexus ES350. The car's not perfect, though. Dan remarked, "I can't quite fathom the headlight design, which looks like Dame Edna's spectacles, and the odd chamfering of the hood, a design detail that doesn't seem to go anywhere. And the car is about 250 pounds heavier than it ought to be, a fact that robs the LaCrosse of some much-needed verve and agility."
Dan noted that not only is Buick "synonymous with 'Matlock'-watching crapulence (the average age of a Buick buyer is 68); the parent company, GM, is feeling the unaccustomed disdain of Red State America on account of the Obama administration's $83.5-billion auto-industry bailout.
I have not got a single e-mail from anyone saying, "You know, I love and support my country, so I'm going to buy a GM car." But I've got maybe 100 e-mails that say, in effect, "I'll never buy a GM car until the government gets out of the car business.""
Therein lies the problem: Over the years, Buick has become a geezer brand. And old people don't like uncertainty. They want neither mediocre reliability (based on Consumer Reports' data) nor financial shakiness of the parent car company. That's why you see so many oldsters driving Toyotas, Lexi, Hondas, Hyundais and - sometimes - even Fords.
Mouseketeer Roll Call; Count Off Now! Last Thursday evening, my wife and I attended a lecture in downtown Vancouver given by Cubby O'Brien, the former Mouseketeer. It was great fun; Cubby showed a lot of slides and video clips from his Mickey Mouse Club days. He shared many great stories and clearly has enjoyed his lifetime in show business.

After his Disney days, O'Brien appeared on The Lawrence Welk Show for three years. He related a funny tale about Welk, famous for his malapropisms, entertaining at a Shriners convention and being asked to introduce the newly-elected Imperial Potentate. Welk proudly did so, referring to the gentleman as "your new Imperial Totem Pole."
A professional drummer, Cubby later was with The Carpenters (1972-79), Juliet Prowse, Ann Margaret and Bernadette Peters. He worked on The Carol Burnett Show - for six years. He later did stints with Joel Grey, Debbie Reynolds, Shirley MacLaine, Nancy Sinatra and Andy Williams. (I believe I saw him in Joel Grey's exceptional show at the Fairmont Hotel's Venetian Room in the mid-1980s.)
In the '90s, O'Brien toured with the casts of 'West Side Story', 'Chicago' and 'Beauty and the Beast.' And performed in 'Annie Get Your Gun' and 'The Producers' on Broadway.
Cubby, now 63, lives in Amboy, WA about 10 miles north of where we live. The small Clark County Historical Museum lecture hall was packed to overflowing for this one-time event. The metal folding chairs were uncomfortable, the room was too close and the ventilation inadequate for the crowd size but Cubby's memorable presentation was worth the minor inconvenience. (permalink)
Great Timing: The next day, I looked at The Onion, which carried the headline 'Legion Of Terra-Cotta Mouseketeers Found Beneath Disney World'. Yes, it made me laugh.
The report claims that a Disney World maintenance crew "performing routine electrical work below Cinderella Castle last week accidentally stumbled upon a mysterious underground chamber believed to contain more than 8,000 terra-cotta Mouseketeer statues dating back to 300 B.C." The news report notes that "very little is known about the early history of the Disney civilization."
"The statues were placed in what was once known as 'Roll Call' formation, no doubt a fearsome sight to any intruders who foolishly opposed their spunky will," said noted Disney historian Margaret Weaver, who has written several books on the elaborate burial practices of the ancient Imagineers.
Health Solutions: Karl Denninger has proposed an interesting and well thought-out five-point plan for fixing health care. I had already posted a plan of my own here. Combining the two could be awesome.
Health care costs would drop even more with tort reform, which would substantially lower malpractice premiums. Unreasonable consumer expectations must be lowered as well. Zach Krajacic, writing in the Christian Science Monitor, has compared health insurance to car insurance, noting, "If insurance paid for every oil change and engine failure, we'd have an autocare crisis, too." (permalink)
Maybe This Explains Why Michael Jackson Is Dead: Mark Perry has posted a chart, showing the acceptance rates for whites, Asians and blacks to U.S. medical schools based on different combinations of undergraduate grade point averages (GPA) and scores on the Medical College Admission Test (MCAT).
Being black significantly increases the chances of being accepted to medical school compared to being Asian or white, when all three groups of applicants have the same GPA and test scores.
In the bottom rung of GPAs (2.00-2.19), the acceptance rate for whites and Asians was zero. For blacks, 100%. Scary.
Nevertheless, I still like Dr. Hibbert on The Simpsons. (permalink)
For The Children: In local news - at this year's county fair, there's a kiddie ride which used to be at Michael Jackson's Neverland Ranch. It's official name is 'The Lolly Swing' but some wags have nicknamed it 'The Groper'.
I Knew The Guy Was Jacked Up: Did you ever think that pitchman Billy Mays was a little too enthusiastic about the products he was pitching? According to TMZ, his autopsy report concludes that coke contributed to Mays' sudden death in June. The report lists "cocaine use" as a contributing cause of death - along with hypertensive and arteriosclerotic heart disease.
Official documents show the following drugs were in Mays' system: Vicodin, oxycodone (OxyContin), Xanax, Valium and anti-anxiety medication. And booze.
No Oxi-Clean or Orange Glo, though.
Ben Stein's Day Off: The New York Times has fired Ben Stein as a Sunday business columnist for violating ethics guidelines. His undoing was his appearance in television ads for a scuzzy "free" credit product - described as "a bait-and-switch operation, which offers a free credit score but charges an outrageous $30 per month to see the credit report behind the score. As Reuters blogger Felix Salmon pointed out, consumers can get a free online report under federal law."
Ben Stein is like a crazy friend who is sometimes lovable, sometimes scary smart and sometimes just plain nuts. Many people liked his Clear Eyes commercials; I found them annoying. But I got a kick out of his 'Win Ben Stein's Money' game show.
Although he bills himself as an economist and offers financial advice, he couldn't have been more wrong when he scoffed at the subprime mortgage crisis in early 2007, commenting that the problem would "blow over and the people who buy now, in due time, will be glad they did," the economy was "still very strong," and the "smart money" was "now trying to buy - not sell - as much distressed merchandise" in mortgages as possible.
On the other hand, when the whole world seemed to be in love with Barack (especially the mainstream media), Stein compared Obama's campaign rally at Invesco Field to Adolf Hitler's Nazi rallies at Nuremberg. At the time, people were shocked. Now we all know better.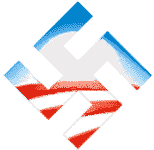 In these New Times, when we witness the concerned elderly being labeled "brownshirt extremists" at town hall meetings, the hiring of Black Panthers to keep order at polling places within the Fatherland and the demand that fishy remarks be reported to Ze Proper Authorities - die korrekten Behörden, wenn Sie bitte, we realize that crazy old Ben was ahead of the curve on Barack Obama.
Candidate Obama promised "change" - a revolution. Consider this: "A revolution has three main objectives. First of all, it is a matter of breaking down the partitions between classes, so as to enable every man to rise. Secondly, it is a matter of creating a standard of living such that the poorest would be assured of a decent existence. Finally, it is a matter of acting in such a way that the benefits of civilization would become common property." Those words were written many years ago by Adolf Hitler.
But ... don't worry. The New Reich will seem more tolerable than the last one, because - this time around - there are nicer cars, iPods, shea butter and Kim Kardashian plus her substantial heinie to distract us from the growing unpleasantness.

Quote Of The Day is from Benjamin Franklin: "It is better to skip supper and go to bed hungry than it is to wake up in debt."
---
Friday August 7, 2009
World On Wheels: John Chuckman has posted a set of images from his Topps 'World on Wheels' card collection.
These cards, similar to baseball cards, were packed in Topps bubble gum packs. Introduced in 1953 with 160 different cards, the artwork was dazzling to my 10 year-old eyes. Vehicle specifications were printed on the back of each card. I collected quite a few but never acquired the full set. Like so many childhood things, they were lost long ago.
These are my favorites: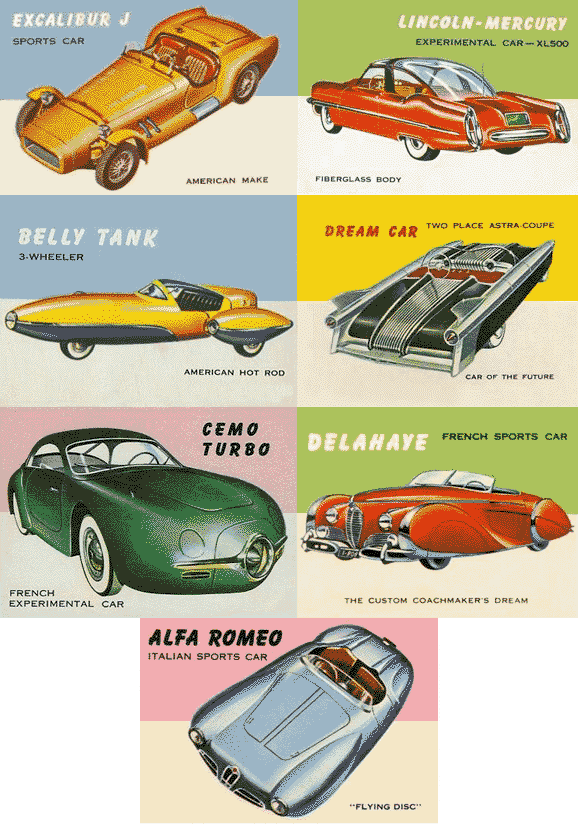 It was a joy to see them again. Thanks, John. (permalink)
PS: More on the experimental Lincoln Mercury XL500 can be found here.
Some Things Never Change: Writing in TTAC, Paul Niedermeyer described Eugene Oregon as a "terminally PC town of bikes, brooms, old Volvos" and I might add - from my observations during the late 1970s and the '80s - old beater air-cooled Beetles and Microbuses.
Thirty years later, the Eugene Saturday Market offers the same remarkable odor: human B.O. mixed with the wafting smells of Afghani shishkabob, vegetarian tamales, quabili pilaf, tofu pate, veggie wontons, bolani, fried rice dishes, vegetable thripthi and pan-fried noodles from the food stands.
Aging hippies still browse the carved eggs, healing mandalas, magic wands, fantasy illustrations, rawhide drums, hemp art, zodiac-related crapola, guide stones and talismans offered in various vendor booths.
Peace out, man. (permalink)
If It Ain't Broke: Ten reasons American health care is better than you've been told are listed here. The short article is full of impressive statistics. Excerpt: "Breast cancer mortality is 52% higher in Germany than in the United States and 88% higher in the United Kingdom. Prostate cancer mortality is 604% higher in the United Kingdom and 457% higher in Norway." (permalink)
Phoning It In: My congressman, U.S. Rep. Brian Baird, has canceled all town hall meetings. Instead of appearing in person, where "extremists" would have "the chance to shout and make YouTube videos," Baird said he's holding what he euphemistically calls "telephone town halls" instead - to selected people who have publicly-listed land-line phones.
Baird's office says the exact date and time will be kept secret from the public. "If you answer your landline, an automated message will ask whether you have a question for your Congressman. Press *3, and you'll be asked your location and the subject of your question. Sitting at his own telephone at an as-yet-undisclosed location, Baird then will choose a name based on its location and the topic. After the call is over, the recording will be posted on his website."
As Publisher's Clearing House used to say, "You may be a winner!"
Baird said he's using the new system because he fears his political opponents may be planning "an ambush" to disrupt his meetings, using methods Baird compared to Nazism. "What we're seeing right now is close to Brown Shirt tactics," Baird, D-Vancouver (WA), said in a phone interview. "I mean that very seriously."
Hey, Baird. You work for us. We elected you. Our tax dollars are used to pay your salary, expenses, retirement program and health care benefits. When I voted, I didn't realize I was hiring a high-priced coward.
By the way, Mr. Baird recently billed the taxpayers tens of thousands of dollars for a vacation to the Galápagos Islands with his family. He said it was to "study the effects of climate change."
As far as I'm concerned, this guy's toast; he'll never get my vote again.
Howard Beale Resurrected: Our congressional betters are finding that their constituent meetings have gone terribly awry, marked by angry citizens who interrupt canned speeches and ask questions. In at least two cases (see above posting), congressmen have stopped holding town hall events.
Karl Denninger has written, "It would appear to this commentator that the Reps and Senators who feel "besieged" by their constituents in town hall meetings might have paid better attention in September and October when they were told by 300:1 margins not to pass the EESA/TARP bill.
Or when they were told repeatedly to not try to advance amnesty for illegal aliens and refuse to enforce our immigration laws. Or when they were told repeatedly to quit bailing out the irresponsible, looking the other way while the populace is looted systematically by those in the banking and other "coddled" industries.
There are a whole host of issues like this, and Congress seems to think (because it has gotten away with it for years) that ignoring the voters is not only acceptable, but is indeed a good idea."
Karl has reminded representatives "the entirety of our government serves at our pleasure, not the other way around." Amen.
Let's hope some of these elected officials get the message: We're mad as hell and we're not gonna take it anymore.
Meanwhile, Some Democrats Think They've Been Elected To The Reichstag: Organized thugs are beating up those who disagree with the Exalted Leader: "The Saint Louis Post-Dispatch is reporting that one of their own, reporter Jake Wagman, was one of six people arrested in connection with the beating of a conservative activist outside of a town hall forum held by Democrat Congressman Russ Carnah."
"Kenneth Gladney, a 38-year-old conservative activist from St. Louis, said he was attacked by some of those arrested as he handed out yellow flags with 'Don't Tread On Me' printed on them. He spoke to the Post-Dispatch from the emergency room of the St. John's Mercy Medical Center, where he said he was waiting to be treated for injuries to his knee, back, elbow, shoulder and face that he suffered in the attack. Gladney, who is black, said one of his attackers, also a black man, used a racial slur against him before the attack started."
"It just seems there's no freedom of speech without being attacked," Gladney said.
Many of the attackers were union goons from the Service Employees International Union (SEIU).
As to the "openness" of this town hall meeting, there were reports that there were many seats with "RSVP" signs on them. When one person sat down in this area, he was reportedly told to move "because he wasn't in the union."
I'm confused. Are the Black Panthers the new Waffen-SS? Is Acorn the next Hitler-Jugend? Have union thugs become today's Sturm Abteilung - brownshirts? I need Cliff Notes for all this.
More Town Hall Arrogance: In Georgia, a local doctor questioned Rep. David Scott (D) about health care. Scott became visibly agitated, lost his temper and accused the doctor of being an outside agitator who was trying to hijack the event.
This is just one more example of congressional haughtiness by representatives who don't realize that they serve at the pleasure of their constituents.
In Related News ... the White House, concerned that such protests are part of a Vast Right-Wing Conspiracy, has asked the public to rat out anyone expressing an opinion on a web site, in an e-mail or "in casual conversation" that the White House would classify as "fishy."
Calling all Thought Police.
One More Observation ... (before the Obama Thought Police arrive and haul me off to the Reeducation and Involuntary Euthanasia Center): The goons, the spies, the secret meetings, the threats - this is all the stuff liberals said would happen after Richard M. Nixon was elected.
Damn. Turns out they were right ... 40 years later.
Quote Of The Day is from Stewie Griffin: "When the world is mine, your death shall be quick and painless."
---
Wednesday August 5, 2009
Happy 66th Birthday to Me: On this historic day (birthday of Loni Anderson and the Elephant Man), my thoughts turn to lifespan issues. I have now lived longer than both my parents. If I calculate the lifespans of parents, grandparents and blood aunts & uncles, the median age of their deaths is 59. Sixteen people - all died from natural causes. Based on genetics, I should be six feet under.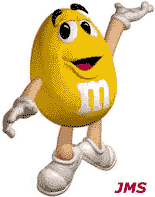 I attribute my relative longevity to M&M's Peanuts, which were introduced in 1954 - too late to help those who came before me - but sweet health food for me.
---
Tuesday August 4, 2009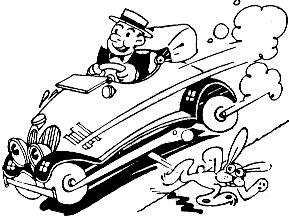 July Auto Sales Summary: It was a pretty decent month; vehicle sales hit a seasonally-adjusted annual rate of 11.2 million units - the highest since September '08.
Compared to July of last year, FoMoCo sales were up 2.3% overall - the first increase since 11/07; retail (non-fleet) sales were up 9%. Lincoln sales were down 24% (not nearly as bad as Cadillac's 53% decline). Lincoln actually outsold Cadillac in July (6,672 vs. 6,171) - the first time in about 12 years, I believe. Ford Fusion sales were up 66%.
General Motors sales were down 19%. Despite the fact that GM is discontinuing Pontiac, that brand's sales dropped only 13% to 22,000 units, compared to Buick's sales decline of 29% to 7100 units. Sometimes I wonder why GM is ditching Pontiac and keeping Buick.
Honda was off 17%; Toyota was down 11%. Avalon sales were 1,908 units, down 36% but still outselling the Ford Taurus (1,760), Buick LaCrosse (1,468) and Buick Lucerne (1,834). 874 Lexus LS models were sold (down 40%) - a better showing than the 'sporty' lower-priced Lexus GS (-58%); only 551 GS sales were completed in July.
Subaru sales increased a whopping 34%; Hyundai was up 12%. Volvo sales gained 26%; Chrysler was down 9%. Porsche sales were off 51%.
Quote Of The Day is from Milton Friedman: "If you put the federal government in charge of the Sahara Desert, in five years there'd be a shortage of sand."
---
Monday August 3, 2009
Cruisin': I'm not a big fan of organized cruise-ins but, since this one was in Battle Ground, we motored up there in the ol' 1939 Plymouth late Saturday afternoon.
It was too hot outside and there weren't many cars in attendance but I liked the pair of early '50s Sunbeams that made an appearance.
Note to Corvette owners: if you're going to bring your less-than-20 year-old unrestored Vette and you insist on popping the hood to show off your ordinary, plain-vanilla stock motor, at least clean the damn engine compartment first. Cleaning tip: if you take off your Members Only jacket before you begin, you won't get any (more) grease on it.
Mixed Emotions: That's the punchline to the old 1960s humorous definition of "what you feel when your mother-in-law drives off a cliff in your brand-new Cadillac." It's also how I feel about Cash For Clunkers. I'm appalled that this ill-thought-out government program ran out of money in only four days. According to the president, the program was supposed to last until October.
The government withdrew the package, either because it ran through its $1 billion of funding or because it was too complex for dealers to manage.
These are the same folks who want to control and manage your healthcare. (Just imagine them running out of vaccines, stents or chemo bags in four days.) This administration is posting one failure after another. The stimulus package that didn't stimulate, a cap and trade policy that is stalled in congress and an attempt at pro-union card check that - thankfully - got checked at the door. Welcome to the disorganized shoot-from-the-hip gang that is the Obama administration and Democratic congress.
Last Friday, the House of Representatives voted to provide an emergency $2 billion extra for the Cash For Clunkers program on Friday. The White House declared the program very much alive; the Senate will take up the program refunding this week.
While I dislike government programs in general, this one - flawed as it may be - will probably give a good July (and maybe August) boost to car makers and their dealers, putting money into the U.S. economy and, hopefully, doing a little pump priming to get good times flowing again.
On the other hand, the cost of the program is - by one calculation - $45,354 per vehicle traded, making the infamous $6,000 government toilet seat seem like a piker's dream by comparison.
As a pragmatist, I remain fairly certain that, if the government didn't spend our money on Cash For Clunkers, they'd probably just shovel even more dollars into the National Endowment of the Arts' stimulus package which is presently being used for distribution of porn flicks.
No Work: The Detroit metropolitan area had the highest unemployment rate (17.1%) among major U.S. cities in June - primarily due to auto-related woes.
In Kokomo, Ind., the unemployment rate stands at 19.2% - one-fifth of the workforce is employed in the auto sector (several Chrysler casting and transmission plants, Delphi Corp. facility). The Elkhart-Goshen metro area saw its unemployment jump to almost 18%, as sales of mobile homes and recreational vehicles have tanked.
The highest rate among all metro areas was the 27.5% in El Centro CA, followed by the 23.1% in Yuma AZ. Of the 18 areas with a jobless rate of 15% or more, 8 are in California and 5 are in Michigan.
Bismarck ND had the lowest jobless rate among metropolitan areas at 3.8%.
Thirst! What did people do before bottled water? I know the answer because I was born in 34 BBW (Before Bottled Water).
Of course, bottled water of sorts has been available for a century or more, mostly in European countries: France, Greece and Italy come to mind. Bottled water became the norm ... (more ... including pix, Pluto, DDT, Broderick Crawford and Eleanor Roosevelt >>>)
Don't worry: everything ties together.
What Green Shoots? Gross Domestic Product declined by 1.0% in the second quarter of '09. "This is the fourth consecutive quarterly decline in GDP; the first time that has happened since the government started keeping quarterly records in 1947." Last quarter's GDP was revised down from negative 5.5% to negative 6.4%.
Federal spending was - of course - up. By a whopping 11%.
Meanwhile, restaurant operators also reported negative customer traffic levels in June, marking the 22nd consecutive month of declines. The prospective diner is tapped out; consumer debt peaked in January 2009 and is now declining. This translates to spending cut-backs - including a decline in "going out to dinner."
A Stock Market Turn For The Better? The Dow Jones Industrial Average is sending a buy signal that has foreshadowed gains of almost 18% during the past nine decades.
The 30-stock gauge climbed to more than 10% above its mean level from the previous 200 days, rebounding from 34% below the so-called 200-day moving average in November. Eighteen of the last 21 times the Dow rallied from at least 10 percent below the 200-day level to 10 percent above, it posted gains during the next 12 months, Bloomberg data since 1921 show.
On average, the market went up 8.2% six months after the signal and 17.7% after twelve months.
I Need To Pay More Attention ... to Peggy Noonan. Sometimes her writing is a little too breezy and her opinions too liberally condescending, but she has better insight then I do.
Five years ago, when Barack Obama was basically unknown, Peggy wrote that, when he began his speech at the 2004 Democratic convention, "everyone watching thought: A star is born. Talk about famous overnight. ... When you first see him he is a plain man of irregular features and jug ears. But when he begins to speak his features blend into harmony and handsomeness. This kind of thing only happens if you have magic. At one point the C-Span cameras went to an unhappy looking Jesse Jackson in the stands. He looked like he was thinking, "I don't remember passing a torch." But it was passed."
A Glimpse Into The Past: This seven-minute 1908 film was shot from the front of a Spanish trolley car as it made its way around downtown Barcelona.
It is difficult to realize that all the people - so full of life on film - who are waving to you are now dead.
Worth A Thousand Words: Eternity Road explains how a Photo Op went awry.
Voices In My Head: This a capella version of the Star Wars Cantina music performed by Sixteen Feet really sticks with you.
Specially Equipped: Teddy Kennedy's Presidential Medal of Freedom has a special D-ring pull. Yank on it and the neck ribbon rapidly inflates to become a flotation device.
Quote Of The Day is from Mark S. Fowler, former FCC Chairman: "If somebody has a bad heart, they can plug this jack in at night as they go to bed and it will monitor their heart throughout the night. And the next morning, when they wake up dead, there'll be a record."