AutoBiography - Cars In My Life: The Early Years
Toddler Tales: The earliest memory that I can recall is staring at the chrome hubcap on the sidemount of a Packard while being held by my mother. I was two years old. She was keeping me entertained by showing me my reflection in the chrome while at a graveside service for one of her uncles at Holy Cross Cemetery in Yeadon, PA.

I've liked the look of chrome ever since. Maybe that's how my obsession with cars began.
I started drawing cars when I was four. (Some of my car drawings can be found here.) I drove a car for the first time when I was thirteen, when my mom let me take the wheel of my dad's '56 Ford. I've owned cool cars. And awful ones. And ordinary, everyday ones, too.
---
When I was a little kid, my uncle used to take me for rides in his 1941 Chrysler Saratoga coupe. He lived with my grandmother. My mom and I did too while my dad was in the Pacific Theater during World War II.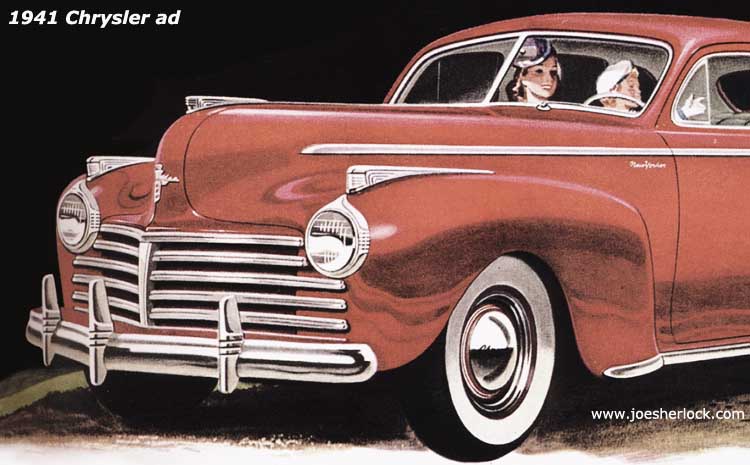 He used the Saratoga as his college commuter car - pretty nice, huh? His mom - my maternal grandmother - bought it for him. I do remember that the five-window coupe was big and fast with that 137 horsepower, 323.5 cubic-inch Chrysler straight-eight engine.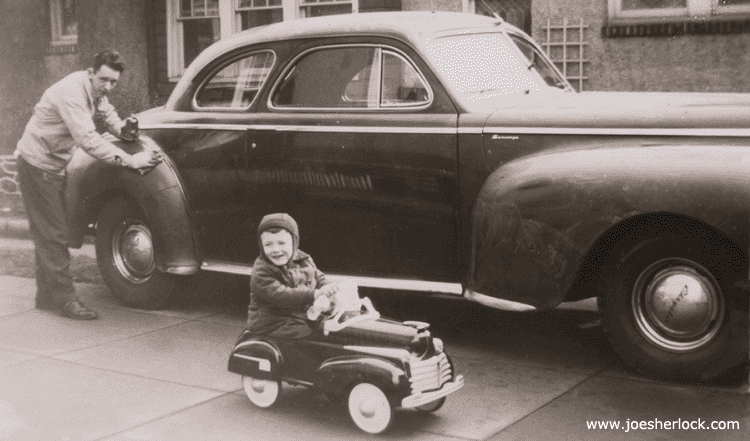 My uncle Ed polishes his big Chrysler Saratoga while I drive my own Steelcraft Chrysler pedal car in 1946.
My parents owned a blue 1936 Ford Tudor trunkback sedan - Washington Blue was the factory color designation.

At the Nethercutt Museum in California, there is a 1936 'Washington Blue' Ford convertible on display - the same color as the family '36 Tudor.
I remember riding in it many times. My mom bought it from a friend during World War II. She paid $400 for it - a lot of money for a six-year old car, considering it only cost $545 when new. But it was wartime and good cars were hard to come by. When the front seat fabric wore out, my mom made flowered slipcovers for the Ford.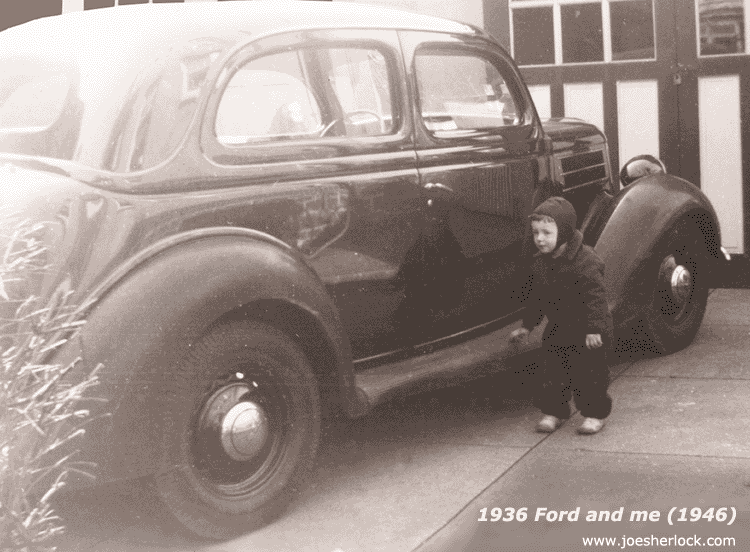 All '36 Fords were powered by 221 cubic-inch flathead V8 motors rated at 90 horsepower. The car had a three-speed manual transmission with the floor-shifter mounded between the two seats up front. There was a bench seat rated for three people in the rear. The '36 rode on a 112 inch wheelbase. The Tudor was the most popular body style; Ford sold 486,310 of them during the 1936 model year. ('36 Ford permalink)
---
Postwar Rides: My dad kept the '36 Ford until 1949 when he traded it on a 1947 Mercury four-door sedan. It was a long black car and I remember when he pulled up in front of the house, my mom looked out the window and said, "Oh my God, he's bought a hearse!"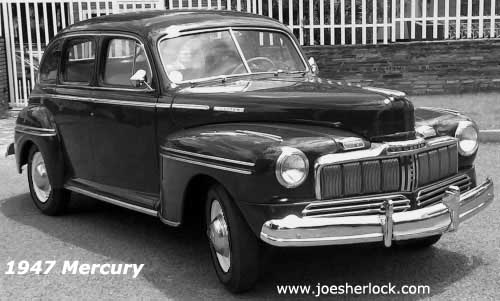 It had cool suicide doors and lots more chrome that a comparable Ford. I don't remember much else about the Merc except that it was a very comfortable car to ride in - much better than the '36 Ford.

My dad held on to his Mercury until 1955. By the way, there is nothing quite like the sound of the starter motor on a flathead Ford V8. I still remember the sound from both the Ford and Mercury, even though I've not heard one in years. I grew up with that noise. It makes a racket like a large tin frog being strangled. ('47 Mercury permalink)
---
My favorite aunt had died in '54 and my grandmother wouldn't part with my aunt's car (it had become what Catholics consider a Third Class Relic, having been possesed by a now-departed sainted person), so she asked my dad to drive it instead of the Mercury.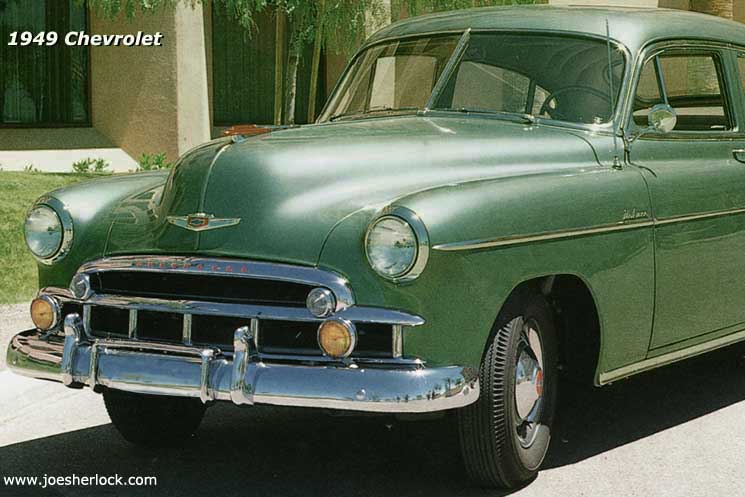 The vehicle was a pea-green 1949 Chevrolet Styline Deluxe four-door sedan. Dad hated that car; he said that the stovebolt six had no power compared to the Mercury's flathead V-8. That's not surprising since the Chevy's six-cylinder engine only put out 90 horses. the Mercury weighed almost 200 pounds less and had 100 horsepower. And everybody knows that those Ford flathead V-8s have a lot of low-end torque. He quickly regretted selling his Mercury.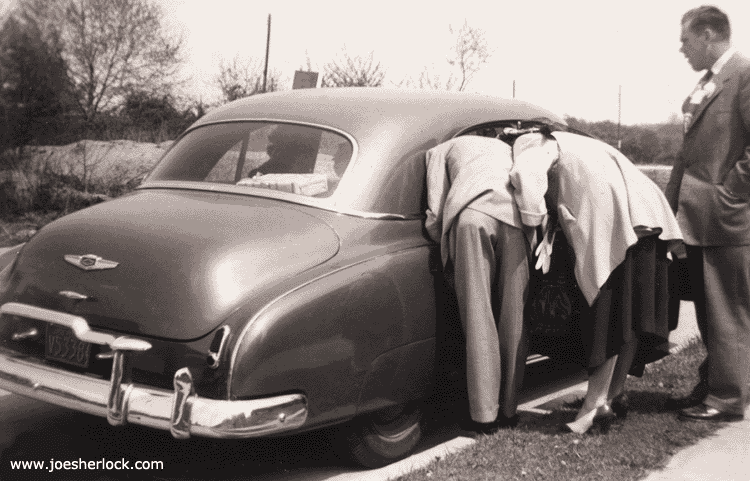 This is the best photo I have of my aunt's Chevy; my family wasn't much on snapping car pix. Taken on Mother's Day 1950, I'm not sure what/who everyone is fussing over in the back seat. My dad is on the right, dressed in his Sunday best.
By early 1956, my dad had enough of the anemic Chevy, so he traded it for our family's first new car - a blue 1956 Ford Mainline two-door sedan. ('49 Chevrolet permalink) (posted 8/24/11)
---
Next: Learning to Drive
---
A chronological list of AutoBiography chapters can be found here.
---
Other Pages Of Interest
copyright 2011-21 - Joseph M. Sherlock - All applicable rights reserved
---
Disclaimer
The facts presented on this website are based on my best guesses and my substantially faulty geezer memory. The opinions expressed herein are strictly those of the author and are protected by the U.S. Constitution. Probably.
Spelling, punctuation and syntax errors are cheerfully repaired when I find them; grudgingly fixed when you do.
If I have slandered any brands of automobiles, either expressly or inadvertently, they're most likely crap cars and deserve it. Automobile manufacturers should be aware that they always have the option of trying to change my mind by providing me with vehicles to test drive.
If I have slandered any people or corporations, either expressly or inadvertently, they should buy me strong drinks (and an expensive meal) and try to prove to me that they're not the jerks I've portrayed them to be. If you're buying, I'm willing to listen.
Don't be shy - try a bribe. It might help.
---