Philadelphia Memories - Part VIII
---
I Love A Parade:
Everyone has their own traditions at Thanksgiving. One of ours is watching the parade. I usually DVR the Macy's New York Thanksgiving Day Parade.
The Philadelphia Thanksgiving Day Parade - now called the Channel 6 ABC Dunkin' Donuts Thanksgiving Day Parade - is not televised out my way. It is a much different parade than it used to be when I was growing up. The route now travels along the Ben Franklin Parkway and ends at the foot of the Art Museum. When it was sponsored by Gimbels Department Store, the parade used to go north on Broad Street, around City Hall and then continued east on Market Street to the flagship Gimbels store at 8th and Market Sts.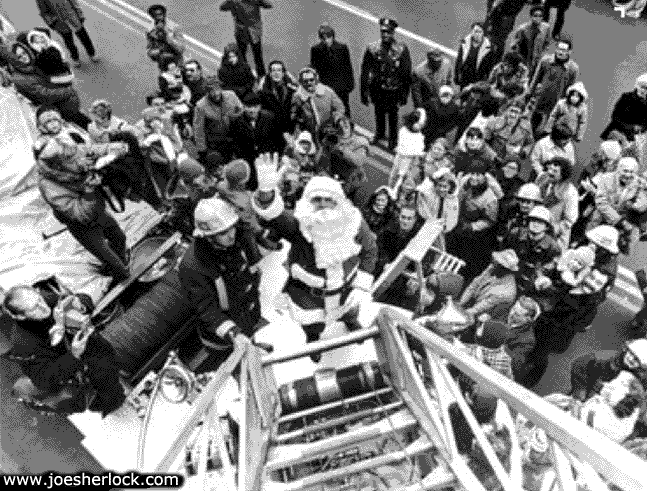 For the parade's grand finale, Santa Claus used a Philadelphia Fire Department hook and ladder fire truck to enter Gimbels. The ladder was raised and he climbed until he reach one of the upper floor windows, where he crawled in and settled on his throne in Toyland. My parents took me to see the parade when I was five or six years-old. We stood near City Hall; I remember that it was quite chilly.
Philadelphia's Gimbels event was the first Thanksgiving parade; the tradition began in 1920. (The first Macy's New York Parade didn't happen until 1924.) In the first Gimbels' parade, store employees in clown costumes bandied down Market Street vying for attention to promote the store's seasonal Toyland. Gimbels downtown Philly store was the first department store in the world to move customers from floor to floor via escalators. Gimbels closed its downtown store in 1986. Gimbels Corp. went bankrupt in 1987 and closed all its remaining stores.
It was always great to visit Philly's many department stores during the Christmas season. Starting in 1946, Wanamaker's Department Store offered a kiddie monorail for tots during the Christmas season. It was called the Rocket Express and ran on ceiling-mounted track system, giving children a bird's eye view of the 8th floor toy department.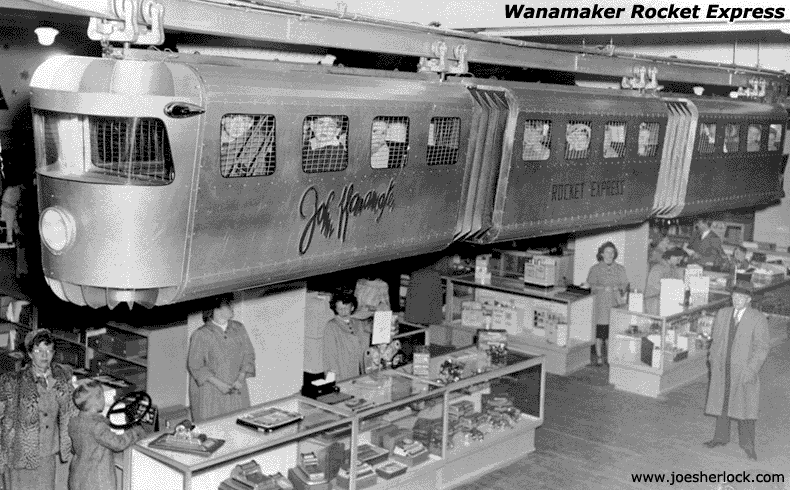 Kids would climb a staircase and hop aboard the red and silver-colored train to get a birds-eye view of whichever toys they were going to beg their parents to buy as the train circled Wanamaker's 8th floor Toy Department. The monorail was in operation from 1946 to 1984. (posted 11/21/16, permalink)
---
When Rock Was Young: Bill Haley and his Comets rocked the house during a performance at the Sports Arena in Hershey, Pennsylvania on April 20, 1956: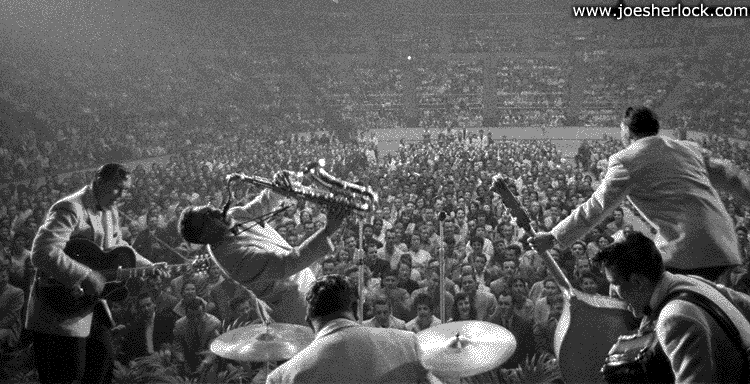 Hershey is located about 100 miles west of Philadelphia and just east of Harrisburg, PA.
LaVern Baker also performed to the crowd of 8,000. Other performers included The Platters, Bo Diddley, The Drifters, Clyde McPhatter, Big Joe Turner, Red Prysock, Shirley & Lee, Roy Hamilton, Five Keys, The Turbans and Frankie Lymon & the Teenagers. Haley's 'See You Later, Alligator' ranked 32nd on Billboard's Top 100 Songs of 1956. The Platters' 'My Prayer' ranked #4, 'The Great Pretender' was in the 12th spot, '(You've Got The) Magic Touch' ranked 36th and 'You'll Never, Never Know' came in at #79. Frankie Lymon and the Teenagers hit, 'Why Do Fools Fall In Love', was ranked at 28th. Three of the top ten '56 songs belonged to Elvis Presley ('Heartbreak Hotel', 'Don't Be Cruel' and 'Hound Dog').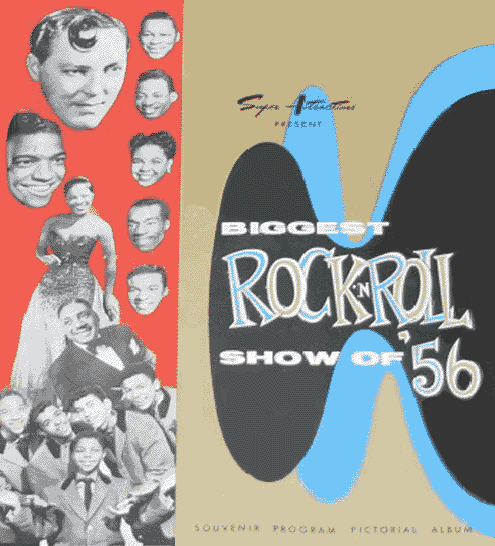 This show, titled 'The Biggest Rock-n-Roll Show of '56', was part of a 47-date tour, ending in early June. I've posted more about Bill Haley and his Comets here. (posted 11/1/16, permalink)
---

Oh, No. Roland Is Dead: John Zacherle has died at age 98. At age 14, my favorite pastime was to watch his late-night horror movie show, 'Shock Theater', on WCAU-TV in Philadelphia.
His character, the cadaverous Roland, often interrupted the film to do numerous horror-comedy gags parodying the film, an influential change which pioneered a now-standard television genre. In the opening sequence, Zacherle as Roland would descend a long round staircase to his elaborate crypt and laboratory.
During those comedy 'cut-ins', the movie's soundtrack continued to play on the air, while the visual feed switched briefly to a shot of Roland in the middle of a related humorous stunt, such as riding a tombstone, or singing 'My Funny Valentine' to his wife, My Dear, in her coffin. Who could forget Roland's pet amoeba, Thelma - a large gelatinous blob which made noises like a combination buzz-whistle? Thelma rested atop Roland's lab table.
'Shock Theater' was a big hit but Zacherle left for New York when WCAU refused to raise his paltry $75 per week salary, according to a friend of mine who worked there as a cameraman. The show ran for 92 broadcasts through 1958.
Zacherle/Roland recorded the top-ten novelty hit song 'Dinner With Drac' in 1958. Some lyrics: "For dessert, there was batwing confetti and the veins of a mummy named Betty. I first frowned upon it, but with ketchup on it, it tasted very much like spaghetti! "
Proving the old adage that truth is stranger than fiction, Zacherle was the uncle of My Little Pony creator Bonnie Zacherle. Rest in Peace, John. Or, as Roland used to say during his sign-off, "Goodnight, whatever you are!" (posted 11/1/16, permalink)
---
Another Reason I Left Philadelphia: Check out the smog over the Walt Whitman Bridge connecting Philadelphia to its New Jersey suburbs, in August 1973. You can hardly discern the makes of cars.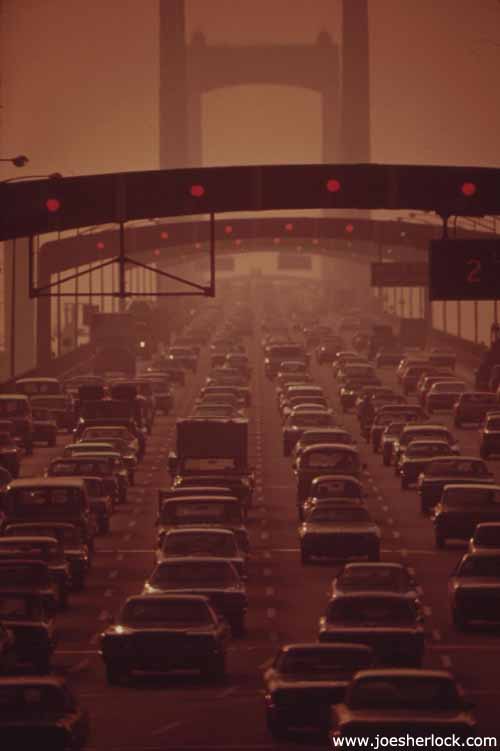 During my Rohm & Haas days, I commuted from my New Jersey home across the Ben Franklin Bridge - located a little further north. But the smog was just as bad.
When we moved to a small town in Oregon in 1978, we really appreciated the clean air. (posted 10/14/16, permalink)
---
Today's Public Housing Should Look This Good: In the late 1930s, Philadelphia's Hill Creek housing project, located at Adams and Rising Sun Avenues, was the only federally-funded housing scheme in Philadelphia. Rent for any of the 258 units was $7.50 per room monthly.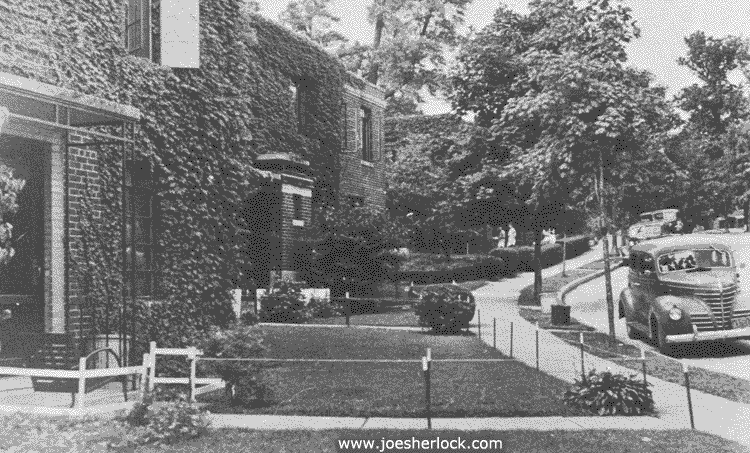 The low rent helped one of the tenants acquire a 1939 Plymouth sedan, shown at right. The Plymouth is equipped with an aftermarket sealed-beam headlight conversion kit. The photo was probably taken in 1940 or '41. (posted 10/14/16, permalink)
---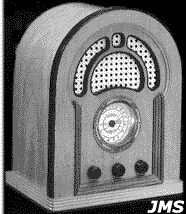 Wibbage ... Radio 99: Philadelphia's radio station WIBG (990 AM) had an inauspicious beginning. It debuted in 1924 as a 25 watt religious station for St. Paul's Episcopal Church in Elkins Park. Apparently the "IBG" in the call letters stood for "I Believe In God."
In 1941, the now-commercial station moved to downtown Philadelphia. WIBG became legendary for its wildly-popular top hits format that began in the mid 1950s, when Disc Jockey Joe Niagara began slipping rock and roll songs into the station's pop standards format. By 1958, the station was playing rock & roll, doo-wop and the like 24 hours a day, the only station in Philly to do so well into the 1960s.
Radio 99 ruled Philadelphia, especially among teenagers. The station published weekly 'Top 99' survey sheets; these could be found at record retailers - mostly, small independent stores in those days, such as Bond Records, located at the corner of Frankford Avenue and Paul Street - under the Margaret-Orthodox station of the Frankford El. Hy Lit and Bill Wright, Sr. were a couple of other popular Wibbage DJs.
WIBG included songs with a 'Philly' edge (such as R&B) that were not heard on similarly formatted stations in other cities. Jerry Blavat and Hy Lit were notable for playing and popularizing obscure songs which became local/regional hits. Some hits, such as Chubby Checker's 'The Twist' and Martha and the Vandellas' 'Heat Wave' actually got their early airplay in Philadelphia and later became national hits.
Here's a 'Top 99' sheet from Spring 1959: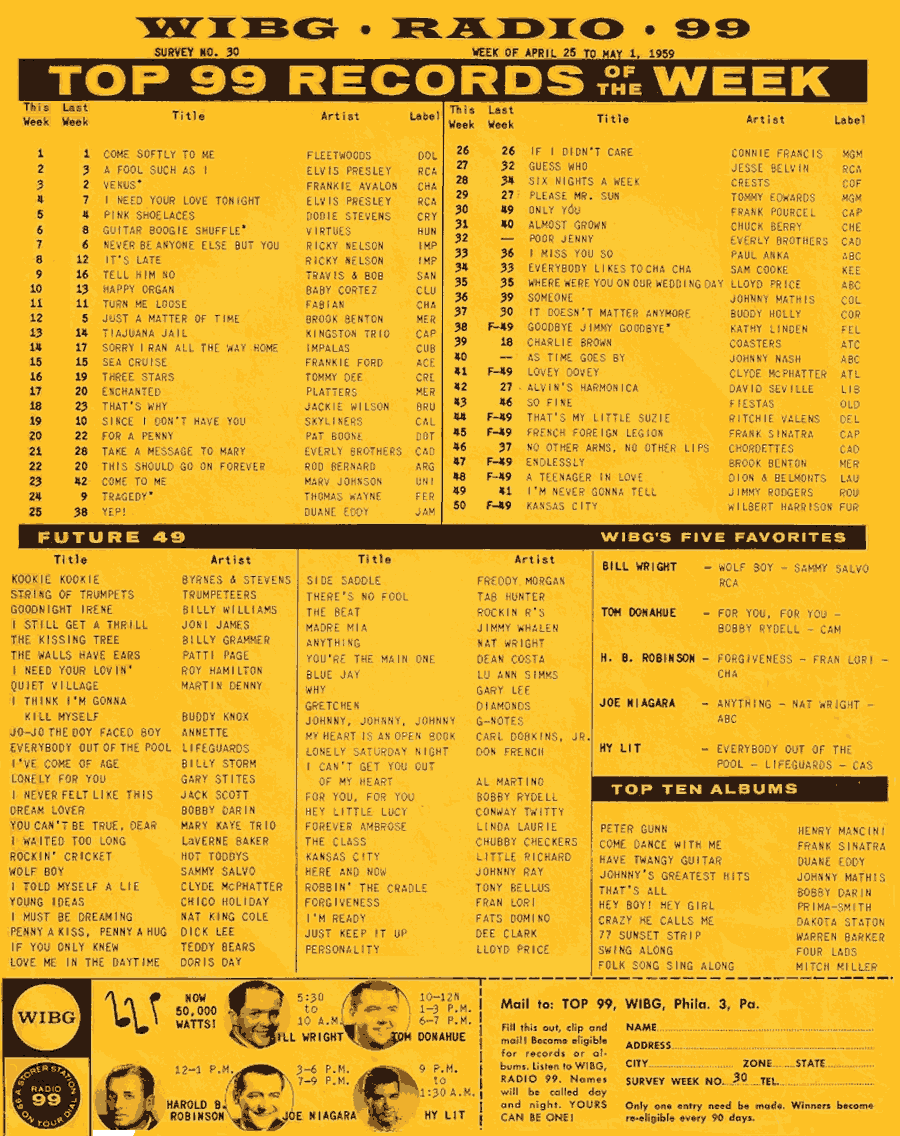 If you're of a certain age, many of the above songs will bring back pleasant memories. (posted 9/26/16, permalink)
---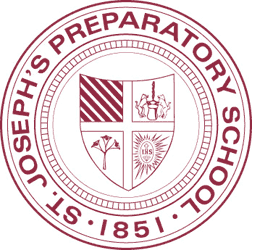 Best Wishes From An Absentee: Tomorrow, my classmates from the 1961 graduating class of Saint Joe's Prep will be celebrating their 55th high school reunion in Philadelphia. I hope everyone has a good time.
I attended every class reunion up to and including the 50th (which I wrote about here), but I then announced that enough is enough and that I would not be returning to Philadelphia again. I had a wonderful time at the 50th reunion and am fond of the many friends I made at the school. There were 197 guys in my graduating class; to date, 39 have died.
Since moving to the Pacific Northwest 38 years ago, I've been back to Philly about 20 times. Every time my wife and I visit, there are fewer people to see (some have died, some have moved away) and the changes in the area make it seem much less familiar. Even though we were both born and raised in Northeast Philadelphia, we decided that our 2011 trip would be our last.
During our last visit, Philly's downtown district looked grim. It seemed like a third of the retail spaces on Market Street were vacant. Lots of empty storefronts on South St. too. The once-tony Gallery downtown shopping mall is now anchored by a K-Mart. In the 1970s, the Bourse Building was a place of hustle and bustle - full of tourists, visitors and area worker-bees. It is now mostly empty with few stores remaining.
Our wanderings over the last few visits have reminded us of how far Philadelphia has fallen. It is still a city full of lovely parks with fingers extending in every direction so that a verdant setting with shade from leafy trees can be found in the most unexpected places. Like a car with terminal rust, there are still some shiny spots - revivals of some neighborhoods and other communities which have always been kept up. But they are islands in a large sea of corrosive decline.
Unfortunately, as a whole, the city is decaying badly and on the verge of becoming a giant ghetto. Many industrial buildings are now empty - even in the once-prosperous Northeast business parks. Companies have moved elsewhere, driven away by high taxes and lousy public services. Fewer employment opportunities mean increased poverty and, of course, more crime. In 2011, Philadelphia had the highest per-capita murder rate in the U.S.
As the 1940 Thomas Wolfe novel proclaimed, "You can't go home again." (posted 9/16/16, permalink)
---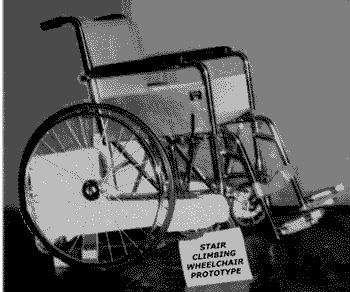 Tacony's Uniroyal Timing Belt Plant & Me: My introduction to timing belts began with a senior year Creative Engineering project at Villanova University. The specific project was to develop a stair-climbing wheelchair.
This was a continuing project on which several student groups had been assigned in prior years. The other student assignments had never gotten beyond the drawing board stage.
My good friend, Mike Stevenson (1943-92), and I partnered on this assigned project. Both of us were Mechanical Engineering majors. We came up with a new user-powered design, where the wheel of the chair transmitted power through a worm drive so the chair wouldn't reverse and run down the stairs if the user let go of the wheel (worm drives provide one-way power transmission). Our design left the tracks in the 'up' position for normal chair operation; they would pivot down below the chair's wheels for stair-climbing duties.
Our professor, George H. Auth, looked over our new design and said, "Looks good. Now, build it." But we had no money and the school offered no funding, so he encouraged us to go out and "beg" for components.
Mike and I actually drove to Ohio in a winter snowstorm (in his '62 Ford Galaxie convertible) to visit the chief engineer at American Wheelchair Co. He thought the stair-climbing idea was "a little nuts" but donated a wheelchair to the cause anyway. What a trip. It was so cold that the door locks on the car froze. I remember trying to hold the passenger door closed while Mike drove like a maniac to be on time for our appointment at American Wheelchair.
Our design called for a tracked belt drive. After some research, we decided to use a commercially-available timing belt turned inside out so that the teeth faced outward and functioned like a tank tread. Our design used three flat-surfaced pulleys per side plus one toothed drive pulley hooked to the worm gear.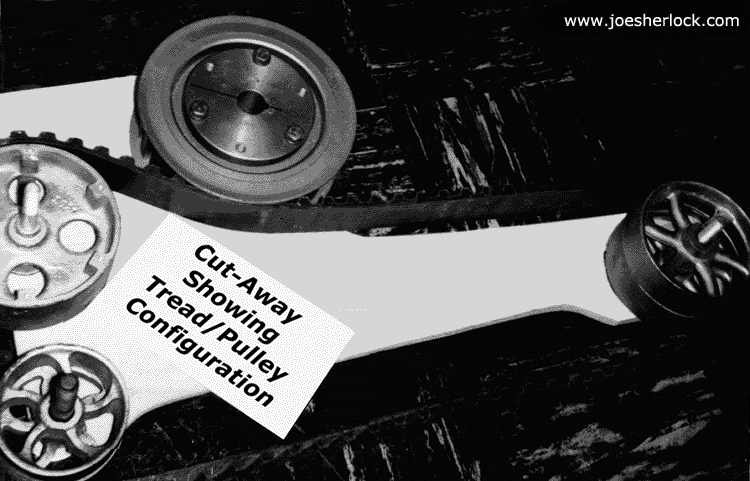 In those days, Uniroyal was the largest producer of timing belts. Its manufacturing plant and engineering facilities were located in Northeast Philadelphia - about a fifteen-minute drive from my home. I made an appointment and met with ... (more >>>)
---
Post-Industrial Job Woes: An interesting article in the Wall Street Journal, profiles Philadelphia's current jobs picture, suggesting that is reflective of many large American cities, struggling in a post-industrial environment. Once prosperous factory towns are now desolate and half-abandoned. Two examples: Detroit, MI and Camden, NJ.

"Overall, Philadelphia, the nation's fifth-most-populous city, notched a 14.3% decline in median income from 2000 to 2014 on an inflation-adjusted basis, a drop that exceeded the 10.4% nationwide decrease." Any income gains in Philadelphia over the past 15 years have clustered around the flourishing, trendy parts of center city.

As with other metro areas ... (more >>>)
---
Gettin' To The Shore: In the early 20th Century, Atlantic City was considered the crown jewel of the New Jersey Shore. The town was founded in 1854 when a rail line was constructed from Camden, New Jersey to AC. The Atlantic City Boardwalk was the first boardwalk in the United States, opening in 1870.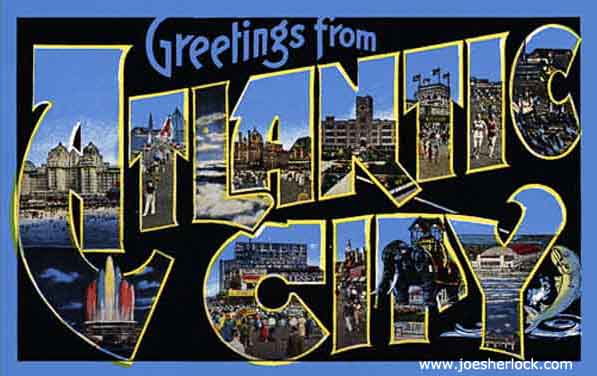 The 1920s and '30s are considered by many historians as Atlantic City's golden age. Many Fortune 500 companies once had stores or showrooms on the Boardwalk - General Electric, Lucky Strike and Underwood Typewriter. General Motors had a showroom on the Steel Pier. H. J. Heinz once had an entire pier of its own. All to showcase products to the hordes of tourists who strolled the boardwalk. People used to 'walk the boards' in winter, believing that the salt air was good for their health.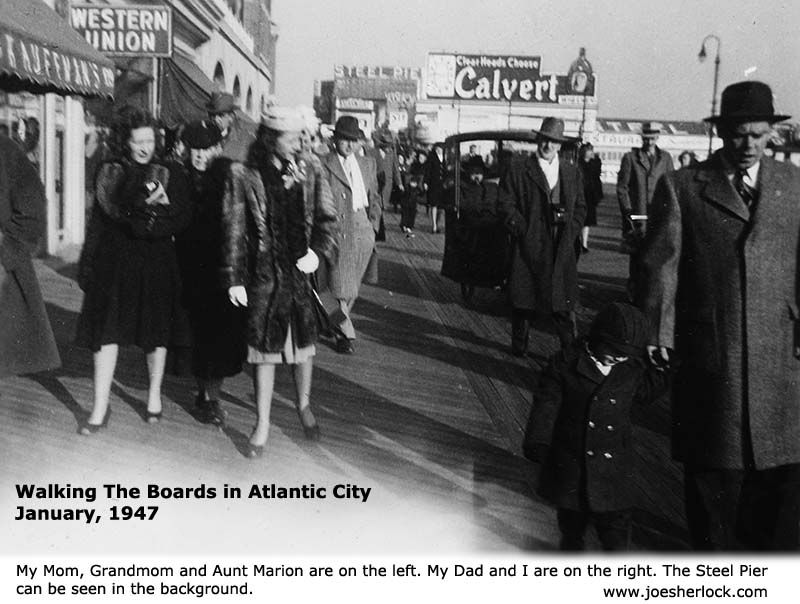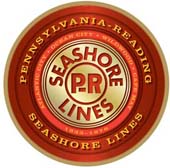 While people came from all over the eastern seaboard to visit, the vast majority of regular tourists came from Philadelphia and its suburbs. There were no high speed roads to Atlantic City until the 1960s, so many people arrived by train.
The Pennsylvania-Reading Seashore Lines was born from a forced consolidation - ordered by the Interstate Commerce Commission - of two competing railroads on June 25, 1933. The new company was 1/3 owned by the Reading Railroad and 2/3 owned by the Pennsylvania Railroad.
A new railroad terminal, Union Station, in Atlantic City, was intended to represent both the permanence of the newly-formed Pennsylvania-Reading Seashore Lines, provide public reassurance at a time great economic distress and give Atlantic City a transportation terminal which could be considered worthy of its importance as a growing city. Its construction, demolition of the previous, aging PRR and Reading stations and resultant improvement of traffic circulation were considered a great boon to the whole city at the time.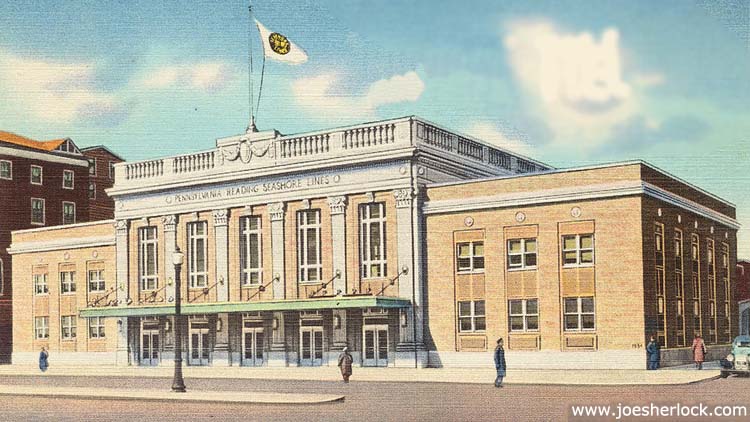 The new Union Station, designed by architect David A. Rothenstein, opened in 1934.
Aside from some old hotels, most of which were demolished to make way for casinos in the late 1970s, and the Convention Center (now renamed Boardwalk Hall and designated as a National Historic Landmark), Atlantic City didn't have many iconic buildings.
Union Station's architecture was significant as an expression of corporate architecture from the second quarter of the twentieth century, referred to as "modified classic" with some Art Deco touches. It added a substantial presence to the transport terminal area of town and was located at northwest comer of Arctic and North Arkansas Avenues. The station was also the terminal for the Shore Fast Line, the interurban railroad between Ocean City and Atlantic City, with trains leaving every thirty minutes in both directions throughout the day. A branch line served Ventnor and Longport. Several area/regional bus lines made the railroad station a regular stop along their routes.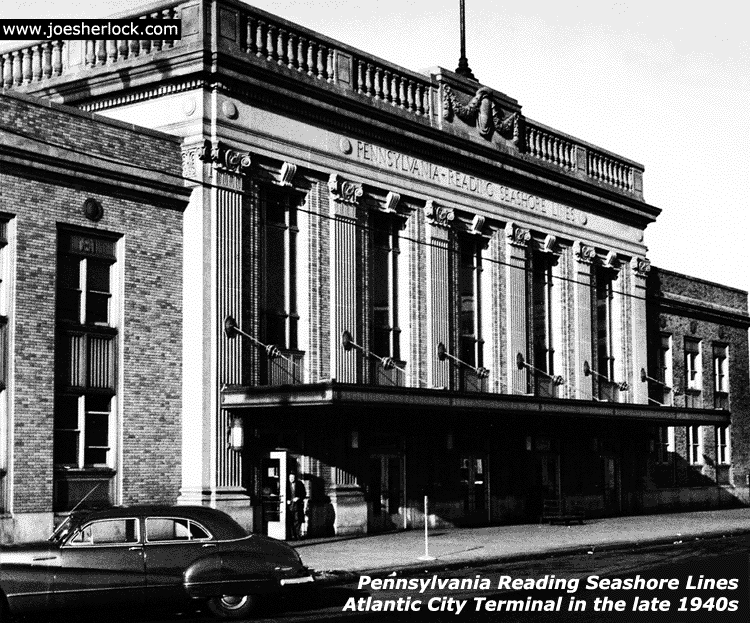 As a teen, I sometimes had to travel back and forth from our summer home in Brigantine to our regular home in Northeast Philadelphia. Since my dad worked for the Pennsylvania Railroad, I had a student pass that got me a free ride on the PSLR. But it was a pain to get there. I had to take a Philadelphia PTC bus to the Frankford Elevated, change to the Camden Bridge Line subway and then walk to the PRSL terminal in Camden. Once I got to Atlantic City, I had to wait for Brigantine Bus - an old school bus painted navy blue that ran every 90 minutes or so. It was an all-day affair just to travel 75 miles - a 90 minute trip by automobile, even on the four-lane White Horse Pike, which passed through quite a few small towns between Philly and AC and had many stop lights, a maximum speed of 50 mph in rural sections and numerous speed traps.

In those days, the PRSL used modern, air-conditioned Budd-made RDC (Rail Diesel Cars) which provided a comfortable and quiet ride.
The rail terminal closed in 1965 (becoming a bus terminal) and the old Union Station was demolished in the 2001.
By 1982, passenger rail service over PRSL trackage was gone. These days, Philadelphians who want to go to Atlantic City either drive or take one of those Senior Casino Buses. (posted 8/4/16, permalink)
---
In Philadelphia, The Liberty Bell Isn't The Only Thing That's Cracked: Service on Philly commuter trains has been interrupted due to serious defects found in Silverliner V cars, which are less than six years old. The cars were built by Hyundai, which had never built railcars for an American transit line before, and make up 30% of Philadelphia's commuter-rail fleet.
"Recently, a SEPTA worker noticed one of the cars was leaning to one side. A close look revealed a 10-inch crack in one of the car's wheel sets. Further inspection discovered similar cracks in 95% of the cars made by Hyundai. These have all been taken out of service, and the Southeast Pennsylvania Transportation Authority (SEPTA) has urged commuters to find another mode of travel for the foreseeable future."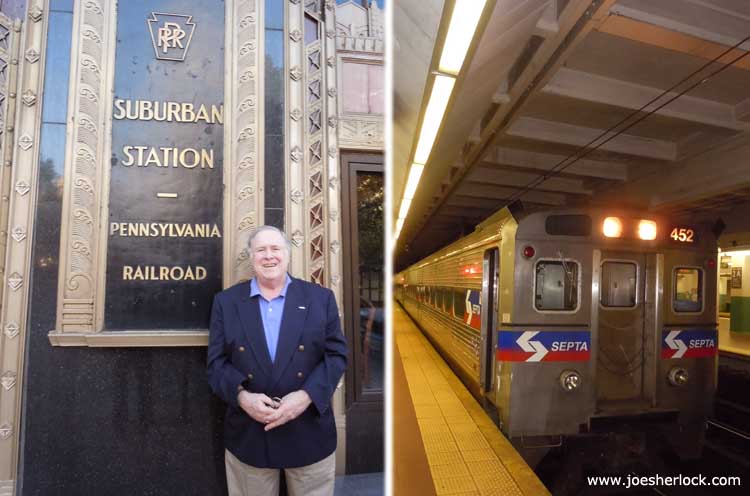 While the sign shows the old Pennsylvania Railroad logo, all the commuter trains at center city's Suburban Station are now operated by the South Eastern Pennsylvania Transit Authority, a metro public transportation colossus. I was a frequent rider on the old PRR MP-54, owl-eyes commuter coaches - which ran out of Suburban Station - during my student years at Villanova University. Many of these old MP-54 coaches were built before 1920 and were still operational in 1980. Photo from our June 2011 Philadelphia visit; the train at right is a Silverliner IV.
---
On the Pennsylvania Railroad's Paoli Local, I used to ... (more >>>)
---
By The Sea, By The Sea ... 2016 Edition: My brother recently returned from a Wildwood Crest, NJ vacation. Knowing that my wife and I enjoy all things Jersey shore-related, he sent us numerous editions of those pulp giveaway shoppers' guides to the New Jersey shore. I reported on the 2015 editions last year and the 2014 editions the year before.

I love the plethora of tacky ads, the unique offerings and the catchy, memorable and sometimes crazy business names. Most businesses at the Jersey Shore have only three months to make their money for the year. So, these firms must promote, promote and promote and be clever and creative about it. There's lots of mid-Atlantic chutzpah in the ads for various establishments and, those laid-back and often-failing businesses in the Pacific Northwest could learn much from it. Here are some things that caught my eye:
• On Monday, Tuesday and Wednesday, American Deli and Pizza features a "Mexican Madness Menu." At American, all burgers "are served with Free Fries."

• Lemma's Beach Grill proclaims "Outdoor Seating Available" and "No Extra Charge for the View."

• A restaurant in Avalon, NJ is called the Garden of Eat'n.

• Gaiss' Market (established in 1928) claims to be the Kielbasa King of Cape May County.

• Natali Vineyards in Cape May Courthouse has Wine It Down Wednesday and offers sangria and wine slushies to cool off.

• Wildwood Crest has a Caribbean restaurant named Jamaica Me Hungry.

• In North Wildwood, The Surfing Pig offers $7 Snow Crab Clusters on Monday, $2 tacos (pulled pork or pulled chicken) on Tuesdays and $1 oysters on Buck-A-Shuck Wednesday. At the same location, Kahuna's sells "Authentic" Hawaiian Shave Ice.

• I've never seen so many ads for vape shops in my life; it seems like every gas station is selling e-cigs and supplies.

• Wildwood's Beach Bacon Festival featured all things bacon, including chocolate-covered bacon, bourbon-infused bacon and bacon-themed apparel.

• Every Friday, the DAV Chapter 44 has a karaoke night - called 'Grab A Brew And Sing A Few.'

• The Red Oak Restaurant in Wildwood offers All You Can Eat Sea and Land Buffet for only $13.99.

• The Milky Way ice cream and miniature golf opened in 1965. But it looks like many such places from the 1950s that dotted the Eastern Seaboard.

• Singer Charlie Gracie was present at the unveiling of the Wildwood Music Award Mural. Charlie celebrated his 80th birthday during his visit.

In the 1950s, it was common for regional versions of a song become hits in various parts of the country. 'Butterfly', a 1957 hit for Andy Williams, can't hold a candle to the 1956 Charlie Gracie version released on Philadelphia's Cameo Records label. It was a far bigger hit in the NY-NJ-Philly universe than the lame Williams rendition.

Charlie's version sold over two million records. But when Charlie sued his record label Cameo, which had an "affiliation" with Dick Clark in those payola days, the label got Charlie blacklisted from radio plays and 'American Bandstand'. Nevertheless, Charlie continued to record and perform, focusing on blues and R&B songs and remains a favorite at the Jersey Shore.

• The New Jersey State Crab Festival was held at the Ice House in Wildwood.

• The Lobster Shack in Wildwood offers "The Best Tail In Town."

• Wildwood is also the home of the Pink Cadillac Diner.

• The Dugout in Wildwood offers 'cereal shakes': "The sweet taste of your favorite cereal chilled in ice cream," including Coco Puffs, Froot Loops and many more. The establishment also offers a free Phillies Sundae Helmet with the purchase of a double portion of ice cream:

• Sunset Lake now offers pedal-powered swan boats via Lakeview Docks.

• Harpoon Henry's in North Cape May has over 150 specialty frozen alcoholic drinks served from three full-service bars.

• The owner of J.B.'s Southern Barbecue transports his grill from farmers 'market to farmers' market using his motorcycle.

• Big Chancho's Tacos in Avalon, NJ, offers "Very Mexican Food."

• Ocean Galleries in Stone Harbor had an Americana-themed art exhibit from artist and pop-culture icon, Peter Max, who was in attendance for the July Fourth weekend event. Peter once had quite a collection of Chevy Corvettes.
Ya gotta love the Jersey Shore; there's just nothing quite like it. I spent many adolescent summers in Brigantine but visited other shore towns, too. The last time I visited Wildwood was in the early 1970s.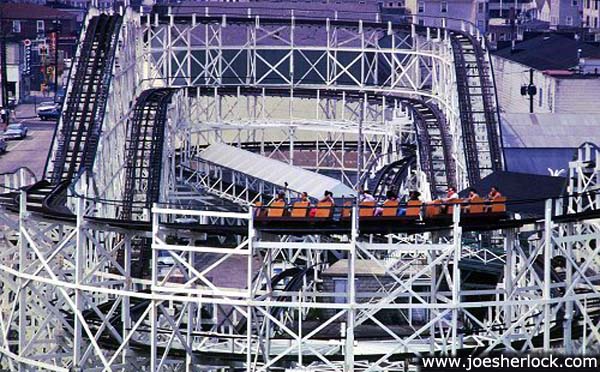 I remember riding on the vintage Jack Rabbit roller coaster at Playland on the west (inland) side of Wildwood's boardwalk. This wonderfully ancient, slightly-rickety, authentic old-time wood coaster first opened in 1919. It was demolished in 1984. (posted 7/25/16, permalink)
---
Old Downtown; Old Memories: A 1957 photo shows a Route 50 PTC (Philadelphia Transportation Company) trolley car southbound on 4th Street in downtown Philadelphia. (The northbound streetcars used 5th St., which was also a one-way thoroughfare.)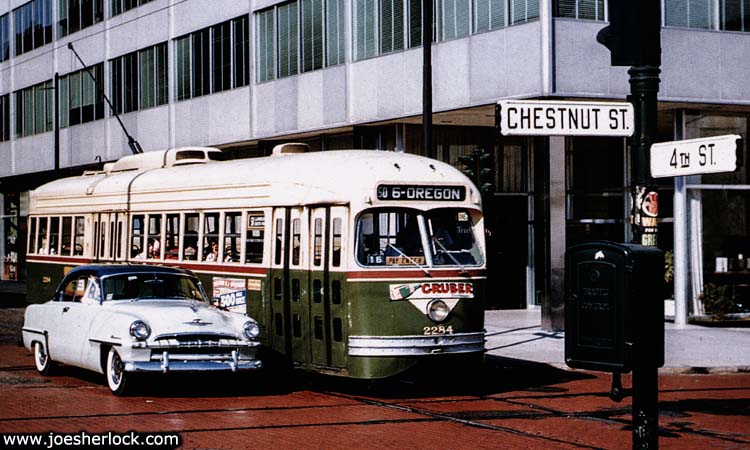 Nearby - but not in the photograph - is Independence Hall, which spans Chestnut Street between 5th and 6th. This particular streetcar was built in 1946 by the St. Louis Car Co. It was scrapped in 1982.
The front of the trolley sports an advertisement for Gruber, a local soft drink firm - one of 63 independent soda bottling plants that dotted the city at the industry's peak in the late 1940s, such as Frank's Beverages. The Gruber Bottling Works, located at 2220 N. 4th St. in the Fairhill neighborhood of Philadelphia, produced numerous flavors of soda, including orange, grape, cream and root beer.
The firm had two slogans that I recall: "Thirsty? Gruber's the answer." And: "Grab a Gruber." Operated by the Gruber family for several generations, the soft drink maker declared bankruptcy in 1980.
Most of the ads on the fronts of Philadelphia's 1930s-modern PCC-style trolleys in the 1950s were either for Gruber's or Quaker Sugar - a brand which is still around.

While the name made it sound like a Pennsylvania firm, the sugar supplier was actually located in Brooklyn, NY. Quaker still supplies millions of tons of sugar and other food products annually, operating as a master distributor for well-known brands that include Domino, Morton, Ocean Spray, ConAgra and French's.
On the side of this Route 50 streamlined streetcar is a different ad. This one is for a race at the newly-paved Trenton Speedway in New Jersey. Opened in 1900 as a half-mile oval, it was expanded to a one-mile dirt track in 1946. The speedway closed in 1980.
The automobile next to the trolley is a shiny 1953 Plymouth Cranbrook Belvedere hardtop coupe. Plymouth made 35,185 of these top-of-the-line coupes and priced them at $2,064 each. In those days, Plymouth offered only one engine - a flathead six producing 100 horsepower.
The luncheonette on the northeast corner continues to operate as a restaurant, although it has had various names and owners over the years. In the 1970s, when I worked at Rohm & Haas' downtown headquarters at 6th and Market Sts., it was not unusual to see locally-famous KYW television news anchors Mort Crim or Jessica Savitch grabbing a quick bite at the 4th and Chestnut eatery. (posted 7/15/16, permalink)
---
Baseball Legend: Frank Fitzpatrick wrote, "Nostalgia is history's makeup. Apply it liberally to the old and unsightly, and, from a distance at least, you can't spot the warts. What it also does, of course, is obscure the truth. "Nostalgia," said the late diplomat George Ball, "is a seductive liar."
Fans of sports, and in particular baseball, seem more susceptible to this wistful whitewashing than most. For so many, the ballparks, players, and artifacts of the past, no matter their flaws, have acquired a permanent, sepia-toned perfection. Old-timers will speak poetically about Connie Mack Stadium's emerald field, but neglect to mention its uncomfortable seats, its inedible concessions, and all those crowds of 3,267."
I remember Connie Mack Stadium as a rickety, run-down place, which - indeed - had uncomfortable seats.
Back in 1912, baseball legend Ty Cobb earned an indefinite suspension when he'd charged into a New York crowd to pummel a noisy fan. If that behavior weren't inglorious enough, the fan was handicapped, having lost one hand and three fingers on another in an industrial accident. When concerned spectators yelled to Cobb that his victim "has no hands," the pugnacious Tiger reportedly replied, "I don't care if he's got no legs," and continued the beating." Nice, eh?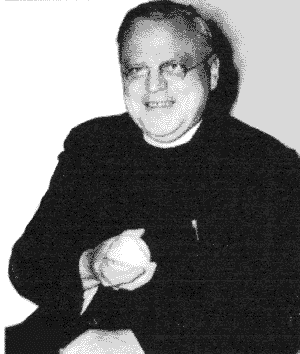 But, noted Mr. Fitzpatrick, "Sometimes the past does yield sweet and simple stories. Take Aloysius Stanislaus Travers, boy pitcher.
On that same day Irvin played in 1912, the real Tigers, including the suspended Cobb, initially took the field against Connie Mack's defending American League champs. But when the umpires waved Cobb off, the rest of the team followed. Anticipating this, and knowing the frugal Mack would never postpone a lucrative Saturday afternoon game, Tigers manager Hugh Jennings earlier had contacted a friend, Bulletin sportswriter Joe Nolan, and asked him to put together a makeshift squad.
Nolan knew the student-manager of St. Joseph's College's baseball team, Al Travers, and passed on Jennings' request to him. Travers found enough bodies on the North Philly corner where he hung out (at 23rd and Columbia). And upon learning that the pitcher would be paid twice as much ($50) as the others, he assumed that position.
"Jennings told me not to throw fastballs because I might get killed," he recounted to legendary sportswriter Red Smith in his only public retelling of the event.
Travers earned a spot in baseball's record book that day, yielding 24 runs on 26 hits, including seven triples."
Ten years later, he was ordained a Jesuit priest. He spent the next 42 years as a beloved and respected teacher/administrator at St. Joseph's College and St. Joseph's Prep. I did not have Father Travers as a teacher during my time at the Prep. Many of my friends did; Marty Hayes did a very credible imitation of a frail, somewhat befuddled Father Travers - his condition by the late 1950s.
Travers died in 1968 at 75 surrounded by prayerful friends in Philadelphia's Misericordia Hospital. Father Aloysius S. Travers, S.J., it seemed, was more interested in educating gifted but raucous adolescents than in telling baseball stories from long ago. (posted 6/15/16, permalink)
---
Supermarket Arch: The distinctive arched-roof supermarket, located at Frankford Avenue and Pratt Street in the Frankford neighborhood of Northeast Philadelphia, has been added to the city's register of historic places and has also been added to the Preservation Alliance of Greater Philadelphia's Places to Save list.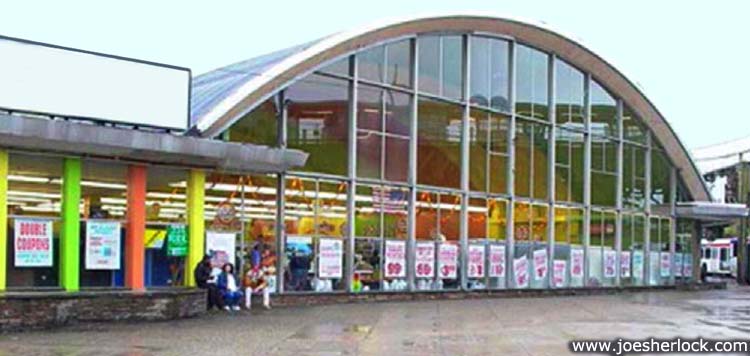 Nestled in the shadow of the Bridge Street Terminus of the Frankford Elevated line, the 73,090-square-foot Frankford Penn Fruit store opened in 1955, replacing an older one two blocks north. The new location had a large parking lot - a rarity at the time in the congested areas of NE Philadelphia.
As a child, my wife bought many of her little Golden Books there. As a teenager, I bought prom corsages from Penn Fruit's floral department at prices much lower that at a florist. The interior of the store was bright, colorful and had an inviting, put-together look lacking in other supermarkets. The distinctive, sweeping barrel-vault roof and stylishly modern glass facade made a Penn Fruit store easy to spot.
Penn Fruit was one of the earliest grocery stores to adopt the supermarket model and remained an innovator in the grocery business from its founding in 1927 until it declared bankruptcy in 1975.

In his 1955 book 'Super Markets', author and food retailing expert Max Zimmerman declared Penn Fruit a "recognized leader" in the field, highlighting it as one of the "outstanding operations in the country." He noted that "its per-store sales were over three times the national average, and the company's distinctive stores, with their arched rooflines and sparkling glass facades were immediately recognizable throughout Philadelphia and its rapidly growing suburbs." In 1950, Penn Fruit stores averaged $2,500,000 per year. The national store average was $694,382.
Unfortunately, the chain's innovations often were copied by its bigger rivals who eventually succeeded in causing Penn Fruit's demise. By 1971, the company had nearly 80 stores and sales of $372 million and was constantly battling A&P, Food Fair and Acme Markets for dominance in its Philadelphia-area markets. But, in 1973, competitor Acme's 173 Philadelphia-area stores launched a price war against Penn Fruit. This move set off a series of events that would lead to the latter's downfall. After nearly two years of warfare, Penn Fruit, no longer able to compete, filed Chapter 11 bankruptcy.
Penn Fruit is gone but some of its distinctive buildings remain, rebranded by other food purveyors or repurposed for other types of retailing. The Frankford store eventually became a Holiday Thriftway but is currently shuttered. Frankford was once a thriving blue-collar and middle-class neighborhood but, these days, one-third of the 66,000 people in the 19124 zip code live below the poverty line. Which probably explains why the building remains vacant. (posted 6/7/16, permalink)
---
Stained Glass Memorial: Recently, my cousin Fred sent me photos of a stained glass window which was donated to Philadelphia's historic St. Gabriel's Catholic Church by our great-grandfather.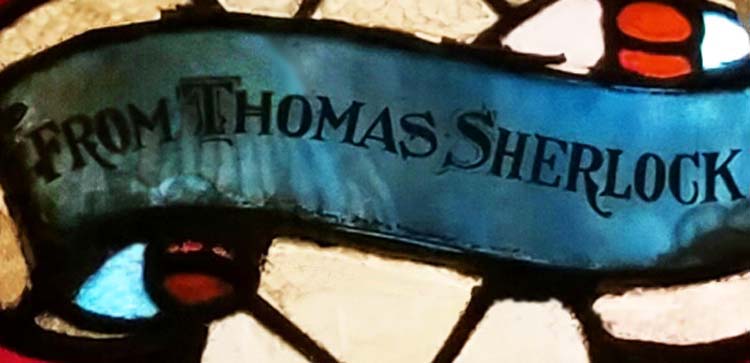 St. Gabriel's Parish is at 2917 Dickinson Street in Philadelphia, PA. The church, located in the Grays Ferry neighborhood of South Philadelphia, was founded ... (more >>>)
---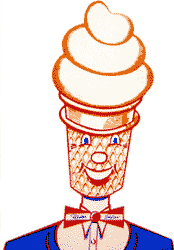 Softly As I Leave You: Philadelphia adman Les Waas, who wrote the Mister Softee jingle, has died at age 94. The mobile ice cream vendor and perpetual butt of erectile dysfunction jokes was a familiar sight when I was growing up in Northeast Philadelphia.
"Mister Softee was established in Philadelphia in 1956. Now based in Runnemede, N.J., it is one of the country's largest soft ice cream franchises, with more than 650 trucks plying 15 states; the company also operates in China.
Mr. Waas wrote the jingle in 1960 for Mister Softee's radio advertisements. At the time, he could scarcely have realized that the jaunty genie he loosed on the region would refuse to go back in the bottle."
If you grew up in an area served by Mister Softee, you'll always remember the musical jingle. Sixty years later and from 3,000 miles away, it still sticks in my head.
Unbeknownst to me, Mr. Softee's music also had lyrics:
"The CREAM-i-est DREAM-i-est SOFT ice CREAM
you GET from MIS-ter SOF-tee.
FOR a re-FRESH-ing de-LIGHT su-PREME
LOOK for MIS-ter SOF-tee."xx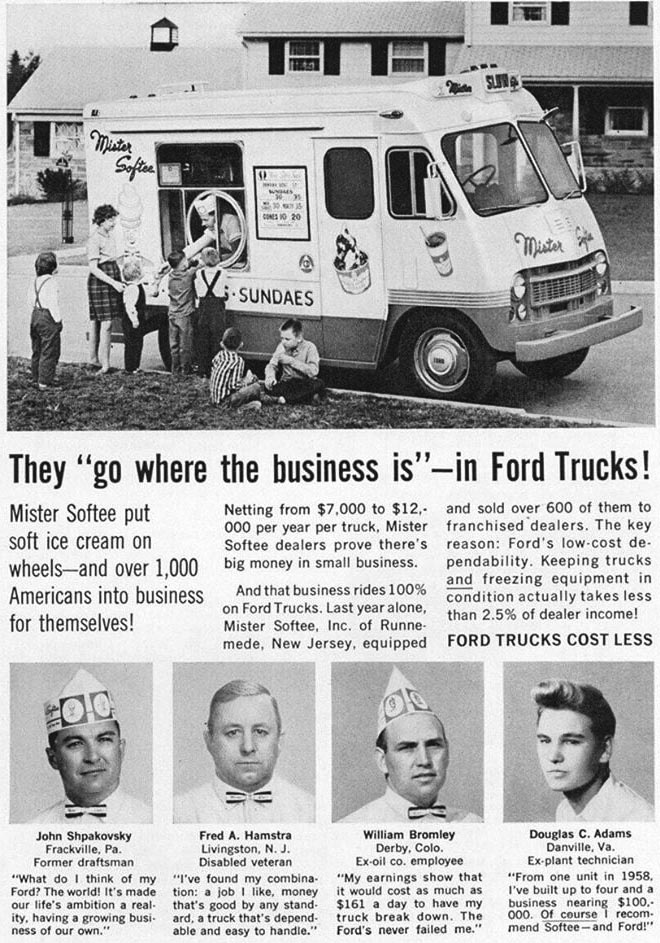 He also wrote jungles for Holiday Inn, the Philadelphia Phillies and at A.C. Kissling Co., a Philadelphia food manufacturer. Its best known product was sauerkraut:
"Give me a little Kissling's Sauerkraut.
It's fresh and clean, without a doubt.
In transparent Pliofilm bags it's sold,
Kissling's Sauerkraut, hot or cold."
Pliofilm, by the way, was a flexible plastic precursor from the 1930s and was developed by the Goodyear Tire & Rubber Company. It was a glossy moistureproof membrane made of rubber hydrochloride and was used chiefly for making raincoats, as packaging material, and as fruit wrapping. Most clear packaging films today are made from polyethylene plastic.
Mr. Wass lived in Huntington Valley, PA. He was a founder of the Procrastinators' Club of America. Among its activities was a peace march at Philadelphia City Hall in 1966. Based on all historical evidence, the march was a success: It had sought to end the War of 1812. RIP. (posted 4/29/16, permalink)
---
My Life At The Plastics Lab: Recently, I came across some old photos and other materials which brought back fond memories from the early part of my post-college career.
One was a publicity photo of a young me, working in front of the NATCO 400E injection molding machine at Rohm & Haas' Plastics Engineering Laboratory ... (more >>>)
---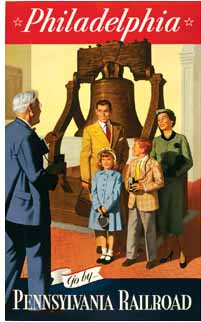 What Price Liberty? Ol' Remus of The Woodpile Report wrote about what it takes in 21st Century America to visit the Liberty Bell: "To see the Liberty Bell you enter a secure area, empty your pockets, get wanded down by guards. All this with no sense of irony. Then, at the bell, you're lectured how it was actually the symbol of the struggle against slavery and amen brother hallelujah." Well, at least you don't have to make an appointment to view it.
When we last visited Philadelphia almost five years ago, we didn't bother visiting the Liberty Bell. Admittance required those TSA-style security checks as previously described by Remus.
I used to see the Bell almost every day. I worked right across the street from the ugly 1976 Liberty Bell Museum - the one that looked like a car wash. It has since been replaced with a new, more secure building, which looks like a bomb-proofed Applebee's.
As an eight year-old Cub Scout, I got to bang the Bell with a wooden mallet during a field trip to Independence Hall. They used to keep The Bell under the back stairs. And treated it with disdain. The docent said to us, "It's broken, ya know. And that big crack makes it sound awful." (I know there's a Courtney Love joke in there somewhere but I'll restrain myself.)
The tour hostess then asked, "Who wants to give it a good whack with this hammer to hear how bad it sounds?" I raised my hand. And the Rest is History. (Trivia: It 'rings' in E-flat.)
In a documentary, 'Comonwealth', numerous talking heads were interviewed, ranging from school activists, mothers of school children, a Park Service employee who gives tours of the Liberty Bell to various professors, including a black female PhD from Howard University in D.C. Each offered well-rehearsed talking-points and slogans but, at the end of the interviews, each was asked a surprise question, "Since Philadelphia is often called the Cradle of Liberty, how would you define liberty?" Almost every interviewee mumbled and stumbled over the question. Some never got to the correct notion that Liberty is free will - the freedom to act - and freedom from government coercion.
There's a certain irony that the Bell, once a symbol of freedom, is now encased in thick, bulletproof Plexiglas. (posted 4/13/16, permalink)
---
My Grandparents And Other Relatives ... once lived in the very nice working-class neighborhood of West Philadelphia. My grandparents moved from South Philly to West Philly in the 1920s and remained in their Catherine Street home until their deaths in the early '40s. My uncle took over the house; other relatives lived nearby.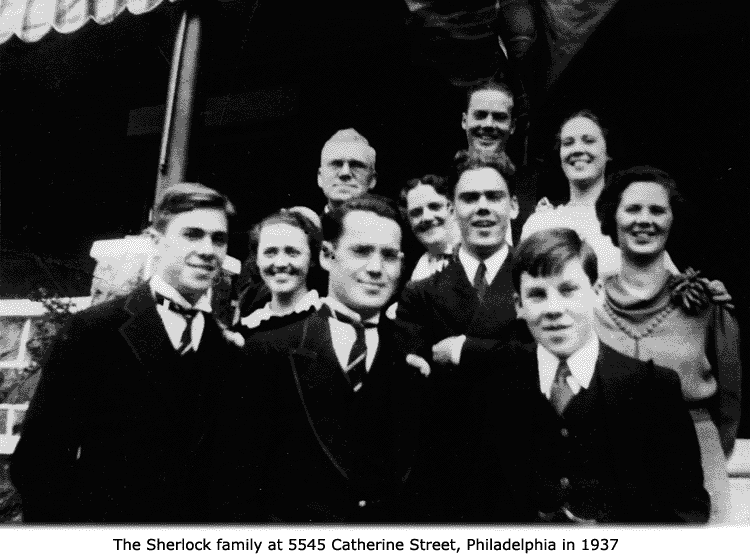 What I remember as a well-kept neighborhood in the 1950s began to deteriorate in the 1960s. By the late '60s, all of my relatives had moved out of the Cobbs Creek neighborhood. Ironically, my uncle sold the little 1,300 square feet Sherlock dwelling (which once housed my grandparents and their eight children) to a black family named Holmes; the same family was still living in that house in the early 1990s and it was one of the few row homes in the area that was well-tended. A recent peek at Google maps indicates that the house and its neighbors are still well-kept - a rarity in an increasingly decrepit area. The home is within walking distance to Dr. Gosnell's house of horrors abortion clinic which gained fame (or, more properly, infamy) in 2011.
Jim Quinn at The Burning Platform has described the extreme seediness of West Philly and its environs.
"I've written dozens of articles about the 30 Blocks of Squalor over the years. The 30 blocks are essentially from 69th Street to 39th Street encompassing the wretched potholed route from unsafe Upper Darby through the killing fields of West Philly. ...
I've now been navigating the crumbling ghetto of West Philly for the last ten years. I can without equivocation state I have not seen one new private business open its doors on Chestnut Street, in Mantua, or any other area I travel in West Philly during the entirety of those ten years. The existing businesses – nail and hair salons, fast food joints, bars, liquor stores, porn video outlets, smoke shops, car washes, more bars, and hysterically tax return offices (earned income tax credits) – haven't invested a dime in keeping up their appearances. Maybe they used all their spare cash to sure up the bars on their windows and the roll down steel gates necessary to keep the upstanding neighborhood honor student juveniles from having a little fun.
It appears there is an existential shortage of paint, hammers, garbage bags, wedding rings, and employed upstanding men taking responsibility for the children they father in West Philly. There is plenty of yellow crime scene tape, as West Philly accounts for a significant portion of Philadelphia's 280 annual murders (up 13% in 2015). Houses originally well built in the 1950s and with some upkeep would still be fine homes, are in disrepair, with collapsing porches, dilapidated gutters and roofs, crumbling sidewalks, boarded up windows, and satellite dishes on every one. The lucky end units usually have a mural of black people doing great things, with trash, garbage and overgrown weeds underneath and black people not doing great things shuffling along the streets.
As you witness the crumbling infrastructure of West Philly, with water mains bursting on a regular basis, streets sinking, houses falling down during heavy rainstorms, boarded up rat infested hovels housing drug addicts, and schools resembling prisons, it leaves you pondering how it came to this and why the fifty year War on Poverty left the people in these neighborhoods mover impoverished. I don't blame the people stuck living in West Philly. I blame the corrupt politicians who have run the city for the last sixty years.
Liberal solutions based upon welfare handouts, union government workers, idiotic solutions sold by slimy politicians and high taxes have combined to create a morass of uneducated, unmotivated, unmarried people who live in squalor created by the very politicians they have been voting for over the last six decades. The city has been under the complete control of the Democratic Party the entire time."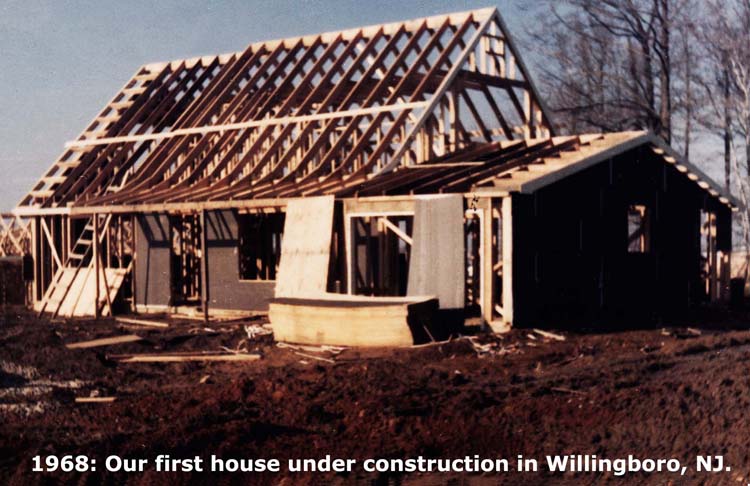 copyright 2016-21 - Joseph M. Sherlock - All applicable rights reserved
---
Disclaimer
The facts presented on this website are based on my best guesses and my substantially faulty geezer memory. The opinions expressed herein are strictly those of the author and are protected by the U.S. Constitution. Probably.
Spelling, punctuation and syntax errors are cheerfully repaired when I find them; grudgingly fixed when you do.
If I have slandered any brands of automobiles, either expressly or inadvertently, they're most likely crap cars and deserve it. Automobile manufacturers should be aware that they always have the option of giving me free cars to try and change my mind.
If I have slandered any people or corporations, either expressly or inadvertently, they should buy me strong drinks (and an expensive meal) and try to prove to me that they're not the jerks I've portrayed them to be. If you're buying, I'm willing to listen.
Don't be shy - try a bribe. It might help.
---