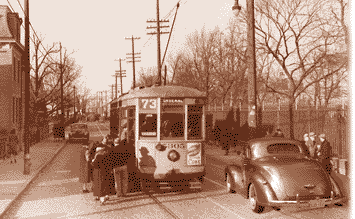 In 1940, the Great Depression was beginning to ease; Americans were earning more and buying more so being able to buy goods and further fueling the economy. Germany invaded France, Denmark, Luxembourg Belgium, Netherlands and Norway. Germany and Italy agreed to form an alliance against France and the United Kingdom. Bombs fell on Great Britain.

In the 1940 Presidential Election, Franklin D. Roosevelt defeated Republican Wendell Willkie and gained an unprecedented third term. The Selective Training and Service Act was signed into law as first peacetime military draft in United States history.

In 1940, a new house cost $3,920; the average income per year was $1,725. The price of a gallon of gas was 11¢.

The 28 millionth Ford, a 1940 Fordor sedan, appeared at the New York World's Fair as part of its 'International Good Will Tour'.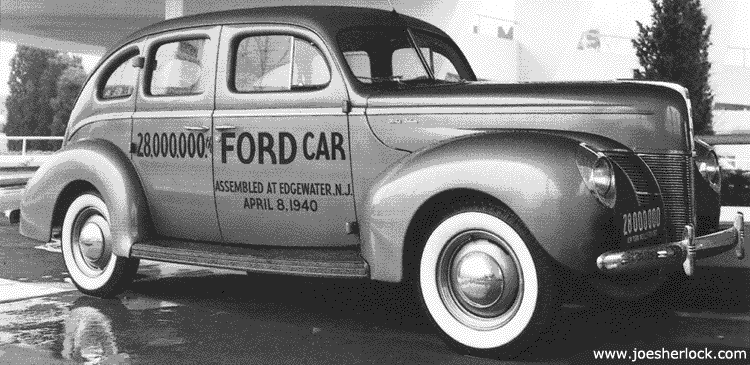 Synthetic rubber was the most important of several new products debuting in 1940; fads included calypso music, and roller rink skating.
Popular films included 'Pinocchio', 'Fantasia', 'The Grapes of Wrath', 'My Little Chickadee' and 'The Great Dictator', starring Charlie Chaplin.
1940 produced several memorable hit songs: 'I'll Never Smile Again' by Tommy Dorsey with Frank Sinatra, Glenn Miller's 'In the Mood' and 'Pennsylvania 6-5000' as well as Artie Shaw's 'Frenesi'.
Several famous people were born in 1940: Mario Andretti, Tom Brokaw, Herbie Hancock, John Lennon, Ringo Starr, golfer Jack Nicklaus and singer Tina Turner.
Deaths included Walter P. Chrysler, Leon Trotsky, Austrian auto/airplane builder Edmund Rumpler, Neville Chamberlain, writer F. Scott Fitzgerald and movie cowboy Tom Mix, who died behind the wheel of his supercharged '37 Cord 812 convertible near Florence, Arizona (southeast of Phoenix). A flagman had stopped him and warned about roadwork in progress to repair a washed-out bridge. Ignoring the flagman, Mix drove on and plunged into a ravine; the convertible flipped, resulting in instant death. The gully has since been renamed Tom Mix Wash.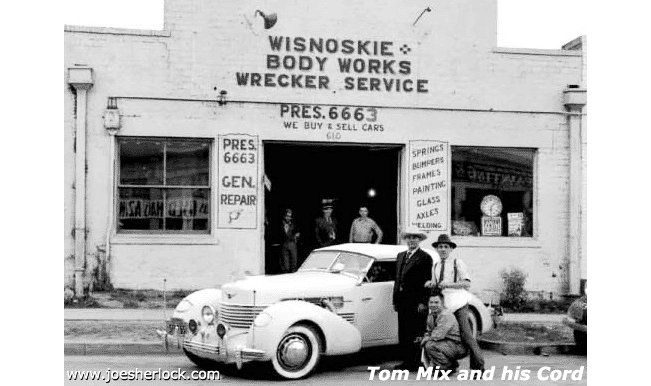 In baseball, the Cincinnati Reds defeated the Detroit Tigers to win the 1940 World Series.
---
In 1941, the carving of Mount Rushmore was completed. The fourth Thursday in November was officially designated as Thanksgiving Day. Germany defeated Greece and Yugoslavia. Soon, it invaded the USSR. Nazi aircraft sunk a Russian hospital ship killing 7,000. The British sunk the German battleship, the Bismark. FDR was sworn in for his third term as U.S. president.
The U.S. began to prepare for war; rationing was initiated and the first Liberty Ship was launched. Roosevelt signed the Lend Lease Act, providing military aid to the Allies. The first tank rolled off Chrysler's Army Tank Arsenal production line on April 24th. Winston Churchill addressed a joint meeting of the United States Congress about the War in Europe. Germany and Italy declared war on the U.S. In December, the Japanese attacked Pearl Harbor.
In Germany, Konrad Zuse developed the Z3 - the world's first electronic, fully programmable digital computer based on a binary floating-point number and switching system. The Z3 computer was the first machine to be controlled by software. Plutonium was discovered at U.C. Berkeley.
By the '41 model year, running boards on U.S. passenger cars had mostly disappeared. The 4 millionth Plymouth was delivered to a dealer and the 29 millionth Ford was produced. In 1941, the five-millionth Dodge was built - a four-door sedan.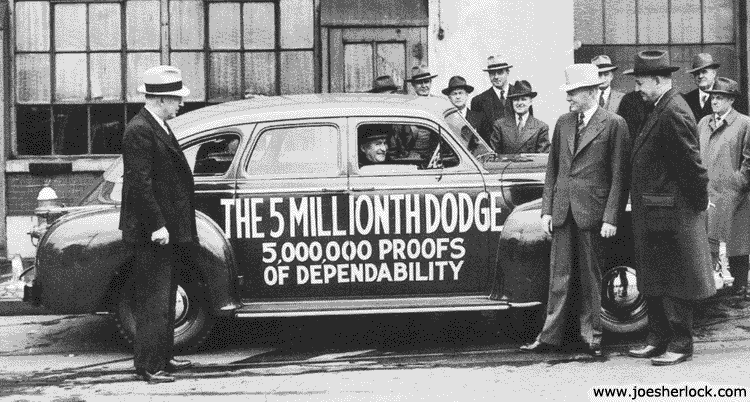 Henry Ford dramatically unveiled his soybean-based experimental plastic to the public by attacking the plastic trunk of a Ford with an axe. Chrysler commenced production of the luxurious Town & Country woody wagon. Buick offered the first four-barrel carburetor - actually a compound carb set-up - on its Fireball straight-eight engine. Hydra-Matic Drive was now offered on both Cadillacs and Buicks. It soon would be used in tanks.

Chrysler introduced two dream cars, the two-seat, retractable hardtop Thunderbolt and the Newport Parade Phaeton. One of the Newports was the pace car at the 1941 Indianapolis 500. Los Angeles got its first freeway, connecting LA & Pasadena.
The Union Pacific Big Boy, the largest steam locomotive in the world, entered freight service in 1941. The 4-8-8-4 articulated loco and tender were almost 133 feet in length, weighed 762,000 pounds and produced 6,290 horsepower.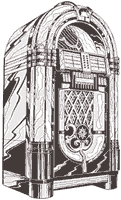 Big record hits - sold in the form of large, 10-inch diameter, mineral-filled shellac 78 rpm recorded discs - included 'Duke Ellington's Take the A Train, 'Frenesi' by Artie Shaw and his orchestra, The Andrews Sisters' 'Boogie Woogie Bugle Boy' and 'Racing with the Moon' by Vaughn Monroe.
There were several notable 1941 movies: 'Citizen Kane', 'Dumbo', 'How Green Was my Valley', W.C. Fields' 'Never Give A Sucker An Even Break' and 'The Maltese Falcon'. Bugs Bunny made his silver screen debut in 'A Wild Hare.' The first commercial television license was granted a NYC station in '41.
According to Life magazine, 1941 fads included campus blanket parties and floppy hats. In horse racing, Whirlaway won the Triple Crown.
Quite a few famous folks were born in '41: Paul Anka, Joan Baez, Bob Dylan, Wilson Pickett, Pete Rose and journalist George Will.
Deaths included novelist James Joyce, auto pioneer Louis Chevrolet, King Alfonso XIII of Spain, French tire magnate Andre Michelin, NY Yankee Lou Gehrig and jazz pianist Jelly Roll Morton.
In sports, Joe DiMaggio achieved a 56 consecutive game hitting streak. The New York Yankees beat the Brooklyn Dodgers, winning the World Series in five games.