---

1953 Studebaker - A Taste Of Europe

When the 1953 Studebaker Starliner coupe debuted in late 1952, it stunned the public and the other automakers. It was a complete break in style from every other American auto. The swoopy lines of the coupe model was like nothing else on the road. It made its competition look stodgy. The low-slung coupes were only 56.4 inches high. In comparison, the 1953 Chevrolet Bel Air hardtop coupe was 64 inches in height and looked positively stodgy when parked next to a Starliner.
Raymond Loewy's design team (primarily designer Bob Bourke) styled this stunning Studie. In 1953, Studebaker was presented with the Fashion Academy Award. The tasteful Studebaker coupes inspired other American car companies to get lower and sleeker with their future offerings.
Ads of the period touted the '53 Studebaker as 'The new American car with the European look'.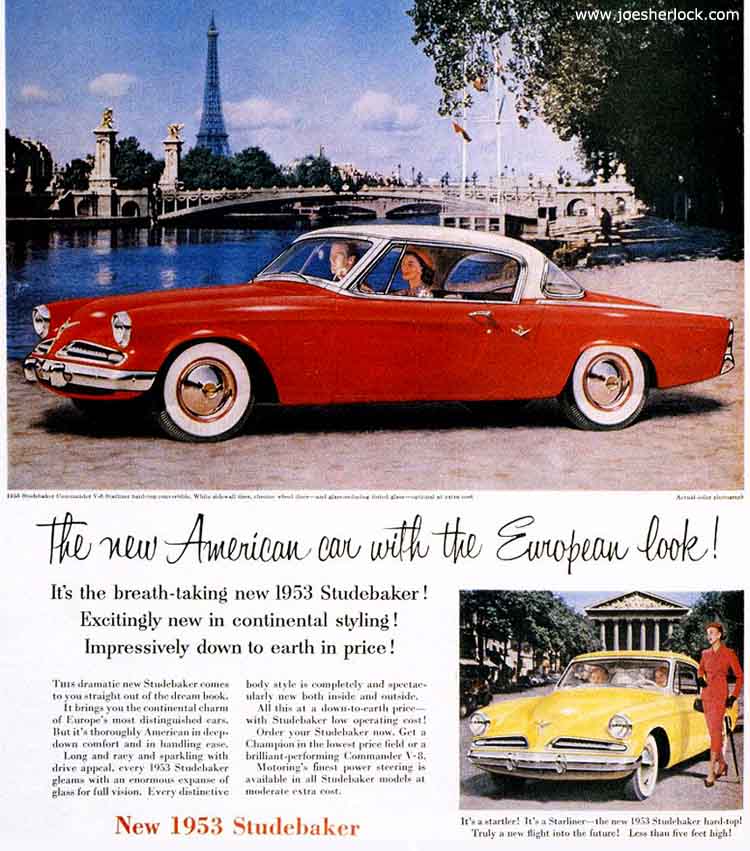 Ironically, most European cars of the early postwar era looked pretty old-fashioned; many were prewar designs. Perhaps Studebaker marketeers were thinking of the sleek Jaguar XK-120 or of some of the daring one-offs from Italian coachbuilders Ghia or Bertone seen at the Paris, Geneva and Turin Auto Shows. In any case, it was easy to associate the clean and vaguely futuristic styling of the Starliner with something that might emerge from Europe's great automobile design houses.
I've named it one of the ten best-looking American production cars.
Legendary industrial designer Raymond Loewy remarked to an interviewer, "Industrial design keeps the customer happy, the client in the black and the designer busy." Loewy had an long association with Studebaker and is credited with several of Studebaker's trend-setting designs.

But, while everyone loved the styling of the '53 coupes, relatively few purchased them. Why? Because a Studebaker was still, well, a Studebaker. With a sparse dealer network, mediocre powertrain build-quality problems (squeaks, groans, rattles and ill-fitting panels), Loewy's spectacular designs implied promises which couldn't be delivered. Furthermore, the Studebaker sedan and Conestoga wagon models were four inches taller than the coupe and rode on a shorter wheelbase, making them look ungainly compared to the Starliner and Starlite coupes.
The Commander Starliner coupe was priced at $2,374, more expensive than the Ford Crestline Victoria ($1,941) but a bargain compared to the Oldsmobile 98 Holiday hardtop coupe, which sold for $3,022. The top-of-the line Studebaker had a 120 horsepower V8, compared with 110 hp for the Ford and 165 horses for the heavier Oldsmobile's Rocket V8.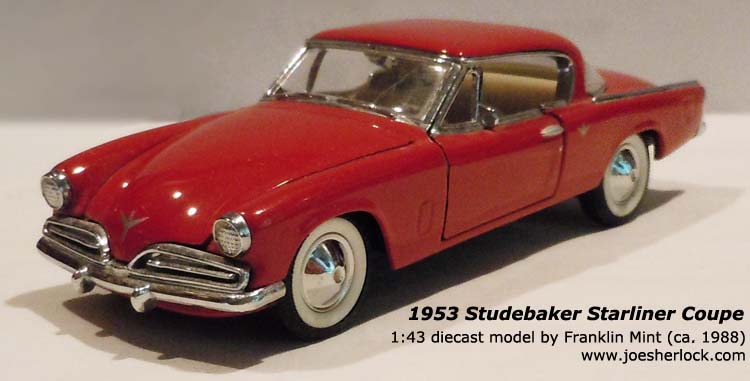 There were other problems as well at Studebaker. Price wars between Ford and GM could not be met by independents, like Studebaker, hurting sales and profits. Sales actually declined from 1952 levels, partly because demand for coupe models was four times the demand for sedans and wagons. Studebaker was unprepared for this market shift and was unable to meet demand. The company's union labor costs were the highest in the industry.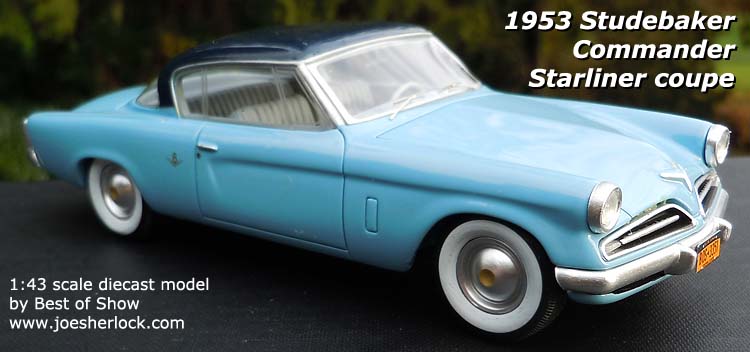 By 1954, Studebaker was losing money. The '54 models added needless style clutter and the 1955 Speedster coupes had too much front-end chrome. Ultimately, Studebaker was forced to merge with Packard to survive. Packard fans believe, with substantial justification, that the merger accelerated their beloved marque's demise in 1958.
But in 1953, for one bright shining moment, Studebaker's pace-setting design was the envy of the auto industry. (posted 11/30/12)
Remember When: 1953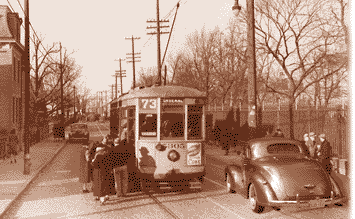 In 1953, Ike was sworn in as president of the U.S. Earl Warren became Chief Justice of the Supreme Court. Elizabeth II was crowned Queen of England.

Edmund Hillary and Tensing Norgay were the first men to climb Mount Everest.

Irish Coffee made its American debut; the first issue of Playboy magazine first appeared in '53.

Other new products included the Chevrolet Corvette, a new overhead-valve V8 engine for Buick, thermostatically-controlled electric fry pans and the antibiotic, tetracycline. DNA is discovered.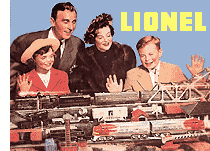 Sales of toy trains peaked in 1953 - Lionel reached $32.9 million in sales; by 1955, sales were down 33%.
The price of hardcover novels rose over the $3.00 mark. New words included 'drag strip', 'cookout', 'egghead', 'split-level house' and 'count-down'.
A gallon of gasoline cost 25¢ or less, depending on where you lived but the minimum wage was only 75¢ per hour. Median U.S. family income was just over $4,200 per year. Kaiser and Jeep merged in Spring 1953. Pillarless hardtop coupes accounted for almost 15% of car production that year.
Several new TV shows appeared on the very small screen during the '53 season: 'The Danny Thomas Show', 'The Life of Riley', 'The Loretta Young Show', 'Coke Time With Eddie Fisher' (a title which would prove ironic when his drug problems became known years later), 'Name That Tune', 'Superman' and 'Omnibus'.

'Ebb Tide' and 'Rags To Riches' were top songs in '53. Record sales consisted of 52% 78-rpm platters, 28% 45-rpms and 19% LP albums. The doo-wop group, The Platters, was founded in 1953. The first CinemaScope films debuted in theaters.
Deaths included playwright Eugene O'Neill, poet Dylan Thomas, singer Hank Williams, Soviet tyrant Joseph Stalin, U.S. Senator Robert Taft, tennis legend Bill Tilton and Olympic athlete Jim Thorpe.
The New York Yankees won the World Series over the Brooklyn Dodgers (4-2) and became the first baseball team to win five consecutive World Series.
---
Other Pages Of Interest
copyright 2012-20 - Joseph M. Sherlock - All applicable rights reserved
---
Disclaimer
The facts presented on this website are based on my best guesses and my substantially faulty geezer memory. The opinions expressed herein are strictly those of the author and are protected by the U.S. Constitution. Probably.
Spelling, punctuation and syntax errors are cheerfully repaired when I find them; grudgingly fixed when you do.
If I have slandered any brands of automobiles, either expressly or inadvertently, they're most likely crap cars and deserve it. Automobile manufacturers should be aware that they always have the option of trying to change my mind by providing me with vehicles to test drive.
If I have slandered any people or corporation, either expressly or inadvertently, they should buy me strong drinks (and an expensive meal) and try to prove to me that they're not the jerks I've portrayed them to be. If you're buying, I'm willing to listen.
Don't be shy - try a bribe. It might help.
---
---