---

1957 Ambassador - The Last Nash
In 1916, when Charlie Nash bought the Thomas B. Jeffery Company of Kenosha, Wisconsin, he got the chance to build his own car, having worked in the carriage and automobile business for over 20 years. By 1923, Nash was making 60,000 cars per year and could barely keep up with demand.
Nash automobiles developed a reputation for sturdiness and durability. Nash's successor, George Mason carried on that tradition. In 1941, Nash adopted unit-body construction for the new 600 model, in order to save weight and produce a quieter car with fewer rattles and squeaks than its competitors. That year, the firm sold 80,000 cars.
After the war, the company sought to distinguish itself with unique, egg-shaped aero styling. The 1949 Nash Airflyte featured a 'teardrop' shape and enclosed wheel wells, a Mason favorite. Detractors said that it looked like a 1930s cartoon car of the future and it acquired the moniker 'bathtub Nash.'
In 1952, the big Nash models were given a complete restyle based on a design by Italian coachbuilder Pinin Farina. Unfortunately, the Carrozzeria Pinin Farina prototype was substantially changed for production, with more bulbous sides and Mason-preferred skirted wheels. The effect was less-than-pleasing to many.
Realizing that independents needed to join forces in order to compete with the Detroit Big Three, George Mason arranged for the merger of Nash and Hudson in May, 1954. He died shortly thereafter and was succeeded by his protégé, George Romney.
In 1955, over 125,000 Nashes were sold; in '56, sales dropped perilously to 22,173 units, undone by fuddy-duddy styling and a Big Three price war driven by overcapacity. In 1957, Nash made its final appearance. Front wheel wells were finally opened up, stacked quad headlamps decorated the front fender edges and a more powerful 255 horsepower V8 engine was available.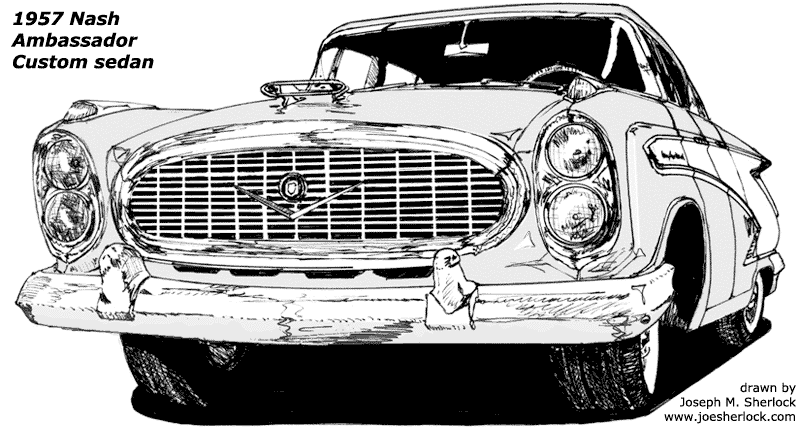 Noted auto writer Richard M. Langworth has said that the 1957 Nash offered "interior design and comfort generally unrivaled by its peers." Ambassador pricing was in the $2,700-3,000 range, depending on model and options. While the '57 model may have been Nash's finest iteration, the restyle couldn't fully disguise the aging, bloated body shape. Prospective customers went elsewhere to flashier, more trendy offerings. Sales of the big Nash fell to an appallingly low 3,561 units. In 1983, Life magazine declared the '57 Nash Ambassador as one of "America's 10 worst cars" - a factually-unsupported and undeserved 'award'.
Mason's successor, George Romney, realized that Nash and Hudson were dead-end brands and placed his bets on the compact Rambler. In 1957, he made Rambler a separate nameplate; in 1958, Nash and Hudson disappeared forever. Romney gambled on recession-friendly, economical small cars and resurrected the old bulbous 100-inch wheelbase '55 Nash Rambler as the '58 Rambler American** (updated with a new grille, larger wheel cutouts and upside-down taillights), with prices starting at $1,775. In print and television ads, George Romney mocked the products of the Big Three automakers as "gas-guzzling dinosaurs" and became one of the first high-profile media-savvy business executives.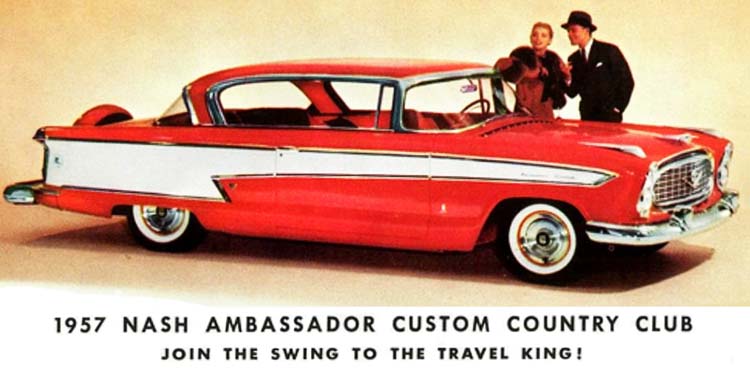 The final Nash Ambassador rolled off the Kenosha, WI production line in the summer of 1957.
American Motors did offer one large car in 1958. The top-of-the-range Rambler was the 'Ambassador' with a stretched 121-inch wheelbase to accommodate the big (former Nash) 327 cubic-inch V8 engine. Absent the Nash badge, 14,750 Rambler Ambassadors were sold in 1958. From '58 until the end of the 1974 model year, AMC continued to use the Ambassador name on its top-of-the-line models.
Romney's Rambler wager paid off. American Motors survived for another three decades or so, far outlasting other independents like Studebaker and Packard. George Romney went on to become Governor of Michigan and was a presidential candidate in 1968. He lost to Nixon but was later appointed U.S. Secretary of Housing and Urban Development. (posted 6/29/10)
** I've posted an interesting photo of a 1958 Rambler American here.
Remember When: 1957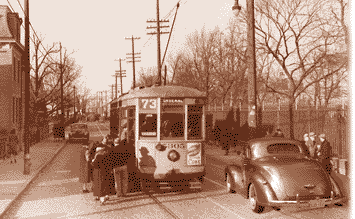 In 1957, the U.S. established the Eisenhower Doctrine and extended the Truman Doctrine to protect the Middle East. In the Arctic, the Distant Early Warning System began operation. Three USAF B-52s completed the first nonstop jet circuit of the world in just over 45 hours.

New U.S. products include Sta-Puf fabric softener, pink plastic flamingo lawn ornaments and electric can openers.

'57 American cars were longer, lower and wider. Every Big Three offering was either all-new or extensively restyled but Chrysler's second-generation Forward Look was the most dramatic and outrageous with soaring fins on all models. Plymouth ads proclaimed, "Suddenly it's 1960!" Chrysler offered torsion-bar suspension; Chevy and Pontiac had fuel-injection on their hottest engines and Oldsmobile offered a three-carb J-2 performance option.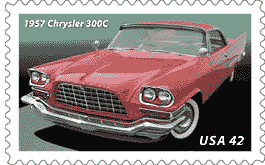 The '57 Ford Skyliner became the first U.S. production automobile featuring a metal retractable hardtop. The 1957 Mercury was all new with styling inspired by the 1956 XM Turnpike Cruiser dream car. The top-of-the-line '57 model was given the Turnpike Cruiser name and featured a wrap-over windshield and reverse-slant, retracting rear window.
'West Side Story' and 'The Music Man' debuted on Broadway. New words included 'baby-sitter', 'scuba' and 'moonlighting'.
Top 1957 record hits included 'All Shook Up', 'Teddy Bear', 'Too Much' and 'Jailhouse Rock' by Elvis Presley, 'You Send Me' - Sam Cooke, 'Chances Are' by Johnny Mathis, 'Whole Lotta Shakin' by Jerry Lee Lewis, 'Bye-Bye Love', 'Wake Up, Little Suzie' by the Everly Brothers and 'Honeycomb' by Jimmie Rodgers. 'Wake Up, Little Suzie' was banned in Boston as too suggestive. In '57, many radio stations throughout the U.S. switched to a Top 40 format.
The postwar American baby boom crested with a one-year record of 4,308,000 1957 births. For the first time, margarine outsold butter. Wham-O introduced the Pluto Platter - soon to be rechristened as the Frisbee. The new $55,000 IBM 610 - described as "the size of a spinet piano" - could solve a six-hour calculator computation in a mere 20 minutes.
Memorable 1957 movies included 'Peyton Place', 'Jailhouse Rock', '12 Angry Men', 'A Face In The Crowd', 'Funny Face' and 'The Bridge on the River Kwai'. A poll found that 50% of American teenagers went to the movies at least once every week.
New '57 television shows included 'Have Gun, Will Travel', 'Leave It To Beaver', 'Perry Mason' and 'The Price Is Right'. A long-time Philadelphia favorite, 'American Bandstand', went national in August. Kermit the Frog made his television debut on Steve Allen's 'Tonight Show'.
Significant new books debuted in 1957, including James Agee's 'A Death in the Family', Vance Packard's 'The Hidden Persuaders' and Jack Kerouac's 'On The Road'.
Deaths included Humphrey Bogart, Oliver Hardy, Louis B. Mayer, Jimmy Dorsey, Christian Dior, Joe McCarthy, Bugsy Moran and Elliot Ness.
In California, Don Bowden became the first American to break the four-minute mile. And, the Milwaukee Braves won the World Series, beating the NY Yankees 4-3.
Read more about 1957 America here.
---
More AutoSketch car drawings can be found here.
---
Other Pages Of Interest
copyright 2010-21 - Joseph M. Sherlock - All applicable rights reserved
---
Disclaimer
The facts presented on this website are based on my best guesses and my substantially faulty geezer memory. The opinions expressed herein are strictly those of the author and are protected by the U.S. Constitution. Probably.
Spelling, punctuation and syntax errors are cheerfully repaired when I find them; grudgingly fixed when you do.
If I have slandered any brands of automobiles, either expressly or inadvertently, they're most likely crap cars and deserve it. Automobile manufacturers should be aware that they always have the option of giving me free cars to try and change my mind.
If I have slandered any people or corporations, either expressly or inadvertently, they should buy me strong drinks (and an expensive meal) and try to prove to me that they're not the jerks I've portrayed them to be. If you're buying, I'm willing to listen.
Don't be shy - try a bribe. It might help.
---