---

---
1959 Cars of the World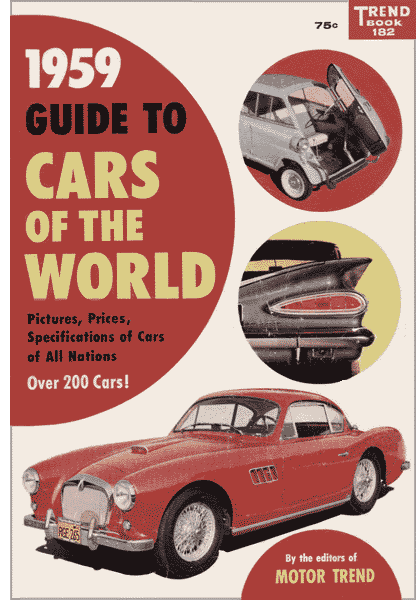 I recently had a look at my old, somewhat tattered copy of '1959 Guide to Cars of the World', a Trend Book edited by Kenneth M. Bayless. What a difference 60 years makes.
In 1959, Chrysler introduced swivel front seats as an option in some models. GM cars featured all-new bodies, including Chevrolet with its infamous batwing rear end. Pontiac debuted Wide-Track. Studebaker introduced the new compact Lark, while dropping the dismal, Studebaker-based Packard line.
The publication noted the "phenomenal growth of station wagons. Ten years ago (1948), these vehicles accounted for only 2% of industry sales; now they have reached 14.3% and their sales curve is still rising." It also sympathized with Detroit's slow response to the small car phenomena, noting that "the buying public is most unpredictable and can raise havoc with the most careful crystal-ball gazers in the business."
There was much hand-wringing about the invasion of small foreign cars: "European firms, with their compact, low-operating-cost cars, are making embarrassing inroads in the sales on the U.S. scene, indicating wide acceptance and demand for an economy car. Foreign imports have reached an amazing 11.5% of total new car sales in the U.S." In 1959, Jaguar sold 5,576 cars in the U.S.
In 1955, only 58,000 foreign autos were imported into the U.S. Two years later, imports topped 200,000. The compact Rambler American was popular, too; over 30,000 were sold during the 1958 model year.
The book lists a plethora of foreign '59 offerings imported into the states, including brands now forgotten by most Americans: Borgward, Citroen, Hillman, Sunbeam, DKW, Morris Minor, Goliath, Gogomobil, Vauxhall (sold by Pontiac dealers) and Opel (sold by Buick dealers).
A '59 BMW Isetta with a 15.5 horsepower, one-cylinder engine could be had for a mere $1,048 P.O.E. A Datsun or Toyopet (Toyota) could be purchased on the West Coast; very few were sold.
Detroit laughed at the Japanese lack of sales success, forgetting that, 10 years earlier, only two Volkswagen Beetles were imported for the entire 1949 model year. By 1953, U.S. sales reached 1,000 per year. In 1954, 6,343 Volkswagens were sold; in 1955, the number rose to 31,000. In '57, almost 80,000 VWs found homes in the U.S. In 1959, over 150,000 were sold in America. During the summer of 1960, Volkswagen imported the 500,000th Beetle to the U.S.
In the mid-1950s, Volkswagen was the top selling foreign marque, with Renault second (mostly Dauphines), while Ford of England and Mercedes duked it out for third place. By 1961, Volkswagen had 87% of the imported vehicle market. (VW's U.S. sales peaked in 1970, with 569,696. Volkswagen had captured 7% of the U.S. car market and had over a thousand American dealerships.)
The fifties were innocent times. In '59, U.S. manufacturers offered one size of car per brand; there was no subcompact, small, mid-size or large Chevrolet. That would change with the 1960 model year, when consumers could buy Chevrolet Corvairs, Ford Falcolns or Chrysler Corp. Valiants.

1959 Chevys were all the same size (119 inch wheelbase, 219 inches long), except for the Corvette. The "foreign invasion" was still Euro-centric. Asian automobile brands like Honda, Mitsubishi, Mazda, Hyundai Suzuki and Kia didn't yet exist. A few little (153 inches long - 7 inches shorter than a VW Beetle), 40 horsepower Datsun four-door sedans and 65 horsepower Toyopet (by Toyota Motor Co. Ltd. of Japan) Crown sedans and station wagons found buyers in California. (Even in 1965, the top selling imports were still European: Volkswagen, MG, Triumph and Volvo, with Opel carving out a distant fifth position.)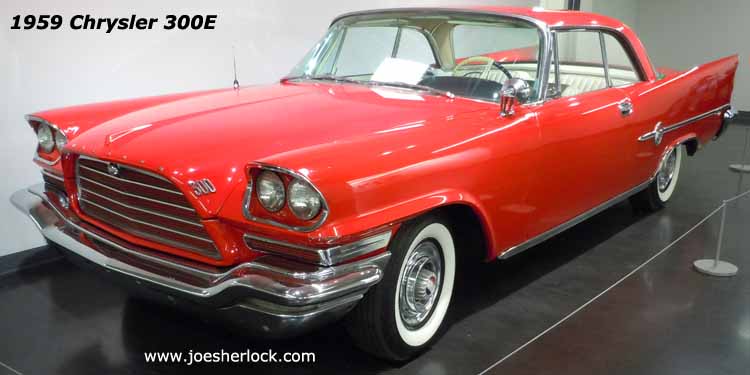 Luxury cars were huge in size in 1959 - almost 19 feet long. Cadillacs were 225 inches in length, Imperial - 226 inches, Lincoln - 227 inches. The high-performance, 380 horsepower Chrysler 300E was 221 inches in overall length.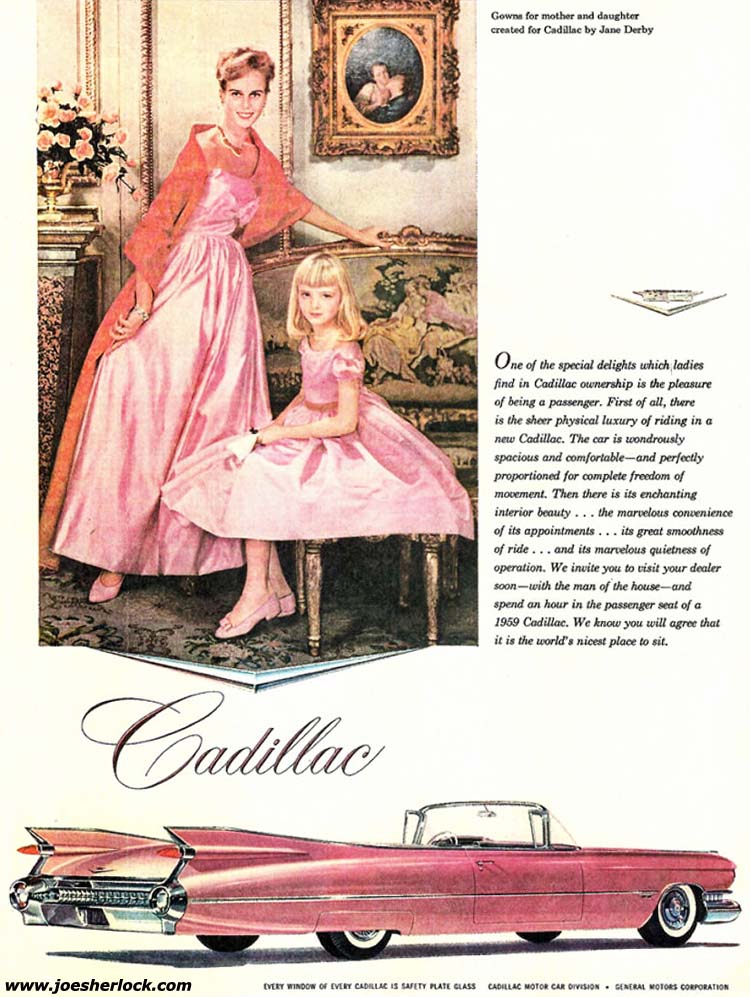 Back in 1959, Detroit still ruled. But the seeds of its demise were being planted as Americans, dissatisfied with its oversized finned offerings, turned to foreign cars in increasing numbers. (originally posted 4/13/09)
Remember When: 1959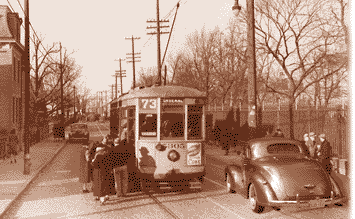 In 1959, Alaska became the 49th U.S. state, followed by Hawaii as the 50th a few months later.

In January, Fidel Castro's revolutionaries overthrew the Batista dictatorship in Cuba. The U.S. press never thought much of Batista and didn't know what to think of the new guy. Here was an interesting man, a rabid baseball fan. The media found him fascinating.

At the time, my high school history teacher, Joe Bloh (how could I ever forget that name), said, "Don't believe what you read. This guy is no hero; Castro's a hard-line Communist. He'll wreck what's left of Cuba." He certainly was prescient.

The 1959 Kitchen Debate was a series of impromptu, contentious exchanges between then U.S. Vice President Richard Nixon and Soviet Premier Nikita Khrushchev at the opening of the American National Exhibition in Moscow. For the exhibition, an entire house was built; exhibitors claimed anyone in America could afford it. The house was filled with labor-saving and recreational devices - including a very modern kitchen - meant to represent the fruits of the capitalist American consumer market. Nixon was considered by most Americans to have won the 'debate'.

In '59, Liz Taylor married Eddie Fisher. The St. Lawrence Seaway officially opened. American Airlines inaugurated the first regularly-scheduled U.S. transcontinental jet passenger service from LA to New York, using Boeing's 707. The Dow Jones Industrial Average topped 600 for the first time ever.

New products included the BMC Mini automobile (Morris Mini-Minor and Austin Seven), diet drink Metrecal and, in the Fall, U.S. compact cars (Chevy Corvair, Chrysler Valiant, Ford Falcon) and toy doll sensation, Barbie. (Barbie's friend, the suspiciously-androgynous Ken, debuted in 1961.) In '59, the first integrated circuit was demonstrated; in the same year, the Ski-Doo snowmobile debuted.

Choo-choo Charlie debuted as cartoon spokesman for Good & Plenty candy. New words included 'go-karting' and 'valet parking'.

Several notable movies debuted in 1959: 'Ben Hur', 'North By Northwest', 'Some Like It Hot', 'On The Beach' and Peter Sellers' cult-classic 'The Mouse That Roared'. Other movies included the very-fifties' 'Pillow Talk' with Doris Day and Rock Hudson. Rock-and-roller Ricky Nelson made his movie debut with John Wayne in 'Rio Bravo.'

Tailfins continued to grow until they reached their zenith in the 1959 model year when they were often almost as tall as the car itself. There were even huge fins on Cadillac hearses.
New TV shows included 'Bonanza', 'Dennis The Menace', 'Rawhide', Rod Serling's 'Twilight Zone' and 'The Untouchables', which begat a Roaring Twenties mini-revival in 1959 and '60.

There were many top record hits in '59, thanks to a plethora of youth-oriented, top-music-only radio stations: The Coasters' 'Charlie Brown', 'Venus' by Frankie Avalon, The Fleetwoods' 'Come Softly To Me', 'Smoke Gets In Your Eyes' by The Platters and Bobby Darin's 'Mack The Knife'. Fabian had his first major hit with 'Turn Me Loose'. Rocker Chuck Berry was arrested for violating the Mann Act, after transporting a 14 year-old girl across state lines "for immoral purposes." He later received prison time.
February 2nd became known as 'The Day The Music Died' when Buddy Holly, Richie Valens and The Big Bopper were killed in the crash of a small private plane, traveling between concerts. They became rock's first martyrs.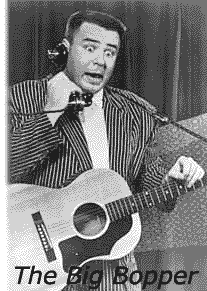 Other deaths included George C. Marshall (developer of the Marshall Plan and Nobel peace prize winner), Secretary of State John Foster Dulles, architect Frank Lloyd Wright, actor/comedian Lou Costello, singer Mario Lanza, actor Errol Flynn, actor George 'Superman' Reeves, movie mogul Cecil B. DeMille and Henry Brttain, inventor of the ice-cream cone.
The LA Dodgers won the World Series, beating the Chicago White Sox 4 to 2.
---
copyright 2009-21 - Joseph M. Sherlock - All applicable rights reserved
---
Disclaimer
The facts presented on this website are based on my best guesses and my substantially faulty geezer memory. The opinions expressed herein are strictly those of the author and are protected by the U.S. Constitution. Probably.
Spelling, punctuation and syntax errors are cheerfully repaired when I find them; grudgingly fixed when you do.
If I have slandered any brands of automobiles, either expressly or inadvertently, they're most likely crap cars and deserve it. Automobile manufacturers should be aware that they always have the option of trying to change my mind by providing me with vehicles to test drive.
If I have slandered any people or corporations, either expressly or inadvertently, they should buy me strong drinks (and an expensive meal) and try to prove to me that they're not the jerks I've portrayed them to be. If you're buying, I'm willing to listen.
Don't be shy - try a bribe. It might help.
---
---