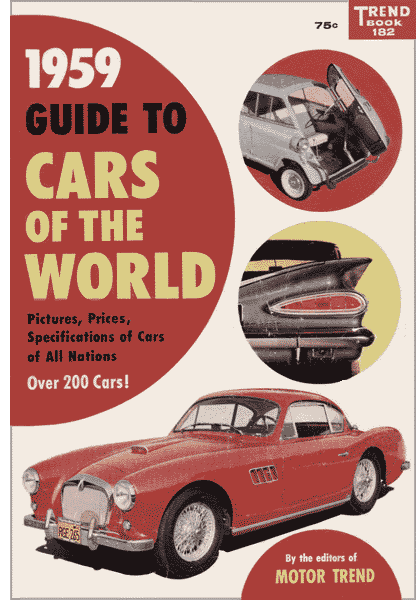 I recently had a look at my old, somewhat tattered copy of '1959 Guide to Cars of the World', a Trend Book edited by Kenneth M. Bayless. What a difference 60 years makes.
In 1959, Chrysler introduced swivel front seats as an option in some models. GM cars featured all-new bodies, including Chevrolet with its infamous batwing rear end. Pontiac debuted Wide-Track. Studebaker introduced the new compact Lark, while dropping the dismal, Studebaker-based Packard line.
The publication noted the "phenomenal growth of station wagons. Ten years ago (1948), these vehicles accounted for only 2% of industry sales; now they have reached 14.3% and their sales curve is still rising." It also sympathized with Detroit's slow response to the small car phenomena, noting that "the buying public is most unpredictable and can raise havoc with the most careful crystal-ball gazers in the business."
There was much hand-wringing about the invasion of small foreign cars: "European firms, with their compact, low-operating-cost cars, are making embarrassing inroads in the sales on the U.S. scene, indicating wide acceptance and demand for an economy car. Foreign imports have reached an amazing 11.5% of total new car sales in the U.S."
In 1955, only 58,000 foreign autos were imported into the U.S. Two years later, imports topped 200,000. The compact Rambler American was popular, too; over 30,000 were sold during the 1958 model year.
The book lists a plethora of foreign '59 offerings imported into the states, including brands now forgotten by most Americans: Borgward, Citroen, Hillman, Sunbeam, DKW, Morris Minor, Goliath, Gogomobil, Vauxhall (sold by Pontiac dealers) and Opel (sold by Buick dealers).
A '59 BMW Isetta with a 15.5 horsepower, one-cylinder engine could be had for a mere $1,048 P.O.E. A Datsun or Toyopet (Toyota) could be purchased on the West Coast; very few were sold.
Detroit laughed at the Japanese lack of sales success, forgetting that, 10 years earlier, only two Volkswagen Beetles were imported for the entire 1949 model year. By 1953, U.S. sales reached 1,000 per year. In 1954, 6,343 Volkswagens were sold; in 1955, the number rose to 31,000. In '57, almost 80,000 VWs found homes in the U.S. In 1959, over 150,000 were sold in America. During the summer of 1960, Volkswagen imported the 500,000th Beetle to the U.S.
In the mid-1950s, Volkswagen was the top selling foreign marque, with Renault second (mostly Dauphines), while Ford of England and Mercedes duked it out for third place. By 1961, Volkswagen had 87% of the imported vehicle market. (VW's U.S. sales peaked in 1970, with 569,696. Volkswagen had captured 7% of the U.S. car market and had over a thousand American dealerships.)
The fifties were innocent times. In '59, U.S. manufacturers offered one size of car per brand; there was no subcompact, small, mid-size or large Chevrolet. That would change with the 1960 model year, when consumers could buy Chevrolet Corvairs, Ford Falcolns or Plymouth Valiants.