---

Panic In The Streets: The Birth Of The 1960 Ford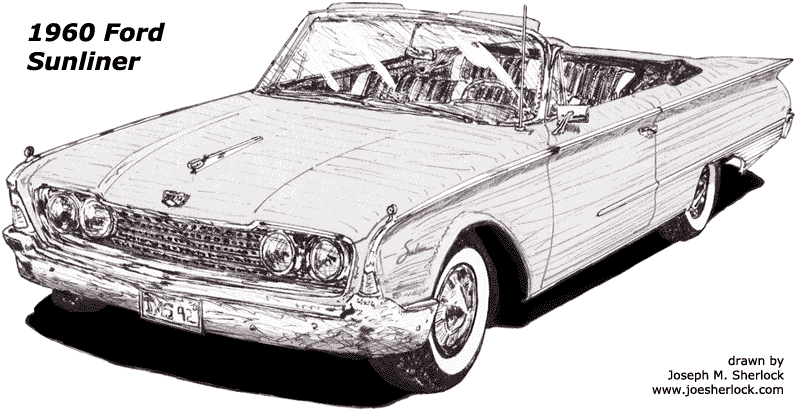 Early postwar Detroit was a clubby, old-boy network town. Secrets were spilled over drinks at posh bars. Consultant George Walker was hired to help with the '49 Ford design. (He later became Ford's Vice-President of Design.) When stylist Joe Oros came up with the 1949's spinner grille, Walker realized that Pontiac was designing an almost identical one for its '49 model. Walker leaked the information to General Motors and the Pontiac grille was redesigned.
In the auto biz, there are a thousand stories like that one.
When General Motors found out about Virgil Exner's new 'Suddenly It's 1960' '57 Chrysler Corp. line-up, the styling department almost soiled its corporate trousers. Suddenly, The General realized that Harley Earl's age of high 'power dome' hoods and chrome applied by the bucketful with a trowel was over. It was too late to do anything about the '58 models (the '58 Buicks and Oldsmobiles are case studies in high hoods and excess brightwork), but a crash program was initiated to make GM's 1959 models as wild as Chrysler's. The result was the soaring-finned '59 Caddy and the bat-winged '59 Chevy.
Earl was retired in 1958.
In those days, Ford Motor Company never paid much attention to Chrysler but studied General Motors' every move with a mixture of awe, envy and paranoia. When Ford found out from its usual spy sources about the 1959 Chevrolet, it had two of its stylists, Bill Boyer and Ken Nelson, make a clay model of the new, radical Chevy based on available information. When management saw it, panic ensued.
It was too late to change the design of the square and stolid 1959 Ford, which had been styled by Joe Oros.

But there was a still-in-development Ford concept car named Quicksilver. It had been created by several designers, including James Darden and Stu Denker, and a full-size clay model had already been made. The low, wide, futuristic and sleek Quicksilver became the template for the production 1960 Ford. The design was then fettled, massaged and tinkered with by many, although no one seemed to want to take credit for the resultant, watered-down, compromised production model.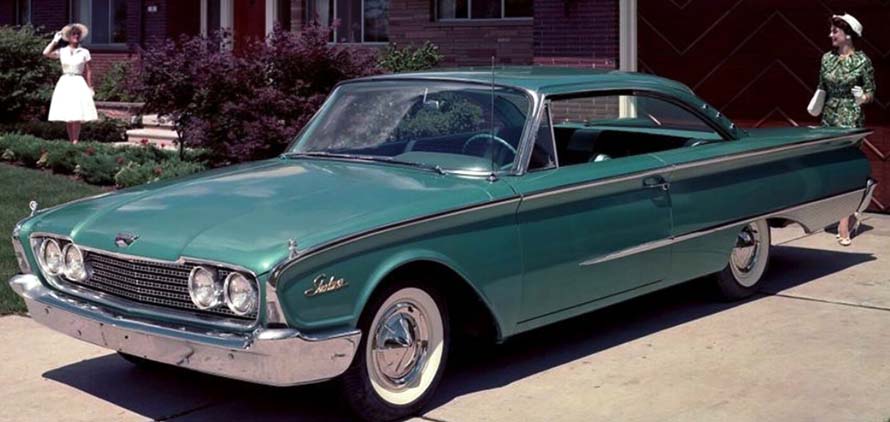 The 1960 Ford looked nothing like any previous Ford, with quad headlights riding in a scalloped-square front clip. Ford's signature round taillights were replaced by uninspired, half-moon shaped ones, which drew the ire of Ford loyalists. At 81.5 inches, the big Ford was a half-inch wider than the gargantuan 1959 Cadillac and its width violated the passenger car licensing laws of one farm-belt state. Apparently, money changed hands and the statute was hurriedly changed, so that the 1960 Ford wouldn't be required to wear commercial plates.
The 1960 models rode on a 119-inch wheelbase and were 214 inches long. Changes were predominately skin-deep; the frame, most of the inner panels and powertrains were pretty much the same as in 1959.
The Fairlane became the base model, followed by the Fairlane 500 and top-of-the-line Galaxie. The Galaxie Sunliner, shown in the sketch (with a base price of $2,860), is probably the best looking of the 1960 large Fords.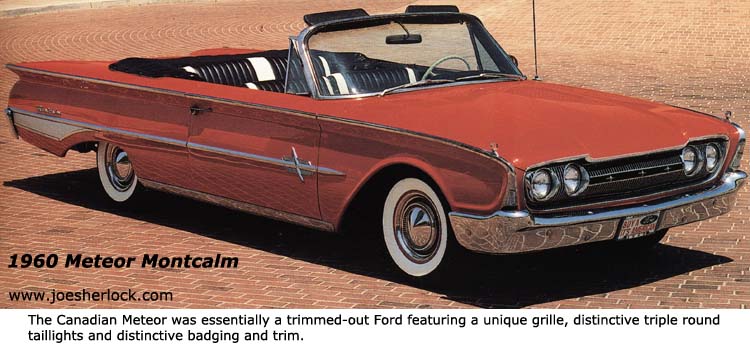 While Ford offered performance models, the everyday versions of the '60 model were slugs. In the Spring of 1960, I drag raced a friend, whose dad had just purchased a new Ford two-door. It was a 292 cu.in., 185 hp V8 model, equipped with the dreadful, two-speed Fordomatic transmission. I whipped him handily with my dad's four-year old overdrive-equipped, 137 hp six-cylinder Ford Mainline.
The 1960 model was not popular. In fact, the boxy 1959 Ford outsold the futuristic '60 - 1,450,953 to 1,003,734. (In all fairness, the new 1960 compact Ford Falcon probably stole sales from its larger brother.) Ford fans clearly wanted a Ford, not a Chevy look-alike.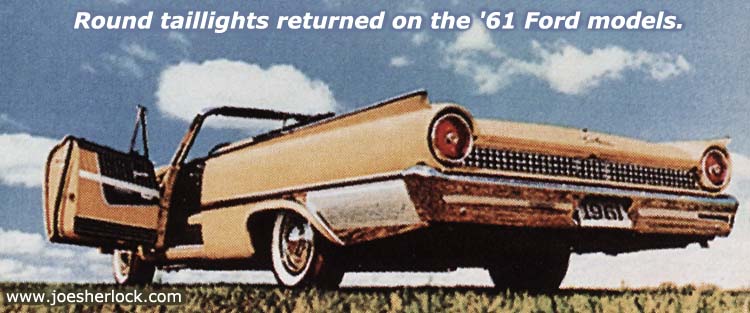 For 1961, the styling was toned down and the round taillamps were restored - to the delight of Ford enthusiasts. From that point onward, Fords started looking like Fords again and, eventually, sales recovered. (posted 1/31/11)
Remember When: 1960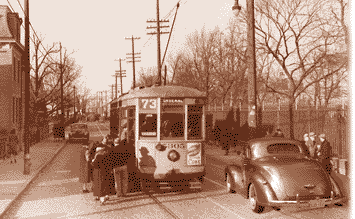 In 1960, France tested its first nuclear bomb with an explosion in Algeria. In May, Nikita Khrushchev announced the capture of an American U-2 spy plane piloted by Gary Powers of the CIA - a big embarrassment for the U.S. and the Eisenhower administration.

Following four televised debates, John F. Kennedy narrowly defeated Richard Nixon in the 1960 U.S. Presidential election.

The U.S. nuclear sub Triton completed the first underwater circumnavigation of the world in 84 days. In Chicago, men lined-up around the block to join the first Playboy Club. The American Dental Association made its first endorsement - of Crest toothpaste. Within a year, sales double. The number of U.S. car registrations surpassed 75 million.

New products included the anxiety drug Librium. The FDA approved the first oral contraceptive. In Japan, Toyo Kogyo Co. produced its first car, an R-360 Mazda coupe. In 1960, the U.S. put 17 probes and satellites into space. Newspaper comic 'The Family Circus' made its debut. Digital Equipment Corp. introduced its first minicomputer. Some new words for '60 were anchorman, area rug, sit-in and docudrama.

Best-selling books included Harper Lee's 'To Kill A Mockingbird', Ian Fleming's 'For Your Eyes Only' and John Updyke's 'Rabbit, Run'.

In March, Elvis Presley got out of the Army and restarted his singing and movie career. Top 1960 records included 'Theme From A Summer Place', Elvis' 'Stuck On You', 'Georgia On My Mind' by Ray Charles, 15 year-old Brenda Lee's 'I'm Sorry', 'El Paso' by Marty Robbins, as well as The Drifters' 'Save The Last Dance For Me'.

In October, 19 year-old Chubby Checker introduced 'The Twist', starting a dance fad which continued for years. In England, an obscure British group, The Moondogs, renamed themselves The Beatles.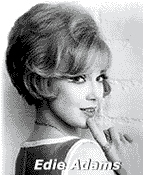 New television shows included 'The Andy Griffith Show', prime-time's first animated sitcom: 'The Flintstones', 'My Three Sons' and 'Route 66'. Edie Adams vamped it up for Muriel cigars in television commercials: "Hey, big spender, spend a little dime on me."
Television kiddie icon Howdy Doody went off the air on September 24th.
Movies for 1960 included 'The Apartment', 'Elmer Gantry', 'The Magnificent Seven' and 'Psycho'. In 1960, a movie ticket cost 75¢.
The Academy Award for best picture went to 'Ben Hur'.
Deaths included novelist Albert Camus (killed while riding in a Facel Vega which crashed into a tree), etiquette expert Emily Post, John Kelly, former Olympic rowing champion and father of Princess Grace of Monaco, leading man Clark Gable and silent movie legend Mack Sennett.
The Pittsburgh Pirates won the World Series, defeating the New York Yankees 4-3. It was the only time a winner-take-all World Series game has ended with a walk-off home run.
---
More AutoSketch car drawings can be found here.
---
Other Pages Of Interest
copyright 1992, 2011-20 - Joseph M. Sherlock - All applicable rights reserved
---
Disclaimer
The facts presented on this website are based on my best guesses and my substantially faulty geezer memory. The opinions expressed herein are strictly those of the author and are protected by the U.S. Constitution. Probably.
Spelling, punctuation and syntax errors are cheerfully repaired when I find them; grudgingly fixed when you do.
If I have slandered any brands of automobiles, either expressly or inadvertently, they're most likely crap cars and deserve it. Automobile manufacturers should be aware that they always have the option of trying to change my mind by providing me with vehicles to test drive.
If I have slandered any people or corporations, either expressly or inadvertently, they should buy me strong drinks (and an expensive meal) and try to prove to me that they're not the jerks I've portrayed them to be. If you're buying, I'm willing to listen.
Don't be shy - try a bribe. It might help.
---
---