A Confusing History Of Acrylic Manufacturers and Ownership
I am confounded by what companies now own brand names and who makes/sells what. General Electric no longer makes light bulbs or toasters. Buick seems to be more of a Chinese brand - it sells more vehicles there than in the U.S. Lexan, the tough, clear plastic once championed by General Electric is now owned by Saudi Basic Industries Corporation. Uniroyal tires - once the pride of Akron, Ohio - are now just a discount brand made by Michelin. The French tire company also makes BF Goodrich tires. Once a breakfast cereal company, Kellogg's now owns Pringles and Cheese-It snacks. Then there's the confusing story of the acrylic plastic industry.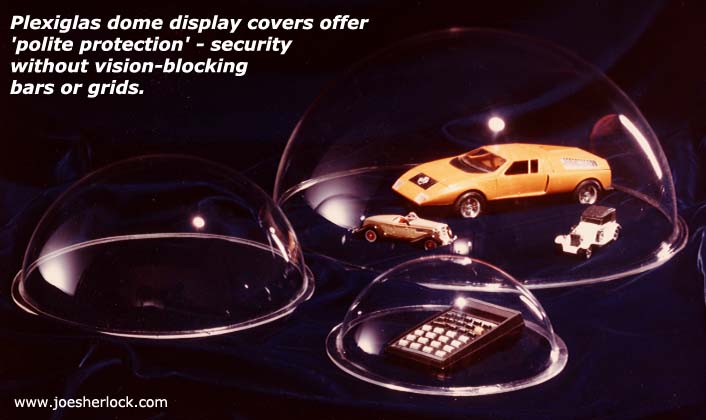 Acrylic, also known as PMMA - Polymethyl Methacrylate, is a clear, rigid thermoplastic offering excellent see-through value (equivalent to optical-grade glass), hardness, breakage resistance (compared with glass), outstanding outdoor durability and light weight. It offers good chemical resistance and has desirable electrical properties - low conductivity, good arc resistance and dielectric strength. Acrylic is available in dimensional form (sheet, rod and tube) as well as a molding compound for producing manufactured shapes by injection-molding or extrusion. Initially employed for aircraft canopies during World-War II, acrylic is used extensively for architectural and safety glazing, architectural lighting, clear point-of-purchase and retail displays, aquariums, outdoor signs (in translucent colors) and red-tinted automotive tail lamps.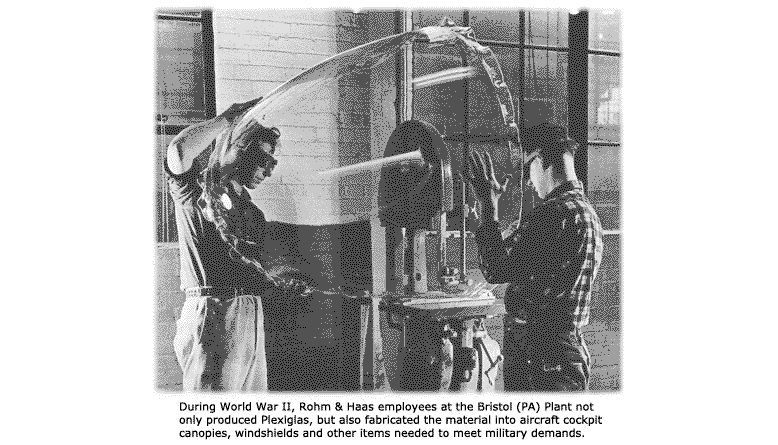 Acrylic plastic was developed in the 1930s, pioneered by both the American and German companies called Rohm & Haas (Plexiglas), Delaware-based E.I. DuPont de Nemours & Co. (Lucite) and Imperial Chemical Industries Ltd. (a British firm, once the largest manufacturer in Great Britain, produced Perspex brand acrylic). In 1936, Rohm & Haas sold $13,000 worth of Plexiglas but, by 1941, sales had risen to $8.9 million.
Fifty years ago, there were three primary brands of acrylic sheet and molding compound sold in the United States: Plexiglas, Lucite and Acrylite. While Plexiglas and Lucite duked it out for top market position, Acrylite was a distant third place and was manufactured by American Cyanamid Corp. - a firm best known for producing Formica countertop material. All three were American brands made in the U.S. by American companies.
In the 1970s, American Cyanamid Corp. partnered with Röhm GMBH to form CyRo Industries. This new firm produced a broader line of Acrylite offerings, thanks to Röhm GMBH's technical prowess, helping Acrylite to achieve greater market penetration. Prior to World War II, Röhm GMBH was the German arm of Rohm & Haas U.S. (and was known as Röhm & Haas Darmstadt). Or the other way around, depending on whether one asks the Germans or the Americans.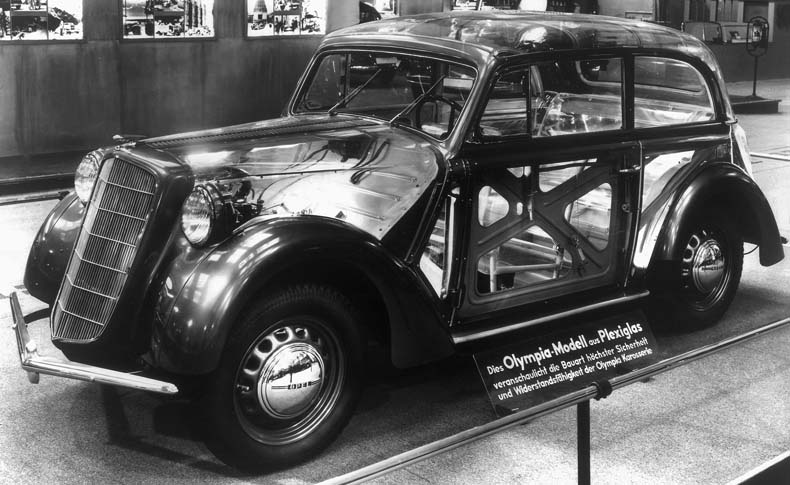 This 1937 Opel Olympia two-door sedan had Plexiglas panels made by Röhm and Haas of Darmstadt, Germany. In the lower photo, Adolf Hitler can be seen examining the car at an auto show. (photos courtesy of Glenn Brummer)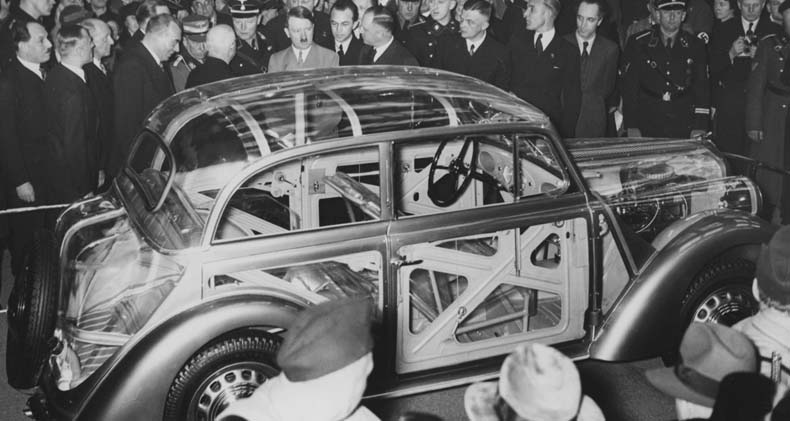 It should be noted that for most of the postwar 20th Century, the Plexiglas trade name belonged to Rohm and Haas in North America and to Röhm GMBH in Europe. R&H used the name Oroglas for its acrylic plastics sold in Europe, while Röhm sold Rohaglas in areas where it lacked trademark rights.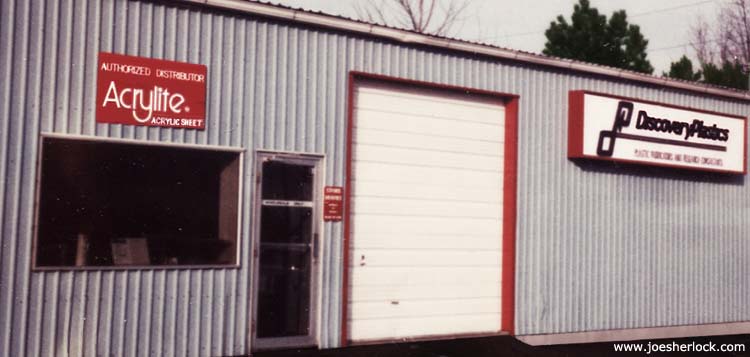 My Oregon plastics company became a distributor of Acrylite in early 1980. In Fall 1979, I flew back to the East Coast and pitched both Rohm and Haas as well as CyRo on becoming a distributor for their acrylic sheet products. As R&H hemmed and hawed (fearful of angering existing distributors and of setting a 'precedent' by giving a distributorship to a couple of its ex-employees), CyRo responded positively and quickly, probably because CyRo's biggest distributor in our geographical area was having trouble paying its bills and the manufacturer wanted a backup in case their prime Oregon distributor went under. In less than three years, our sales outpaced CyRo's other distributor. The red acrylic sign in the 1982 photograph of Discovery Plastics' facility reads: Authorized Distributor - Acrylite® acrylic sheet.
---
American Cyanamid is now gone, having merged with American Home Products in 1994. The Acrylite brand is now owned by Cyro Evonik Industries. Evonik is a large German specialty chemicals company; it also acquired Röhm GMBH in 2006.
In the 1980s, Rohm and Haas moved some of its cell-cast acrylic sheet production from its Bristol, Pennsylvania and Knoxville, Tennessee plants to Mexico. (Industry people jokingly referred to the resultant products as Mexiglas.) In 1998, R&H sold its entire Plexiglas business to Elf Atochem. That company became part of Total, the large European oil company. When Total restructured its chemicals business in 2004, Plexiglas became part of Arkema Group, a French specialty chemicals firm which operates worldwide.
In the 1990s, DuPont sold its Lucite business to Imperial Chemical Industries (maker of the well-known Perspex brand of acrylic). ICI also acquired Continental Polymers, Inc., a $50 million, California-based maker of acrylic sheet. (By the late 1980s, Continental had become one of my plastic display businesses' major suppliers.) ICI also bought KSH, one of the largest acrylic lighting panel suppliers in North America. ICI was acquired by Dutch firm AzkoNobel in 2008. Lucite International is now part of Mitsubishi Chemical. Mitsubishi has sold or licensed its Lucite sheet business to Plaskolite, an Ohio company which made its mark extruding lighting panels and other specialty acrylic sheet products.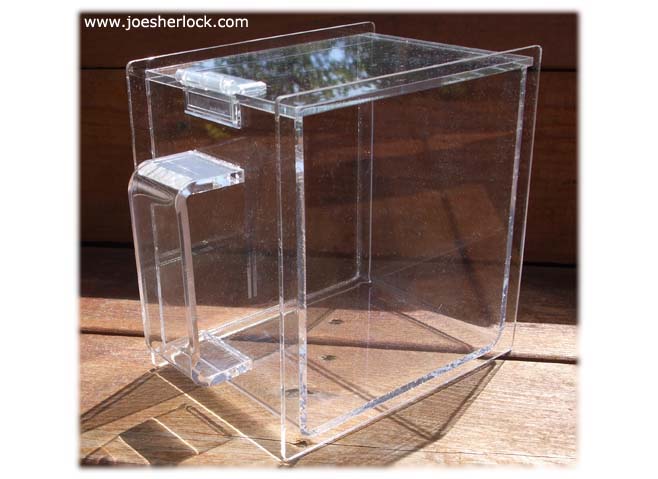 Are you confused enough yet? Permit me to add that, Dow Chemical - a firm never in the acrylic plastics business, although Dow was once a major producer of commodity thermoplastics such as polystyrene - bought Rohm & Haas in 2009 and merged with DuPont in 2017. While both of those companies were acrylic pioneers, Dow waited until they got out of the acrylic plastics business before getting involved with either.
Why the corporate version of musical chairs? I suspect one of the reasons is that the acrylic market changed. In the 1950s and '60s, specialty plastic was a high-flying business. Growth was strong helped by continuous improvements to existing products. New types and combinations of plastics were being commercialized monthly, opening new markets and applications. Profits were healthy. In the 1970s, growth slowed as the acrylic market (and overall plastic business) matured. Companies fought harder for market share by cutting prices. By the late 1980s, acrylic plastic had become a commodity with intense price competition and decidedly lower margins. American corporations shed their acrylic operations, using the proceeds to fund new ventures offering better growth and profit potential.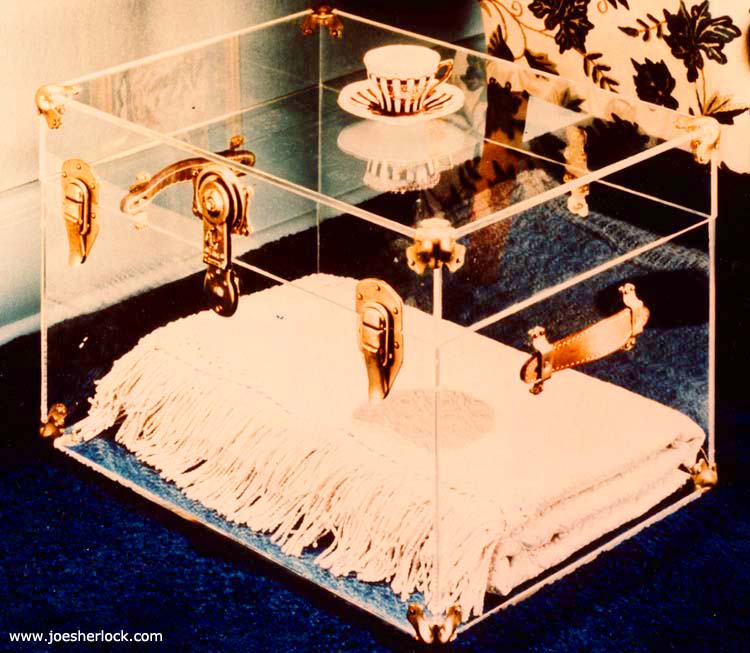 Truth is stranger (and more convoluted) than fiction. (posted 5/4/18)
---
Other Pages Of Interest
| blog: 'The View Through The Windshield' |
| greatest hits: index of essays & articles | blog archives | '39 Plymouth |
| model train layout | about me | about the blog | e-mail |
copyright 2018-19 - Joseph M. Sherlock - All applicable rights reserved
---
Disclaimer
The facts presented in this blog are based on my best guesses and my substantially faulty geezer memory. The opinions expressed herein are strictly those of the author and are protected by the U.S. Constitution. Probably.
If I have slandered any brands of automobiles, either expressly or inadvertently, they're most likely crap cars and deserve it. Automobile manufacturers should be aware that they always have the option of trying to change my mind by providing me with vehicles to test drive. I'll dutifully report my road test impressions on this car blog.
If I have slandered any people or corporations in this blog, either expressly or inadvertently, they should buy me strong drinks (and an expensive meal) and try to prove to me that they're not the jerks I've portrayed them to be. If you're buying, I'm willing to listen.