Thursday December 31, 2020
The Year In Review: 2020, a horrible year, is just about over. To say it has been a strange year is a huge understatement. We have been subject to lockdowns, our favorite restaurants are closed - some forever - and grocery stores as well as supermarkets are currently allowed to operate at only 25% capacity at this writing. We haven't been inside a physical church since March; it's TV church for us these days. All of us are sick and tired of this pandemic. That said, we remain relatively healthy and don't know anyone personally who got the China virus. We were overjoyed any time we could buy toilet paper. And, as far as I know, no one got killed by murder hornets.
Let's hope that 2021 is better.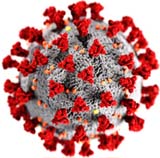 Nevertheless, the effects of 2020 will bleed into 2021. A terrible plague was released to the world by China. It caused over 17 million Wuhan flu cases in the U.S. and over 300,000 deaths. Worldwide, almost 1.7 million perished. Aside from the human health toll, economies were disrupted across the planet as nations tried to control the spread of the disease with massive lockdowns. Businesses were shuttered, jobs were lost and many people suffered severe economic hardships.
The hospitality and travel industries and businesses that serve them remain severely crippled and will be slow to recover. Thankfully, vaccines are being manufactured and delivered. Nevertheless, buttoned-up, dense 21st Century lifestyles helped spread the disease. Thank urban planners for making all those multi-story office buildings petri dishes with windows that won't open and high air-recycling HVAC systems. Saving the planet, my ass. I'm old enough to remember when mass transit - buses, trolleys, elevateds and subways - actually had windows that opened. Not any more. Stay off of public transit.
We have tried to get outside every day - believing that fresh air is a good way to ward off the virus - until the smoke levels from nearby wildfires reached unhealthy levels in mid-September. We had to stay indoors for almost a week. This year, there have been out-of-control fires throughout the West and severe weather events elsewhere, including a record number of hurricanes.
Added to all of this misery, the validity of America's election system is in question, with rampant and egregious cheating occurring this year. At this time, no one knows for certain who is behind the hacking of machines obvious rejiggering of votes. Foreign agents - China, Russia and Iran have been mentioned, Democratic party operatives, George Soros? Take your pick. In any case, 75 million voters believe that Joe Biden's election was illegitimate. This is not the America we want and there must be a thorough investigation until the culprits are found and punished. Fraud cannot stand.
Speaking of punished, we must decouple from China. They are not America's friend and we must eliminate our dependency on them for vital items such as rare earth metals and prescription drugs. Donald Trump had the right idea about bringing manufacturing back to the U.S. It is a national security issue and we must continue down the path of self-sufficiency.
2020 has been a year of seemingly endless riots, especially in Portland and Seattle. America witnessed the creation of illegal autonomous zones - such as the CHAZ/CHOP section of Seattle, the ginned-up and mostly-phony Black Lives Matter protests and the destruction of public and private property by Antifa, just-plain looters and assorted criminals.
A bunch of statues were attacked, defaced and removed, including former Philadelphia Mayor Frank Rizzo and beloved singer Kate Smith because of past sins/thought crimes of some sort or other. Abolitionist Matthias Baldwin's statue was defaced by Philadelphia miscreants because … statue. Statues of Father Junípero Serra, Catholic saint and founder of Mission San Buenaventura, were toppled by 'indigenous activists' in downtown Los Angeles and in Sacramento.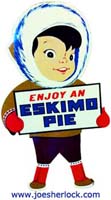 Due to extreme political correctness and plain ol' stupidity, Aunt Jemima, Uncle Ben's Rice, Eskimo Pie, the Cream of Wheat chef, the Cleveland Indians are getting new names and or image makeovers. And Elmer Fudd will no longer have a rifle in the latest Looney Tunes reboot.
California, once a symbol of the American dream, has fallen so far that Tesla, Hewlett Packard, Palantir, Charles Schwab and Oracle are all relocating to Texas. California has also taken ordinary citizens for granted, and elevated criminals, their allies and assorted fringe groups to protected status. Taxpayers are voting with their feet and leaving - not just California but New York, Chicago and other high-tax, low-service liberal-run burgs.
• Personal: In September, I celebrated five years since my last treatment of chemo and radiation. In June, my wife and I celebrated 54 years of matrimony. And I turned 77 in August. I've now had my drivers license for 61 years, although I started driving occasionally a few years earlier than that.

I reviewed 40 books in 2020, far fewer than usual because of pandemic-related publishing and release delays.

This year, my O-gauge model train layout is up and running in time for the holidays. I built the layout way back in 2000. It is holding up well and I recently posted Some Reflections at 20 Years.

As retirees, we have no plans for large purchases in 2021; we buy only what we need. However, we had a number of repairs made in 2020. As appliances and devices get old, things break. Our daily drivers, while teenagers, are in very good shape and have plenty of miles left in them.

• Car Stuff: For me, 2019 was the year of many pleasant drives in my 1939 Plymouth coupe. There is now an electric Mustang and other proposed electric cars including a resurrected Hummer an electric Cadillac and more. There is a disturbing automobile trend toward ridiculously-sized grilles these days. The three iconic Alfa B.A.T. cars fetched almost $15 million at auction.

The following car models were discontinued this year: Acura RLX luxury sedan, Alfa Romeo 4C sports car, BMW i8 pricey hybrid sports car, the venerable Buick Regal sedan, Cadillac CT6 flagship luxury sedan, the long-running (since 1958) Chevrolet Impala, Chevrolet Sonic subcompact, Dodge Grand Caravan minivan, Ford Fusion mid-sized sedan, Honda Civic Si and Civic Coupe, Honda Fit subcompact, Lexus GS sedan, Lincoln Continental flagship sedan, Lincoln MKZ sedan - formerly known as Zephyr, Mercedes-Benz SLC sports coupe and Toyota Yaris subcompact. And the Segway has been discontinued. Also dead are the Aussie brand Holden and Bristol, a British marque.

J.C. Whitney, legendary seller of car accessories - some wonderful, some over-the-top, useless and/or tasteless, departed the scene in 2020.

• The Economy: In spite of the knockout punch from the China virus, most of the U.S. economy is recovering surprisingly well. Credit for this V-shaped recovery must be given to the Trump Administration and their fast-acting response to the pandemic as well as loose policies from the Fed.

The U.S. share of global GDP remains high. The stock market is now higher than Jerry Nadler's pants. The Dow-Jones Industrial Average increased 7.25% for the year, achieving a record high of 30,606.48. The S&P 500 also set an all-time record, rising 16.26%, while the NASDAQ increased almost 44%, rising above the 12,800 mark for the first time in history. The largest S&P tracking index mutual fund was up 18.37% with dividends reinvested.

• Passings: Deaths in 2020 included actor/curmudgeon Wilford Brimley, actor Edd 'Kookie' Burns, businessman-turned-politician Herman Cain, fashion designer Pierre Cardin, actor Sean Connery - the original James Bond, actor Robert Conrad, comedian Norm Crosby, novelist and underwater explorer Clive Cussler, actor Brian Dennehy, actor Kirk Douglas, good friend and author Harry Gambino, actor Richard Herd, tiger-mauled magician Roy Horn, Philly teen dance host Ed Hurst, Monty Python-member Terry Jones, legendary French chef Émile Jung, automotive writer John Lamm, legendary R&T artist William A. 'Bill' Motta, singer Helen Reddy, actor/director/writer Carl Reiner, the Architect of Rock-n-Roll, Little Richard, blogger Ol' Remus - proprietor of 'The Woodpile Report', actress Diana Rigg, musician and chicken-purveyor Kenny Rogers, Sy Sperling - former president of and chief pitchman for the Hair Club For Men, comic actor Jerry Stiller, actor and entrepreneur Lyle Waggoner, actor Stuart Whitman, 'Jeopardy' host Alex Trebek, actor/comedian Fred Willard and test pilot extraordinaire Chuck Yeager.

Two more of my high school classmates died in 2020, bringing the total to 51 out of a graduating class of 197. All of us are getting old and death is inevitable.

• Business Demises: The coronavirus and resultant shutdowns/lockdowns have adversely affected many, many businesses.

Business bankruptcies included Borden - the well known dairy company and home of Elsie the Cow, Brooks Brothers, California Pizza Kitchen, Chuck E. Cheese, GNC (closed 248 stores), Gold's Gym, J. Crew, JC Penney, Lord & Taylor, Neiman Marcus, Pier 1, Pet Valu, Guitar Center - the largest musical instruments retailer in U.S., gym chain 24 Hour Fitness, Portland-based Blue Star Donuts, the company that owns New Jersey's Cherry Hill Mall and Moorestown Mall, kitchenware retailer Sur La Table and World of Speed - a Wilsonville OR museum. Rental car giant Hertz filed for bankruptcy and laid off 10,000 employees.

Stein Mart, a 112 year-old discount apparel retailer, filed for bankruptcy and closed all of its 280 stores. Food and gift producer and retailer Harry & David closed all of its 36 brick and mortar stores. Macy's at the historic Lloyd Center in Portland, OR is closing for good.

MTH Electric Trains, maker of awesome O-gauge model trains, is closing down all operations.

Over 98,000 businesses have closed permanently in 2020, according to Yelp, including Joe's Crab Shack, Vancouver Pizza, Company, Lapella and Three Sixty in Vancouver and the Mill Creek Pub and Hockinson Cafe in Battle Ground. New York City's iconic 21 Club has closed permanently after 90 years in business. Dining chain Ruby Tuesday went bankrupt and closed 185 restaurants.

Playboy printed its last magazine after 67 years of publishing. Road & Track, once a great car mag, "will now become a lifestyle publication appearing six times a year for a minimum price of $75 and a maximum price of $899."

U.S. Bank is permanently closing 26 branches in the Portland metro area - about 25% of its area locations.

St. Basil Academy, an 89-year-old private all-girls high school in Jenkintown, PA - a Philadelphia suburb - is closing its doors. The Boy Scouts of America filed for bankruptcy in an effort to keep operating while thousands of claims of sexual abuse by former members against the national youth group are litigated.

• Everything Else: The biggest news story of the year continues to be President Donald Trump who made the news - bigly - just about every single day. Arguably, the hardest-working president in my lifetime, he continued to sweep through the Washington swamp like a hurricane. God bless him. He accomplished a great deal during his presidency so far.

The pandemic showed that many scientists are not all-knowing. Good science consists of theories posited, then modified based on empirical data. The China virus experience was one of guessing and learning what worked and what didn't. Accomplishing the "impossible" has defined President Trump's Administration. And his response to the virus was no different. The President cut Washington red tape and mobilized both the public and private sectors to develop a safe, effective vaccine. Operation Warp Speed led by VP Mike Pence delivered ventilators and personal protective gear to the world. No American hospital ran out of beds - even though the experts predicted otherwise. The nationwide manufacturing and distribution systems created under Operation Warp Speed constituted the largest mobilization of American industry since World War II.

On December 14th, medical workers began to administer the rapidly-developed covid-19 vaccine. You know - the one the experts said we wouldn't have until mid-2022. But Operation Warp Speed and the many hard-working, deadline-driven Americans made it happen before the end of 2020. As President Trump said, "This pandemic started in China - but America will end it." And that's what is happening.

In other news, the cancer death rate in the U.S. dropped 2.2% from 2016 to 2017, the largest single-year drop ever recorded, according to the latest data from the American Cancer Society. The comic strip Beetle Bailey celebrated its 70th birthday in 2020. Pvt. Bailey hasn't aged a day; it must be because he sleeps so much. Planters killed off its beloved Mr. Peanut character as a publicity stunt.
Despite a difficult year, there are many reasons to be thankful. The Foundation For Economic Education noted that, in 1820, 94% of the world's population lived in extreme poverty. In 1990, 34.8% and, in 2015, just 9.6%. You can thank technology, the spread of democracy and capitalism. Mark Perry noted, "The amazing 80% reduction in world poverty from 42.3% in 1981 to 8.6% in 2018. It probably took 1,000 years to cut the poverty rate in half from to 84% to 42% in 1981; then 24 years to get to 21% in 2005 and then only 10 years to cut it in half again to 10% in 2015."
So … savor the good things - such as your loved ones. Appreciate old friends, too, and keep in touch with them. Be thankful for everything that is good in your life. We live in the greatest country ever on earth. Our ancestors made us. They were great. America is here to stay.
In 2020, America cheered the first manned space launch from US soil in nine years as the commercially-built SpaceX rocket, carrying two NASA astronauts, blasted off and traveled to the International Space Station in May - covid or no. It was the first such launch from U.S. soil since 2011. The launch was the first time a private company, rather than a national government, has sent astronauts into orbit. Go capitalism!
Assume that - somehow - 2021 will be a better year. A much better one. Optimism usually pays off.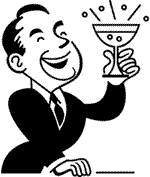 ---
Tuesday December 29, 2020

Pick One Of Three: Mercedes-Benz released pricing details for its new 2021 S-Class flagship. It will exclusively be offered as a sedan.
"For the first time, buyers will have three trim levels called Luxury, AMG, and Executive, respectively, to choose from. Pricing starts at $110,850 for the Luxury variant of the S500, and at $117,350 for the S580. Note that both of these figures include a mandatory $1,050 destination charge. For context, the cheapest version of the 2020 S-Class is the rear-wheel drive S450, which starts at $95,300 including the same destination charge."
4Matic all-wheel-drive is standard, as is a 12.8-inch OLED touchscreen display in the center stack. "Power for the S500 comes from a 3.0-liter straight-six, which produces 429 horsepower and 384 pound-feet of torque thanks in part to a 48-volt mild hybrid system. Motorists who select the S580 get a 4.0-liter V8 that's twin-turbocharged to 496 horses and 516 pound-feet of twist. More powertrains will join the range later in the production run, including an AMG-tuned V8."
Car and Driver noted that the base price is "up by more than $15,000, although 4Matic all-wheel drive is now standard across the board. … Mercedes has also revealed an ultra-luxury Maybach version of the S-class, and should eventually show higher-performance AMG versions of the luxury sedans. So many $200,000-plus are yet to come."
Among my friends, Mercedes-Benz is the preferred brand. Almost all feel that it has the top luxury cache of any automobile. Whenever I used to travel to the Palm Springs area - where Impressing People is apparently an Olympic Event, I noticed that the most popular luxury ride was Mercedes - new S-Class Benzes seemed to be a dime-a-dozen here. BMW and Lexus duked it out for second place. Jaguar, Acura and Cadillac vied for a very distant third place. Audi and Lincoln tied for last place in luxury car popularity.
When I purchased my 2008 Lexus LS 460 in late 2007, I price-compared it with a comparably-equipped S-Class. Back then, the S-Class cost $22,000 more.
Don't Get Rammed By A Drunk: Owners of the Ram 2500 pickup have the highest percentage of previous DUIs among all models of any manufacturer sold in the United States. "What's notable about the Ram 2500 is that almost no one owns one. The version of the truck that most people buy is the Ram 1500. The Ram 2500 is a heavy-duty pickup, not entirely suited for a "passenger car" replacement. Almost 5% of Ram 2500 owners have a previous DUI."
Next on the list, the Subaru WRX is a small, very fast sports sedan. Its percentage of former DUI owners sits at just above 4%.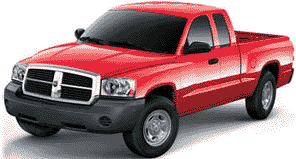 Also on the drunk list are Chevrolet S truck, Audi A4, GMC Sonoma, Toyota Tacoma, Chevrolet Silverado, GMC Sierra, Dodge Dakota and Ford Contour sedan. I haven't seen a Contour on the road in years.
Reflections At Twenty Years: It has been over 20 years since I built my three-level model train layout. Over the years, I have made a few improvements but the basic structure is the same as it was in 2000.

As night falls ... (more >>>)
According To FBI Stats … Detroit overtook St. Louis as the nation's new most dangerous city. Detroit's violent crime rate is 1,965 incidents per 100,000 residents.
In 2019, 275 people were murdered. Baltimore is in third place. What do the most dangerous cities have in common? Governance by Democrats.
As bad as Chicago is, it ranked 31st.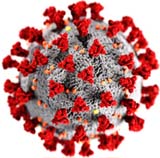 December China Virus Update: Clark County has 4,307 new cases in December, up 27% from last month, but hospitalizations have declined 26% and the mortality rate remains low at 0.8%. As vaccine inoculations become more widespread, I would expect new cases to fall.
As of Wednesday December 23rd, cumulatively, there have been 126 deaths in Clark County, Washington, a rate of 263 per million, from the China virus. There were 35 new deaths in the past month. Of the 126 deaths, 113 were folks ages 60 and up.
The death rate for Washington State is 430/million people, ranking 29th among states in deaths per million people. The U.S. death rate is 1,009/million. San Marino, Belgium, Slovenia, Bosnia-Herzegovina, Italy, North Macedonia, Peru, Spain, Andorra, Montenegro, United Kingdom and Bulgaria have higher death rates than the U.S.
There have been a total of ... (more >>>)
Reasons To Be Optimistic: Scott Grannis wrote that "over the long march of financial history, things just get better and better. The occasional bubbles are painful, but they are eventually overcome, thanks to the engines of free markets, free trade, and the incentives of capitalism. And while monetary policy has never been as "easy" as it is today, other important measures of financial and economic well-being are not out of line with what we have seen in my lifetime.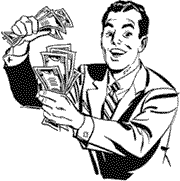 Despite all the huge ups and downs, the average person today is richer than ever before. And he or she will likely be even richer before too long - it has been ever thus. This is the fundamental case for being a long-term, rational optimist."
"Households' balance sheets have improved dramatically since 2008 ... thanks to the fact that financial asset valuations have improved by much more than the increase in debt. Households' leverage (total debt as a percent of total assets) has dropped by almost 38% since 2008, and it has not been this low since late 1983. Without excessive leverage in the system, the system becomes inherently more stable."
Looking at the performance of the S&P 500 index over the last 70 years, "we see that the nominal value of our major corporations has increased by about 7% per year on average. Nominal net worth per capita has increased by almost 6% over the same period. Corporate wealth has likely outpaced individual wealth because globalization has allowed our corporations to expand their market share worldwide." In the U.S., 55% of households have a stake in the stock market so this positively impacts many Americans.
Kudos to capitalism and democracy. We the People must keep it so.
"Hello, Suckers!" This was the tagline Texas Guinan, an aging flapper with a salty repartee who acted as MC at several speakeasies in the 1920s, used to greet customers. Called "the queen of New York nightlife," she peddled bottles of scotch for $25 per and pitchers of water for $2 each.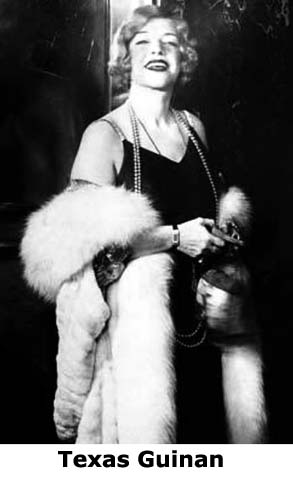 Now that Congress has passed the $2.5 trillion combo China virus and omnibus spending bill, do you feel that the ghost of Miss Guinan is calling to you? Do you have any sense you've been cheated? Well ... (more >>>)
It's All About Who You Know … and how well you are politically connected: The French Laundry, where a menu item can top $350 - and I bet the portions are small - "was awarded $2.4 million in Payroll Protection Program loans, while smaller businesses were told that no money was left." The Laundry's loan size was 17 times as big as other Northern California restaurants who received loans. The Laundry is especially popular with Democrat politicians. Gavin Newsom was recently seen dining with a large party indoors. No one was wearing masks because they're for the little people.
"You remember the PPP program. Launched by the federal Small Business Administration (SBA) over the summer of 2020, the program promised loans that were supposed to allow small businesses struggling under the weight of coronavirus-related shutdowns to retain employees for as long as eight weeks after the funds were accepted. The problem was that most applicants didn't get any loan money before the program ran out of funds, while large chains and high-profile companies raked in millions."

Quote Of The Day is from Ernest Hemingway: "Always do sober what you said you'd do drunk. That will teach you to keep your mouth shut."
---
Thursday December 24, 2020
Away In A Manger: This year, the Vatican put up a bizarre 2020 Nativity scene on St. Peter's square. Ihe spark plug angel and Fisher-Price Holy Family design will surely invite conversation. At least the animals appear realistic. Other pieces - shepherds, sheep, wise men, etc. - may be available separately from Hasbro's Playskool, the maker of Weebles.
Every Christmas, we put up a very traditional Nativity set which belonged to my parents. I don't know the history of our nativity set; the stable has a date stamp of 1937 on the base.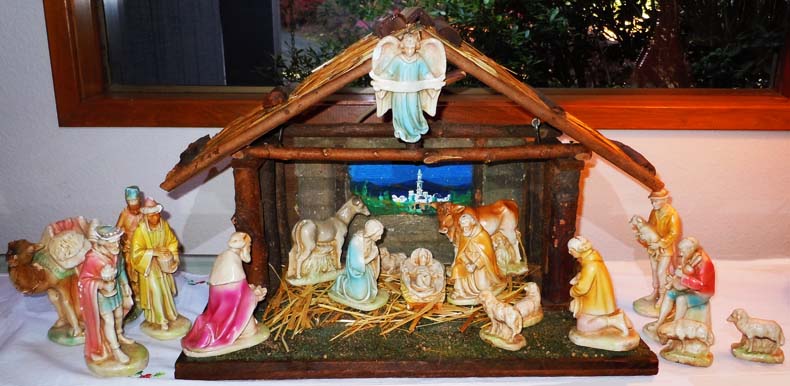 The crèche may have belonged to my dad's family. Or my mom's. Or maybe my dad made it in high school; he was quite good at carpentry. In 1950 or so, my mom painted a Bethlehem scene on the back wall.
I've had to repair the stable several times; the years have taken their toll on the wood, which has dried out, warped and split. But I'll never throw it away because it is part of my family's Christmas tradition.
In addition to its original ... (more >>>)
Holiday Fact: The main reason Santa is so jolly is because he knows where all the bad girls live.
---
Tuesday December 22, 2020
Sad Corvette: This 1958 Chevy Corvette looks to be in sad shape in this Winter photo taken sometime in the late 1960s or early '70s in South Philadelphia: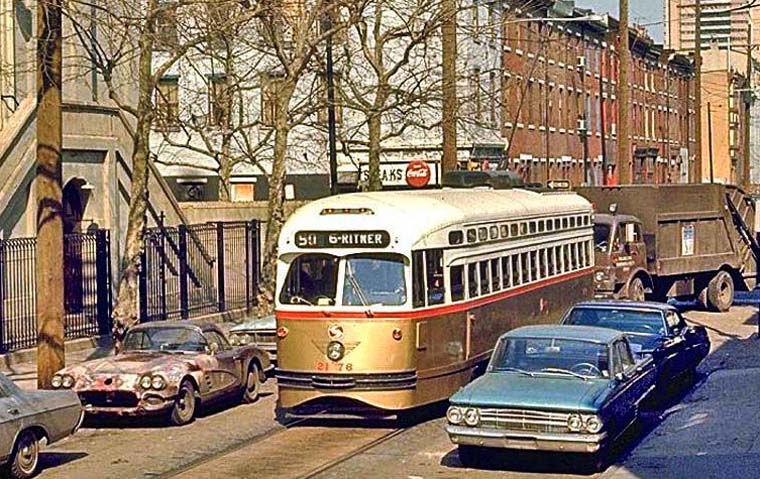 (photo courtesy: Jesse Bowers at Just A Car Guy)
The white over gold (with red stripe) color on the Route 50 trolley is ... (more >>>)
Big Sale: The 1969 Mercury Cougar XR7 convertible featured in the James Bond movie 'On Her Majesty's Secret Service' sold for $483,088 at Bonhams Bond Street Sale in London. It crossed the block at more than double the pre-sale top-range estimate.
"Three such Cougars were used in the filming for the 1969 movie, and the car offered at the auction was used in the 'barn scene'." Also selling was an original 'On Her Majesty's Secret Service' movie poster that brought $8,638, four times its pre-sale estimate.
The Covid Effect: New car sales volume in the United States for 2020 is expected to be the lowest since 2011, with analysts at Edmunds projecting a total of 14.4 million vehicles sold - a 15.5% decrease overall.
Actual Headline Of The Day ... is from CNN: 'Baking Soda Could Help Save Planet'. Damn. Baking soda: Is there anything it can't do? A giant open box would take care of those unpleasant planetary odors too. Especially in developing countries. Or the Sea Lion Caves in Florence, Oregon. But better keep it away from a speeding, unstable trainload of vinegar-filled tank cars.
Worth A Read: Abyssus Abyssum Invocat is a blog written by 97 year-old retired Catholic Bishop, Rene Henry Gracida. He is Bishop Emeritus of the Diocese of Corpus Christi, TX.
Bishop Rene Gracida was a courageous WWII airman, monk, friend of Pope John Paul II and, according to Raymond Arroyo, the "Savior of EWTN." He is not afraid to share his opinions on the state of Catholicism, politics & religion and the flaws of the Catholic hierarchy.
Recently, the bishop posted some interesting thoughts about President Trump's many accomplishments.
Bishop Gracida makes several postings each day and his writing is thoughtful and thought-provoking. I highly recommend his blog. (permalink)
Bad Pun Of The Day: One of Santa's helpers was sent to a therapist because he seemed depressed. Diagnosis: Low Elf Esteem.
---
Friday December 18, 2020
Wildcat Pace Car: The 1954 Buick Wildcat II show car was the pace car at the 11-lap 1955 Seneca Cup Race at Watkins Glen. Winners then advanced to the premier event ... (more >>>)
Civic Duty: Paul Niedermeyer has written nostalgically about the second-generation Honda Civic.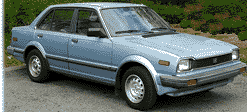 These were very nice cars and, back in the day, a great value. My brother owned a 1983 blue sedan and kept it for 10+ years before passing it on to another relative after 127,000+ miles. It stayed on the road, ticking like a clock for many more years and miles.
I once borrowed it and found it to be a delightful car for a 150 mile day trip. The little 1500 cc., 67 horsepower engine had plenty of pep. The five-speed manual - unusual in those days - mated perfectly and the ... (more >>>)
"Season's Greetings": For those who think this holiday euphemism is something new, I offer this lucky holiday horseshoe-shaped trinket given to my wife's mom in the 1940s by the folks at Harper's Dress Shop on Frankford Avenue, just south of the Margaret-Orthodox El station in Philadelphia.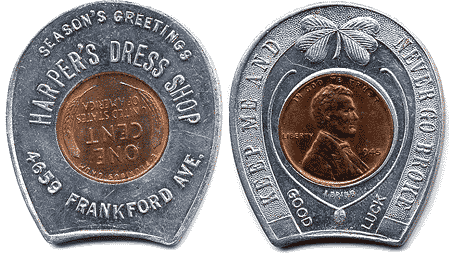 It offers this promise ... (more >>>)
I Had One Of These But It Disappeared Long Ago: In early 1955, Quaker Oats offered one-square inch plots in the Yukon. Deeds were included in boxes of Quaker Puffed Oats and Quaker Puffed Rice cereals. "These were the cereals with the slogan shot from guns." Imagine that - Quakers shooting guns.
"The campaign was a sensational success. Quaker Oats cereal boxes flew off of grocers' shelves. People bought dozens of boxes in the hope that they could consolidate all their square-inch plots into something more substantial. One guy had over 10,000 deeds which he wanted to convert them into one single piece of property a little less than a quarter-acre.
Meanwhile, letters poured in to Quaker Oats offices. New landowners wanted to know where their land was located, how much it was worth, and if there was any gold there? One kid sent in four toothpicks and some string, requesting his inch be fenced."
Unfortunately, the deeds were worthless because none of them were formally registered as property. "In 1965, the Great Klondike Big Inch Land Company was dissolved and the land went back to Canada. The Canadian government would have repossessed the land back anyway, for Quaker Oats never paid any property tax, which had amounted to a staggering $37.20 by the time the company had gone out of business."
Three Religious Truths: Those of the Jewish faith do not recognize Jesus as The Messiah. Protestants do not recognize the Pope as leader of their Christian faith. And Baptists do not recognize each other at the liquor store. Or Hooters.
Four Stages of a Man's Life: 1. You believe in Santa Claus. 2. You don't believe in Santa Claus. 3. You are Santa Claus. 4. You look like Santa Claus.
---
Wednesday December 16, 2020
Gorgeous: On a sunny day in Rome, Sophia Loren posed with a white Mercedes-Benz SL 300 Gullwing coupe in 1980. Born in 1934, Sophia is still youthful and beautiful at age 46 in 1980.
Italian-French film star Sophia Loren was once an owner of a silver ... (more >>>)
Movin' The Metal: Some Ford dealers are offering discounts of up to $10,000 on the discontinued 2020 Ford Fusion sedan, along with zero interest rates, to clear out the remaining inventory.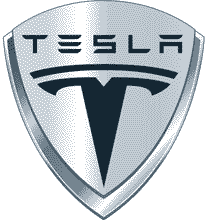 Elon Reconsidered: Elon Musk is now the second-richest person in the world, just behind Amazon's Jeff Bezos. At least Elon actually makes stuff in the U.S. In the past, I've criticized Tesla but they may now be the largest-selling luxury auto brand in the U.S. and are expected to sell 500,000 vehicles worldwide in 2020. Tesla easily beats the combined sales of Lincoln and Cadillac. And, Elon's SpaceX has had numerous successful launches. In fact, Musk says that SpaceX will attempt an unmaned flight to Mars in two years, with human landing in 4-6 years.
Tesla said it delivered 139,300 vehicles worldwide in the third quarter. Tesla does not report U.S.-only sales figures. As the company reported its fifth consecutive quarterly profit, the market capitalization of Tesla Inc. reached $500 billion. Tesla's market capitalization now exceeds that of much older companies such as JPMorganChase & Co., Coca-Cola Co. or McDonald's Corp. Tesla's stock price is currently flirting with $650 per share. For the year to date, Tesla stock is up nearly 650% - a ridiculous and unsustainable amount.
Nevertheless, this is another immigrant success story; Musk was born in South Africa but eventually came to the United States via Canada. The recent announcement by the Standard and Poor's 500 Index that Tesla Inc. would join the index of large U.S. stocks is the latest reminder of the importance of immigrants to America's success.
Tesla still sells remarkably well, despite ... (more >>>)
It's All About The Fishies: California and Washington ban Chevrolet's Camaro SS and ZL1 because the brake pads contain too much copper which kills fish.
A 2010 law "prohibits carmakers and suppliers from selling brake pads "containing more than trace amounts of copper, certain heavy metals, and asbestos." Pads containing heavy metals and asbestos were banned in 2014, and a ban on brake pads containing more than 5% copper will come into effect in January 2021."
Book Review: 'The Evening And The Morning' by Ken Follett
I don't usually review fiction but, in this case I'm making an exception because Ken Follett's latest book is such a good read.
This book is the prequel to Follett's 'Pillars Of The Earth', published 30 years ago. This story begins in 970 AD as Western Europe emerges from ... (more >>>)
Believe Nothing: Chicken wire is not made out of chicken.
The Hardware & Fastener Museum: Like many other guys my age, I have enough assorted screws, bolts, nuts, washers, etc. in assorted jars, cans and Zip-Loc bags to last me for the rest of my life. And my children's lives too.
Recently, I bent a small wood screw. I went to my museum in the garage, grabbed a couple of appropriate jars, brought 'em inside and dumped the contents on newspaper. Rooted around until I found a match. Then I veed-up the paper and poured everything back into the jars.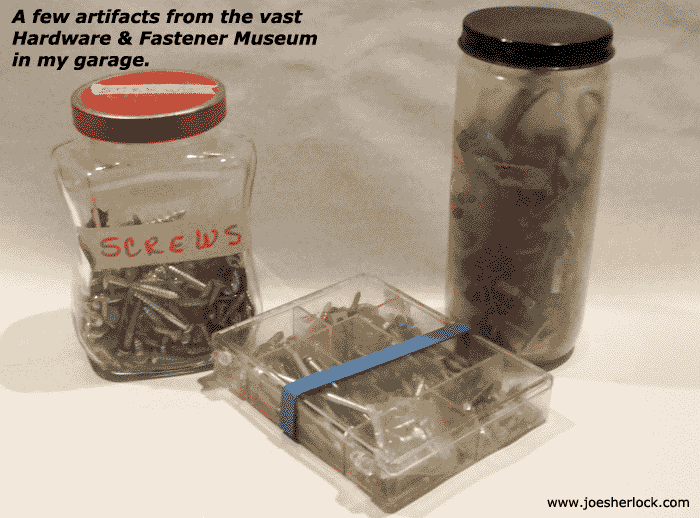 It took me about 20 minutes - less time that it would take to drive to town and back. No gas, nothing to buy and no sales tax to be paid. Recycle, reuse - why I'm greener than a dead Al Gore floating face down in an algae farm. And my museum still ... (more >>>)
Logging Is Safer Than Working For Amazon: Amazon's warehouse operations are not open to the public and, except for a few Amazon-authorized photos and videos are not visible to the public. In many locations, working conditions are tough and not very safe.
A recent article in the Seattle Times noted that, based on injury data, working in an Amazon fulfillment center is more hazardous than other types of warehouse work. Washington states labor agency has announced it will boost the commerce giant's workers' compensation premium rates by 15%. "The new rates will be higher than more than 260 other industries, including mechanized logging and law enforcement."
Some grocery distributors and recycling facilities had complained "that higher injury rates at Amazon's 24 Washington fulfillment centers - where online orders are sorted, packed and shipped - were driving up premiums for the entire industry. Warehouse premium rates statewide soared 18% this year, compared with 2019."
"Workers' comp claims arising from Amazon fulfillment centers increased nearly threefold between 2014 and 2018, L&I injury claims data shows. Meanwhile, the number of claims from non-Amazon warehouses has trended steadily downward for years." Nationwide, workers at Amazon's fulfillment centers are injured at well over industry averages.
Amazon reportedly encourages injured workers to seek treatment from its in-house medical staff - whatever that is - before going to a doctor or hospital where incidents will be recorded. And reported to L&I. Because Amazon has segmented work functions, breaking them up into smaller, repetitive tasks, there is a greater chance of repetitive stress injuries. Other warehouses, such as the one I used to operate at Discovery Plastics, have employees doing a variety of tasks - pick, sort, pack label, stack as well as handle/put away incoming stock. Variety minimizes repetitive motion and prevents the injuries caused by it.
Ahead Of His Time: Frank J. Fleming has observed, "Kinda weird how Steven Wright mastered Twitter long before Twitter existed."
Bad Pun Of The Day: Santa's helpers are subordinate clauses.
---
Monday December 14, 2020
From Clay To Steel: A 1946 photo shows a clay modeler working on a proposal for the 1949 Lincoln: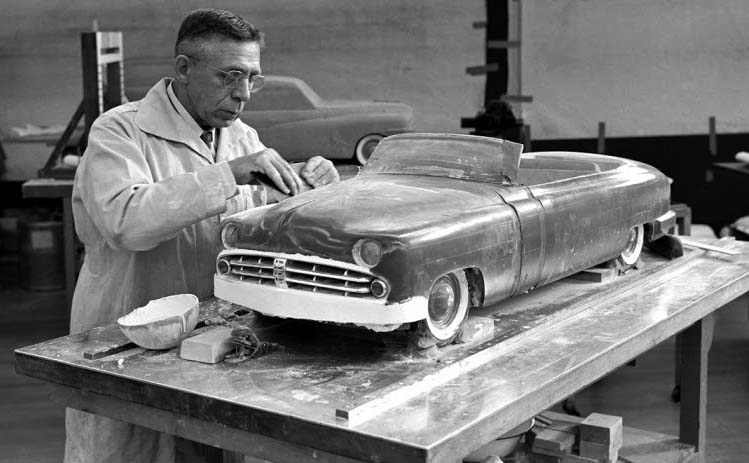 Another photo shows the final ... (more >>>)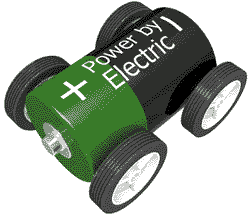 More Battery-Electric Vehicle Issues: Consumer Reports surveyed 329,000 BEV owners and found that not everything is unicorns and rainbows, specifically referring to the Audi E-Tron, Kia Niro EV, and Tesla Model Y.
The E-Tron was dinged for "drive-system electrical failures along with other power-equipment issues." The Niro EV's problems reportedly included electric-motor bearing failure. The Tesla suffers a panoply of build-quality issues include misaligned body panels and poor paint quality.
"Often, it's not the EV tech that's problematic," said Anita Lam, CR's associate director of automotive data integration. "It's all the other new technology that could show up on any car - new infotainment systems, more sophisticated power equipment and gadgets - that often gets put on new EVs to feed a perception that they're supposed to be luxurious and high-tech."
CR noted that some older, less-complicated EVs did well in the reliability survey, including the Chevrolet Bolt and the Nissan Leaf.
The Return Of The Aerotrain: I'm happy to report that my O-gauge PRR Aerotrain is back on my model train layout. I ordered a new rechargeable battery for the Protosound function - the original 19 year-old rectangular NiCad 7-cell 8.4v battery was quite dead - installed it, charged it and now the train works just fine.

Lionel Hiawatha passenger train runs on lower level, while PRR Aerotrain operates on the middle level.
---
I replaced the Pennsylvania Railroad GG-1 Congressional set with the Aerotrain set.
Follow The Money: As a result of the pandemic, big companies such as Amazon, Wal-Mart, Costco and other big-box retailers, tech giants, and pharmaceutical manufacturers have seen their profits soar, while roughly 100,000 small businesses have permanently closed so far.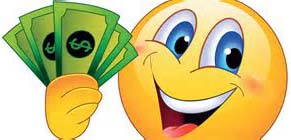 While mega-retailers are making mega-bucks, smaller competitors are hurting. Ash Staub wrote, "America's small businesses currently face an attack on all fronts. First, there are the more visible policies (e.g., lockdowns, mask mandates, and social distancing requirements) that strongly discourage people from patronizing brick-and-mortar retailers and restaurants. These policies impact small businesses more than large chains and corporations. Small retailers, for example, may not have the space to effectively implement social distancing policies, and often lack an online infrastructure to support curbside pickups of retail goods."
Second, the cost of complying with health and safety guidelines, and the corresponding fines if businesses don't comply, have forced businesses to incur additional expenses while their revenue declines. According to the Small Business Administration, the cost of compliance disproportionately impacts small businesses, who lack the funds and infrastructure of large corporations to adapt to new regulation. Overhauling a business to accommodate remote work, for example, requires a flexibility and an investment of resources that many small businesses simply do not have. For dine-in restaurants, the vast majority of which are small businesses, switching to outdoor dining is often not even possible given the business' location.
Lastly, there are ever-evolving COVID-19 employment regulations that disproportionately expose small businesses to lawsuits and the subsequent legal expenses and damages that may result. The conspicuous absence of liability protection also disadvantages small businesses, as the largest corporations can spare the capital required to fight lawsuits and painlessly pay out any damages."
Small businesses are the backbone of America. Every large firm started as a small business. To keep America great, regulations must not put small business at a competitive disadvantage.
Blonde Joke: Two blondes went deep into the frozen woods searching for the perfect Christmas tree.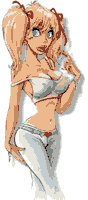 After hours of subzero temperatures and a few close calls with hungry wolves, one blonde turned to the other and said, "That's it. I'm chopping down the next tree I see. I don't care whether it's decorated or not!"
Sign Of The Season: From our Christmas tree ...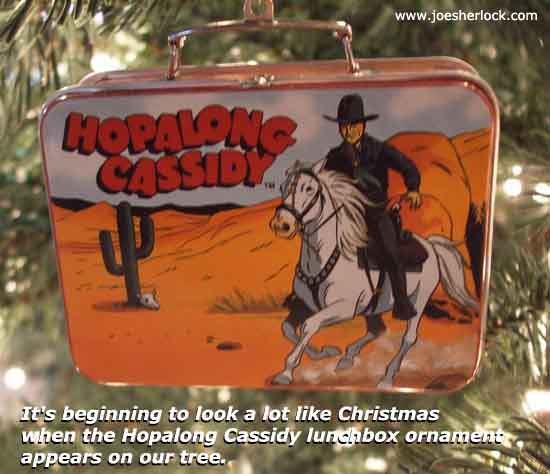 Not Exactly Encyclopedic: These are the 10 most-searched terms on Google in the United States for 2020: Election results, Coronavirus, Kobe Bryant, Coronavirus update, Coronavirus symptoms, Zoom, Who is winning the election, Naya Rivera, Chadwick Boseman and PlayStation 5.
Headline Of The Week is from The Onion: 'Grandma In Hospital Told 'Do Not Resuscitate' Means 'Low-Sodium Diet'.'
Runner-up is from Recoil: 'Pervert keeps sneaking back into airport security line for extra TSA pat downs.'
Major Correction: I have sympathy for anyone who writes and is published. Writing is always subject to human error. Thankfully, most are of the spelling, punctuation and sentence structure variety. Factual errors happen, too. And errors of omission. Most are harmless. One particular error, from The Observer (UK), had the potential to be a doozy:
"We should clarify that the stir-fried morning glory recipe featured in Observer Food Monthly last week uses an edible morning glory Ipomoea aquatica, found in south east Asia and also known as water spinach. This should not to be confused with the UK Ipomoea, also known as morning glory, which is poisonous."
Quote Of The Day is from Jay Leno: "The Supreme Court has ruled that they cannot have a Nativity scene in Washington, D.C. This wasn't for religious reasons. They couldn't find three wise men and a virgin."
There was no problem, however, finding enough asses to fill the stable.
---
Thursday December 10, 2020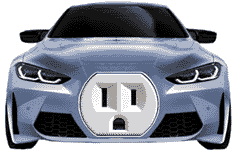 Electric Woes: A British couple "have described how it took them more than nine hours to drive 130 miles home from Bournemouth as they struggled to find a working charger capable of producing enough power to their electric car.
Linda Barnes and her husband had to visit six charging stations as one after another they were either out of order, already had a queue or were the slow, older versions that would never be able to provide a fast enough charge in the time."
The couple, who love their new $185,000+ fully-electric Porsche Taycan 4S, which has a range of about 250 miles, said that their journey would have taken two and a half hours in a conventional car.
The article "noted that there are more than 11,600 public charging sites in the United Kingdom, but, as the Barneses found out, far too many of them are out-of-service at times, and it can take a long, long time to recharge the vehicle."
Gee, if only there was a liquid available that could somehow power a car reliably and cheaply and also would be easy and fast to dispense.
Model Car World: In a Model Auto Review posting, Maz Woolley recently wrote, "Brekina produces models in plastic, mainly 1:87 scale, which are primarily aimed at model railway fans and the continental 1:87 scale collector market."
Since 2018, Brekina has been owned by Model Car World, based in Florsheim, Germany operates online retail business, American Excellence, in the U.S. I've purchased scale autos from them several times and the service was always good ... (more >>>)
Update: The 1954 Buick Wildcat II show car was the pace car at Watkins Glen in 1955. I have added a new photo and additional information here.
Mailbox Versus Snowplow: This is a great story posted by Jesse Bowers at Just A Car Guy. It is definitely worth a read.
Book Review: 'The Answer Is … Reflections On My Life' by Alex Trebek
I'm not a regular 'Jeopardy' watcher but I've seen it on several occasions and have always admired Alex Trebek's calm demeanor and professional manner. This book, published earlier this year, is Trebek's autobiography.
Chapters are short and easy-to-read. Alex's story flows well from one ... (more >>>)
"May Your Days Be Merry And Bright": Our Christmas tree is decorated and lit. The tree adds much needed brightness and cheer to the dark, rainy days typical of Pacific Northwest winters.
As I grow older, I find that various tree ornaments - added over the years - bring back pleasant memories. Each one has a story to tell.
The oldest decoration on our tree is an injection molded, ivory-colored, translucent polystyrene cathedral. Mass produced shortly after World War II, it was a dime store purchase. My mom probably bought it. The miniature cathedral has a large rounded slot on the bottom so that if can fit over an old-fashioned tree light and be backlit.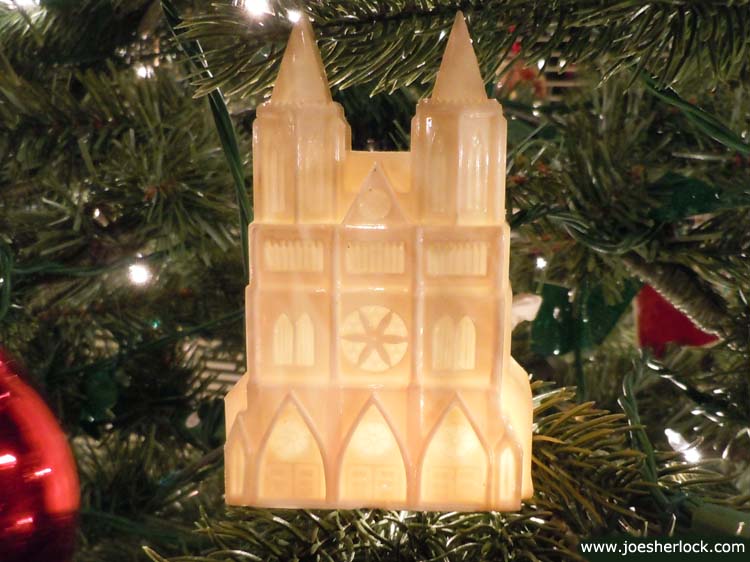 Thought For The Season is from James Lileks: "Realize that no one remembers the perfect Christmases. Everyone remembers the ones where the tree caught fire or the dog drank from the stand and coughed up needles through February."
Or, I would add, the one where next-door neighbor Gus - a little too full of the Christmas spirit (if ya know what I mean) - rang my parent's door bell one Christmas morn and threw up all over our front steps.
Record Breaker: Chuck Yeager, the first person to break the sound barrier in a level flight, has died at age 97. He exceeded the speed of sound in October 1947 in an experimental Bell X-1 rocket plane at an altitude of 45,000 feet.

Chuck then went on to break several other speed and altitude records. He served in World War II, the Korean War and the War in Vietnam. While stationed in England, Yeager flew P-51 Mustangs but was shot down over France on his eighth mission. He escaped and returned to the air. On October 12, 1944, Yeager downed five enemy aircraft in a single mission and finished the war credited with shooting down at least 12 German planes.
Brigadier General Yeager was a true American hero and a legend. RIP.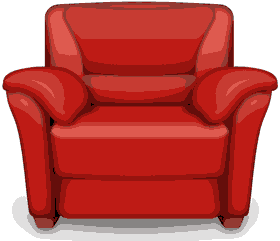 Papal Bull: When I started doing volunteer work, I quickly realized that there were two kinds of people: can-dos and pontificators.
Can-do people are action-oriented and want to get stuff done. They are results-driven and not afraid to get their hands dirty.
Those who pontificate want to sit in upholstered chairs or sofas and have endless meetings. They like to "facilitate" things. And they always have great reasons why they can't show up on Saturday to dig, build or paint something.
I've met many suggestion-intensive, work-adverse people in my lifetime. I call them Armchair Popes. They sit in comfy chairs (or thrones) and dispense marching orders and 'expert' advice. Some of the ones at larger organizations write occasional Encyclicals.
Over the past 30 or so years, I've noticed that the ratio of can-doers to pontificators is dropping.
No one wants ... (more >>>)
Quote of the Day is from Victor Borge: "Santa Claus has the right idea. Visit people only once a year."
---
Tuesday December 8, 2020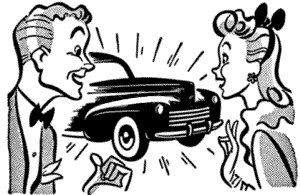 November Auto Sales: The Bureau of Economic Analysis estimated November 2020 light vehicle sales of 15.55 million SAAR (Seasonally Adjusted Annual Rate) in November 2020, down 4.5% from the October sales rate, and down 8.4% from November 2019.
This was below the consensus estimate of 16.2 million SAAR, despite special Black Friday incentives during the Thanksgiving weekend.
In 2019, there were 15.92 million light vehicle sales through November. In 2020, there have been 13.20 million sales. That puts sales-to-date down 17.1% in 2020 compared to the same period in 2019.
Hyundai Motor reported a decline of 9%. Toyota Motor North America reported November 2020 sales of 205,765 vehicles, down 1% on a volume basis. Toyota Division sales for the month were 177,725 vehicles, flat versus last November. Lexus Division sales for the month were 28,040 vehicles, down 7%. Mazda North American Operations reported total November sales of 21,752 vehicles, a decrease of 11% compared to November 2019.
Things were better at Ford, especially trucks. Ford Super Duty sales increased by 8% in November, while the F-series sold 713,325 trucks, 195,000 more than Chevrolet and GMC combined to capture the title of America's best-selling pickup for the 44th straight year.
The Ford Transit, America's best-selling van, sold 9,917 units, 14% over last year, and a 70% increase in commercial sales for the month. Outselling its nearest competitor by 41%, Ford now holds a 31% share of the full-size van market.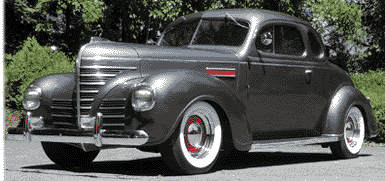 Chillin': At 2:30 pm Saturday, the temperature was at its daily peak of 46 degrees, but it was sunny - and most importantly, not raining - so I fired up my '39 Plymouth coupe and went for an afternoon drive.
The roads were dry - important because rain was forecast for the foreseeable future. The sky a clear, pale blue in every direction with almost no clouds; I had good views of that giant Hostess Sno-Ball called Mt. St. Helens as well as the snow-capped eastern Cascades.
It may not officially be winter yet, but it certainly feels like it. Nevertheless, I had a pleasant, uneventful drive - no other old cars were seen - on the lightly-traveled back roads of North Clark County. I wore gloves and dressed warmly, since I have 24 seasons of experience with the Plymouth's original, anemic heater. No wonder sedans of the 1930s and '40s had those lap robe holders behind the front seat.
Afterward, I carefully parked the Plymouth in the garage, based on the assumption that I won't be taking any more rides for a while.
Fight The Fake Trend: Conventional wisdom says that the automotive world is headed in the direction of electrified vehicles of all types and soon everything on the road will be autonomous. We'll then be passengers in stylish little boxes, little boxes and they're made out of ticky-tacky … little boxes, little boxes and they'll all look the same.
Or maybe not.

Jack Baruth recently wrote, "Everybody knows this but Chrysler, whose lazy engineers just keep building the same car with more power and bigger tires. Not only does this lazy course of action sell a lot of $60,000-and-up versions of a $29,995 car, it also somehow results in additional sales for the $29,995 car! The Charger and Challenger are probably the only cars in human memory to be both high-volume rental-lot fodder and the kind of dream vehicles that inspire TV shows and rap music."
How can this be? After all, as Jack wrote, "Everybody in the automotive business knows that now is the time to go full steam ahead into EV production, if you'll pardon the odd mixture of transportation metaphor and desired reality there. They also know that in the short but unavoidable (hint, it's only really the latter) time between now and The Electric Singularity ™, the customer is desperate to buy brand-new designs powered by the ubiquitous and China-tax-friendly 2.0-liter four-banger turbo." People want "fastback styling and big thick doors and really raked-out windshields and all the stuff we take for granted everywhere from the Accord to the new BMW 3 Series." Or, perhaps this is something determined by focus groups or Marketing Department navel gazing.
Just who is wishing for these electric, automated conveyances? You? Your neighbors? Your ... (more >>>)

Oddball Legend: Every once in a while I'll see a photo of a late 1950s Citroën DS-19 sedan in blue with a white top - a pretty rare in-person find these days.
Introduced in 1955, the DS was known for its aerodynamic, futuristic, quirky body design and innovative technology, including height-adjustable hydropneumatic, self-leveling suspension.
The suspension could be used to jack up the car for tire changes. Wheels were secured with a single lug nut. The DS-19 also had a single spoke steering wheel. It was the first mass-produced car with power front disc brakes. Rear turn signals were mounted in the roof - predating the Mercury XM Turnpike Cruiser dream car by more than a year.
Citroën sold nearly 1.5 million of the revolutionary D-series during the model's 20-year production run. Not many came to the U.S.
Traveling in a herd of American cars on the freeway, the Citroën DS-19 had the same visual effect as a guy with a shaved head and goatee in a crowd: looking like something from another planet. Or an alternate universe. (permalink)
Is The End Near? After suffering under the oft-draconian rules promoted by bureaucratic ninnyhammers, it appears that we may actually see initial innoculations of FDA-approved China virus vaccine before year's end.
When you consider that polio had been around since ... (more >>>)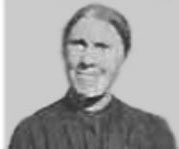 Happy Birthday ... to my great-grndmother, Kate Sherlock. Born on this day in 1836, Kate lived in County Mayo Ireland until she emigrated with my great-grandfather to America. The only photo I have of her was taken around 1895 in Cincinnati. She was in her mid-50s at the time and had emigrated from Western Ireland a couple of years earlier.
I had never seen a photo of her before. This one was smudged, cracked and quite yellowed but I fixed as much as I could in Photoshop. It's amazing that this 120+ year-old photo has survived at all. Kate has a nice smile.
I still haven't seen any photos of her husband, my great-grandfather. The couple had nine children, all of whom came to America.
Kate died in Philadelphia in 1908 and is buried in Holy Cross Cemetery in Yeadon, PA.

A Holy Day Celebrating A Blessed Event: On December 8th, Catholics throughout the world celebrate the Immaculate Conception of Mary, the mother of Jesus Christ.
The Blessed Virgin Mary was conceived free from original sin by virtue of the foreseen merits of her son, Jesus.
Although the belief that Mary was sinless and conceived immaculate has been widely held since before the Middle Ages, the doctrine was dogmatically defined in 1854 by Pope Pius IX.
Hail Mary, full of Grace, the Lord is with thee. (permalink)
Eloi Versus Morlocks: Batya Ungar-Sargon, a liberal and certainly no friend of Donald Trump, said, "There's a huge covid class divide. The economy has not just bounded back for upper income Americans; it's given them higher housing values and lower interest rates.
Meanwhile, 12 million service industry workers are still out of work. Small businesses are struggling. The affluent see covid as a health problem, while for the working class it's about economic survival. And liberals are doing the same thing they did with Trump: Clothing their class privilege as science and facts and morality.
The politicians are even worse. Instead of coming up with a clean covid bill, Democrats are now trying to pressure Biden into student loan forgiveness. Can you believe it? What kind of society thinks it's OK to ask 12 million people who lost their jobs to covid to foot the bill for the student loans of the top 40% of earners?
Sure, maybe it will accidentally help someone in a food line who dropped out of college. But college-educated Americans are back at work. The covid recession is over for them. Why are the Democrats designing legislation to help the people who need it least, in the belief that some of the benefits might trickle down to help those who need it most?"
She's right. The rules and lockdowns seem to be based on class preferences, rather than science.
Say It Magnetically: I'm a fan of neither bumper stickers nor magnetic ribbons but, if I ever put one on any of my cars, it will be this.
Q&A: Q: What do you call a line of blonde females? A: A Barbie queue.
Star Wars Episode II - Attack Of The Cribs: The Consumer Product Safety Commission has outlawed drop-side baby cribs after the deaths of more than 30 infants and toddlers in past decade.
As a child, I almost died in a drop-side wooden crib ... (more >>>)
Quote Of The Day is from Steven Wright: "I didn't get a toy train for Christmas like the other kids, I got a toy subway instead; you couldn't see anything but every now and then you'd hear this rumbling noise go by."
---
Friday December 4, 2020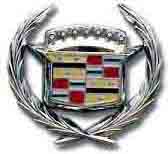 Half-A-Mill For Non-Believers: GM will buy out dealers who don't want to sell electric Cadillacs.
General Motors "is offering $300,000-$500,000 to any Cadillac dealer who is not down with GM's ambitious plans to make Cadillac an all-electric brand. CEO Mary Barra last week outlined to investors GM's plan to accelerate the transition to EVs, increasing spending on electric and self-driving cars by 35 percent to $27 billion in the next couple of years. The Cadillac Lyriq EV'S launch has been accelerated to 2022, and by 2030, Cadillac could be out of the internal-combustion engine business altogether as GM's electric standard-bearer."
GM has been trying to thin its pool of Cadillac dealers for years, having last tried to muster out "hundreds of its lower-volume dealers in 2016 with a much smaller lure of $100,000-$180,000, but it got few bites. This time, the buyout's being offered to all 880 Cadillac dealers and might prove to be a win-win."
Given Cadillac's all-or-nothing stand on electric vehicles, I suspect there will … (more >>>)

Taxi! The 2021 Mercedes-Maybach S 580 is the top-of-the line Merc. If "you're a well-heeled individual looking for the true peak of Mercedes luxury, there's no replacement for the 2021 Mercedes-Maybach S 580, the biggest, fanciest sedan the company can produce."
"All examples come standard with Mercedes Designo leather upholstery, and even the headliner is finished in leather. Like other S-Class models, there is an air freshener function, and Mercedes has saved a special scent specific to the Maybach. The front seat backs are covered in wood trim to enhance the design. Rear occupants get individual 11.6-inch screens for entertainment, as well as a removable tablet for controlling various car functions. Passengers get to enjoy a 1,750-watt, 30-speaker Burmester sound system, which won't be interrupted by outside noises thanks to additional sound deadening materials around the rear arches, thicker laminated quarter windows and active noise cancelling. Foam-filled tires and laminated glass around the rest of the car are options."
For a starting price of just north of $200,000, you get a car powered by "a twin-turbocharged 4.0-liter V8 making 496 horsepower and 516 pound-feet of torque. Power goes through a nine-speed automatic transmission to all four wheels." You can also get a V12 but it costs more. Much more, probably.
Unfortunately, the two-tone gold-over-maroon paint job in the announcement photos reminds me of a 1940s taxicab.
Happy Birthday: My 2008 Lexus LS 460 is becoming a teenager. I took delivery on December 6, 2007.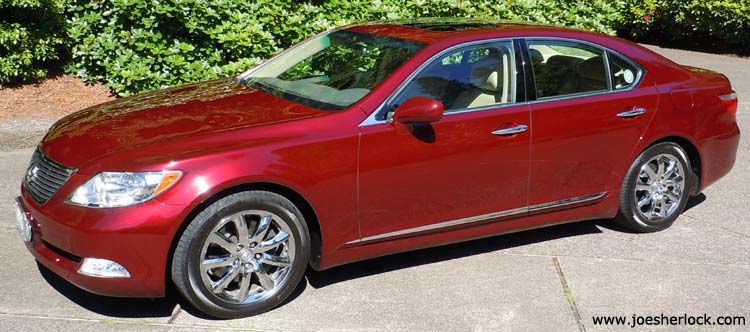 It still looks like new inside and out. Everything still works, too. It lives a generally gentle life, is garaged regularly and has a mere 40,861 miles on its odometer. In one year, I've only put 1,741 miles on the car, thanks to the China flu with its subsequent closures, restrictions and lockdowns. (permalink)
Star Car: I've posted a photo, taken in early 2008 during my visit to a private car collection. The vehicle is a black 1948 Ford Woody station wagon with the dashboard autographed by ... (more >>>)
Blonde Joke: A blonde goes into a nearby store and asks a clerk if she can buy the TV in the corner. The clerk looks at her and says that he doesn't serve blondes, so she goes back home and dyes her hair black.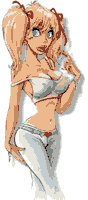 The next day she returns to the store and asks the same thing, and again, the clerk said he doesn't serve blondes.
Frustrated, the blonde goes home and dyes her hair yet again, to a shade of red. Sure that a clerk would sell her the TV this time, she returns and asks a different clerk this time. To her astonishment, this clerk also says that she doesn't serve blondes. The blonde asks the clerk, "How in the world do you know I am a blonde?" The clerk looks at her disgustedly and says, "That's not a TV, it's a microwave."
Just Before The Christmas Season, Too: The Philadelphia-based company that owns New Jersey's Cherry Hill Mall and Moorestown Mall has declared bankruptcy.
In the 1960s, the Cherry Hill Mall was the place to be. It has been expanded and updated and still has nice anchor stores and tenants, including ... (more >>>)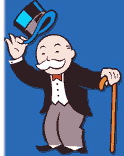 Get Rich Or Die: Frank J. Fleming has written: "I don't get why people want to raise taxes on being rich to discourage wealth.
Shouldn't we raise taxes on the poor to discourage poverty? If you want to get the economy moving, we need to discourage people from being poor. Doesn't have to be tax; could be criminal penalties.
Of course, if the poor are outlawed, only outlaws will be poor. Which is good; why would we want criminals having lots of money?"
Back in 1992, we gave friends VHS video newsletters at Christmas rather than those insipid dot-matrix printed thingies we used to receive. I ran for president that year and our tape included a five-minute campaign segment, outlining my platform.
One of the items on it was 'Get Rich Or Die', where I proposed to upend the progressive income tax system, putting people who make less than $2,000 per year in the 98% bracket and people earning $500,000 in the 2% bracket.
I guess that makes Frank and yours truly kindred spirits.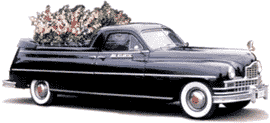 A Man Of Letters, Practical Experience And Street-Smart Economics: Walter E. Williams, a great economist and writer, has died at age 84.
"Walter was a great communicator of ideas and a prolific, provocative and uncompromising writer. He was the John M. Olin distinguished professor of economics at George Mason University. His voice, his happy-warrior demeanor, his cosmopolitan views, his endless fight on behalf of those with no political voices, and his generosity to all of us at Mason will be missed."
Williams was a syndicated columnist and author known for his classical liberal and libertarian views. He was an enthusiastic defender of free-market economics. His writings frequently appeared on Townhall.com, WND, and Jewish World Review.
I enjoyed his writings. He was an optimist: "Over the course of the 20th century, life expectancy increased by 30 years; annual deaths from major killer diseases such as tuberculosis, polio, typhoid, whooping cough and pneumonia fell from 700 to fewer than 50 per 100,000 of the population; agricultural workers fell from 41 to 2.5% of the workforce; household auto ownership rose from one to 91%; household electrification rose from 8 to 99%; controlling for inflation, household assets rose from $6 trillion to $41 trillion between 1945 and 1998."
His best friend Thomas Sowell offered a nice tribute here.
Williams is a cousin of former NBA player Julius Erving (Doctor J). RIP.
Bad Pun of the Day: Sign at a nudist camp: 'Sorry - Clothed for Winter'.
---
Wednesday December 2, 2020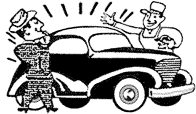 Downward Trends: New cars make lousy investments. The average new vehicle sold in America loses nearly half of its initial value after five years of ownership.
These days, trucks and truck-based sport utility vehicles "generally hold their value better than other vehicle types, with the Jeep Wrangler — in both four-door Unlimited and standard two-door styles — and Toyota Tacoma sitting at the head of the pack." The Porsche 911 does well, too.
On the other side of the depreciation coin, luxury sedans tend to plummet in value at a much faster rate than other vehicle types. "The BMW 7 Series leads the losers with a 72.6% drop in value after five years, which equals an alarming $73,686. BMW's slightly smaller 5 Series is next, depreciating 70.1%, or $47,038, over the same period. Number three on the biggest losers list is the Nissan Leaf, the only electric vehicle to appear in the bottom 10. The electric hatchback matches the 5 Series with a 70.1% drop in value, but since it's a much cheaper vehicle, that percentage equals a much smaller $23,470 loss." Various Audis, Maseratis and Lincolns also made the bottom 10 list.
More Elecrto-Mania: Davide Grasso, chief executive of Fiat Chrysler's Maserati division, said that the brand's product line will be made up entirely of electric and gas-electric hybrids in five years.
What's Wrong With Detroit: Part of the problem with Ford, GM and Chrysler is the insularity of living in a company town. Or, more correctly, an industry town. Most other businesses are spread out across the U.S. People in those businesses are forced to travel to other places, visiting vendors, customers, machinery suppliers, etc. and, in the process, getting a broader view of the business world.
If you make chemicals and want to buy a spray-dryer for polymer manufacturing, you may end up traveling to a potato processing plant to see one in action. You'll probably get a plant tour as well. Some of the tricks you see used to make instant potatoes may help you make plastics more efficiently.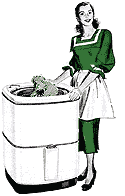 Household washers and dryers are designed and/or made in places like Benton Harbor, Michigan, Newton, Iowa, Louisville, Kentucky, Ripon, Wisconsin and Clyde, Ohio. People in those places get some inspiration from other places in the same geographic area - cabinet shops, stampers of metal highway signs, molders of drinking cups and the like.
Where does Detroit get many of its ideas from? Detroit. Therein lies the problem. There is minimal cross-pollination between auto companies and other businesses - firms which may have new technology that can be applied to cars.
Somewhere in the Motor City tonight, a group will be sitting in a bar discussing how to produce Class A paint finishes more efficiently. Do you think anybody's sitting in a bar in Clyde, Ohio discussing top-loading washer paint specs? Of course not. They get their ideas from lots of places. Not just from other appliance geeks.
Train News: I'm happy to report that the Lionel Hiawatha is once again up and running on my O gauge train layout.

It had stopped running on Thanksgiving afternoon. The electric motor needed new carbon brushes and a thorough armature cleaning.
Cheap Screwing: When I was working on my train layout last month, I pulled out an old thin-bladed screwdriver to do some pry work.

I realized that I had purchased it in 1962 or '63 at a neighborhood hardware store. The place kept a white paper bucket near the cash register full of screwdrivers for sale at 9¢ each ... (more >>>)
The Christmas Season Officially Began Yesterday ... because that's when I put the Christmas CD in my car.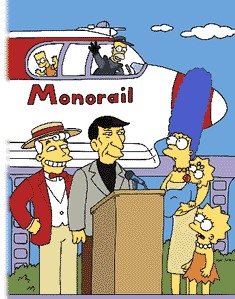 Behind The Scenes: Here's a great story about how 'The Simpsons' episode 'Marge Versus The Monorail' was developed.
Summary: With a script by Conan O'Brien – then an energetic young comedy writer – and meticulous yet joyful direction by Rich Moore – who subsequently won an Oscar for Best Animated Feature with Zootopia – the result is a wild ride, as charming conman Lyle Lanley convinces Springfield to spend $3 million on a monorail through the power of song alone. Disaster ensues until Homer saves the day, with the help of Lard Lad Donuts.
It's a great read. Josh Weinstein, Story Editor, said, "If a gun was put to my head, and they said, "Tell me the best episode of television ever," it's this. It's 'Marge vs. the Monorail'. At the time it blew people's minds, in a way, because nothing had been like that until that moment, with the different levels of comedy and everything going on in one episode.
I think it was eye-opening for people, including on the staff too, in terms of what could be done on a show. All the original writers, and Sam and Matt and Jim, created this new thing, and this episode is a big step in its evolution."
I've listed it in my 'Top Simpsons Episodes', noting that it has Leonard Nimoy, a 'Music Man' send-up, a monorail, an escalator to nowhere ... (more >>>)
Ridiculous Price For A Bridge: The Interstate 5 Bridge over the Columbia River is the only lift bridge on I-5. Bureaucrats have been wanting to replace it for decades, spending millions on "studies." As of 10 years ago, they had run up a tab of $108.5 million in bridge planning costs. Back then, they estimated the bridge replacement cost at between $600 million and $818 million.
Now, the Interstate Bridge Replacement Program office put the price at ... (more >>>)

Quote Of The Day: Politicians are like Christmas lights. They all hang together, half of the suckers don't work and the ones that do aren't that bright.