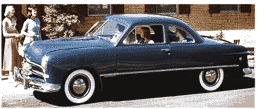 Time Machine: Back in 2005, James Lileks asked his readers what objects they might take with them on a trip back to 1950.
One replied: "1950? I'd take a laptop, since you could plug it in. And I'd take a Mac, since Windows' susceptibility to viruses would probably mean my PC laptop would catch polio."
I'd choose to take a car with me. What kind? At the time, I said I'd take a early 1990s-era Nissan 300ZX and provided some reasons for my decision.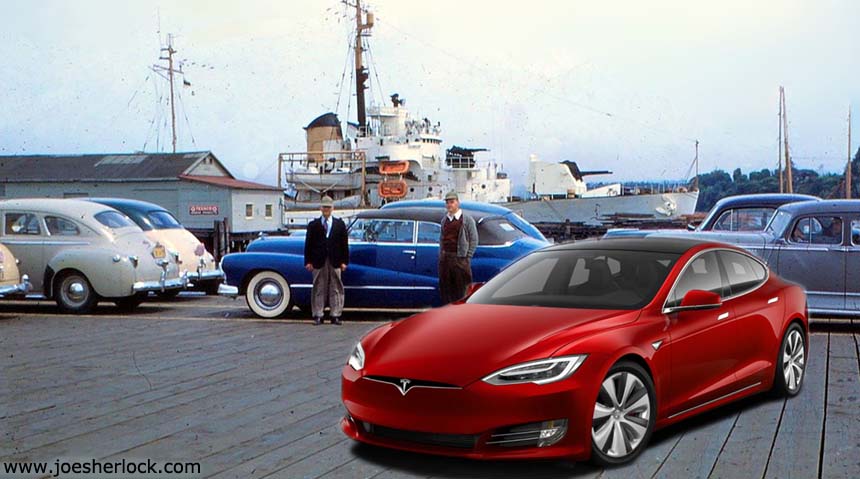 In 2008, I wrote another time travel piece and took a brand-new car back 50 years to the big, befinned and overchromed auto world of 1958. My choice surprised many readers.
Now that the 2022 models are out, I have picked a different car in which to travel to back in time to 1950. I decided to choose a sedan, rather than a crossover or SUV because people in 1950 wouldn't understand why so many people drive trucks and would ask too many questions. (Did the Russian atomic bombs wreck all the roads? Do you have to drive through the woods to avoid the polio virus?) Besides, I don't think they'd believe that the Ford F-150 pickup truck is now the best-selling vehicle in America ... (more >>>)
---
)Book Review: 'Power Play - Tesla, Elon Musk And The Bet Of The Century' by Tim Higgins
This is the story of Tesla - the best-known electric car in the world. Tesla was founded in July 2003 by Martin Eberhard and Marc Tarpenning. Elon Musk didn't come into the picture until February 2004 when he became an investor. He has served as CEO since 2008. Eberhard was forced out in 2008. In 2009, Eberhard sued Elon Musk for libel, slander, and breach of contract. Tarpenning also left in 2008.
This book details the ongoing soap-opera known as Tesla. There are many sordid stories told as the company bounced from crisis to crisis. Tesla has many critics but it must be acknowledged that of all the automobile start-ups since World War II, Tesla and Kaiser-Fraser Motors are the only ones which actually manufactured and delivered vehicles in volume to customers. And Tesla only produces all-electric vehicles - no hybrids, no internal combustion options.
Tesla claimed it delivered 241,300 vehicles worldwide during the third quarter of 2021 - an impressive number. In the U.S. market ... (more >>>)
---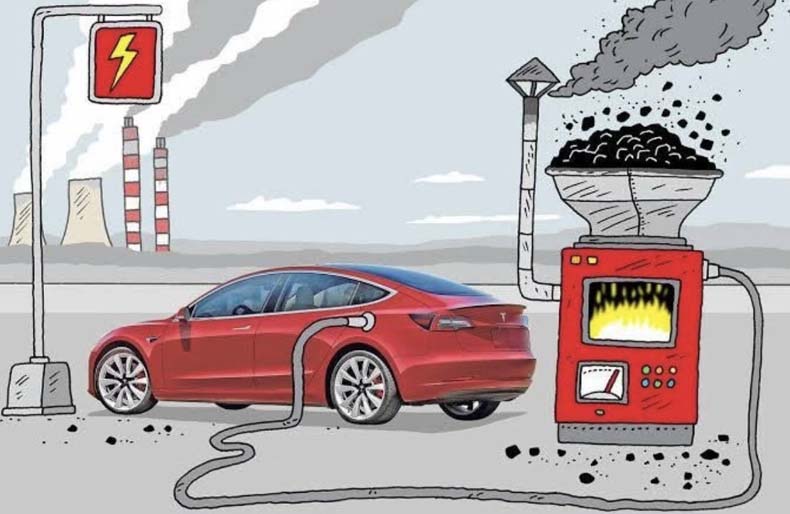 (posted 8/10/21, permalink)
---
One Man's Truth: Bill McGuire, the man behind the great auto website Mac's Motor City Garage, has owned a Tesla Model 3 for nine months and 8,000 or so miles. He's written about it in a post titled 'The Truth About Owning a Tesla'. Bill has had a mostly positive experience with his new car and provides a detailed report. He believes that the future is electric and makes a compelling case.
The article is worth a read.
In other Tesla news, Jay Leno said that he watched the new Model S Plaid from Tesla that is scheduled to begin deliveries next week run a record-breaking quarter-mile time of 9.247 seconds at a racetrack in Bakersfield, California. The car reached a top speed of 152 mph. The previous record was set in 2018 by a Bugatti Chiron Sport that ran a quarter-mile in 9.4 seconds, reaching a top speed of 158 mph.
The second generation of Tesla's Model S, including the Plaid version, is expected to have a range of around 390 miles, a top speed of 200 mph, and a 0 to 60 mph time of 1.99 seconds. Very impressive. Base price of the car is $129,990. (posted 6/11/21, permalink)
---
Price Hike: Tesla has raised the prices of four of its electric vehicles. The Model S Plaid Plus sedan is now priced at $149,990. The Plaid Plus is Tesla's top-tier Model S, with a 520-mile range and 1,100 horsepower.
The Model 3 Standard Range Plus now costs $37,490, up from $36,990, and the Model 3 Long-Range All-Wheel Drive costs $46,490, up from $45,990. It also raised the price of its Model Y Long Range by $1,000, to $49,990. The Model S Plaid and the Model X Plaid each cost $119,990.
Industry analysts have expressed concerns about Tesla's falling market share. "Tesla suddenly is losing ground as it faces new competition from products like the Ford Mustang Mach-E and Volkswagen ID.4. … In the U.S., Tesla held an overwhelming 81% share of the battery-electric vehicle, or BEV, market last year. That fell to 69% in February." In Europe, 2019, the California brand held 31% of the region's EV market, a number that plunged to just 13% a year later. Through February, Germans bought 3,661 Volkswagen e-Ups compared to just 2,371 Tesla Model 3 sedans. (posted 3/19/21, permalink)
---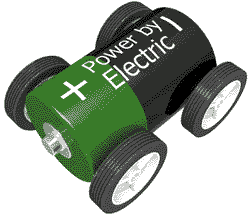 Entropy At Work: Car and Driver reported that its Tesla Model 3 long term test vehicle had "lost 7% of its battery capacity in 24,000 miles."
The car has suffered "a loss of about 22 miles of rated range from the original 310-mile EPA combined figure. This is based on the range data from the nearly 500 times we've charged our car to 90 percent of its capacity or above. … If our car's battery continues to erode at this rate, it will qualify for replacement under Tesla's warranty."
You know what doesn't lose 7% of it's range in 24,000 miles? An internal combustion engine. The only thing worse is the reliability of the electric grid in California to keep all those electric cars recharged.
"Our battery's degradation thus far equates to a drop of roughly 2.9% in pack capacity every 10,000 miles, which, if it continues at this rate, would put us at 65% capacity at 120,000 miles. That's under the 70%-capacity retention specified in Tesla's eight-year/120,000-mile battery warranty for the Model 3 Long Range. However, Tesla makes it clear that in the case of a warranty claim, the car won't necessarily get a new battery, but one that at least meets the minimum 70% threshold." (posted 1/26/21, permalink)
---
Overpriced: Based on stock market value as of late December 2020, Tesla is worth more than all big auto companies combined: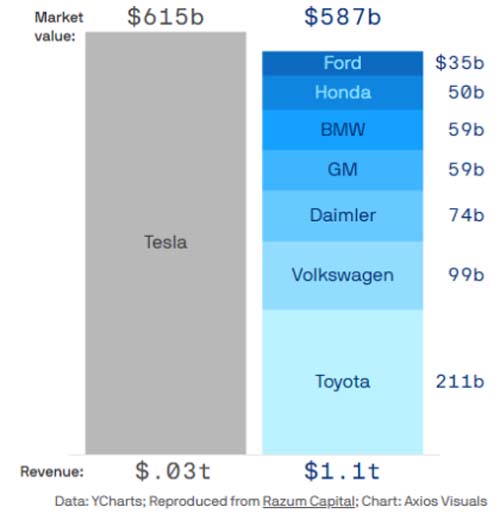 "Tesla's (sales) revenue for the past 12 months totals $28 billion. Honda's totals nearly $125 billion, while Toyota Motor Corp., the world's second-largest carmaker by market cap, posted 12-month revenue of nearly $250 billion. Ford Motor Co., with $131 billion in revenues, General Motors Co., with $115 billion, and Fiat Chrysler Automobiles N.V., with $108 billion in revenue, all hauled in more than three-times Tesla's revenue."
I think that Tesla's stock price is unsustainable. In 2020, it rose over 700%. (posted 1/6/21, permalink)
---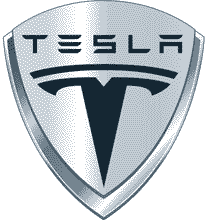 Elon Reconsidered: Elon Musk is now the second-richest person in the world, just behind Amazon's Jeff Bezos. At least Elon actually makes stuff in the U.S. In the past, I've criticized Tesla but they may now be the largest-selling luxury auto brand in the U.S. and are expected to sell 500,000 vehicles worldwide in 2020. Tesla easily beats the combined sales of Lincoln and Cadillac. And, Elon's SpaceX has had numerous successful launches. In fact, Musk says that SpaceX will attempt an unmaned flight to Mars in two years, with human landing in 4-6 years.
Tesla said it delivered 139,300 vehicles worldwide in the third quarter. Tesla does not report U.S.-only sales figures. As the company reported its fifth consecutive quarterly profit, the market capitalization of Tesla Inc. reached $500 billion. Tesla's market capitalization now exceeds that of much older companies such as JPMorganChase & Co., Coca-Cola Co. or McDonald's Corp. Tesla's stock price is currently flirting with $650 per share. For the year to date, Tesla stock is up nearly 650% - a ridiculous and unsustainable amount.
Nevertheless, this is another immigrant success story; Musk was born in South Africa but eventually came to the United States via Canada. The recent announcement by the Standard and Poor's 500 Index that Tesla Inc. would join the index of large U.S. stocks is the latest reminder of the importance of immigrants to America's success.
Tesla still sells remarkably well, despite continuing quality problems with all Tesla models. "Tesla has faced an array of issues affecting its four product lines, ranging from defective paint to faulty suspension systems and failing touchscreens used to control vehicle operations. Federal safety regulators recently launched a probe into one of the problems, while Consumer Reports and J.D. Power have slammed Tesla for having some of the worst quality and reliability in the industry. Tesla is issuing head-to-head recalls covering about 9,500 vehicles over a roof trim that may separate from the car and some bolts connecting the front upper control arm to the steering knuckle that might need to be tightened."
R.D. Barris - a contrarian investor who has shorted Tesla stock - has reported on numerous cases demonstrating massive underinvestment in customer service and "increasing customer dissatisfaction. Tesla's poor quality and servicing are not random events. They both derive from its fundamentally unprofitable business model, which forces the company into making these short-sighted decisions."
Barris cites an article from a Dutch newspaper, revealing that one of Tesla's largest customers - Bios-Groep, a taxi company operating out of Schiphol Airport in Amsterdam - is suing the company because of poor quality and bad service. The report claims "the defects were often not minor: dead power steering, broken driveshafts, and broken suspension wishbones. The fleet manager for Bios reports that, in his long career, he has never seen problems like with the Teslas. Currently, 20 of the vehicles are bricked." Since "the Dutch have passed a new law facilitating class action lawsuits by consumers, a 'Tesla Claim Foundation' has been set up … to gather complainants." There are currently 200 despite the fact that many Tesla owners, accordingly to the head of the foundation, are afraid to join: "Tesla has the power to stop providing service or block the car remotely. Moreover, all this negative publicity is bad for the resale value of the cars." The entire article is worth a read.
Tesla's continuing quality/reliability problems along with competition from established automotive nameplates - Porsche, Audi, Chevrolet's Bolt, Ford's Mustang and others - may dim Tesla's future. Only time will tell.
Recently, Musk has said that widespread use of electric vehicles will require a lot more power than we have. Glenn Reynolds mused that "maybe orbital solar. Come to think of it, Musk probably founded Tesla to produce a demand for electricity that he could then meet with orbital solar power. He thinks ahead." (posted 12/16/20, permalink)
---
Epic Fail: Last week, Tesla unveiled its much-hyped Cybertruck electric pickup. Steph Williams of TTAC wrote that it looked "like a stainless steel pup tent with a delicatessen counter serving as a dash."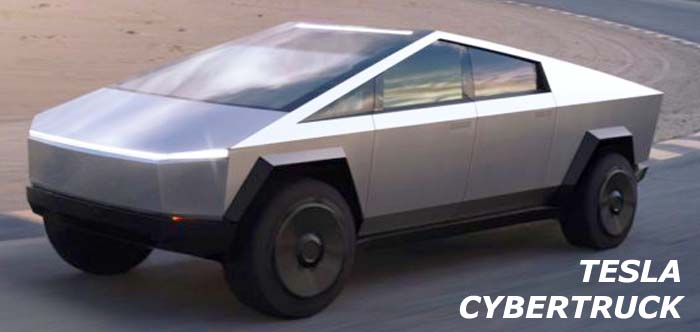 ---
Questionable Reporting: I've noticed that Tesla always reports a rounded-up number of cars sold, ending in one or two zeros. For example, in the first nine months of this year, Tesla reported sales of 135,600 vehicles. Other manufacturers report odd but believable numbers. Example: Ram nine-month sales were 512,368 trucks.
A regular reader of this blog, who works for a major auto manufacturer, pointed me to this article which strongly suggests that Tesla fudged their warranty claims set-asides in order to show a profit in the last quarter. "Tesla was accused of doing the opposite: driving expenses down so it could record a profit. Analysts expected Tesla to lose money, and the short sellers expected to make money when Tesla lost money. So weren't they surprised when Tesla instead reported $150 million in net income on $6.3 billion in total revenue? Suspicion immediately homed in on a -$37 million warranty adjustment, listed as "Net changes in liability for pre-existing warranties, including expirations and foreign exchange impact." Effectively, Tesla removed $37 million from its warranty reserve fund, correcting for past over-accruals. But it also made $138 million in what we'll call "normal" accruals, and spent $59 million in claims."
---
Is Tesla Toast? Karl Denninger thinks so. He noted that Porsche board member Andreas Haffner told German newspaper Handelsblatt that the company now has 30,000 deposits of 2,500 euros for the high-performance electric sports car. That puts it in a strong position to rival Tesla's global Model S sales when deliveries begin later this year, and Porsche North America CEO Klaus Zellmer told CNET in December that the majority of depositors currently own a Tesla.
Karl wrote, "Porsche knows how to do one thing exceedingly well -- make sure their customers are taken care of.
"Delivery Hell", giving someone a VIN number and then not having the car when promised (or the number doesn't match), paint problems, mismatched body panel gaps, etc. - forget it. Porsche just doesn't get stuff like that wrong. But that's what decades, literally, of luxury performance vehicle manufacturing does. You get it right, because, well, you want to sell someone a second one, and you recognize the value of relationships in that end of the market.
A Porsche is not, and never has been, a commodity play. Tesla thinks it can play in that end of the market and with the "S" they were the first to do so with an electric vehicle. Well, when you're the only choice for someone who worships at the cult of electric vehicles you'll get away with a lot. That ends later this year, and for those who were considering a Tesla S ... I suspect that ship has sailed - permanently."
Since the Tesla S is the company's high-margin, flagship product, the Tesla party may indeed soon be over. (posted 8/16/19, permalink)
---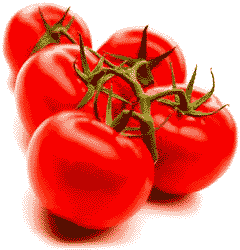 Bigger Volume, Bigger Losses, Rotten Tomatoes: Tesla has long maintained that it would become profitable as soon as it ramped up its volume, as soon as the Model 3 came out and/or as soon as the moon turns purple. Tesla reported a loss of $702 million on an adjusted basis for the first three months of 2019 and the company also burned through $1.5 billion in cash. Revenues were $4.54 billion - lower than expected. The company delivered 63,000 cars in the first quarter; I calculate the average transaction price to be over $72,000.
Tesla "blamed the dip on struggles to deliver its key Model 3 car to Europe and China, while demand slipped following the end of a tax credit for buyers in January. Tesla warned it will not return to profitability before the second half of this year."
Head of Global Automotive Research, Arndt Ellinghorst pointed out that the Model S, first introduced in 2012, and the Model X SUV which debuted in 2015, were now starting to look "quite old," adding that "the brand will be less exclusive than it has been in the past." And … I believe that everyone who wanted a Tesla has already bought one.
Tesla CFO Zach Kirkhorn warned shareholders that the company will likely report a loss for its second quarter as well.
When a luxury car manufacturer sells 250,000 vehicles per year at an average price of over $70K, loses over $11,000 per vehicle, and claims they just need more volume, I am reminded of my old pals Vinnie and Tony, who decided to become truck farmers.
Every morning they drove their little truck down to Vineland, NJ to pick up a load of tomatoes. Then they drove back and sold tomatoes to customers on the streets of South Philadelphia. Because of competition, they had to sell the tomatoes for just a little more than they paid for them. And that didn't include costs - gas for the truck, wages for Vinnie and Tony, etc.
After two months, they were losing $5,000 per month. "We're going broke!" exclaimed Tony. "Nah," said Vinnie. "We just need a bigger truck." (posted 4/26/19, permalink)
---
It Begins: Tesla missed its sales target, despite holding a Midnight Sale to try and move a backlog of its Model 3. The electric car manufacturer has also cut prices by $2,000 on all models, in an attempt to improve things.
"How things will play out for Tesla in the New Year is far from certain, but there is clear concern among investors who have been hammering the company's share price since mid-December, even before the broader stock market sell-off began ahead of the Christmas-New Year's holiday."
---
Geef Back Das Money: Hundreds of German Tesla Model S drivers have been ordered to pay back a $4,650 electric-vehicle subsidy after a government agency deemed their luxury cars too expensive to qualify for the program.
---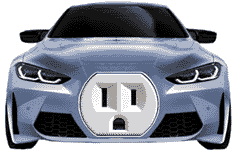 More Tesla Bashing, Please: Joe Bob Briggs at Taki's Magazine recently wrote, "So who is the Tesla designed for? Apparently it's designed for wealthy sociology professors who like to hit the indie theaters on the weekend and binge-watch seasons of 'Doctor Who' with their vegetarian wives."
Joe Bob pointed out that Tesla markets their vehicles "like an iPhone, complete with showrooms that are not located in massive concrete plazas out on the interstate, like God intended, but are actually placed in shopping malls, right between Cartier and the wood-paneled shop that sells ugly $200 neckties from London. That way you can window-shop while you're going in to get this season's silk cravat."
Briggs concluded, "All of this hilarity makes the Tesla experience similar to driving an iPhone."
Peter De Lorenzo added, "Tesla is the car built for politicians in Washington and Northern California, and EcoSwells needing even more validation for who they think they are. … To the green intelligentsia, Tesla is still The White-Hot Future. For the rest of us, well, it's a great deal less."
Then there's this: The next version of Tesla's Autopilot software scheduled to be released in August includes "full self-driving features," according to company CEO Elon Musk. Version 9 is the first full update of the software since version 8 was released in 2016. The features will be "enabled" on Tesla vehicles equipped with Autopilot 2.0. That does not mean, however, that they will be able to drive themselves. The version 9 update will be pushed out over-the-air to Tesla owners. Well, good luck with that.
Paul Ausick wrote, "Tesla's vehicles have been involved in several crashes this year and at least two people have died in those crashes. Musk complains about heavy press coverage of crashes involving Tesla vehicles, while more numerous fatal crashes happen every day. He is certainly correct, but a new technology, particularly one that can kill someone if used improperly or if the technology fails, should be scrutinized as thoroughly as possible before being turned loose on consumers who receive the sales pitch but who don't have either the time or knowledge to weigh the technical details."
Furthermore, Tesla will lay off as many as 3,000 workers, or nearly 9% of its workforce, in a bid to reorganize and address endemic problems. By the way, Tesla is most shorted stock in the U.S., with $12.6 billion bet against it.
And, if the Ford Pinto disappeared from showrooms because it sometimes burst into flames when rear-ended hard, how come Tesla, the car that apparently will burst into flames spontaneously, is still being sold?
Finally, it has been reported that one in four Tesla Model 3 reservations have been canceled. "If 100,000 buyers ask for their money back that will mean a $100 million hit to Tesla's bank account at a time when it is struggling to avoid having to raise more equity." Ouch. (posted 6/25/18, permalink)
---
Now Even More Expensive: This week, Elon Musk announced a $79,000 high-performance version of the entry-level Tesla Model 3. It will have dual electric motors and all-wheel drive.
---
More Bad Tesla News: Recently, MotorWeek, PBS' automotive television program, tested a Tesla Model 3. Like all media, MW had to borrow its test car from a private individual. Tesla won't provide press cars to auto journalists.
---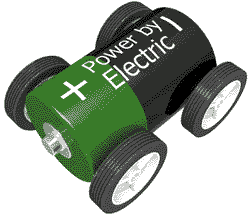 Tesla Death Watch? An article posted at The Burning Platform noted that "under Musk's leadership, Tesla's chronic financial incompetence has racked up more than $4.97 billion in operating losses for its shareholders."
John Thompson, Chicago-based value investor and Chief Investment Officer of Vilas Capital Management recently wrote, "I think Tesla is going to crash in the next 3-6 months … partially due to their incompetence in making and delivering the Model 3, partially due to falling demand for the Model S and X, partially due to the extreme valuation, partially due to their horrendous finances that will imminently require a huge capital raise, partially due to a likely downgrade of their credit rating by Moody's from B- to CCC (default likely) which should scare their parts suppliers into requiring cash on delivery (a death knell), partially due to the market's recent falling appetite for risk, and partially due to our suspicions of fraudulent accounting activities, evidenced by 85 SEC letters/investigations and two top finance people leaving in the last month."
In late March, Moody's lowered its corporate family rating on Tesla to B3 from B2 and changed the outlook to negative from stable. "Tesla's ratings reflect the significant shortfall in the production rate of the company's Model 3 electric vehicle," Moody's said in a release. "Tesla's rating could be lowered further if there are shortfalls from its updated Model 3 production targets."
The credit ratings agency also said the electric car maker will likely need to raise more money in the near future to meet its cash needs and maintain its expected pace of expansion. Liam Denning of Bloomberg added, "Moody's downgraded those Tesla bonds to Caa1 (the company rating went down a notch to B3). Moody's could hardly do otherwise, given the single-B rating had been predicated on Tesla producing 300,000 Model 3s this year at a 25% gross profit margin, both of which now look hopelessly out of reach. The Triple-C corporate-bond pool is priced north of 11%, suggesting Tesla's yields have plenty of room to spike further if next week's figures confirm Model 3 output is still backfiring."
John Thompson continued, "Tesla, without any doubt, is on the verge of bankruptcy. The company cannot survive the next twelve months without access to capital from Wall Street Banks or private investors. We estimate that Tesla will need roughly $8 billion in the next 18 months to fund operating losses, capital expenditures, debts coming due, and working capital needs. However, it appears that due to past SEC investigations and current investigations (which terrifyingly have not been disclosed by the company), it will likely be difficult for Tesla to access public markets."
Furthermore, "as a reality check, Tesla is worth twice as much as Ford yet Ford made 6 million cars last year at a $7.6 billion profit while Tesla made 100,000 cars at a $2 billion loss. Further, Ford has $12 billion in cash held for "a rainy day" while Tesla will likely run out of money in the next 3 months."
Mr. Thompson concluded, "I have never seen anything so absurd in my career."
I would add that, with the proliferation of all-electric vehicles by 'real' automakers - ones with proven distribution and service centers, marginalizes Tesla as an aspirational brand. (posted 4/6/18, permalink)
---
Expensive, Poorly-Built Little Tesla: Consumer Reports purchased a Tesla Model 3. It was not the basic, $35,000 entry-level version, which is as rare as the element Unobtanium. CR's tested car came with the $9,000 long-range battery (310-mile range), $5,000 in premium upgrades, the $5,000 enhanced Autopilot system and the $3,000 self-driving capability option. The final purchase price was $59,000 including the destination fee.
Consumer Reports' testers liked the car's acceleration and handling but were less excited about the ride quality in what they called a luxury compact: "The car is overly stiff, struggling to absorb bumps with the dignity expected from a luxury car. There's also considerable wind noise at highway speeds."
The Model 3 comes without a key. The owner's smartphone is the key: install an app on your phone and the car senses that you're on your way, unlocks the car and lets you drive away by putting the car in gear.
In related news, John Voelcker reported on quality problems with the Model 3, writing, "The build quality of the early Model 3 we tested in late February was, in a word, appalling … the build quality was the worst we have seen on any new car from any maker over the last 10 years." (posted 3/14/18, permalink)
---
In Development: It should be noted that even traditional vehicle manufacturers have start-up problems. The new Thunderbird of the early 21st Century suffered significant production delays following troublesome start-up problems. Many blamed the delay on Ford CEO Jac Nasser's 1999 diversity initiative. He once told an audience of Ford employees, "I do not like the sea of white faces (I'm seeing here)."
Under Nasser's reign of incompetence, many experienced Ford engineers were forced out and replaced by inexperienced youngsters who fit Nasser's multicultural objectives. These new engineers may have been intelligent but lacked the production floor savvy and bend-the-rules techniques used to de-bug new models on automotive assembly lines.
In the case of the Tesla Model 3 - the overpriced smaller car which is supposed to "save" Tesla Motors, lack of experience with down-to-earth, get-er-done auto production techniques seem to be causing significant delays in getting from development stage to full production.
Ed Niedermeyer wrote that "it seems likely that Tesla is hand-building Model 3 using prototype tooling. Dave Sullivan, an analyst at AutoPacific, tells Daily Kanban that the typical rate of production for hand-built vehicles is about 5-8 per day, or between 150 and 250 units per month. The fact that Tesla produced just 220 vehicles over the last three months suggests that Tesla is producing vehicles at or below this rate."
Ed concluded, "It's not easy to believe that 5,000 units per week will happen this year or that 10,000 units per week will happen next year."
On the other hand, Jack Baruth - a writer I respect, makes an interesting case for Tesla. I'm not sure I agree, but his article at TTAC is worth a read because it offers an insightful viewpoint. Jack noted that in Europe, "Tesla is a legitimate presence, doing about 15,000 sales per year in Britain and the Continent combined."
In other Tesla-related news, the company fired hundreds of employees last week. "The dismissals were a result of a company-wide annual review," Tesla said in an e-mailed statement, without confirming the number of employees leaving the company. "It's about 400 people ranging from associates to team leaders to supervisors. We don't know how high up it went," said a former employee, who worked on the assembly line and did not want to be identified. At least one online news story suggested that 700-1,000 employees were terminated. Though Tesla cited performance as the reason for the firings, the source said he was fired in spite of never having been given a bad review. (posted 10/18/17, permalink)
---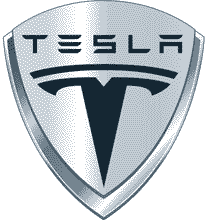 Lifeline For Tesla: The California State Assembly passed a $3-billion subsidy program for electric vehicles, dwarfing the existing program. The bill is now in the state Senate. "If passed, it will head to Governor Jerry Brown, who has not yet indicated if he'd sign what is ostensibly an effort to put EV sales into high gear, but below the surface appears to be a Tesla bailout."
Why? Because Tesla will soon hit the limit of the federal tax rebates, which are good for the first 200,000 EVs sold in the US per manufacturer beginning in December 2009. "In the second quarter after the manufacturer hits the limit, the subsidy gets cut in half, from $7,500 to $3,750; two quarters later, it gets cut to $1,875. Two quarters later, it goes to zero."
If you believe Tesla's U.S. sales forecast for its Model 3, it will hit the 200,000 vehicle limit in 2018; by 2019, the subsidies are gone. Removing a $7,500 government subsidy on a $35,000 car is likely a deal-killer for most prospective buyers. And the only Model 3s being delivered at present are the more-expensive, $44,000 long-range models. And, if you want your Model3 in any color but black, you'll have to pay an extra $1,000.
But wait - there's more: "The Enhanced Autopilot package costs an extra $5,000, with full autonomy capability requiring a further $3,000, even though the option (which Musk promises) isn't yet a available. Power adjustable (heated) seats, premium audio, tinted roof glass, and other luxury appointments - many would call them "necessities" - are all bundled into another $5,000 package. Of course, you can also choose to upgrade the wheels to 19-inchers. All told, the Model 3 tops out at $59,500 with every option on board, which still places it below the lowest-rung Model S."
Almost $60 grand for a compact car??!! Take away the subsidy and it's closer to $70,000. Anyone remember the fate of the far-more-stylish Cadillac ELR?
"No other EV manufacturer is anywhere near their 200,000 limit. Their customers are going to benefit from the subsidy; Tesla buyers won't." This little Tesla isn't such a bargain, even with subsidies.
Without the subsidy, it is doubtful that the Model 3, or Tesla itself, will survive. Here's why: In the second quarter of '17, Tesla lost a ton of money - 8% of its sales revenues. My back-of-the-envelope calculations indicate that the company currently loses almost $10,000 on every vehicle it sells. This is absolutely unsustainable and, in my view, this extreme level of unit unprofitability will not go away by simply ramping up output. In fact, the more cars Tesla produces, the worse its losses. In 2015, Reuters reported that Tesla was losing $4,000 on each car it sold.
Furthermore, Tesla plans to make 500,000 vehicles/year by 2020. How? The firm has one assembly plant - a 61 year-old former GM assembly facility in Fremont, CA. That plant's capacity is, at best, 300,000 units/year.
Forget the hype. When you examine the facts, Tesla just doesn't pencil out as a viable auto business. (posted 8/9/17, permalink)
---
The Fall Of St. Elon: If you want to read a well-written takedown of Tesla and its peculiar leader, you'll find it here.
Francesco Segredo wrote, "Under Elon Musk's leadership Tesla's Model X arrived two years late and subjected the company to six months of self described production hell, only to tie for last place in Consumer Reports' luxury SUV ratings with a score of 59/100 (Nov 2016). Delays for the falcon winged albatross will allow the Chevy Bolt and second-generation Nissan Leaf to both beat the Model 3 to widespread availability by the end of the year. Tesla's quality has been poor, the UAW is circling, and Mr. Musk recently tweeted about mixing alcohol and Ambien (zolpidem) - a drug combination not only dangerous in its own right, but that increases the risk of long-term zolpidem addiction. How is this man still Tesla's CEO?" Read the whole article - it gets even better.
I've been a critic of the electrified scam known as Tesla for years. I've previously referred to this government-funded disaster as Solyndra On Wheels. And, don't forget, Tesla still loses money on every vehicle it produces.
Furthermore, second-quarter production fell, with just over 22,000 Model S and X vehicles rolling out of the Fremont, CA plant - considerably less than the nearly 26,000 produced in 2017's first quarter. (posted 7/20/17, permalink)
---
Electric Fantasy: Peter De Lorenzo is still not a fan of Tesla. He wrote, "Wall Street ... overvalues Tesla by about 75% in a cessation of all rational thought that is simply mind-boggling to behold. With the serious automobile manufacturers lining up with a series of formidable all-electric machines, Elon Musk's days are numbered as the P.T. Barnum of the business. It won't matter, he will get bored and declare the whole automotive exercise as tedious, and move on to colonizing Mars."
In one form or another, the internal combustion engine will power - directly or indirectly - the majority vehicles for a long time. (posted 9/20/16, permalink)
---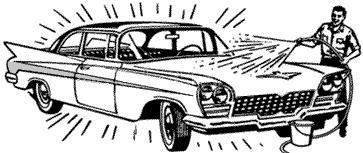 Super Charger, Super Pricing: If Tesla's pricing doesn't scare you off and Tesla's Supercharging subscription pricing doesn't frighten you, then - I guess - you won't be dismayed by its planned $40 car wash.
AutoBlog noted that "as with almost everything associated with Tesla, a Supercharger car wash is not cheap. Tesla is proposing a hand-wash subscription service at Supercharger stations for its owners that would charge $80 a month for Model S owners and $90 a month for Model X owners.
Think of it this way: Teslas cost about three times the average new-vehicle costs, and under this program, their car washes would also be about triple the typical trip to the car wash." (posted 7/19/16, permalink)
---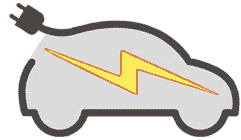 Noisy, Expensive ... and Deadly: Recently, MotorWeek tested the Tesla Model X, the all-electric crossover with the gullwing rear doors. The top-of-the-line P90D model with the $10,000 Ludicrous performance option costs nearly $127,000. Yet, MW complained about numerous rattles and squeaks in this brand-new car.
These days, even the cheapest car sold in America doesn't rattle or squeak when new. My wife's Toyota Avalon has been bumping down various roads and hitting unexpected potholes for over 11 years now and has nary a rattle or squeak.
For $127,000 the only squeak this electric car should make is when a mouse gets caught in the charger and is electrocuted. This is just one more reason to avoid Tesla.
Recently, the self-driving feature of a Tesla apparently malfunctioned and the driver was killed. At least one other accident has been reported involving Tesla's Autopilot. Peter De Lorenzo wrote, "The bottom line of this debacle was that the personal arrogance of Musk allowed for beta testing of a sophisticated semi-autonomous technology by the company's own customers in the real world, an unconscionable lapse of judgment that is simply unbelievable and unforgivable."
Peter also noted that "Musk's acolytes in the 'new' media have painted a portrait of a brilliant visionary tragically hamstrung by the narrow-mindedness of those trudging along in woefully obsolete industries that out of the sheer kindness of his heart Musk is willing to lay his hands on and rescue for the greater good of all mankind.
The other point of view suggests that the ugly realities of Musk's 'vision' have resulted in zero profitability and grossly overvalued stock, which has led to a remarkably arrogant proposal to blend together a separate company that he already heavily influences – SolarCity – with Tesla, for his personal benefit, ultimately. That shareholders and financial analysts both smell a rat in this high-level financial flimflam is a clear indication that the wheels are finally starting to come off for Musk." (posted 7/19/16, permalink)
---
More Tesla Mega Hype: Various media outlets have suffered fainting spells of exuberance over Tesla's latest offerings. The ridiculous gull-winged Model X SUV is an all electric vehicle for off-road, although there don't seem to be any of Tesla's Superchargers located in the woods. And the rear gull-wing doors make no sense and potentially destroy body integrity.
There have been plenty of orders for the "entry-level" Model 3, which - when 'optioned-up' - may cost nearly $50,000.
Investment adviser Malcolm Berko recently wrote that Tesla "burns through millions of dollars of cash every day, squeezes hundreds of millions in tax credits from Congress, has never made a profit, has never paid a dividend and is not (and I repeat, is not) an investment. It is a bleeding speculation and could crash to $150 again. According to CNBC, Tesla loses over $4,000 on each car it sells and it needs another $700 million cash infusion quickly.
This is a fairy tale stock based upon the fantasies of a modern-day Pied Piper, called Elon Musk. TSLA is a textbook example of bandwagon blandishments, the power of cupidity, hope over substance and stupidity over logic." (posted 4/15/16, permalink)
---
Tesla Troubles: Tesla Motors, Inc. reported an unexpectedly large fourth-quarter loss of $320 million last week as the electric carmaker incurred heavy costs related to developing two new models. Tesla sold 25,202 vehicles in the U.S. in 2015. The company's primary car is the Model S sedan; last fall, it launched the Model X sport utility vehicle.
Tesla also plans a lower-priced, mass-market electric car called the Model 3 for late 2017. The Model X has been the subject of delays and hefty costs related to ramping up production; Tesla delivered only 206 of the SUVs in the fourth quarter, well below projections. (posted 2/17/16, permalink)
---
Not Recommended: Consumer Reports has withdrawn its Tesla recommendation "due to drivers' complaints of a "worse-than-average overall problem rate.""
For its annual car-reliability survey, Consumer Reports said it heard from about 1,400 Model S owners who complained of an "array of detailed and complicated maladies," both in the car's unique touches, like its sprawling touchscreen dashboard, and in its more commonplace machinery, like windshield wipers and wheel alignment.
"It's one thing to have a quirky, problematic car that sells 20,000 units per year to wealthy people who probably own at least one backup vehicle," a Consumer Reports reviewer wrote. "It's quite another when Tesla scales up to its 2020 projection of 200,000 U.S. Model 3 buyers, who may not have the luxury of being so forgiving." (posted 10/27/15, permalink)
---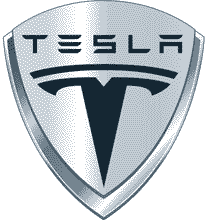 Peak Electric: Tesla Motors' market cap has now reached nearly $40 billion, which made it over half the value of General Motors Co. Despite its next generation technology, Tesla makes 11,000 cars per quarter, compared with about two million for GM.
Douglas A. McIntyre wrote, "No matter how good Tesla's electric cars are, its valuation cannot be supported on any rational basis, and it has been caught by the gravity of skeptical traders.
Tesla's shares peaked at $287 in September of last year and nearly reached that point in June of this year. However, the current price is a rally from $185 in late April. Shares, now trading at $232, will be back under $200 again."
The company's problem is that the lines between its production and technology will be crossed by large manufacturers using the same electric engines, while Tesla struggles to sell 200,000 cars. Whatever its advantages today, they will be overcome by the long runway it has from being a novelty to being a real car company that has sales into the hundreds of thousands per year.
Tesla has forecast sales of 1 million cars by the end of the decade. "By that time, Toyota, BMW or some other huge manufacturers will churn out competition at a rate their factory capacity can handle, backed by slow but expert production development, iron-clad balance sheets, marketing and dealer networks. Five years from now, Tesla may have the best product, but it will not be enough to hold its position at the top of the all-electric car business."
Doug concluded, "Tesla's stock value will fall because it will not have enough advantages to keep it anywhere near current levels." (posted 10/19/15, permalink)
---
Loss Leader: Last week, Tesla Motors announced that it lost $194 million in the last quarter, citing lower vehicle deliveries and higher spending on its factory ahead of a new model.
Reuters reported that Tesla is losing $4,000 on each car it sells. Tesla has had only one profitable quarter in its history and the carmaker doesn't project a cash-positive year until 2020, assuming it can sell 500,000 cars/year by then.
Good luck with that. By 2020, the market will have changed substantially with other luxury marques offering plug-in hybrids, electrics and other energy saving vehicles.
Karl Denninger added, "Tesla makes luxury, limited-use vehicles on which it loses thousands for each vehicle it sells. It remains in business based on two factors: Tax harvesting from the federal government, that is, effective acts of theft from everyone in the country and hype that has allowed it to return to the capital markets again and again for more money to fuel its cash furnace.
If either of those factors fails to continue the company is in trouble. But if tax harvesting fails the other will almost-certainly fall immediately thereafter; loss of both would be likely to detonate the company as a whole as cash flow is everything and if you run out of cash and cannot go back to the markets for more you're out of business.
Further, there are reports emerging of serious problems with vehicle service and the extremely limited nature of the vehicle's distribution and thus service network means that aftermarket availability of assistance with the cars is effectively nil. While most of the reports I've seen have been in the category of "annoyances" (e.g. door handles not working) the fact is that I can take even a 10+ year old vehicle from any modern big-name manufacturer in and get something like that fixed. I might not like the price, but I can get it done right here and now. This is manifestly not true for Tesla." (posted 8/20/15, permalink)
---
Over Twenty Thousand Losers: Tesla Motors Inc. announced preliminary deliveries of 11,507 Model S sedans in the second quarter of 2015, its highest ever total. The company delivered 10,030 units in the first quarter, bringing its total for the year to 21,537.
Tesla is still losing money on every vehicle it sells. (posted 7/7/15, permalink)
---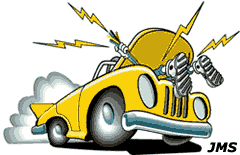 Electrified Scam: Elon Musk's Tesla Motors, SolarCity and SpaceX, together have benefited from an estimated $4.9 billion in government support. Tesla and SolarCity continue to report net losses after a decade in business. SpaceX doesn't report financials.
"In a 2008 blog post, Musk laid out a plan: After the sports car, Tesla would produce a sedan costing "half the $89k price point of the Tesla Roadster and the third model will be even more affordable." In fact, the second model now typically sells for $100,000, and the much-delayed third model, the Model X sport utility, is expected to sell for a similar price."
The Real Fuel for these ventures is tax dollars, which seem to burn quite well.
Recently, financial adviser Macolm Berko wrote, "I think P.T. Barnum and Elon Musk would have been great buddies. Tesla, one of the greatest shows of the 21st century, is making fools out of millions of Americans. Tesla makes beautiful cars; however, I'm convinced that this company lacks the right product and the necessary management skills and that it will never earn a profit. But its stock price has been impressive, and with a $29 billion market cap, TSLA is worth half as much as Ford even though Ford sells 75 times as many vehicles."
Finally, the Harvard Business Review has shot down the oft-touted idea that Tesla is "disruptive technology." Professor Clayton Christensen things that NEVs - streetable, upscale, electric golf carts are a far better example of disruptive tech. And he makes a good case for it; the entire article is worth a read. (posted 6/17/15, permalink)
---
Amazon On Wheels: Tesla Motors is watching its shares free-fall after its CEO Elon Musk made some less than positive projections on the company's outlook at the Automotive News World Congress. He predicted that the company would not have a profitable year until 2020.
To reach profitability, the company will need to sell 500,000 cars/year, which is not projected until 2020 said Musk. Tesla's Model 3, an entry-level product priced at $35,000, is not expected until 2017. Tesla sold about 33,000 cars in calendar 2014.
The Tesla story sounds too much like Amazon, which has claimed since 2000 or so, that they need to get 'bigger' in order to make more money. Amazon is still "ramping up" - the story it's been pedaling since it was a mere $3 billion company in 2000. How can Amazon be still in ramp-up mode as a $75 billion entity? (posted 1/19/15, permalink)
---
What Is Elon Musk Smoking? The Tesla CEO said that he wants the company to offer a full-size pickup to compete with Ford's best-selling model, the F150.
Note that Ford sold 560,000 of the F-series pickups in the United States through the first nine months of this year. In that time, Tesla sold a mere 14,000 of the Model S sedan.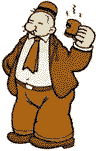 Would you buy a brawny work truck designed by a guy with the wimpy name of Elon? The only wimpier name would be Wimpy of Popeye's Thimble Theatre fame. (posted 11/15/13, permalink)
---
High-Priced, High-Risk Stock: Merrill Lynch has issued a research report on Tesla, the manufacturer of expensive electric vehicles and it is generally negative.
"Despite our view that Tesla is an important innovator in the electric vehicle market, with solid technology and a reputable brand, we continue to believe meaningful execution challenges remain and the shares are overvalued.
Furthermore, we believe Model S demand could cool off once early adopters receive vehicles and expect the ultimate addressable market for luxury, electric vehicles to be smaller than many expect."
Tesla has the backing of a lot of rich and powerful people, so I won't predict that it will be out of business next week or next year. But I don't see it as a viable company for the longer term. (posted 10/28/13, permalink)
---
Unhealthy Place To Put Your Money: Investment adviser Malcolm Berko likes the cars but doesn't think much of Tesla as an investment, writing that the stock is "a speculation so rank that, like a pack of cigarettes, it should have a "Dangerous to Your Wealth" warning label attached to its TSLA ticker symbol."
He believes that "this company may not be "honestly" profitable until September 2021 or March 2022 and may not pay a dividend until 2026. Therefore, you might have to wait 13 years before you would reinvest any dividends.
Frankly, I think anyone who buys this stock has to be addled and wacky to pay $168 a share for a company that has no earnings and produces $70,000-$125,000 cars that many banks won't finance. TSLA is not an investment; it's a speculation." (posted 9/9/13, permalink)
---
The Truth About Tesla: The megahyped electric car start-up "received the $465 mm loan from DOE, but it also benefits from a $7500/car federal subsidy for electric cars. Moreover, it benefits from the State of California's Zero Emissions Credit program. In its infinite wisdom, CA mandated that all the major auto companies sell a certain number of zero emissions vehicles. If they don't they have to buy credits from companies that do make them-namely, Tesla. This was also essential in putting the company in the black in Q1, and the company is sitting on $250 mm worth of these credits.
IOW, Tesla's profits are courtesy of you, the taxpayer-and also courtesy of the shareholders of Ford, GM, Toyota, Honda, etc."
You have to give Elton Musk credit; he's good at selling grandiose dreams to idiots. Now, he's pushing Hyperloop, "a solar-powered, city-to-city elevated transit system that could take passengers and cars from Los Angeles to San Francisco in 30 minutes." Soon he'll have a bridge in Brooklyn he'd like to sell you. (posted 8/21/13, permalink)
---
A Legacy Of Bad Choices: Motor Trend has selected the Tesla Model S as its 2013 Car of the Year. It is the first all-electric car to ever win the award.
The Chevrolet Volt hybrid was selected as MT Car of the Year for 2011.
This award used to get me somewhat excited until I read a revealing 2003 posting by Peter De Lorenzo, the AutoExtremist, which detailed how this 'award' is "for sale" to the manufacturer that showers Motor Trend with the most ad/promo money.
Industry insider De Lorenzo's comment shed light a lot of previous COTY choices to me. In 2002, the faux, late-to-the-party and trouble-plagued New Ford Thunderbird won top honors. The 2001 award went to the meretricious and underpowered PT Cruiser.
In 1997, the perennial Rental Car Queen Chevy Malibu, a vehicle more boring than either 'Dune' the book or 'Dune' the movie, was presented with MT's top prize. In 1988, another member of GM's Rental Car Royalty, the Pontiac Grand Prix, was crowned.
In 1983, the still-unloved Renault Alliance won the coveted prize. The deplorable Chevrolet Citation was named the Car of the Year in 1980 by MT. The Citation was one of GM's X-body horrors, which seemed to Motor Trend like a great idea at the time, in the same way that everything seems 'profound' after a lot of drinking or serious head trauma.
In 1976, the twin rattletraps known as the Dodge Aspen and Plymouth Volare shared the prize. Since most of them rusted away and/or fell apart, they are now seen less often than a Higgs boson particle.
Back in 1974, you could listen to Lynyrd Skynyrd perform Sweet Home Alabama using the eight-track player inside the miserable Mustang II. This muffin stump of the 1970s automotive universe, whose only saving grace was that, as a junkyard resident, it donated many a subframed front-end for late '30s and early '40s street rods, won MT's COTY in '74.
Who knows? In 30 years, the Tesla S may be looked on with the same disdain as the Renault Alliance. (posted 11/15/12, permalink)
---
Solyndra On Wheels: Tesla, the Little Electric Car Company That Couldn't, has asked the government - specifically the U.S. Department of Energy - for more funding.
Tesla spokeswoman Khobi Brooklyn reportedly confirmed that the loan application was completed, adding that the money would be used "in our continued mission to make more affordable electric vehicles." (posted 9/27/11, permalink)
---
Electric Outage: The Tesla Roadster electric car is dead. Tesla Motors announced it would stop taking orders for the $109,000 vehicle in August.
Eric Peters has written, "Just 1,650 of these electric lemons found people rich enough - and dumb enough - to spend $109,000 for a $51,845 Lotus Elise stripped of its perfectly good gasoline engine and converted to run on electricity."
I've only seen one Tesla on the road. In California, of course. (posted 7/6/11, permalink)
---
Bad News From Tesla: The Little Electric Car That Couldn't is still losing money - big time. The Truth About Cars noted, "Tesla has lost $103m so far this year, over three times the $31.5m loss accrued in the first three quarters of last year."
One TTAC commentor, gslippy, added "Development of the Model S sedan is killing Tesla's bottom line. This is akin to speeding so you get to the gas station sooner when you're low on fuel."
I don't care if Toyota and Panasonic are investors. I warned ya about Tesla before.
Electric cars - the Pet Rock of the '10s. (posted 11/10/10, permalink)
---
The Trouble With Tribbles Tesla:
Legendary manufacturer of PR, venture capital proposals, hype and - occasionally - electric cars, Tesla Motors has reported its
first earnings statement
as a public company. The numbers are not good. Revenue was $28.4 million but the company lost $38.5 million.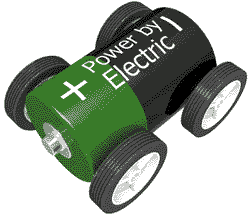 A quick, back-of-the-envelope calculation indicates that the $100,000 two-seat Tesla Roadster would have to be priced at over $235,000 per example for the company just to break even.
Oh wait, the company says. They're spending lots of money on R&D. Well then, the firm needs more profit. Merely breaking even won't do then, so maybe the Roadster should be priced at $500,000 per car. Of course, no one will buy it at that price. In fact, few are buying any at the 'bargain' $100,000 level.
"Be patient", says Tesla. We're developing a stylish four-door sedan which will save the company. Last year, Tesla announced that it would be priced at $50,000 or so. Now, the company says that the 'typical' Model S sedan will cost $75,000 and won't be available for sale until 2012. Who knows what the selling price will be when the Model S actually goes into production.
Meanwhile, the soap opera continues. Founder Elon Musk is said to be out of cash, and ex-wife Justine Musk seems to be angling for a large chunk of Elon's shares. "The company only has $47 million left in the bank, down from $70 million at the end of last year."
Some time ago, I wrote and article titled 'Make a profit on everything you do'. Musk and his minions ought to read it as well as 'Entrepreneurs and money'. (posted 8/13/10, permalink)
---
Your Tax Dollars At Waste: Silicon Valley soap opera star Tesla Motors is getting a solid backer above and beyond any investment so far: Uncle Sam.
The electric car company announced that it has received approval for about $465 million in low-interest loans, from none other than the US Department of Energy, to accelerate the production of affordable, fuel-efficient electric vehicles. (posted 6/25/09, permalink)