I'm starting to develop a preliminary roster of possible Jaguar replacements. It is an eclectic group. I like the looks of the Cadillac XLR two-seater and the new Corvette coupe. Earlier this week, I sat in both. Planting myself behind the wheel of a car for five minutes or so gives me a pretty good idea of whether I can live with the interior (looks, seating position, comfort, ability to enter/exit, etc.). I won't bother with a test drive unless the vehicle first passes this test. Neither car passed.
The Cadillac felt cramped and I hated the metallic carbon-fiber-like finish on the steering wheel and center stack. (The saleswoman told me it only came that way; I found out later that you could also get real wood as a substitute. Don't car sales people get any product training?) With the top up, there was minimal headroom for me and my eyes were staring at the visor and windshield header. No thanks.
Speaking of painful experiences, do you have to be a complete asshole to be a Corvette salesman? I haven't met many, but every one has fit that mold. As I was sitting in a showroom coupe, adjusting the seat, wheel, etc. and asking my second question (both of which the guy was unable to answer), he asked, "So, are you really interested in BUYING a Corvette?"
Exasperated with his unhelpfulness, failure to listen and admission that he didn't know the location of the dealer book (which would have answered my simple questions), I replied, "No, I just like to waste my valuable time driving around trying to find the half-hidden entrance to this dump where YOU work while looking forward to putting up with the likes of YOU."
I arthritically exited the Vette, walked stiffly to my Jag and left without looking back.
For me, automotive first class would include brands such as Mercedes, BMW, Porsche and Lexus. Jaguar too, I suppose, although I'm not going to buy another one. The present offerings - including the forthcoming XF - don't excite me and I had a falling out with the only dealership (Monte Shelton, Portland, OR) within 150 miles.
Fifty years ago, Cadillac and Lincoln were first class in my eyes; today they're definitely coach, although Cadillac is striving to move to business class with mixed success. Robert Farago has stated that "if you can't sum-up a car brand in four words, the chances are it doesn't have any. By the same token, if a marque sells models that don't embody those core values, it's in trouble. Jaguar: sexy looks, smooth ride. BMW: impeccable ergonomics, superb handling. Cadillac: ummmm."
I consider Audi, Acura and Infiniti to be business class, although there are some very nice offerings from these makers. The Infiniti G37 coupe, for instance, remains on my list of possibles. It's close enough to the front of the plane for me. The Audi A8 is priced right up there with the 7-Series and S-Class but, in my eyes, there's something missing. Maybe I just can't get that 1970s Audi Fox outta my head.
Some people consider the top-end Volvo a luxury car - not me. I think it's Swedish coach class and an overrated brand. All of the above is simply my opinion; yours may be different.
Allow me to expound on that first-class theme: When you go to a school reunion, someone always asks: "Whadda ya drivin'?" (Well, that's what they ask me anyway. But then, everyone in my class knows I'm a diehard car guy.) If you have a car with unmuddled brand identity, you should be able to provide a one-word answer. Ferrari. Porsche. Bentley.
The Volkswagen Phaeton was doomed to fail from the get-go because no one wanted to say, "I drive a Volkswagen but it's a $70,000 Phaeton - not one of the cheap-ass smaller ones." People say, "Corvette." (Never Chevy Corvette. The 'Vette owner doesn't want to connect himself with owners of lowly Cobalts and Aveos.) "Navigator." ('Lincoln' is never mentioned as it creates visions of old geezers mindlessly piloting Town Cars around retirement communities.) "Jaguar." (Well, that used to work but now XJ and XK owners must now find a way to distance themselves from lesser Jags ... without sounding as lame as a Phaeton owner.)
During my January trek to Palm Springs - where Impressing People is apparently an Olympic Event, I noticed that the most popular luxury ride was Mercedes - new S-Class Benzes seemed to be a dime-a-dozen here. BMW and Lexus duked it out for second place. Jaguar, Acura and Cadillac vied for a very distant third place. Audi and Lincoln tied for last place in luxury car popularity.
As I thought more about it, I came to the realization that every product has a first-class versus also-ran brand:
Then there's aircraft: Boeing vs. Airbus. Oh, pullleeeze. Anything with the word 'bus' in it is never going to capture first class. Want an example of an oxymoron? "I'm flying first class on an Airbus."
It also helps that Boeing is a legendary company with a great heritage. Those who went to school in the 1990s or later know the 'history' of Boeing ... as taught by those 'educators' who received their degrees during the '80s when everyone partied and watched MTV instead of studying and paying attention in college. (They still remember a few facts but struggle to weave them into coherence.)
Of course, it's a little different than the history that you and I remember. Here's a summary of what they were taught:
In 1903, Orville and Wilbur Boeing made America's first flight in a fabric and toothpick aeroplane with Kitty Carlisle singing while dancing the Charleston on the wings. Orville later became a bandleader and invented a blender for making cocktails, known as 'drinkies' in those days.
Wilbur 'Lucky' Boeing gained additional celebrity when he flew the first plane across the Atlantic but became despondent a few years later after his only child was kidnapped. He cheered himself up by meeting Adolph Hitler for the occasional brunch and political discussion. Boarding a plane at the Munich airport, Lucky walked into a propeller and was horribly disfigured.
Afterwards, he stopped dating Hollywood starlets and became a recluse, buying gambling establishments in Nevada. He saved his urine in milk bottles which he stacked like Legos in his personal bank vault in his Desert Inn penthouse. Lucky had a mean streak and once shot a man in Reno just to watch him die.
Lucky passed away in the 1970s in Mexico, surrounded by the Mormon Tabernacle Choir. He was dressed in a anti-bacterial surgical smock and his toenails were 46 inches long.
Remember all that? Seems like just yesterday, doesn't it? For those teachers, the '80s were just ... ummmm ... like ... yesterday - big hair, padded shoulders, the Thompson Twins, thin leather ties and coat sleeves shoved up to elbow-level. And Miami Vice.
But I digress.
I do find it ironic though, that there's a First Class handbag made by a company named Coach.
Meanwhile, my search for a new car continues. (posted 10/19/07, permalink)
---
'What A Luxury Car Should Be.' ... was a late 1990s Lincoln advertising tagline. Unfortunately, that statement isn't true anymore.

Fifty years ago, Lincoln and Cadillac defined luxury automobiles in America. Competition from foreign cars was almost nonexistent. A Rolls-Royce was more than double the price of a Caddy or Lincoln. BMW made sedans but only offered its sports and touring cars in the U.S. And the Isetta. The 'big' Mercedes 300 sedan was pretty stodgy-looking, cost 25% more than a Cadillac 62 and had a puny 136 hp engine (less powerful than a Ford six) to pull its heavy 4,200 pounds of bulk. Meanwhile, the '57 Caddy offered a 300 hp V-8. Lexus and Audi did not even exist.
Fast-forward to 2007: In the first five months of 2007, Lexus sold 131,000 vehicles, BMW-badged vehicles totaled 119,000 and Mercedes - 99,000. Contrast those numbers with Cadillac's sales of only 81,000 units and Lincoln's woeful 61,000.
In the old days, Cadillac really lived up to its slogan, 'Standard of the World'. If you look at period newsreel footage, you'll see potentates, dictators, popes, celebrities and gangsters being ferried about in shiny black Caddys. Pope Pius XII had several Cadillacs (prewar and postwar), including a Derham-bodied model with a throne in the back seat that could be elevated. Then there were King Ibn Saud's fleet of twenty Caddy "harem cars" in Saudi Arabia. Created by coachbuilder Hess and Eisenhardt, they were 1953 fastback long-wheelbase Cadillacs with six doors and mirrored one-way glass in the passenger sections and divider glass between the chauffeur and the ladies. The cars cost $12,500 each - about three times the price of a standard Caddy.
When growing up, I lusted after Cadillacs. Caddys of the 1950s were easily recognized because of those gleaming red taillights perched atop those uniquely-shaped finned rear fenders. And the sparkling chromed, egg-crate front grilles. Cadillacs were distinctive and flashy, letting you know that the owner was someone who had 'arrived.' And who could forget the 'Dagmars' - those tit-shaped front bumper guards on '50s Cadillacs? They were named after a busty pinup and 'actress' of the day.

There was a custom car I used to see in my Northeast Philadelphia neighborhood when I was 9 or 10 years-old. It was a customized early-'50s red Cadillac convertible and was a rolling advertisement for the owner of Sam's Auto Body. The rear of the car was like the GM LeSabre showcar with the center jet pod made from the bullet nose of a '50 Studebaker. At the time, I thought it was the world's coolest car.
Caddys were the sheet-metal equivalent of a sartorial ensemble consisting of a navy blue double-breasted blazer with brass buttons, white trousers and tasseled, bone-hued loafers, worn by a man holding a large cigar. Flush - and not subtle about it.
My first ride in a Cadillac was during my aunt's funeral when I was 11. We traveled to the cemetery in a limousine - a sleek-black '54 Caddy Series 75. I rode in the collapsible jump seat. I remember getting yelled at by my parents for playing with the power window switches and running the windows up and down on a cold, windy December day.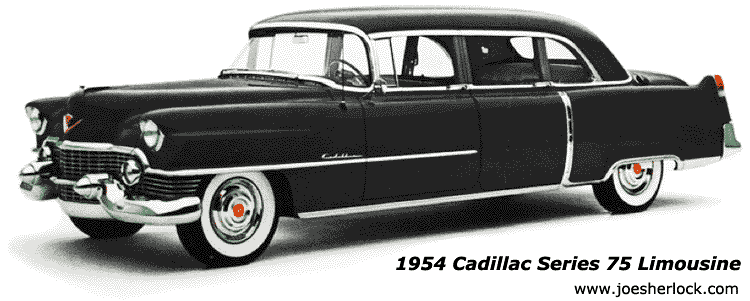 Even in the jump seat, I had a comfortable ride in that Cadillac. It seemed to glide on a sheet of glass, probably helped by the Caddy's fat balloon whitewall tires. I instantly acquired a taste for luxury.
My uncle had lots of kids and used to buy 2 to 3 year-old black Cadillac 75s from a funeral livery service in Philadelphia in the 1950s and early '60s. He paid less money for the limo than for a 2-3 year old Caddy sedan. He always got ones with a divider window so he and my aunt didn't have to listen to their ill-behaved kids screaming and beating each other up in the back seat. (Prior to buying limos, my uncle owned a '47 Ford woody. He had to get rid of it because it became termite-infested.)
From the 1960 to the mid-'80s, Cadillac still sold well, even when it began to share more and more of its overall styling and components with GM's lesser brands - something that started in 1959. The gorgeous 1961 Lincoln Continental won the coveted Industrial Design Institute Award but was still was outsold four-fold by the not-as-good-looking Cadillac.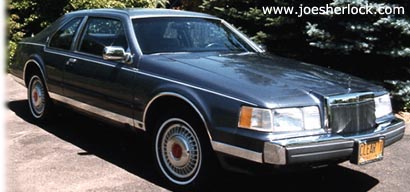 The 1977-79 Cadillac Seville was a nice-looking car, too; it's hard to believe the handsome sedan was derived from a Chevrolet Nova. The downsized '79 Eldorado was also a looker - especially the Biarritz model with the stainless steel roof. But those Eldos were crap cars - bad cowl shake and assorted rattles after only 30,000 miles, the leather didn't hold up, etc. (That's why I bought a new '84 blue Lincoln Mark VII instead of an Eldo.) The Eldorado symbolizes GM of the 1970s and beyond - lots of flash but everything's the same underneath and, in a quest for cheap part prices, they were filled with poorly-made components and flimsy fitments that just did not hold up.
Even later-model Caddys don't seem to wear so well either, based on comments by my Cadillac-owning friends.
By the 1980s, Cadillac was a joke, exemplified by the Cadillac Cimmaron, a tarted-up GM J-Car - a virtual twin of its lesser WorldCar J-bretheren: Chevrolet Cavalier, Pontiac Sunbird, Oldsmobile Firenza, Buick Skyhawk, Holden Camira, Opel Ascona and Vauxhall Cavalier. Crap cars all. (WorldCrap?) Added to the joke was the shrunken Cadillac fiasco of 1986, when Caddy were unrecognizable when parked in a group of other '86 GM sedans.
Lincoln took advantage of Cadillac's dropping fortunes and, for a time, offered a decent product line. In the late 1980s, when Cadillac had clearly lost its way, Lincoln sales actually exceeded those of Cadillac. In 1990, over 233,000 Lincolns were sold; all were passenger cars. But the division lost its direction too, choosing to focus on trucks, and its offerings of today are pitiful. The cars became decontented, discounted and dissed. By calendar year 2004, only 139,000 Lincolns were sold; passenger car sales accounted for less than 79,000 units. The remaining units sold were trucks. (In September '07, a mere 3,200 Lincoln passenger cars were sold.)
Peter DeLorenzo of AutoExtremist has written, "What has happened to Lincoln is one of the saddest travesties in the history of the automobile business. What was once a proud, sought-after luxury automobile that gave Cadillac all that it could handle in this market, Lincoln is now fading into the abyss and falling off consumer consideration lists left and right. ... Lincoln will be doomed to the trash heap of once-great American brands."
I was very fond of my Lincolns - I've owned five of them over the years - but am now saddened by what Ford has done to this once-proud brand. No Lincoln enthusiast I've met likes the bland little Zephyr/MKZ. Most feel it's an insult to the marque. No wonder that, these days, 2.3 Cadillac cars are sold for every Lincoln.
So ... no Lincoln for me. And no Cadillac, either. The DTS is a front-wheel drive Geezermobile and the CTS combines questionable reliability with styling that looks better in photos than in person. I will not be buying an American brand of luxury car to replace my aging Jaguar. The 11 year-old in me wants to buy a flashy, top-end Caddy with big, sensuous Dagmars. The mature me will order Something Else.
The search continues. (posted 11-1-07, permalink)
---
Where's My Flying Car? One of the most frustrating things I encounter when shopping for a new car is I can't find a flying car in any of the showrooms I've visited. When I was growing up, magazines like Popular Mechanics, Mechanix Illustrated and Popular Science predicted that tires and roads would soon be obsolete and we'll get around in flying cars.
Such stories were profusely illustrated; the renderings often appeared in full color on the cover to help boost newsstand sales. The skies were always clear blue with nary a belching smokestack in sight. (Perhaps the illustrators were prescient enough to realize that, in the future, factories would disappear because everything would be manufactured in China.) Sometimes the flying cars were piloted by silver robots with red eyes. Occasionally flying semis and buses would be visible in the background.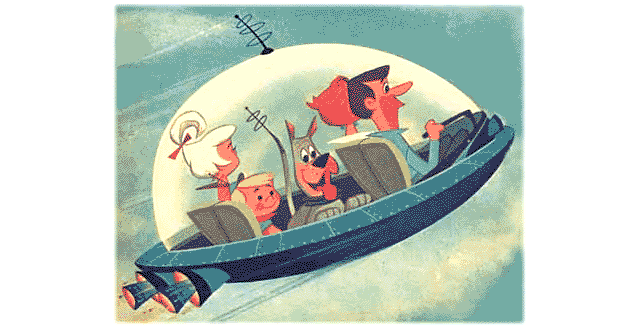 As a youngster, I was promised Social Security in my old age. As a 12 year-old, I could have cared less. As I grew older, I was told over and over that Social Security was "in trouble," "bankrupt" and/or "on the brink of collapse." I made other financial plans just in case and was pleasantly surprised when I actually started getting SS payments. That's the kind of surprise I like: give me something I wasn't really expecting.
On the other hand, if you promise me something and I don't receive it, I get angry. So I'm peeved that I can't buy a flying car. No one ever told me that aerocars were "in trouble" or that the entire concept was "on the brink of collapse." Those damn cover illustrations were so nice, too. And ... most of those flying vehicles had cool transparent Plexiglas dome roofs.
Never mind that Plexiglas acrylic was far more expensive than glass, that it scratched very easily and that the forming process for making those domed roofs would thin out the material at the top - the very spot where strength and rigidity were most needed. Sitting in a parked car in the California sun, a Plexiglas canopy would have you fry and die of heat stroke in about four minutes. None of this stopped the press from predicting that all cars would soon have transparent Plexiglas bubble roofs for all-around driver visibility.
Speaking of domes, we were also told that we'd soon live in domed cities with climate control and our second car would be a small commuter helicopter. With a bubble windshield/canopy, of course. Our homes would have central courtyards covered with a transparent plastic hemisphere to keep the weather out, help the plants grow and allow our robot servants to recharge their solar batteries. Clear plastic bubbles would permeate our lives. We'd be part of a bubble nation living an a bubble-based economy.
The Doming of America reached its peak with the introduction of the Cone of Silence on 'Get Smart' in 1965. The bubble economy collapsed shortly thereafter. And, apparently, so did the idea of flying cars.
I'll soon buy a new car. And I'm sure, I'll buy something that pleases me. But I'll always have a longing for something that flies. And has a clear bubble top. (posted 11/9/07, permalink)
---
Not Wiry Enough ... for a sports car: When I graduated from college and landed a job, I rewarded myself by purchasing a '63 Corvette Sting Ray.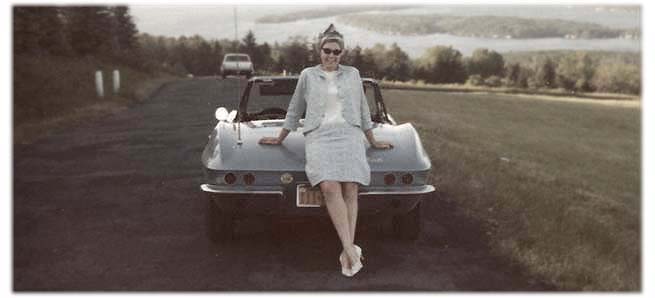 Later I got married and started a family, so I sold the Corvette and stuck to family-friendly cars. By 1992, my kids were grown, so I bought a new Nissan 300ZX twin turbo coupe. Wheeeee!

It was faster than Superman on crack. It cornered like it was on rails and had Lionel Magna-Traction. But the Z rode like a truck and I soon tired of the jiggly ride and the niggling problems which kept popping up.
As part of my quest for a new car, I had to decide if I wanted another sports car.
Recently (as I mentioned before), I sat in a Caddy XLR roadster. My eyeballs were above the glass area, looking at the visors. With the top up, there was there was little headroom for me. I was surprised that the U.S./Canadian content of this car was only 77%. The five-speed auto transmission is made in France.
I also sat in a new Corvette coupe. The Corvette felt roomier (a little surprising, since both cars share the same platform) but the seat was much less comfortable and sat lower (ah, that explains the increased headroom), making entry and exit a mildly painful experience for me. I did fit in it OK (it's wide enough for me and other fat guys trying to recapture their youth) but I couldn't picture myself entering/exiting this car in 8 years. I just plotted my decreasing levels of athleticism and my increasing levels of old-guy aches and pains over the last 8-10 years and extrapolated them out 8-10 years into the future.
The fact is - I rarely see 70-somethings behind the wheel of low-slung sports cars and, when I do, they're always little wiry guys. You know, the ones that live to be 100 - and they're still little and wiry at the century mark. God bless 'em. Unfortunately, that's not me. I've never been described as 'wiry'.
This realization made me cross out some other low-slung cars on my preliminary car buying list - the Mercedes SLK (too many quality problems anyway), Porsche Cayman S (do I REALLY want to be known as a Porsche driver? My daughter says no: "Dad you've always HATED Porsches!"), Lexus SC (a chick car with inverted bathtub styling), Jaguar XK (expensive and I really dislike that 2004 Taurus front end ... well, I wouldn't dislike it so much if it didn't cost ten times as much as a 2004 Taurus), the Mazda Miata (I'm too fat) and Nissan 350Z (been there, done that).
Of course, I could buy a high-slung sports car. Like a 1914 Stutz Bearcat. But I don't much care for monocle windshields and hand-crank starters. And it wouldn't be much fun in rainy weather, being exposed to the elements and all.
Jeremy Clarkson wrote that older people want posh, comfortable cars: "They like wingback chairs and being warm." Jeremy notes that when a well-to-do older person is asked by an airline where he'd like to sit, he will choose "first class where the seats are sumptuous and the wine is fine." He will not say, "Ooh, is there any chance that you could spread-eagle me across the jet intake?"
So, it's definite then - I won't be replacing the Jag with a sports car. My search continues. (posted 11-16-07, permalink)
---
Coupe De Grace: In the 1980s, my wife revealed to me that she liked 4-door sedans because "everyone gets a door, so they have an easy time getting in an out of the car." She asked why I wanted to buy a two-door coupe. I replied that I was fond of the sleek lines of coupes and (in my very best me-centric voice), "Because no one makes a one-door car." She thought that was a very rude attitude. From that moment on, we've referred to 4-door sedans as Polite Cars and two-door coupes as Rudemobiles.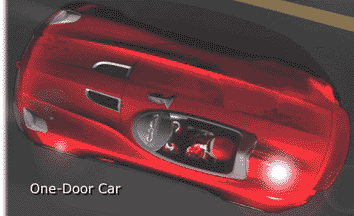 If you wanted to buy a luxury Rudemobile in the '70s or '80s, you had lots of choices - everybody made 'em. These days, the coupe has fallen in disfavor. There ares no more Lincoln Marks, Caddy Eldorados or Coupes de Ville. Lexus doesn't offer a coupe; neither does Acura. The BMW 6-Series is very expensive and I don't care for the Bangled styling. I don't like the Angry Asian look of the new 3-Series, either. It's a shame because the 3-Series coupe is a nice handling car with comfortable, supportive seats although it's a little pricey for what you get. The interior looks cheap to my eyes and the exterior colors seem to have no depth - they remind me of 1960s VW Beetle enamels.
The Mercedes-Benz CL coupe is stunning but, at Somewhere North of $100,000, it's a bit too rich for my blood. Ditto the SL. The Mercedes CLK is pleasant-looking enough and I was tempted but Consumer Reports rates its reliability as "well below average", earning it one of those big solid black circles. Because of that, I couldn't bring myself to put it on the list of candidates.
The Bentley Continental GT is a stylish stunner but, at $175,000, is beyond what I want to spend for one car. For the same money, you could buy 16 brand spankin' new red Hyundai Accent Hatchbacks, lash 'em all together and drive to the fanciest restaurant in town. Bet that would impress the valet parking staff. (Plus, for your $175K, you'd get 48 cylinders and 1760 horsepower; the Bentley offers a mere 12 cylinders and 552 horses.)
I've only seen the Audi TT and A5 coupe in photos but I just can't get excited about that brand. I've met a couple of ex-Audi owners who said that "everything starts to go to hell after 50,000 miles." That's not good since I usually keep my cars until they're near, at, or over six-digits on the ol' odo. Several car guys I know say that the TT is overpriced and overrated - a souped-up VW Golf with a Bauhaus body.
Infiniti offers a coupe in the G-series. The G37 looked very nice in the photos and even nicer in person, although the grille looks slightly cheesy and the seats were not comfortable for me. I'm too fat; the seats have side bolsters exactly where I do.
These are not the only coupes available - you can buy a Chevy Monte Carlo if you want to be the laughing stock of your car buddies or don't know where to put your collection of NASCAR decals - but I'm talkin' luxury coupes, ya know. (Oops, the Monte was quietly discontinued after the '07 model year. I didn't even know that; the MC was such a comatose offering that it just kinda slipped away. Probably some left on dealer lots, though.)
So I'll be buying something with four doors. Unless I find an nice, extremely rude one-door model somewhere. I'm still looking. (posted 11/30/07, permalink)
---
Making A Choice: As you know, I have been searching for a replacement for my 1996 Jaguar daily driver.
If I wasn't looking for a luxury nameplate, I'd have lots of choices. In the non-luxury category, I would have considered the Subaru Legacy, Mini Cooper S, Toyota Solara coupe, the new Nissan Altima coupe, Toyota Prius, Honda Civic Hybrid, Mazda6 and maybe even the Hyundai Azera. Perhaps even a Mustang GT.
I've narrowed down my choices. Cadillac and Lincoln are out because their reputation and brand image are tarnished by years of neglect and mismanagement. Sports cars are out because I'm too old, too fat and not agile enough for one. I'd like to own a two-door luxury coupe but can't find a suitable one.
Neither Audi, Infiniti nor Acura have quite enough luxury cachet at this point. I've heard some negative comments about Audi's long-term reliability/quality. The flagship Acura RL is priced right (especially with some recent Desperation Discounts) but the interior seemed small and not very luxurious. The Infiniti M45 is very tempting but its looks don't excite me that much, although I really like the G37 coupe.
That leaves the following luxury sedans: BMW 7-Series, Mercedes S-Class and Lexus.
The BMW 7-Series is scratched because I don't care for the styling. I thought the last generation Seven was very handsome and muscular but Chris Bangle's redesign has ruined the looks in my opinion. Plus I've heard nothing but complaints about the iDrive controls. Consumer Reports ranks 7-Series reliability as "poor", awarding it the dreaded black circle. I know that all the car-buff mags proclaim the 7-Series as the Greatest Handling Sedan Ever but I've driven a couple through the twisties and have not been that impressed. It's fine but not that special.
The S-Class Mercedes is a better-looking than the BMW but it's surprisingly expensive - $9,000 more than a comparably-equipped BMW 7-Series. That's a large difference. And, in recent years, Mercedes quality has really slipped. I've always liked the look and stance of M-B autos and have several friends who own Mercs and rave about them. But loosen their tongues with a few drinks you'll hear some scary repair stories.
AutoExtremist has lamented Mercedes' "unrivaled reputation for consistent engineering brilliance and strict quality standards being replaced with the mind-numbing stench of rampant mediocrity and dismally poor quality performance. And now, after having their asses handed to them by Lexus, BMW and even Cadillac in the market, Mercedes-Benz is actually debating the merits of striving to be number three? Flat-out unbelievable." Consumer Reports said that the S-Class is comfortable and the handling is agile but the reliability is "below par." The Mercedes-Benz stable of models still hovers near the bottom in CR's predicted reliability scores comparison.
In mid-2003, J. D. Powers released some interesting data about repair frequency for different brands of vehicles. The numbers represent the percent of vehicles going in for routine service but requiring repairs: Honda and Toyota - 22%, Lexus - 24%, Acura - 25%, Lincoln - 33%, Industry Average - 35%, Cadillac - 42%, Jaguar - 45%, BMW - 47%, Mercedes - 48%, VW - 53% and Land Rover - 62%. As you can see, neither BMW nor Mercedes fared well in this report.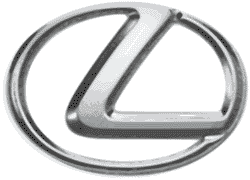 Then there's Lexus. I sat in and quickly rejected the IS350. The interior is not upscale enough, the IS 250 is too slow and the 350 has a little stick-on spoiler on the trunklid - a styling gimmick which I despise. The IS was also a little shy in the headroom department.
I don't care for the GS models, they have always been positioned as sporty sedans but they're not. I drove one and found it to be numb.
I have no interest in the Camry based-ES sedan, although it's better looking than either the GS or the Camry. I think 90% of all ES models are sold to female real estate agents.
I checked out the all-new-for-2007 LS 460 flagship and was very impressed. The exterior styling is very sleek for a four-door sedan. (It looks much better in person than in photographs.) Lexus says that the projector-headlight lenses are inspired by Baccarat crystal tumblers.
There are large, chromed rectangular dual exhaust slots are integrated into the rear bumper. And side chrome spears on the lower body side - just above the rocker panels. And chrome door handles. As regular readers know, I love chrome.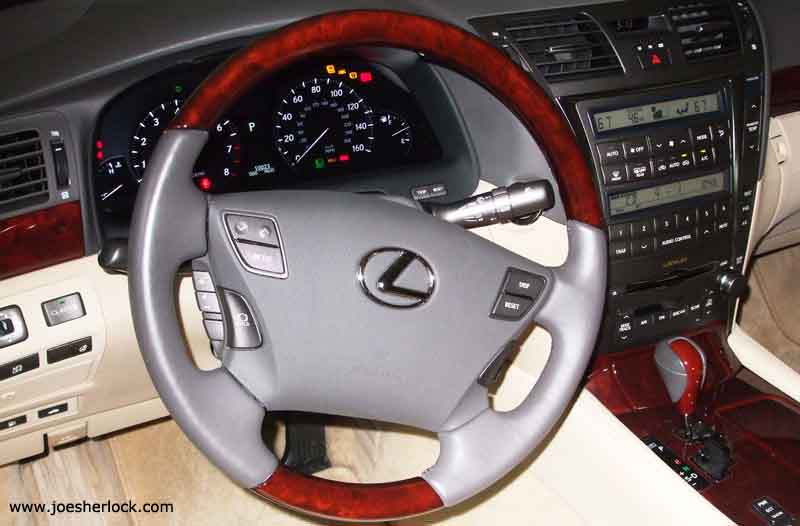 Inside, there are lots of wonderful luxury touches. The butter-smooth leather on the steering wheel "has been buffed six times longer (a total of three hours) than the previous Lexus LS430s." All seats - front and rear - are heated and cooled. The car also features a heated steering wheel. Several different door latches and insulation packages were sampled in pursuit of the benchmark door-closing sound: a large wooden entry door to a mansion. The auto-up windows slow as they approach closing. The glovebox latches itself silently. The wood veneers are laminated onto aluminum by the piano craftsmen at Yamaha.
The trunk, which can be had with a power lid-closing feature, holds 18 cubic feet of cargo space. The car has every possible safety feature including multiple air bags, even one for the driver's knees. The all-new-for-'07 LS 460 won the World Car of the Year Award.
I took an LS 460 for a test drive. The aluminum DOHC 32-valve 380 hp V-8 is full of pep (0 to 60 in 5.4 seconds) and the 8-speed automatic offers seamless shifts. (Notable technology includes dual fuel injection - a port injector and a direct injector per cylinder.) Engine balance is checked four times: It's spun on a dyno after assembly; then it's started and run with accelerometers on either end of the crank; it's balanced again after mating with the transmission; and it's tested a final time as installed in the car.
The leather seats are comfortable - the 16-way power driver's seat is very supportive. The electric power steering has amazingly good road feel and feedback.
I drove the car on the freeway as well as on some very twisty rural roads in Portland's West Hills - a route favored by the Jaguar Club for rally events. The Lexus handled very well for a 4,200 pound car. I have driven a BMW 7-Series over this same route; the Lexus seemed equally agile. It was quiet when it counted and responsive when needed. I was very impressed. My wife was, too. The LS 460 is very user friendly; there are no complex iDrive-type controls.
Consumer Reports rates the LS 460 as "much better than average" in reliability.
The Lexus LS 460 has the best power to weight ratio of any of its competitors - 11.17 lbs./hp, versus 12.46 for the BMW 750i and 11.69 for the Mercedes S-Class S550. The Lexus is the same size as the 7-Series but it's 200 pounds lighter and gets better gas mileage than either the BMW or S-Class Merc. The Mercedes is about 7 inches longer than either the BMW or Lexus.
A comparably-equipped BMW 750i prices out at $13,000 more than the LS 460, while a similarly-equipped M-B S550 costs $22,000 more.
I think that the LS 460 is every bit the equal of the pricier BMW 7-Series and Mercedes S-Class automobiles. In my view (and in my circle of friends), it carries the same gravitas as its German counterparts.
While beauty is in the eye of the beholder, I should point out that, in the large sedan category, the Lexus LS took top honors at the 2007 L'Automobile piu Bella del Mondo (World's Most Beautiful Automobile), an annual automotive fashion show, held recently in Milan, Italy. I like the looks of the LS.
So, I ordered a 2008 model with the comfort-plus package, power door and trunk closer and chrome nine-spoke wheels. The exterior color I chose is Noble Spinel Mica, a brilliant, deep metallic red. It's about the same color as my Jag (which doesn't have metallic paint). The interior is Cashmere - a light camel color. The wood trim is a slightly-burled medium brown walnut - a nice contrast to the leather color.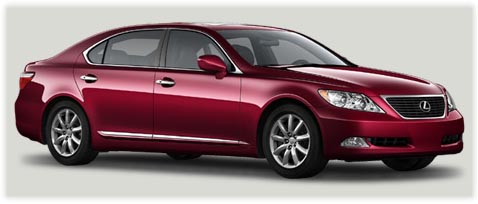 My car was built at the Lexus plant made in Tahara, Japan on the Mikawa Bay in Aichi Prefecture. I've read that Aichi is known as the center of Japan's automotive and aerospace industries.
In January 2006, AutoExtremist Peter DeLorenzo wrote, "I will make a prediction right here and right now: In two years, the Lexus LS 460 will be considered the finest luxury car available in North America. Toyota will usurp Mercedes-Benz, BMW, Cadillac and Audi in one fell swoop with this new luxury entry - and the luxury market will be turned upside down once and for all."
I think so, too ... and I've put my money where my mouth is. I took delivery in early December. Photos posted here. (posted 12/7/07, permalink)
---
Lexus Agonies: While I am really enjoying my new Lexus, the buying experience was lengthy, unpleasant and mind-boggling. A good dealer was hard to find ... but we ultimately succeeded.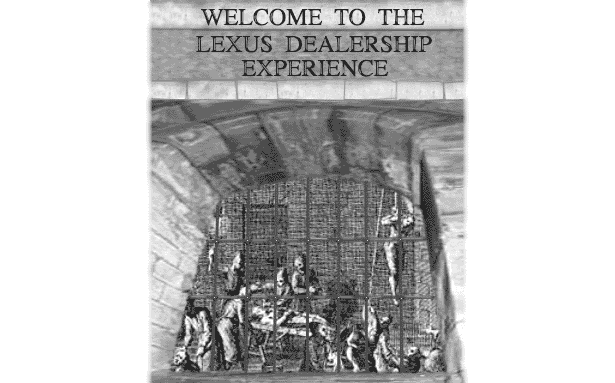 Read all about it here.
---
Thirty-Six Month Report: I've now owned my Lexus LS for three years. I have no regrets about my decision to purchase it. The car has been dead-bang reliable and a joy to drive. It is comfortable, surefooted and nimble. Since I've retired, I am no longer visiting clients every day and, therefore, have racked up only 14,000 miles so far.
We've been getting the LS 460 serviced at Kendall Lexus in Eugene, OR and have been treated with respect and consideration. Kendall seems to be a professional bunch. We plan to never set foot in Lexus of Portland ever again.
During our Northern California trip in September, as I was cruising down Highway 99 north of Stockton CA, a giant eight-foot Black Mamba snake appeared in front of me. Even though I was traveling at about 73 mph in the passing lane, I snapped the wheel sharply to the left, avoiding a collision.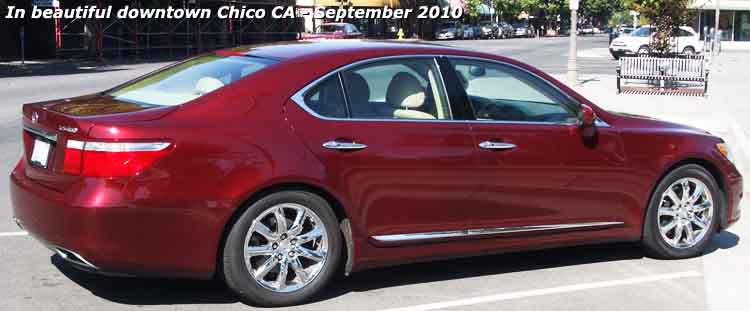 At this speed, other cars I've owned would have probably skidded into the center barrier but the Lexus never missed a beat. The stability control and a couple of guardian angels swung us back to safety in a smooth, seamless manner.
The 'snake' turned out to be a massive strip of truck retread which another tractor-trailer had hit, sending it into the air.
I averaged just under 24 miles to the gallon on our extended trip.
On our first long distance trip - Montana in 2009 - the LS 460 averaged 23.8 mpg on the trip. On the final leg, which was mostly Interstate travel at 75 mph, it posted 26.4 mpg. Not bad for a big V8-engined sedan.
On Route 2, near Glacier National Park, there are few opportunities for passing. When they came along, I took 'em. The Lexus' jackrabbit acceleration from 50 mph scared the hell out of geezers in Buicks and Camrys. Wheeeee. That eight-speed tranny does the trick; it downshifts quickly to just the right gear.
Montana now has a posted speed limit of 75 on rural interstates but most folks cruise along at 85 or so. On a smooth, straight, lonely stretch of Montana's I-15 (where the skies are blue and the clouds look like the opening sequence of The Simpsons) not too far from the Canadian border, I eased the throttle down slowly until the Lexus reached 120 mph. In terms of ride and stability, it felt no different than 50 mph - just a whisper of wind noise and fence posts flashing by too quickly gave the speed away.
This car's a keeper. (posted 12/20/10, permalink)
---
Almost Five Years Old: My 2008 Lexus LS 460 still looks like new in mid-June 2012 with only 17,500 miles on the odometer.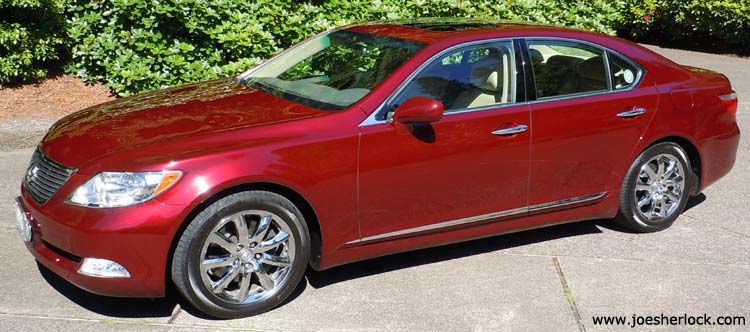 I'm hoping to take it on a few long trips later this year. (posted 6/15/12, permalink)
---
Low-Mileage Creampuff: I took delivery of my 2008 Lexus LS 460 almost exactly seven years ago.
Because I have retired and no longer use the car for business travel and because I've been sick and staying home more lately, the car doesn't get much use. The odometer now shows less than 25,000 miles.

At this rate, my car won't reach the 100,000 mark until I'm 92 years old. I guess this really is my last car. (posted 12/8/14, permalink)
Update: It finally finally rolled past the 25,000 mile mark on the evening of December 21, 2014.
Update II: On Sunday (1/29/17), the odometer on my 2008 Lexus LS 460 finally passed the 30,000-mile mark.
---
Happy 10th Birthday: My 2008 Lexus LS 460 has turned 10 years old. It still looks like new inside and out: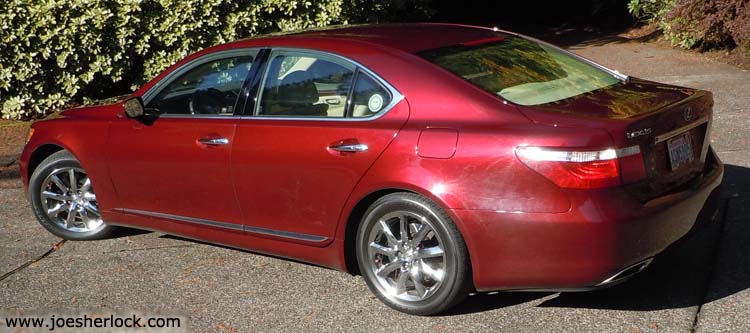 Everything still works, too. It lives a generally gentle life, is garaged regularly and has a mere 32,680 miles on its odometer. I treated it to a birthday car wash. (posted 12/6/17, permalink)
---
Happy 11th Birthday: My 2008 Lexus LS 460 has turned 11 years old. It still looks like new inside and out. Everything still works, too. It lives a generally gentle life, is garaged regularly and has a mere 35,915 miles on its odometer.
Over the weekend, when I was installing a Christmas CD in the player, the car flashed a 'low battery' warning. I drove to Les Schwab, thinking that the 11 year-old battery was kaput. They said that the original battery was still in great shape but that I should drive it more often to keep it charged up. I will, sir.
Afterward, I treated the Lexus to a birthday car wash. (posted 12/6/18, permalink)
---
Happy 12th Birthday: My 2008 Lexus LS 460 has turned 12 years old. It still looks like new inside and out. Everything still works, too. It lives a generally gentle life, is garaged regularly and has a mere 39,121 miles on its odometer.
This week I installed a Christmas CD, signaling the official start of the Season. (posted 12/6/19, permalink)
---
Happy Birthday: My 2008 Lexus LS 460 is becoming a teenager. I took delivery on December 6, 2007. It still looks like new inside and out. Everything still works, too. It lives a generally gentle life, is garaged regularly and has a mere 40,861 miles on its odometer. In one year, I've only put 1,741 miles on the car, thanks to the China flu with its subsequent closures, restrictions and lockdowns. (posted 12/4/20, permalink)