---
Geezer Stuff: Enjoyment For The Elderly
(
2015-19
)

---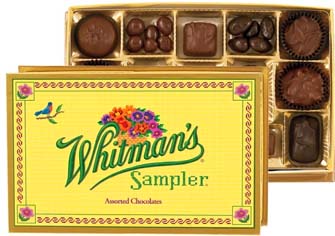 Remember Whitman's Sampler?
The boxes of candy are still made although ownership has changed. Whitman's was founded in Philadelphia twenty years before the Civil War. Whitman's Sampler was first marketed in 1912 and saw its peak popularity in World War II.
In the 1960s and '70s, my dad worked for the Pennsylvania Railroad/Penn-Central/Conrail. One of the customers he serviced - delivering boxcars/tankcars of subcomponents and hauling out finished products - was Whitman's at their plant in far Northeast Philadelphia. He had access to the company store, where he could purchase Irregular Chocolates - Whitman's Sampler rejects (misshapen rejected pieces) for the bargain price of 10-pound bulk boxes of candy for $2.00.
So we always had Whitman's chocolates at our house, although some of the chocolate-covered cashews looked like chocolate-covered tiny bloated livers and the caramel turtles were often shaped like miniature piles of dog poop. Nevertheless, each piece tasted delicious.
I've never wanted to pay retail for Whitman's since then.
Many years ago, James Lileks wrote about the prepackaged boxes of chocolates found in drug stores, noting that "the Whitman's Sampler - it contained multitudes of chocolates of varied edibility. There were the soft pillowy creams, jellied disappointments, and a dreaded vile thing whose rich chocolate garment hid a nugget of grim pistachio putty. I don't know anyone who liked that one, and surely Whitman knew it was an unpopular item. Perhaps there was a line in Old Man Whitman's will stipulating that every sampler must contain a pistachio item, 'so that I may continue to spit from the grave on the world which has brought me nothing but money and dental discomfort.' You got Whitman's at the drug store or Woolworths. In the same genre was the Russell Stover brand, identified by the ribbon printed right on the box for your convenience. It's already wrapped! Every Christmas Eve, my dad brought home a box of Russell Stover, and he usually got the double-decker number: after you'd cleared out the top floor, there was an exact duplicate right below. I still see these boxes in the drug store. When I lived in D.C., I'd see them in the People's Drug and just the sight of the blue box and its ersatz ribbon took me back twenty years. Did I buy any? Of course not. I'd moved on to your boutique chocolates. Now I stood over the counters of Godiva and examined the truffles with the practiced eye of a German in a Thai brothel."
These days, Whitman and Russell Stover are made in the same factory in Kansas City, MO. (posted 5/8/18, permalink)
---
Sweet Memories: When I was growing up, Good & Plenty was a favorite candy. The caplet-shaped pieces had a hard sugar shell, colored white or bright pink with a soft sweetened black licorice center.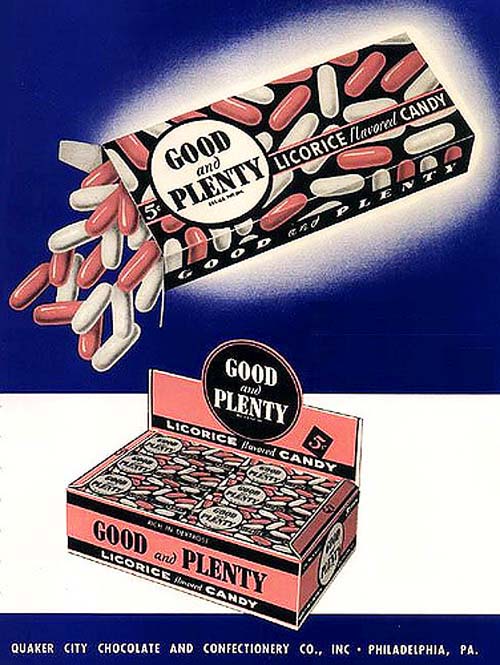 Extra large boxes of the now-iconic candy could always be found ... (more >>>)
---
Child Safety In The Good Old Days: What was automotive child safety like in the 1940s and '50s? Pretty much nonexistent.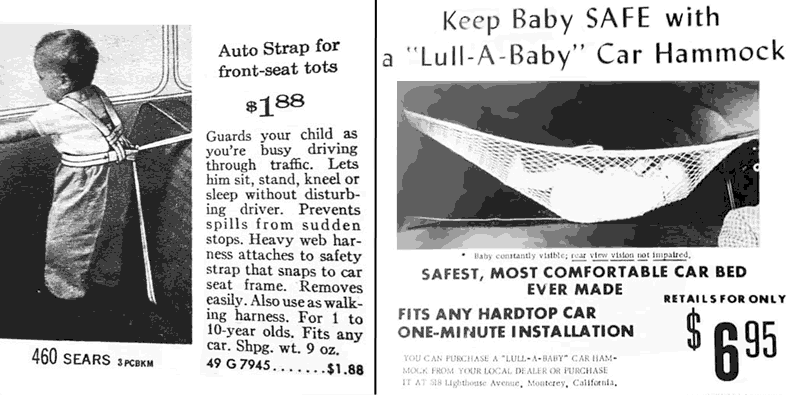 Back in 1954, Howard Gandelot, a Vehicle Safety Engineer at General Motors Corporation, wrote, "I find it difficult to believe that the seat belt can afford the driver any great amount of protection over and above that which is available to him through the medium of the safety-type steering wheel, if he has his hands on the wheel and grips the rim sufficiently tight to take advantage of its energy absorption properties and also takes advantage of the shock-absorbing action which can be achieved by correct positioning of the feet and legs."
I never had a kiddie seat when I was a '40s toddler; neither did my brother who was born in the mid-1950s. Car safety equipment for children used to be an afterthought at best. Before shoulder harnesses came along in 1968, most child seats were pretty unsafe and not well secured.
I remember being in a car accident when I was just under four years old. My parents and I were traveling with another family in their car - a 1940-something sedan. I was sitting on the floor of the car playing with their daughter who was about my age. My parents were in the back seat. There was a crash - I think we were hit from behind and plowed into the car ahead. I was OK, although I got hit on the head by some wrapped gifts which were on the rear package shelf. The little girl was also unharmed but her mother, who was riding in the front passenger seat, hit the windshield hard enough to crack the glass and was bleeding quite a bit. She was taken to the hospital. (posted 2/21/18, permalink)
---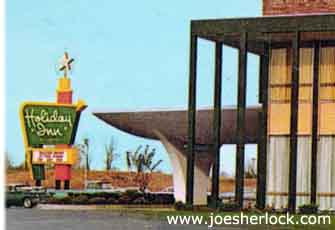 I Gotcher Best Right Here: Autoblog, always in search of filler material, investigated the "best towel for drying your car."
In my opinion, the best towel for drying your car is a stolen Holiday Inn towel. I began traveling on business in the late 1960s. In those days, if you were traveling to an unfamiliar city, you'd choose one based on the Hotel Redbook (which tended to favor large downtown hotels and didn't usually list motels near the airport) or those 'Take One' paperback directories found in the lobbies of large chain hotels/motels - Holiday Inn, Marriott, Hilton, Ramada Inns, Hyatt, etc.
I tried not to stay at Holiday Inns; many were badly run with broken televisions, poorly-cleaned rooms, glacially slow and overpriced breakfast service, etc. Anytime I got screwed over by a Holiday Inn (and in those days, I was paying full rack rate), I'd steal a couple of towels. After a while, I acquired quite a collection. They were great for cleaning cars. I still have some.
I even used the white with green-lettering Holiday Inn towels regularly on my prize-winning 1956 Continental Mark II show car. Whenever I would win a trophy at a car show and people would ask me the secret to getting such a shiny finish, I'd tell them, "I always use stolen Holiday Inn towels to polish my cars." (posted 10/18/18, permalink)
---
Educational Toy: Remember Slinky - the coil-shaped metal toy that could walk down stairs? I had a Slinky, my kids had a Slinky ... I think everybody had a Slinky at one time or other. It was a truly educational toy. When you overstretched it, you learned the first Law of Mechanical Engineering: once you get beyond the Yield Point of steel, you can never go back ... you're screwed. Your toy is ruined, whether it's a Slinky, the space frame of a Birdcage Maserati or a critical truss on an Interstate overpass. You have to get a replacement. If a bridge collapses, it's probable that the chief designer never played with a Slinky.
In 1945, Betty James and her husband at the time, Richard, founded the company that would later make Slinky - the toy for which she was inducted into the Toy Industry Hall of Fame in 2001, after hundreds of millions of Slinkys had been sold worldwide. She took over management of James Industries in 1959, after her husband left her to follow a religious cult in Bolivia. You might say he slinked away from their marriage. (posted 9/26/18, permalink)
---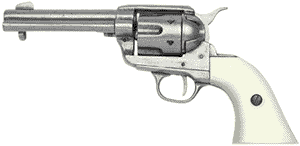 Ninety Bucks For A %$#@* Cap Gun?! You can buy a cap gun version of the Colt 45 revolver for $89.95 at hobby website Historic Rail. Holster not included - one is available for another $30.
Cap guns first appeared following the end of the American Civil War in the mid-1860s, when firearms companies experimented with toy guns in order to stay in business. Toy guns became especially popular when the heroes of cinema and television rode through the West ridding the territories of villains.
Many cap guns were named after or endorsed by leading movie cowboys such as Roy Rogers, Gene Autry, Hopalong Cassidy, The Lone Ranger, etc. The Golden Age of cap guns was the roughly 20-year period following World War II when television became popular and many Westerns made their way to the small screen. Most cap guns of that period were die cast from zinc alloy and then polished or plated.
In the 1951 Sears Christmas catalog, you could buy a Colt-style revolver cap gun with holster and one-inch belt for $1.47. (posted 8/30/18, permalink)
---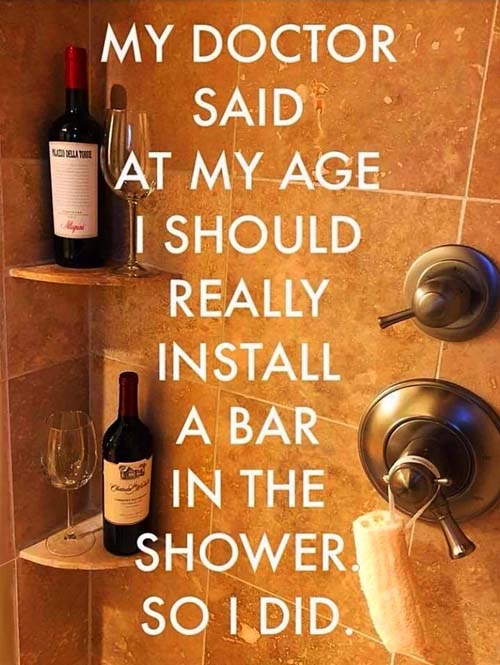 (posted 4/2/18, permalink)
---
Gone & Forgotten: Listicle-king Mental Floss selected 11 defunct restaurant chains that are "sorely missed." I agree that Gino's sirloin burgers and the Gino Giant were great and that Lum's served much better roast beef sandwiches than Arby's.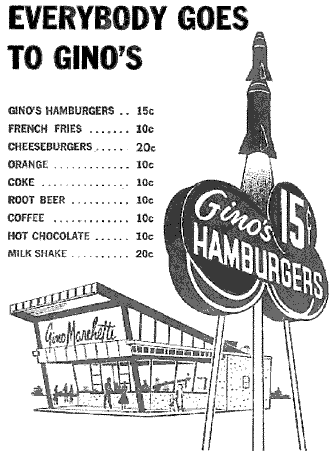 But Shakey's Pizza just wasn't very good and Burger Chef was so bad, my friends and I used to refer to it as Burger Shit. Chi-Chi's offered forgettably mediocre Mexican food, and Howard Johnson's couldn't hold a candle to Philadelphia's Linton's. Additionally, dining at Linton's spared one the indignity of having to imbibe a HoJo Cola.
Once upon a time, there was the Steer Inn, offering fast-food burgers and very tasty cheese steaks. Their signs proclaimed 'Coast to Coast' but I believe that most were located between Delaware and New York. I used to patronize the one in Langhorne, PA in the early 1960s. (posted 1/16/18, permalink)
---
Book Review: 'The 1964-1965 New York World's Fair' by Bill Cotter and Bill Young
This 96-page book, mostly a captioned color photo book, is part of the 'Images of Modern America' series. A book with the identical title is offered as 'Images of America' and contains only black and white images. Spend a few bucks more and get this color one. This softbound offering is not a coffee table book; typical photo size is 3.5" x 5" and photo quality varies from professional to not-so-great.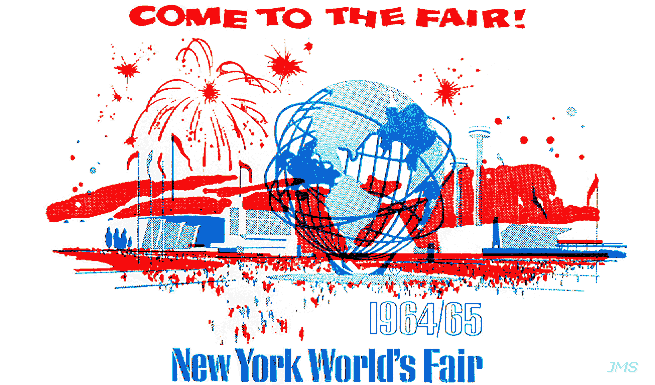 ---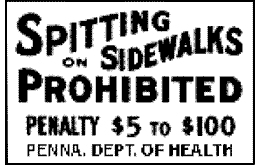 "Signs, Signs Everywhere A Sign ..." Recently, James Lileks wrote about an old sign he saw in New York: 'Post No Bills', a frequently-seen sign on walls as well as telephone and electric poles when I was growing up in Philadelphia. It's about as common as: 'Spitting on Sidewalks Prohibited. Penalty $5 to $100. Penna. Dept. of Health'. I have one of those - scaled down to 1:48 - attached to a stone wall on my O-gauge model train layout.
James wrote, "The only exposure I had in Fargo to the phrase came from cartoons. I learned so much about '40s culture from Warner Brothers cartoons, and it's a pity modern kids don't take the same lessons, he said, shaking his fist impotently at a cloud. Is there any other era whose pop-culture sensibilities were preserved in cartoon form and fed to children of subsequent generations who came to the work with no context?"
I remember watching cartoons at the movies while growing up. There were caricatures of popular celebrities of the 1930s and '40s in these cartoons (black bandleader Cab Callaway and his tossing hair, big fat bandleader Paul Whiteman, blackface Al 'Mammy' Jolson, W.C. Fields with a bulbous red nose, Rudy Valee with his ever-present megaphone, big-shnozz Jimmy 'Stop Da Music!' Durante, fruit-headed Carmen Miranda, heavy-lidded, crooning Bing Crosby, etc.). These people were never identified by name when they were parodied but eventually I figured them out.
Al Jolson, who was definitely before my time - he passed away when I was seven, must have died rich. Just look at his grave. It even has a big waterfall. As Al used to say, "You ain't seen nothin' yet." (posted 8/11/17, permalink)
---
Old Music: Recently, Charles G. Hill posted a recording of a 1959 novelty song I had never heard of. This was a surprise, since - being a lad of 16 at the time - I spent many of my waking hours listening to music.
The record is a parody of Soviet-style broadcasting: 'Russian Band Stand' by Spencer and Spencer. "One of those Spencers is King of Novelty Dickie Goodman. (Side note: We had a temp who, after listening to about half an hour of my iTunes install, told me there was one record I couldn't possibly have: this one. I duly jumped it to the front of the shuffle. He was gone after a few days.)"

In the 1950s, it was common for regional versions of a song to become hits in various parts of the country. 'Butterfly', a 1957 hit for Andy Williams, can't hold a candle to the 1956 Charlie Gracie version released on Philadelphia's Cameo Records label. It was a far bigger hit in the NY-NJ-Philly universe than the lame Williams rendition. Charlie's version sold over two million records. But when Charlie sued his record label Cameo, which had an "affiliation" with Dick Clark in those payola days, the label got Charlie blacklisted from radio plays and 'American Bandstand'. Goodbye, Charlie.
The first time I ever heard the song 'Hot Rod Lincoln' was in 1960 on WIBG - Radio 99 - in Philadelphia. The singer was Johnny Bond. His version was the one that caught on in the Philadelphia area. The proliferation of such regional hits is why many of those reissued compilation albums have songs or artists you don't recognize. Charlie Ryan recorded 'Hot Rod Lincoln' in 1955; it became a hit for him during the 1957-60 period, depending on what area of the country you looked at. I never heard his version until I bought - you guessed it - a car song compilation album in the mid-1960s. Nevertheless, the creator of Hot Rod Lincoln is Charlie Ryan. He fashioned both the real car (a Model A Ford with a Lincoln engine) and the song.
Recently, I saw an old Top Hits flyer from KDAY, a Los Angeles radio station. The flyer listed the top 35 hits for the week ending April 11, 1958. I had never heard of four of the hits:
• 'Indian Love Call' by Ernie Freeman - Ernie is best known for his 1957 instrumental 'Raunchy', although in the Philadelphia area, the Bill Justis version was far more popular.

• 'Little Blue Man' by Betty Johnson - a novelty song

• 'Corrido Rock' by Jim Balsom - a regional instrumental hit popular in the Los Angeles area, especially by Chicanos, who line danced to the song.

• 'Billy' by Kathy Linden (who was, interestingly, from South Jersey) - I do remember her 1959 hit, 'Goodbye Jimmy, Goodbye'.
Regional hits began to die off when 'American Bandstand' went national in 1957. The last nail was pounded into the coffin by Casey Kasem's 'American Top 40' radio program, which debuted in 1970. (posted 7/18/17, permalink)
---

It's Really Hard To Lose A Pal: My very good friend Dennis Gartland passed away on June 26th, following a massive heart attack at age 70. He is survived by his loving wife, Sandy, as well as three wonderful sons and a granddaughter on whom he doted.
Dennis worked in the Plastics Department of Rohm & Haas Co. for many years. In addition to stints at the Bristol (PA) Plant and the Home Office, he was a plastics sales representative in New York, Connecticut, California and later served as district manager for the entire West Coast.
When R&H sold off its plastics assets, Dennis continued ... (more >>>)
---
Company Iron: The Old Motor published an article about salesmen's cars, including photos of a specially-outfitted 1950 Chevrolet station wagon with those simulated woodgrain panels on the exterior. Inside was a working lathe and milling machine from South Bend Lathe Co. The salesman could demonstrate the features of the machinery right at the prospective customer's doorstep.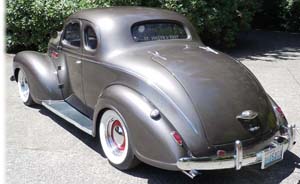 In the 1949 play, 'Death of a Salesman', Willy Loman carted his "two large sample cases" around in his car's trunk, probably that of a business coupe. Business coupes with their cavernous trunks - like my '39 Plymouth - were popular with traveling salesmen or field service people.
After World War II, new three-box sedan designs provided everyday cars with larger trunks and caused the eventual demise of business coupes. Those who needed more carrying space bought new steel-bodied station wagons, such as South Bend Lathe's 1950 Chevy.
When I first began working at Rohm & Haas Co. in 1966, every salesperson in the Plastics Department had a large company-issued vehicle (full-size four-door sedan) with a big trunk to hold samples and information. Product literature, service bulletins, tech manuals and the like were carried by and given out by salesmen as needed - on the spot. None of this "I'll call the factory (or home office) and ask them to mail you something" nonsense. While waiting for the promised information to arrive, some other, better-prepared competitor's salesman might swoop in, literature in hand, and close the deal.

In the 1960s, the Plastics Department had 11 technical service people positioned throughout the U.S. to deal with customer problems. These men often carried sheets of acrylic plastic or sample drums of injection-molding compound for a specific job. Therefore, every tech service employee had a full-size company station wagon.
Bob Gardner, who was an early R&H Plastics Dept. employee, told me of driving a '37 Ford woody wagon loaded with sample drums of experimental Plexiglas molding compound from Philadelphia to New England for a plastic molding trial in the early postwar era. Such events were not unusual when thermoplastic was a relatively new and novel material. Customers were unfamiliar with the characteristics of different types of polymers and required onsite assistance.
In 1971, Rohm & Haas began putting their salesforce in mid-sized company cars as a cost-saving measure. Vehicles such as the Ford Torino still had plenty of trunk space. Tech service people continued to drive full-sized wagons, mostly Fords and Chevys. European sales reps had small cars; in Germany, they often drove BMW 1800 coupes. In England, the managing director of R&H's Lennig Chemicals Division - headquarted in Croydon - drove a very posh company-issued vehicle, a large Jaguar XJ sedan.
In the early days of my own plastics manufacturing and distribution business, I carried a molded plastic file box in the trunk of my car on sales trips. This clever, compact device held Pendaflex-style hanging folders and had a transparent hinged lid to keep contents dust-free. In it I stored multiple copies of literature, spec sheets and price lists for products we distributed, our own brochures for products we manufactured and sample plastic chips, showing the various colors of acrylic available.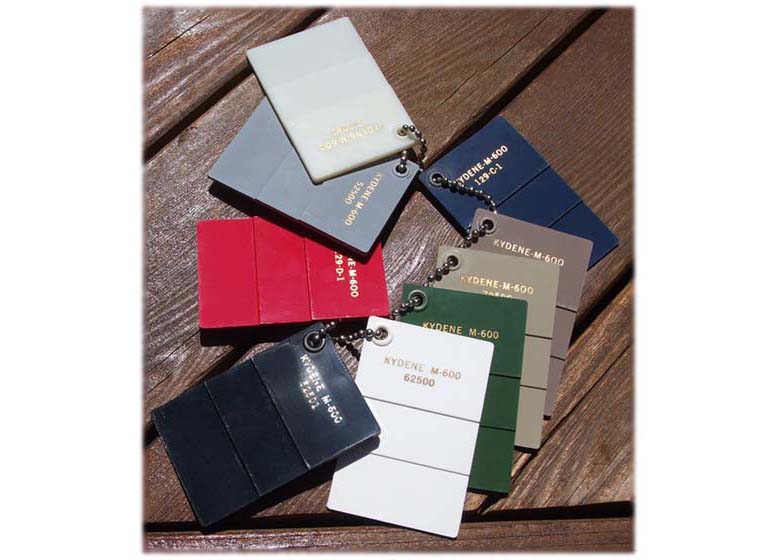 plastic color chip chain
---
I also kept quotation forms, extra business cards, spare pens, measuring devices (tape measure, thickness gauge, etc.), a sketch pad and other necessities for on-the-spot bids in my handy, portable rectangular file case.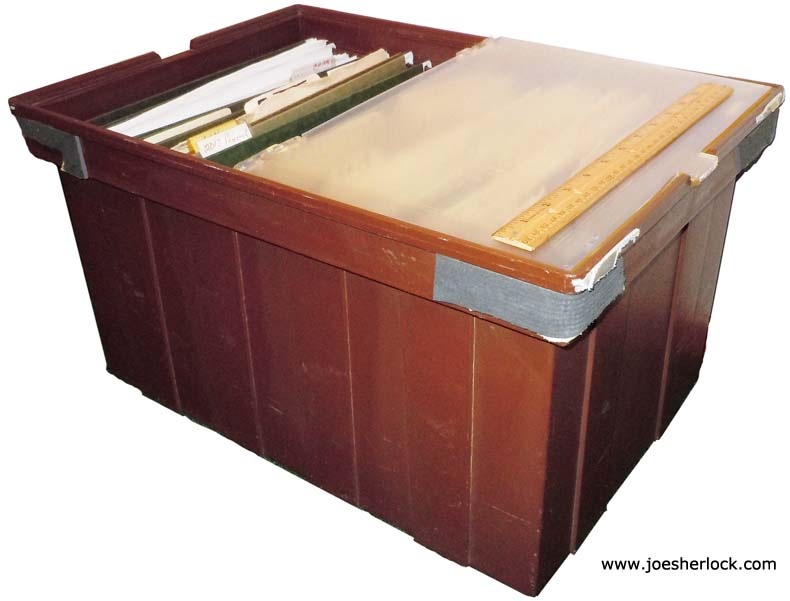 Over the years and the miles, the box got a bit battered and the see-through vinyl lid became cloudy and yellow but the almost forty year-old portable file holder is still functional. I once cut pieces of thick carpet and glued them on the box's outside corners to avoid denting the sides of my 1980 Oldsmobile which had unfinished trunk walls. Its replacement, my '84 Lincoln, had a fully-carpeted trunk.
David Greenlees of The Old Motor wrote, "In today's fast-paced world, a manufacturer's product information is easily found online and on YouTube in a matter of minutes. Back in the old days if you were looking for information about a South Bend lathe, often the first step was to find an advertisement in 'Popular Mechanics', cut out the little request form, fill it out and send it in the mail and wait a week or two before the brochure arrived."
Sales people can now FedEx samples or send PDFs of brochures and technical specs to prospective customers. Most sales people no longer need to carry a trunkful of support items.
The traveling salesperson is becoming an endangered species. In the late 1960s, R&H's Plastics Department had almost 60 field people calling on customers and prospects the U.S. (They were backed by an army of inside sales support people and a technical support staff of 70 at the firm's Plastics Engineering Laboratory.) Today, the company that sells Plexiglas has only a few traveling sales reps. Support is minimal. Acrylic plastic has become a commodity and, with intense price competition, expensive sales and tech support has become a luxury that manufacturers can no longer afford.
Willy Loman wouldn't recognize 21st Century America. (posted 4/25/17, permalink)
---
Almost 60 Years Later: I still remember the day - I was a sophomore in high school. On February 3, 1959, I heard the news on the morning radio: Richie Valens, Buddy Holly and The Big Bopper had perished in a plane crash. They were quickly declared Rock's First Martyrs.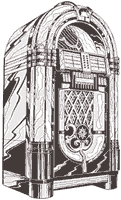 Every time I hear the phrase The Day The Music Died, I get quite irritated. Because it didn't. I know of no one who piloted his/her Chevrolet to any sort of levee and found it to be without water. The Music didn't die. Because The Music consisted of a large galaxy with several high-luminosity pop giant stars (Elvis Presley, Chuck Berry, Nat King Cole, Frank Sinatra, etc.) and hundreds of very talented dwarf stars (Bobby Darin, Connie Francis, Lloyd Price, Frankie Avalon, Sam Cooke, Johnny Mathis, Bobby Rydell, Dion, Jackie Wilson, Brook Benton, Jerry Lee Lewis, Gene Pitney, Fats Domino, Brenda Lee, Roy Orbison, Ben E. King, Paul Anka, Gene McDaniels, Del Shannon, Bobby Lewis and many, many more).
Make no mistake about it - the three Fallen Idols were in the smaller star category. Buddy Holly had several hits but his career had been in decline ever since he abandoned the Crickets and went solo. (He signed on for the grueling winter tour because he needed the money.)
Richie Valens produced only a couple of chartmakers. J.P. Richardson (aka - The Big Bopper) was - at the time of his death - a one-hit wonder. I intend no putdown of these gentlemen or their talents; I have several of Buddy Holly's songs in my iTunes library and know all the words to The Bopper's 'Chantilly Lace'.
But all are remembered today primarily because they died Famously and Tragically. And therefore, became Larger Than Life. And have attracted their own crew of posthumous hangers-on. I swear there are at least two-dozen third-rate '50s rockers who have claimed to be "almost on that ill-fated, four-seat airplane," claiming that they gave up their seats for Holly, Valens and the Bopper. And maybe the pilot.
Even though, objectively, the recordings and careers of the ill-fated three weren't so great in Life, in Death, they have become immortalized, Evita-like, and are still reverentially spoken-of today in the world of music. They are now Dusty Icons of the Jurassic Age of Rock who happened to be in the wrong place (for them) at the right time (for those who feed off of their fame and music royalties). RIP, fellas. (posted 2/2/17, permalink)
---
Did You Have Them As A Kid? I did. Lincoln Logs are notched miniature logs used to build small forts and buildings. They were invented by John Lloyd Wright, second son of legendary architect Frank Lloyd Wright.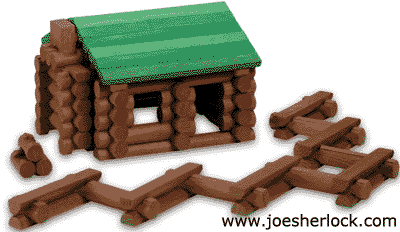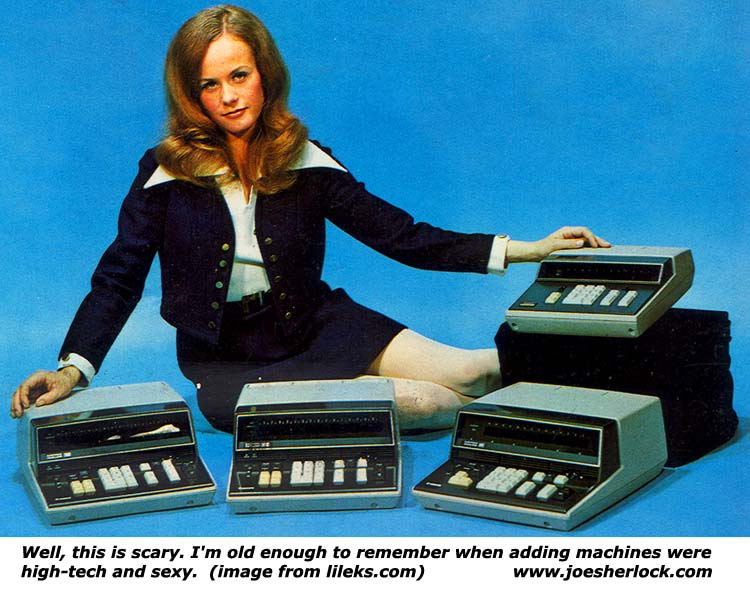 At my first post-college job (Uniroyal's Power Transmission Group in Northeast Philadelphia), there was an actual Comptometer Department, staffed by a gaggle of middle-aged ladies. Although the comptometer was primarily an adding machine, it could also do subtractions, multiplication and division. Its keyboard consisted of eight or more columns of nine keys each. (posted 10/15/15, permalink)
---
Recuperation Gift: In July, I asked my blog readers - if they were so inclined - to direct some prayers and kind thoughts to my good friend and car buddy, Ray Lukas, whom I've known for over 55 years.
In 2002, Ray and I embarked on an eight-day, all-car/all-rail extravaganza, visiting every car, train, trolley and model train attraction in Southern California.
Last month, Ray fell in his garage, landing hard on the concrete floor. He broke his right arm and left leg. (His bad ankle on the left side was supposed to be surgically fused in August but that is now postponed indefinitely.) He had surgery and had screws and plates put in his in arm and leg. He was moved to a rehab facility where he fell out of bed, broke his leg in another spot and redamaged his arm.
Then Ray developed a serious infection - requiring three different antibiotics to treat it - and he developed a bed sore. Ray remains in the hospital and is slowly recovering. He is down to one antibiotic and last week, he got out of bed and walked a few steps. This week, his casts were changed for lighter, removable ones.
I thought to myself, "I should give him some kind of get-well-soon gift but I don't want to send flowers because that seems kinda gay." Someone in the floral biz suggested, "Well, why not give him a small plant instead?"
So that's what I did: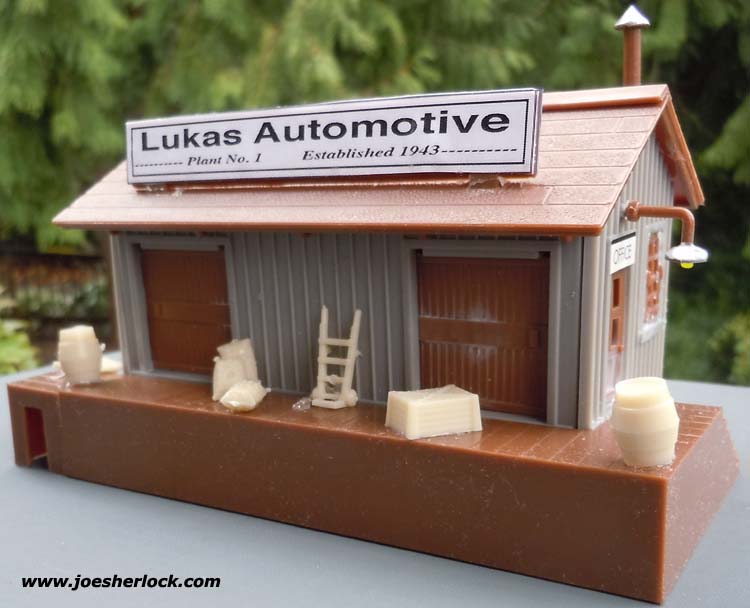 It's a Plasticville HO scale structure and is about three inches tall. I'm keeping Ray in my prayers for a speedy and thorough recovery and I hope you will too. (posted 9/21/15, permalink)
---
Straight Outta Auschwitz: An Oncology Center is not a fun place to be. Every patient carries a story and not a happy one. Some look pretty healthy, although that doesn't mean much. It what's going inside your body that counts.
I have seen skeletal patients, looking like concentration camp survivors - bald, vacant-eyed, shuffling toward an infusion chair assisted by a nurse on one side and a worried caregiver on the other. They are hooked up to a pump which will, hopefully, dole out just the right amount of chemical poison to kill their cancer cells without killing them. They still have hope, apparently drawing it from somewhere deep inside their souls. God bless them, because it sure looks like the cancer is winning but this very room can be a place of miracles, where the nearly-dead recover, Lazarus-like and go about to live normal lives. Or not.
The infusion center is a large room, full of patients - sometimes 40 or more - attended by cheerful, efficient nurses. I'm sure that it's hard to maintain the happy demeanor; I suppose the nurses and doctors focus their thoughts on the success stories rather than the failures.
Considering the number of people in the room, it is relatively quiet. People nod off, pray, meditate, read books, listen to iPods or remain alone with their thoughts. Throughout the room are scattered little angel statues - a sign of hope and, perhaps, being watched over from above. No nonbelievers have raised objections. Just as there are no atheists in foxholes, there seem to be none here either.
There's a dampening effect at work in The Room. It's hard to complain about your own troubles when someone a few lounge chairs away has obviously got it much worse.
In 2014, I spent six months getting chemo infusions ... (more >>>)
---
Back To The Thirties: Last week, I recorded an old 1937 black and white movie, Topper, which starred Cary Grant, Constance Bennett, Billie Burke (later to be immortalized as The Good Witch) and Roland Young as Cosmo Topper, the bemused recipient of his dead friends' good deeds.
The film has one song running through it - a Hoagy Carmichael ditty, 'Old Man Moon'. In the nightclub sequence, the tune is ably performed by the vocal quartet, 'Three Hits and a Miss'. The talented Martha Tilton was the "Miss" in the group. She later joined the Jimmy Dorsey Band. Martha eventually joined singer Jo Stafford and others to form a swing chorus for Benny Goodman on his radio show. She became Goodman's lead vocalist after his former girl singer parted ways and hit the big time with the song 'And the Angels Sing.'
For me, the biggest star of the movie was the Topper car ... (more >>>)
---
Geezerville: I'm old enough to remember when the Hashtag was known as the Pound Sign. (posted 6/15/15, permalink)
---
Things That Happen To You When You Get Old: I regularly receive mailings from The Neptune Society, a cremation service provider. Shouldn't a firm with that name be doing burials at sea?
When I think of what a good name might be for a cremation service, I come up with things like The Firemen's Fund, Hunka-Hunka Burnin' Love, Ashes-R-Us, Torched-n-Scorched or The League of Extraordinary Arsonists. (posted 1/23/15, permalink)
More 'Geezer Stuff' postings can be found here.
---
Other Pages Of Interest
| blog: 'The View Through The Windshield' |
| greatest hits: index of essays & articles | blog archives | '39 Plymouth |
| model train layout | about me | about the blog | e-mail |
copyright 2015-19 - Joseph M. Sherlock - All applicable rights reserved
---
Disclaimer
The facts presented in this blog are based on my best guesses and my substantially faulty geezer memory. The opinions expressed herein are strictly those of the author and are protected by the U.S. Constitution. Probably.
If I have slandered any brands of automobiles, either expressly or inadvertently, they're most likely crap cars and deserve it. Automobile manufacturers should be aware that they always have the option of trying to change my mind by providing me with vehicles to test drive. I'll dutifully report my road test impressions on this car blog.
If I have slandered any people or corporations in this blog, either expressly or inadvertently, they should buy me strong drinks (and an expensive meal) and try to prove to me that they're not the jerks I've portrayed them to be. If you're buying, I'm willing to listen.
---
---