Lionel Hiawatha O-Gauge Passenger Train
In the midst of the Great Depression, America's railroads turned to fast trains to draw the public back to rail travel.
The very first streamlined train to hit the market was the Union Pacific M10000, a three-car articulated train. Introduced in February 1934, it was powered by a gasoline engine and was built by Pullman-Standard. A wooden scale model had been wind-tunnel tested for optimum aerodynamics. The M10000 had a yellow and brown color scheme and was air-conditioned.
One month later, the Burlington Zephyr appeared. It was bright stainless steel and was built by Budd in Philadelphia. In fact, the public introduction was made on Pennsylvania Railroad tracks - at North Philadelphia Station. The Zephyr was a diesel-electric powered train, just like most of today's trains.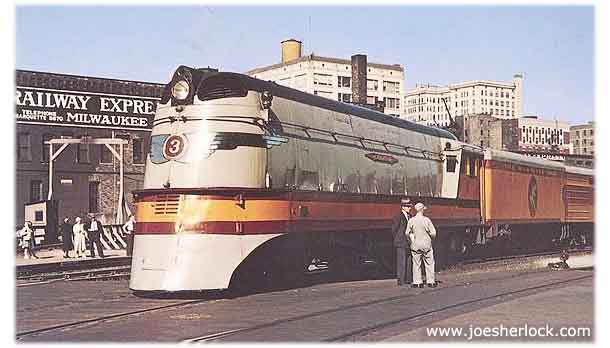 The first streamlined steam locomotive was the Milwaukee Road's Hiawatha introduced in 1935. The train was designed by Otto Kuhler, a noted industrial designer, artist and painter. The Hiawatha name was from a character - described as "swift of foot" - in the epic Henry Wadsworth Longfellow poem.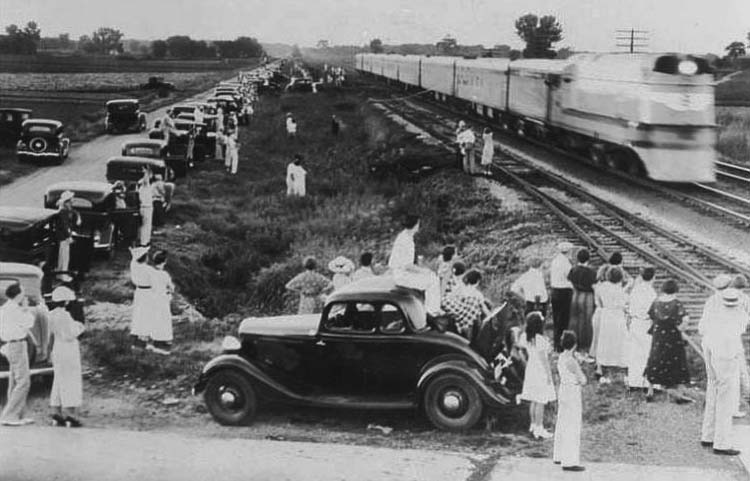 When first introduced, people lined up at rail crossings just to see the Hiawatha fly by.
---
The Hiawatha steam locomotive and tender were built by Alco (American Locomotive Co.). The engine had an Atlantic wheel arrangement (4-4-2). The railroad's Milwaukee shops produced 50 matching passenger cars.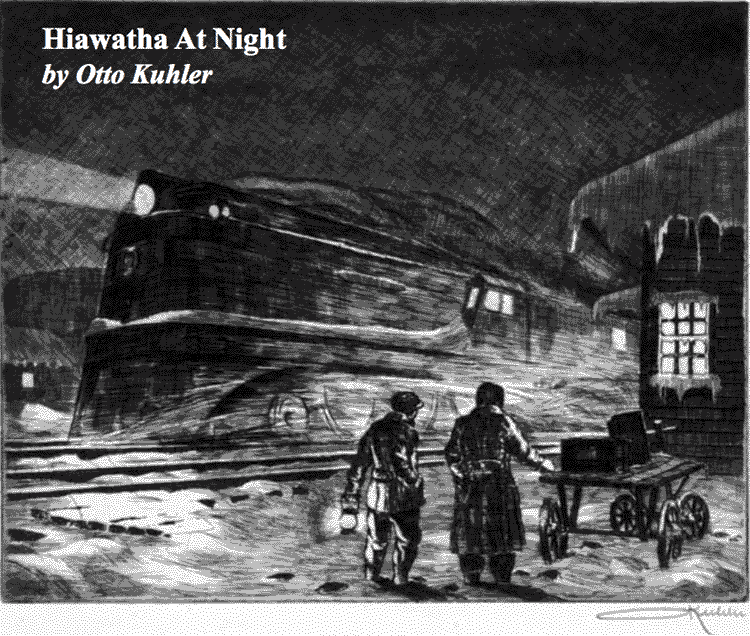 Otto Kuhler, who designed the Milwaukee Road Hiawatha and several other streamlined locomotives, was also a talented artist, producing many paintings and etchings. Most of his art was had locomotives and heavy industrial processes as subjects. His etching, 'Hiawatha At Night,' was produced in 1934, before the actual Hiawatha engine was completed. Kuhler was apparently a talented, but volatile man, holding many jobs in his lifetime, always burning bridges behind him. He spent his later years as a cattle rancher in Colorado. Born in 1894, he died in 1977.
---
With the bold slogan 'Nothing Faster on Rails', the Milwaukee Road inaugurated its Chicago-Twin Cities Hiawatha passenger service in May 1935. The original, oil-fired Hiawatha was the fastest scheduled steam train in the world, averaging 85 mph with stops.

The stylish, colorful Hiawatha was a smash hit, hauling 1 million people in 40 months and spawning larger steamers (and later diesels) to haul a series of distinctive orange and crimson passenger cars. The new Hiawathas offered luxurious accommodations, including the Tip Top Tap Room - the first stand-up cocktail bar on American rails.
Later Hiawatha steam locos were based on a 4-6-4 Hudson-type wheel arrangement for greater pulling power and were coal-fired.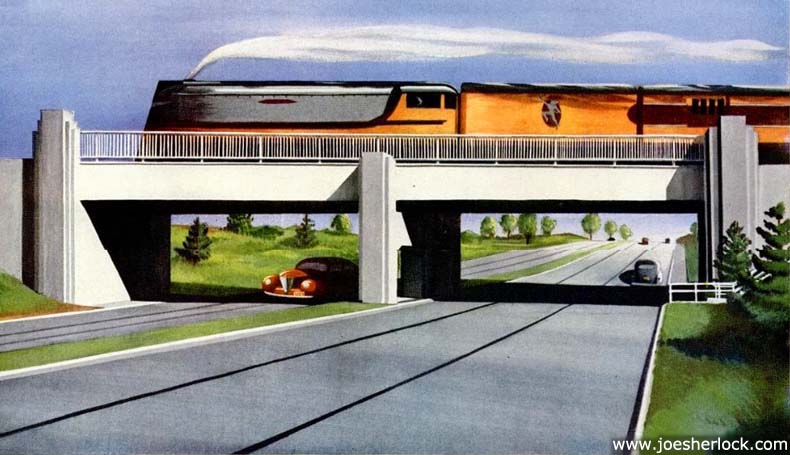 As the new streamlined look caught on, many other sleek steam, diesel and electric trains were built - in the U.S. and overseas. The Mallard, a very swoopy British L.N.E.R. (London & North Eastern Railway) 4-6-2 Pacific-type engine, still holds the world's speed record for steam-powered trains - 126 mph set in 1938.
The Mallard continued in regular service until 1953 and is now on display at the National Railway Museum in York, England. It is a very cool looking engine - in a bright blue paint with a shiny black wedge nose, set off with red striping.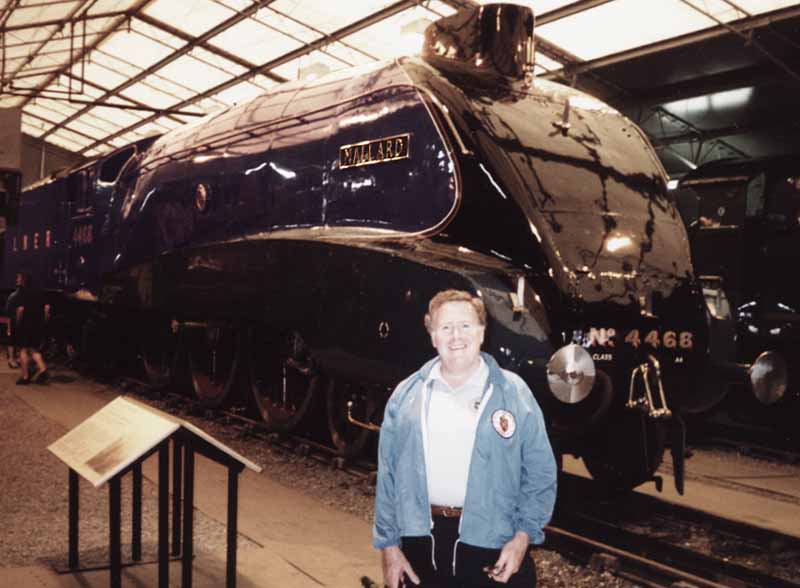 Posing with the Mallard in York, England - June 1991
During the Depression, toymaker Lionel offered models of some legendary streamlined trains in an attempt to build sales and exit from receivership. Lionel first introduced an O-gauge version of the Union Pacific M10000 in the summer of 1934 - almost simultaneous with the debut of the real train.
In 1935, Lionel's model of the Hiawatha was introduced at a retail price of $32.50. The set included a diecast locomotive, a stamped tinplate tender and a string of three tinplate passenger cars. The cars were the same as those on the M-10000 but were painted in Milwaukee Road colors.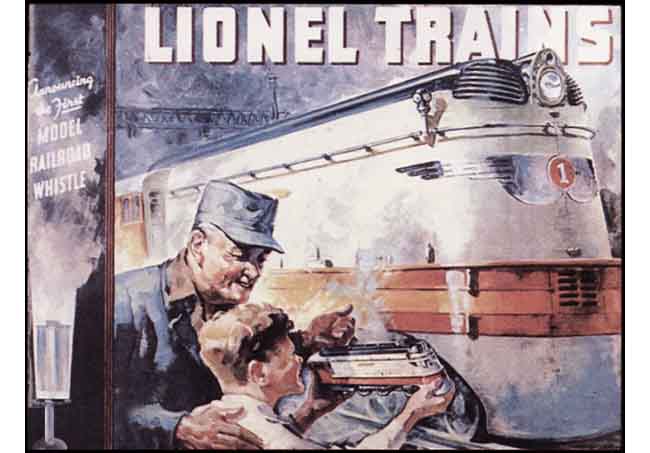 The Hiawatha was Lionel's first locomotive to feature a realistic whistle. While the sound produced may seem anemic compared with today's digital offerings, it was considered a technological wonder back in '35 and was vigorously promoted by Lionel. Produced between 1935 and 1942, the Hiawatha was later reissued by Lionel in 1988, using the original tooling and molds.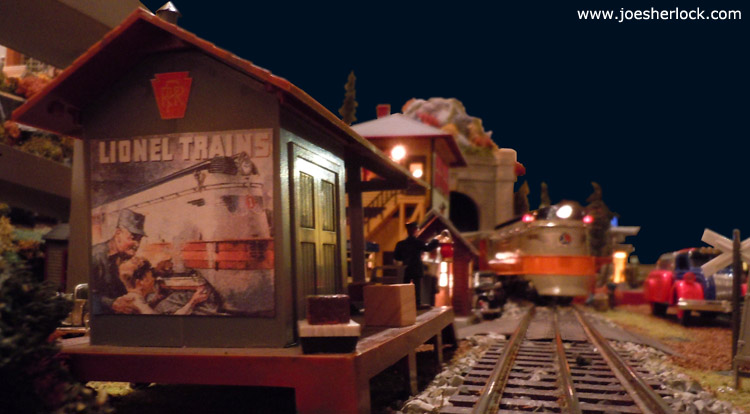 Buoyed by the success of its M-10000 and Hiawatha trains, Lionel expanded its streamliner offerings over the years.
In 1947, my dad gave me a wonderful Christmas present - a huge three-level Lionel train layout. For me, the most memorable train on that layout was a colorful, prewar Lionel Hiawatha passenger set.
When I decided to build an O-gauge layout in 2000, my first acquisition was the 1988 reissue of the 1935 Lionel classic streamliner. I replaced the 1935-era whistle with a QSI sound and train control system, which included a realistic digital whistle, steam loco chugging and puffing sounds and a 'station stop' sequence with announcements.

Recently, I shot a two-minute video with my iPod nano, capturing the sights and sounds of this nostalgic set on my layout: