American Retail
---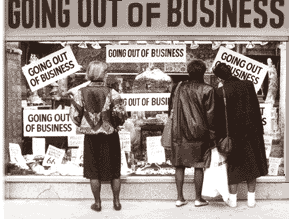 Buh-Bye: Located in Northeast Portland, Lloyd Center opened in 1960 as a 100-store, open-air mall, the largest in the world at the time. It was covered in the 1980s with a glass ceiling, then extensively renovated in the 1990s into a more traditional enclosed shopping mall with a central food court.
In recent years, it has fallen on hard times. Major tenants left - including Nordstrom in 2015, Sears and Marshalls in 2018 and Macy's earlier this year - and shopping traffic continued to decline. The area around the mall is now crime-ridden - shootings and muggings have been common for at least a decade.
Now, a New York-based real estate lending company says it plans to foreclose on the Lloyd Center mall, demolish the site and redevelop the location for residential and offices. KKR Real Estate Finance Trust said it plans to take ownership of the 1.2 million square foot mall before the end of the year.
The company says payments on its $110 million debt have been overdue since October 2020. (posted 11/16/21, permalink)
---
Amazon The Octopus: A recent article by Dana Matioli in The Wall Street Journal details Amazon's latest tactic: demanding a piece of their vendors' companies as the price of doing business.
"Suppliers that want to land Amazon.com Inc. as a client for their goods and services can find that its business comes with a catch: the right for Amazon to buy big stakes in their companies at potentially steep discounts to market value.
The technology-and-retail giant has struck at least a dozen deals with publicly traded companies in which it gets rights, called warrants, to buy the vendors' stock in the future at what could be below-market prices, according to corporate filings and interviews with people involved with the deals.
Amazon over the past decade also has done more than 75 such deals with privately held companies, according to a person familiar with the matter. In all, the tech titan's stakes and potential stakes amount to billions of dollars across companies that provide everything from call-center services to natural gas, and in some cases position Amazon among the top shareholders in those businesses."
"Amazon routinely leverages its size and power to force terms that benefit itself, including by getting partners in one business to sign on to its other services; learning about up-and-coming technology companies through its venture-capital fund; or creating top selling Amazon branded goods that compete with small sellers on its site." It has aggressively competed to wrest market share from rivals as well.
This sounds like 'The Octopus' John Rockefeller, Sr.'s behavior. Ultimately, his Standard Oil was broken up. I believe that Amazon's practices are anti-competitive and think intervention needs to happen under the Federal anti trust and anti monopoly laws, policies and enforcement. In the 1960s and '70s, Sears & Roebuck dabbled in the same practices. Luckily, Sears 1980s incompetence nixed any benefit of owning their suppliers.
Amazon treats their suppliers and employees in a win-lose environment and since they have all the power, everyone else loses. "Former Amazon executives said they avoided doing anything during supplier negotiations, such as putting its ultimatums in writing, that would give fodder to critics who have said Amazon abuses its power. One of the former executives said that most companies complied with its demands over warrants. Several former Amazon executives who worked on such deals said in interviews that they found them to be unfair and one-sided, saying the companies weren't in a position to refuse and that most of the upside went to Amazon." (posted 7/14/21, permalink)
---
When Stores Were Stylish And Elegant: We now live in an age of big box stores - dreary and bland tilt-up concrete warehouses reminiscent of buildings found in Soviet-era Russia. They are part of the Retail Apocalypse, where millions of department and specialty stores are perishing due to cheapie chains such as Wal-Mart and the rapid rise of online shopping. This inevitable decline was hastened by the 2020 pandemic.
---
Just Before The Christmas Season, Too: The Philadelphia-based company that owns New Jersey's Cherry Hill Mall and Moorestown Mall has declared bankruptcy.
---

Shutting Down: Macy's at the iconic Lloyd Center in Portland, OR will permanently close in January 2021.
"The company said it will lay off all 83 who work in the 298,000-square-foot store beginning January 18th. The closure is another severe blow to the Lloyd Center Mall, which lost anchor tenant Nordstrom in 2015." I wouldn't be surprised to see Lloyd Center close. Over the past 15 years, it has lost most of its large tenants. There is gang activity in the area.
Macy's sales totaled $6.6 billion in the first half of its fiscal year, down 40% from 2019. It reported a $4.0 billion loss during that period.
"The Lloyd Center site is the largest of Macy's 11 locations in Oregon. In the Portland area, it also has stores at the Washington Square Mall, Vancouver Mall and Clackamas Town Center." (posted 11/20/20, permalink)
---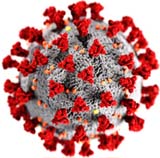 A Plague On Its House: Pet Valu, the specialty retailer of pet food and supplies in the U.S., announced it was closing all of its 358 stores by the end of 2020.
The Z Man wrote, "One reason Pet Valu suffered, while others boomed, is they embraced the cultural aspects of the panic. Rather than begrudgingly going along with the nutty rules cooked up by local tyrants, Pet Valu made a point of being on the cutting edge of the Karen revolution from the start. They wanted the world to know they were not just selling cheap cat food. They really cared about you.
Their stores were festooned with signs telling the world that they cared about the safety of the customers and employees. After all, "'we're all in this together' and 'it is about being safe' during these 'uncertain times'. Employees were instructed to repeat these slogans to customers, who were allowed into the store one at a time. Those employees operated behind barricades of Plexiglas.
It turns out that treating your customers like plague carriers is not the best way to draw people into the store." (posted 11/20/20, permalink)
---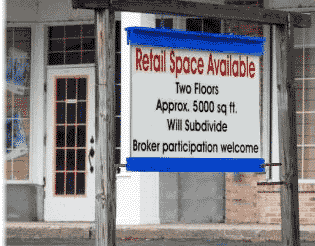 Small Business Destruction: Yelp recently released its latest Economic Impact Report, revealing that business closures across the U.S. are increasing as a result of the coronavirus. As of August 31st, 163,735 businesses have reported that they have closed, a 23% increase since mid-July.
---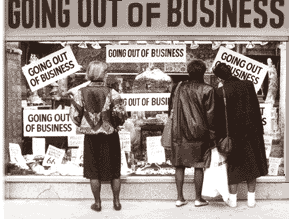 Department Store Death Watch: An article in the New York Times discusses the sorry state of department stores. "American department stores, once all-powerful shopping meccas that anchored malls and Main Streets across the country, have been dealt blow after blow in the past decade. J.C. Penney and Sears were upended by hedge funds. Macy's has been closing stores and cutting corporate staff."
The forced closures due to the Wuhan coronavirus have exacerbated things. "The sales of clothing and accessories fell by more than half in March, a trend that is expected to only get worse in April. … At a time when retailers should be putting in orders for the all-important holiday shopping season, stores are furloughing tens of thousands of corporate and store employees, hoarding cash and desperately planning how to survive this crisis."
The Neiman Marcus Group, the most glittering of the American department store chains, has declared bankruptcy. Neiman Marcus has a monstrous debt load to service; this exacerbated the retailer's woes.
Venerable U.S. retailer Lord & Taylor plans to liquidate inventory in its 38 department stores once restrictions to curb the spread of coronavirus are lifted as it braces for a bankruptcy process from which it does not expect to emerge. L&T was founded in 1826 and billed itself as the oldest department store in the United States. "Lord & Taylor is one of the world's oldest department store operators, founded by two English immigrants on the Lower East Side in New York City in 1826. During the U.S. Civil War in the 1860s, it opened a special section offering mourning apparel for widows. Lord & Taylor opened its flagship store on Manhattan's Fifth Avenue in 1914, and became known for upscale fashion and its holiday window display." In the early 1950s, Lord & Taylor opened a store in Bala Cynwyd, a suburb of Philadelphia.
Department store chains account for about 30% of the total mall square footage in the United States, with 10% of that coming from Sears and J.C. Penney.
The Wuhan Flu may simply be speeding up the inevitable. In 2019, retailers of all scale and size closed a combined 7,000 stores during the first 5 months, already exceeding all prior full years. Over half-a-million department store jobs have evaporated in the last 15 years. Shopping malls are dying at an ever-increasing rate as Americans change their shopping habits, preferring to buy from Amazon.com, big box discounters or use apps to price-compare and buy the lowest-priced offer using their smartphones.
Total sales at department stores nationwide have plunged 36% since their peak in 2001. (posted 5/8/20, permalink)
---
Retail Apocalypse: Retailers of all scale and size have closed a combined 7,000 stores during the first 5 months of 2019, "already exceeding all prior full years. For 2018 overall, total store closures were just under 6,000, while Coresight Research predicts over 12,000 stores will be closed this year. These closures result from a combination of retailers going out of business and others reducing their physical footprint."
Payless ShoeSource closed 2,354 stores during the first half of 2019. Gymboree closed 749 children's clothing stores. Dressbarn, a women's appeal chain, closed 661 stores during the same period. (posted 9/20/19, permalink)
---
Buh-Bye: The Sears anchor store at the Vancouver Mall in Washington is slated to close in November, along with 46 other unprofitable stores.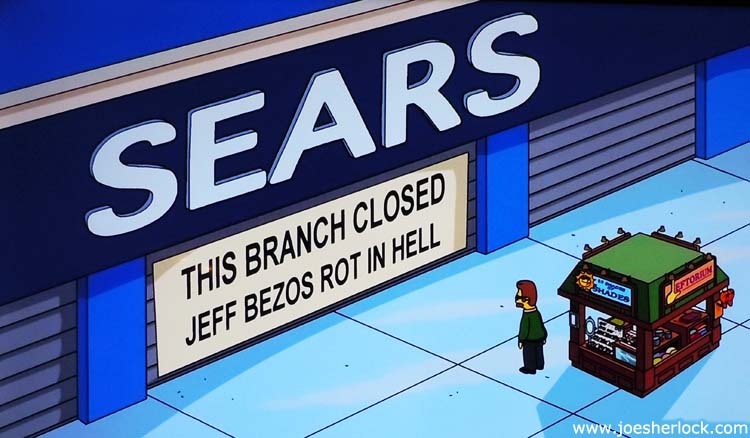 The giant Sears at Clackamas Town Center in Happy Valley, Oregon, and a Kmart in Gresham, OR, are also among the stores closing. (posted 9/4/18, permalink)
Update: Sears Holdings - the parent company of Sears and Kmart - declared bankruptcy in October 2018.
---
Retailing Sign Of The Times: Sears was founded in 1886 as a mail-order watch business and grew to become the largest retailer in the United States. It was once headquartered in Chicago. In 1974, Sears completed the 110-story Sears Tower in Chicago, which became the world's tallest building, Now the last Sears store in Chicago has closed for good. (posted 7/17/18, permalink)
---
More Closures: Sears will be closing more than 70 additional stores in 2018 as its sales continue to erode, dropping more than 30% in the latest quarter from a year ago. The retailer has identified 100 unprofitable stores in total, and it will begin closing sales at 72 of these stores "in the near future."
"Sears and Kmart operated 894 stores at the end of the first quarter, 381 fewer than it did a year ago." Once the largest retailer in North America, Sears has become a shadow of its former self. Sad. (posted 6/1/18, permalink)
---
Store Closings: The top five so far this year:
• Toys R Us - all 735 U.S. locations

• Rite Aid - 600 pharmacies out of 4,536 locations

• Subway - 500 stores out of 25,452 locations

• Teavana - all 379 U.S. tea shops

• The Children's Place - 300 kiddie apparel stores out of 1,014 locations
Don't forget: The year isn't even half-over yet. (posted 5/23/18, permalink)
---
Another Portland Icon Disappears: Legendary druggist and cosmetics developer, Bob Heldfond owned Central Drug Store on Alder in downtown Portland for many years. The business was founded by his father in 1903. Since it was pretty much the only pharmacy in the downtown core in the 1980s, it was always busy with perpetual lines at the prescription counter. Central Drug was undoubtedly a big money maker.
Robert C. Heldfond later became quite famous and even more prosperous from an anti-aging cream that he invented. eb5 was a proprietary wrinkle cream which - in the early 1980s - retailed for $33 or so for a small jar.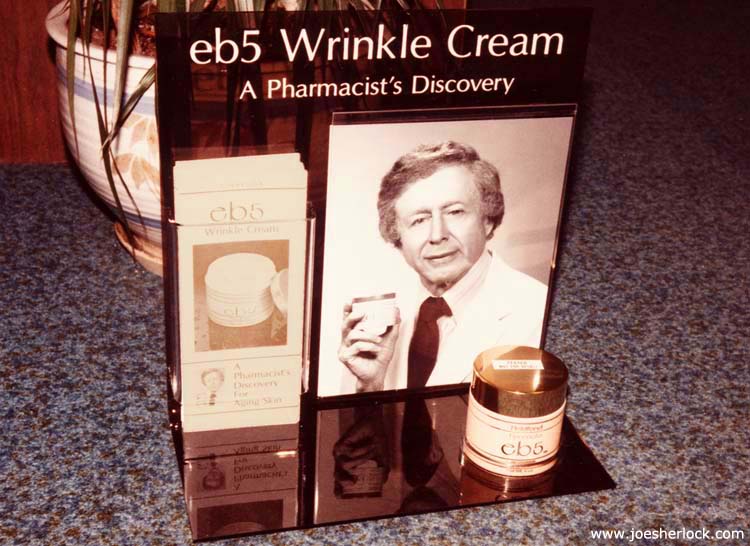 I met Bob when I designed a custom acrylic point-of-purchase display for his skin cream. He was pleasant to deal with and his firm became a customer of my plastics manufacturing firm for several years. The skin care line - and my displays - could be found in finer department stores throughout the U.S.
Stylish and debonair, Mr. Heldfond had a love of theater and public speaking. He was an accomplished pianist and wrote his own lyrics to popular melodies, which he performed in local amateur productions. Even when he was in his early 70s, he had a blue Porsche 911 convertible as his daily driver. Bob died in 2010.
Now his iconic Central Drug Store is gone as well. The site is now a CVS pharmacy. And eb5 has moved from upscale department stores to places like Walgreens and Target. (posted 3/29/18, permalink)
---
Pierced And Bloodied: Claire's - once known as Claire's Boutique, the mall chain that has pierced the ears of millions of teens while offering low-cost jewelry, make-up and accessories, has filed for Chapter 11 bankruptcy protection. Dying American malls have claimed another victim. During the high-flying, mall-walking days of the 1980s, Claire's was opening two Boutiques every week in the U.S.
In 2017, a total of 50 U.S. retailers filed for bankruptcy - the highest rate since the Great Recession. More than 6,400 stores closed in 2017 and another 3,600 are expected to shutter in 2018. According to a report by Credit Suisse, this will result in 20% to 25% of malls closing in the next five years.
Claire's said that its stores will remain open as it restructures its $2+ billion debt. The current debt load is more than 10 times its annual earnings.
Founded in the 1960s, Claire's has pierced more than 100 million ears since it began offering the service 40 years ago. The retailer has 2,700 locations worldwide. In the 1980s, my plastics manufacturing company supplied Claire's Boutique with acrylic jewelry displays. (posted 3/21/18, permalink)
---
Buh-Bye Sears: Once a titan of Canadian retail, Sears Canada has announced that it is going out of business, putting 12,000 people out of work and shuttering all operations nationwide. Among the first to lose their jobs will be most of the 800 people at the head office.
Regarding Sears in the U.S., Malcolm Berko wrote that Sears "lacks a positive future. "Sears is still your grandfather's store and can't change," quipped Berko.
Once upon a time, Sears was the largest retailer in the U.S., a title held until the late 1989 when Walmart captured it. Sears has been on a downhill course ever since.
In my opinion, Sears troubles began in the 1980s, when the Allstate Division became active in visual merchandising at Sears. In a quest for more-limited liability and exposure, Allstate took an aggressive role in store design and fixturing which dumbed down the already-stolid appearance of the retail store interiors.
In its quest for anal-retentive efficiency and control, Sears executives became navel-gazers and the firm lost its customer-centric focus. The last time I actually stepped inside a Sears store was in 2005. In the fading light of the post-Kmart merger gloom, it looked especially dumpy. At its inside-the-mall entrance, Sears had placed a tire display in center of the doorway. Guess they had given up on making high fashion statements. Or just wanted to inhibit the flow of shoppers.
Mr. Berko noted that Sears CEO Eddie Lampert "wants to empty every Sears store as fast as he can so his Seritage Growth Properties can make a sizzling fortune from Sears' misfortune."
"Fast Eddie's Seritage Growth Properties should benefit hugely from Sears' problems - all the more if he bankrupts Sears. Sears Holdings occupies many hectares of prime real estate. And SRG has the right to capture all of the space occupied by Sears, including by Kmart stores. The average Sears store is about 140,000 square feet, while the average Kmart is 94,000 square feet. Sears, as an original anchor tenant, pays an average of $3 per square foot, while smaller mall tenants pay between $12 and $16 per square foot. So Fast Eddie's Seritage Growth Properties is renting Sears' vacated space (after rehab) to Lucky's Market, Whole Foods Market, Dick's Sporting Goods, Scheels, medical practices, for-profit colleges, PetSmart, Nordstrom Rack, Saks Off 5th, new car showrooms, Dave & Buster's, tattoo parlors, pawnshops and pot shops. New tenants are paying SRG an average of $18 per square foot, and Fast Eddie's real estate investment trust is making a bundle."
In related news, Sears and Whirlpool are going their separate ways after a 101 year relationship. According to 24/7 Wall Street, Whirlpool made unreasonable price demands. There are rumors that Whirlpool is concerned about Sears ability to make payments.
Sears accounts for only about 3% of Whirlpool sales, including its private-branded Kenmore appliances. Currently, Sears also offers Maytag, KitchenAid and Jenn-Air brands, all made by Whirlpool. No longer. Once upon a time, Sears' Kenmore brand was so strong that it was the only appliance brand the retailing and catalog giant offered. Those days are gone. (posted 11/1/17, permalink)
---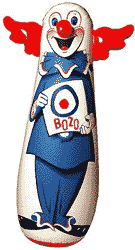 Broke 'R' Us: Toys 'R' Us, one of the world's largest toy store chains, has filed Chapter 11 bankruptcy. The fact that the company couldn't hold out until after the Christmas season tells me that financial conditions were really dire. The retailer has struggled to compete with Amazon and stores like Walmart. It fell behind Walmart in toy sales back in 1998. The toy chain joined a wave of retail bankruptcies this year, including the children's clothing retailer Gymboree and Payless ShoeSource.
The company said its roughly 1,600 Toys 'R' Us and Babies 'R' Us stores around the world would continue to operate "as usual." Yeah, right. If I were one of Toy 'R' Us 60,000+ employees, I'd ignore those bozo PR proclamations and start looking for work elsewhere. Walmart's hiring.
The first time I encountered a Toys 'R' Us was in Michigan during the early 1970s. I was amazed at the store's size and selection of merchandise. It was a cool concept and a great brand. Toys 'R' Us took away business from department stores, Sears, K-Mart and small toy retailers. Unfortunately, as the company grew, the stores seemed to become more disorganized and seedy. I haven't set foot in a Toys 'R' Us in over 17 years. The one in Portland's Lloyd Center - now closed - was a real dump.
Douglas McIntyre wrote, "The web presence of Toys 'R' Us offers nothing that Amazon, Walmart or other large retailers that sell toys do not. Its traditional free shipping, price savings and "most popular" brands promotions are not enough to differentiate it. Toys 'R' Us does not offer in-store pickup in exchange for discounts. It does not push an app to make shopping easier. It does not push a credit card. Walmart does all of these. Amazon does these and offers the additional benefits of its Prime discount and streaming media service.
To survive in a retail world with larger competitors and a crowded e-commerce market, Toys 'R' Us needed to do things other than being a place to buy toys. Toys are available to many other places. Management did not understand that." May I add that Toys 'R' Us once owned and killed off the legendary toy emporium F.A.O. Schwarz. Unforgivable.
Back in 2000, Toys 'R' Us partnered with Amazon as its exclusive supplier of toys. Amazon eventually reneged on the terms of the contract by allowing third-party retailers to use its marketplace to sell toys, citing Toys 'R' Us' failure to carry a sufficiently large range of goods, including the most popular lines. Meanwhile, its dependence on Amazon held back the retailer's own online efforts.
Toys 'R' Us forgot how to be a great toy store - in person and in cyberspace. (posted 9/20/17, permalink)
---
Buffett Bearish On Traditional Retailing: "One stake that was virtually eliminated from Berkshire Hathaway's portfolio of equity investments was Wal-Mart Stores Inc." Warren Buffett recently appeared on CNBC; one of the many things that he talked about was why he sold out of Wal-Mart. Buffett noted that retail in general has changed so much over time. He talked about how the department stores in towns were the big destination in the years prior to the 1960s and how he had lost money on a department store investment. Then came the large malls. And now the internet dominates.
"Retailing is tough for me to figure out because the internet has swept in and offered shoppers variety and low prices at their finger tips," he said.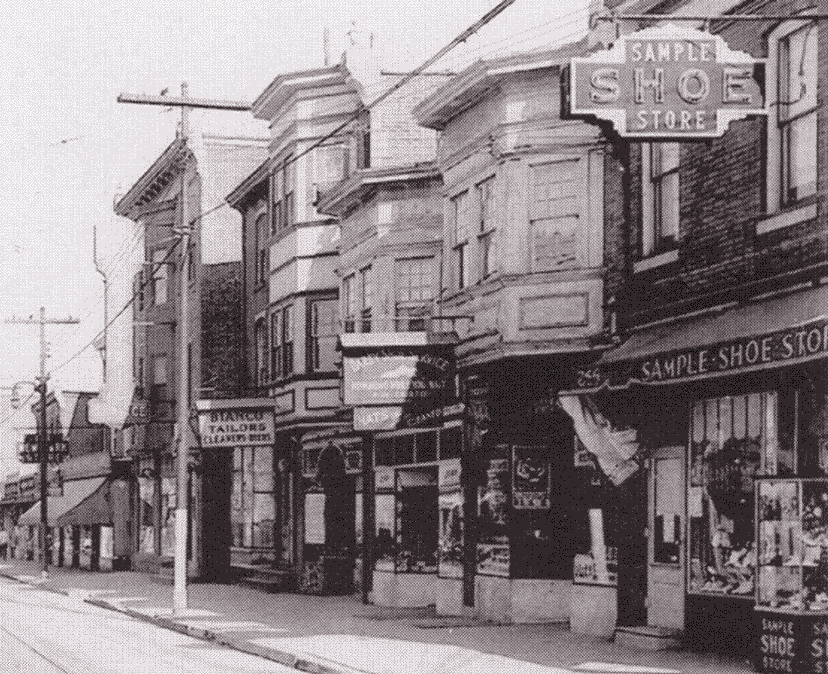 I too have observed many changes in retailing in my lifetime:
1940s: Grocery stores, avenue-shopping (main thorofares lined with small, independent shops), big downtown department stores - this method of shopping has been almost unchanged since the 1890s. When I was growing up, it was a real treat to visit downtown department stores, such as Wanamaker's, especially during the Christmas shopping season

1950s: Supermarkets replace grocery stores, discount department stores begin to challenge traditional stores, department stores open branches in suburbs, usually in large strip malls.

1960s: Strip mall-based discount stores (E.J. Corvette, Two Guys, S. Klein, etc.) proliferate at the expense of old-line department stores. Indoor shopping malls become a hot trend.

1970s: Enclosed shopping malls proliferate, while avenue-shopping at mom & pop establishments fades. Specialty mail-order catalogs multiply (Lands End, The Sharper Image, Lillian Vernon, J.C. Whitney, Best Products, Victoria's Secret), offering items not sold by Sears or Montgomery-Ward.

1980s: Mall walking becomes more than a mere shopping experience; malls offer people-friendly exhibits and activities. Shopping malls become bustling centers of retail commerce with aisles and walkways full of people. Mall investment peaks in the mid-1980s. Meanwhile, many strip malls turn seedy.

1990s: Big-box stores proliferate and threaten traditional mall and department store shopping. Malls respond by clogging aisles with kiosks. Large general merchandise mail-order houses experience declines.

2000s: Big-box and the internet shopping further disrupt and redefine shopping, while many mall chains disappear, including clothing, book, footwear, furniture and electronic stores (Sports Authority, Florsheim Shoes, Coldwater Creek, Foot Locker, Charming Shoppes, Radio Shack, Good Guys, Levitz, Bombay, Sam Goody's, KB Toys, Linens-n-Things, Brookstone, etc.). Regional department stores close or are acquired by Macy's. Many specialty mail-order firms become early adapters of online selling.

2010s: The rise of internet shopping now threatens almost all forms of brick and mortar retailers. Nearly half-a-million department store jobs have evaporated in the last 15 years. Dollar stores with various names seem to be the only growing brick and mortar segment. No one wants to sell physical merchandise online for a buck or less.

Recently, investment advisor Malcolm Berko wrote, "The number of enclosed shopping malls with a vacancy rate at or above 40% - when malls typically enter their death throes - has more than tripled in the past 10 years. They've become eyesores that are visible along the major city arteries."

He added that "the future is bleak for mall properties, many of which are becoming ghost towns." And: "There are about 1,100 enclosed malls in the U.S., and some of Wall Street's retail analysts suggest that about 400 of those malls will fail in the coming three to six years. The U.S. has an estimated 52 square feet of retail space per citizen, which is about twice as much as any other country in the world has."
What shopping innovations/disruptions will the next decade bring? It's anyone's guess. (posted 3/14/17, permalink)
---
Retail Shift: Mark J. Perry published a graph which illustrates "some Schumpeterian creative destruction going on in the retail space, as the number of employees working at US department stores has collapsed from nearly 1.8 million jobs in 2001 to a record-low of only 1.31 million in July."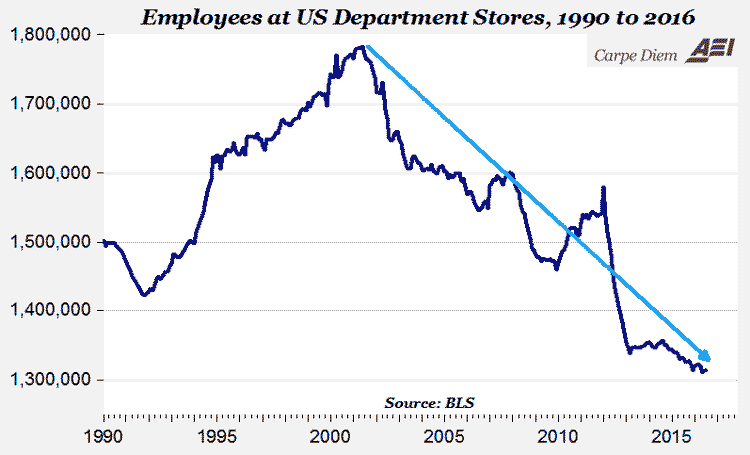 Nearly half-a-million department store jobs that have evaporated in the last 15 years. It's likely that increased online sales at Amazon.com ($107 billion in annual sales) and other retail websites, along with a consumer shift towards discount big box retailers like Walmart ($482 billion in annual sales), Target ($74 billion in annual sales) and Costco ($16 billion in annual sales), have contributed to the demise in department store sales and employees.
Online sales grew 15% in 2015 to $341.7 billion. "Online sales accounted for 7.3% of total retail sales in 2015 versus 6.4% in 2014, and e-commerce accounted for 60.4% of total retail sales growth." (posted 9/2/16, permalink)
---

Grim Retail News: Macy's plans to close 100 stores in early 2017 - about 15% of its total locations and focus on online sales. It's a little late for that, no?
Rumor has it that the old Meier & Frank flagship store in downtown Portland (Oregon) is on the list as is the Lloyd Center store and the Vancouver Mall store in Washington. Macy's revealed it's also in talks to sell its Men's Store on Union Square in San Francisco for redevelopment. Macy's closures come amid a sixth-straight quarterly decline in sales.
Macy's is not alone. Wal-Mart plans to shutter 269 stores in 2016. So far this year, 44,000 retail employee layoffs have been announced in the U.S. (posted 8/16/16, permalink)
---
The State Of Retail - 2016: Wal-Mart is the most popular brick-n-mortar store chain in America, while Amazon is the king of online retailers, and has been so for at least five years.
"More than half of all shoppers in the country visit a Wal-Mart location in a given month. No other U.S. store can claim a majority of Americans as customers."
"Nearly half of American consumers visit McDonald's in a given month, making the fast food chain the most visited restaurant in the United States and the second most popular store in the country."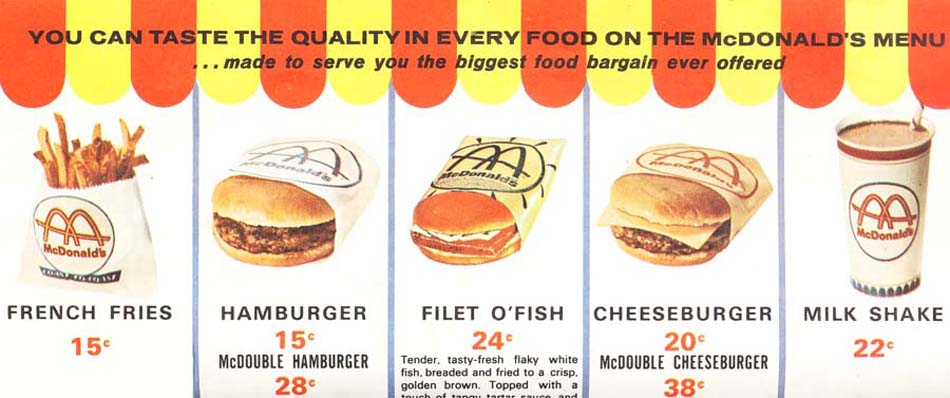 Subway has 43,945 restaurants worldwide, and 26,960 in the United States, more than any other restaurant. "Approximately 34% of Americans visit a Subway in a given month.
Just over 30% of all American consumers Walgreens drug store in a given month. Only 23.4% of American consumers visited CVS, the second most popular drug store."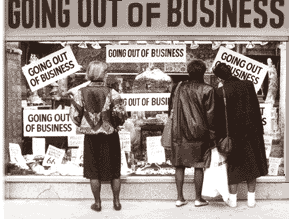 Traditional merchandise retailers aren't doing nearly as well:
• Gap Inc. has been downgraded to a junk rating by Fitch. There is a weak outlook that just cannot be ignored here. Gap's comparable store sales continue to suffer. A reading of ?5% in first-quarter comparable sales figure comes after a reading of ?7% in its fourth quarter.

• Fossil, the incomprehensible retail watch store, saw its year-over-year profits fall by 84% and guidance for the rest of the year has been cut by nearly half. Sales fell 9% year over year in the first quarter and the company has now said that full-year sales will be down between 1.5% and 5% below 2015 sales.

• Macy's, which over the past 15 years bought up struggling smaller department stores and consolidated them under one brand, has now cut stores in an effort to downsize. This decision was too little too late. Macy's net sales (revenue) dropped to $5.77 billion in the last quarter, down from $6.23 billion in the same period a year earlier. Operating income dropped to $276 million from $409 million in the period a year earlier.

• Nordstrom's in trouble, too. The firm reported that first-quarter earnings dropped 64 percent as a key sales measure, sales at stores opened at least a year, declined for the first time in almost seven years - by nearly 8%.

• Sports Authority, once the nation's largest sporting goods retailer, will close all its remaining stores after failing to find a buyer for them. The bankrupt company plans to conduct going-out-of-business sales at all of its locations. It also said it found a group of buyers for its remaining assets, including inventory, furniture and other fixtures. When it filed for bankruptcy in March, the company said it would close only 140 of its 450 stores.

• Kohl's and Sears are closing underperforming stores, too. Best Buy is in trouble - with a poor online sales record and dropping sales at their various stores across the U.S. Ralph Lauren is closing 50 stores and cutting over 1,000 jobs.
Meanwhile, spending at internet behemoths such as Amazon and eBay shot up 11% from a year ago.
The retail world has changed dramatically in the last 20 years and will probably continue to do so at an even faster rate in the future. (posted 6/23/16, permalink)
---
Another Retail Fail: Sports Authority filed for bankruptcy and said it will close 140 stores, nearly a third of its total. Over 3,000 of its 14,500 employees are being axed and the everything could be shut down if they don't find a buyer.
Pricing Made-in-China $12 sweatshirts at $79 is not a recipe for success. Sports Authority is just the latest retail giant to fall on hard times as more and more shopping moves online. (posted 3/7/16, permalink)
---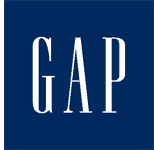 Changing Tastes, Changing Buying Patterns: Gap plans to close 175 stores - a quarter of its total and cut 250 corporate jobs as it tries to chart the clothing brand back toward growth.
Gap stores have experienced slumping sales in the past year as fashions have failed to drive traffic. Creative director Rebekka Bay was let go in January, and the company eliminated her position, instead relying on a senior design team.
"The store closures are part of a larger trend by mall-based brands to reduce store locations, says Simeon Siegel, retail equity analyst at Nomura. Macy's, J.C. Penney, Deb Shops, RadioShack, Sears and Wet Seal are all among brands that have or are planning to close stores."
"It's more a continuation of what's already been going on," Siegel says. "Your biggest competitor used to be your neighbor in the mall. Right now your biggest competitor is the infinite number of random start-up websites. You just don't need as many bricks and mortar locations."
Gap operates on razor-thin margins. It posted sales of $3.7 billion in its most recently reported quarter and it had only $239 million in net income. That leaves little room for mistakes. (posted 6/25/15, permalink)
---
Closing Time: The world is moving online and retailers are continuing to shutter brick-and-mortar outlets.
"While total U.S. retail sales grew 3.7% in the fourth quarter of 2014 compared to the same quarter in 2013, e-commerce sales jumped 14.6% in the fourth quarter. One year earlier, total sales grew 3.8% year-over-year, while e-commerce sales increased 16.0%."
Abercrombie & Fitch is closing 60 stores. Aeropostale is closing 75 stores - I've never understood how the firm stayed in business anyway. Every time I passed by one the store was empty or nearly so.
Dollar Tree acquired Family Dollar chain and plans to close as many as 500 Family Dollar outlets. JC Penny will close 40 stores in 2015. And Macy's is closing 14 stores.
Following its merger with Office Max (I could never tell the difference between the two), Office Depot will close 400 location through 2016. Staples, the other office products retailing clone, will close 225 underperforming stores in North America by mid-2015.
Not surprisingly, Sears is closing 235 stores. Don't even ask about RadioShack. (posted 3/23/15, permalink)
---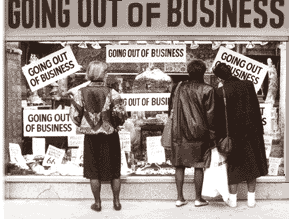 Mall De La Mort: Shopping malls are dying at an ever-increasing rate as Americans change their shopping habits, preferring to buy from Amazon.com, big box discounters or use apps to price-compare and buy the lowest-priced offer from their smartphones.
The Randall Park Mall in Cleveland is the latest dead mall. When it opened in 1976, it was declared the biggest shopping center in the world. Now it is being demolished, having closed in 1989. There are plans for an industrial park to replace it.
Once upon a time, Mall Walking was a leisure activity, especially in the rainy Pacific Northwest. People strolled inside cavernous indoor shopping meccas to be dazzled and see what was new and trendy. And make impulse purchases. And buy a Cinnabon or two for "carbo-loading purposes." You may want to cue up some mid-1980s music, because that's when mall retailing peaked. I would suggest The Bangles' 'Walk like an Egyptian'.
Westfield Vancouver Mall, Clark County Washington's largest and first major retail center, was built in 1977. Now struggling, it's now full of empty storefronts and light on foot traffic. It used to be called the Vancouver Mall but was inelegantly rebranded as Westfield Shoppingtown, in honor of its Australian owners.
The name change never caught on with locals. I don't know anyone who calls it that; everyone says, "I'll meet you at the Vancouver Mall." Or "the Mall." It's located on Van Mall Drive, by the way. 'Westfield Shoppingtown Drive' wouldn't fit on a street sign. Or would require a signboard so long that it might break the pole, fall and kill someone. "That would be a bloody disaster, mate," said the Aussies.
Portland's Lloyd Center Mall opened in 1960 in a 100-store, open-air configuration. At the time, it claimed to be the largest in the country. It is now a high-crime area with gangs congregating in the mall itself. This has driven away shoppers.
High-end malls with anchor department stores like Nordstrom and Bloomingdales are doing well, while middle-level malls with anchors like and Sears face an uphill battle, according to industry experts. Interestingly, Sears captured the title of largest retailer in the United States shortly after World War II. And remained undefeated champion until 1989, when big-boxer Walmart captured the title. Sears was once a great draw as a mall anchor store; today, it has become has become an real anchor, pulling down a mall's rep.
Sears can still be found at Lloyd Center and Vancouver Mall but Nordstrom has closed its stores at both locations, citing the two as being "among its lowest performers." Vancouver Mall management has announced that the upper floor of the former Nordstrom store will become a Gold's Gym sometime in 2016. What a comedown.
Sears Holdings Corp. continues to shrink its store base as well, closing 235 locations in 2014. Radio Shack operates more than 4,000 stores and is seeking to close as many as 1,100. Once found in every neighborhood and small town, there are now only three Radio Shacks remaining in Clark County, WA. The local one in Battle Ground closed a couple of years ago.
Teen-clothing chains have been hit especially hard by the drop in mall visitors, with younger shoppers looking instead to the Web for fashion inspiration. Delia's is closing 92 stores as part of its bankruptcy liquidation, while Aeropostale closes up to 240 locations of its main brand and all 125 of its P.S. children's chain. Wet Seal closed 338 stores this month.
Cache Inc. and Bebe Stores Inc. have both posted two straight years of deficits. After its losses piled up, Body Central's cash shrank to just $4.5 million as of November, 2014. Wet Seal said that it has received a notice of default from a creditor, though it was granted a reprieve until later this month. Deb Shops has filed for bankruptcy as well. C. Wonder, an upscale clothing and houseware chain with about a dozen U.S. stores, announced plans recently to shut down.
While malls with an 'A' rating are thriving and can replace lost tenants, only about 30% are in that category, according to DJ Busch, an analyst at Green Street Advisors.
"America is over-stored," said Ken Leonard, a commercial real estate consultant. "It is now a matter of evolution and survival of the fittest." True dat. But I still can't figure out how Spencer Gifts stays in business. The Retail-Chain-Of-Hideous-Unfunny-Crap has over 600 stores nationwide, mostly in malls. Go figure. (posted 1/27/15, permalink)
---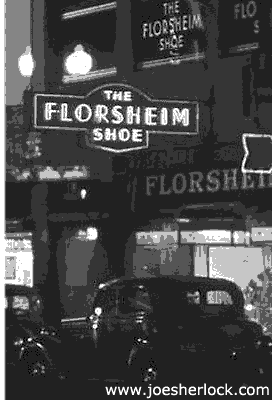 The Truth About Shoes: Jack Baruth has enlightened me about the sad state of Florsheim shoes today. "Florsheim used to be one of the great American shoe makers. In an era where most clothing products were made in this country by people earning some sort of semi-living wage, Florsheim occupied the position of shoemaker to the middle class. ... Today's Florsheims are made in India."
This was surprising news to me and indicates just how much the shoe industry has changed in the last 30 or so years. For the record, Florsheim's top-of-the-line Imperials were once-upon-a-time a very upper-management type of ready-made shoe, almost in a class with Johnston & Murphy. Not as expensive or stylish as Cole Haan - but far more comfortable.
This country was once dotted with Florsheim stores. I haven't seen one in years. The last one I knew of around here (at Lloyd Center in Portland) closed over 10 years ago.
The Middle Class Dress Shoe is indeed history, Jack. Nunn Bush, once a stolid, long-wearing example of basic clerical white-collar footwear is now sold at J. C. Penney. Blue-collar Thom McAn is currently being hawked in Kmart and Sears stores, where EBT cards rule. Hanover once proudly made its sturdy and occasionally stylish footwear in Hanover, PA. Now, if you buy a Hanover shoe product, it might have been made in India, China, Spain, Portugal, Brazil or any number of other foreign countries.
Recently I bought two pairs of casual shoes at a specialty shoe store, When The Shoe Fits. Very few of these kind of stores - specializing in well-made footwear and personal service - are remaining these days. There's always service-oriented Nordstrom, where I purchased my classy black Bostonian wingtips and my tassled cordovan Cole Haans during my business career. Unfortunately, Nordstrom recently announced that it would close both its Vancouver WA store and its much larger 150,000-square-foot store in Portland's Lloyd Center in January 2015, describing the two stores as being "among its lowest performers."
I'm not surprised. Nowadays, most people don't even wear ties in business, much less dressy shoes. Sigh. Times have changed.
Nevertheless, good shoes that fit well are one of the under-appreciated joys of modern life.
I still have my old corporate dress shoes. I wear them to dress-up events like weddings and funerals and they probably get less than a quarter-mile per year of wear. At that rate, they'll last me the rest of my life. (posted 9/10/14, permalink)
---
Fifty-Two Years Ago: Walmart, Kmart and Target - all opened their first retail stores in the same year, 1962. Kmart was originaly Kresge's, a dime store chain, and Target was a division of Midwest department store colossus Dayton-Hudson. (posted 8/29/14, permalink)
---
Underpants Gnome Business Model: Radio Shack appears to be on its way out of business. Fourth quarter 2013 sales plunged 19% and the firm is closing 1,100 stores. As far as I can tell, this is the Shack's business strategy:
Collect Everyone's Phone Number >>> ???? >>> Profit
When Lewis Kornfeld ran Tandy/Radio Shack in the late 1970s, he made the firm a major player in the early personal computer market by introducing the TRS-80. Kornfeld joined RS in 1948, when the company had only one store in Boston.
Kornfeld also wrote 'To Catch a Mouse Make a Noise Like a Cheese', an outstanding book on small-business marketing published in 1983. The book provided excellent coverage of distribution and retailing and also had a lot of helpful information on advertising and ad agencies. Great stories, too! Kornfeld was president of Radio Shack and related of many of the struggles they went through as they started the business.
He's probably spinning in his grave over the disaster that Radio Shack has now become. (posted 3/6/14, permalink)
---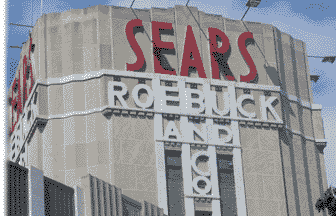 Sears Death Watch: Once upon a time, Sears was the largest retailer in the U.S., a title held until the late 1989 when Walmart captured it. Sears has been on a downhill course ever since, something I've written about previously.
Flash forward to 2014 as Sears and K-Mart stores are facing major survivability issues in the wake of dismal sales. Sears Holdings says it expects a loss of as much as $914 million for 2013. The struggling retailer also says its sales from stores open at least a year fell 7.4% for the quarter in the United States.
Business analyst Brian Sozzi of Belus Capital Advisors is not a fan of Sears and has posted photos of messy and dumpy stores online. The last time I actually stepped inside a Sears store was in 2005. In the fading light of the post-K-Mart merger gloom, it looked especially dumpy. At its inside-the-mall entrance, Sears had placed a tire display in center of the doorway. I guess they had given up on making high fashion statements. Or just wanted to inhibit the flow of shoppers.
Sears online retail presence is not good either according to several people who have tried to shop there. As Sears market share and performance reflects, both its web and in-store climate gives consumers multiple indicators that Sears' web experience and customer service fall well below any of their competitors' business practices. (posted 1-13-14, permalink)
---
Brick & Mortar Store Blues ... would be a great song title for a John Lee Hooker ditty but it is instead a statement on the condition of the retailing business today. Traditional department store sales are down by 5.2% year-to-date, while internet retailers are up 10.8%.
This explains why Sears is in such trouble. J.C. Penny, too. (posted 11/11/13, permalink)
---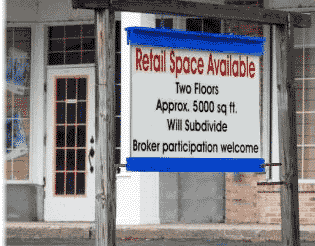 Number Crunching: When I did volunteer small business counseling for SCORE, I used to hear the same tale of woe from small retailers: "I can't seem to make any money."
I'd ask for their sales data then look at the number of full-time employees and would often find that the sales per employee was around or under $100,000. No wonder they weren't making any money. Sales/employee is a good preliminary indicator of a business' viability and profitability. Back in the day, my retailing bogie was $150K per full-time employee or above.
These business owners who weren't hitting that goal needed to make changes quickly - either boost sales revenues significantly or get rid of some employees.
Retailers can often save employee expenses by cutting their business hours to better match customer traffic patterns. Many of my clients didn't have such traffic data. Their first homework assignment from me was to buy a spiral notebook and record traffic and times. It was a low-cost, low-tech way to gather data quickly and efficiently. Sadly, some thought that was "too complicated" and refused. Such easy-solution-seekers quickly went out of business.
The latest figures from the National Retail Federation indicate that the goalpost has moved and - not surprisingly - target numbers are now higher. The average electronics retailer posts $206,000 in sales per employee. Apple stores average $420,000 per employee. Department stores pull in only $125,400, which explains why there have been so many consolidations, bankruptcies and store closings in the last few years. Most specialty stores have fairly high numbers - the average retailer records $272,600 per employee. (posted 8/20/12, permalink)
---
Retail Electronics Has Been A Crapshoot Since 1947 Or So: Best Buy Co. plans to close 50 big box stores and open 100 small mobile locations in the U.S. in fiscal 2013 and cut $800 million in costs by fiscal 2015. The biggest U.S. specialty electronics retailer posted a fourth-quarter loss of $1.7 billion.

No surprise here - the retail electronics industry is constantly shifting because it is built on sand rather than a foundation. In the very early days of the business, electronics manufacturers decided that they would sell to anyone rather than setting up a focused retail distribution network.
You could buy radios at drug stores and newly-formed small electronics repair shops. Record players could be found in record shops and furniture stores. Televisions were sold not just by TV retailers, but department stores too. Then discount stores came along and the electronics manufacturers reps lined up outside the discounters' purchasing departments, fidgeting anxiously while holding new 'hot' price sheets.
It's a basic rule of business: When everybody becomes a distributor, no one is a distributor. Consumers price-shopped brands like crazy, ruining retailers' margins. Chaos reigned. There wasn't enough business to support all the outlets. Price wars left the bodies of dead stores littering the retail landscape. More died as the Big Box Era saw Costco and Sam's peddling flat screen televisions and other high-end electronic trinkets.
Electronics retailing: it's an ugly business - and always has been - thanks to short-sighted marketing strategies by manufacturers. (posted 3/30/12, permalink)
---
The Ghosts Of Department Stores Past: Recently, I was re-reading 'Willow Grove Park', a book about the famous Philadelphia-area amusement park.
One of the photo captions noted that ... (more >>>)
---
The Sharper Stone: Among the many catalogs appearing in the mail this holiday season was one from Brookstone.
I haven't paid much attention to the firm lately and was surprised to see that its focus has changed from clever little tools and mechanical gadgets to flashy and mostly-useless electronic gizmos, like The Sharper Image used to peddle. Channeling the ghost of TSI, Brookstone now offers a $3,500 vibrating recliner as well as an ionic air cleaner. And various - ahem - 'personal massagers'.
Selling overpriced glitzy crap put The Sharper Image into bankruptcy. Now, Brookstone is facing financial difficulties, losing $13.8 million in the most recent quarter - on sales of $78 million. That's a loss of about 18¢ on every dollar rung up at the register. Ouch.
Brookstone got its start in 1965 by offering hard-to-find tools via classified ads in Popular Mechanics magazine.
Fear not, though. You can still find those no-nonsense hard-to-find tools at Micro-Mark. They have a nice print catalog as well as an online store. (posted 12/22/11, permalink)
---
False Advertising: Investigators from Portland television station KATU visited a Made in Oregon store and "found some items in the stores are indeed made in Oregon but a good number have tags saying they are made in faraway places like China, Vietnam, El Salvador, Indonesia, Korea and Mexico."
This is both a reflection on the basic dishonesty of this particular retail chain as well as an acknowledgement of the paucity of saleable retail products actually produced in the state of Oregon. (posted 12/20/11, permalink)
---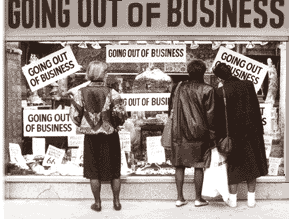 Malls Are Dead ... and office buildings aren't feeling so good either. Once upon a time, Mall Walking was a leisure activity, especially in the rainy Pacific Northwest.
People strolled inside cavernous indoor shopping meccas to be dazzled and see what was new and trendy. And make impulse purchases. And buy a Cinnabon or two for "carbo-loading purposes."
You may want to cue up some mid-1980s music, because that's when mall retailing peaked. I would suggest The Bangles' 'Walk like an Egyptian' or 'These Dreams' by Heart.
We rarely go to malls anymore, even when we travel. The few times we do so, they look deserted - a shadow of the shopping meccas of their glory days.
Last week, we strolled the Vancouver Mall and its many boarded-up spaces. Most of the people we saw were either store employees or geezer mall walkers getting their daily exercise.
Over the years, the U.S. retail market has grown fairly steadily. But when big-boxers Costco and Walmart and online retailers such as Amazon.com achieve double-digit sales gains, something has to give. And most of the 'give' is coming from the traditional bricks-n-mortar retail establishments.
Bill McBride of Calculated Risk has produced a graph showing investment in offices, malls and lodging as a percent of GDP.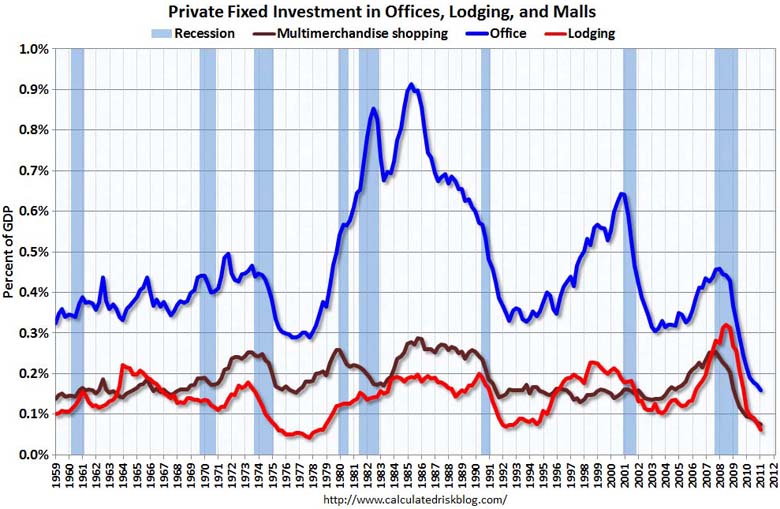 Aside from a bubble during the real estate boom of half a decade ago, shopping-oriented real estate has been in a decline since the mid-1980s. The enclosed shopping mall is on track to join old-time, trolley-filled downtown Main Street in the musty annals of retailing history.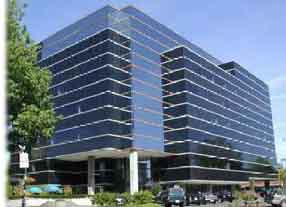 Office construction had a big, bubble-like run-up beginning in the late 1970s and - like retail real estate - peaked in the mid-'80s but the decline has been even more dramatic, falling by more than 85%.
Guess what? When technology reduces staff needs, when businesses create job-sharing, flex-time and work-from-home programs, when tasks are outsourced to free lancers - including former employees who are now 'contingent workers', when administrative duties are sent to other countries and when paperless strategies reduce storage requirements, the need for office space is vastly reduced.
Someday, mid-town office towers will seem as quaint as soda fountain emporiums, trolley barns, skee-ball arcades, sundries stores, vegetable hucksters, public steam baths and hat-blocking establishments. The mirrored skyscraper has outlived its usefulness.
Over the last 50-plus years, lodging investment - hotels, motels, etc. - typically runs between 0.5-2.2% of U.S. Gross Domestic Product, depending on the business cycle. Right now, we're just experiencing a major bust cycle in that segment.
In summation, it's not a good time to be in the commercial construction business. Cue up Peter Gabriel's 'Sledgehammer'. (posted 5/23/11, permalink)
---
"From Atlantic To Pacific ..." Troubled retail grocer A&P filed for Chapter 11 bankruptcy protection over the weekend, weighed down by a crushing debt load and competition from low-price rivals.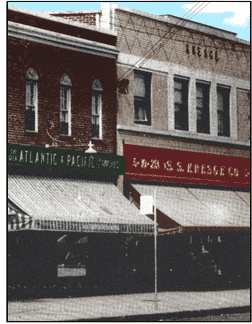 The Great Atlantic & Pacific Tea Company's history goes back to 1859; a century ago it was to America what Walmart Stores is today. Its first store was in New York City where A&P began selling tea, coffee and spices at value prices. Soon stores sprung up all around the metropolitan area and salesmen took their wares to the road in horse-drawn carriages bound for New England, the mid-west and the south.
A&P eventually extended its operations to the West Coast and became the first national supermarket chain in the United States. Over the years, the company pioneered many innovative, trend-setting concepts. The dark green A&P sign and striped awnings soon became a familiar sight.
By the 1920s, A&P had more than 15,000 stores across the country. As supermarkets took over in the postwar era, these smaller stores disappeared.
The business has now shrunk to less than 400 retail stores in eight eastern states trading as A&P Supermarkets, Waldbaum's, Pathmark, Best Cellars, The Food Emporium, Super Foodmart, SuperFresh and Food Basics. In recent years, sales have continued to drop and losses continued to swell.
I'm old enough to remember the pre-supermarket era when A&P, American stores and others operated corner groceries with limited selections due to the compact size of the premises. There were no line-extended offerings. The idea of five flavors of Cheerios, hundreds of cereal offerings, dozens of specialty coffees or twenty kinds of bread was unheard-of in those days.
One version of each cereal was offered and in one size box. In those small stores, cereal choices were limited to Toasted Corn Flakes, Grape Nuts, Cheerios, Shredded Wheat, Puffed Rice, Puffed Wheat and, if you were lucky, Kix, Quaker Oats and Rice Krispies.
The retail grocery business is a lot different now. Times have changed. Apparently, A&P didn't change enough with them. (posted 12/14/10, permalink)
---
Good News But It's Two Years Away: Sporting goods retailer Cabela's has signed a letter of intent to anchor a 125,000 square-foot mall in Oregon City.
Cabela's would be one of two anchor tenants in The Rivers development being built on 66 acres near I-205 and Oregon 213. Construction will begin next summer and the new mall will open in 2013, when a major realignment of Highway 213 is completed.
At last - I can Eat Like A Hunter.

At Cabela's in Post Falls, Idaho: The sign at right welcomes patrons to the cafeteria.
During our visit to the Idaho store in Post Falls, we did - consuming half-pound Bison cheeseburgers. They were awesome and juicy - best burgers of the entire 2,300 mile trip.
We passed on the ostrich, wild boar and elk sandwiches, the safari salad and the venison bratwurst. (posted 12/3/10, permalink)
---
Diehard Retailer: Sears Holdings Corporation's third-quarter loss nearly doubled versus the same period in 2009, dragged down by weak revenue at its long-suffering Sears chain.
I had forgotten that Sears was still in business.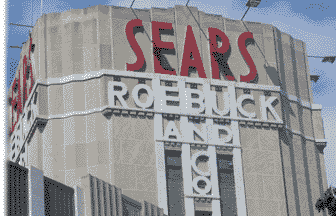 Once upon a time, Sears & Roebuck was a powerhouse in the retail trade.
From its start in the mail order business in the twilight of the 19th Century, Sears developed a reputation for both quality products and customer satisfaction.
The company grew to become the largest retailer in the United States by the 1950s. And remained so until the 1980s.
In my opinion, Sears troubles began in the 1980s, when the Allstate Division became active in visual merchandising at Sears. In a quest for more-limited liability and exposure, Allstate took an aggressive role in store design and fixturing which dumbed down the already-stolid appearance of the retail store interiors.
In its quest for anal-retentive efficiency and control, Sears executives became navel-gazers and the firm lost its customer-centric focus.
In the 1980s, when we lived in the small Oregon town of Corvallis, we were a major Sears customers. We did a lot of mail-order shopping, because the local merchants were so bad/sparse in that small burg and major shopping centers were 40 miles away.
Sears was one of our major suppliers of clothing, tools and household goods. Between our personal purchases and business purchases (my company used mostly Craftsman for small tools), we probably dropped $15,000 per year at Sears. Since they had essentially zero retail presence in town - except for a merchandise pick-up station with a couple of lonely Kenmore appliances displayed in a dusty corner, we ordered everything from the Big Book.
Shortly after we moved to Washington state in late 1989, Sears changed their policies and began charging money for catalogs. That was the end of our relationship with Sears.
The new policy offended me - when you spend large amounts of money with a firm and have been a good customer for 20-plus years, you shouldn't have to make an upfront payment just to get their offering document. Do you think that Sotheby's good customers really pay for auction catalogs?
Once we had settled near a metropolitan area with Costco and other good retailers nearby, we never missed Sears. I still have my old Craftsman tools, collected over 40-plus years. And, my needs for hardware and tools are much lower now that I'm older. I don't buy much in the way of clothes from catalogs these days but, when I do, it's usually the J.C. Penny catalog, which ol' J.C. is happy to send me. Free.
The last time I actually stepped inside a Sears store was in 2005. In the fading light of the post-K-Mart merger gloom, it looked especially dumpy. At its inside-the-mall entrance, Sears had placed a tire display in center of the doorway. Guess they had given up on making high fashion statements. Or just wanted to inhibit the flow of shoppers.
It just hasn't been the same since ol' Roebuck died. Or maybe it was Richard Sears, who actually croaked before Roebuck did.
When the last nail is finally pounded in the Sears retailing coffin, someone - in an attempt to say something nice about the deceased - will utter, "Well, they outlasted all those Monkey Ward stores." (posted 12/1/10, permalink)
---
More Retailing postings can be found here.
---
Other Pages Of Interest
| blog: 'The View Through The Windshield' |
| greatest hits: index of essays & articles | blog archives | '39 Plymouth |
| model train layout | about me | about the blog | e-mail |
copyright 2010-21 - Joseph M. Sherlock - All applicable rights reserved
---
Disclaimer
The facts presented on this website are based on my best guesses and my substantially faulty geezer memory. The opinions expressed herein are strictly those of the author and are protected by the U.S. Constitution. Probably.
If I have slandered any brands of automobiles, either expressly or inadvertently, they're most likely crap cars and deserve it. Automobile manufacturers should be aware that they always have the option of trying to change my mind by providing me with vehicles to test drive. I'll dutifully report my road test impressions on this car blog.
If I have slandered any people or corporations, either expressly or inadvertently, they should buy me strong drinks (and an expensive meal) and try to prove to me that they're not the jerks I've portrayed them to be. If you're buying, I'm willing to listen.
---