Philadelphia Memories - Part XI
---
Repositories Of Knowledge: Philanthropist Andrew Carnegie single-handedly upgraded American attitudes about access to knowledge. He funded the creation of more than 1,600 libraries across the land, more than a century ago. 25 were located in Philadelphia - built between 1906 and 1930. Carnegie selected the best architects in the city to design buildings suitable for each neighborhood.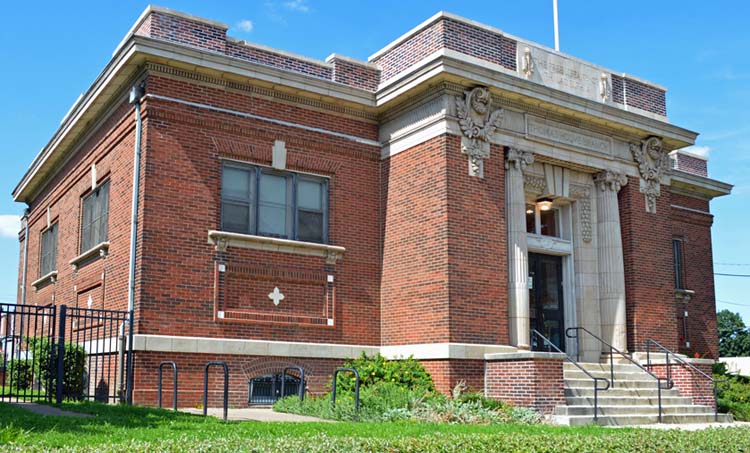 The Holmesburg/Thomas Holme Branch is located at 7810 Frankford Avenue in Northeast Philadelphia - a very short walk from the Hartel Avenue row home in which I lived as an infant. The library opened on June 26, 1907, making it the sixth Carnegie-funded branch.
It remains a working library to this day - over 112 years later. (posted 8/8/19, permalink)
---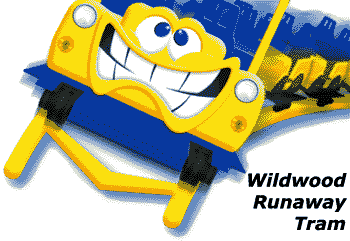 At The Shore - 2019 Edition: My brother recently returned from a Wildwood Crest, NJ vacation. Knowing that my wife and I enjoy all things Jersey shore-related, he sent us several pulp giveaway shoppers' guides to the New Jersey shore. I've written about them before: My 2018 report is posted here. I reported on the 2017 editions here. My 2016 report is posted here. The 2015 report is here; the 2014 survey can be found here.
The ads were pretty tame - and there were fewer of them this year - but there was exciting news to report: Morey's Piers, celebrating fifty years on the boardwalk of Wildwood, NJ, debuted a new ride in July. Located on Morey's Surfside Pier is the family-friendly Runaway Tram. The $4 million Zierer German-built roller-coaster climbs 40 feet before coasting, twisting and turning riders along 922 feet of track. The Force 280 coaster - fabricated by JRA Attraction Design Company of Cincinnati, Ohio - features one train with 10 two-person passenger cars. The tram is styled like the well-known Wildwood Sightseer Tramcar, which has cruised up and down the Wildwood boardwalk for 70 years.
Several ads in Jersey Cape Magazine - a free pulp giveaway, caught my eye:
• Located on the boardwalk in North Wildwood, Steak' Em-Up is a Philly cheesesteak and hoagie joint whose logo is a cartoon of a feddora-wearing, Mafia-like character holding a Tommy-gun-sized cheesesteak. The establishment proudly proclaims that its cheesesteaks are made with Cheez Whiz. Yikes.

• Schellenger's restaurant in Wildwood offers a coupon for a free Philly Cheesesteak Eggroll appetizer.

• Exhibiting a lack of imagination, there's a styling salon in Wildwood Crest named 'Hair'.

• The Alumni Grill in Wildwood offers Dodge Balls, described as "homemade garlic mashed potato balls battered and deep-fried. Served with a side of homemade honey Jalapeno sauce."

• In other publications, ads for the Pink Cadillac Diner in Wildwood show an appropriate graphic of a big-finned, pink 1959 Cadillac. In Jersey Cape Magazine, the ad features a navy blue 1950 Ford. Go figure.

• Hot Dog Tommy's of Cape May is the "Home Of The Mashed Potato Tornado."
Gotta love the Jersey Shore; there's nothing quite like it. (posted 7/26/19, permalink)
---
Summer In The City: A 1967 photo taken near Cottman and Castor Avenues in Northeast Philadelphia shows a water ice vendor in his white International Harvester Metro step-van. Geno's water ice came in five flavors: cherry, lemon, grape, chocolate and lime. Geno also sold cold soda pop as well as Philadelphia soft pretzels from his mobile snack shop. Such vehicles would either park at popular locations or troll the neighborhood streets in search of customers.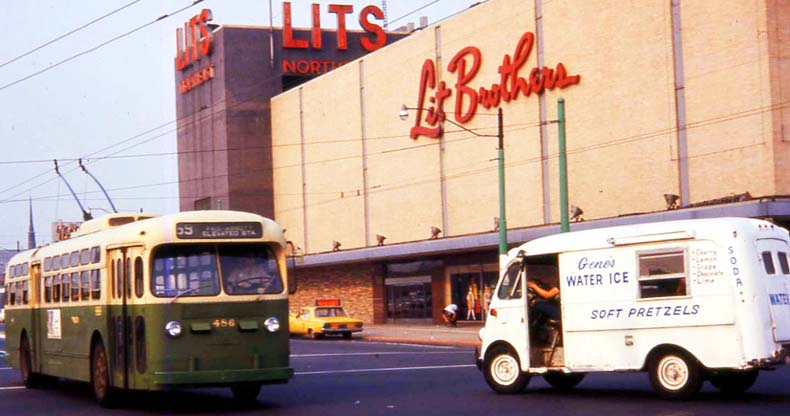 In the background is long-gone Lit Brothers Northeast department store, with a 1964 Plymouth Savoy Yellow Cab parked at the curb. Headed in the other direction is the Route 59 PTC trackless trolley which will head down Castor, around Oxford Circle and finish up at the Margaret-Orthodox Station of the Frankford El.
Lit Brothers was a department store featuring moderately-priced goods. It began in downtown Philadelphia, when Samuel and Jacob Lit opened the first store at North 8th and Market Streets in 1891. Over time, this flagship Lit Brothers store became the only full block of Victorian architecture in Philadelphia, featuring some cast iron facia panels. The Lit Brothers chain closed in 1977.

Lit Brothers main store was always located at 8th and Market Streets in downtown Philadelphia. In this 1967 photo, its corner entrance can be seen on the right. On the left side of the photo at the curb is a cart selling soft pretzels, a common sight downtown. (posted 7/8/19, permalink)
---
Road Trip: Texan Dave Burge recently tweeted "Finally had a chance to eat at Jersey's finest restaurant." He showed a photo of a Wawa convenience store.
Wawa is now an American chain of convenience stores and gas stations located along the Eastern Seaboard. But, it began in 1803 as an iron foundry in Delaware County, Pennsylvania. By the late 19th century it had evolved into a dairy farm, located in Wawa, Pennsylvania - not far from Philadelphia. During the 1920s, Wawa began using the slogan 'Buy Health by the Bottle'; they served customers in Pennsylvania and New Jersey, delivering milk to customers' homes in Divco trucks: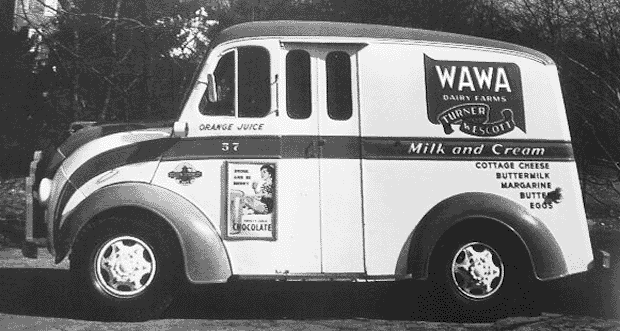 My classmate and high school friend Ed Schmidt once appeared in a Wawa print ad, wearing his SJP varsity football uniform.
In the mid-1960s, the firm opened their first convenience store. Wawa now has over 800 stores. (posted 6/27/19, permalink)
---
Two 1939 Plymouths - One Philly Photo: The Old Motor posted an old Philadelphia photograph taken in the Strawberry Mansion area of North Philadelphia on November 9, 1951. While some commenters on The Old Motor site believe that the photo was taken at 23rd and Market Sts. downtown, it looks to me like the photo was taken on 22nd or 23rd Street at the intersection of York St. or Lehigh Avenue.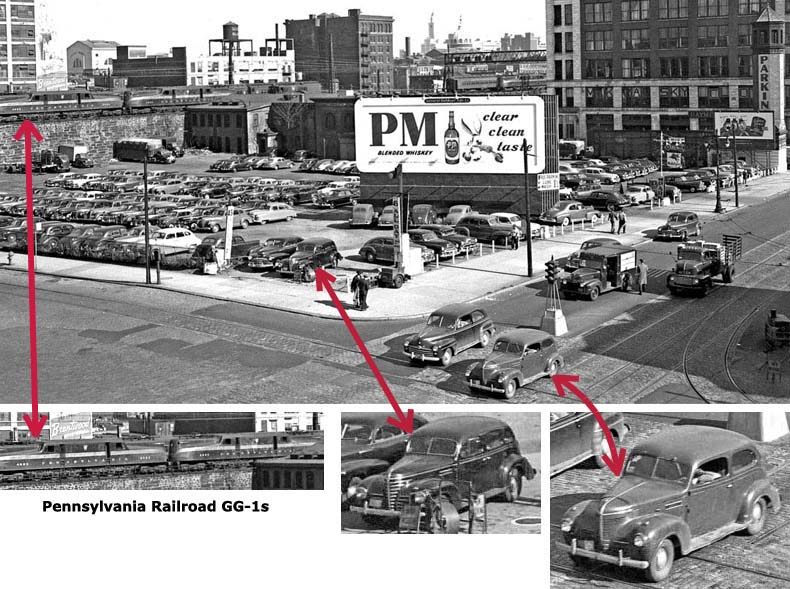 There are two 1939 Plymouths in the photo - one two-door sedan on the road, driving past a 1946-48 Ford Tudor and one four-door '39 Plymouth in the corner of the parking lot. A noteworthy car is a 1946-48 Crosley CC convertible coupe with white top in the second row of the corner parking lot - a vehicle not often seen. There is an early postwar V12 Lincoln club coupe with whitewall tires at the right of the PM Blended Whiskey billboard. PM was a product of National Distillers Corporation.
Three Pennsylvania Railroad GG-1 electric locomotives can be seen on the railroad tracks. In the distance, the dome of Sts. Peter and Paul Cathedral and the upper part of City Hall (with the William Penn statue at top) are barely visible near center top. Trolley tracks are visible on both streets. Philadelphia Transportation Co. Route 7 ran in the Strawberry Mansion area up 22nd and down 23rd Streets, respectively. Route 7 was abandoned in 1955. Trolley route 54 ran on Lehigh Avenue; it too was abandoned in 1955. (posted 6/25/19, permalink)
---
The Blighted Mess Known As Atlantic City: UK newspaper The Guardian claims that Donald Trump's failed casino ventures ruined Atlantic City. James Lileks pushed back, noting that AC was a dump when he visited it in 1991. As someone who began visiting Atlantic City in the 1940s and spent several summers in the area from 1957 to '63, I can tell you that it was in decline even in that bygone era. I last visited the place in 2008 as part of a trip to Pennsylvania and New Jersey. So, I'm a qualified observer of AC's decline. More so than The Guardian, anyway.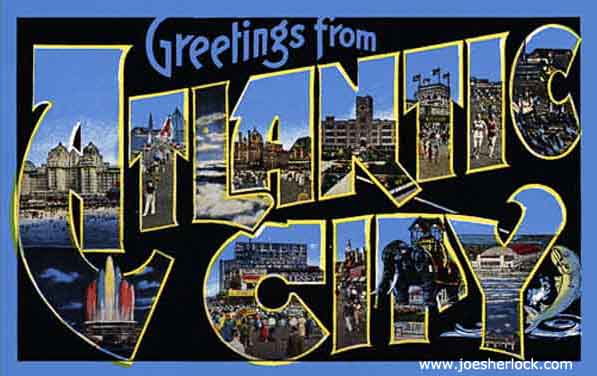 ---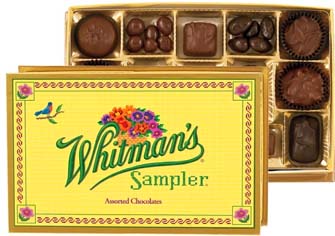 Remember Whitman's Sampler? The boxes of candy are still made although ownership has changed. Whitman's was founded in Philadelphia twenty years before the Civil War. Whitman's Sampler was first marketed in 1912 and saw its peak popularity in World War II.
In the 1960s and '70s, my dad worked for the Pennsylvania Railroad/Penn-Central/Conrail. One of the customers he serviced - delivering boxcars/tankcars of subcomponents and hauling out finished products - was Whitman's at their plant in far Northeast Philadelphia. He had access to the company store, where he could purchase Irregular Chocolates - Whitman's Sampler rejects (misshapen rejected pieces) for the bargain price of 10-pound bulk boxes of candy for $2.00.
So we always had Whitman's chocolates at our house, although some of the chocolate-covered cashews looked like chocolate-covered tiny bloated livers and the caramel turtles were often shaped like miniature piles of dog poop. Nevertheless, each piece tasted delicious.
I've never wanted to pay retail for Whitman's since then.
Many years ago, James Lileks wrote about the prepackaged boxes of chocolates found in drug stores, noting that "the Whitman's Sampler - it contained multitudes of chocolates of ... (more >>>)
---
Sweet Memories: When I was growing up, Good & Plenty was a favorite candy. The caplet-shaped pieces had a hard sugar shell, colored white or bright pink with a soft sweetened black licorice center.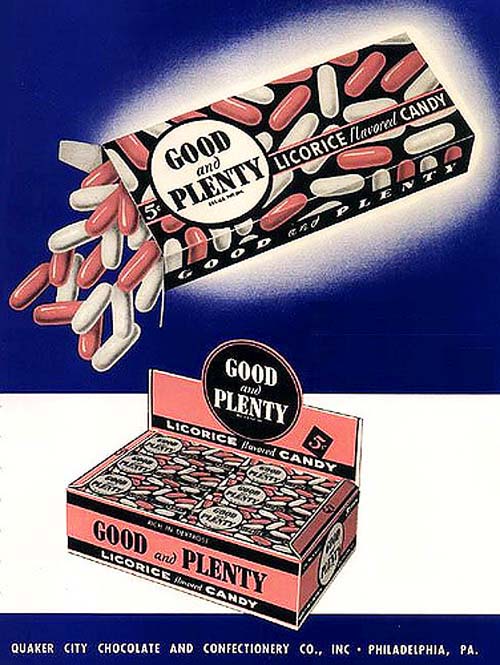 Extra large boxes of the now-iconic candy could always be found at movie theater candy counters.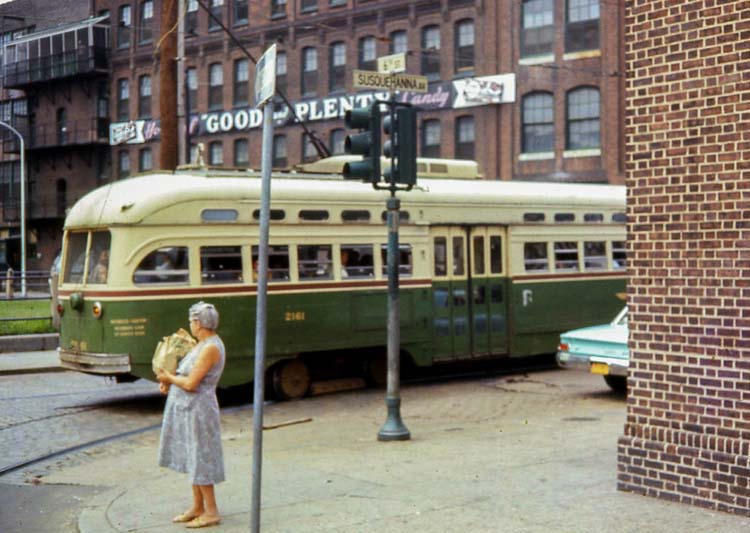 (1967 Photo: 6th St. at Susquehanna in Philadelphia - taken by David Wilson)
Good & Plenty was first produced by the Quaker City Confectionery Company of Philadelphia, Pennsylvania in 1893 and is believed to be the oldest branded candy in the United States. Warner-Lambert purchased Quaker City in 1973 and sold it to Leaf Candy Company (owned by Beatrice Foods) in 1982. It is now produced by Hershey Foods, which purchased Leaf in 1996. (posted 5/2/19, permalink)
---
Rohm and Haas Explorer Concept Cars: In the 1960s, Rohm and Haas Co., a Philadelphia-based chemical and plastics firm - best known for its acrylic thermoplastic, Plexiglas, developed a series of five 'Explorer' concept cars to showcase the use of Plexiglas as well as other Rohm and Haas products in automobiles.
Most Explorer cars had four things in common … (more >>>)
---
Delaware Avenue Dance: If you're a Philadelphian of a certain age, you may remember the automotive pinball alley known as Delaware Avenue. Driving along this wide thoroughfare, you'd spend much of your time swerving, weaving and dancing around a montage of tractor-trailers, trains and potholes.
Located by the river of the same name, Delaware Avenue was the industrial nexus of water, truck and rail shipping. The City of Philadelphia owned the Belt Line Railroad, built in 1890 "to serve port and commerce." The Pennsylvania, Reading and B&O Railroads shared the tracks. The wide, partly-cobblestone street was rough and bouncy and drivers were tasked with watching out for boxcars being shuttled around by switch engines as well as ducking large trucks which were coming from every direction. All photos are taken from the cabs of Pennsylvania Railroad diesel yard locomotives in 1960.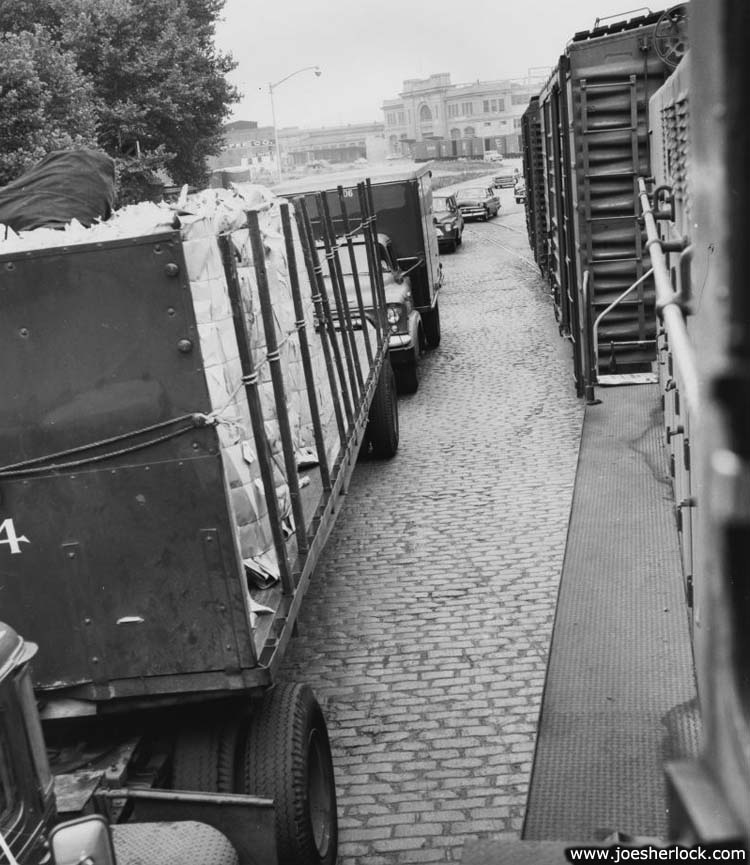 This loco, pulling a couple of boxcars cars southbound on Delaware Avenue. Behind the stake-sided tractor trailer and the Chevrolet box truck is an International Harvester station wagon, a 1953 Ford and a 1957 Chevy.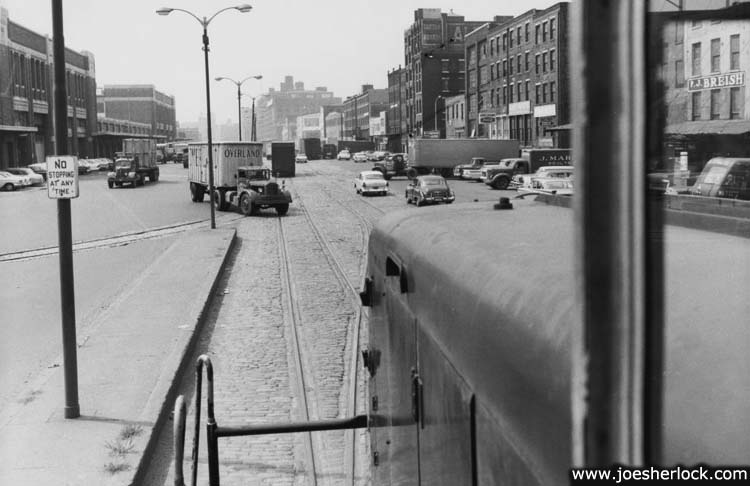 This photo shows right to left a 1959 Oldsmobile, a 1949 Buick sedan and a 1956 Ford. The Overland Company truck crossing from the east to the west side of Delaware Avenue is not visible to the engineer who is operating the locomotive from the customary position on the right side of the loco's cab.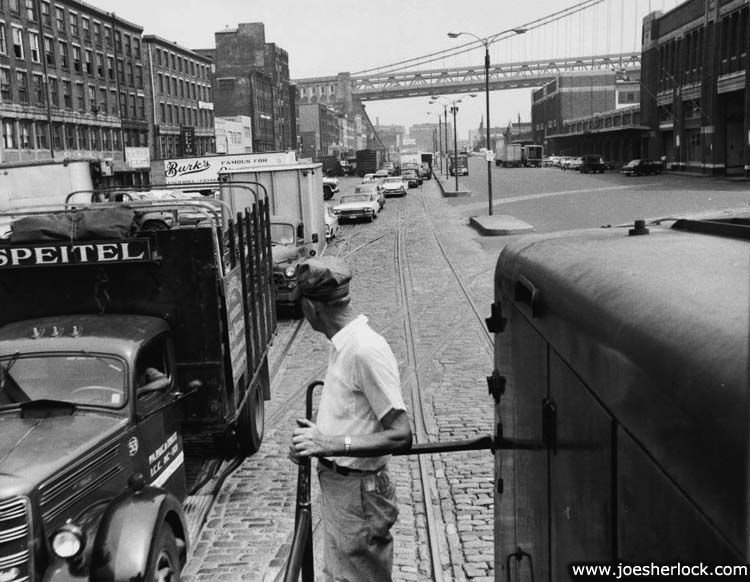 As this locomotive comes to a halt, a picture is taken through rear window showing route over which engine has just traveled. Note the large volume of traffic headed south along with the train. Behind the Speitel Brothers stake-bodied truck is a 1950s-era box truck, followed by a 1956 Plymouth, a light-colored 1960 Cadillac and, further back, a 1957 Lincoln. At the far left, a Burk's trailer is being loaded. The company was famous for its frankfurters: "A Philadelphia Tradition Since 1893." In the background is the Benjamin Franklin Bridge, which opened in 1926.
A color photo of Delaware Avenue can be viewed here. (posted 4/2/19, permalink)
---
As Someone Who Grew Up In Philadelphia, I Can Vouch For This: Ol' Remus wrote recently, "Those in the northeast understand Philly adores New York City in an abused child sort of way." He's right. Philly people have always had a love/hate/envy/awestruck relationship with the Big Apple. Even before it was given that nickname.
In its heyday, New York City had the best theater, the best restaurants, the best neon - as gaudy as Liberace's Christmas decorations - and the best entertainment (at The Latin Quarter, Copacabana and elsewhere). Everybody from Philadelphia used to travel there for fun. My grandfather and his brother used to hire a driver to take them to NYC boxing matches in the 1920s. I remember going to a very crowded Coney Island with my parents when I was a wee child in the 1940s and riding the giant Wonder Wheel. Mirabile dictu!
As teens, my friends and I were mesmerized by New York girls - their accents, snappy catchphrases, flashy clothes, blunt - bordering on rudeness - attitude, and overdone makeup. Their clever quips had us giggling uncontrollably like Japanese schoolgirls in a Hello Kitty store. But, we were just rubes to them.
Actually, I think all out-of-towners are considered to be rubes, suckers and/or marks by New Yorkers. My wife and I last visited NYC in 1993. We had a swell time - an excellent dinner at the Rainbow Room, followed by the show at the Rainbow and Stars cabaret. Billy Stritch performed and he was most impressive. On another memorable night, we sat next to the piano at the Carlyle Hotel, watching a tuxedoed Bobby Short perform his piano magic.
Nevertheless, we were glad when it was time to go home. And not be looked upon as bumpkins by doormen, cabbies and others. (posted 3/25/19, permalink)
---
Final Trolley Ride: In the first two decades of the 20th century, if you died in a city, one of the ways you might travel toward your final resting place was by public transit. Many large cities, including Chicago, Los Angeles, San Francisco, Detroit, Buffalo and, of course, Philadelphia provided special trolley cars which carried the casket, as well as the mourners.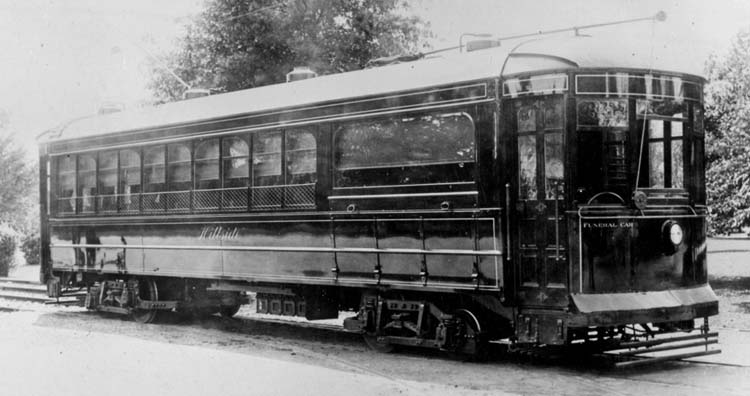 Philadelphia Rapid Transit Company's black funeral trolley, the 'Hillside' was named for a cemetery in suburban Abington Township. It was introduced in July 1912 and served at least 30 cemeteries along trolley lines until service was discontinued in 1930. The car was scrapped in 1932. A stub line from the Route 62 tracks terminated at the gates of Holy Cross Cemetery in Yeadon, PA, just outside the Philadelphia city limits in Delaware County. Most of my family is buried at Holy Cross.
In their heyday, funeral trolleys were quite popular. In 1907, Chicago's funeral elevated car was doing 22 trips per week. The 'Descanso' streetcar in Los Angeles is the only funeral trolley still in existence and is displayed at the Orange Empire Trolley Museum in Perris, CA. Built in 1909 and available for chartered use by funeral parties at a cost of about $25, it was quite successful in its day.
In the days of unpaved roads and horse-drawn hearses, the trolley funeral car offered a more dignified ride to one's final resting place. In the early 19th century, most funeral attendees didn't own cars, so the funeral trolley offered a practical alternative - especially since almost every church, funeral home and cemetery was near a trolley stop. Motorized hearses did not become popular until the late-teens and early 1920s, when most major city streets had been paved.
The first motorized hearse was a custom conversion based on a 1905 Rambler Surrey and used by an undertaking firm in Fresno, California. In 1912, a large, custom-built omnibus was built on a Packard truck chassis to carry a casket as well as 32 mourners. It was sold to the Flannery Brothers Funeral Home in Pittsburgh, PA. Philadelphia's J.C. Brill, a large manufacturer of trolley cars, offered a somber dark-green funeral bus in 1915 but the idea never caught on with the public. (posted 3/1/19, permalink)
---
Let It Snow: The Old Motor posted a photo originally published in the Philadelphia Evening Bulletin.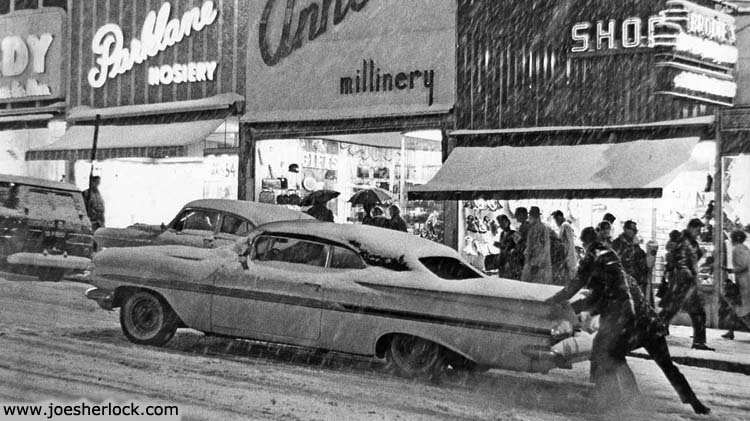 The image was taken on Christmas Eve 1961 and shows a 1959 Chevrolet convertible and last minute-shoppers on 69th Street in Philadelphia. The driver of the Chevy is having a hard time getting it to climb up this slight grade. A couple of friends riding with him or some shoppers with Christmas spirit pitched in to help out. The '59 Chevy's batwing tailfins made perfect push handles. (posted 1/28/19, permalink)
---
British Invasion: The Simeone Foundation Automotive Museum in Philadelphia will feature the storied Bentley marque in its annual Best of Britain exhibit opening in February 2019.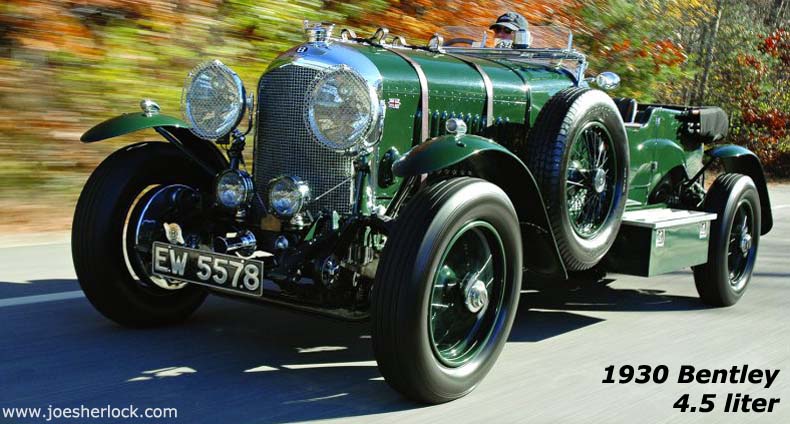 The Simeone Museum is a great place for car enthusiasts. When we visited the museum in 2011, we got to talk with Dr. Frederick Simeone, Jr. My wife's dad - a precision machinist - fabricated some of the impossible-to-find parts for a few of the cars on display. (posted 1/22/19, permalink)
---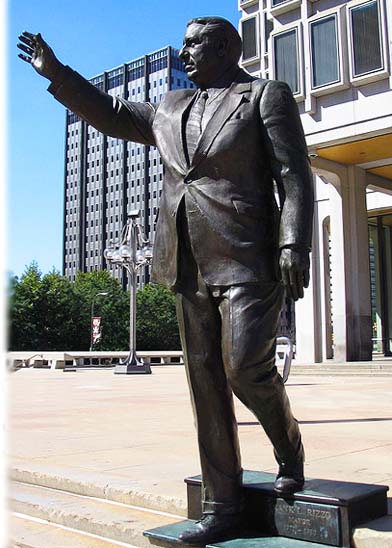 Silly Statue Stuff: There's a big push in Philadelphia to remove the bronze statue of its former mayor, Frank Rizzo, located near City Hall. Frank was not some Civil War-era slave owner; Rizzo served as the city's police commissioner from 1967 to 1971, and then as mayor for two terms, between 1972 and 1980. He was one of the leading law-and-order politicians of his time. "Funded by his admirers, Rizzo's statue went up in 1999, eight years after his death. Less than two decades later, in response to Black Lives Matter protests, Mayor James Kenney (a useless white PC liberal bozo, in my opinion) pledged to move the statue." Because he can't fix the city, he wastes time trying to move statues. Meanwhile, vandals have defaced the statue on several occasions.
Why stop with Rizzo? With tongue firmly in cheek, Stu Bykofsky wrote, "The Ben Franklin Bridge and Parkway? The man who narcissistically named a stove after himself was a slaveholder. The final nail in his coffin? He was a toxic male womanizer. Outta here.
While we're at it, let's rename Washington Avenue and tear down that statue in front of the Art Museum. George Washington was a slaveholder. Bye-bye, George.
Thomas Jefferson University and Jefferson Station need new names. Tom was not only a slaveholder but carried on a sexual relationship with one of his slaves. That's worse than pay inequity."
Frank Rizzo was a no-nonsense, law-and-order guy who loved beating up hippies and other lowlifes with his ever-present nightstick. And I mean that in a good way.
"No other white-ethnic mayor from the latter half of the twentieth century - not Richard Daley, not Rudy Giuliani - was as beloved by his constituents," wrote Timothy Lombardo (author of Blue Collar Conservativism: Frank Rizzo's Philadelphia and Populist Politics). He draws a straight line from Rizzo to Trump. Why? Because it suits the author's narrative.
But ... "Lombardo's book is less about Rizzo himself than his white working-class constituency, and why it left the liberal New Deal coalition to join the modern conservative movement." Seeing the evolution of "blue-collar conservativism" as one of the most consequential political developments of recent decades.
"From the 1950s on, Philadelphia's white working class grew more and more to distrust the city's increasingly liberal white establishment. Rizzo owed his rise to changes in Philadelphia's civic culture that were decades in the making. A tough-on-crime populist, Rizzo stood second to none in the authenticity of his working-class roots." Rizzo is credited with saying, "A conservative is a liberal who got mugged the night before."
"The War on Poverty saw a truly dramatic expansion in social programs that coincided with a collapse of the social order. It wasn't just Rizzo's supporters but also some of the most intelligent and informed students of public policy who saw their belief in government shaken."
In 1950, the black population of Philadelphia was just under 20%. Most were part of working households where almost no one was 'on the dole'. By 1960, blacks had jumped to 30% of Philly's population. In 1964, there were race riots in North Philadelphia. Hundreds were injured or arrested and more than 200 stores in North Philly were damaged or destroyed in three days of rioting. Many never reopened. No black entrepreneurs or coalitions stepped forward to fix these neighborhoods and/or create black-owned local businesses. White flight accelerated in the next decade. Today, blacks make up almost 50% of Philadelphia's population. In 2011, Philly had the highest per-capita murder rate in the U.S.
Rizzo's mayoral term was at the end of the Great Flight from Philly. Upper middle-class white people began moving to newer suburbs in the 1950s, looking for a better, less-congested life. They were followed by middle class blacks (who were no longer restricted in their ability to live in good neighborhoods) and by working-class whites, who moved outside the city to seek work as manufacturing jobs collapsed.
Businesses fled because the city kept raising business taxes to replace falling tax revenues from residents. Many industrial buildings are now empty, their former occupants have moved elsewhere, seeking lower, more reasonable taxes and better city services. Fewer employment opportunities mean increased poverty and, of course, more crime. Eventually, Philadelphia was left with poor people - some working, some on welfare - who paid little if any taxes. Like other cities (such as Camden, Baltimore and Detroit), Philadelphia has become a giant, unfixable ghetto, with failing infrastructure and a generally blighted environment. Poverty breeds crime, violence and indifference. And the Beat goes on.
It should be noted that in 1985 (years after Rizzo departed as mayor), Philly Mayor Wilson Goode, a black fellow, actually dropped a bomb on a mostly-black ghetto in West Philadelphia, creating a massive blaze which eventually consumed almost 4 city blocks, killed 11 people, and left more than 250 people homeless. At least ol' Frank never blew anybody up.
What's next? Will Philadelphians tear down the Rocky Balboa statue in front of the Art Museum? After all, Rocky repeatedly punched an African-American man. And, in a 1985 movie sequel, he spent time in Russia, working with Russians. Maybe Rocky was secretly laying the groundwork for Trump's Russian-backed presidential victory some thirty-one years in the future. 'Back To The Future', a movie about meddling with the past, also had its theatrical release in 1985. Coincidence ... or what?! (posted 1/16/19, permalink)
---
---
Other Pages Of Interest
| blog: 'The View Through The Windshield' |
| greatest hits: index of essays & articles | blog archives | '39 Plymouth |
| model train layout | about me | about the blog
copyright 2019 - Joseph M. Sherlock - All applicable rights reserved
---
Disclaimer
The facts presented in this blog are based on my best guesses and my substantially faulty geezer memory. The opinions expressed herein are strictly those of the author and are protected by the U.S. Constitution. Probably.
If I have slandered any brands of automobiles, either expressly or inadvertently, they're most likely crap cars and deserve it. Automobile manufacturers should be aware that they always have the option of trying to change my mind by providing me with vehicles to test drive. I'll dutifully report my road test impressions on this car blog.
If I have slandered any people or corporations in this blog, either expressly or inadvertently, they should buy me strong drinks (and an expensive meal) and try to prove to me that they're not the jerks I've portrayed them to be. If you're buying, I'm willing to listen.
---
---