Toy Trains
(
page 2
)
To read about full-sized trains and locomotives, go here.
---
Haulin' Gas: Gulf Oil was established in Pittsburgh around the turn of the 20th Century and was the source for much of the Mellon family fortune. Gulf built its first Philadelphia refinery in 1905 at Girard Point in South Philly and was a well-known gasoline brand in the area. Grades were subregular Gulftane, Good Gulf regular, Gulf No-Nox Ethyl premium and later, Gulf Super Unleaded.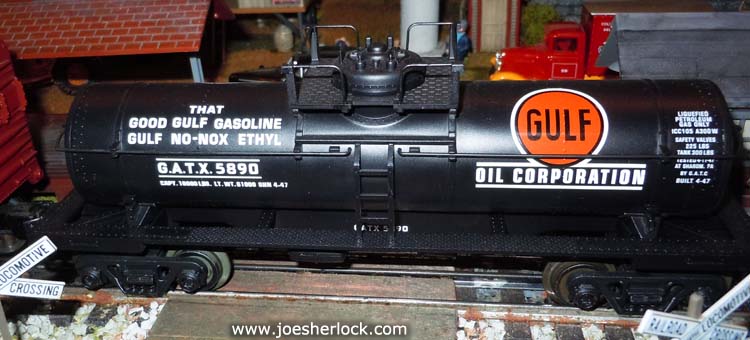 This O-gauge single-dome Gulf Oil Tank car, which I run occasionally on my Philly-themed model train layout, was made by Industrial Rail. I purchased it ... (more >>>)
---
Aging Hobby: According to a Wall Street Journal article, the "average age of the National Model Railroad Association's 19,000 or so members is 64, up alarmingly from 39 in the mid-1970s."
"The Western Pennsylvania Model Railroad Museum, near Pittsburgh, promotes the hobby by offering a 20-hour Model Railroading 101 course each winter for $60."
Toy and model train enthusiasts are getting older and kids are getting into trains at far too slow a pace to replace the number getting out. Additionally, the rise of social media, video games and related electronic pursuits has negatively affected the model train business. (posted 2/24/17, permalink)
---
Tank You: Lionel Electric Trains has offered Sunoco tank cars since the 1930s. On the three-level train layout built by my dad in 1947, the middle level had a steam loco pulling a freight consist. One of the freight cars was a post-war, silver double-dome Sunoco tank car.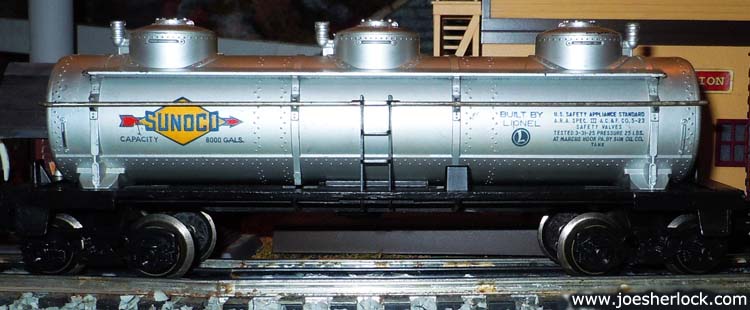 This three-dome plastic one, which I run occasionally on my present model train layout, was first introduced in 1953. I picked mine up at an area train swap meet in 2002 for $15. It is marked "built by Lionel."
Once known as Sun Oil Co., the Philadelphia-based refiner was best known for its Sunoco 'custom blending pumps', an innovation that, beginning in 1958, allowed customers of Sunoco service stations to choose from several octane grades through a single gas pump. More information about Sunoco can be found in my 'Car Musings' section here. (posted 2/20/17, permalink)
---
New Railroading Fan: My daughter got a new dog recently. Like Lucy, her late canine predecessor, Sadie is interested in looking at the trains run on my O-gauge model train layout.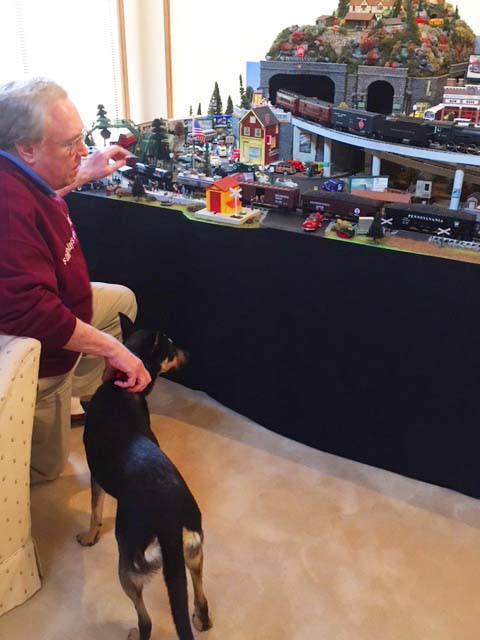 I'm busy explaining the difference between tank cars, boxcars and coal hoppers to her. (posted 2/14/17, permalink)
---
Final Boarding Call: Caboose Hobbies in Denver, reputedly the largest model-train store in the world with 18,600 square-feet of space, shut its doors for good on Sept. 11th.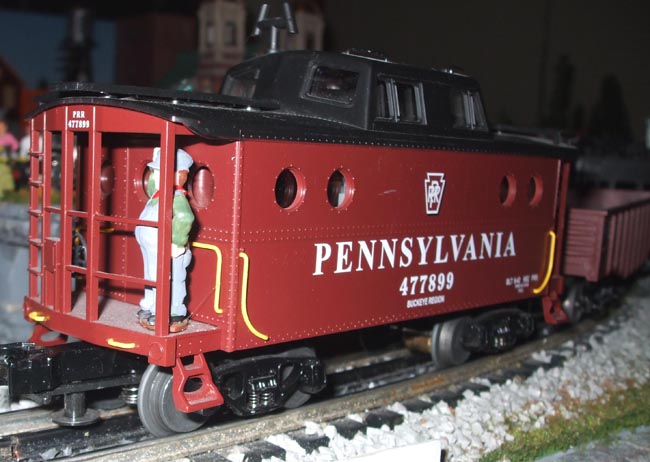 The owners said they planned to retire. Caboose was founded in 1938. (posted 9/14/16, permalink)
---
Rail Closure: Allied Model Trains, one of the Los Angeles area's oldest and largest model railroad hobby shops, closed in July 2015. Allied originally opened in 1946 and was last located in Culver City, CA.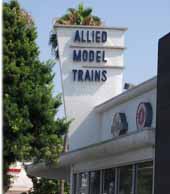 My good friend Ray Lukas and I visited Allied during our Great California Adventure. It was an impressive place with lots of merchandise and interesting displays.
Unfortunately, Allied couldn't make a profit in these changing times. A declining hobby market combined with a shift to internet sales presented challenges that Allied couldn't overcome. It's a story which, sadly, is all too common these days. (posted 10/27/15, permalink)
---
Trolley Talk: The Philadelphia PTC "talking" trolley for my O-gauge model train layout has been repaired and arrived last week.
Everything now seems to work. It makes all the proper trolley sounds, with a Philadelphia-accented voice calling out stops, urging passengers to "please move to the rear" and reminding them to "take all newspapers and personal belongings with you." The faux motorman also exhorts exiting passengers to "Have a nice day!", which never happened during the many years I rode public transport in the so-called City of Brotherly Love.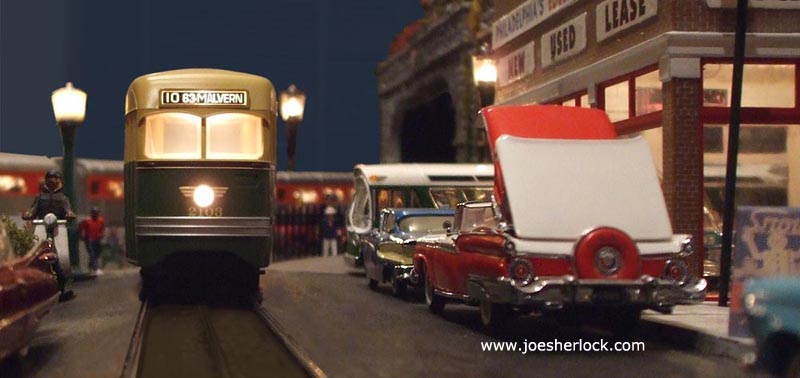 There are also the sounds of air-operated doors opening, bell ringing, brakes being applied and released, coins and tokens falling into the fare receptacle, etc. The little trolley is programmed to stop and start at regular intervals and the stops can be customized to fit specific locations on one's train layout.
The trolley had stopped working earlier this year; shorting every time I turned on the power. This MTH-made trolley car is an obsolete model and is no longer made. So, I sent it off to the The Train Shack, an Authorized MTH Repair Center in Burbank, California.
The cost of repair exceeded the original sales price but I'm happy to have it in good working order again. I plan to have it running on my Philly-themed model train layout at Christmas this year. (posted 6/25/15, permalink)
---
Farewell: Weaver Models, makers of O-scale trains and Scalecoat model railroad paint, will be closing its doors at the end of June 2015.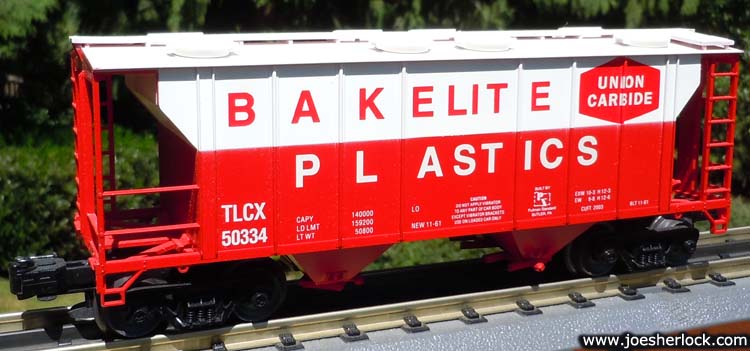 I own a Weaver covered bulk hopper car, painted red and white, marked 'Bakelite Plastics'. It is a limited-edition, custom-run model made for Petersen Supply Co. of Portland, OR.
Bakelite is a thermosetting phenolic plastic, made - until recently - by Union Carbide. (It is now produced by Momentive Specialty Chemicals of Ohio.) Bakelite has been designated a National Historic Chemical Landmark by the American Chemical Society in recognition of its significance as the world's first synthetic plastic. It was developed by Leo Baekeland in 1907. Bakelite is still used for wire insulation, brake pads and related automotive components as well as other electrical-related applications.
Weaver Models, located in Northumberland, Pennsylvania, was founded in 1965. The firm made most of its products in the U.S. The current owner is retiring and was unable to find a buyer for the business.
The model train market has changed and, sadly, is in decline. O-gauge enthusiasts are getting older and either downsizing their collections or not adding to them. Kids and young adults are getting into trains at too slow a pace to replace hobbyists who are getting out. Additionally, the rise of video games and related electronic pursuits has negatively affected the model train business. (posted 6/17/15, permalink)
---
Christmas Trains - 2014: Due to my current health situation (cancer surgery plus six months of chemotherapy), I lacked the strength/stamina to put up the usual train layout this year. Instead, I put up three loops of track on the living room floor by the Christmas tree.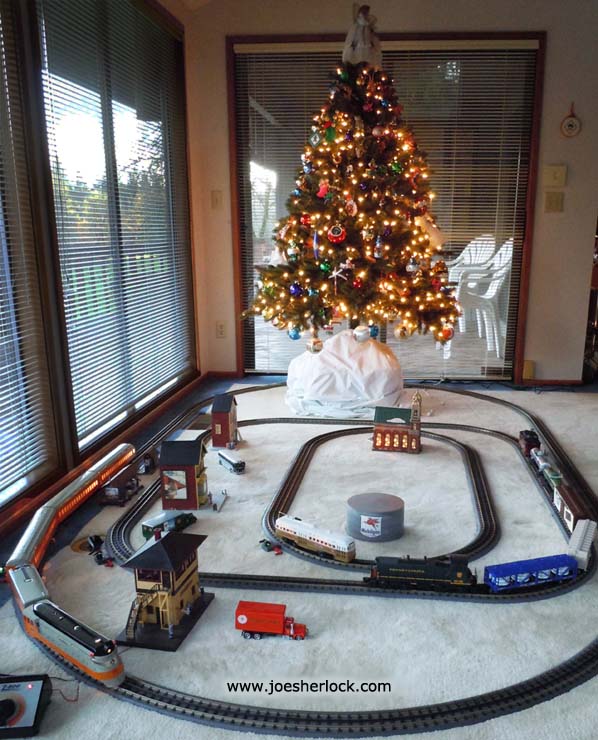 Everything is now working: the big outer loop is for my Lionel Hiawatha streamlined passenger train, the middle loop is for a Pennsylvania Railroad diesel freight set and the small inner loop is for a trolley car.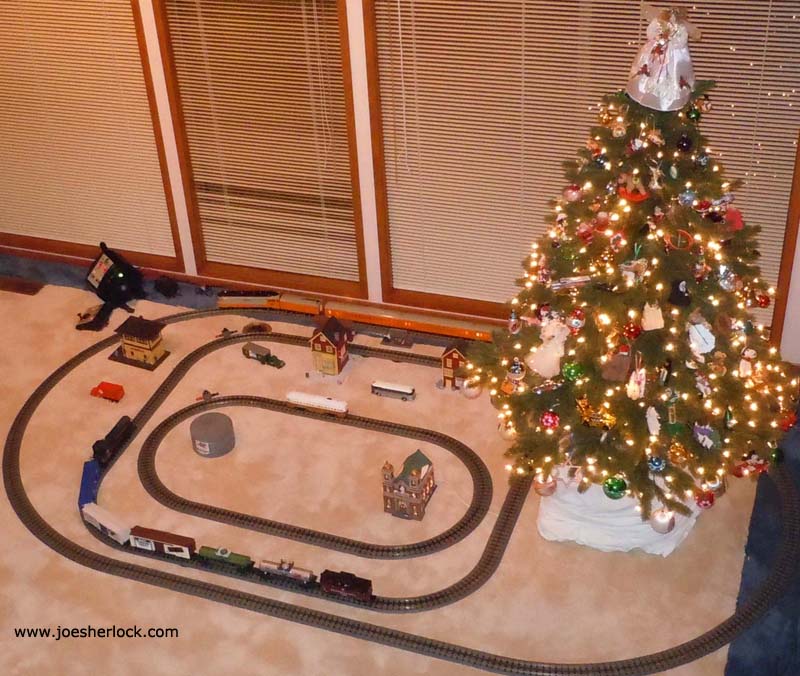 I did a lot of bending, kneeling and stretching to assemble the track, hook up the power transformers and assemble the trains on the tracks. And, boy, was I sore for the next couple of days.
My daughter's dog, Lucy, has always been fascinated by the trains: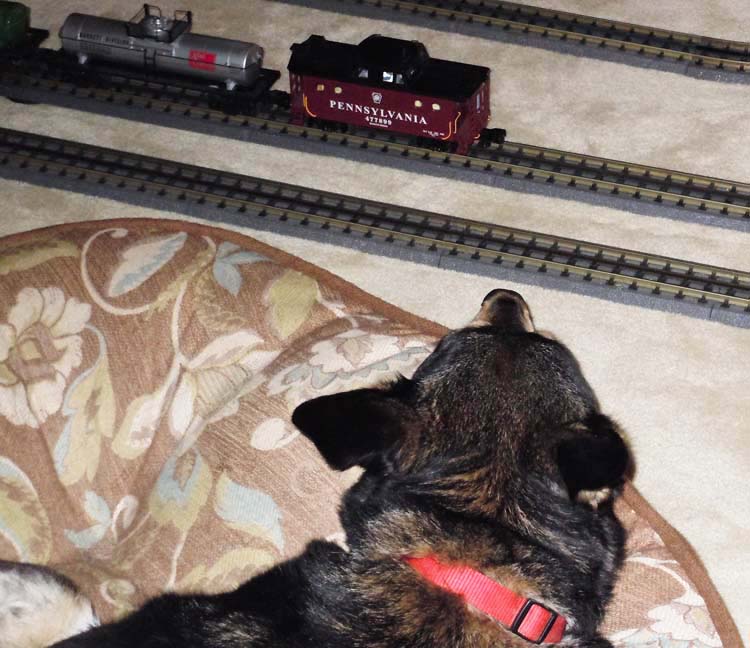 I hope to have the regular train layout up next Christmas. (posted 12/15/14, permalink)
---
Lionel Connection: Singer Frankie Valli wrote, "My dad, Anthony (Castelluccio) ... had been a barber, but by the 1940s he was working for Lionel Trains. He started as an assembly-line worker in their plant in Hillside, NJ, but he soon became responsible for designing model-train displays in store windows. He was a creative guy."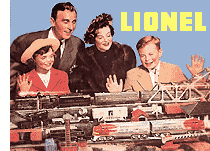 Who knew? (posted 6/26/14, permalink)
---
End Of The Line: After nearly 80 years in business, Aristo-Craft Trains will cease operations by the end of 2013. The G-scale and O-gauge model railroad manufacturer is based in Irvington, N.J.
"Since 1935, we have provided service and innovation to the hobby industry," said the Polk family, owners of Aristo-Craft. "In this latest downturn, we cut back staff to the minimum required to survive. Then the government battle over the debt ceiling drove the consumer market down even further."
Aristo-Craft had been growing steadily until 2008. Like many hobby manufacturers, Aristo-Craft fell on hard times when the Great Recession hit. The company managed to stay afloat but fell into "debt that was unsustainable." The higher cost and space requirements of larger-scale trains had also depressed Aristo-Craft's market share, according to the company.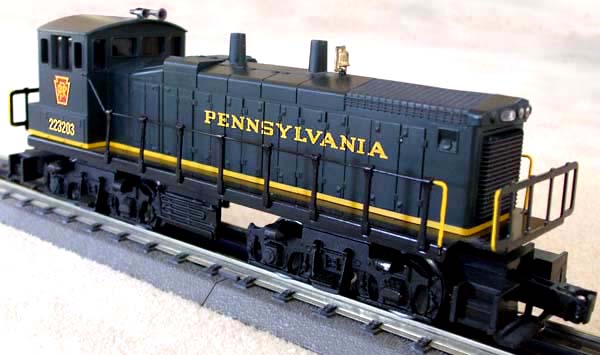 Here's the other problem: toy train enthusiasts are getting older and kids are getting into trains at too slow a pace to replace the number getting out. Additionally, the rise of video games and related electronic pursuits has negatively affected the model train business.
Interest in toy trains dwindled in the 1970s but picked up again when many baby boomers began collecting electric train sets again as deep-pocketed, free-spending adults during the 1980s and '90s. "A lot of our business is baby-boom men basically rekindling their memories. That could be a problem, as far as those guys going away," said Andy Edelman, vice president for marketing at MTH Electric Trains, maker of Standard Gauge, O-gauge and HO-scale trains.
Now that pre-boomers and boomers are getting older and downsizing, they are buying fewer trains. Or have already purchased everything they want. (posted 10/21/13, permalink)
---
Scale Disparity: Looking at a recent sale flyer from a train shop, I was shocked by the price spread between two HO scale buildings.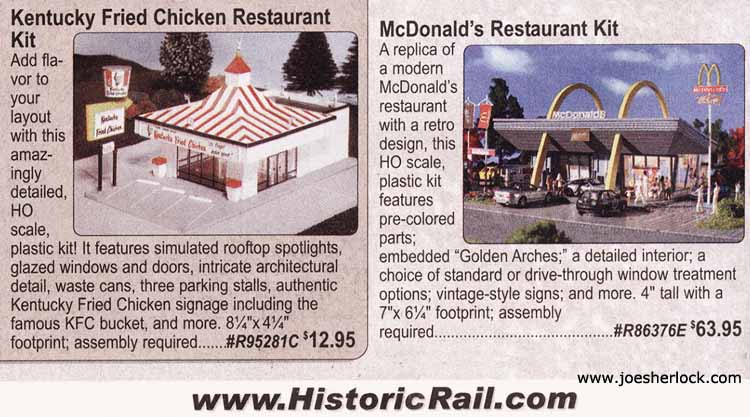 Must be the licensing fees or something. (posted 7/10/13, permalink)
---
Just Not The Same: McCormick-Stillman Railroad Park in Scottsdale, AZ has changed much since we last visited in 1991.
The old and very impressive model train layouts were apparently torn down and new ones are under construction in a fancy new building. Unfortunately, neither the O-gauge, HO-scale nor N-scale layouts have been completed and, when we visited, only the O-gauge layout was partly operational while still under construction: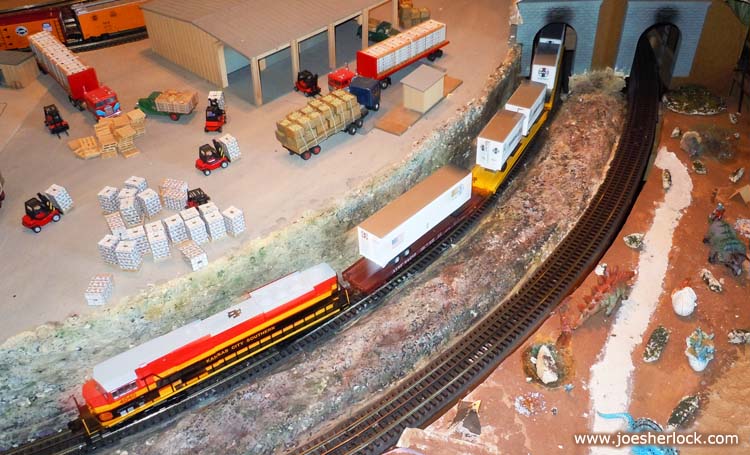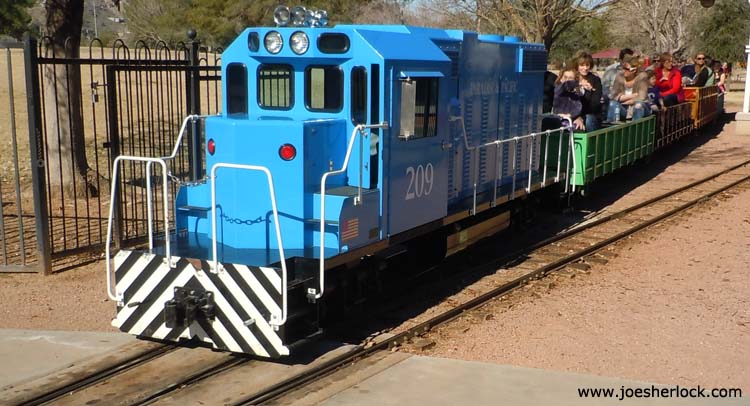 There used to be several charming little steam locomotives of various scales pulling trains which folks could ride on. A blue diesel loco has now replaced steam. (posted 2/18/13, permalink)
---
Tasty Christmas: My daughter gave me a wonderful Christmas gift: an O-gauge Tastykake boxcar offered by the Atlantic Division of the Train Collectors Association.

Only 100 were produced; the car was manufactured by Lionel and decorated by Weaver Models. The Tasty boxcar has die-cast, fully-sprung trucks and operating couplers.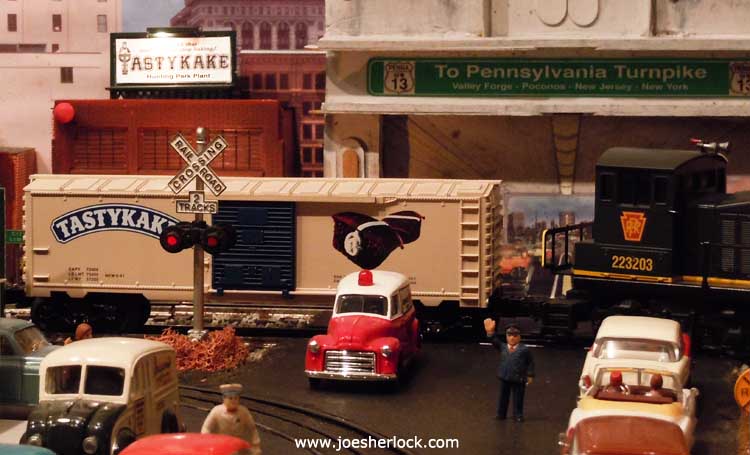 More toy train photos and stories are posted here.
---
Other Pages Of Interest
copyright 2013-16 - Joseph M. Sherlock - All applicable rights reserved
---
Disclaimer
The facts presented in this blog are based on my best guesses and my substantially faulty geezer memory. The opinions expressed herein are strictly those of the author and are protected by the U.S. Constitution. Probably.
Spelling, punctuation and syntax errors are cheerfully repaired when I find them; grudgingly fixed when you do.
If I have slandered any brands of automobiles, either expressly or inadvertently, they're most likely crap cars and deserve it. Automobile manufacturers should be aware that they always have the option of trying to change my mind by providing me with vehicles to test drive.
If I have slandered any people or corporations in this blog, either expressly or inadvertently, they should buy me strong drinks (and an expensive meal) and try to prove to me that they're not the jerks I've portrayed them to be. If you're buying, I'm willing to listen.
Don't be shy - try a bribe. It might help.
---