All massive plant machinery - stamping presses, injection molding machines, printing presses, thermoformers, die casting machines, extruders, etc. - is always painted industrial green or industrial blue. You know those colors - not pretty, just sturdy.
Nevertheless, the little Civic looked great and, in today's anonymous vehicular world, unique. It's a handsome car.
When someone writes a 1960s retrospective and a car graphic is needed, the piece is always illustrated by a Mustang.
Not a Jag XKE - too elitist. Not a Volkswagen Beetle - it may have been wildly popular in the 1960s, but it can be identified with too many other eras - 1930s Nazi Germany, early postwar America (it was imported to the US in '49) or the 1950s when a large U.S. dealer network was established. (Well, sometimes a beat-up generic Bug with flower decals may be shown but never a shiny new one.)
Not the Studebaker Avanti either - cool car, but too obscure for the casual pop-culture reader. It's always a Mustang - most likely a red convertible from the '64-'66 era. (Personally, I like the looks of the facelifted 1967 Mustang a lot better but ... the mob has spoken.)
The Mustang was never a "great" car; aging Ford Falcon purists will continue to scream, "We wuz robbed!" And produce tracts with bulleted talking points proclaiming the superiority of the Sprint and other Falcon variations. But the flawed-but-stylish, low-priced Mustang captured people's hearts and became a best-seller and an icon for the freewheeling '60s.
These days, graying males lovingly restore and/or maintain their 'Stangs, vainly trying to reconnect with their long-gone youth.
In 2047 or so, when someone writes a retrospective of the 21st Century's first decade, the article will carry an illustration of the 2006 Civic. It will have become an icon. And like the Mustang, well-kept examples will draw admiring and envious glances.
From those Who Remember When. (posted 4/21/06, permalink)
---
History Repeats Itself: The Honda Crosstour - the new tall, fastback sedan with the big front grille - is a puzzle to auto industry experts.
"According to early Edmunds' data, buyers seem to think the Crosstour competes most closely with the Toyota Venza, with ToMoCo's wagon-on-stilts being cross-shopping against the Crosstour more than any other vehicle. Other Honda models are also heavily considered against the Crosstour, according to Edmunds Auto Observer, as are a panoply of other cars. Luxury rides like the Audi A4 and BMW 3 Series wind up in the comparison column, as do more traditional crossovers like the Chevrolet Equinox and Toyota RAV-4."
Hmmmmm. Big fat grille, fastback shape, tall four-door sedan - I know what it reminds me of:
---
Out Of Its Element: Honda is discontinuing its homely small crossover at the end of the 2011 model year. First introduced as a 2003 model, the Rubbermaid-inspired CUV was a surprise hit. In its first year, over 67,000 were sold.
Sales averaged well north of 50,000 units per year during the first four years of its life.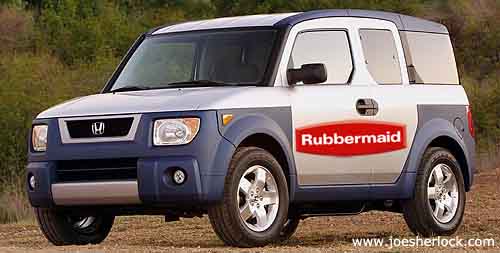 Then things headed straight down. Honda will sell around 14,000 of the little utilities in 2010. In comparison, the stylishly funky Kia Soul outsells the Element almost 5 to 1. Honda's offering is also handly outsold by fellow boxes-on-wheels, the Scion XB and Nissan Cube.
The Element was supposed to appeal to college students as a dorm room or party on wheels - binge drinking-related vomit could be easily hosed out of its elastopolymeric interior. But most actual buyers turned out to be garden club ladies, gray-haired geezers with dogs or aging boomers with a fetish for overbuying at Home Depot.
Apparently, everyone who wanted a chunky little Element has already bought one. Nevertheless, at the end of its run, almost 240,000 Hondaboxes will have been sold, which surely will have paid off all the tooling & development costs and then some. (posted 12/6/10, permalink)
---
Civic Duty: Over at The Truth About Cars, Paul Niedermeyer has written nostalgically about the second-generation Honda Civic.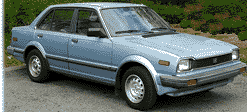 These were very nice cars. My brother owned a 1983 blue four-door sedan and kept it for 10+ years before passing it on to another relative after 127,000+ miles. It stayed on the road, ticking like a clock for many more years and miles. It may still be puttering around somewhere - I've lost track of it.
I once borrowed his Civic and found it to be a delightful car for a 150 mile day trip. The little 1500 cc, 67 horsepower engine had plenty of pep. The five-speed manual - unusual in those days - mated perfectly to the motor and the extra gear well a welcome addition for freeway cruising. Because it was light, the Civic was quite nimble and could run circles around my daily driver of the day - a wretched 1980 Oldsmobile Omega.
All Civic engines of the period used the then-novel CVCC design, which added a third valve per cylinder and utilized lean-burn swirl technology.
The Honda got great gas mileage - 40 mpg was not unheard of. The Civic was small on the outside - about the same length as an air-cooled Beetle - but was surprisingly roomy inside. Good packaging.
Today's Civic has suffered from Mission Creep and is a big, bloaty car, larger than the original Honda Accord. Honda, like many other automakers, seems to have lost its way. There is not as much nimbleness nor cleverness and the cars have gone mainstream in search of market share. That's sad. The old Hondas blended technical elegance with practical minimalism. And were great. (posted 12/16/10, permalink)
---
Loyal & True: Honda buyers tend to be brand-faithful. The top five auto brands for retention rate are Honda, Ford, Hyundai, Lexus and Toyota. All closely bunched in the 59-62% range. The bottom five in customer retention are Saab (4%), Jaguar (16%), Dodge (24%) and Scion (25%). The industry average is 48%.