---
Car Musings (2020)
---
Book Review: 'Why We Drive: Toward a Philosophy of the Open Road' by Matthew B. Crawford
Crawford is the author of 'Shop Class as Soulcraft'; I've quoted from that compelling book on several occasions. 'Why We Drive' is also a thoughtful and provocative read. I finally finished this 300+ page tome. I struggled through it off and on for over a week. This was not because it's poorly-written or dull. Rather, it was because the information presented was so dense. I would read a few pages and then have to stop and absorb the facts and ideas therein. And mutter 'Holy Cow' a lot. (Perhaps I'm the one who is dense.)

The book is about driving in a very broad sense. Early in the book, Crawford detailed an experiment which involved teaching lab rats to drive. He later discusses the history of the automobile and bemoans the fact that too many functional old cars are no longer driven, rather they are trailered to events and exhibited as "touring conversation pieces." True dat - such ss the fate of my old Continental Mark II.
Throughout the book, the false promises ... (more >>>)
---
Book Review: Tom Hartley The Dealmaker' - transcribed by Ken Gibson
I wouldn't normally be attracted to autobiographies of British used car dealers, but Tom Hartley is no ordinary bloke. He dropped out of school at age 11. He worked for his dad for a while - his dad sold carpets out of a van, although he later had a retail store. Well before he could even drive, Tom began buying cars from auto auctions, using his uncle as a front, and reselling them at a profit after minor repairs and detailing.
By age 17, he ... (more >>>)
---
Book Review: 'Nissan Z: 50 Years Of Exhilarating Performance' by Pete Evanow
Like many Japanese manufacturers, Nissan had a humble start in the U.S. In 1960, U.S. sales amounted to a mere 1,640 Datsun vehicles. The American branch hustled for sales, signing up used car dealers and gas stations. I remember having my VW Beetle serviced at a gas station/repair shop in the Philadelphia suburbs. A small addition had been made to the white-painted cinderblock building and a minuscule showroom added. It held a lone Datsun 1500 roadster inside. It was a nice little car, less-costly, better-looking and more reliable than its MGB competitor. I liked the guy who owned the shop and I hope he made a mint selling Datsuns. Many of his counterparts did; by 1970, Datsun's U.S. sales had reached 155,012. Buyers came from both coasts; the firm had little presence in the midwest.
This book is ... (more >>>)
---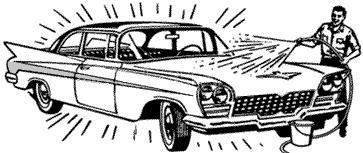 The Shining: The New York Times published an interesting article about the car wax/polish/cleaning business. It seems that Millennials find car care an annoyance and have little interest in spending Saturday mornings washing and waxing their automobiles. Unsaid is the fact that old timers like me and my car buddies have lost interest in crawling around on the ground intensively cleaning and detailing our four-wheeled possessions the way we used to. Age, arthritis and other infirmities cause us to wax less often and therefore buy less wax.
This presents a big problem for makers of car care products. "As baby boomer car buffs age out, Meguiar's and competitors such as Turtle Wax, Mothers, Collinite and others must court a generation that is the first to largely find car ownership a headache and driving a chore - and see cars as a encumbrance rather than a status symbol." Of course, improved and more durable auto paints have reduced the need for frequent waxing and polishing.
Incidentally, once a family-owned business, Meguiar's was sold to 3M in 2008, which explains why Barry Meguiar's 'Car Crazy' show can no longer be found on television. Meguiar's and Turtle Wax are the two top-selling brands in North America.

What we really need is a car that washes and waxes itself. You just know that car companies have the technology to do this. But the Motor Overlords have been paid off by the insidious Car Wash Trust. The plans are locked in a large vault in Detroit, along with the gas-from-water formula, the rubber recipe to produce 100,000-mile tire treads and the blueprints for the 600-horsepower, 100 mpg engine. And Harley Earl's cryogenically frozen head.
"For Turtle Wax, the warning came around 2013. "Our sales had started to soften," said Kelly Cagney, director of global brand strategy and marketing communications. In 2015 the company undertook a study that found a shift in attitudes between generations, but also within generations. One group saw car cleaning as a way to protect the value of their investment. They wanted fast, easy, inexpensive cleaning products. The other group were detailing devotees who still wanted to lovingly buff their rides to an attention-getting gleam, and were willing to pay to get it. The split was about 70 to 30."
R.J. de Vera, global customer engagement leader at Meguiar's, one of the largest car care product manufacturers, "had been observing a slow degradation since around 2007, as car show attendance dropped, car magazines collapsed and cars failed to capture the imagination of kids as they once did." "Even my nephews," he said. "I remember being 8 or 10 and really into cars, and they didn't care at all."
To attend to their longtime customers, the brands still place ads in print, radio and on TV shows like 'Graveyard Carz' on the MotorTrend Network, but necessity has also shifted them to other outlets that draw a male audience. Attracting younger buyers has required a strategic shift to social media, video gaming and events. Turtle Wax has been placing ads on YouTube, Facebook and Instagram, and in the past via Xbox. Meguiar's will have its brand appear in CSR Racing 2, a video game for mobile devices.
Over 70% of the car wax/polish market is for liquid product. The global car wax market is big - estimated to $750 million. These days, sales in China dominate the global car wax market.
When I was younger, I used to use Turtle Wax products and occasionally Meguiar's, which I discovered when the company gave away free samples at a car club meet. These days, I mostly use Nu Finish Car Polish liquid in the easy-to-find orange plastic bottle. It spreads easily, buffs to a high gloss (I use a power buffer) and lasts a long time. In the 1980s, Consumer Reports rated it as their top pick. Nu Finish is owned by conglomerate Energizer Holdings - the people who make Energizer and Eveready batteries, Rayovac lighting products and Armor All protectant. (posted 6/23/20, permalink)
---
Book Review: 'Junkyard: Behind The Gates At California's Secretive European-Car Salvage Yard' by photographer Dieter Rebmann and author Roland Lowisch
Entropy is all around us. Everything goes downhill; that's why there are graveyards for people and junkyards for cars. I once spoke with a curator at the Henry Ford Museum in Dearborn, Michigan about the one-off concept cars on display. He described their care as "controlled decay," explaining that everything deteriorates with time - leather, paint, etc. - even under museum-controlled air quality and lighting. These 1950s-era machines are being preserved as well as possible but decline is inevitable.
When new, exotic cars are a delight to their wealthy owners but, as they are driven, problems crop up, the owner tries of them and trades them for something newer. After multiple owners, the car is eventually wrecked, neglected or abused to the point where it is not worth fixing.
Even in really good condition, old exotics may not ... (more >>>)
---
Supreme Road Trip: Recently, my wife found the July 1958 issue of The National Geographic Magazine. Inside was a lengthy article by William O. Douglas titled 'West From The Khyber Pass'.
During the summer of 1957, United States Supreme Court Justice William O. Douglas, accompanied by his wife Mercedes and her friend Mary Watkins, drove from Karachi (Pakistan) to Istanbul (Turkey) in a 1956 Chevrolet 210 station wagon without air conditioning. Their route generally followed the southern edge of Russia. When they gassed up, it was often with poor-quality Russian gasoline. They drove over 6,800 miles, much of it over unpaved roads and encountered numerous car problems along the way.
I think that Douglas would have been better off traveling in a Mercedes (probably a Unimog 401 with closed cab) and accompanied by a wife named Chevy.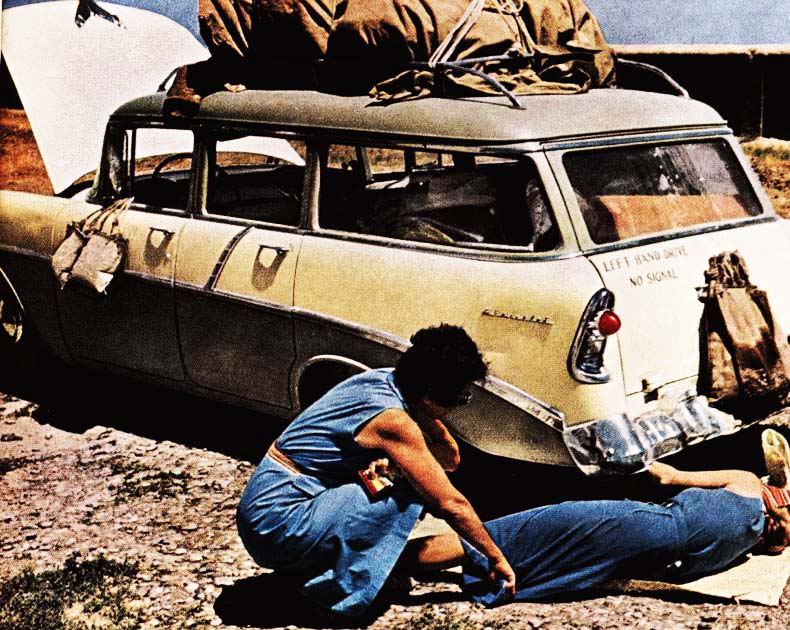 Flat on the ground, Mercedes Douglas braces a loose exhaust tip. Water bags for desert travel festoon the car. The stencil on the car's rear panel reads: 'Left Hand Drive … No Signal'.
---
From 1950 to 1961, Douglas traveled extensively in the Middle East and Asia. Douglas wrote many books and articles about his experiences and observations during these trips. Douglas said that travel gave him a world-wide perspective that was helpful in resolving cases before the Court. It also gave him a perspective on political systems that did not benefit from the legal protections in the American Constitution. He admittedly needed to make money from writing in order to make alimony payments to his first wife. Mercedes Hester Davidson was the second of Douglas' four wives. They were married from 1954 to '63.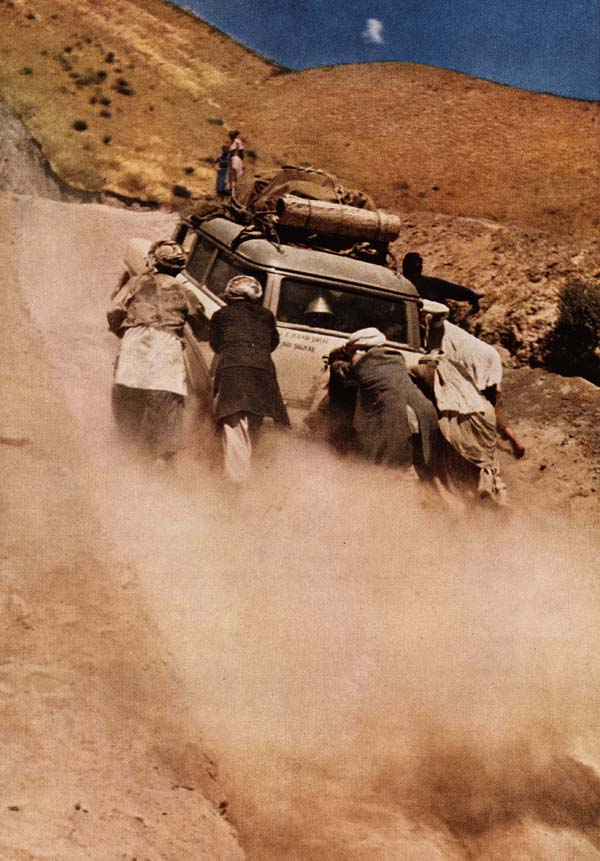 Turbaned Afghans push the Douglases' car up a slippery rutted hill. Across Afghanistan, the travelers fought loess, a wind-borne dust that plasters the roads in foot-deep deposits. Here spinning tires raise a swirling cloud that coats their car and clothes, penetrates suitcases and even sifts into cameras.
---
Mercedes was his de facto mechanic. Douglas had poor mechanical skills, admitting in the article that he "could barely tell one end of a screwdriver from the other." Mercedes, whom her husband described as having "a flair for machinery and a mind of her own," purchased and studied an auto repair manual and also took a mechanics course before the trip. She purchased a spare battery for the Chevy, as well as extra leaves for the Chevy's rear springs and bailing wire (which she later used to fix broken exhaust hangers) at the Peshwar bazaars "where hashish and opium - or even murder - can be bought," according to Douglas' article.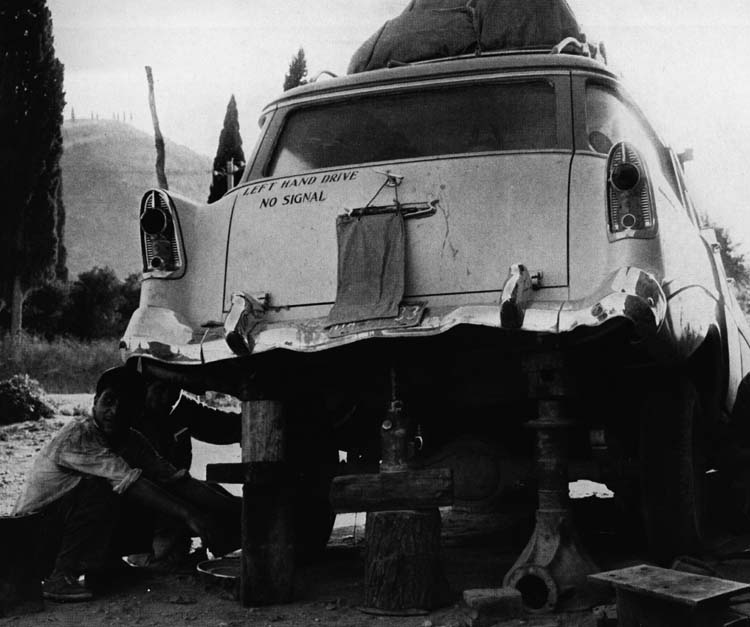 Four Iranian mechanics worked for four hours on the Chevy wagon - total cost $1.65! The Douglas party arrived in Belishahr just as the last drop of gasoline drained from a punctured tank. Garagemen jacked up the car, resting the rear axle on wooden blocks and other makeshift supports. Then they removed the tank, cleaned it, and welded the hole with an acetylene torch.
---
Automotive problems encountered during the trip included getting stuck in soft sand, several flat tires and discovering, during a trip through a narrow pass with a steep drop-off, that "vibration loosened the nuts which secured our control of the left front wheel." And: "As we motored through a narrow defile near Robatak (in the Fars Province of Iran), the searing heat of the canyon walls hit us like furnace blasts. A worse place for a blowout would be hard to imagine. The wheel lugs were too hot to touch; we had to use gloves."
During their travels, they met a number of dignitaries, including the Shah of Iran.
Supreme Court Justice William O. Douglas (October 16, 1898 – January 19, 1980) was quite a character and not always a pleasant one. He was appointed to the Court by Franklin Delano Roosevelt in 1939 and served until his retirement in 1975, following a disabling stroke. His 36+ years of service on the Supreme Court constituted the longest tenure in U.S. history.
He was often gruff and demanding. Mercedes Douglas Eicholz, Douglas's second wife, characterized her ex-husband as "totally insecure." (Mercedes helped edit his writing, as well as provided photographs for his books and for The National Geographic. She died in 2013 at age 96.)
His increasingly heavy drinking went hand-in-hand with Douglas's sour disposition and nonstop marital escapades. According to an article in The Nation, Douglas' third wife, Joan Martin - who was 41 years younger than her husband, claimed that he beat her up all the time. Less than two years after marrying her, Douglas dismissed Joan from his life, took up with an old Washington State girlfriend, Elena Leonardo, and then met Cathleen Heffernan, who became his fourth wife.
On July 15, 1966, 68 year-old Douglas married Cathleen Heffernan, then a 22-year-old student at Marylhurst College. They met when he was vacationing at Mount St. Helens Lodge, a mountain wilderness lodge in Washington state at Spirit Lake, where she was working for the summer as a waitress. (This was the lodge famously inhabited by crusty owner and caretaker Harry R. Truman, who refused repeated requests to evacuate the lodge during the volcano's tremors. He and his lodge became entombed by Mt. St. Helen's eruption in May 1980.)
Though the couple's age difference was a subject of national controversy at the time of their marriage, they remained together until his death in 1980. (posted 6/1/20, permalink)
---
Book Review: 'Faster: How a Jewish Driver, an American Heiress, and a Legendary Car Beat Hitler's Best' by Neal Bascomb
As a decade, the 1930s offered little joy to the world. There was a great depression which encompassed most of the world. There was a rise of dictators across Europe: Nationalist Franco in Spain, Fascist Mussolini in Italy and Nazi Hitler in Germany. The world saw the dark clouds of war begin to form. Germany became aggressive as it fought its way back from the Weimar Republic's worthless currency and restrictions under the Treaty of Versailles.
As Hitler rebuilt his country's military might and began to rattle his saber at Austria, Poland, Belgium, France and other countries, he also looked to promote the image of unconquerable Aryan superiority in sports, including motor racing. Germany long had a reputation for technical prowess in engineering, metallurgical and chemical development. These skills were applied to the development of advanced race cars, developed by Mercedes and Auto Union with government financial backing.
The mighty Mercedes W154 racer was powered by ... (more >>>)
---
Backyard Geniuses: Dave Burge observed, "For my money, the coolest 1950s small block Chevy-powered Ford hot rod was Duffy Livingstone's 'Eliminator', a Model T roadster with a beefed-up Chevy 283 that regularly smoked brand new Ferraris on road courses."

"That's the spirit of hot rodding distilled: one guy with a garage, ingenuity, ambition, and a pile of junk parts beating the pants off some rich boy's store-bought Spaghetti GTO."
That would also apply to Max Balchowsky's Old Yeller, a homemade race car powered by a Buick nailhead V8. (posted 5/5/20, permalink)
---
Who Buys Car Parts From China? This graph shows purchases by country: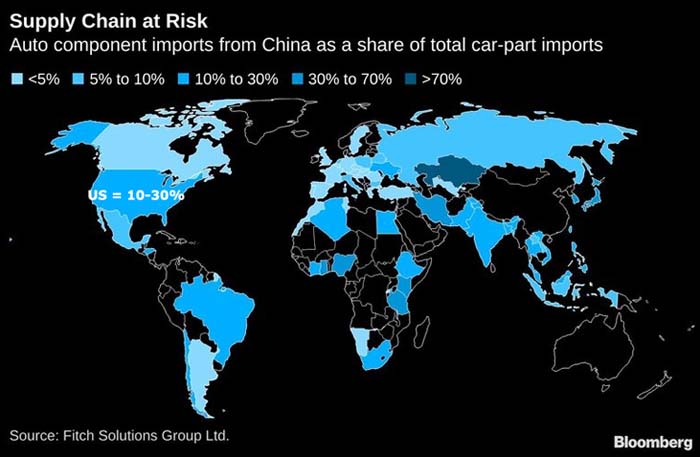 The U.S. currently imports 10-30% of its auto components from China. I suspect this will decrease substantially in the future. (posted 4/22/20, permalink)
---
Big Butch Grilles: The first American production car that I remember with a big, gaping grille was the 1957 Chrysler 300C. It's yawning, air-sucking proboscis differentiated it from other Chrysler models, such as the Windsor, Saratoga and New Yorker models.

These lesser Chryslers had less-powerful engines and were equipped with smaller conventional grilles. The 300C grille was inspired by stylist Virgil Exner's concept cars such as the Dodge Firearrow IV.
Big, manly grilles made a comeback in 2005 at Audi, Chrysler 300 and Dodge Magnum passenger cars. Of course, SUVs, especially luxury SUVs such as the Cadillac Escalade (introduced as a 1999 model) and Lincoln Navigator (debuted in 1998 model year), have always had large, attention-getting grilles
Now, it seems like half the cars made have oversized, almost comical grilles:


(posted 4/9/20, permalink)
---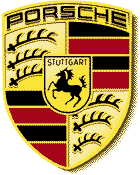 Book Review: 'Cranswick On Porsche: A Modern Interpretation of the Porsche Story' by Marc Cranswick
Car enthusiasts generally have universally positive impressions of iconic vehicles such as old Jeeps, Corvettes that are 50+ years old, vintage Jaguars, pagoda-roofed Benz SLs and the like. Most will agree that Porsche is an iconic brand but reactions to the marque vary from adoration, to indifference, to outright dislike.
Most books written about Porsche are fawning billet doux. Marc Cranswick has penned a Porsche history that doesn't hide the flaws, while still giving the brand its proper due. He acknowledges that early Porsches - up to and including the early 356 models - had a lot of Volkswagen DNA in them yet they cost 2-3 times as much as a Beetle. I still think of the early models as glorified, squashed VWs.
On the other hand, the 911 was a beautiful ... (more >>>)
---
When Oldsmobiles Were Rocketing: John Crisconi's Oldsmobile dealership was located at 1155 S. Broad Street in Philadelphia when ... (more >>>)
---
Nun Wagons: Last month, car blogger Jesse Bowers posted a photo of a group of nuns in a dark-colored 1964 Ford Country Sedan 9-passenger station wagon. A sister standing outside the Ford is being presented with the keys to the convent's new ride.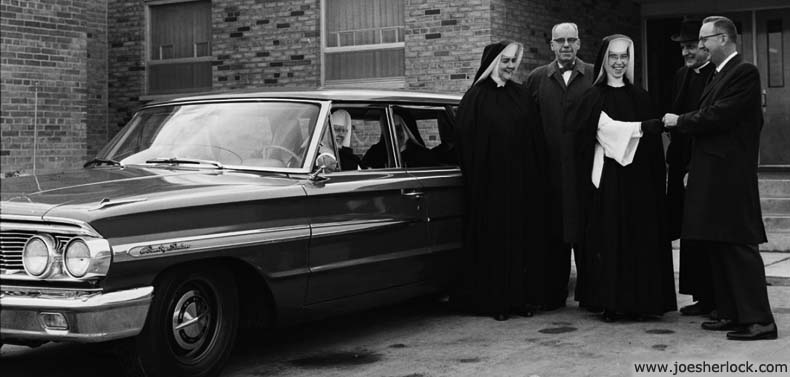 Catholic nuns riding in large station wagons were a common sight in Catholic-heavy East coast cities such as Philadelphia. The wagons were usually ... (more >>>)
---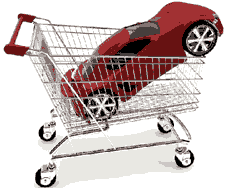 2020 Consumer Reports Annual Auto Issue: Consumers Union began as a socialist organization in the 1930s and was once declared a subversive organization by the House Un-American Activities Committee. They still come off as a bunch of anti-capitalist lefties sometimes but Consumer Reports magazine remains the most comprehensive and believable of vehicle reliability surveys. This year's issue seemed to offer fewer data and more opinion than in prior years.
CR's database comes from vehicles owned by subscribers who fill out Consumer Reports' annual survey. Cars which are awarded the coveted Top Picks or Buy Recommendation now only need to score 'average' in reliability. This was not always the case.
Here are some interesting tidbits from CR's April Annual Auto Issue (which now hits newsstands around March 5th):
• I am astounded by the range of vehicles to choose from these days. I once fancied myself as a car guru who knew exactly what a vehicle was when someone mentioned it. Now I don't even recognize some of the model designations. What the hell is a Hyundai Venue?

• Despite the variety of models, most vehicles - especially SUVs - look the same. Whatever happened to individuality and style?

• There are some vehicles which have dismal reliability but owner satisfaction is quite high. There are some obvious ones, such as the Alfa Romeo Giulia, Chevy Camaro, Jeep Wrangler and Tesla Model X. But some unexpected cars, with poor reliability but high owner-love include the Audi A6sedan, BMW X5 and X7 SUVs, Chevy Traverse SUV, Chevrolet Silverado 1500 pickup, GM Sierra 1500 pickup, Lincoln Nautilus SUV and Ram 1500 pickup.

• On the other hand, there are vehicles which CR doesn't rate too badly but owners hate them. They include the Civic-based Acura ILX and TLX sedan, the Infiniti Q50, QX50 and QX60, Honda HR-V, Kia Cadenza, Lexus IS 300 and NX 300h, Mazda CX-3 and Toyota C-HR.

• Genesis vehicles still sell poorly, despite good marks from CR's testers and owners who are very satisfied with their purchases.

• Some vehicles are just awful - poorly-rated by CR and having very dissatisfied owners. The list includes Fiat 500L and 500X, Dodge Journey, Ford Fiesta, Land Rover Discovery and Discovery Sport and the diesel version of the Nissan Titan.

• The magazine lists how vehicle brands stack up overall, based on performance, reliability and owner satisfaction. The top five spots are held by Porsche, Genesis, Subaru, Mazda and Lexus. The bottom spots were awarded to Fiat, Mitsubishi, Jeep, Land Rover and Cadillac. Lincoln scored at spot number 13, just below Toyota.

• Amazingly, for a Fiat-Chrysler product, the Dodge Challenger has a much better than average reliability. I guess that, after 12 years, they've finally worked out all the bugs. On the other end of the scale, every Land Rover model had much worse than average reliability.
I still put much stock in Consumer Reports' comprehensive vehicle survey data analysis. I recommend that you pick up a copy of the April issue for reference while it's still available. (posted 3/20/20, permalink)
---
Cadillac Woman: 1950s cultural icon Marilyn Monroe began as a pin-up girl and soon got acting parts in movies, often playing comedic blonde bombshells. Her breakout films, 'Gentlemen Prefer Blondes' and 'How To Marry A Millionaire', were both released in 1953. The money from these films allowed her to purchase her "little whim," a black 1954 Cadillac Series 62 convertible. Second husband Joe DiMaggio gave her a Cadillac Eldorado during their brief marriage (1954-55).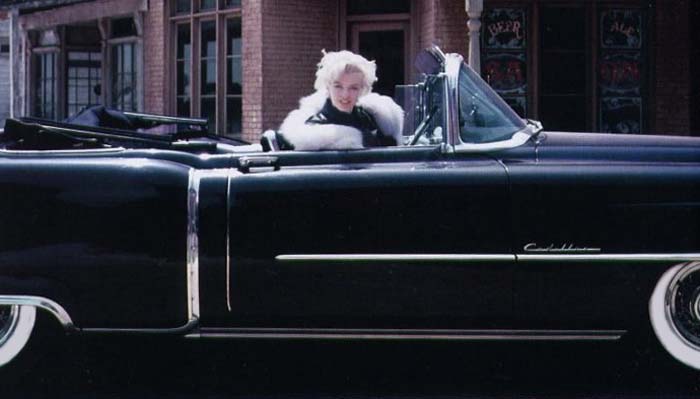 Most of Marilyn's cars were black or white. She owned a Land Rover Series I which she used during her getaways to the Nevada desert.
"From her five years of marriage with the writer Arthur Miller, a beautiful Jaguar XK140 cabriolet appeared in Marilyn's garage. However, she was not very fond of European cars despite also owning a Mercedes 220 S Cabriolet." She was said to be very fond of her black 1956 Ford Thunderbird, also a gift from Miller.

In late 1955, Fox awarded her a new contract, which gave her more control and a larger salary. Her subsequent roles included a critically acclaimed performance in 'Bus Stop' (1956) and her first independent production in 'The Prince and the Showgirl' (1957). She won a Golden Globe for Best Actress for her work in 'Some Like It Hot' (1959), a critical and commercial success. After her last completed film, 'The Misfits', released in 1961, Chrysler gave her a new 1962 white 300 convertible.
Sadly, Ms. Monroe was found dead from an overdoes of barbiturates on August 5, 1962. (posted 3/16/20, permalink)
---
Book Review: 'Formula One: The Champions - 70 Years Of Legendary F1 Drivers' by Maurice Hamilton
Please don't pass this book off as a slapped-together coffee table book about Formula 1 racing. At 10.5 x 12.5 inches, it may indeed be coffee table-sized but it is far more. Author Maurice Hamilton has provided biographies and accomplishments of 33 men who have attained F1 World Champion status. The bios, while brief, are well-written and provide the necessary details for each individual.
More importantly ... (more >>>)
---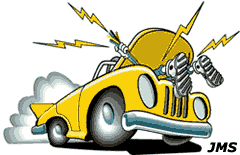 Bumpy Road: Recently, Via magazine published an article by Bradley Berman, titled 'The Road To Electric'. The author is an electric car early adapter and writes about BEVs for several publications.
In this article, he chronicled a trip from Northern California to the southern Oregon coast in an Audi E-Tron. Part road test, part travelogue and part electric car cheerleading, the article revealed a lot to me about the state of electric vehicles today. And I was unimpressed.
Berman began his odyssey by charging his Audi-supplied test vehicle overnight on his 240-volt home charger. The charger added about 25 miles of range per hour of charge. The E-Tron provided 204 miles of range per full charge. On the first day, the author used a phone app to find a charge station near a restaurant at lunchtime. Using a 50 kw charger, he was able to add 90-100 miles of range with a 30 minute charge. Occasionally on his travels, he'd encounter a more powerful 150 kilowatt charger, which could add 165-miles of range in 30 minutes.
As I read the article, all I could think of was that in our internal combustion-engined daily drivers, I can easily add 400-plues miles of range in a less-than-five minute fuel up at any gas station. Who wants to wait a half-hour (or more) to top-off one's BEV? And I don't need an app to find a gas station. You can find them in almost any town and at just about every interstate exit. Plus, I don't let my fueling-up chores determine my restaurant choices.
Except for city-only driving, electric cars have a long way to go before they become mainline vehicles. That's why pure-electrics represent less than 1% of overall vehicle sales.
In related news, Audi temporarily idled production of its E-Tron electric crossover in late February, due to battery shortages. "Audi sold more than 26,000 E-Trons in 2019, including the more than 5,000 examples that were sold in the United States." (posted 3/2/20, permalink)
---

Wolfsburg Woes: Corey Lewis at TTAC wrote an interesting tale about quality problems on his Volkswagen Golf Sportwagen. It took four trips and 27 days to get the problem sorted out, with a lot of frustration along the way.
In the 1960s, VW was held up as a the pinnacle of quality. But the reality was a little different.
Consider this: if Ford Motor Company had focused on making nothing but the '40 Ford (in two models only, a sedan and convertible) and made only minor changes to it until 1967, I submit that, by the late-1950s, your newly purchased 1940 Ford would have been The Best-Built Car You've Ever Owned.
When VW switched to water-cooled cars, it was a quality disaster, as I found out from my 1976 Scirocco ownership experience.
Volkswagen has made bad cars for decades and has never taken steps to remedy its numerous build-quality and reliability problems. (posted 2/27/20, permalink)
---
AutoSketch: 1979 Lincoln Town Car - The Last Giant

Lincoln downsized the Town Car in 1980, reducing overall length by 14 inches. Cadillac downsized its full-size sedans and coupes in 1977; the last big Chrysler C-body was the 1978 model. Therefore, the '79 Town Car was truly the last of the gigantic American luxury cars, with an overall length of 233 inches.
In 1970, the Town Car designation was used to denote a trim package option, including leather seating surfaces and deeper cut-pile carpeting. For 1971, a limited-edition (1,500 produced) Golden Anniversary Continental Town Car commemorated the fiftieth anniversary of Lincoln. For 1972, the Town Car was introduced as a sub-model of the Lincoln Continental model line. On nearly all examples, a vinyl top covered the rear half of the roof, with a full-length configuration optional. A raised molding over the roof incorporated coach lamps on the B-pillars. As part of the 1975 redesign of the Lincoln roofline, the Town Car adopted the oval opera windows of the Mark IV coupe.
Sales rose substantially in 1977, when the Lincoln Continental Town Car was given the upright Rolls-Royce-style grille similar to the ones used on the Mark Vs. Lincoln sales grew by over 53% in the 1977 model year. Changes between 1977 and '79 were relatively minor. Town Cars of that era rode on a 127.2-inch wheelbase and weighed over 4,600 pounds. In 1979, pricing for four-door Town Cars began at ... (more >>>)
---
Corona Effect: People in China are spending their money on face masks, food and toilet paper, not automobiles. "The China Passenger Car Association now says the country of 1.45 billion saw new vehicle sales plunge 92 percent in the first half of February. In the first week of the month, sales were off 96%. That's 811 daily sales in a country with a population topping that of Europe and the United States combined."
Meanwhile, organizers of the Beijing Motor Show announced they are postponing their event, originally scheduled for April 21-30, due to the outbreak of novel coronavirus.
China commerce has come to a screeching halt. Products and components are not being manufactured. Many factories have been forcibly shut down. Others claim to be open for business, but employees are failing to show up. It all adds up to a major threat to global supply chains.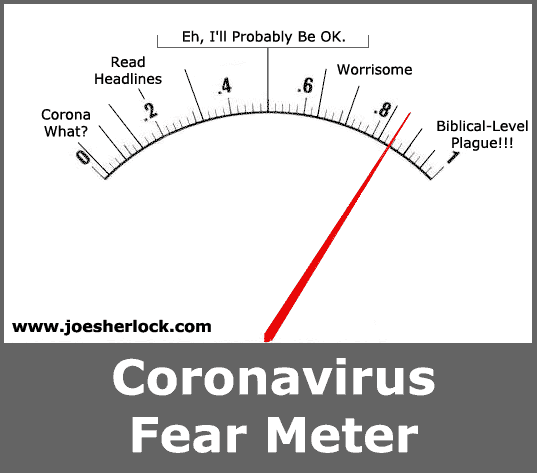 Jaguar and Land-Rover claimed that they will soon shut down their assembly lines because they can't get critical components made in China. Reportedly, some GM models are facing the same problem. In addition, any company which sells product in China is going to see a big drop in first quarter sales. Second quarter … who knows?
The U.S. stock market has been dropping because reliable information about the state of contagion in China is not available. The spread of the virus to so many countries means that we are in a probable pandemic, although the World Health Organization is reluctant to admit this. The market hates uncertainty. If you must buy stocks, U.S. companies that make things such as Purell, Lysol, toilet tissue, face masks and the like are probably a good bet. (posted 2/25/20, permalink)
---
If You Live On The West Coast, You May Have Never Heard Of This: Back East, toll roads and bridges are in abundance. Many bridges used to cost 25¢ to cross and, before the 1980s, the entire Garden State Parkway in New Jersey had 25¢ toll booths every five miles or so.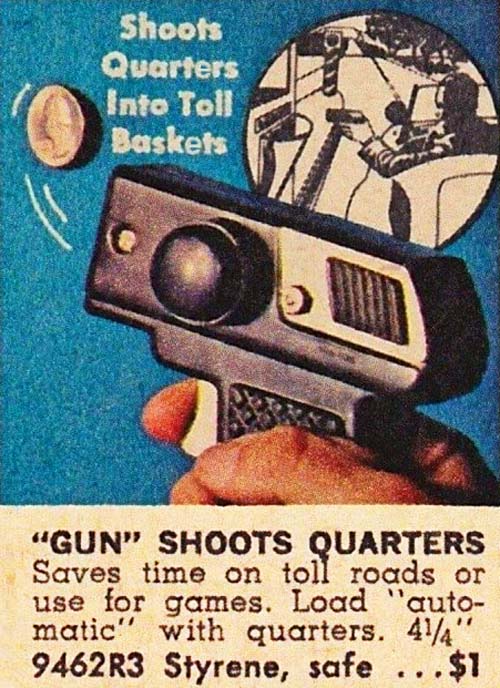 The Toll Gun allowed drivers to shoot quarters into the coin basket without coming to a full stop. The problem was that, if you drove too fast through the toll booth, you'd trigger alarms because you'd cross the metal treadle before the coin went into the slot at the bottom of the basket. This would trigger loud alarms and flashing lights at the booth, as well as the attention of law enforcement - if any cops were nearby.
I knew of a guy who claimed he could hit the basket with his gun at speeds of 25 mph. But he always triggered the alarms and couldn't prove to cops that he'd actually paid his toll. (posted 2/17/20, permalink)
---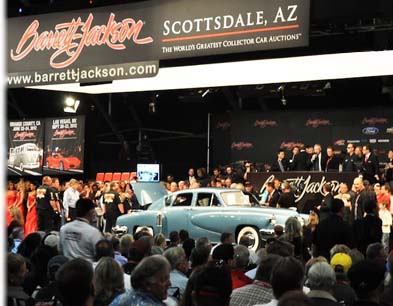 2020 Scottsdale Auctions: F. Scott Fitzgerald once wrote, "Let me tell you about the very rich. They are different from you and me. They possess and enjoy early, and it does something to them, makes them soft, where we are hard, cynical where we are trustful, in a way that, unless you were born rich, it is very difficult to understand."
Yes, the rich are indeed different. Someone who pays millions for a single Ferrari does not just have one collector car. Or one Ferrari. Typically, he has a collection - 20 to 50 cars. He employs several mechanics just to care for them. Often, such folk own a tricked-out enclosed car carrier to transport their prized vehicles to shows. It's fair to assume that this person's collection is worth north of $30 million. The kind of person who has such a collection is quite rich, probably worth a half-billion or more.
This is a lot different than the middle-aged car guy who owns one or two old cars. Such guys (and almost all car collectors are guys) treasure their automobiles and keep them for a long time. They're not particularly interested in trading up or in optimizing the investment value of their vehicular portfolio.
Looking at the televised Barrett-Jackson events, I'd guess that the age of the average seat holder was 50-65. Hemmings Motor News used to claim that its average subscriber was 52 years-old. And that number didn't change much from decade to decade. It makes sense: By one's early 50s, the kids are out of college and out of the house, the mortgage is shrinking (or paid off) and it's usually peak income time at work. This adds up to Disposable Income to spend on various toys. And this year, there seemed to be a lot of disposable income for some people.
Hagerty reported that "2020 Arizona Auction Week - a 'week' that actually encompasses ten days - concluded Sunday with $244.1 million in overall sales. This is a 3% decrease from 2019's $251M tally, despite an additional 574 cars being sold (a 17% increase)."
Gooding & Company scored the biggest sale with a $3.2M 1995 Ferrari F50.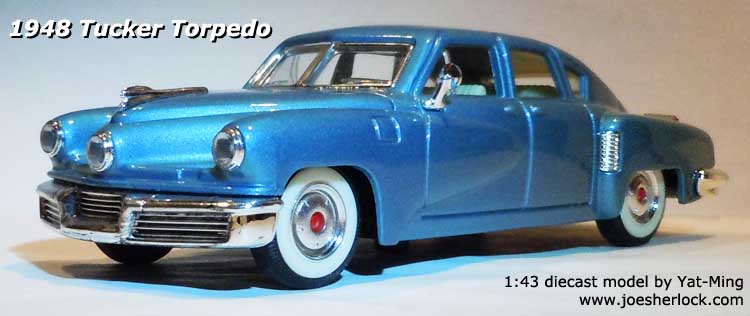 A blue 1948 Tucker Torpedo 48 went for $2.04 million. Gooding also sold a 411-mile 1974 Volkswagen Karmann Ghia coupe that set a record for the model at $86,800. The auction firm also sold a black 1932 Hispano-Suiza J2 Dual Cowl Phaeton for $2.425 million.

At Worldwide Auctions, a ruby red 1936 Auburn 852 Supercharged Boattail Speedster sold for $880,000 and the newly-restored, one-off, Ghia-built 1956 Chrysler Plainsman Station Wagon concept show car went under the gavel at $742,500.
A 1957 DeSoto Adventurer convertible sold for $165,000. The '57 model cost $4,272 when new. No one wanted DeSotos when Chrysler made 'em; now they're a hot auction item.
At RM Sotheby's, a 2018 Pagani Huayra Roadster sold for $2,370,000 and a 1971 Lamborghini Miura P400 SV Coupe sold for $1,391,000. A black 1930 Cadillac V16 Sport Phaeton four-door touring car brought $1.105 million.
Bonhams sold a Light Ivory Cream 1986 Chrysler LeBaron Town & Country convertible owned by Lee Iacocca's estate for $19,040.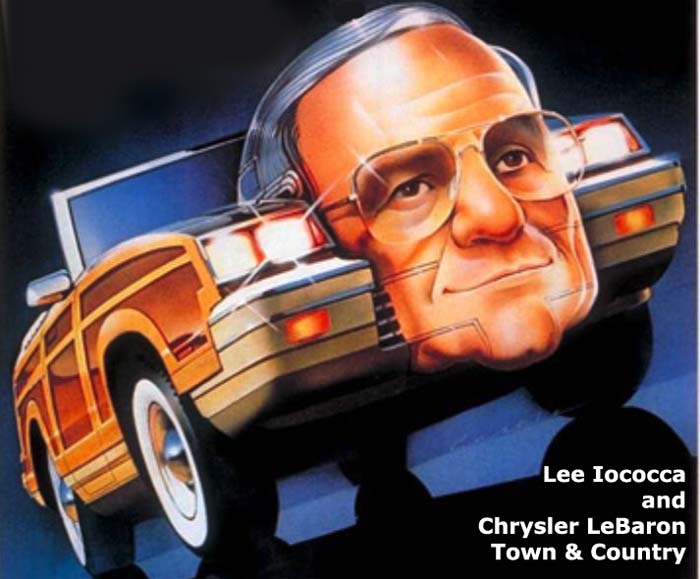 The K-car based woodie is powered by a 146 horsepower turbo-four engine and was one of only 501 made in '86. Lee's car has "less than 20,500 original miles" and the digital dash still works. It also was equipped with fake wire-wheel wheelcovers.
Portions of the Barrett-Jackson auction were televised. I binge-watched them so you didn't have to. Here are some of the vehicles that caught my eye:
• A very-rare white 1934 Pierce Arrow Silver Arrow two-door fastback coupe sold for only $160,000. Less than fifty were produced and only 11 are known to still exist.

• A silver 1937 Cord 812 Beverly four-door humpback-trunk sedan with dual sidemounts, armored construction throughout (probably the only 812 ever armored), a nice blue leather interior and powered by a Lycoming V8 engine coupled to a four-speed transmission, sold for $120,000.

• A cream-colored 1947 Lincoln Continental cabriolet, with saddle tan leather interior and correct V12 engine, crossed the block at $25,000. Twenty years ago, such LC convertibles sold for $45-75,000.

• A black 1948 Mercury woodie station wagon sold for a quite reasonable $54,000. In 2012, a maroon '47 example fetched $79,750 at the Monterey RM auction.

• A dark green 1948 Packard Standard 8 woodie station wagon (with a plaid cloth/green leather interior) found a buyer at a surprisingly low price of $24,500.

In 2015, at the Monterey B-J auction, A black 1948 Packard wood station wagon went under the hammer at $50,000. In 2013, Barrett-Jackson sold a professionally-restored dark green 1948 Packard Bathtub Woody wagon for $85,000. I see a downward trend here.

• A 1950 Ford Custom Deluxe convertible in Cambridge Maroon with a black top sold for $40,000.

• A light blue 1953 Packard Caribbean convertible with a white and blue leather interior and factory Continental kit, sold for $75,000. 1953 was the Caribbean's first year of production. Only 750 were produced at a $5,210 each. Each was handbuilt with sectioned Packard bodies, hand-cut rear wheel openings and hood scoop.

• A light blue 1954 Chrysler New Yorker four-door sedan, once owned by eccentric billionaire Howard Hughes and equipped with a gigantic air purification system that filled most of the trunk, fetched $115,000.

• A red 1954 Jaguar XK120 roadster fetched $140,000. In '54, you could buy one new for $3,140.

• A black-over-yellow 1954 Taylor Aerocar flying car, developed by Moulton Taylor of Longview, WA, sold for $650,000. Only six were made over a four decade period. Nine years ago, this car - maintained in flying condition - was offered for sale at an asking price of $1.25 million. Somebody got a bargain.

• A cream-colored 1955 Cadillac Eldorado convertible with a cream and red leather interior crossed the block at $100,000.

• A very ugly 1955 Chevrolet Nomad wagon, heavily customized, bestowed with the moniker, 'Gone Mad', and with nary a speck of chrome (all brightwork was painted), done up with a bilious green and matte copper paint job and equipped with a 509 cubic-inch all-aluminum Chevy V8 engine mated to a 4-speed automatic, was sold for a whopping $300,000 to some individual, who clearly had absolutely no taste.

• A nice-looking, salmon-colored 1955 Lincoln Capri convertible, with white and salmon leather interior, crossed the block at $32,000 - a swell drop-top for the price, in my view.

• A very nice red 1956 Ford Thunderbird, with a modernized front suspension and aftermarket porthole top but otherwise stock-looking with period-correct wire wheels, sold for a remarkably-low $29,000. Nice examples sold for such prices twenty-five years ago.

• A white, red and black 1955 Packard Caribbean convertible with correct red, white and black leather interior sold for a mere $36,000.

Somebody got a great deal on a very nice car. In 1955, this car cost buyers a hefty $5,932 new.

• A perfectly-restored 1957 Chevrolet Bel Air convertible, painted metallic bronze with a tan top and equipped with a Rochester fuel-injected 283 V8 engine mated to a 3-speed manual transmission, fetched $145,000.

• A 1958 metallic red Chevrolet Impala coupe (with a 4-barrel 348 cu.in. engine and automatic transmission) gaveled down at $41,000, while a metallic blue convertible sold for $145,000.

• A wildly-customized 1959 Cadillac Eldorado Nomad-inspired station wagon, called 'CadMad', painted in pinkish-bronze with a gray roof and powered by a 632 cubic-inch V8 went under the hammer at $275,000.

• A silver 1962 Chevrolet Impala convertible (with red interior), powered by a 409 engine hooked to a 4-speed floorshift, crossed the block at $100,000.

• An Oslo Blue 1962 Porsche 356B cabriolet with a red leather interior and period chrome wheels went under the gavel for $235,000.

• A red 1964 Jaguar E-Type convertible with factory wire wheels sold for an even $100,000.

• A James Bond-like silver 1965 Aston Martin DB5 coupe sold for $600,000.

• A 1965 white Ford F-250 Good Humor ice cream truck fetched a cool $49,000.

• A white-over-blue 1967 Volkswagen 21-window Microbus with the split-windshield design crossed the block at $73,000. A black-over-red 1958 Microbus sold for $90,000- and it didn't even have whitewall tires!

• A triple-black 1967 Lincoln Continental four-door convertible sold for a whopping $77,000. In 2012, a triple-black 1965 example did not sell at a high bid of $42,000 at Barrett-Jackson's Monterey auction. Heck, I can remember when you could buy a fine specimen for $12,000 or so back in the late '80s or early '90s. Later, a 1966 black example (with a red leather interior) crossed the block for $110,000. Mind boggling.

• A Georgian Silver 1980 Rolls-Royce Corniche convertible, with a black leather interior - once owned by Rat-Packer Dean Martin, fetched a cool $100,000. Between 1971 and 1987, a total of 3,239 Corniche convertibles were produced. Ol' Dino bought his from Rolls-Royce of Beverly Hills on February 11, 1981.

• A silver 1999 Shelby Series 1 two-seater roadster (with a 320 hp Oldsmobile Aurora V8 engine) sold for only $70,000. Another silver example with red racing stripes sold for $115,000. Only 249 Series 1s were produced.
Twenty-one vehicles owned by the late actor Paul Walker, who starred in the popular 'Fast and Furious' movie franchise, sold for a combined $2.33 million. An Alpine White 1995 BMW M3 Lightweight fetched the top single price of $385,000 in Walker's collection.
Barrett-Jackson also sold several pieces of automobilia, including a colorful neon Republic Oil Supply Company sign which fetched $51,750 and a perfectly-restored 1930s-era blue & white Ford V8 neon and porcelain 76" x 80" sign that brought in $29,900.
Money-wise, the 2020 Scottsdale Auctions demonstrated that there are plenty of dollars around and the collector car market is not dying off. People are feeling optimistic about the future and the very wealthy don't seem to have a care in the world. Because, they're different from you and me. (posted 1/22/20, permalink)
---
Book Review: 'Those Were The Days ... The American Dream: Chevrolet Impala 1958-1970' by Norm Mort
As I've mentioned before, "Those Were The Days …" is a series of small (7.5 x 8 inches), 100 or so page, softcover books about specialty automotive subjects. The books are moderately-priced ($25) and chock-full of photos, mostly in color.

The Impala name was first used in 1956 on a 4-5 passenger one-off, concept car - the Corvette Impala. This GM Motorama show car featured a Corvette-style grille and a C-pillar/rear window treatment similar to the production 1958 Impala. Otherwise, the concept car and production car had little in common.
General Motors introduced the production Impala in 1958 as a ... (more >>>)
---
2019 U.S. Vehicle Sales: For the fifth year in a row, U.S. auto sales topped 17 million vehicles - finishing at 17.11 million. Purchases of new vehicles in 2019 declined slightly from the previous year's 17.3 million units. Since reaching a peak of 17.5 million in 2016, total U.S. sales have declined by 2.5%. There were sales declines at big manufacturers such as Fiat-Chrysler (down 1% at 2,203,663 vehicles, 23% of production went to fleets), Ford and Toyota. General Motor's deliveries fell 2% for the year, to 2,887,046 vehicles in 2019. Crossover deliveries totaled 1,165,769 for the year, up 13% versus 2018. A strong economy led to solid consumer confidence, and in turn, a surprisingly decent year for automakers and dealers.

"It's just interesting ... you take that uncertainty they have dealt with and everything that's been going on, and they have cranked out another 17 million-plus in sales," said David Kudla, CEO of Mainstay Capital Management LLC. "As long as the economy is good ... the demand is going to be there."
The year was also dominated by SUVs, which are expected to take more than 50% market share for the first time ever during the fourth quarter. In a level not seen since 2005, pickup trucks are likely to hit a market share above 19% in the quarter. Meanwhile, the market share for passenger cars, which Detroit automakers have slashed from the lineups, is expected to hit an all-time low of about 26% in the fourth quarter, according to Edmunds.
In a declining sedan market, Toyota Corolla sales rose slightly to 304,850 units, making it the only Toyota-badged non-SUV to see a yearly gain. With flat sales, Honda Civic volume amounted to 325,650 units - some 110 vehicles below 2018's total. The model's high water mark came in 2017, when Civic sold over 377,000 vehicles in the U.S. The Honda nameplate's overall sales 1,450,785 vehicles, down fractionally from last year.
Sales at General Motors fell by 2.3% to 2.89 million vehicles. Of that total, nearly a million were light trucks and more than a million were crossovers like the Chevy Equinox (346,048), Traverse (147,122) and the miniscule Trax (116,816). Combined sales of the company's two full-size pickups, the Chevy Silverado and GMC Sierra, totaled 802,962 for the year, down fractionally year over year - bolstered by strong sales of the GMC Sierra LD half-ton model (up 8%). Chevrolet brand sales dropped by 4% to 1,958,925 units.. GMC sales increased 2% to 564,946 trucks/SUVs, while Buick sales were flat at 206,020 units. Cadillac sales increased 1% to 156,246 vehicles.
Ford Motor Co. reported F-Series pickup sales were down 1.4% for the year. Total sales for the F-Series and Ranger totaled 986,097. For the full year, Ford-brand SUV sales were down 8% while Lincoln-brand sales are up over 17%. Overall, Ford sales dropped 4% to 2,310,494 vehicles while Lincoln sales rose 8% to 112,204 vehicles.
For the year, total FCA sales were down 1% to 2.2 million vehicles. Fiat sales plummeted 41% to only 9,200 vehicles. 28,393 Alfas found homes, a drop of 23%. Chrysler - which is now pretty much a minivan brand (97,707 Pacifica vans vs. 29,213 '300' sedans) - experienced a sales decline of 24% to 126,971 vehicles. Dodge sales declined 8% to 433,866 units. Jeep sales - which had been FCA's sales star for years - declined 5% to 923,291 utilities. For the first time in history, Fiat Chrysler's Ram pickup brand outsold the Chevrolet Silverado, racking up 633,694 full-size truck sales in 2019 (an 18% increase) to Chevy's 575,600 (a 2% decrease).
Toyota division reported sales of 2,085,235 vehicles, down 2%. 2019 sales of the RAV4 crossover marked all-time best ever - up 5% to 448,071 SUVs. The RAV4 was Toyota's top-selling model for 2019 followed by the Camry sedan. Camry sales declined 2% to 336,978, while Avalon sales dropped 17% to 27,757 sedans. Total Toyota division hybrid sales were up 26% for the year.
Nissan's U.S. sales hit a five year low. 2019, the sales declined 10%. The Nissan division's 1,227,973 U.S. sales last year ranks lower than any of the previous five years. (2017 was the brand's U.S. high water mark.) Nissan brand sales declined 9% in 2019.
Subaru of America sold 700,117 vehicles in calendar year 2019 (up 3% over 2018), making it the best sales year in the brand's U.S. history. Ten years ago, Subaru sold just 216,652 vehicles. For the year, Hyundai sold 688,771 vehicles - up 3% and the best calendar year total sales since 2016. Kia sales came in at 615,338, a rise of 4%. Sales were helped by Hyundai and Kia's two big SUVs, the Hyundai Palisade (28,786 units) and its cousin Kia Telluride (58,604 examples). The Teluride looks more luxurious and has more presence than an Escalade. Kudos to the stylists who created it.
Volkswagen sold 363,322 units last year, an increase of 3% over 2018. Mazda sales declined 7% to 278,552 vehicles. Mitsubishi sales were 121,046, a 3% increase over last year. Volvo sold 108,234 units in the U.S. last year - a rise of 10%. Mini sales were 36,092, a drop of 17% from the prior year. Only 680 Smart cars found U.S. buyers in all of 2019 - a decline of 47%.

In the luxury nameplate field, Mercedes-Benz was king, selling 357,729 vehicles, up 1% over 2019. BMW sold 325,926 units - a 4% rise over last year. Lexus reported sales of 298,114 vehicles, down fractionally from 2018. Audi sales rose fractionally in 2019 to 224,111 vehicles. Tesla claimed U.S. sales of 223,200 electric vehicles, a leap of 35% over last year. (Tesla reported global deliveries at 367,500.) 157,365 Acuras (mostly SUV models) found homes in 2019, down 1% from last year. Infiniti moved 117,708 vehicles - a drop of 21% and well behind its annual volume 5 years ago. Land Rover sales were 94,736 - an increase of 3% over 2018. In 2019, Porsche sold 61,568 units, an 8% increase. For the year, Jaguar sold 31,051 vehicles in 2019, an increase of 2% from last year. Genesis sales rose 106% to 21,233 vehicles. Maserati sales declined 1% to 11,100 vehicles.
Bentley sold 2,028 vehicles in 2019, a decline of 2%. Lamborghini sold 2,784 Lambos, a whopping 75% increase over 2018. McLaren sold 2,286 sports cars in 2019 - a jump of 67% from the previous year. And Rolls-Royce sold 1,320 Rollers to rich folks - a rise of 2%. (posted 1/10/20, permalink)
---
Asymmetrical: The 1960 Plymouth XNR was a one-off concept car. Designed by Virgil Exner, the red sports roadster was based on the Plymouth Valiant chassis and was developed to show off Chrysler Corporation's new overhead-valve Slant Six engine.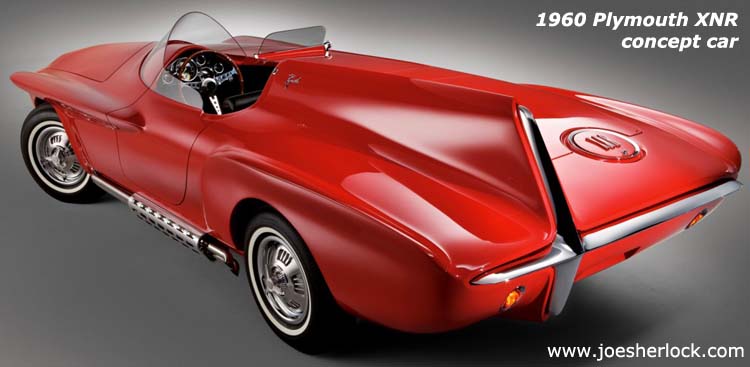 The car was built by Carrozzeria Ghia in Italy. After it completed the U.S. auto show circuit, it was ... (more >>>)
---
Earlier Car Musings can be found here.
---
Other Pages Of Interest
| blog: 'The View Through The Windshield' |
| greatest hits: various essays & articles | blog archives | '39 Plymouth | model train layout |
| about me | about the blog | e-mail |
copyright 2020-21 - Joseph M. Sherlock - All applicable rights reserved
---
Disclaimer
The facts presented on this website are based on my best guesses and my substantially faulty geezer memory. The opinions expressed herein are strictly those of the author and are protected by the U.S. Constitution. Probably.
If I have slandered any brands of automobiles, either expressly or inadvertently, they're most likely crap cars and deserve it. Automobile manufacturers should be aware that they always have the option of trying to change my mind by providing me with vehicles to test drive. I'll dutifully report my road test impressions on this car blog.
If I have slandered any people or corporations on this website, either expressly or inadvertently, they should buy me strong drinks (and an expensive meal) and try to prove to me that they're not the jerks I've portrayed them to be. If you're buying, I'm willing to listen.
---
---