Sad Corvette: This 1958 Chevy Corvette looks to be in sad shape in this Winter photo taken sometime in the late 1960s or early '70s in South Philadelphia: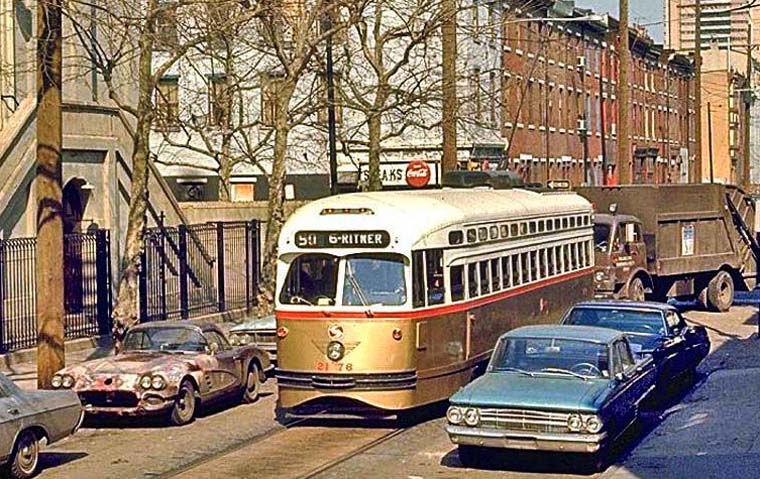 (photo courtesy: Jesse Bowers at Just A Car Guy)
The white over gold (with red stripe) color on the Route 50 trolley is SEPTA's first color scheme attempt. SEPTA took over trolley and bus operations in Fall 1968 and gradually changed the color of its transit equipment over the next couple of years. The brown trash truck is typical of the period and the mid-1960s Ford and Mercury are showing wear and dirt.
The neighborhood steak shop with the Coke logo probably offered steaks, cheesesteaks and pizza steaks on Amorosa hoagie rolls.
The Route 50 trolley was discontinued in October 1985. (posted 12/22/20, permalink)
---
Just Before The Christmas Season, Too: The Philadelphia-based company that owns New Jersey's Cherry Hill Mall and Moorestown Mall has declared bankruptcy.
In the 1960s, the Cherry Hill Mall was the place to be. It has been expanded and updated and still has nice anchor stores and tenants, including ... (more >>>)
---

Stone-Age Dick Clark: Ed Hurst, who referred to himself with that moniker, has died at age 94. Starting as a radio disc jockey in Atlantic City, he soon moved to Philadelphia, where he teamed up with Joe Grady to do 'The Grady and Hurst Show' on television.
The show, which began in 1952, was the first to show teens dancing (from 11 am to noon every Saturday) in a studio and spawned a competitor, 'Bandstand', which later became Dick Clark's 'American Bandstand' - a national teen dance show. Dick Clark, a cultural icon himself in American television and broadcasting, once said, "Without Ed Hurst, there would be no Dick Clark." Hurst was on Philadelphia television from 1952 to 1978. He retired in 2016.
The Broadcast Pioneers of Philadelphia inducted Hurst into their Hall of Fame in 1996. RIP. (posted 11/2/20, permalink)
---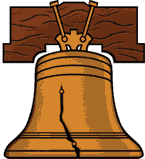 Another Closure: St. Basil Academy, originally a convent boarding school for girls, now an 89-year-old private all-girls high school in Jenkintown, PA (near Philadelphia), will close at the end of the academic year. Run by the Ukranian Catholic Sisters of St. Basil the Great, the school faced declining enrollment and an inability to make ends meet. Sister Dorothy Ann Busowski, the provincial superior of the order, said in a letter to the St. Basil community, calling it a "painful, but necessary decision."
I remember going to mixers there in the late 1950s. Never hooked-up with anyone but afterward, enjoyed going to the Chuckwagon in Elkins Park with my buddies afterward and enjoying Chuckwagon's signature He-Man Sandwich.
The school currently has an enrollment of 226 students, with 41 in its freshman class. Tuition is $14,550 annually, which seems low for a private school.
"Among other Catholic schools, public, charter, and private, Saint Basil Academy has long faced a challenging financial picture, due in part to increased competition among other schools for students and funding and, most recently, the financial burden of the coronavirus pandemic," Connie D'Angelo, the school's principal, said.
The Wuhan pandemic's economic devastation has already led to the closure of at least 150 Catholic schools, many in low-income areas that serve children of color. (posted 10/15/20, permalink)
---
On The Wrong Track: A transit worker drove a 1965 Ford Mustang from the trolley tracks, after a young woman accidentally entered the 40th St. Subway Surface Tunnel entrance in Philadelphia on December 14, 1965. (The Mustang appears to have a New Jersey license plate.)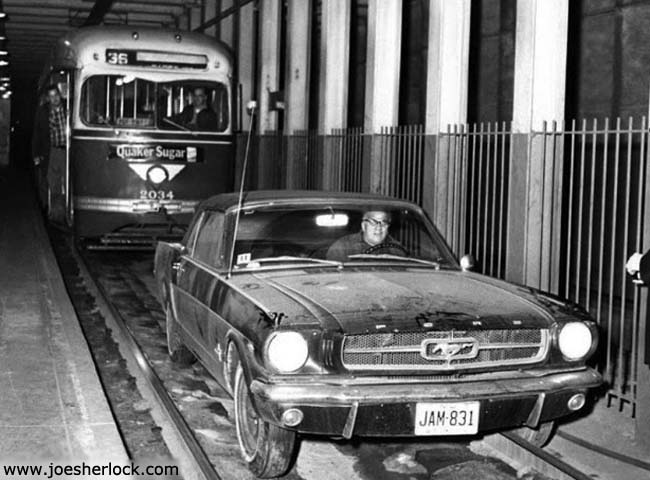 Subway-Surface Trolley Route 36 is a line now operated by the Southeastern Pennsylvania Transportation Authority that once connected the 13th Street underground station in downtown Philadelphia, Pennsylvania, to 88th Street and Eastwick Avenue in Southwest Philadelphia. Route 36 runs underground from 13th St. to the 40th Street Portal (opened in 1955) near Baltimore Avenue. Four of the five Subway-Surface Lines enter the subway tunnel via the portal after running on the street in Southwest Philadelphia and nearby suburbs. (posted 9/16/20, permalink)
---
Where Many Kinds of Transit Used To Meet: The Margaret-Orthodox El Stop - now known as the Arrott Transportation Center -was once a diversified transit hub - elevated trains, trolleys, buses and trackless trolleys converged at this spot. The Frankford El (aka: Market-Frankford Line) had a station there. Below the elevated, there were numerous bus, trolley and trackless trolley (outside of Philadelphia, they are known as trolleybuses) lines. The transit center (address: 4700 Frankford Avenue) is located at the busy and sometimes confusing intersection of Frankford Avenue, Oxford Avenue, Arrott Street, Paul Street, and Margaret Street. The terminal was originally known by two separate names, Margaret–Orthodox station for the Market–Frankford Line and Arrott Bus Terminal for bus routes. The El station began service in late 1922.
Originally, routes 3 and 5 were trolley lines which ran along Frankford Avenue. As a toddler, I was taught by my mom how to tell the difference between the trolleys as we waited for them to work their way up the Avenue. The Route 3 used old boxy 1920s-era Nearside cars which ran out to 33rd and Columbia. The 3 trolleys were replaced by buses in February 1956. Route 5 used swoopy 1930s streamliners - PCC trolley cars. The 5 trolleys were replaced by buses in December 1955.
Route 59 was a venerable trolley line that traveled from the Arrott Bus Terminal up and down Oxford Avenue and Bustleton Pike to the far Northeast suburbs. Until 1948, it was a trolley line, consisting of large double-ended, wood cars and small four-wheel Birney cars.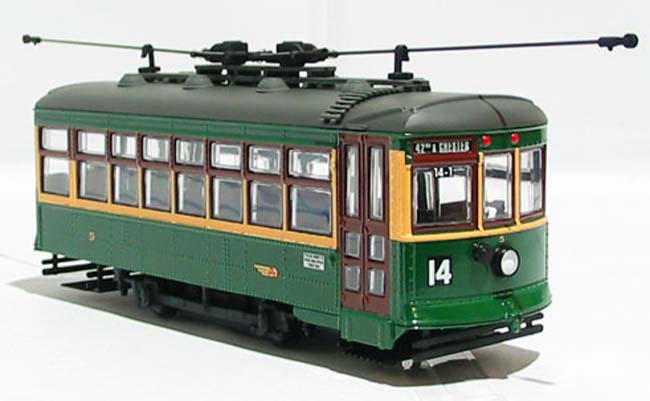 Pictured is a Corgi 1:50 diecast scale model of a 1928 Birney trolley car (purchased in 2006, part of a limited run of 2,810 units in Philadelphia transit livery). Birney Safety Cars were small and light - about a third the weight of conventional trolley cars of the period. They were of rugged, standardized construction, were mass-produced and therefore, inexpensive in price. Twin motors gave them nimble acceleration. Birney cars averaged 28 feet in length and typically had seating for about 32 passengers. The Birney was designed to operate with only a motorman, saving the labor cost of a conductor.
---
At Roosevelt Boulevard, the rails ran right through the center of Oxford Circle which must have made for an interesting experience for drivers piloting their vehicles around the Circle. In June 1950, trolleybuses replaced the old trolleys and they went around Oxford Circle along with all other traffic. At the Oxford terminus, the trolley busses would swing onto Arrott St., pick up passengers and then make the first right turn on Griscom St., looping back to Oxford Avenue. There was a large transit powerhouse/substation at the terminal; the building extended to the corner of Griscom and Arrott. It was owned by the transit company and was constructed by Philadelphia Rapid Transit Co. in the early 20th century.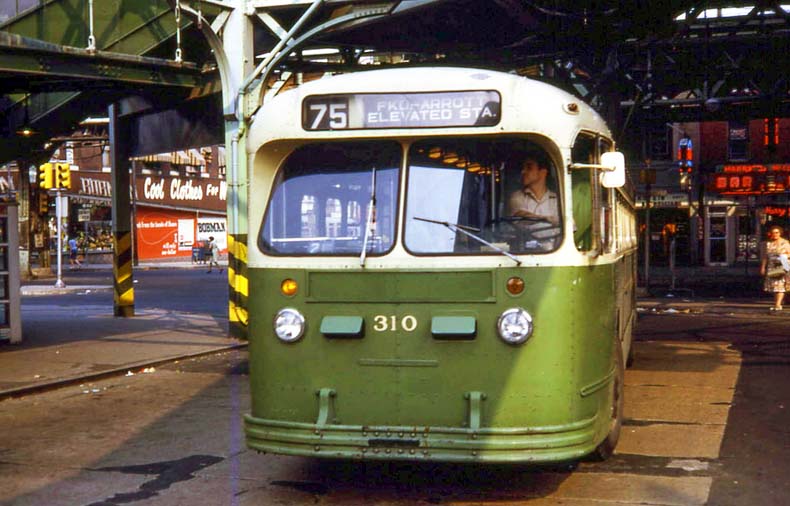 This 1967 photo shows a Route 75 trackless trolley pulling into the Arrott Bus Terminal. Bobman clothing store is visible at left. The 75 was a feeder line from the Frankford Elevated to the Broad St. Subway.
---
In 1948, Route 75 Nearside wood trolleys were replaced by modern trackless trolleys. As a four year-old, I used to fall asleep to the sounds of those old 75 trolleys. On quiet summer nights, through the open window of my small bedroom, I would often hear the ding-ding as a trolley started up and the far-away squeal of the wheels as it rounded the sharp curve from Arrott St. to Castor Avenue.
The J bus ran from the Arrott Terminal to East Falls section of the city. The K bus ran from Bridesburg to Germantown. Whenever I took the El home from school, I'd get off at Margaret-Orthodox, traipse down the stairs and catch whatever transport was available - J bus, K bus or 75 trolleybus. All headed up Arrott Street to Castor Avenue, which was where I exited - two-and-a-half blocks from home.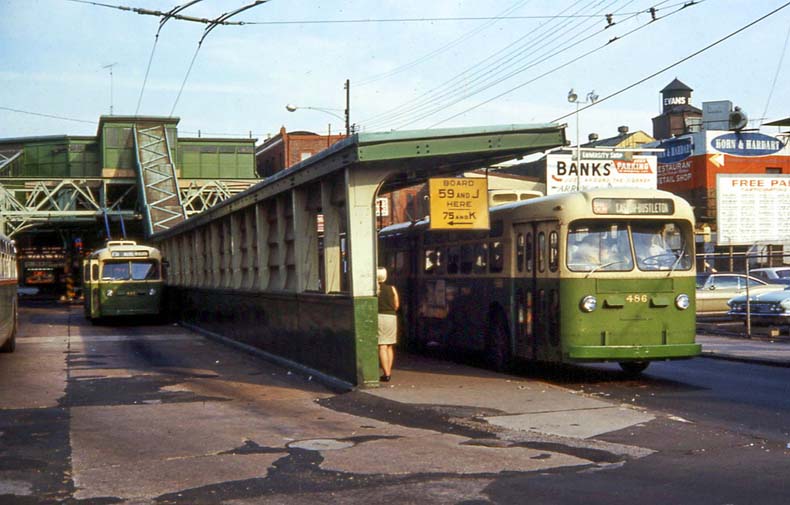 On the right, a Route 59 trackless trolley is ready to depart the Arrott Terminal. To the left of it, a Route 75 trackless has its doors open to receive passengers. Barely visible at far left, a bus - either a Route J or K - awaits passengers waiting at the sidewalk. At the right of the 1967 photo is a parking lot for patrons of various stores. In the 1940s, there was a very sleek-looking Art Moderne restaurant/caterer occupying that spot.
---
When I lived in the Frankford/Northwood section (1944-47 and 1955-62), I spent a lot of time riding public transport in the Margaret-Orthodox area. In addition to being a transport hub, the area was also a beehive of retail activity. The Horn & Hardart automat cafeteria and retail shop front faced eastward on 4670 Frankford Avenue (Horn & Hardart opened their first automat on June 9, 1902. The Frankford location closed in 1962.)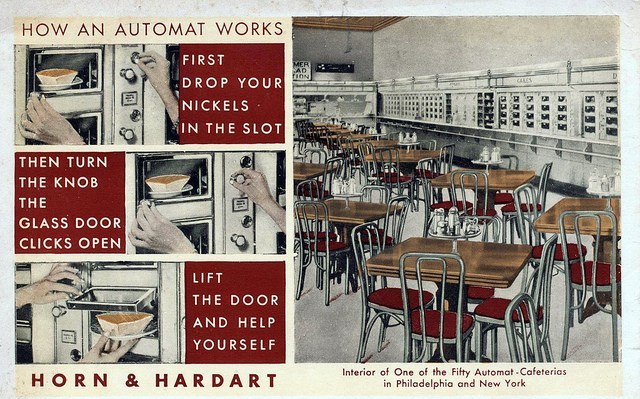 There was also a White Tower at Frankford Avenue and Margaret St. (White Tower Hamburgers was a fast food chain that was founded in 1926 in Milwaukee, Wisconsin. With its white buildings and similar menu, it mimicked the White Castle chain founded in 1921.)
I used to get all my 45 records from Bond Records, located in a trapezoid shaped building (now demolished) at corner of Frankford and Paul St. There was a bar next door to the north. There were a lot of bars along Frankford Avenue.
Harper's Dress Shop was located at 4659 Frankford Ave.- near the intersection of the Avenue and Meadow St. My wife's mom used to shop there. There were quite a few clothing and shoe stores along The Avenue. Bobman men's clothing store - "Cool Clothes for Men" - was at the northeast corner of Frankford and Margaret. Not far away was Banks clothing. Three shoe stores - Father & Son Shoes, Flagg Bros. and Thom McAn - were next door to one another on the east side of Frankford Avenue near Orthodox St.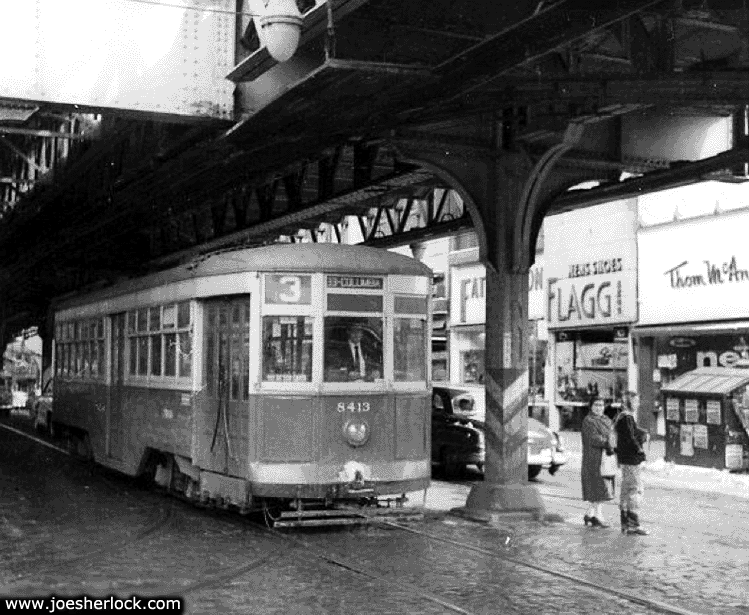 A wood-sided Route 3 trolley is stopped at a traffic light in this early 1950s photo. Taken at the corner of Frankford Avenue and Orthodox Street, this under-the-El photo shows three shoe stores in a row - capitalism at its most intense - on the east side of The Avenue. Note also the newspaper/magazine stand at right.
It should be noted that the historic Jolly Post Inn once stood near Frankford and Orthodox. This was the place where Thomas Jefferson was assigned the most important task of his life. The Continental Congress met in secret at the Jolly Post to decide who would write the Declaration of Independence. Sadly, the Jolly Post Inn was demolished in 1911 - all that remains is a plaque.
---
There were several financial institutions nearby. Most prominent was Girard Corn Exchange Bank at the northwest corner of Oxford and Frankford Avenues This national bank (Corn Exchange Bank Of Philadelphia) opened in 1864. It was so named for its founding membership's primary interest in the trade of grains and food crops. In 1952, Girard Trust Company acquired The Corn Exchange Bank's Philadelphia branch, and renamed itself Girard Trust Corn Exchange Bank. Regardless of its name, my grandmother - who didn't drive - used to ask, "Take me to the Corn Exchange."
On February 15, 1933, famous bank robber Willie Sutton and a confederate attempted to rob the Corn Exchange Bank and Trust Company in downtown Philadelphia, Pennsylvania. Sutton, disguised as a mailman, entered the bank early in the morning. The curiosity of a passerby caused the robbery attempt to be abandoned. However, on January 15, 1934, Sutton entered the same bank with two companions through a skylight. When the watchman arrived, they forced him to admit the employees as usual. The Oxford and Frankford Ave location is now a Citizens Bank.
The Second National Bank Of Philadelphia opened in 1864. The imposing granite building on Frankford Ave was not far from the Frankford Branch of the Philadelphia Library at 4634 Frankford Avenue. A Sun Ray Drugs was down the street. I had my savings account at Second National. My grandmother banked there too.
I used to buy all of my car magazines at a newsstand under the Margaret-Orthodox stop on the Frankford Elevated line. It was operated by a thin, polite English fellow who always wore a leather cap. Many of these compact newsstands - located at or near elevated and subway stations - were far more than just vendors of pulp reading materials - selling cigars, cigarettes, candies, mints, gum, cough drops, aspirin, No-Doz, sunglasses and even gift items like fancy boxed candies and toys. All in less than 100 square feet of space - a remarkable achievement. Even NASA would be jealous.
The first store on the south side of Oxford Avenue was a stationery store where I purchased many of my school supplies. The location now is home to Donuts Queen.
The stores have changed, the neighborhood is different but the area remains a public transit nexus. (posted 8/10/20, permalink)
---

Philly Fizz: Hires Root Beer was created by Philadelphia pharmacist Charles Elmer Hires. Hires first tasted root beer, a traditional American beverage dating back to the colonial era, while on his honeymoon in 1875. By 1876, Hires had developed his own recipe, consisting of sixteen wild roots and berries. The product was originally known as Hires Herbal Tea. At Philadelphia's Centennial Exposition in 1876, he cultivated new customers by giving away free glasses of his product. He claimed that it purified the blood and made cheeks rosy.
In 1884, Mr. Hires began producing a liquid extract and a syrup for use in soda fountains, and was soon shipping root beer in kegs and producing a special fountain dispenser.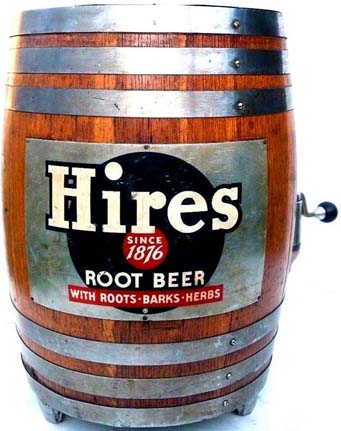 Hires advertised aggressively and famously said that "doing business without advertising is like winking at a girl in the dark. You know what you are doing, but nobody else does." Charles Hires advertised his root beer on street cars, benches, barn signs, color advertising cards, lithographed postcards, magazines as well as full-page spreads in large-circulation city newspapers.
By the mid-20th Century, the company was located at 206 South 24th St. in Philadelphia. Hires was Philly's own root beer; other brands were rarely seen on store shelves during Hires' heyday. The company claimed it was "the world's largest selling, fastest moving root beer."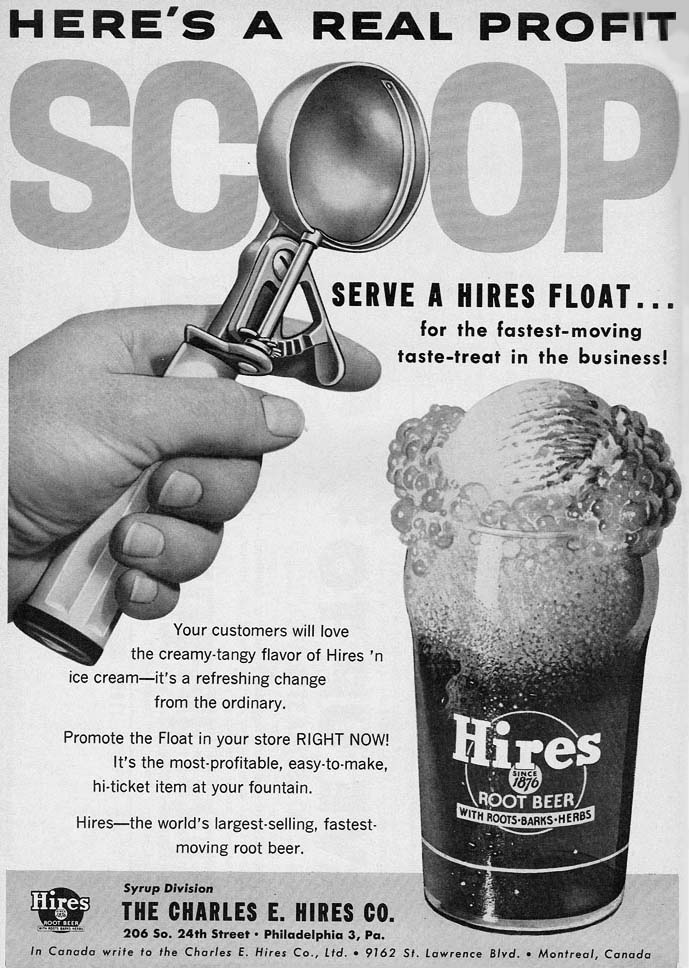 An ad (posted by James Lileks) from a 1960 issue of Chain Store Age magazine promoted the use of Hires Root Beer floats. Most floats were made with vanilla ice cream; I preferred root beer floats made with chocolate ice cream. (Incidentally, James Lileks has quite a few ads posted from Chain Store Age. All provide a glimpse into 1960s-era merchandising techniques. His online cover page includes a photo of a manager who could have easily been Conway Twitty's older brother.)
The Hires family sold the brand in 1960. After several owners, Hires Root Beer is now part of the Keurig Dr Pepper Group. (posted 6/19/20, permalink)
---
Hail To The Chief: Philadelphia kiddie show icon Chief Halftown hosted the world's longest running local TV children's show from 1950 to 1999. His signature greeting was "Ees da sa sussaway," which is Seneca for "Let's get started."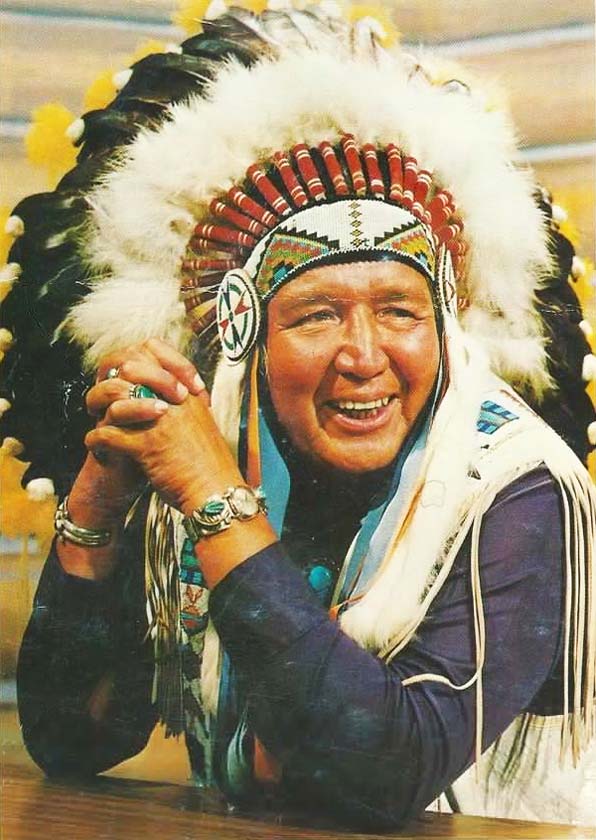 Traynor Ora Halftown was born in 1917 on the Cattaragus Reservation about 25 miles south of Buffalo, N.Y. He was a full-blooded Native American. His grandfather toured with Buffalo Bill's Wild West Show.
The Philadelphia kiddie show started out as an inexpensive cartoon vehicle with the host playing a minor role but, within weeks, Chief Halftown became the star. Kids loved him. On his broadcasts and public appearances, Chief Halftown always dressed in full Indian costume. This included a full Eagle-feathered bonnet, beads, and buckskin. He always presented a positive image and, unlike what the Chief referred to as "movie Indians," he eschewed the stoic, unfriendly look. 'The Chief Halftown Show' was on Philadelphia's Channel 6, WFIL-TV; the station became WPVI-TV in 1972. Eventually, the Chief's show included lessons dealing with tribal folklore, customs, language, crafts and chants.
Like many performers in the 1950s, Chief Halftown didn't make a lot of money from television and had to supplement his income with personal appearances and other gigs. Halftown was a professional bowler and spokesman for the Brunswick Bowling Manufacturing Corporation. On summer weekends, he appeared at the Chief Halftown Indian Village at Dutch Wonderland, an amusement park near Lancaster, PA. He also was featured at store openings and other events in the Philadelphia area.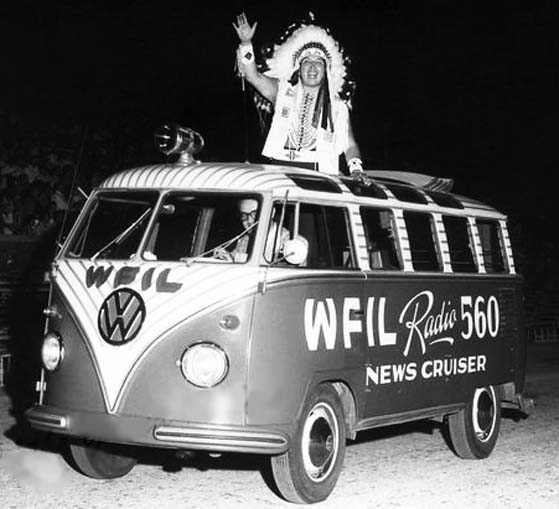 Chief Halftown arrives at an outdoor event in the WFIL News Cruiser, an early 1960s Volkswagen Microbus with sliding fabric roof.
---
In addition to paid gigs, Chief Halftown did a great deal of volunteer work, appearing at hospitals, nursing homes and other venues. He also generously devoted his spare time to adult mental health agencies, programs for substance abusers and helping the homeless.
Like nearly every Philadelphian of a certain age, I watched 'The Chief Halftown Show' as a kid. My dad got an autograph for my brother when he and the Chief were at Malvern Retreat House, a Catholic institution west of Philadelphia, in the 1960s. My wife attended Chief Halftown's television show in 1952 along with her fellow Papooses, a Girl Scouts-like group sponsored by Christian churches. Here is a photo taken after the show with the Chief surrounded by Papooses (my wife is circled):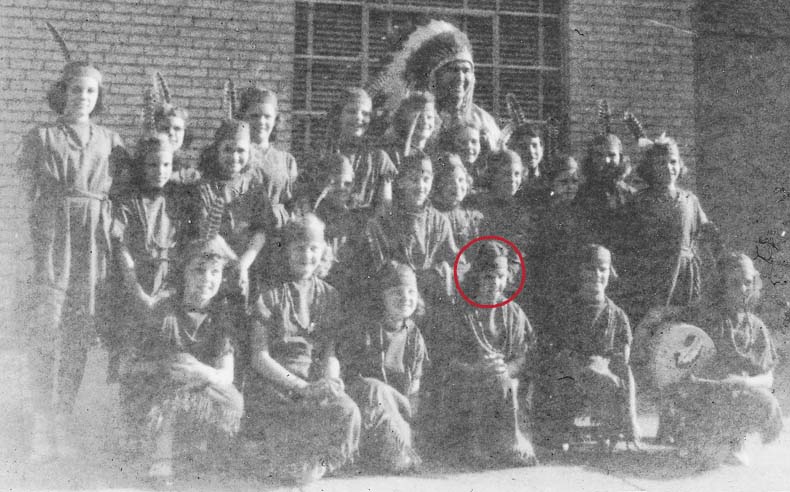 For years, Chief Halftown and his wife, Margaret lived in Glen Mills, PA. Following the Chief's 1999 retirement, the Halftowns moved to Brigantine, NJ, a small town on the NJ shore, in 2002 to be near their three children.
Chief Halftown passed away in 2003. The Broadcast Pioneers of Philadelphia inducted him into their Hall of Fame in 2004. I've never heard of anything negative spoken or written about the Chief - he was a good man who lived a full life and was beloved by his many fans. (posted 5/8/20, permalink)
---
Sixty-Five Years Ago: Recently, I rewatched a video titled: 'Philadelphia Trolleys - 1955'. It was 45 minutes worth of footage (transferred from 16 mm color film) shot in the period 1955-57 by a trolley car enthusiast. While I like trolley cars, I didn't really buy this video to watch the trolleys. I wanted to observe the street scenes of Philadelphia to see if the film matched my memories of growing up there in the 1950s.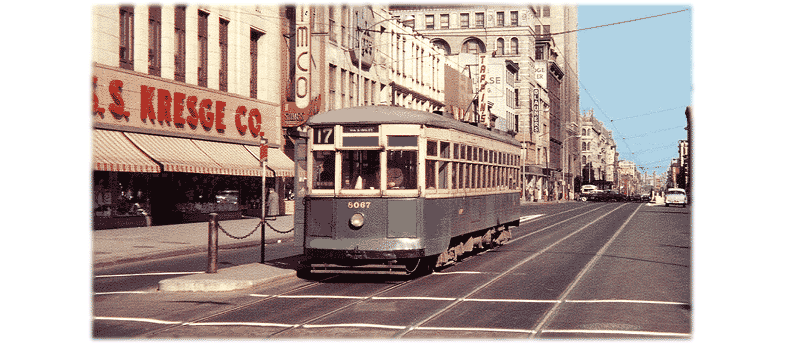 The most interesting things about the video were the automobiles. First ... (more >>>)
---
When Oldsmobiles Were Rocketing: John Crisconi's Oldsmobile dealership was located at 1155 S. Broad Street in Philadelphia when this image was taken during the 1955 model year.
John P. Crisconi was a legendary car dealer, civic leader and philanthropist. He started with an auto-repair shop at Broad and Federal streets and expanded to become one of the largest car dealerships in Pennsylvania. In the 1970s, Crisconi claimed to be Pennsylvania's largest Oldsmobile dealer. While Olds is now a defunct brand, in 1973, it was the third best selling automobile brand, behind Chevrolet and Ford. 922,771 Oldsmobiles found buyers that year.
In 1954, Crisconi put together a group of Philadelphia businessmen that unsuccessfully attempted to purchase the Philadelphia Athletics baseball team.
In addition to his Oldsmobile franchise, Crisconi was also a Bricklin dealer. In the 1980s, he sold Yugos. Crisconi died in a swimming accident at his Whitemarsh home in 1986 at age 92. His daughter, Jeannette, took over the business and soon moved the dealership to the Auto Mall on Passyunk Avenue. After a few years at the new location, she decided to close the dealership. Jeannette died in 2007. (posted 4/3/20, permalink)
---
Nun Wagons: Last month, car blogger Jesse Bowers posted a photo of a group of nuns in a dark-colored 1964 Ford Country Sedan 9-passenger station wagon. A sister standing outside the Ford is being presented with the keys to the convent's new ride.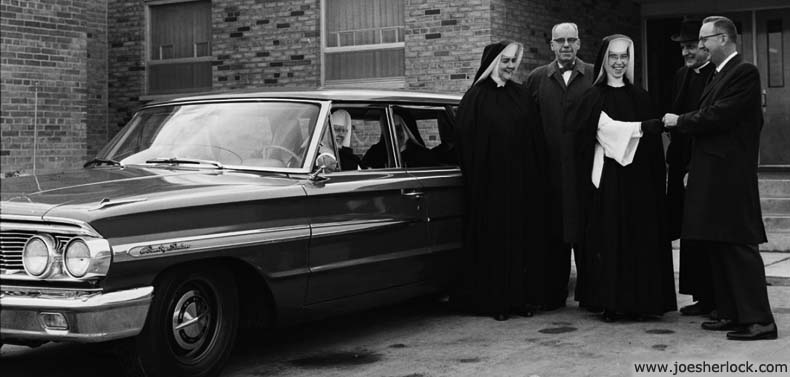 Catholic nuns riding in large station wagons were a common sight in Catholic-heavy East coast cities such as Philadelphia. The wagons were usually ... (more >>>)
---
Rush Hour On The Bridge: The Old Motor has posted a photo of a rainy afternoon rush hour in Philadelphia. The photo looks west across the Girard Avenue Bridge and appears to have been taken in late 1956 or '57.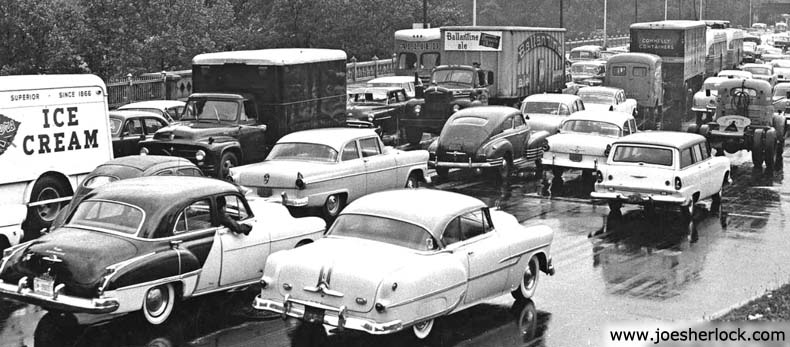 Shown in the photo are two PTC Route 15 trolley cars headed west and one (far in the distance at upper right) headed east. The Route 15 trolley still runs across the bridge, using reconditioned 1930s-era PCC streamliners - the same style seen in the photo. I used to take the Route 15 sometimes, traveling east from St. Joe's Prep to the Frankford El. My high school friend Ray Lukas and I posed in front of a Route 15 trolley at the SEPTA Transit Museum during a Philadelphia visit in 1999.
The Girard Bridge is a steel arch truss bridge across the Schuylkill River in Fairmount Park section of Philadelphia, Pennsylvania, near the zoo. The original bridge was a wood truss-type bridge, constructed in the 1850s; it failed after less than 20 years. The second Girard Avenue Bridge was built 1873-74, in anticipation of the 1876 Centennial Exposition that was to be held in West Fairmount Park. It was designed by Clarke, Reeves & Company, Engineers, built by the Phoenix Bridge Company, and cost $1,404,445. When completed, it was believed to be the largest high bridge in the United States: 1000 feet in length and 100 feet in width. It opened on July 4, 1874, three days after the Philadelphia Zoo. In 1895, the trolley crossing it was electrified. The bridge was a five span iron Pratt truss bridge. The bridge was reconstructed and modernized in the early 1970s. The ornate iron railings of the 1873-74 bridge were retained for the modern highway bridge.
As to the vehicles on the bridge, on the right is a 1953 Pontiac Catalina two-door hardtop coupe behind a 1955 Plymouth Plaza station wagon. Next to the Pontiac is a 1950 Oldsmobile 88 four-door sedan with a custom two-tone paint job. Ahead of it is a 1956 Ford sedan. Next to the Oldsmobile is a 1954-57 Volkswagen Beetle with sunroof (a pretty rare sight in those days). Ahead of the VW is a 1955 Ford Customline Tudor. In front of the Ford is a 194os-era Chevrolet Fleetline coupe.
Headed eastbound on the bridge is a Breyer's ice cream truck, followed by a 1955 Ford F500 box truck and a Mack pulling a Ballantine Ale trailer.
If you photographed the site today, I'm sure you'd capture lots of SUVs, rather than sedans and coupes. And lots of Asian brand vehicles, as well. (posted 2/3/20, permalink)
---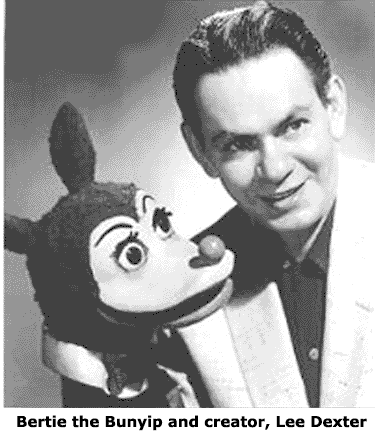 Remembering Bertie: In the 1950s, most kiddie television shows were local affairs. Howdy Doody was one exception; the show was broadcast live in New York and piped to several cities on the East Coast. Kinescopes were made available to selected cities elsewhere. 'The Buster Brown Show' was filmed and then distributed widely with Buster Brown shoes as the primary sponsor. The commercials were already baked into the show.
In Philadelphia, Bertie the Bunyip was the lead puppet character on a popular local children's television series, 'The Bertie The Bunyip Show', which ran from 1953 to 1966. Created and voiced by Australian Lee Dexter, Bertie was a bunyip (a mythological Australian creature - a cross between a bunny, a collie dog and a duck billed platypus).
Bertie's arch enemy was con-artist fox Sir Guy de Guy who wore a top hat and put on aristocratic airs. Other characters included Nixie the Pixie, Humphrey the white rabbit (he wore a black cape), Winnie the Witch, Poochie the Pup as well as guillible Fussy and Gussy. Sometimes, old film cartoons were shown in between puppet sketches.
In 1950, local artist and sketch cartoonist, Pete Boyle (father of well-known actor Peter Boyle) started to put together a kid's program on Channel 3, then WPTZ. He decided to bring his old Australian buddy Lee Dexter into the fold. Dexter created the puppet used on Pete's show, Snooper the Squirrel.
Dexter had a workshop in the back of his suburban Bala Cynwyd home where he made heads for puppets and rebuilt and restored puppets for celebrities Edgar Bergen and Paul Winchell and others. Lee Dexter developed his own system of molding rubber and plaster of Paris together to create heads that allowed puppet masters to get a greater facial expression from their dummies.
Bertie The Bunyip remained a popular show throughout its run, despite changes in station management and ownership. In 1966, the station made the decision (for cost reasons) to cancel the program, despite continued high ratings and viewership. It was felt that the puppet show's production costs had become too expensive. KYW-TV believed that children would still watch the TV for cartoons, but the program expenses would be much lower.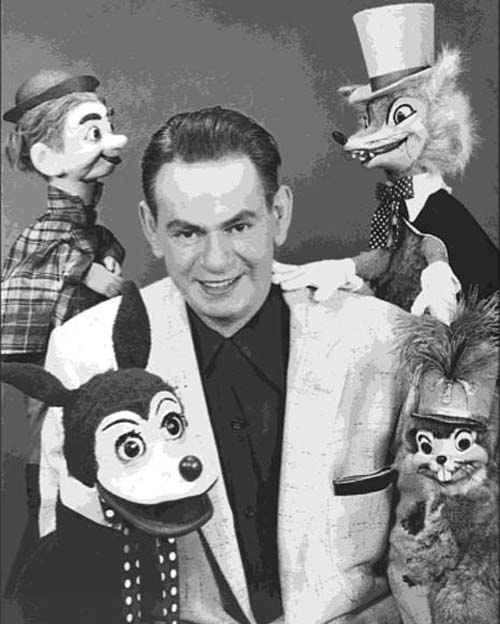 Lee Dexter with Bertie (lower left), Fussy, Sir Guy de Guy and Snooper the Squirrel
---
In 1991, Lee Dexter died at age 85 of Alzheimer's disease and emphysema. He is buried in St. Mary's Catholic Cemetery, just outside of Cape May, NJ, the same cemetery where my good friend Joe Reuter is interred.
At the sign-off, Bertie would always say, "Remember kiddie-kiddies, Bertie always loves you." And they loved him right back. (posted 1/6/20, permalink)
---