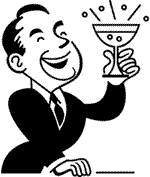 Ending 2017: We had much to celebrate on New Year's Eve. We stayed home and had cocktails and appetizers in the afternoon.
In the evening, I cooked an eight-ounce filet mignon on our outdoor grill - monitored by flashlight (technically, a Coast strap-on headlamp) - on a cold, dark foggy night. My wife and I shared a bottle of 2013 Sinclair Estate Vinyards Mourevedre from grapes grown on the Wahluke Slope in eastern Washington. This wine - a gift from a neighbor - was part of a one-barrel run of this vintage. It was quite good and was a unique experience.
After dinner, we watched the New Year's celebrations on television. They're just not the same since Dick Clark died. Oh well. I'm sure my parents said the same thing about Guy Lombardo.
Staying home seems more popular than ever - it's what 48% of Americans do on New Year's Eve. Only 9% actually go out to a bar, restaurant or event. About 70% of Americans stayed up past midnight as they welcomed 2019.
Hope you had a good New Year's Eve.
So Much For That "Pacific Century" Baloney: Syndicated financial commentator Malcolm Berko doesn't think much of China's economy.
"The yuan is hurting so badly that China is secretly dipping into its foreign exchange reserves to preserve the currency's integrity. That's scary. China's bureaucrats in Beijing are reluctant to share their economic data, which they cleverly contrive to hide and disguise China's economic weakness. And China will be dipping deeper as Donald Trump's tariffs on billions of dollars' worth of Chinese goods are beginning to move Buddha to the mountain and exact a toll. Yes, the slowdown is accelerating, and Trump seems to have the Chinese tiger by its tail and be looking it squarely in the eye. The yuan's slide has ignited a capital flight that continues to crash the currency, and China's stock market is a menacing minefield. Unfortunately, China's central bank lacks the alchemy to support the yuan.
China's debt, at over 300 times the country's gross domestic product, scares the diyu out of China's leaders and me, too. The yuan has been sullied in the past few years by an economic slowdown. Factories continue to mass-produce unsold bicycles, cars, toys, solar panels, electronics, building supplies, textiles, etc. Rather than lay off millions of workers and shut doors, provincial governments admonish factories to continue production. Resultantly, billions of dollars' worth of tires, sports equipment, calculators, steel, furniture, medical products, tubing, air conditioners, tools and mobile phones are literally buckling the floors of China's factories and warehouses. The Chinese stock market is crashing, and massive unemployment of nearly 9.2 percent (actual figure, not the official government figure) is giving China's leaders serious laundry problems."
"Home sales are sagging, while mortgage fraud is rampant. Commercial property values are collapsing. Ghost towns litter China's landscape. Lessors are canceling leases, and industrial property prices are foundering for want of lessees. … China's largest property developer, Evergrande Group, recently issued $2 billion in five-year dollar-denominated bonds paying 13.5%. The syndicate could sell only half the issue. … China's insurance companies are destitute, and many are unloading their real estate portfolios to increase liquidity. In fact, Anbang, China's largest insurer, is begging for someone to buy the Waldorf Astoria."
It should be noted that Mr. Berko's article is a refutation of the conventional wisdom about China peddled by the mainstream press, including the financial press.
2019 Stock Market Prediction: Financial guru Ken Fisher wrote, "I see stocks rising 15 to 25% or more in 2019."
He noted that "after corrections, when stocks fall 10% to nearly 20% from a recent high, the returns during the next 12 months average 34% before dividends. That's been true since 1926."
I hope he's right. Fisher has a particularly good forecasting track record.
Plurality: Order a couple of center-cut tenderloins and they're known as filets mignon, not filet mignons.
When you order a couple of breakfasts at McDonald's, is it Egg McMuffins or Eggs McMuffin? Eggs McMuffin sounds like the name of a 1920s Irish mobster. (permalink)
Book Review: 'The Perfectionists: How Precision Engineers Created the Modern World' by Simon Winchester
This 352-page book (plus acknowledgements, bibliography and index) traces the development of precision manufacturing from the very imprecise pre-Industrial Age to the digital world of the 21st Century. This is a ... (more >>>)
Always Remember ... the 50-50-90 rule: Anytime you have a 50-50 chance of getting something right, there's a 90% probability you'll get it wrong.